The beauty of Brother sewing machines is that there is something for everyone. Whether you are attempting your first pillow case or your latest quilt masterpiece, you can find what you need in the best Brother sewing machine. For over a hundred years Brother has been in the business of sewing machines, which is why they are one of the top brands that feature timeless designs and innovative technology.
To help you in your quest for the best Brother sewing machine, we have reviewed five products. They range in price and features, ensuring that you can find something that matches your needs. Such items that we looked at include the number of stitches and their functions, and the type of accessories, including foot accessories and table arms. We also looked at whether they had dial controls or LCD panels so that you know how to operate the machine.
This product guide begins with a comparison table so that you can quickly scan through the models that we have reviewed and their overall rating. We then looked at each product individually and compiled all of their functions, pros, and cons. We did this by looking at customer reviews and manufacturer specifications. Finally, at the end of this article is an in-depth buying guide and FAQ. All of the most important information about sewing machines is included, as are a number of commonly asked questions. Our aim was to make your purchase of the best Brother sewing machine as simple as possible.
Top 5 Brother Sewing Machines Review 2022
Features
Type: computerized sewing machine
Motor speed: not specified
Stitches: 110
Stitch selection: LCD display
Buttonholes styles: 8
Automatic needle threader: yes
Foot accessories: 8
Other features: comes with a hard case and a wide table
For the ultimate in stitch selection, check out the Brother XR9550PRW. It has a whopping 110 options for stitches, all available at the push of a button. There are also eight different foot accessories including zigzag, overcasting, and blind stitch. In addition to that this machine features eight buttonhole styles to choose from. It means that you can design an amazing outfit in details – up to the buttonhole style – and be able to create it all with the Brother XR9550PRW.
This is a computerized sewing machine which means that you can select from all of its many sewing options with the help of an easy to read LCD screen. It has both a free arm capability to sew sleeves and cuffs, and a wide table for large garments like quilts. So, whether small or big, your sewing project can be completed.
The Brother XR9550PRW has an amazing 25-year limited warranty, so this sewing machine has been built to last a lifetime. There is also free technical phone support available, so if there are any issues, the answers are just a phone call away. The machine itself is durable but lightweight, and it comes with a nice carrying handle. It is portable and easy to move around the house.
What are its best features?
Vast amount of sewing options
Strong and durable
LCD screen is easy to read and program
What could be improved?
So many options may be confusing or more than are needed
Features
Type: computerized sewing and embroidery
Motor speed: 710 stitches/min
Stitches: 103
Stitch selection: LCD display
Buttonholes styles: not specified
Automatic needle threader: yes
Foot accessories: 7
 Other features: embroidery field; embroidery designs can be imported in .pes format through the built-in USB port; convertible free arm included
If you are in search of a dependable sewing machine perfect for embroidery, look to the Brother SE600. It can produce 710 stitches per minute which is perfect for any sewing projects. There are 103 different stitches that you can choose from, so no matter the project or embellishment, there is a stitch for you. There are also seven different foot accessories to help you achieve your final goal.
The automatic needle threader speeds up the process of any sewing project, and the Brother SE600 also comes with a convertible free arm.
The Brother SE600 incorporates the latest technology with its LCD screen and a built-in USB port. This means that you can download or design your own patterns and then share .pes documents with the sewing machine. Gone are the days trying desperately to create something from memory or mere paper pattern.
While the Brother SE600 will work for any avid sewer, it is especially geared for those who like to embroider. With its unique accessories and intricate stitches, no matter what you design, this sewing machine will help you produce it.
What are its best features?
Versatile for all sewing projects, especially embroidery
Many options to choose from
Lightweight and easily portable
USB port provides unlimited embroidery options
What could be improved?
The work area is not large enough for quilting
Features
Type: computerized sewing machine
Motor speed: 850 stitches/min
Stitches: 50 + 87 stitch functions
Stitch selection: LCD display
Buttonholes styles: 5
Automatic needle threader: yes
Foot accessories: 7
Other features: horizontal spool pin, convenient carrying handle, lightweight
If you're looking for choice, then the Brother CS5055PRW has all the answers. It has 50 stitch choices, 87 stitch functions, five buttonhole styles, and seven foot accessories, making it perfect for just about any sewing project you may have. The stitch speed is 850 stitches per minute, which is actually quite fast, so you may want to ease into the max speed when you first try it out.
Consider the Brother CS5055PRW a sewing machine for intermediate sewers. It has more options than the more basic Brother XM2701 and comes with an LCD screen. This makes it easy to select a stitch style and stitch width.
It is still nice and lightweight, meaning you can travel quite easy with this sewing machine, from the home to the quilt shop, and everywhere in between.
The top threads and the bobbins are easy to use which is great if you want to quickly get started on your next project. Overall, you can create custom sewing projects easily and quickly, with the Brother CS5055PRW.
What stands out?
Numerous stitch settings
Light weight and handle make it easy to carry
LCD screen makes it simple to choose how you want to sew
Affordable price
What cons did we manage to find?
Might jam while quick sewing
Features
Type: computerized sewing and quilting machine
Motor speed: 850 stitches/min
Stitches: 60
Stitch selection: LCD display
Buttonholes styles: 7
Automatic needle threader: yes
Foot accessories: 9
Other features: comes with a detachable, oversized table
If you are in simplicity, then look to the Brother CS6000i sewing machine. Its LCD display screen make selecting a type of stitch easy to make. There is an automatic needle threader so you never need to worry about maneuvering thread through a tiny hole. There also easy to follow threading instructions so even with your first time using this sewing machine, you can get it started quickly.
As for choice, there are 60 different stitches to choose from, plus seven buttonhole styles. The machine comes with nine foot accessories including zigzag, overcasting, and blind foot. Whatever you are making, from fashion clothes to a baby quilt, you can find success with the Brother CS6000i.
Included with your Brother CS6000i is a seam ripper, three bobbins, three spool caps, a cleaning brush, a needle set, and much more. This machine wants you to succeed and provided all the tools necessary.
There is also an oversized table that you can attach to the Brother CS6000i which is perfect for making tablecloths or quilts. The machine features a free arm function for cuffs and collars. It is definitely a multi-purpose machine.
What stands out?
Great amount of thread options, foot accessories, and buttonhole styles
Threading guides and automated needle threader make it easy to use
What cons did we manage to find?
The overall amount of stitch settings is less than other models offer
Features
Type: mechanical sewing machine
Motor speed: 800 stitches/min
Stitches: 27 + 63 stitch functions
Stitch selection: dial
Buttonholes styles: 1
Automatic needle threader: yes
Foot accessories: 6
Other features: features a jam-resistant drop-in top bobbin, a brightly lit LED work area
Not all sewers want to create masterpieces. Some just want to be able to hem pants and maybe make a pillowcase. If you are a beginner or just an occasional sewer, then the Brother XM2701 is perfect for you.
While it is a budget pick, and therefore does not have all the bells and whistles of other sewing machines, the XM2701 is still dependable and versatile. It can produce 800 stitches per minute which makes quick work of any major projects. There are 27 built-in stitches to choose from, which is all that most sewers need. There are also six foot accessories.
While there is no LCD display like other, more sophisticated machines have, the dials are all easy to use. For those who can become frustrated with sewing, take heart as the Brother XM2701 offers a jam-resistant drop-in top bobbin. Bobbins are tiny but can quickly derail a sewing project, so this feature is great for any beginner sewers.
The Brother XM2701 is made from white plastic with an eye-catching blue pattern on the front. If you have the space to keep it out, it will look quite nice in any room.
Why are we impressed?
Basic but great for any beginner sewers
Enough stitching choices for most projects
Colorful front design
What negatives must you be aware of?
Only one buttonhole style
No LCD display
Things to Consider
Before you purchase your next sewing machine, it's important to understand what you are getting into. Whether you are new to the world of sewing or need to upgrade your well-loved, but worn machine, we have the information for you. Below is a handy buying guide that looks to provide the answers to all your questions.
Why Brother sewing machine?
If you have done any research into sewing machines, you will notice that the two main brands are Singer and Brother. Both brands have been in the business for a long time, and both offer many products for beginner and advanced sewers. Brother sewing machines are versatile, quality products, and you can't go wrong with them.

Features to consider while choosing a Brother sewing machine
There are many features to consider with a Brother sewing machine, depending on what you plan on using it for. Here is a look at the different features you may come across while shopping.
Type
It's important to know what you plan on sewing in the future before purchasing a sewing machine. If you plan on making clothes or hemming items, then an all-purpose machine will work. If want to embroider, then a special machine, like the Brother SE600 should be considered. There also special sewing machines for quilting, which requires more functions than a basic model.
There are also four distinct types of sewing machines. The most commonly used are electronic machines, which use electric power to sew. They have dials to select different stiches. Computerized machines also use electricity, but have an LCD display instead of a dial for selections. Overlocker machines are also called sergers, and are useful for creating smooth hem edges. Finally, there are mechanical machines, which use foot power instead of electricity. They are hardly used anymore.
Motor speed
Almost quaintly, the motor speed of a sewing machine is measured in stitches per minute. So basically, the motor speed refers to just how fast you can sew. This speed can range from 710 stitches per minute with the Brother SE600 to 850 stitches per minute for the Brother CS6000i and the Brother CS5055PRW.
If a fast speed is a bit worrisome to you, don't worry as the foot pedal that you press down on to run the sewing machine has variable speeds. It's similar to stepping on a gas pedal for a car.
Stitches, stitch functions and buttonholes styles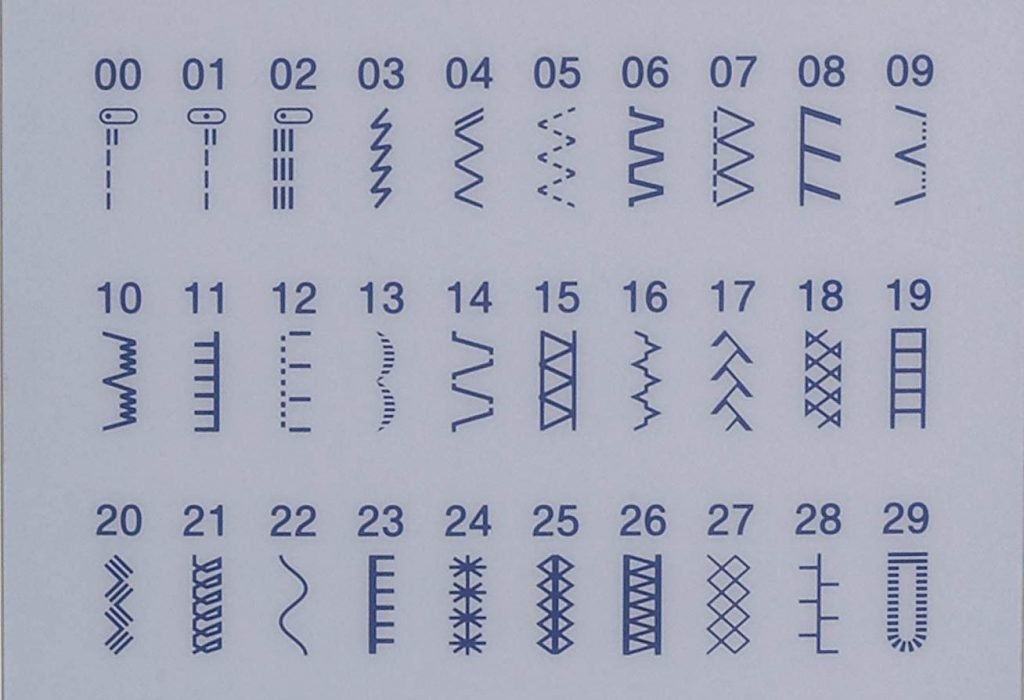 Sewing isn't just about straight lines on fabric. Or rather, it can be more than just that. While beginners often grapple with just creating straight lines, more advanced sewers will want to experiment with different patterns. Sewing machines have a lot of interesting stitches to choose from including the ability to make buttonholes, depending on what type of project you are working on.
While basic sewing machines will have fewer options, some machines, like the Brother XR9550PRW has 110 different stitches to choose from. If you are an advanced sewer, then be sure to check out advanced machines.
Automatic needle threader
If you are new to sewing, then one of the most frustrating and hard to master processes is threading a needle. You need to insert it right into the eye of a needle, and you will have to do this multiple times.
Thankfully, sewing machines have improved over the years, and many now offer an automatic needle threader function. In essence, you pop the thread into a slot, press a button, and the machine will thread your needle for you. It's almost like magic.
Number of foot accessories
If you are just a beginner, then you will not need many foot accessories. If, however, you want to sew crafts and a whole new wardrobe, then you will need many different foot accessories to complete all your projects. A universal foot will create straight and zigzag designs. For more information on types of foot accessories, check out the FAQ section.
Warranty
A sewing machine is an expensive electronic device, and a warranty is a good thing to have. All Brother sewing machines included to our list boast a long warranty of 25 years.
If you are worried about your machine or have bought an advanced, highly technical device, then be sure to check out supplemental warranties.
Extra features
You can purchase a basic sewing machine that will be just fine, or you can purchase one that has extra features. It all depends on what you want your sewing machine to be capable of. Extra features can include a USB input, like the Brother SE600. Both the Brother CS6000i and the Brother XR9550PRW come with wide tables, which are great for quilt projects. The extra features may not be necessary for your first few projects, but they definitely open up the possibilities for future sewing designs.
FAQ
It may seem obvious to an experienced sewer, but for a beginner, it's important first to realize that foot accessories have nothing to do with human feet. Rather, they are the (usually) metal parts that hook onto a sewing machine and guide the thread through the fabric.
All sewing machines will include a basic, universal foot that sews in a direct or zigzag line. Most sewing machines will include additional foot accessories:
A zipper foot is the next most common accessory, and it can sew zippers not garments.
A buttonhole foot will create nice, symmetrical buttonholes.
A blind hem foot will create an almost invisible hem.
An overlock foot will neaten seam edges.
A pintuck foot is used for baby clothes and lingerie.
A jean foot is perfect for heavy fabric like jean.
After you purchase your new sewing machine, be sure to take the time to get to know it. Especially if you are new to the world of sewing, you will find that a sewing machine has a lot of hidden design elements. One element is the arm of the sewing machine, which is located under the bobbin area.
Some sewing machines have a detachable base, called a free arm. Basically, it takes the working surface where you fabric lies and makes it smaller. This are is then perfect to slide a sleeve over. The sleeve can remain in a circle and you can sew with ease all around it.
Some sewing machines are made specifically for large items, like quilts, and may not have this feature. If you plan on sewing a lot of clothes in the future, be sure to see if the arm will allow for cuffs and sleeves.
Sewing machines have come a long way from being foot-powered, and the latest innovation is a USB input. A USB input means that you can access a wide range of patterns, projects, and designs online. You can even create your very own embroidery patterns. On a computer, you can download such patterns or creations, and then save that information to a USB stick. Then, simply plug in the USB to the sewing machine. It's important to note that files need to be saved in a '.pes' format.
Our Verdict
The five Brother sewing machines that we have reviewed are all solid choices. However, some may be more specific to your needs.
If you are on a budget, then the Brother XM2701 is a great choice. It is an electric sewing machine, but uses dials for stitch selection. It doesn't have any fancy bells or whistles but will perform just fine.
If you are into embroidery, then you definitely need to consider the Brother SE600. With its USB input, you can download or even create your own patterns and plug them into the machine for truly amazing results.
As for the best Brother sewing machine, then that has to go to the Brother XR9550PRW Project Runway Limited Edition. It has an amazing number of options and is quite versatile. No matter what type of sewing project you have, you can complete it with the Brother XR9550PRW.
The post 5 Remarkable Brother Sewing Machines – Create Stunning Designs with Ease appeared first on HouseAndBeyond.org.