Click here to read Gorgeous Watercolor Birthday Card Kid Craft! Did Someone Say Ice Cream? on Hands On As We Grow®
---
This DIY watercolor birthday card is so simple your toddlers and preschoolers will love to make it themselves!
Maybe it's just me, but I'm not a super fan of buying expensive cards for birthdays and other occasions.
It often feels like I'm just tossing five dollars directly into the recycling bin.
So we are always looking for ways to make our own beautiful cards.
The time and love we put into them makes them that much more meaningful than a store-bought card!
We used markers and watercolor paper to make this gorgeous DIY ice cream birthday card for my mom.
She is a retired music teacher, so I found some old yellowed sheet music to use for the cones.
If you don't have old sheet music, old book pages would also be unique! Maybe a fun scrapbook paper, or just regular construction paper would be fine too!
Mom or Grandma will love this homemade 3D flower card!
Gorgeous DIY Watercolor Ice Cream Birthday Card
To make your own DIY watercolor ice cream birthday card, you will need:
washable markers
watercolor paper (you can also use cardstock, but the effect won't be quite as cool)
paintbrushes and water
cardstock for the card itself
glue and scissors
optional: yellowed sheet music or book pages
If your kids love making art then you've got to download this Free Create Art Week PDF here!
First, I used a container lid to trace a bunch of circles on watercolor paper.
You can choose whatever size will work for the size card you want to make.
We planned to have nine scoops of ice cream for this watercolor birthday card. But I made some extras so that the kids could experiment with color blending and then choose their favorites.
Next, have everyone start coloring their circles with washable markers.
Some white spots are fine. They should use at least two different colors per circle, though.
I pulled up a picture of the color wheel so we could talk a little bit about what colors would blend well and what would just make murky brown.
As my daughter pointed out, though, "Chocolate ice cream is brown!"
Fair enough, but we wanted something more vibrant and colorful for this particular ice cream.
This watercolor ice cream needed to pop for our birthday card to get the desired results.
When they were done coloring, I got out the paintbrushes and water.
Upon painting the colored marker, the colors blended together to create a beautiful swirly ice cream effect!
If you don't have watercolor paper, I highly recommend grabbing some for future projects.
Right now, though you could try regular cardstock or even coffee filters, like these coffee filter flowers.
Kid-friendly watercolor techniques are so fun to play around with.
After that, the kids chose their favorites to glue onto the three cones I had cut out of old sheet music.
Need a Christmas card? Check out these homemade Christmas card ideas!
Optional Ideas to Dress Up Your Card Even More
The watercolor birthday card could be done at this point, but my oldest daughter wanted to also add cherries.
She made these out of watercolor paper and markers too.
Of course, this step is optional!
Another optional step is to add a texture to the background.
Simple black dashes gave the card a little more pizazz!
We think colorful ice cream cones like this would really look amazing against a black background.
My mom adored her watercolor ice cream birthday card and is even planning to frame it!
One of the things I loved about this card is that is was a collaborative effort and great for any age.
It was just as fun and doable for my seven-year old as it was for my two-year old!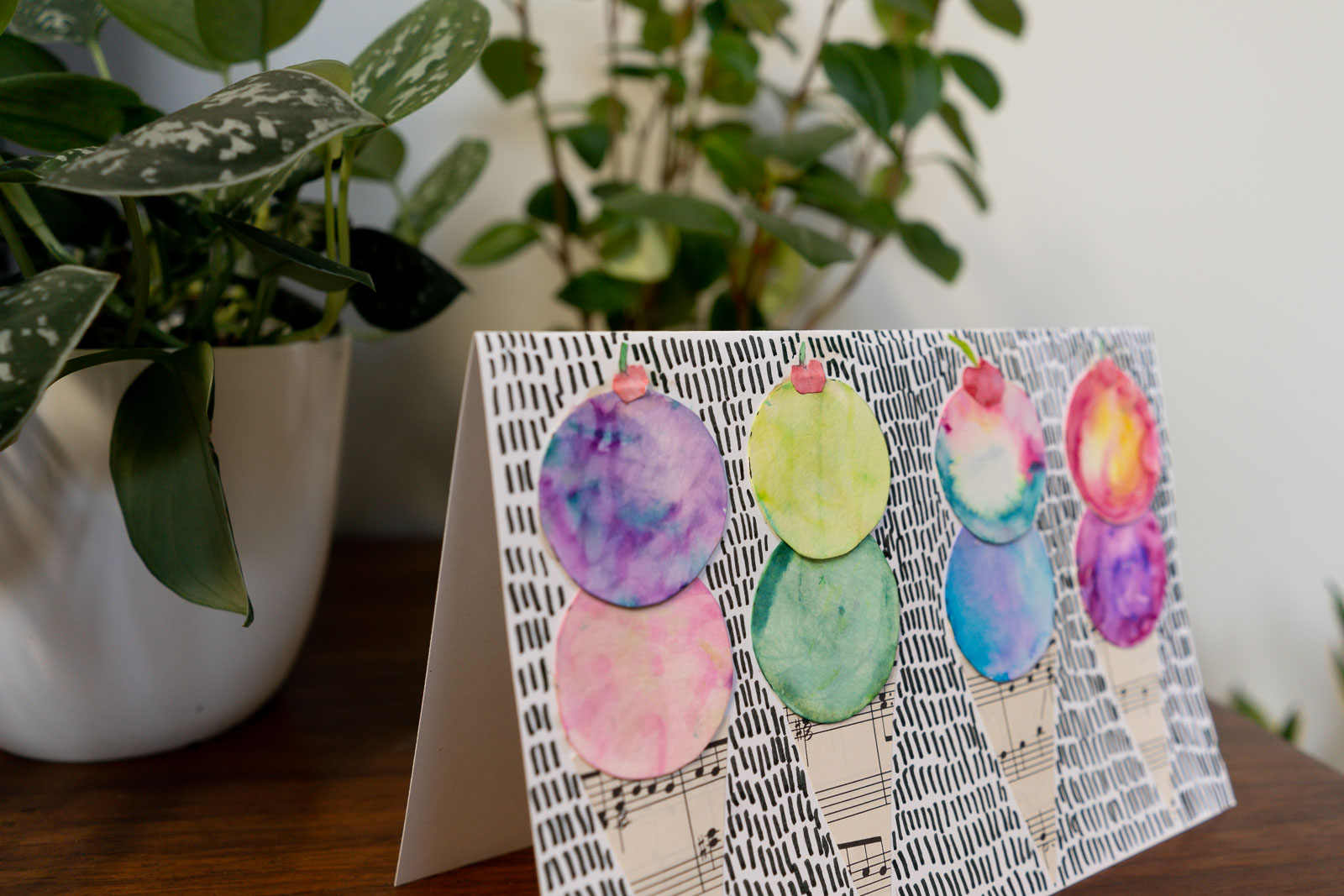 Last step: realize you are really needing some real ice cream after all of this talk of ice cream.
Go ahead! You have my full and complete support.
These homemade valentines are adorable and perfect for kids!
Have you made any cool birthday cards lately?