Every Sunday, we bring together a collection of easy-reading articles from analytical to how-to to photo features in no particular order that did not make our regular daily coverage. Enjoy!
---
The Nikon Z9's New Sensor Could be the Start of a Big Shift in Photography – The Verge
From The Verge:
Nikon has made no mention of things like computational photography for HDR-style photos or the cyclical buffering that smartphones do to simultaneously capture up to nine or ten frames and combine them with each press of the shutter button. But the new 45.7-megapixel full-frame backside-illuminated stacked CMOS sensor isn't far off from what has been in phones for years, at least in terms of the core design. This kind of construction uses a sandwiched architecture of sensor, logic board, and dedicated RAM — yielding incredibly fast readout speeds.
---
Polaroid's New Camera Is Great for Pros, Bad for Idiots (Like Me) – Gizmodo
With the new $150 Polaroid Now+, Polaroid has once again tinkered with that time-honored formula to make its famously intuitive camera a little bit more feature-rich, loading it up with new creative tools that boost the camera's core functionality and allow savvy photographers greater remote creative control over the photos they produce. In other words, the camera that was once idiot-proof is now less so, which is great news for seasoned photogs and bad news for me, an idiot. — Gizmodo
Also, The Polaroid Now+ Takes the Classic Polaroid Camera to a Whole New Level — CNN Underscored 
---
A Photographer Captures American Protests — And Iconic Images From Jan. 6 — BuzzFeed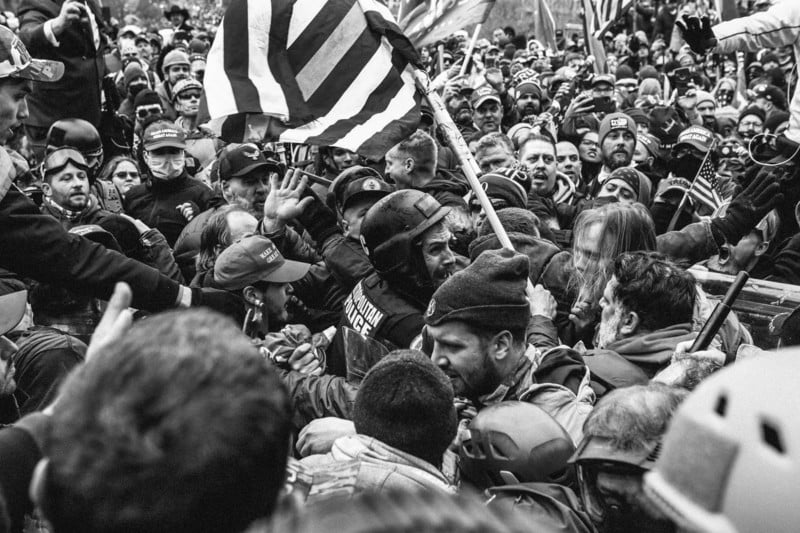 Mel D. Cole has spent the last 20 years documenting music, nightlife and more. In April 2020, during the early days of the COVID-19 pandemic lockdowns, Cole started driving around New York City, documenting the streets. But when George Floyd died after being pinned to the ground by an officer's knee, Cole dedicated the rest of 2020 and beyond to photographing the Black Lives Matter protests that swept the country and their ramifications.
The body of work he has produced from the electrifying summer of 2020 and beyond is a powerful outpouring of the hurt, outrage and courage of people compelled to act. Inspired by the black-and-white documentary tradition of the 1960s, Cole seeks to create what he calls "a collective memory" that continues the civil rights movement's legacy.
American Protest: Photographs 2020 – 2021 by Mel D. Cole is published by Damiani.
---
A Photographer Captured the Art of Bloodless Bullfighting in Texas for Over a Decade – NPR
Katie Hayes Luke has been photographing the bloodless bullfights at La Querencia ranch in south Texas for the last 13 years.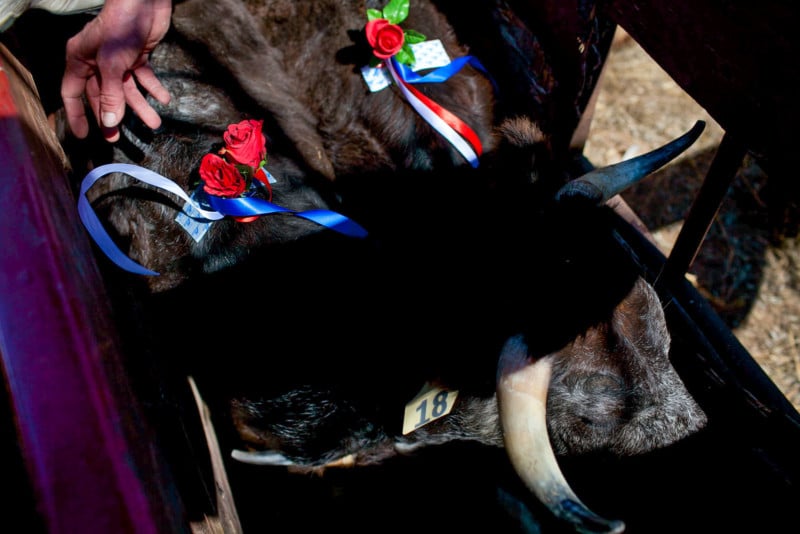 In the United States, it is illegal to kill a bull, and therefore the fights are run differently than in Spain, where it is defined as an art form or cultural event.
---
Intimate Photos of Cindy Sherman Like You've Never Seen Her Before – AnOther
From AnOther:
On 31 October 1985, photographer Jeannette Montgomery Barron arrived at Cindy Sherman's studio in downtown New York to photograph her as few had seen her before – as she was, unadorned. Gone were the wigs, the theatrical make-up, and the props that Sherman used to transform herself into a vast array of female personas brought to life in her art. In the course of an hour, Baron created 40 black and white portraits of the artist, now brought together in Cindy Sherman: Contact (NJG), a limited edition of 400 books and 20 portfolios.

"She seemed very comfortable being photographed by me. I hope she was," says Jeannette Montgomery Barron, remembering the fateful encounter with the artist on Halloween 1985.
Read also: Cindy Sherman Photograph Sells for $3.8 Million, Setting New Record
---
A 'Time Capsule' of Lost Photographs of the Black Panthers, Found 50 Years Later – Creative Boom
After his mother passed away in 2018, Jeffrey Henson Scales made a surprising discovery while helping to clear out the family home. The photographer and photo editor for the New York Times found 40 rolls of film, which included forgotten images of the Black Panther Party and its founding members.
"I hadn't seen them since the 1960s and was struck by not only my origin story as a photographer but also the new urgency these images and the civil rights movement takes on in the context of today's ongoing struggle for racial justice," Scales tells Creative Boom.
Also, How a Surprise Discovery of Photographs From the 1960s Meets the Moment – The New York Times (Subscription required)
---
National Geographic: 50 Greatest Wildlife Photographs – ArtfixDaily

The new National Geographic exhibition, National Geographic: 50 Greatest Wildlife Photographs, displays the very best wildlife pictures from the pages of National Geographic magazine. Curated by renowned nature picture editor Kathy Moran, this exhibition is a celebratory look at wildlife with images taken by National Geographic's most iconic photographers such as Michael "Nick" Nichols, Steve Winter, Paul Nicklen, Beverly Joubert, David Doubilet and more. These images that showcase photography's evolution convey how innovations such as camera traps, remote imaging, and underwater technology have granted photographers access to wildlife in their natural habitat.
For 130 years, National Geographic has utilized its storytelling expertise to connect its readers to the great outdoors. The organization has pioneered the art of wildlife photography ever since the first image to appear in National Geographic magazine of a reindeer in 1903.
National Geographic: 50 Greatest Wildlife Photographs will remain open at the National Museum of Wildlife Art from Nov 6, 2021 – Apr 24, 2022.
---
Parents Outraged Over School Picture Day 'Retouch' Trend – New York Post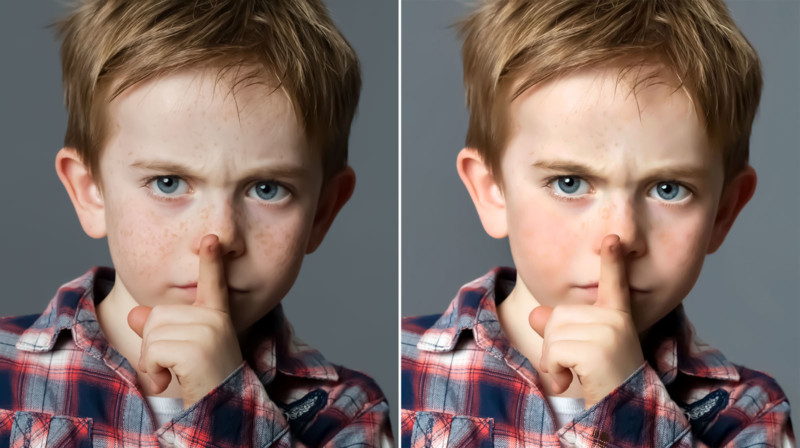 From New York Post
Jennifer Greene doesn't want her 12-year-old daughter, Madeline, to feel pressured into looking picture-perfect.

So, when the Maryland mom opened the seventh-grader's school picture package from photography company Lifetouch and saw it urged parents to lay out an extra $12 for portrait "retouching" services — including teeth whitening, skin-tone evening and blemish removal — she freaked.

"I was shocked," Greene, 43, told The Post.

"I completely disagree with [retouching a child's school picture], because it's teaching kids that they need to look perfect all the time and that they can change [a perceived flaw] with the click of a mouse."

Retouching options on school portraits aren't new — but they're now being offered to students as young as pre-K and are becoming as ubiquitous as face-altering filters on social media, which have triggered a spike in anxiety and depression in teen girls.
---
Guide to Contemporary Photography — Shotkit
From ShotKit
Contemporary photography is a category that encompasses fine art photography created after the late 1960s – when modern photography ended.

If you want to know more about the history of photography, I recommend the books of John Szarkowski. He was the director of photography at the Museum of Modern Art in New York, and he was one of the most influential historians, curators and critics.

Contemporary art entails any artwork – whether it's performance, video, sculpture, painting, etc., created in the past few decades up until the present day.

The exact origin is still debated, but most historians consider it at the end of the 1960s or the early 70s. Despite the somewhat precise date range, it refers to the period that follows modernism.
---
'Fill the Frame' Documentary Explores Social Media's Influence on Street Photography – Amateur Photographer
A new film, Fill the Frame, by director and keen street photographer Tim Huynh, shows some of the challenges of street photography.
Huynh focuses on the work of eight New York-based amateur street photographers Paul Kessel, Jonathan Higbee, Dimitri Mellos, Mathias Wasik, Melissa O'Shaughnessy, Melissa Breyer, Julia Gillard and Lauren Welles.
"I'm seeing the fine art street photography approach (Saul Leiter's work, for example) gaining more popularity than the Garry Winogrand traditional style of street photography… where the images will predominantly combine deep dark shadows, vibrant colors and architecture, and where the photographer is further back from the subject," Huynh tells Amateur Photographer.
"Anyone looking to always find the glory shot will be sorely disappointed. If you do street to receive some kind of glorification, I suggest you rethink your purpose. Just enjoy the fact you have this interest and ability to roam the streets and make art happen, capture that moment that only you saw."
---
'I Call It Fire Brain': What It's Like to Photograph the West's Biggest Wildfires — Gizmodo
Embed from Getty Images
Josh Edelson
shot corporate events, headshots and general advertising. Once the pandemic hit, all that work vanished, and news became most of his work.
"I enjoy covering a protest, but where I really feel passionate is covering things related to the climate: floods, fires, and things like that," Edelson tells Gizmodo.
"I don't know if it's a healthy thing, but I feel like the camera, in many ways, is sort of an emotional barrier. I don't often process everything that I experienced until after, like after I leave the fire…
"I'm thinking, where's the fire moving? Am I safe here? Do I have an exit? Are the power lines above? Are there any trees that are about to fall? Are there propane tanks nearby? Go to 1/500th of a second, f-stop 4, ISO's too high. Step back; the windows are going to blow out.
"It happens fast. Sometimes a home will catch fire, and in 20 minutes, it's down… Safety is obviously at the top of my mind. Also…staying out of the way of firefighters.
"If I'm photographing a person coming home to a burned home, I always try and get some sort of at least non-verbal confirmation that they acknowledge my presence. I try not to get too close. When people are crying, the last thing they want is a camera right in their face. There's a balancing act between getting solid photos and respecting people's privacy."
---
Photoshop 2022: 9 New Features with Pros & Cons! — PiXimperfect
2021 has been a year of AI, and with Photoshop 2022 (version 23.0), Adobe has released many features that use machine learning, powered by Adobe Sensei, and claim to make most things automatic.
This video, by PiXimperfect, hosted by Unmesh Dinda, explores what these new features are and whether they are effective or not.
Also, Adobe Photoshop 2022 Top New Features in 9 Minutes! – Photoshop Training Channel
---
22 Self-Portrait Ideas to Get You Inspired – Digital Photography School
Are you looking for self-portrait ideas so you can create powerful, eye-catching results?
Below are just 3 of 22 ideas on how to improve your self-portrait game.
1.) Experiment with reflection
2.) Experiment with objects in front of the lens
3.) Try framing
---
Great Read From the Past – 2017
How Did Peter Hurley Become a Photographer? — Rangefinder
When I was younger, I was training for the Olympics in sailing. Polo wanted real sailors for a campaign they were doing that Bruce Weber was shooting, and I went over and got the job. I didn't know anything about photography at the time or who Bruce was, but from there, I got into modeling, and one day Bruce was like, 'Why don't you pick up a camera?' He was one of the people that really encouraged me. I value that immensely, but I also just love his work. – Peter Hurley in Rangefinder.
Read also:
How to Light Headshots: Five Tips from Peter Hurley
5 Quick Headshot Tips in 3 Minutes by Photographer Peter Hurley
---
Photo of the Week
Embed from Getty Images
The winner of the scariest costume category with "Maleficent" celebrates during the annual Tompkins Square Halloween Dog Parade at East River Park Amphitheater in New York on October 23, 2021. (Photo by KENA BETANCUR/AFP via Getty Images)
---
Quiz of the Week
1.) Can a high-end digital camera function without a mechanical shutter?
2.) Which manufacturer recently released two zoom lenses and claimed they were the lightest in their class?
3.) Is there a Sigma zoom lens that costs over $25,000? Hint: It weighs 35 lbs. and needs a battery to work.
Answers
1.) Yes, the new Nikon Z9 does.
2.) Nikkor Z 100-400mm f/4.5-5.6 VR S at 1,355 g and Nikkor Z 24-120mm f/4 S at 630 g.
3.) Yes, the Sigma APO 200-500mm f/2.8 with 2x Teleconverter. Sigma first showed this lens at PMA in Jan 2008 in Las Vegas. It is still in production but is a special-order item at Adorama.
---
Why I Like This Photo – Cameron Dever
I like this photo because not only is it compositionally interesting and beautiful, but also it symbolizes love and connection and what it's like to be in a relationship. It was a completely experimental shot too, so it became more than what it was originally intended to be when it came out like this. It became more symbolic than just a regular photo of a couple.
I think it's very important to know how to compose an image and work with light of all kinds, composition, color, and all of the technical aspects of photography. When you do that, your voice and instincts as an artist kick in, and you really make some magical, unique images. That's what happened with this photo for me. I decided to play with motion blur and turn the camera as I shot. Simple, but it created something amazing.
I shoot on a Canon EOS 5D Mark IV for all of my digital images. For film, I mainly shoot on a Canon EOS Rebel 2000 and various other film cameras I pick up at thrift stores. All my images are currently shot on a 35mm lens. I'm not big into artificial lighting other than the flash I stick on my cameras. So that's the only artificial light I use for my photography.
This photo was taken in 2020, and it was during an engagement session. Like I said previously, it was a complete experiment, and I just hoped it came out when I took it. It was a pleasant surprise.
One of the biggest pieces of advice I like to share is just to take photographs as much as possible. And experiment with different things when you do. Both of those things help you find your voice, and when you find your voice in your art is when you become a valuable, unique artist. I highly recommend reading Austin Kleon's Steal Like an Artist, which covers what I just said and so much more.
Cameron Dever, a wedding and commercial photographer, was born in Mesa, Arizona. The desert was home for 19 years until she moved to Utah. She received her first camera for Christmas when she was 15 years old and has been photographing ever since. Dever did a year and a half at ASU with a business entrepreneurship degree but quickly realized that photography always was and will be her passion and ultimately graduated from BYU with a photography degree. She was married last summer to her husband Nathan and now lives in a little vintage apartment with their cat noodle. She enjoys thrifting, traveling, rock climbing, hiking, and trying new Thai food places when she's not taking photos. 
---
Quote of the Week – Chris Johns
The above photo is from National Geographic: 50 Greatest Wildlife Photographs at the National Museum of Wildlife Art, Jackson, WY, from Nov 6, 2021 – Apr 24, 2022.
Today, taking a photograph is easier than it has ever been, but that does not mean just anyone can create a powerful body of work that informs and emotionally touches people.* – Chris Johns
* Griz Chat with former National Geographic Editor Chris Johns, April 2020
Chris Johns (b. 1951) is a photographer and former editor-in-chief for National Geographic Magazine from 2005-2014. He spent many years in Africa for the magazine and is the first photographer to have been named its editor-in-chief. Johns is the former distinguished professor at the Univ. of Montana and taught a course in conservation journalism, examining the powerful impact visual storytelling has had in the conservation movement.
---
To see an archive of past issues of Great Reads in Photography, click here.
---
We welcome comments as well as suggestions. As we cannot possibly cover each and every source, if you see something interesting in your reading or local newspaper anywhere in the world, kindly forward the link to us here. ALL messages will be personally acknowledged.
---
About the author: Phil Mistry is a photographer and teacher based in Atlanta, GA. He started one of the first digital camera classes in New York City at The International Center of Photography in the 90s. He was the director and teacher for Sony/Popular Photography magazine's Digital Days Workshops. You can reach him via email here.
---
Image credits: All photographs as credited and used with permission from the photographers or agencies. Portions of header photo via Depositphotos.