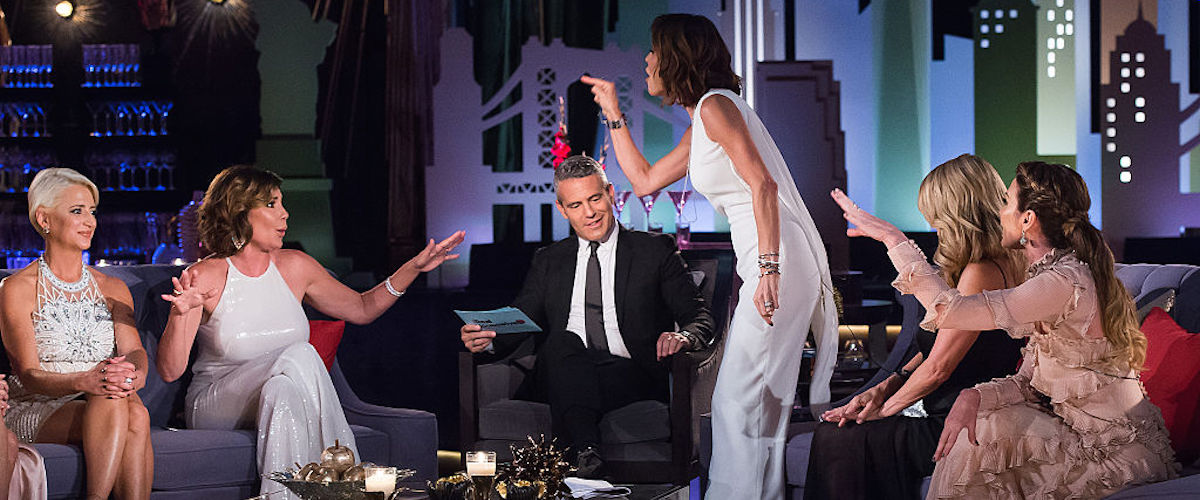 The Real Housewives' mom is quite old, older than Momma Dee and Momma Joyce combined. The first American soap opera, Painted Dreams, aired not on television but on Chicago radio in 1930; a nationally syndicated radio soap, Clara, Lu, 'n' Em, followed the next year. (No, the Lu of the title is not the countess.) As many know, the shows got their name from the products that sponsored them—mainly detergents and household goods, aimed at housewives passing the time over chores while the mister was at work gathering up all that bacon.
Two things immediately differentiated these shows from other offerings at the time: serialized stories that never wrapped themselves up and could carry on ad infinitum, and a focus on women's stories. Painted Dreams followed the lives of Mother Moynihan, an Irish American immigrant, and her unmarried daughter. Unlike then trendy adventure shows like Tarzan, The Lone Ranger, and The Shadow (which were serialized but would eventually conclude before moving on to the next story line), it focused on the domestic, the interpersonal, and the romantic.
Here's a bit of dialogue from an episode of Painted Dreams. "I tell you, Sue, it won't work. I've never worn that shade of orchid in all my life," a character named Irene says. "I'd look like a perfect washout. Besides, that's your very best special occasion dress. I wouldn't think of taking it."
Sue responds, "Gee, with gold slippers and a gold turban hat, you'd be a wow! Wouldn't she, Mrs. Moynihan?" The language is a little different, but doesn't this sound exactly like a conversation that Erika Jayne would be having with her stylist, Mikey, in one of the customary scenes where they're going over her wardrobe before she leaves on a vacation? I also think that a gold turban and gold slippers is something that might theoretically be worn by Erika Jayne. (Who was, actually, named after soap icon Erica Kane.)
More radio soaps followed, like The Guiding Light, a serial about a priest and his flock, which kicked off in 1937 before moving to television in 1952. When it was eventually canceled in 2009, Guiding Light was the longest-running drama in American history and also the longest-running soap opera.
Housewives may not air daily as soaps do, but there are plenty of us fans out there who might wish it to be so.
The television soap pioneer was These Are My Children (1949), not to be confused with Andy Cohen's favorite soap, All My Children, which didn't debut until 1970. Early TV offerings lacked the amnesia or abductions modern fans have come to expect, and the episodes were aired in black and white (duh) and only thirty minutes long. Otherwise, a lot of soap hallmarks are the same as they were on the radio and would be through to modern day. "I think of soap opera proper as daily daytime dramas that not only tell a continuing story but that have women characters at the center of it that are concerned with issues and ideas that are often associated with women in our society: Things about family relationships, romantic relationships, those kinds of things," says Elana Levine, author of Her Stories: Daytime Soap Opera & U.S. Television History.
These are all, of course, hallmarks of Real Housewives as well: ongoing stories that focus on the lives of women in society, their family relationships, and their romances. Would we even have a season if we couldn't see Ramona Singer try to date after her divorce, Melissa Gorga consider whether or not she should have another child after forty, or Kyle Richards cope with her daughters leaving the house? Housewives may not air daily as soaps do, but there are plenty of us fans out there who might wish it to be so.
We also see the visual language of soap opera in Real Housewives. A popular strategy on soaps is to show two sets of characters talking about the same thing and shifting between their conversations. On All My Children, Erica Kane and her husband, Travis Montgomery, each might be talking to a friend about their marital troubles, while on Housewives Kyle Richards and Lisa Vanderpump argue their sides in a fight between them to separate confidantes.
Then there are the reaction shots. "Reaction shots have a really important function in all of these stories, all of this storytelling," Levine says. We all know the shot on soap operas, the kind of thing Roy Lichtenstein painted in his comic style, where a woman receives bad news on the phone and we see her about to cry before we know who's calling. We see the same thing on Housewives when someone says something upsetting or controversial; the frame focuses not on the speaker but on the women hearing the news, so we can know how to feel about it.
"It's important for the viewer studying people's faces, reading emotion, noticing nuances that they recognize because they've studied these faces for a long time and they know how and why they're reacting the way they're reacting, and reading a lot into it," Levine says, both of soaps and their reality counterparts.
There's also the way the plots of both soap operas and Housewives come together. "Most of daytime is quite boring," Levine says. "It's just people sitting around having conversations." Same goes for our favorite reality stars, though they are more often doing it after a workout at some new fad gym or sitting around a half-empty restaurant in the middle of the day. But the storytelling rhythms of both are the same. On a soap, all the characters, in different configurations, will talk about some big event, let's say a masquerade ball—or in the case of Denise and Lisa, Dorit's housewarming-party-cum-launch for her brand of alcohol-free champagne. All the story lines converge at the ball for several episodes, and something major happens. Then the next several episodes are just people in smaller groups, talking about what happened at the party.
For the Housewives, a cast trip or Roaring Twenties–themed party will go on for several episodes, leading up to some great confrontation. Then there is the dissection of that event for just as long.
Take, for instance, the season 4 lunch where Luann de Lesseps and Alex McCord sit down for lunch at (entirely empty) Meatpacking District eatery La Gazzetta. Alex is wearing a fur-lined red minicape, and Luann is much more understated in a black turtleneck. They get in a confrontation about a recent fight on the group trip to Marrakech; Alex accuses Luann of being "haughty, condescending, and vile" to her, and Luann tells Alex to mind her own business when it comes to her relationship with Ramona.
"You came after me in the house, I was sitting there having a loving moment with the ladies, and you came in in your Herman Munster shoes," Luann says with a chuckle.
"They're Louis Vuitton shoes," Alex corrects her.
"Well, even Louis Vuitton makes mistakes."
Between the trip, and the reliving and adjudication of it, we get two conflicts for the price of one.
A soap tactic The Real Housewives uses more sparingly is the cliffhanger. Every cut to a commercial break on a soap opera is a chance for intrigue. They can be simple, like a woman picking up a phone and saying, "I didn't think I'd hear from you again," as an organ grinds and we all hold tight to find out just who is on the other end. Or they could be complexer, particularly on Friday afternoons when fans can spend the whole weekend thinking whether or not Ashley Abbott (Eileen Davidson's character on The Young and the Restless) is about to run off with her ex-husband's cousin's twin, who is a serial killer suffering from amnesia. (I made that particular story line up, but the fact that you even thought it might be real sort of proves the point.)
Bravo saves its cliff-hangers for the end of an episode where there is about to be a fight. We all know that if there is a kerfuffle in the previews, that the throwdown is going to happen right in the show's final moments. Just as NeNe Leakes stands up and comes for Kenya Moore on a patio in Greece, we see those three dreaded words flash across the screen: "To Be Continued . . ." Like any soap opera, we know The Housewives will continue, but this signals to fans that the heart of the conflict is coming next week.
While Bravo shows have many similarities with daytime dramas, it usually likens Real Housewives to prime-time soaps with a bit more prestige. The network singled out Peyton Place as a reference in the show's initial press release. Based on a bestselling 1956 novel by Grace Metalious and 1957 movie of the same title, Peyton Place debuted twice a week on ABC in 1964. Tracing the intersecting lives of families in a small Massachusetts town, it was an attempt to import an English-style soap opera like Coronation Street, which airs every day in the evening.
Though the network wanted to distance it from the "soap opera" label, Peyton Place had all the hallmarks of what we would consider one: stories about alcoholism, domestic violence, teen romance, teen pregnancy, infidelity, murder trials, wrongful imprisonment, hit-and-run accidents, and the like. It nixed a story line from the novel about incest, but most else was fair game.
The show was an immediate success. It started airing three nights a week instead of two and made instant sensations of stars Mia Farrow, then married to Frank Sinatra, and Ryan O'Neal. When Farrow left the show after two seasons, the ratings never recovered, and Peyton Place was scaled back to two nights a week and then canceled entirely after five seasons. As quick as the craze had begun, prime time was scared away from soap operas.
As the '70s peaked, daytime soaps suffered from audience erosion as their typical demographic, real housewives (not, you know, capital R capital H), left the home to enter the workforce. The mothers of the baby boom generation were now dealing with older children or empty nests and weren't necessarily folding nappies in front of their "stories" anymore. To make matters worse, the first talk show boom was being ushered in by the likes of Phil Donahue and others, making hour-long shows that were nearly as popular at a fraction of the cost.
With adults at work, what other audience has the luxury to sit at home all day and watch soap operas? Young people! From 1966 until 1971, ABC aired Dark Shadows, a gothic soap opera that inadvertently attracted a young crowd when it started incorporating supernatural story lines about witchcraft and werewolves into the plot. When it introduced vampire Barnabas Collins, it created an iconic character, later played by Johnny Depp in a 2012 movie remake. Other soaps followed suit with outlandish plotlines involving supernatural or spy elements. In 1981, Elizabeth Taylor was a guest star on her favorite soap, General Hospital, as a villain who was trying to freeze the entire world with a mysterious gem.
In 1976, a cover story in Time magazine quoted the number of weekly soap followers at twenty million Americans (including Andy Cohen), including ten million daily viewers for As the World Turns. Soap opera's second boom reached its height on November 17, 1981, when the young characters Luke and Laura got married on General Hospital (despite the fact that Luke had raped her two years prior). The wedding attracted thirty million viewers, which still makes it the highest-rated daytime soap opera episode in the U.S. of all time. (For comparison, Oprah Winfrey's final broadcast in 2011 only brought sixteen million viewers.)
Andy Cohen got hooked during this period, as a kid on the cusp of high school in the early '80s. He was a devotee of the ABC soaps, including All My Children, One Life to Live, and General Hospital.
In his memoir, he bemoans that when he's on a trip with his aunt and uncle, she is going to make him watch her favorite show, Days of Our Lives. "For the life of me, I didn't understand the appeal of Days. It was all fantasy and improbable plotlines. I hated NBC soaps. And Days looked especially weird to me, like the tape was old or gauzy or something. (You do NOT want to get me started on CBS soaps—so dark!) ABC soaps, in case you care, were bright and urban and smart—at least that's what I preached."
All the soaps of the era had the aesthetic of a Glamour Shots portrait come to life, and that's an archetype that really stuck. "Daytime is kind of connected to that fantasy era," says Levine. "I think many people think of that as like, 'Oh, that's what a soap opera is.' It's these elaborate weddings, big hair, and crazy adventures. That's really a particular period in the history of soap opera that burns really bright and gets lots of people really excited and engaged, and makes a lot of money for the industry."
Dynasty in particular is well remembered, especially among camp-obsessed gay viewers, for the catfights and insults between Linda Evans's Krystle and Joan Collins's Alexis.
The networks tried reintroducing the soap opera into prime time starting with Dallas in 1978, about the machinations of a wealthy Texas oil family, and then Dynasty in 1981, about the machinations of a wealthy Colorado oil family. These two shows would not only define our idea of the '80s "me decade," with women with huge hair and bigger shoulder pads living in giant and ornate McMansions but also embody the fantasy of conspicuous consumption to which The Real Housewives would later aspire.
Dynasty in particular is well remembered, especially among camp-obsessed gay viewers, for the catfights and insults between Linda Evans's Krystle and Joan Collins's Alexis. The best one features Alexis, wearing a dramatic black-and-white hat, going a bit far with the name-calling while standing next to a lily pond in Krystle's backyard. "You bitch!" Krystle shouts, tackling Alexis and launching them both into the pond, where Alexis wallops her with her now water-logged hat. Just as Alexis is about to crawl out, Krystle grabs her by the leg and says, "Oh no you don't," dragging her back and popping her right in the jaw. No one can check Shereé, boo, but she could never.
That show ended in 1989 and Dallas two years later, but the cyclical nature of television means that Marc Cherry's Desperate Housewives was only so far behind. The ladies of Wisteria Lane carried on the outrageous, murderous tropes of their '80s forebears, but this time back on a Peyton Place–esque suburban cul-de-sac (albeit one that would eventually be hit by a tornado).
Just as soap operas hit their low ebb in the '70s, PBS aired a sociological experiment that would end up changing the television landscape as we know it. Filmmaker Craig Gilbert had pitched the idea of going into an average American household and presenting what he found to the public. He chose as subjects the Louds, an upper-middle-class family in Santa Barbara, California. The show was called An American Family.
With the help of married couple Alan and Susan Raymond, who ran camera and sound for the production, Gilbert shot three hundred hours of footage on 16 mm film. That was whittled down into twelve hourlong episodes that aired on PBS, of all places, early in 1973. Gilbert captured a lot more drama than he originally anticipated. Bill and Pat Loud, the mother and father of the family, ended up separating on camera and eventually getting divorced. Lance, the couple's oldest son, who lived in New York while the series was filmed, is perhaps the first openly gay person on American television.
It turns out that the first reality stars to complain about their edit were the first reality stars.
An average of ten million viewers tuned in each week to watch what happened live. Newsweek featured the Louds on the cover with the headline "The Broken Family," and the members went on to become celebrities in their own right, with Lance saying to Time magazine that the show fulfilled "the middle-class dream that you can become famous for being just who you are."
The show did not arrive without controversy, and not all of it because of the divorce and Lance's sexual orientation. On the eve of the 2011 release of Cinema Verite, an HBO movie dramatizing the making of the show, Dennis Lim wrote about the original program for The New York Times. "For the viewing public, the controversy surrounding An American Family doubled as a crash course in media literacy," he writes. "The Louds, in claiming that the material had been edited to emphasize the negative, called attention to how nonfiction narratives are fashioned. Some critics argued that the camera's presence encouraged the subjects to perform. Some even said it invalidated the project. That line of reasoning, as Mr. Gilbert has pointed out, would invalidate all documentaries. It also discounts the role of performance in everyday life, and the potential function of the camera as a catalyst, not simply an observer."
It turns out that the first reality stars to complain about their edit were the first reality stars. Rumors swirled that Gilbert, working as a producer, tried to amp up the drama to make a juicier project. People asked just how real this thing could possibly be.
Regardless, some took the experiment incredibly seriously, including the famous sociologist Margaret Mead. She wrote in TV Guide (kids, that was a magazine that told you what was on television) that the show is "as new and significant as the invention of drama or the novel—a new way in which people can learn to look at life, by seeing the real life of others interpreted by the camera."
She is right in that An American Family presaged the reality television age (as did the classic 1976 movie Network), but some scholars stop short of calling it the "first reality show." The style is all wrong, to modern eyes: there's no music, few reaction shots, and the pace is slower than a snail on a coffee break. It looks more like an experimental art-house movie than it does an episode of Real Housewives. "We don't need to call that reality TV because we already had a name for what that was," says TV historian Thompson. "It was called a documentary. Verité documentarians had been following actual people around since the silent film era. Nanook of the North, which everybody watches in film 101 class, was about Robert Flaherty who followed around an Inuit family." Flaherty also "faked some stuff," Thompson says.
Are we sure we're not talking about reality TV here?
__________________________________________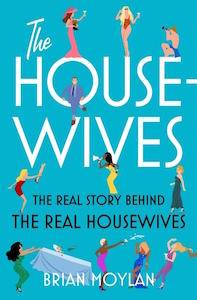 Excerpted from THE HOUSEWIVES Copyright © 2021 by Brian Moylan. Reprinted with permission from Flatiron Books. All rights reserved.