Like most states, Maine has plentiful art museums, transportation museums, and historical sights. But you'll find these quirky museums and offbeat attractions only in Maine.
Looking for a trophy marlin caught by Ernest Hemingway? Wooden figures carved in Lithuania? Umbrella covers? Ever heard of an orgone accumulator? You'll find all these, plus Micky Mouse and Betty Boop, Bigfoot, a giant wooden horse, interplanetary travel, and more. Many of these quirky Maine Museums and weird or wonderful offbeat sights will appeal to travelers of all ages. And many are ideal for social distancing, as they're either outdoors or in the boondocks.

Before continuing, please give a moment of silence in honor of the quirky Maine museums that no longer exist. R.I. P. Wiscasett's Musical Wonder House, Thorndike's Bryant Stove & Doll Museum (weird to the point of almost being creepy), and Jonesport's Salmon Museum. Every time one of these unique—in the true sense of the world—sites close, Maine loses a bit of its, well, Maineness.
And now, on with the show!
Quirky Maine Museums
International Cryptozoology Museum, Portland
An eight-foot-tall Bigfoot likeness greets vis­itors at the International Cryptozoology Museum. Say, what? Cryptozoologists study and search for legendary or unsubstantiated animals such as the Loch Ness monster and Sasquatch. Displays include skulls and footprint castings that lend credence to the existence of these rumored beasts, as well as kitsch such as movie props and souvenir memorabilia. Renowned cryptozoologist Loren Coleman began this museum in his home. But his extensive collection outgrew that and now is located at Thompson Point.
Umbrella Cover Museum, Peaks Island
When it comes to quirky Maine museums, this one might top the list. Nancy 3. Hoffman (yes, 3) displays her Guinness World Record-holding collection, now numbering more than 2,000 umbrella covers (yup, umbrella covers at the Umbrella Cover Museum on Peaks Island. Covers (you know, the sleeve you lost or tossed) are grouped by theme, and there's even an adults-only exhibit. Most visits end with Hoffman singing and playing "Let A Smile Be Your Umbrella" on her accordion. To get there, take the Casco Bay Lines Peaks Island ferry, about a 20-minute ride from the Portland waterfront. The museum is maybe a 5-minute walk from the island dock.

Maine Antique Toy and Art Museum, Waldoboro
Indulge your inner child at the Maine Antique Toy and Art Museum, home to an extensive collection of antique toys and origi­nal comic art geared to nostalgic adults, not kids. Among the residents are the original Mickey Mouse, Betty Boop, Felix the Cat, Little Orphan Annie, Yoda, and an exceptional collection of Lone Ranger art, toys, and memorabilia. The museum, housed in a 200-year-old house, welcomes adults and well-behaved children. Also on the premises is an art gallery displaying owner John Fawcett's works and an antique shop specializing in toys. This may not be an especially quirky Maine museum, but it sure puts the fun in funky.
Poland Spring Museums
Poland Spring Water's legendary healing powers helped it win the Medal of Excellence at the 1893 Chicago World's Fair and the Grand Prize at the 1904 St. Louis World's Fair. And it allowed Hiram Ricker to grow a small family hotel into the 300-room Poland Spring House, an architectural and technological marvel in its day and home to the world's first resort golf course. The resort hosted the country's wealthiest and most influential people, including U.S. presidents, Babe Ruth, Alexander Graham Bell, Mae West, Betty Grable, and Judy Garland. Charles Lindbergh flew over the hotel on July 25, 1927, but crowds prevented him from landing. After the 1893 Chicago World's Fair, Ricker purchased the octagonal Maine State Building and transported it to his 5,000-acre property by train and horse-drawn wagon. Now the Poland Spring Museums, comprising it and the Poland Spring Museum and Spring House, share the property's story.
Fire destroyed the original Poland Spring House in 1975, but the Poland Spring Resort still operates and draws budget-conscious travelers to the now 500-acre property.
L.C. Bates Museum, Hinckley 
Offbeat doesn't begin to describe the L.C. Bates Museum, a way-cool, way-retro trea­sure chest with a broadly eclectic collec­tion focusing on natural history. Among the gems are meticulous wildlife dioramas, hun­dreds of mounted rare birds, priceless Native American artifacts, and a trophy marlin caught by Ernest Hemingway. In addition to poking around the three floors of exhibits, wander the trails outdoors. The seasonal museum mounts special exhibitions each summer. Here's more about the Bates Museum.
William Reich Museum, Rangeley
Controversial Austrian-born psychoanalyst and natural scientist William Reich was part of Freud's inner circle and considered one of his most promising students. Later, differences of opinion drew them apart. An expert on sexual energy, Reich conducted experiments and created inventions such as the orgone accumulator, the medical DOR-buster, and the cloudbuster. In 1942, he purchased 175 acres in Rangeley, naming the property Orgonon. In 1948, he began building the Orgone Energy Observatory, now listed on the National Registry of Historic Places. When the FDA filed a claim against Reich in 1954, the judge ordered the destruction of much of his work. Reich died in 1957 and is buried on the property. The William Reich Museum highlights his life and works; the panoramic views from its rooftop deck are spectacular.
Offbeat Maine Attractions
Langlais Sculpture Garden, Cushing
You'll find an elephant, bears, a 13-foot horse, Nixon, and even a spoof on neighbor Andrew Wyeth's Christina's World at the Bernard Langlais Sculpture Preserve in Cushing. A Maine native and classically trained artist, Langlais hit the big time in New York before retreating to a 90-acre farm in Cushing, Maine, to pursue his artistic vision. During the 11 years before his 1977 death, Langlais (a.k.a. Blackie) created more than 65 wooden sculptures on this property. His widow, Helen, left it all to Colby College, which worked with the Kohler Foundation to restore the works. The nature-and-sculpture preserve, established on a portion of the artist's homestead, celebrates this legacy. A quarter-mile ADA accessible path and a half-mile trail wind through the sculptures; a wheelchair is available when docents are on site. The Georges River Land Trust is the steward of this offbeat Maine attraction.
Wild Blueberry Land, Columbia Falls
What's not to like about a blueberry-shaped attraction dedicated to sharing the history, science, and culture behind wild blueberries, especially when it doubles as a scratch-made bakery? Resist the urge to go straight to Wild Blueberry Land's pies, bread, jams, and other goodies. Instead, visit the Maine Wild Blueberry Museum first. Wild blueberries grow in barrens on low-spreading bushes. And they're smaller and far richer in nutrients than the readily available high-bush varieties. Cooks love them because they retain their shape when baking. The museum explains the geological history of wild blueberries and how climate change affects growth. It also covers the human history of cultivation. And it covers research, health benefits, and nutrition. Afterward, go ahead, treat yourself to a wild Maine blueberry pie.
FYI: Helen's Restaurant in nearby Machias is justifiable famous for its wild Maine blueberry pie. Order a slab warmed, perhaps with a scoop of blueberry ice cream on top.
South Solon Meeting House, Solon
Don't let the rural setting or the exterior of the serene, white clap­board, circa-1842 New England-style South Solon Meeting House fool you. Although it retains its original architectural features, it's a riot of color and art inside it. Back in the 1950s, fresco artists juried by the Skowhegan School of Painting and Sculpture painted nearly every square inch of the walls and ceiling with interdenominational religious scenes. Contemporary interpretations of The Last Supper, angelic musicians, fishermen, and church-going families cover the walls, ceiling choir loft, and entry of this nonsectarian meeting house. It's rare not to have the place to yourself when visiting. Here's what it's like to visit the South Solon Meeting House.
Ambejejus Boom House, near Millinocket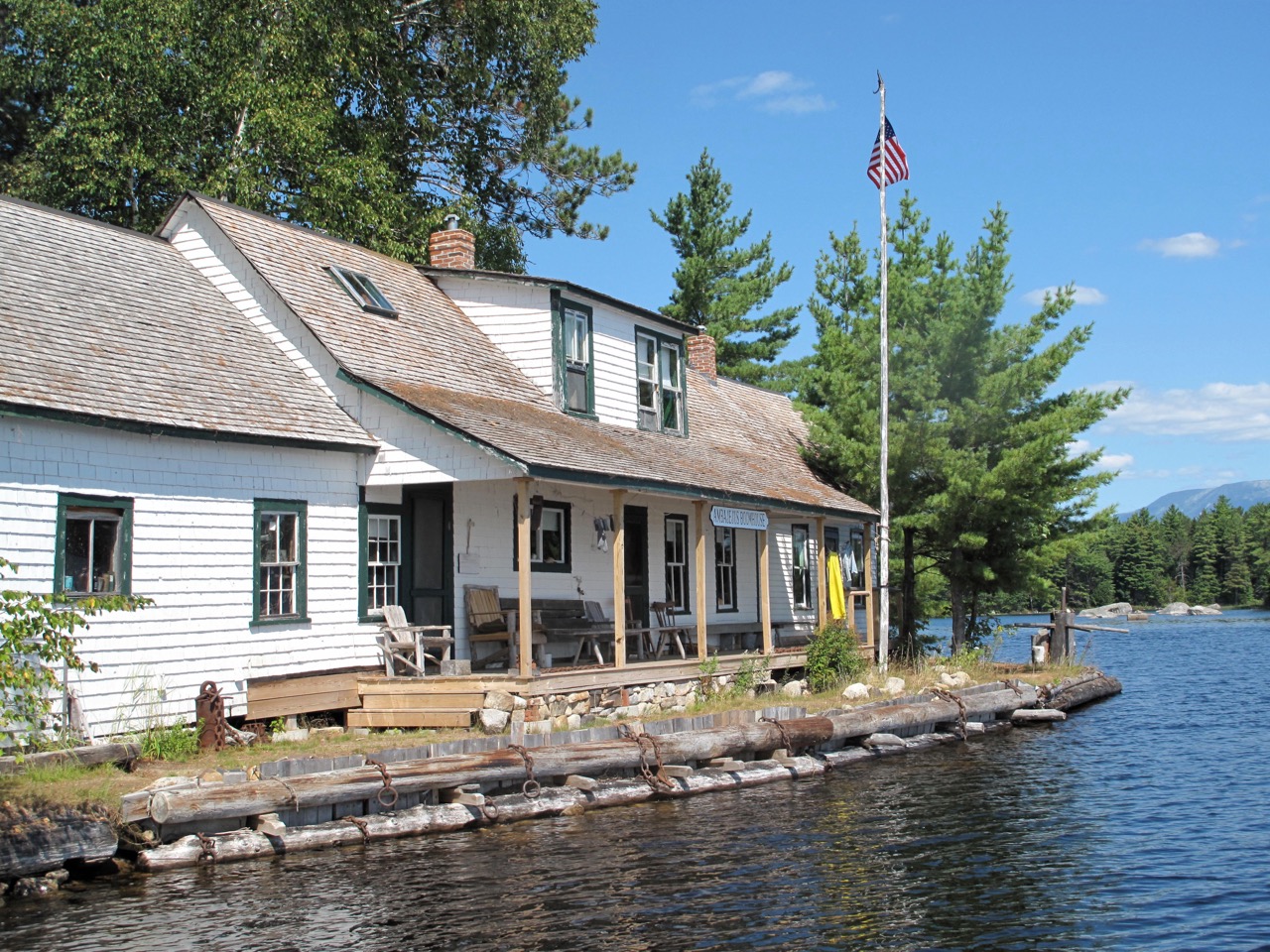 Dip into Maine's logging heritage at the Ambajejus Boom House, built in 1906 on the shores of Ambajejus Lake. For 65 years, river drivers rode logs downstream from where trees were felled to this rest stop. The logs were "boomed out" (collected into acres-wide booms) and then towed to the sawmills. Thank former river driver Chuck Harris for restoring this National Historic Register property and filling it with lumbering-era artifacts. The only access to this boom house is via boat or floatplane. Both New England Outdoor Center and the Big Moose Inn rent canoes and offer guided trips. If paddling, opt for a guide. More recently, Harris restored the nearby (relatively) Chesuncook Lake Boom House. Although remote, it's accessible by road. Both are located near Baxter State Park and the Katahdin Woods and Waters National Monument. Here's more about Maine's Boom Houses.
Alexander Art Trail, Alexander
One doesn't expect to find life-size wooden sculptures carved by Lithuanian artists deep in the williwacks of Maine's down east woodlands. But that's where you'll find the Alexander Art Trail. You'll find more than two dozen sculptures here, some on a trail, others in the woods just off of it. None are identified, but many will be recognizable. Grazina and the late Roland Paegle created this after visiting sculpture parks in Europe. Also scattered here are Roland's driftwood sculptures. The park is located on unpaved back roads off Route 9 west of Calais. Read more about the AlexanderArt Trail.
Maine Solar System Model, Aroostook County
Interplanetary travel is possible with the Maine Solar System Model, which stretches nearly 100 miles between Houlton and Topsfield, in Aroostook County. The 93-million-to-one, three-dimensional scale model comprises the sun, planets, dwarf planets, and moons for Earth, Saturn, Jupiter, and Pluto. All of the major planets are large enough to be seen while driving along Route 1, where one mile is equal to the distance between Earth and the Sun, and the speed of light is 7 mph. Ready for launch? Here's more about traveling the Maine Solar System Model.

---
What's appealing to the over-50 luxury traveler
Quirky museums and fun and funky sites, many of which will tickle the nostalgia bones
Some sites are especially appealing to multi-gen families
Many sites are outdoors or remote, allowing easy social distancing
Take note
Not all sites are accessible; some lack elevators or ramps and some have uneven terrain
Many sites are seasonal and open only spring through fall. And, due to COVID-19 and employee and volunteer shortages, hours may vary from what's posted. So confirm hours before making a special trip
---
All photo credits: Hilary Nangle
---
IF YOU GO
This image below shows an annotated Google map with rough locations of Maine's quirky museums and attractions. While you might be able to group a couple in a day, such as the International Cryptozoology Museum and the Umbrella Cover Museum or L.C. Bates museum and South Solon Meetinghouse, Maine's size and road system will make visiting more than two in one day, a challenge.
---
COVID-19 Update
---
Disclosure: The author visited all sites on her own
---
READ MORE
Previously on Getting On Travel
---
Save to Pinterest!!