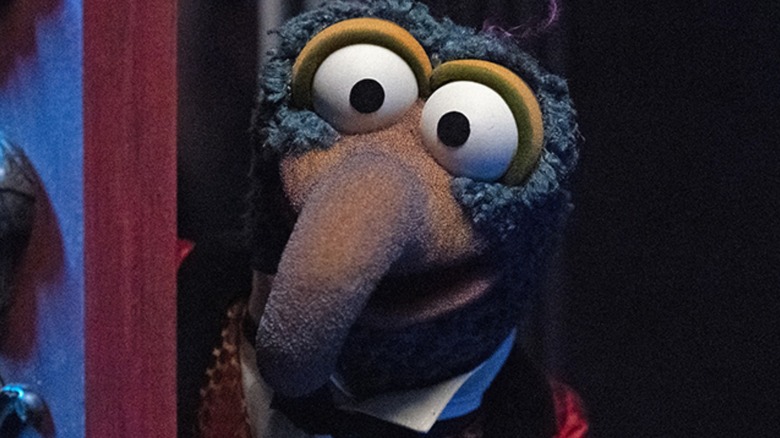 Halloween is the season to light the jack-o'-lantern, stuff yourself with goodies, and get your fright on -- ideally with some fantastic films. From camp to classic to current, movies are among the best ways to celebrate the spookiness of the holiday while munching on a bowl of sweets and popcorn -- and, like a candy store, Disney+ offers an assortment of treats that are perfectly suited for October.
After all, while the Disney+ catalog is largely family friendly, humor and horror go hand-in-hand. From theatrical releases to made-for-TV movies and even one streaming-exclusive special, we've gathered both the well-baked and the under-baked Halloween films on Disney+ (look, who doesn't enjoy a little raw dough?). It doesn't matter if you're a kid or an adult; all of these choices contain a suitable amount of ghastliness for the occasion.
Halloweentown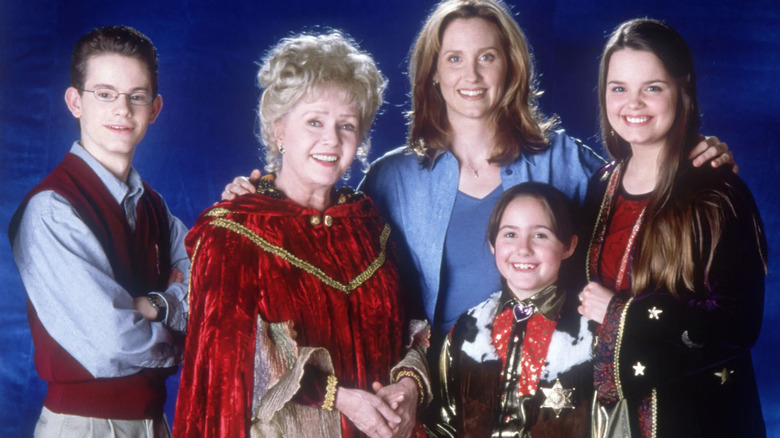 Why does her mother forbid her from going trick-or-treating? That's the question that bugs Marnie, who has an affinity for Halloween. When Marnie and her two siblings receive a visit from their grandmother and her bottomless goodie bag, Marnie learns she's part of a bloodline of witches. Thrilled at this revelation, Marnie and her brother and sister follow their grandmother to Halloweentown to kick off their magical education. But if Marnie doesn't finish her training in time, her potential to use magic could fade away -- and that's without even mentioning the mysterious evil that's snatching away Halloweentown's citizens.
A 1998 Disney Channel classic, "Halloweentown" is all about the colors, costumes, and imagination of Halloween. The prosthetics, outfits, and visual effects may have some wear and tear, but that's part of the movie's charm. Kids will dream of residing in a neighborhood like Halloweentown, where werewolf barbers, ghosts who hit the gym, taxi-driving skeletons, dentist-visiting vampires, and other macabre creatures are friendly and eccentric neighbors who live in the sun instead of hiding in the shadows. 
You'll also wish that you had a sweet grandmother like Debbie Reynolds. Julie Andrews might've beaten Reynolds for the best actress Oscar in 1965 for "Mary Poppins," but Reynolds got to play her own witchy Poppins-like figure here as Aggie Cromwell, the matriarch of this magical family.
The Nightmare Before Christmas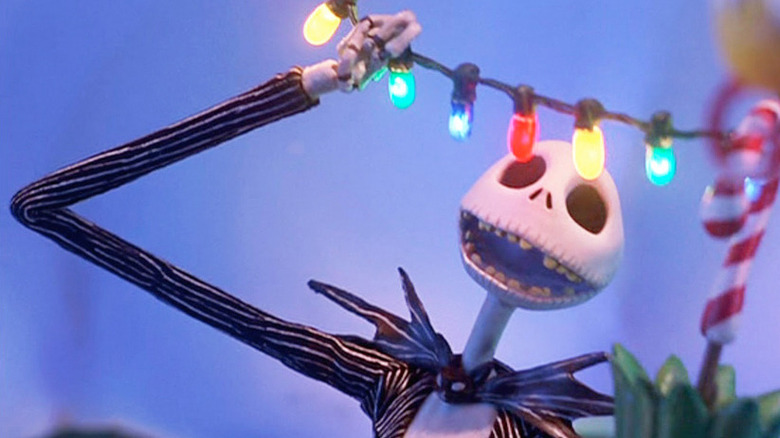 Produced by Tim Burton, who composed the poem on which it's based, "The Nightmare Before Christmas" doubles as a Halloween and Christmas classic. It shows what happens when the two holidays mingle to gruesome effect, and simultaneously serves as a love letter to both.
The Pumpkin King of Halloween Town, the skeleton-bodied Jack Skellington, is suffering a mid-life crisis despite his acclaimed Halloween work. An encounter with Christmas Town rejuvenates him, and he's eager to share the Christmas spirit with his fellow villagers. His well-intended but disastrous celebration wreaks havoc, including -- but not limited to -- the kidnapping of Santa Claus. Sally, a rag doll who harbors a crush on Jack and senses that worst is yet to come, tries her best to stop him. 
The "Nightmare Before Christmas" was revolutionary for its three-dimensional design, and feels like flipping through an elaborate pop-up book. This 1993 stop-motion classic has all the thumbprints of director Henry Selick ("Coraline") and his team of animators, from the jagged expressionism of Halloween Town to the Dr. Seuss-esque, tinseled Christmas Town. However, for all the escalating gruesomeness and creepy crawlies, the ending of "The Nightmare Before Christmas" is as jovial as sprinkling snowflakes and a kiss under the mistletoe. Danny Elfman's sweeping score and the musical numbers, especially the opening tune, "This is Halloween," remain classics to this day.
Frankenweenie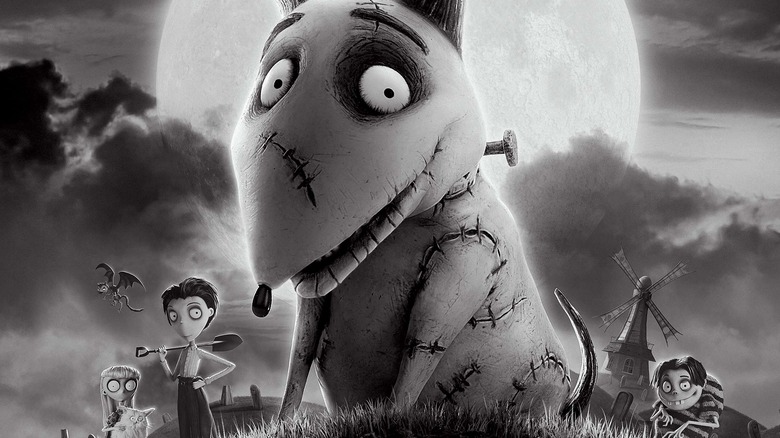 A crisp black-and-white throwback to horror classics, Tim Burton's "Frankenweenie" is a stop-motion remake of Burton's live-action 1984 short (also available on Disney+). It's a boy and his dog tale cast in monochrome with a necromantic take, and a plot that Burton uses as an excuse to exclaim his love for monster films -- at times, it's as if he's reading off of a checklist of tributes. "Frankenweenie" also involves the delicate work of talented stop-motion animators, who built puppets that were so complex that some parts needed to be crafted by Swiss watchmakers.
Grieving after a tragic accident claims the life of his bull terrier Sparky, young Victor Frankenstein is inspired by his Vincent Price-looking science teacher to successfully unleash the power of lightning and resurrect his beloved pet. Mayhem breaks out in the suburbs when kids and adults get wind of the resurrection. The adults distrust anything creepy, while the kids want to copy Victor's experiment and revive their own dead animals. While the homages to classic horror flicks may float over kids' heads, cinephiles will appreciate the iconic imagery. The plot of "Frankenweenie" can be elusive, but critics generally agreed that it didn't go wrong when it comes to the story's sincerity.
Hocus Pocus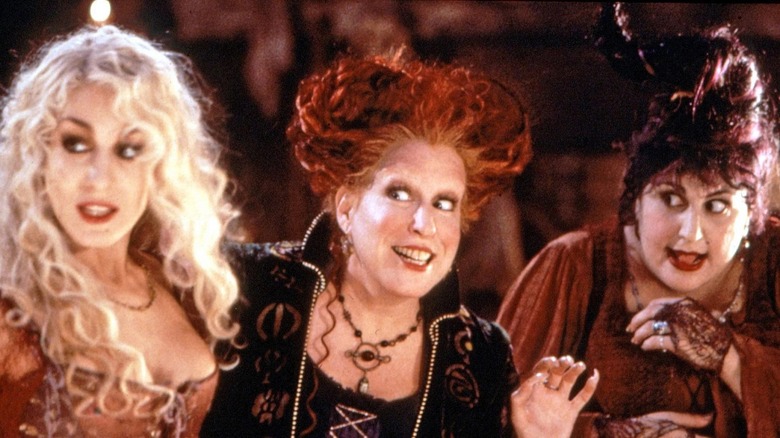 It's Halloween in Salem, Massachusetts when a magical candle is lit by a hapless teen who's trying to disprove a widely accepted Salem legend in front of his younger sister and crush. His actions unwittingly resurrect three 17th-century Salem witches, the previously executed Sanderson Sisters, and return them to the mortal plane. And so, the kids team up with a soul trapped in a black cat named Binx to prevent the witches from stealing the souls of Salem's children.
Millennials who grew up watching the Disney Channel often speak fondly of this film. "Hocus Pocus" was not a critical darling nor a box office success, but it brewed up a cult following regardless. Thanks to October re-airings on the Disney Channel, kids repeatedly witnessed the hammy performances of Bette Midler, Sarah Jessica Parker, and Kathy Najimy as the Sanderson Sisters, who are an overflowing cauldron of memorable one-liners, buoyant banter, and perfect comedic timing. If you were a kid who didn't like scary villains who were too scary, the Sanderson Sisters were perfect: They're cackling and eerie, but they're also approachable (even if you shouldn't get too close). 
Two musical numbers help propel the action. Midler's rendition of "I Put a Spell on You" bewitches a dance hall, while "Come Little Children," sung by Parker, is a haunting lullaby that lures young trick-or-treaters to their doom. The witches' ongoing popularity has sparked an upcoming sequel -- in the right hands, the Sanderson Sisters are ripe for more shenanigans.
The Haunted Mansion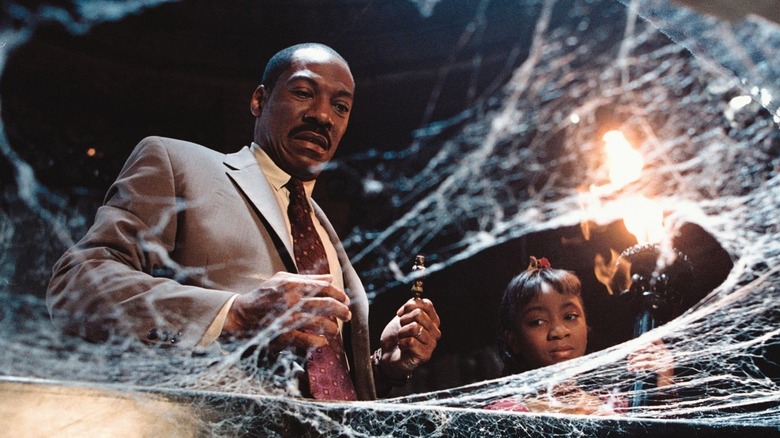 A workaholic realtor named Jim, played by Eddie Murphy, and his wife Sara (who is also Jim's business partner) bring their kids to a peculiar mansion that they hope to sell, with the aim of taking the family on a vacation along the way. They are blindsided by the house's cobwebbed, derelict state and its graveyard. As it turns out, the mansion is owned by an ancient spirit who's desperate to be reunited with his loved one. He has his eye on the Sara, due to her resemblance to his lover. The kids are also mystified by a cryptic orb that follows them around.
"The Haunted Mansion" didn't go over well with critics, who lampooned its inconsistent tone. But it has a lot of spookiness that young viewers will find chilling, starting with the opening that shows a tragic death followed by a suicide. Based on the popular Disneyland and Disney World attraction, "The Haunted Mansion" boasts set pieces that respect the spirit of the ride and a stomach-churning Terence Stamp as the house's clinically creepy ghost butler.
Critics also took issue with the film's overreliance on Eddie Murphy's hijinks and the movie's much-maligned goofiness. But while its uneven tone prevents it from being a truly good film, the clunky script does have a number of quotable lines -- "You can't help the dead. They're beyond help. That's the nature of being dead," being one. The untapped potential of "The Haunted Mansion" is likely why it was deemed worthy of a remake.
Muppets Haunted Mansion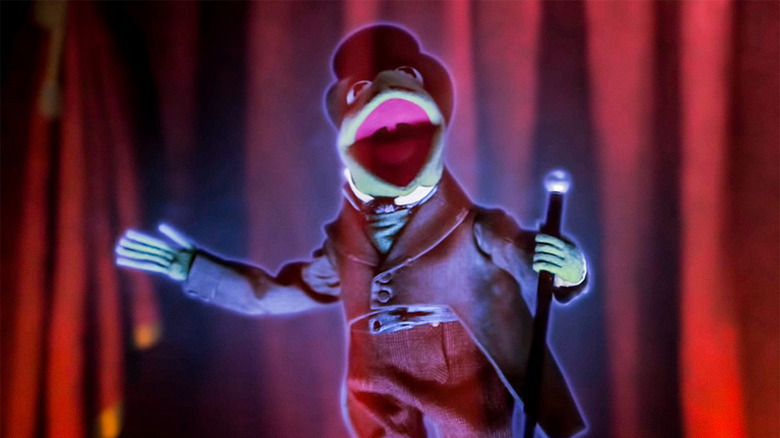 Unlike the disjointed "The Haunted Mansion," the "Muppets Haunted Mansion" special has less pretense. It's 100% about the laughs. "Muppets Haunted Mansion" is directed and written by post-Henson Muppet creative Kirk Thatcher, who also directed the Muppets' infamous "Bohemian Rhapsody" music video. Expect nothing less than a comedy full of shenanigans.
In this 40-minute special, the daredevil Gonzo the Great and Pepe the King Prawn must spend one night at Disney's famous Haunted Mansion. Can they survive until dawn? As you can probably guess, the duo is beguiled by spirits and familiar faces that include their fellow Muppets as well as Taraji P. Henson, Danny Trejo, Yvette Nicole Brown, Darren Criss, and more. It's not all laughs, though -- "Muppets Haunted Mansion" was one of the late, great Ed Asner's final projects before his passing, and it's hard to think of a better send-off.
The Black Cauldron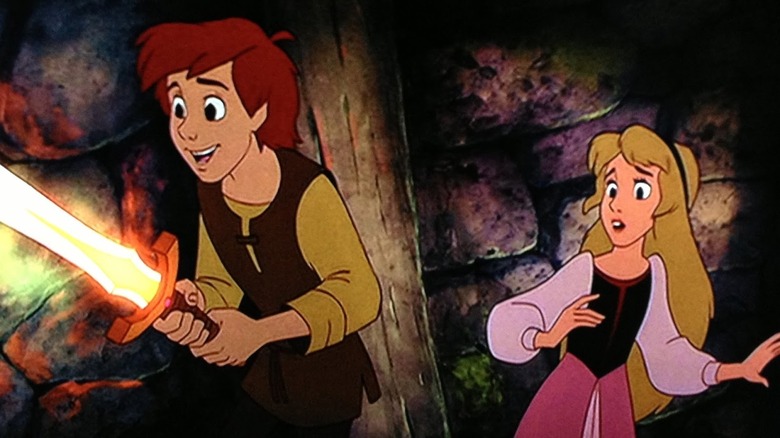 The first Disney animated feature to receive a PG rating, "The Black Cauldron" was created in hopes of the subverting the song-filled, cutesy, pastoral animated films that had become Disney's trademark. It bombed at the box office -- misplaced gags and overactive side characters clashed with the darker tone, which ended up being too scary for many kids, but the spooky Horned King, voiced by John Hurt, and his creepy army of the dead make this an excellent addition to your Halloween watchlist.
Set in the fantasy world of Prydain, a young pig keeper pursues the glory of knighthood, but ends up with an entourage of kooky allies -- a princess, a mutt, and a washed-up bard -- as he travels to defeat the Horned King and save the kingdom. His mission? To prevent the magical Black Cauldron from falling into the King's hands, lest the villain exploit its dark magic.
Early Disney films like "Snow White" and "Sleeping Beauty" occasionally delved into grimy territory, but it's still fascinating to see how the darkness of "The Black Cauldron" contrasts with Disney's typically lighter fare.
James And The Giant Peach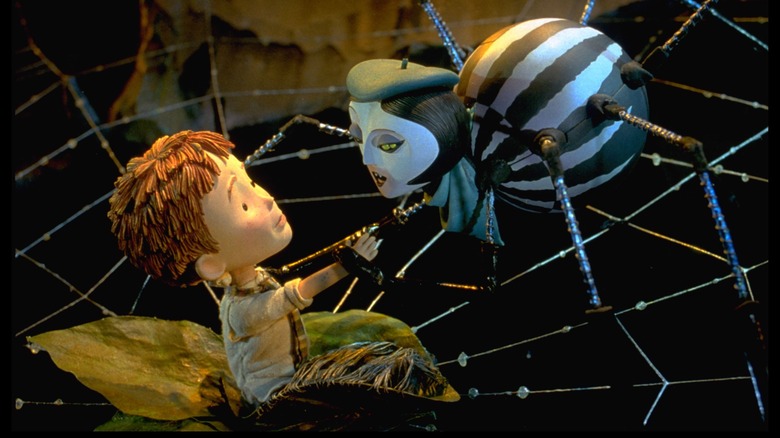 Another project produced by Tim Burton, "James and the Giant Peach" is Henry Selick's stop-motion follow-up to "The Nightmare Before Christmas." It is not as explicitly holiday-themed as the director's earlier film, but Selick's textured handiwork nonetheless suits the Halloween occasion, as it shares the ghastly and grotesque DNA of its spiritual predecessor, including a recycled Jack Skellington head. The movie also reflects the work of Roald Dahl, who wrote the book upon which the movie is based; Dahl's worlds are stuffed with repulsiveness, cruelty, and beauty found amongst the ugliness, and always end with victory for his tortured child protagonists.
In the movie, an orphan named James is raised by his cruel aunts, Sponge and Spiker. One day, he encounters magical crocodile tongues that enchant a dead tree and grow a giant, boulder-like peach. To escape his aunts' abuse, James sequesters himself into the grown peach and discovers that it is occupied by a pack of anthropomorphized talking insects. Their new peach home rolls into the sea, and the merry band of misfits makes off for the Big Apple to achieve their dreams. 
While it wasn't as successful at the box office as "The Nightmare Before Christmas," "James and the Giant Peach" is no less than a physical marvel, and is beloved by Dahl fans. The insects bear an origami-like physiology that recall homely storybook illustrations. While the songs by Randy Newman are not as iconic as Elfman's earworms, they're sure to keep the kiddies occupied.
Mom's Got A Date With A Vampire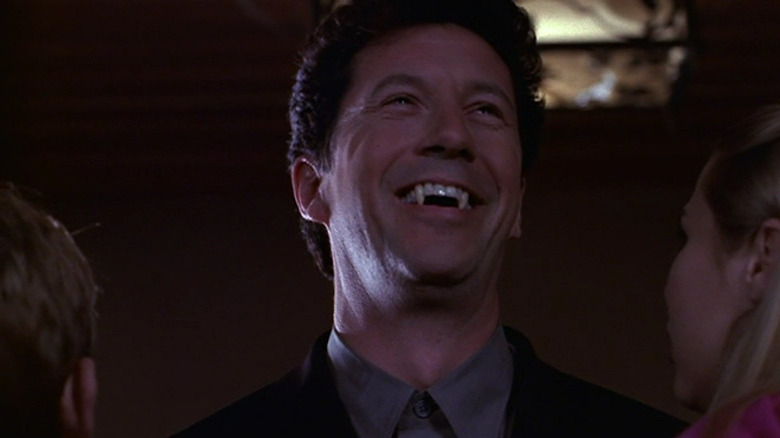 "Mom's Got a Date with a Vampire" is a not-very-good made-for-TV movie from 2000 with special effects that show their age. However, the potential for hilarity bubbles beneath the surface of this doltish script and its poorly thought-out shenanigans. The conflict of the film is exactly what it says in the title: Three suburban siblings scheme to get their divorced mother a new boyfriend so that they can have time to themselves. But, oops! They mistakenly set her up on a date with a vampire. Can they thwart the undead beau before he drinks their mother's blood?
If there are compliments to be given, the lead child actor, Matt O'Leary, earns one for a convincing acting debut that led to a long Hollywood career that includes a stop on Marvel's "Agents of S.H.I.E.L.D." Robert Carradine, who played the dad on "Lizzie McGuire," is the suave Malachi Van Helsing, a trenchcoated vampire hunter. A few sight gags, like a vampire's hand snaking out of its coffin to read an email, can induce giggles.
However, what really makes this film worth watching is Charles Shaughnessy as the bloodthirsty vampire Dimitri Denatos, who walks the tightrope between camp and faux-graciousness. He's an actor who flinches with beleaguered expressions and utters unsubtle, cheesy dialogue emphatically, elevating lines like "I don't drink ... wine" to "I hate hillbilly music" into understated classics.
The Adventures Of Ichabod And Mr. Toad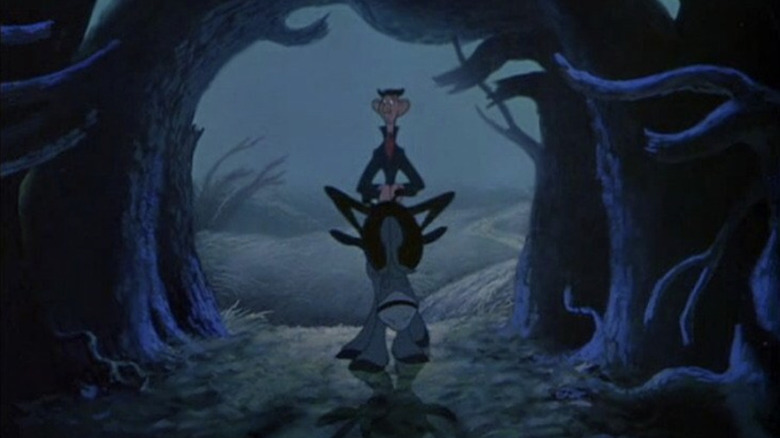 The second half of the 1949 double-featured "The Adventures of Ichabod and Mr. Toad" adapts Washington Irving's spooky story "The Legend of Sleepy Hollow" into animation. It is a chilling and humorous production by Disney, with songs and rhyming narration by Bing Crosby. The balance between playfulness and genuine terror is key to this short's appeal. Rife with both jump scares and kid-friendly comedy, "The Legend of Sleepy Hollow" has been the gateway to both horror and Irving's tale for many, many children.
When the lanky Ichabod Crane saunters into Sleepy Hollow and courts the heiress Katrina, her long-time suitor schemes to scare off the superstitious gentleman. The first half of the short focuses on the slapstick hijinks surrounding Ichabod's courtship of Katrina and the competition from his rival, proto-Gaston Brom Bones, who figures that he can rile up Ichabod's paranoia by telling the tale of the Headless Horseman. As Ichabod rides off into the night, the real scares begin, as Ichabod is chased by the manically laughing Horsemen with his jack-o'-lantern head tucked under his arm. The ambiguous ending lets us choose whether or not the worst came to pass -- did Ichabod survive, or was he spirited away?
Twitches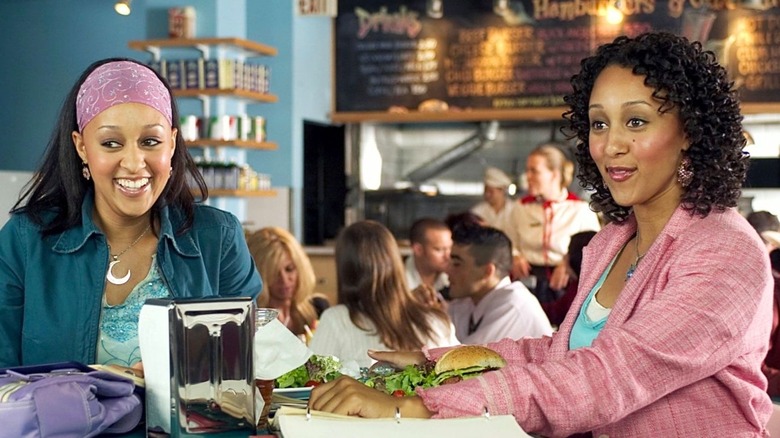 In this 2005 made-for-television Disney Channel movie, the twin stars of "Sister, Sister" are separated at birth once again. This time, Tia and Tamera Mowry play lost royals named Alexandra Fielding and Camryn Barnes, respectively. Based on a series of children's fantasy novels, "Twitches" covers themes of love, kindness, and connecting with family, whether they're part of your bloodline or not. 
When the magical realm of Coventry is besieged, a ruler sends his infant twin daughters to Earth. One sister ends up living with a wealthy family, the other with a struggling single mother. Both grow into very different young women, but they both have loving upbringings and sense that something mysterious is waiting for them. On the faithful day of their mind-blowing reunion, the girls' world is turned upside down. They dig deeper into their tragic history, and test their magic potential.
While "Sister, Sister" ended six years before "Twitches" was released, the Mowry sisters showed no sign of losing their high-energy onscreen chemistry and bounce off of one another naturally. Don't pay attention to the made-for-TV visuals; instead, get swept up in the sisters' comradery, and enjoy the witchy fun.
Miss Peregrine's Home For Peculiar Children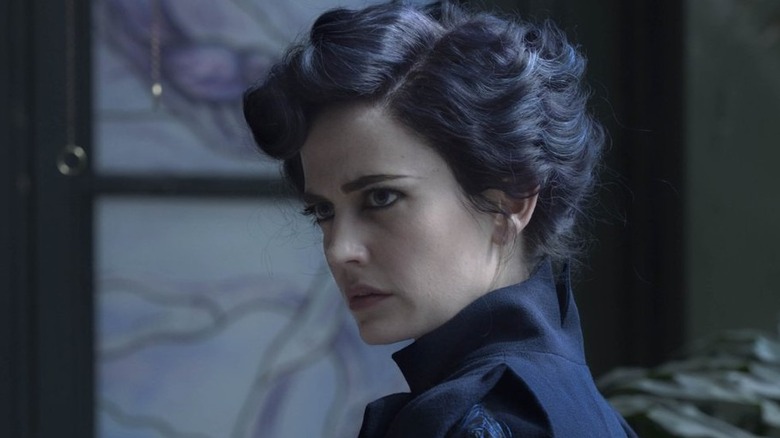 When young Jake Portman finds his grandfather's murdered body, complete with missing eyes, he knows that he needs to investigate. And so, against the wishes of his parents, Jake digs into his grandfather's history. When visiting his grandfather's childhood home, Jake is whisked into a pocket dimension -- a "loop" where a day is frozen in time -- and meets his grandfather's old friends: "Peculiars," who are equipped with special powers.
"Miss Peregrine's Home for Peculiar Children" is a Tim Burton-crafted movie, bringing the pages of Ransom Riggs' book of the same name to life. Arguably, Burton is defter at creating his dark, Gothic worlds than catching up with the exposition -- the screenplay by Jane Goldman is stuffy, and dragged down by explanations of the rules of time loops, time travel, aging, and the different types of Peculiars in world.
But there's a smarter film hidden in the bloat, and the adaptation contains oddities galore, as well as a vibrant supporting cast that should resonate with kids who feel like the odd ones out. A girl tethers herself to the ground with lead shoes. A boy stuffs beating hearts into dolls and animates them, Harryhausen-style. A girl has a head with the jaws on the back. If you want to see Burton tackle the "X-Men" with his signature artistic style, then this deserves a watch.
Return To Oz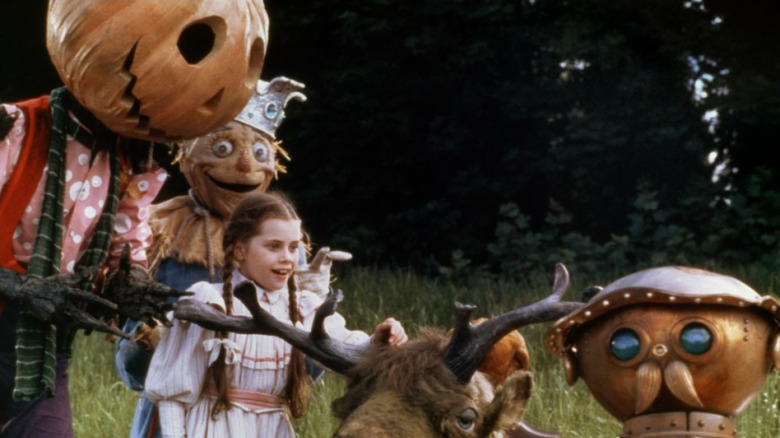 If you only know the technicolor glory of MGM's "Wizard of Oz" and not the original L. Frank Baum novels, you'll be shocked when 1985's bleak and bold "Return to Oz" whisks you to a disintegrated Oz with an eroded yellow brick road and an Emerald City robbed of its luster. About to lose the film rights to the Baum series, Disney produced this unofficial sequel to the Judy Garland movie, which adapts Baum's follow-ups to the "Wonderful Wizard of Oz." The result, directed by Walter Murch, is a jaw-dropping nightmare with riveting practical effects.
It's six months after the faithful twister that spirited Dorothy and Toto away. Worried that their niece can't stop talking about the fantasy land of Oz, Auntie Em sends the child to receive electrotherapy at an asylum. When the asylum is struck by lightning, Dorothy breaks free and dives into a river. She is washed back into the ravaged land of Oz, where her old pals the Scarecrow (who was crowned king of Oz), the Cowardly Lion, and the Tin Man have been turned to stone. So, Dorothy acquires new friends: a chatty hen, a man with a pumpkin for a head, a rotund automation, and a flying beast with a head like a moose. Can Dorothy and friends outwit the stony Nome King and the wicked sorceress, who owns a wardrobe of heads that she changes like clothing?
Although a box office failure that was initially criticized for its intensity, "Return to Oz" received a nod for best visual effects at the Academy Awards and acquired a cult following. It's an underrated dark fantasy film, and should appeal to anyone who likes Jim Henson's "The Dark Crystal."
Read this next: The 17 Best Kids Movies That Adults Will Also Love
The post The 13 Best Halloween Movies On Disney+ appeared first on /Film.