Find The Artful Parent top recommendations for the best baby art supplies. These materials are non toxic or contain taste safe ingredients to ensure safety for early art experiences.
If you're a parent or caretaker of a young child, you might be wondering when to introduce your baby to art? Around 6 months is a wonderful time to begin to slowly introduce new materials.
But where to start?
It can be totally overwhelming––and quite expensive buying all those art supplies.
This list is intentionally short and sweet compared to our Best Art Supplies for Toddlers. We want to help you get started with the basics–without breaking the bank or feeling overwhelmed. These art materials are versatile and will go a long way.
Art supplies can be introduce around 6 months (or once your baby can sit). If you have an older baby, definitely check out our toddler content with tips to get started and recommended art supplies as well.
Tips, Safety + Expectations
All recommendations listed below are supplies for babies that are non toxic (of course!). Babies will likely want to taste, but gently move their hands away and remind the child, "this goes on paper." This reminder will continue for quite some time!
Some homemade materials are taste safe as well. If your child has any food allergies, be sure to check paints and playdough especially for ingredients.
The good news with all of this––simple is best.
Let your child explore the art supplies over and over. This first step is all about introducing your child to art and mostly, having fun!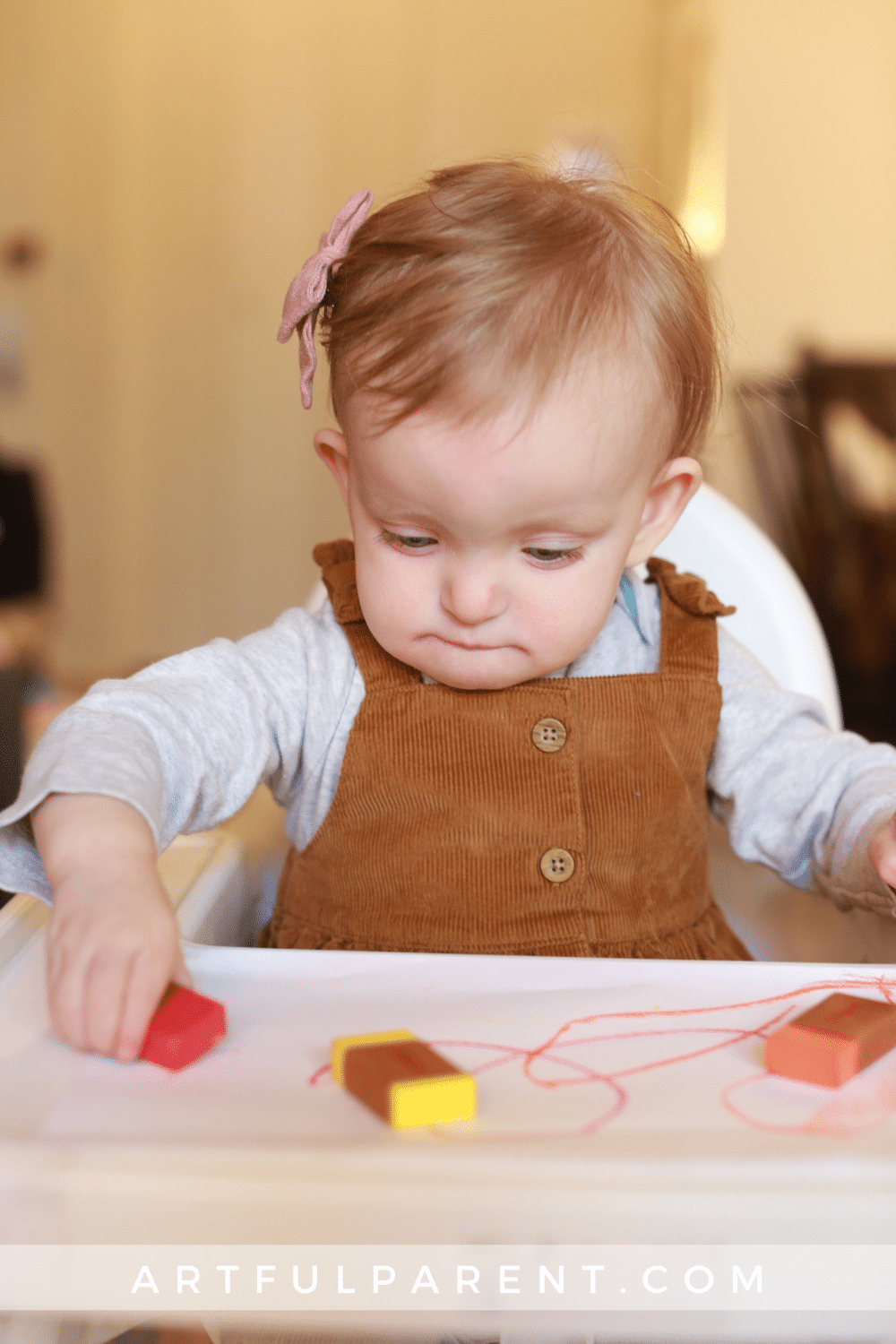 Baby Art Supplies
For babies, we're sticking to homemade and finger paints for babies. If your child is ready for tempera paint and a brush (try around 1 year old), see The Best Art Supplies for Toddlers.
Pro tip: Be sure to look for the ACMI safety seal to ensure art supplies for kids are non toxic.
1. Paint
See our reviews of five top fingerpaint brands: The Best Fingerpaint for Babies.
I've made this simple finger paint recipe from our friend Rachelle at Tinkerlab. It's easy & you'll feel good knowing every ingredient is taste safe for your child.
Add food coloring to yogurt & combine until the color is incorporated. This works as a finger paint option in the high chair & is also (of course) gluten free. It's a nice starter fingerpaint as babies explore materials with their taste as well.
Paint with Water
Painting on cardboard or chalkboard with water is another simple opportunity for babies to practice grasping and moving their bodies during painting.
2. Drawing
These are our top recommendations for drawing supplies for babies. Both Kitpas & Kwik Stix are vibrant, easy to use and make bright marks. Pretty satisfying for early art experiences when little muscles are just beginning to grasp materials.
Kitpas crayon blocks are buttery soft and vibrant. A top recommendation for crayons as these are easy for kids to actually make marks on paper with little pressure needed. The block form is also easier for young children to grasp.
And you can also use Kitpas to draw on windows or add water for watercolor painting. We love the versatility.
Kwik Stix tempera paint sticks are a great introduction to painting for the young child. Although different from the sensory experience of fingerpainting or traditional painting with a brush, these provide a neater painting option that's still very fun.
3. Playdough
This no cook playdough is my go-to. We consider it a staple and always have some on our art cart. (This cooked playdough recipe is also a great option.)
If you'd like to purchase playdough, try Colorations or Eco Kids, especially the latter if you'd like to buy a product with plant based dyes and ingredients you recognize.
4. Art in the Tub
There's really no easier place to contain the mess and make for easy cleanup than in the bathtub, am I right? In warmer weather, the mess can also move outdoors and if you have a hose or bucket with water, you can do the majority of the cleanup outside.
Here are two art supplies to try that won't stain the bathtub and babies can experiment with over multiple sessions.
Homemade Bathtub Paint is easy to whip up with just dish soap, cornstarch and water. Add color as you choose, a major perk of making your own art supplies.
Kitspas Bath crayons are made of rice bran and nice and bright. They easily wipe off of the bathtub with water & a washcloth. Try the whole set or just a few to get started.
More Baby Art & Play Activities
Pin It For Later
The post The BEST Baby Art Supplies appeared first on The Artful Parent.