— Recommendations are independently chosen by Reviewed's editors. Purchases you make through our links may earn us a commission.
When you're cooking up a storm, a large, high-quality food processor is a must-have. In mere moments, it can chop vegetables or blitz a bunch of parsley into dust, and some can even knead bread dough for you.
If you've never used one of these must-have kitchen appliances, you may find there's a bit of a learning curve to properly utilize the slicing blade. But once you master the operation, you'll never again find it too much trouble to slice spuds thinly for scalloped potatoes, shred carrots for salads, or grind peanuts and almonds to make your own nut butters at home.
We've recently re-tested the best food processors and added new products to this guide, confirming the Cuisinart "Custom 14" DFP-14BCNY (available at Amazon) is still the top food chopper on the market. It gives top-notch performance without hogging too much kitchen counter space. With 14 cups (3.3 litres) of capacity, it's perfect for home cooks. However, if you're looking for a more stripped-down experience, we've got plenty of other options.
Here are the best food processors we tested ranked, in order:
Cuisinart "Custom 14" DFP-14BCNY
Cuisinart Complete Chef
Breville BFP800XL Sous Chef 16 Pro
KitchenAid 5-Cup Cordless Food Chopper
KitchenAid 7-Cup Food Processor
Hamilton Beach 70580 Big Mouth Duo Plus
Hamilton Beach Stack & Snap Food Processor with Bowl Scraper 70820
How We Tested Food Processors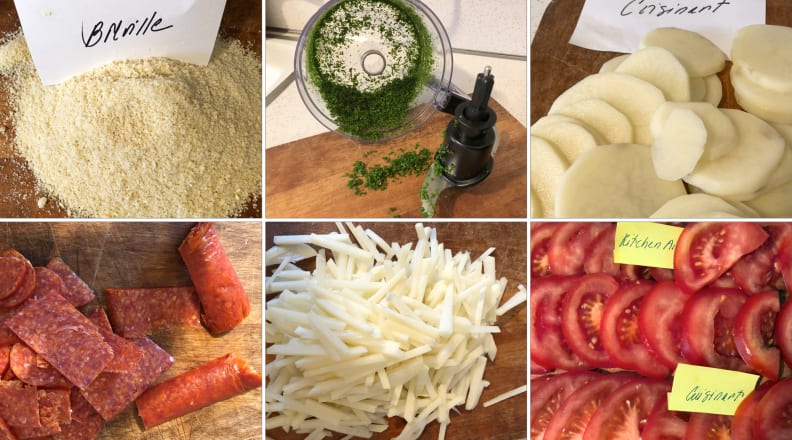 The Tester
Hi, I'm Sharon Franke, and I've been reviewing kitchen equipment for upwards of 30 years. Before that, I worked as a professional chef in New York City restaurants for seven years. Now, most of my cooking is done on weekends in my small apartment kitchen. While I'm a whiz with a knife, I wouldn't want to live without my food processor for tasks like finely chopping veggies for a tabbouleh or preparing pastry dough for tarts and quiches.
And I'm Lindsay Mattison, a trained professional chef and dinner party enthusiast. I'm the type of person that uses every single pot and pan in the house when I'm cooking dinner (and, I'll probably dirty up all the tasting spoons and mise en place bowls, too).
The Tests
To find the best food processors, we first tested seven full-size products over the course of a few weeks. Each appliance was rated on how well it chopped onions, minced parsley, ground almonds, sliced potatoes, tomatoes, and pepperoni, shredded mozzarella cheese, and cut potatoes into julienne strips. In those that were designed to knead dough, we made pizza dough, too.
Since these machines can be complicated at times—especially if this is your first time food processing—we spent a lot of time poring over each of its manuals. Did it explain how to use the processor thoroughly or did we still have to experiment to determine how to assemble the parts, use the attachments, and process specific foods?
We also considered whether it was easy to lock the lid onto the work bowl and use the controls and how much of a racket it created when running.
While we didn't include size in our ratings, we took it into consideration as once you see what it can do, you may want to give your food processor a permanent place on your countertop. We also checked whether or not these food choppers include a storage case.
What is a Food Processor?
A food processor is a kitchen appliance that's known for quickly chopping all your large foods into mini bits. But it can do more than chop! It mixes, purees, emulsifies, grates, and shreds all your ingredients. There are two main features that set this appliance apart from others in your kitchen—its settings and its blade.
Most food processors come with base settings that include pulse and puree. Pulsing allows you to chop ingredients in short bursts—this is best used when adding large chunks to the processor, as it allows you to chop or puree them down to a manageable size. Even if you're going to eventually puree the ingredients, it's a good idea to pulse the big pieces first so they don't get stuck in the blade.
On the other hand, when you puree in your food, the blade blends ingredients continuously. This is the perfect setting for making pesto or tomato sauce. Most processors allow you to control the speed of your puree—typically with high and low settings. A high speed will emulsify your ingredients more, while a low speed will leave you with chunkier bits.
High-end models may also come with more advanced chopping options, but for the most part, these standard settings work perfectly. It's more important to have a powerful model, which is one of the key aspects we tested in this guide.
What's the Difference Between a Grating Disc and a Slicing Disc?
Food processors have a removable blade, which not only makes cleaning much easier but allows you to use a variety of specific attachments. You'll want to use your standard blade for pulsing and pureeing, but the following are two common attachments that are helpful for other food prep.
Grating Disc: A grating attachment works well for items like carrots, potatoes, and cheese. To use it, remove the standard blade and place the grating disc on the middle spoke in your processor. Reattach the lid, then remove the pusher from the feed tube—that's the little "chimney" that allows you to drop ingredients into the processor. Hold the pulse button and add your ingredients. You should use the pusher to press your ingredient further into the processor. Do not use your fingers!

Slicing Disc: To slice an ingredient, follow the same steps as grating, but use the attachment that has a thin slicing line across it. You can use this attachment to shave Brussels sprouts, make potato gratin or slice up other vegetables.
How to Use a Food Processor
It can do everything short of actually cooking your dish. Here are some quick tips on how to use it to its fullest potential.
Chop dry ingredients: Use the pulse feature to chop larger foods into small pieces. Press and release the button until you've reached the desired size. This can be done to anything from onions and carrots to nuts.
Puree wet ingredients: Use the puree setting to combine wet and dry ingredients and create an emulsified consistency. Hummus, for example, is easy to make in your processor.
Mix and blend ingredients: Remember when we were talking about pastries? Your processor isn't limited to savoury dishes—you can make cookie or pastry dough or knead bread dough in your processor, as the blades can chop and blend cold butter into dry ingredients.
Don't mash potatoes: Please don't mash potatoes in your food processor. Chop, shred or grate raw spuds, but don't use the appliance on cooked potatoes. When you use a sharp blade to mash potatoes, it breaks down the enzymes in the cooked vegetable and makes them unstable. This leads to gluey potatoes and very sad spirits.
How Do I Clean a Food Processor?
There's good news and bad news. The bad news is that food processors can take some work to clean. There are a lot of pieces to remove and soak, and some components have nooks and crannies that are difficult to fully clean. There are a few easy-to-clean models available if you're not one for careful scrubbing.
The good news, however, is that all the pieces are removable, and many can go in the dishwasher.
---
Other Food Processors We Tested
More Articles You Might Enjoy