Dane Jackson does it again, taking home the coveted glass trophy for the overall win at the 2021 Green Race. The elusive 4-minute barrier has yet to be cracked, however.
We chatted with Dane after this world-class whitewater creek race to get the inside scoop on what happened at what the paddling community dubs the "Greatest Show in All of Sports."
As always, Dane Jackson is the person to beat in any whitewater kayak competition, but especially the Green Race. This is his fourth straight Green Race win, and he holds both the overall record (4:02) and short boat record (4:24).
Dane also started racing the Green Race at 16, only missing one year since his 2009 debut. That's 12 Green Races under his belt, and many hundreds of practice runs.
The 2021 Green Race is the 26th running of the race and was named "The Fountain of Youth." A fitting name for a race that saw record numbers of racers (180+), as well as impressive women's (12) and junior's (26) race fields. That all bodes well for the health of the whitewater kayak industry as well, which has seen its fair share of ups and downs lately.
The Green Race
The water level is super important for any whitewater race. This year racers saw about 9 inches on the gauge, which is a medium flow for the Green River Narrows, a class VI/V section of steep (178 fpm) creek in southwestern North Carolina.
This level is perfect for beginners, as the big rapids at the bottom of the course are a bit less pushy and more manageable. It is a tough level to crack the holy grail run of sub-4 minutes, though, as the top of the course requires more effort to navigate the slower shallower rapids.
Dane reckons that top racers lose 3 seconds on the top section of the course at these levels — and that they use up more valuable energy that they then don't have for the big rapids at the bottom of the course.
A new power company, Northbrook Energy, has taken over the hydroelectric project that feeds the Green River. Dane reports that they have been way more friendly toward paddlers and the race than the previous dam project owner. This has translated into many more training days at expected race day flows in the weeks leading up to the race.
This year, there was a massive spectator crowd, which is impressive when you think about the rough steep trail they all hiked to get down into the gorge. A pay-per-view online live stream was also on offer, with the organizers running fiber optic cable out of the canyon to a neighboring property to get a high-quality signal out.
Racing the 2021 Green Race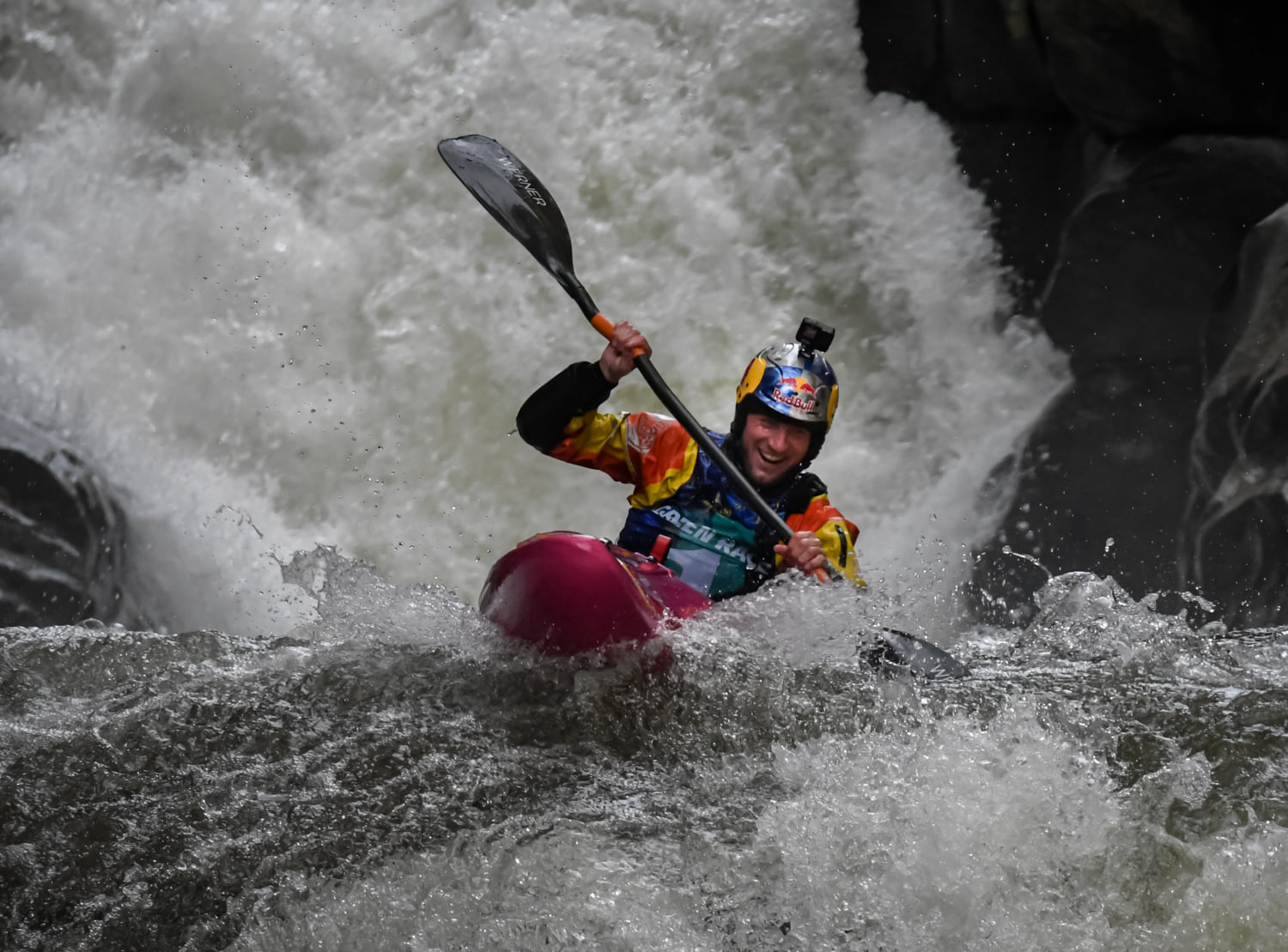 I know plenty of good friends who take the Green Race seriously every year, train hard, and are expert kayakers. A sub-5-minute time is a substantial victory for most, which requires fitness, focus, and a bit of luck on race day.
The top paddlers are all just trying to beat Dane, as he continues to chase a sub-4-minute race lap. Dane took the overall win this year by 7.5 seconds, over up-and-coming Isaac Hull.
The 2021 Green race saw an epic battle in the women's field that saw the "Queen of the Green," Adriene Levknecht, lose her crown to young gun Sage Donnelly by less than a second. Levknecht had just recovered from COVID and Donnelly was in top form, having just won the Russell Fork Race. We have no doubt this close battle will rage on for years to come.
Kaelin Friedenson put down an impressive time of 4:27.4. It was good enough for 5th overall and 1st in the Junior class. The new kids are coming in hot!
Dane Jackson's 2021 Green Race
The overall winner from the previous year always gets to be first off the start line the following year, at high noon. Dane paddled both long and short boats. As first off the line, he had the time to make it happen and recover a bit between laps. Of course, Dane won both the short and longboat divisions, yet again.
As you can see from the GoPro video from Dane's longboat run above, he had a really fast, smooth, and clean run, until Gorilla. He was a bit right at the most intimidating rapid on the course and flipped upon landing off the big drop.
He went through the "Speed Trap" upside down and rolled up in the outflow. Luckily. he was pointed in the right direction and still in the moving water, but he for sure lost some time.
Still catching his breath from the strenuous and relatively flat top section of the course and the underwater excursion at Gorilla, Dane didn't quite get his boof stroke in properly going into Nies' Pieces rapid and spun out in the eddy. He kept fighting until the end, though, and styled everything else.
Dane was so fast and smooth in the top section of the course that he managed to shave a second off his time on that section of the course, over last year's record run.
He says a sub-4-minute time at these flows is possible (he regularly got 4:05s in practice), but it would be really difficult. He thinks that 10 to 12 inches on the gauge is probably the best possible level to have the fastest time on the course in a longboat.
Dane was riding the high of wins at the Oetz Trophy and Russell Fork Race in the month leading up to the Green Race. However, he still says his focus and confidence faltered a bit once he got to the big rapids on the course.
Fatigue from the big effort at the top of the course and then recovering from the flip at Gorilla snowballed a bit. Surprisingly to many, including himself, it was still not enough to knock him off the top step of the podium.
Dane stuck with his tried-and-true gear setup for this year's race. For longboat, he used the lightweight layup Karma UL that he's used for the past 3 years. He also used a Werner Odachi paddle, now just slightly longer at 201 cm.
For the short boat class, he paddled a production Jackson Kayak Nirvana and won with a time of 4:28. That was good enough for 5th overall and beat second place in Short Boat by a massive 19 seconds.
Dane is chasing a sub-4:20 in the short boat class, to beat his current 4:24 record, but he says you'd for sure have to have a higher water year to accomplish that goal.
Race Training
Dane is laser-focused on cracking that 4-minute barrier at the Green Race, bettering his record time, and puts in the work to do so. This year he trained much like normal, with lots of video analysis and practice laps.
This year he also had a reduced number of practice laps, but got in more quality practice laps in his longboat at race flows. He did sprints at the end of each run, from Sunshine Rapid to the takeout, which takes him about 13 minutes in the mostly small rapid river section that has lots of rocks to weave through.
Sixty-second flatwater interval sprints were also on order this year. The idea was to have the muscle memory, focus, and confidence to pull hard on boof strokes and other important strokes at crux rapids even when super tired.
For next year, Dane plans to experiment with breath-holding and different breathing techniques. He says that getting "better with breathing could help keep (him) calm and feel less tired."
2021 Green Race Results
Overall:
Dane Jackson 4:12.0
Isaac Hull 4:19.5
Holt Mcwort 4:23.1
Women:
Sage Donnelly 4:48.8
Adriene Levknecht 4:49.6
Emily Shanblatt 5:25.1
Juniors:
Kaelin Friedenson 4:27.4
Sam Sharp 4:30.2
Cashion Porter-Shirley 4:31.2
Check the full results.
Chasing Sub-4-Minute Times
Pretty much everyone thought this would be the year Dane broke the 4-minute barrier. He was on track, with a 4:04 in 2019 and a 4:02 in 2020. Both those times were posted at slightly higher flows.
The roar of the crowd in the gorge, especially at the big rapid known as "Gorilla," fuels racers to go hard on the extremely steep bottom half of the course, and can also throw racers off their game. No other whitewater race offers this level of up-close-and-personal paddling experience with such a huge crowd.
The steep Class V whitewater and hundreds of diehard fans that hike out to the race make it a special experience for all who compete. The race is all about bragging rights and competing against world-class paddlers on a world-class racecourse.
Will the 4-minute barrier be broken soon? Only time will tell. But Dane and other top racers are working hard every year to find those tiny changes that will give them the mental, physical, and gear edge to make it happen.
For all things Green Race, be sure to check out GreenRace.us.
What's Next?
GearJunkie Editor-in-Chief Adam Ruggiero sat down with Dane Jackson on the GearJunkie Podcast last year to talk about massive waterfalls, expedition kayaking in remote corners of the planet, and the life of a pro whitewater kayak athlete. Check out this great listen.
Dane is a busy man, and we appreciate his time. Now that he's completed, and won, the Oetz Trophy, Russell Fork Race, and Green Race in short order, he is now heading off to Kenya to join an international crew of top paddlers to chase some rain and big waterfalls. We wish him luck and can't wait to see the footage of his exploits and talk to him again soon.
The post Upside Down and Backward: Dane Jackson Still Wins the 2021 Green Race appeared first on GearJunkie.