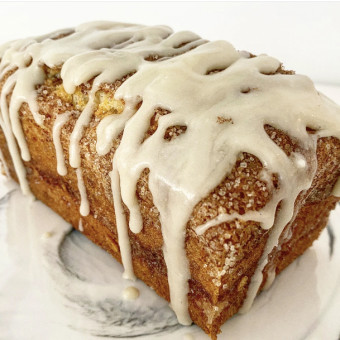 The world is full of chaos and uncertainty at the moment, but if there's one thing that remains a much-needed, reliable constant, it's the collective comfort that cooking and baking offers us. It feels like we are all suddenly baking bread, rolling pasta, making stew…and getting our Ina Garten on. We are finding therapeutic moments in the act of creating in the kitchen (and, of course, sharing and enjoying those meals with loved ones).
We checked in with a few of our favorite fashion insiders-slash-epicures to see what they've been cooking up in self-quarantine. From Rosie Assoulin's family lentil soup recipe to sixth-generation Floridian Gigi Burris' sour orange pie (an old Florida classic), here's what the fashion set is serving up right now.
"I grew up eating this every week, especially in winter and fall. It always came out differently—some days it was thick, some days watery! Regardless, it is always delicious—you can't mess it up! My mom Irene and grandma Rose always made it extra, extra lemony! Addes soup is a simple, humble, hearty Syrian dish and is also biblical; it was the soup Isaac used to coerce Esau into trading his birthright!"
Addes Soup (aka Red Lentil Soup)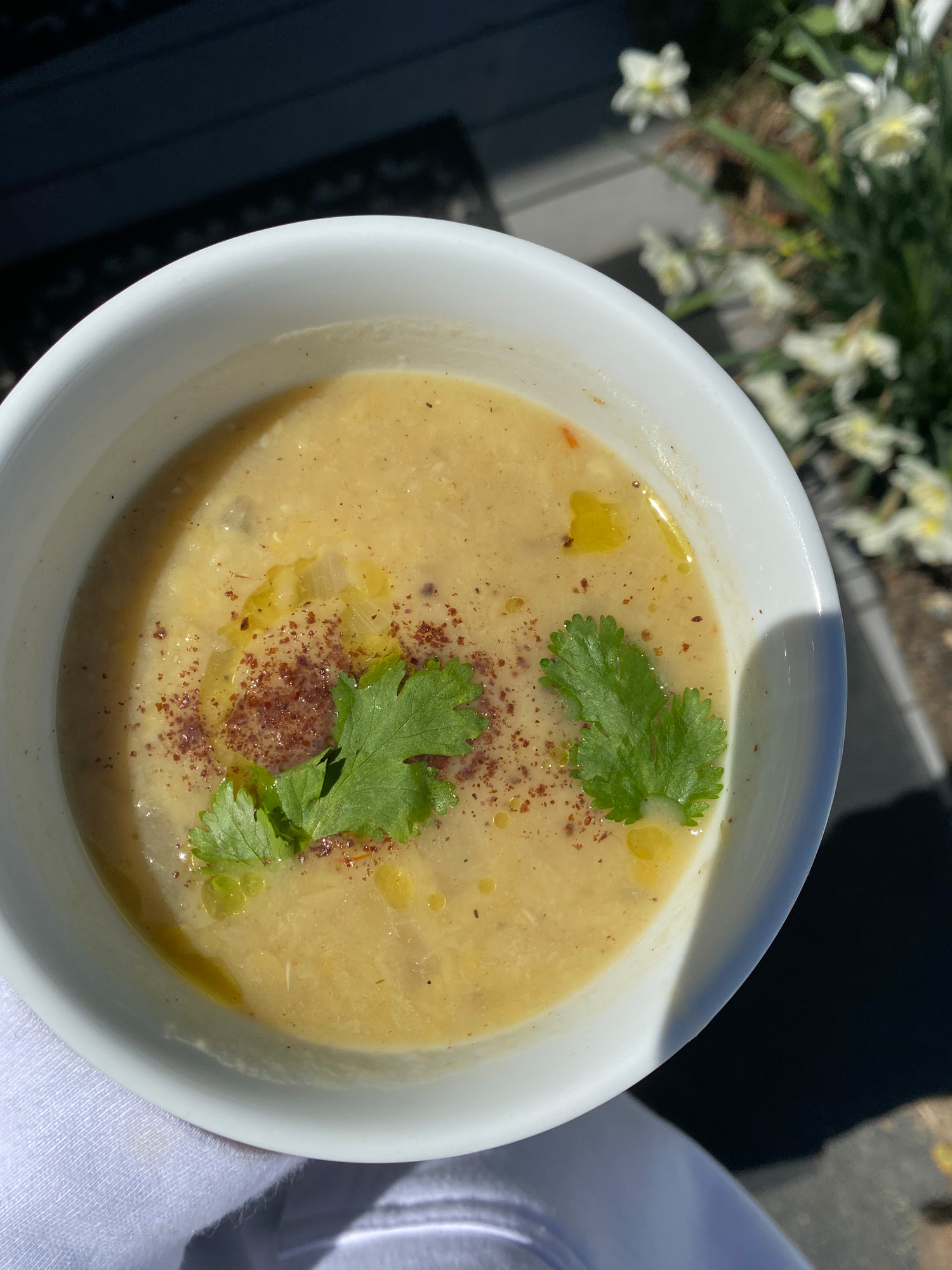 Ingredients
1 onion
3 tbsp olive oil
Salt, to taste
Red chili flakes, to taste
5 garlic cloves, crushed
1 tbsp coriander
1 tbsp cumin
Carrots, optional
14 oz dried red lentils
2 lemons
Paprika, to taste
Fresh herbs, for garnish
Instructions
1. Finely chop onion and sauté on low heat with olive oil, salt, and red chili flakes in a large pot.
2. When translucent, add 3 or 4 crushed garlic cloves and sauté.
3. Add cumin and coriander; sauté until earthy and fragrant. Sometimes I like to add carrots to the mix, too!
4. Add lentils to the pot, and then top with enough water to fill the pot. Add more salt and pepper to taste.
5. Let simmer—lentils will cook quickly and come apart to make a lovely, velvety soup.
6. Finish with a lot of lemon, and serve with a lemon wedge. Top with paprika, olive oil, and any fresh herbs, if you have on hand. Sometimes I like to top it with cilantro or serve it straight up in a mug.
7. Leftovers are just as good, too. Just add a little water when reheating, and it cooks up super quickly!
"During my time at home, I am staying creative by making a new cuisine every single night. I started a little journal on Instagram, @MrWuEats, documenting my daily progress. Yakitori is one of my favorite types of Japanese cuisine, but I have never made it at home before—they (basically Japanese kebabs) are traditionally prepared on an open-fire grill. To adapt this recipe for an NYC apartment with very sensitive smoke sensors, I've come up with an oven-baked version that looks and tastes pretty close to the real thing!"
Yakitori Chicken Dinner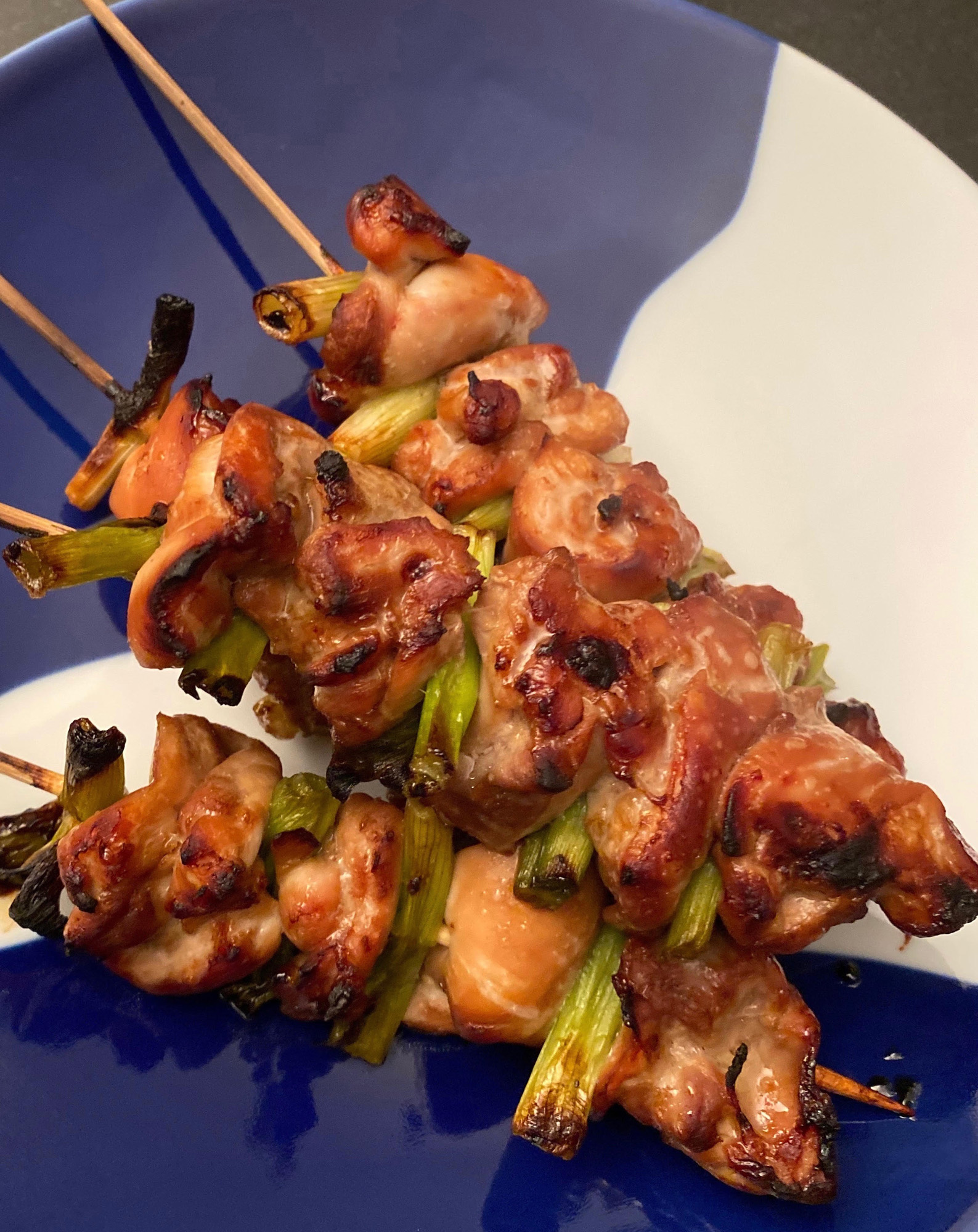 Ingredients
1⁄2 cup tamari or soy sauce
1 lb chicken thighs, cubed
1⁄4 cup mirin
1 tbsp sake
2 tbsp cane sugar
2 tsp ginger, grated
10 whole garlic cloves, peeled + 2 garlic cloves, peeled and chopped for the sauce
Scallions, chopped in 1.5" pieces (tip: use the middle part; save the roots and the tips for other use)
1 package large button mushrooms, halved
1 package wooden skewers, soaked in cold water for 40 to 60 minutes in advance
Jasmine rice, steamed, for serving
Instructions
1. Preheat the oven to 370°F.
2. In a small saucepan, add soy sauce, mirin, sake, sugar, ginger, and chopped garlic and cook on medium heat until bubbling. Let cool slightly.
3. Marinate the chicken in a closed container with part of the sauce, and save the rest of the sauce for dressing the skewers. Refrigerate for a few hours.
4. Once chicken is marinated, create the kebob with the chopped scallions. Put skewers in an ovenproof pan.
5. For the mushroom skewers, slice the mushrooms in half and create a kebob with the whole garlic cloves.
6. Dress chicken and mushroom skewers on both sides with the reserved dressing.
7. Cook for about 30 minutes (chicken on top rack, mushrooms on the middle rack), flipping midway, and re-apply dressing. Once cooked, change the oven setting to high broil and put both chicken and mushroom skewers on top shelf; broil for three minutes until some char marks appear.
8. Top with dressing again before serving with steamed jasmine rice.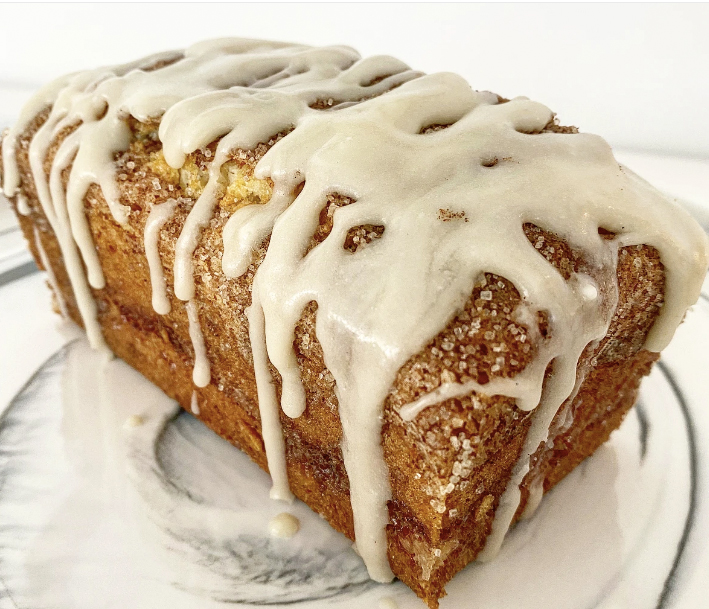 "My cinnamon-roll bread sort of happened by accident. It's the perfect dessert because you can slice a micro piece and you still feel like you are treating yourself to a substantial dessert."
Cinnamon Roll Bread
*adapted from Julie Blanner
Ingredients
1 cup organic sugar
2 cups organic flour
1 tbsp baking powder
1⁄2 tsp salt
1 organic egg
1 cup milk
1⁄3 cup vegetable oil
SWIRL-IN
2 tsp cinnamon
1⁄3 cup organic sugar
Variations: raisins, nuts, toffee
TOPPING
4 tbsp butter, softened
2 cups powdered organic sugar
1 tsp vanilla
3 tbsp milk
Substitution - can top with cream cheese if preferred
Instructions
1. Preheat the oven to 350°F.
2. Combine the swirl-in ingredients—cinnamon and sugar.
3. Combine the sugar, flour, baking powder, and salt.
4. Beat the egg, milk, and oil.
5. Grease the loaf pan, and pour in half the mixture, followed by half the cinnamon sugar mixture, and swirl it in.
6. Pour in the remaining batter (the pan should only be ¾ full) and swirl in remaining cinnamon sugar.
7. Bake for one hour. Allow to cool, and remove from the pan.
8. Once cooled, drizzle icing on top.
"I have come home to Florida to stay with my family during the pause this pandemic has caused. Reconnecting with my Southern roots has been a healing experience. I am a sixth-generation Floridian, and this pie is a very old Florida recipe—the sour oranges come from my father's land one town over, and we picked them together."
Sour Orange Pie
* Adapted from Tampa, Florida, pastry chef Greg Baker with my own modifications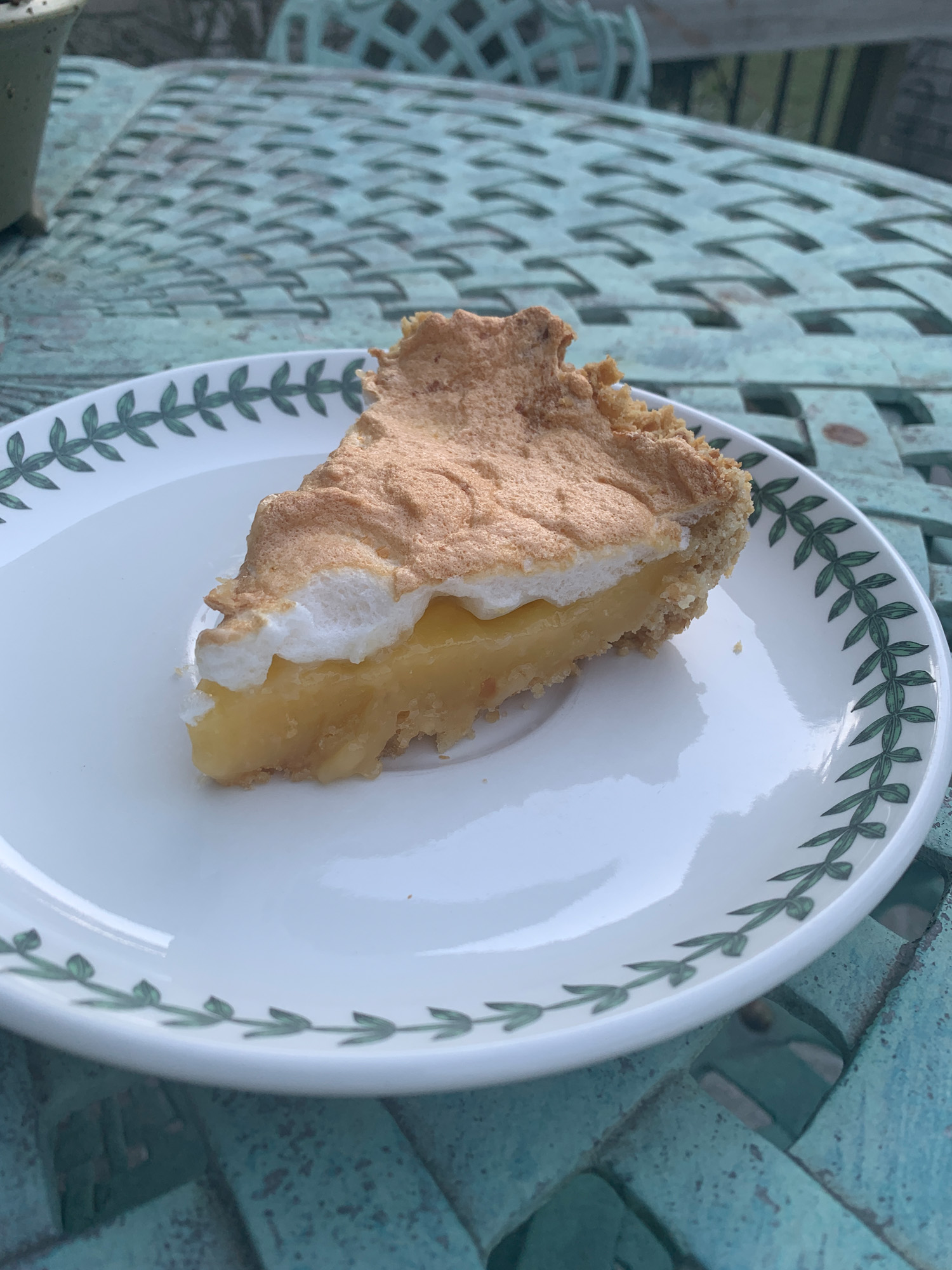 Ingredients
CRUST
3 half sleeves of Saltine Crackers, crushed into bits, but not powder
3 tbsp sugar
1 stick softened butter
FILLING
1⁄2 cup sugar
3 tbsp cornstarch
1 tbsp butter, melted
3 egg yolks, beaten
3 tbsp sour orange juice (if you do not have sour oranges, you can do 1⁄2 fresh orange juice and 1⁄2 fresh lemon juice combined)
MERINGUE
3 egg whites
3 tbsp sugar
Instructions
1. Preheat oven to 350°F.
2. Combine crackers and sugar in a large bowl. Add softened butter, and knead until dough comes together. Then press the mixture into an 8-inch pie pan and chill it in the refrigerator for 30 minutes. Bake for 15 to 20 minutes, or until just brown. Remove the pan from the oven and set aside. Lower the oven temperature to 325°F, and prepare the filling and meringue.
3. In a medium saucepan, combine sugar and cornstarch and then whisk in melted butter. Slowly pour 1 cup hot water into the mixture, whisking to dissolve any lumps. Whisk in egg yolks and citrus juice, then place the pan over medium-low heat and cook for 10 to 12 minutes, until the mixture coats the back of a spoon. ( I am always fearful to get the mixture too hot, but you need enough heat to make it into a curd-like consistency—otherwise it's runny.) Remove from heat.
4. For meringue, place egg whites in a mixing bowl and beat with an electric mixer on high speed until frothy. Add sugar gradually while continuing to beat until stiff peaks form.
5. To assemble the pie, pour the filling into the shell and gently spread the meringue over the top. Make sure the meringue touches the crust. Bake for 25 to 30 minutes, until the meringue is evenly browned. Let cool before serving.
"This shrimp pasta was a go-to comfort food growing up! I always keep frozen shrimp in my freezer, to make this after coming home from a long trip."
Shrimp with Linguine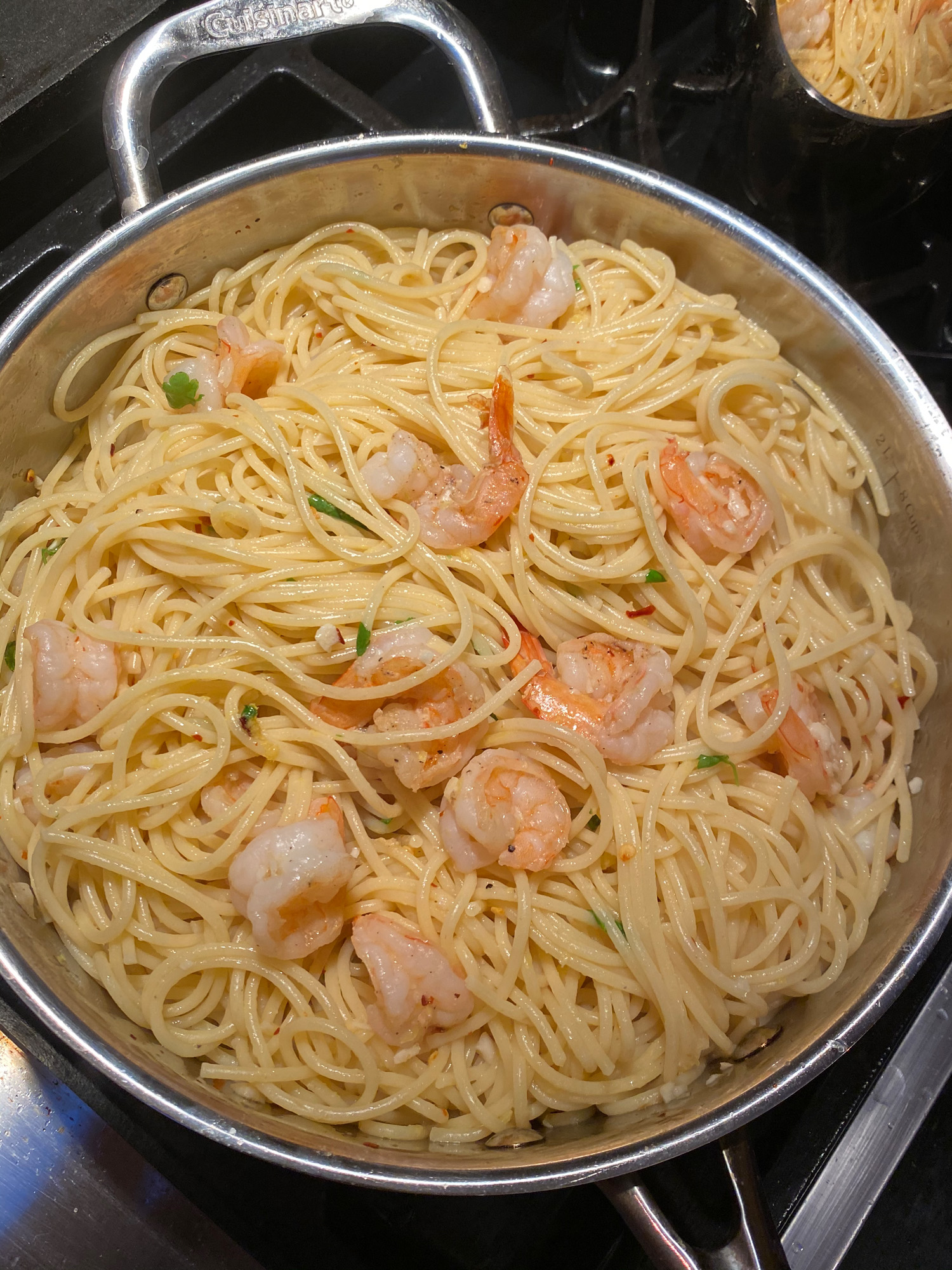 Ingredients
1 package linguine
Kosher salt
6 tbsp olive oil
7 tbsp butter
1 lb shrimp (without shells)
10 cloves garlic, chopped
½ cup lemon juice
1 lemon, zested
Red pepper flakes, to taste
½ cup parsley, chopped
Instructions
1. Place linguine in a pot of boiling water; make sure to salt water. Cook according to package instructions.
2. Heat olive oil, and add 6 tablespoons of butter in a saucepan. Once all melted, throw in shrimp and garlic. (It's good to do at the same time so garlic does not overcook/burn.)
3. Salt and pepper the shrimp. Flip over shrimp until both sides have turned pink.
4. Place cooked pasta into the pan with shrimp.
5. Pour in lemon juice, lemon zest, and red pepper flakes; mix all together.
6. Before serving, add in the last tablespoon of butter and chopped parsley.
Top photo: Courtesy of Gigi Burris
Want more stories like this?
13 Recipes to Help You Up Your Culinary Game
In the Kitchen with Angie Rito and Scott Tacinelli
What to Make with All That Quarantine Pasta You Bought (or Whatever Else Is In Your Pantry)