Baked Brussels Sprouts with Pancetta is a comfort food through and through. Crispy and creamy, this side dish is impossible to resist. Delicious for your holiday table, and easy enough for a weeknight.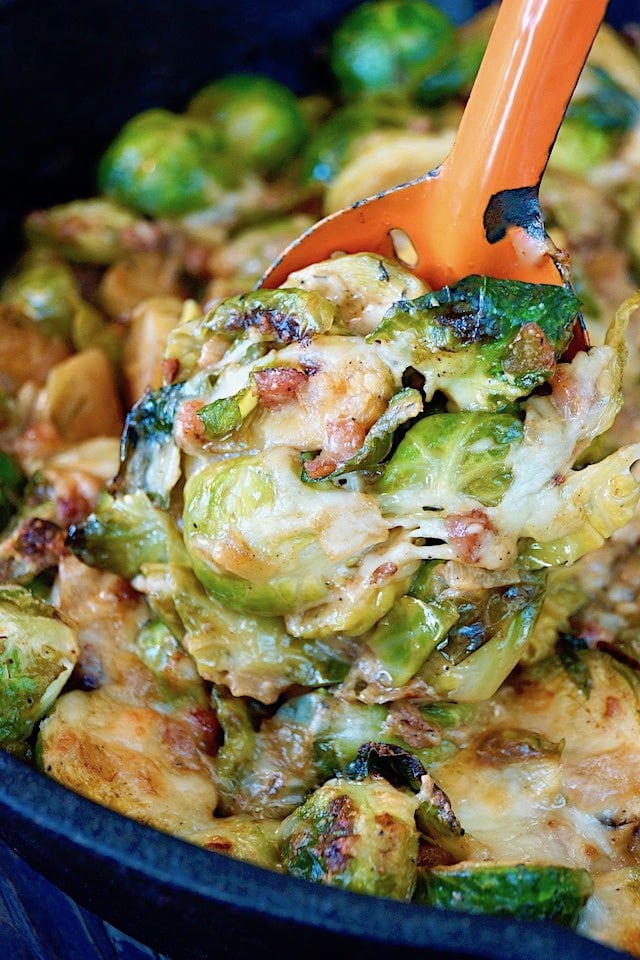 If you serve this to anyone who claims they don't like Brussels Sprouts, I think these baked brussels sprouts with pancetta will change their mind.
The little bits of salty pancetta mixed with the caramelized brussels sprouts, held together with melted Gruyère and Parmesan is mind-blowing!
My mom was an amazing cook who could make an incredible dinner by throwing together whatever happened to be on hand.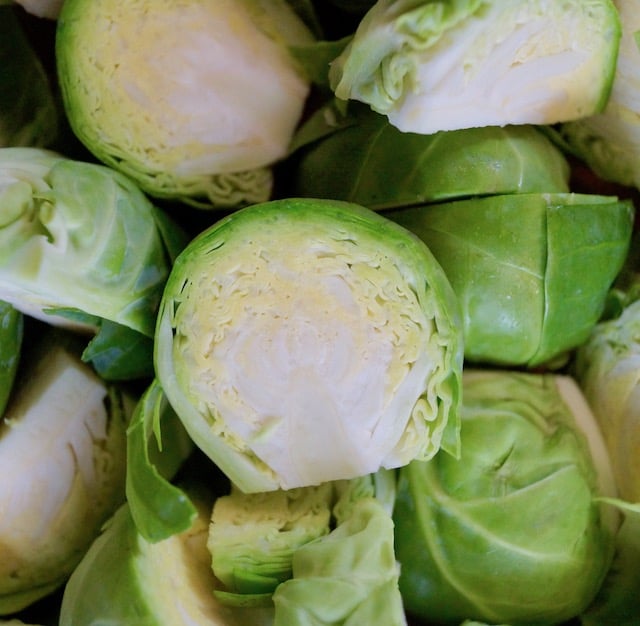 Much like my mom, I very often create my recipes based on whatever I happen to have in the house.
(My mom would throw in a bunch of love, too. 🙂 And I try to do the same.)
The result of "throwing things together" this way is usually a one pot, comfort food meal, that's richly flavored, hearty and relatively healthy. (Yes, this recipe has a lot of cheese, I know. Hence the relatively.) 
And that's exactly how these Baked Brussels Sprouts came to be.
Can you make it ahead?
You can make this up to two days ahead. Just warm it in the oven to reheat before serving.
Ideally, to make it ahead, you should do so in a 9 x 13 inch baking dish, instead of the cast iron skillet I recommend in the recipe instructions. This way you can transfer it from the oven, to the fridge, and back to the oven again to reheat. (It should be cooled to room temperature before it's refrigerated.)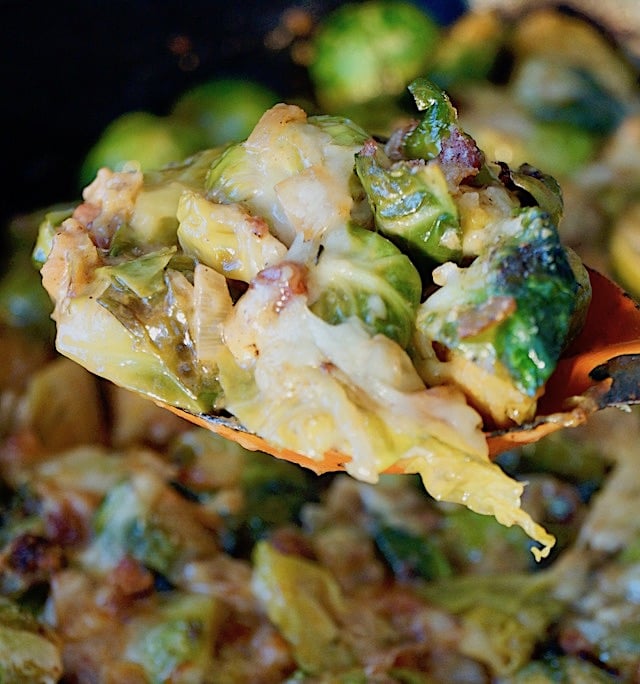 Recipe Tips and Substitutions
A good part of what makes these baked brussels sprouts so amazing is caramelizing the ingredients before it goes in the oven. So be sure both the onions and sprouts are golden in the pan before baking it.
The pancetta can be substituted with bacon. The only difference in the cooking process is that the bacon should be cooked whole and then crumbled — rather than diced first.
Vegetarian? Just skip the pancetta. The flavor will be a bit different, but it will be equally as rich and delicious.
I hope you enjoy Baked Brussels Sprouts with Pancetta as much as we do!
More brussels sprouts recipes: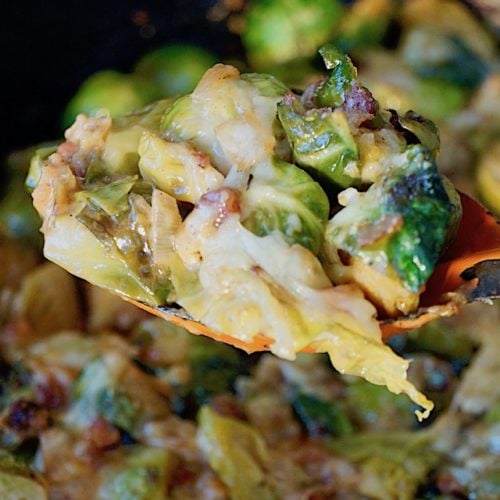 Print
Baked Brussles Sprouts with Pancetta
Baked Brussels Sprouts with Pancetta is a comfort food through and through. Crispy and creamy, this side dish is impossible to resist. Delicious for your holiday table, and easy enough for a weeknight.
Keyword
best brussels sprouts recips, fall comfort food recipes
Ingredients
olive oil for the pan

2

cups

finely chopped yellow onion

1

tablespoon

minced garlic

1

cup

pancetta,

cut into a small dice

1½

teaspoons

smoked paprika

1

teaspoon

dried thyme

2

pounds

brussels sprouts,

washed and dried, root ends cut off, halved or quartered into bite-sized pieces

½

cup

vegetable stock

2

tablespoons

heavy cream

2

cups

grated Gruyère cheese,

divided

2

tablespoons

finely grated Parmesan cheese

salt and freshly ground black pepper
Instructions
Set the oven and prepare the pan. Preheat the oven to 375°F, and adjust a rack to the center. Lightly coat the bottom of a large, oven-proof skillet with olive oil and place it over medium-low heat. (A 12-inch cast iron skillet is perfect.)

Sauté onion, garlic and pancetta. Add the onion and cook, stirring often, until soft and slightly golden, about 10 minutes. Add the garlic and pancetta and sauté until it's beginning to crisp, about 5 minutes.

Then add the paprika and thyme, stir to blend and cook until it's very aromatic, about 30 seconds.

Add burssels sprouts. Gradually stir in the brussels sprouts and turn the heat to medium-high, and add a bit more oil. Sauté, stirring often until they are tender and become golden along the edges, about 10 minutes.

Deglaze and season. Deglaze the skillet with the vegetable stock, using a flat-edged spatula to scrape any bits of stuck food off of the bottom of the skillet, and back into the other ingredients. Season to taste with salt and pepper. (Please note that the pancetta is salty, you you wont need too much!)

Add cheeses an cream. Mix in the cream and 1½ cups of the Gruyère. Sprinkle the Parmesan and remaining ½ cup of Gruyère on top.

Bake. Place in the preheated 375°F oven and bake until it's sizzling along the edges, about 10 minutes.(If the top isn't as golden as you'd like, you can place the skillet under the broiler for about 30 seconds.)

Serve!
Notes
Calorie count is only an estimate.
Nutrition
The post Baked Brussels Sprouts with Pancetta appeared first on Cooking On The Weekends.