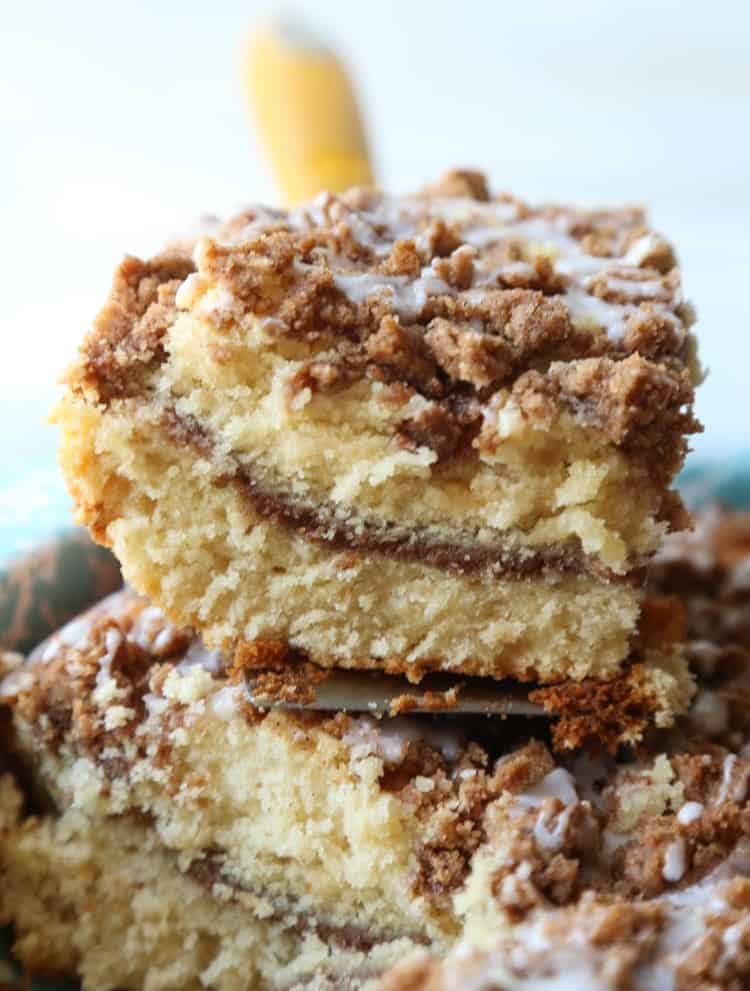 Coffee cake is a classic. I ate coffee cake with my grandparents when I was a young and it continues to be one of the funnest things to make.
Ingredients:
Cinnamon Filling
3/4 cuplight brown sugar
3/4 cupall purpose flour
2 teaspoons ground cinnamon
Crumb Topping
6 tablespoons butter, melted
1 cuplight brown sugar
1 1/2 tablespoons ground cinnamon
1 cupall purpose flour
Cake
1 cupbutter, room temperature
1 cupgranulated sugar
2/3 cuplight brown sugar
3eggs
1 tablespoonvanilla extract
3/4 cupsour cream
1 teaspoonkosher salt
3 teaspoons baking powder
1 1/4 cupmilk
3 2/3 cupall purpose flour
Icing
1 cuppowdered sugar
23tablespoons milk
Instructions:
Preheat oven to 350F. Coat a 913 baking dish with nonstick spray. Set aside.
In a medium bowl prepare the cinnamon filling by whisking together the brown sugar, flour, and cinnamon until combined. Set aside.
To prepare the crumb topping, mix together the melted butter, brown sugar, cinnamon, and flour in a medium bowl until it resembles coarse crumbs. Use your hands to mix to form larger crumb pieces. Set aside.
For the cake, mix the butter, granulated sugar, and light brown sugar in the bowl of your stand mixer fitted with the paddle attachment on medium speed for 2 minutes until light and fluffy.
Add in the eggs, vanilla, sour cream, salt, and baking powder and mix for 1 minute until combined and smooth, scraping the sides of the bowl as necessary.
Turn the mixer to low and add in the flour and milk in alternating portions, beginning and ending with flour. Mix until just combined and smooth, again, scraping the sides of the bowl as necessary.
Spread half of the cake batter into the prepared pan. Sprinkle the cinnamon filling evenly on top of the batter. Carefully spread the remaining cake batter on top of the cinnamon layer.
Evenly sprinkle the crumb topping on top.
Bake for 40-45 minutes, or until the cake is set and a toothpick inserted in the center comes out clean.
Remove cake from oven and place pan on a wire rack to cool completely.
Whisk together the powdered sugar and milk until smooth and drizzle on top of the cooled cake. Or alternately sprinkle with powdered sugar instead of making the icing.