Cooking with kids is a great way to get young children involved in household duties. Cooking gives kids a sense of responsibility, it gets them excited about mealtime, it allows them to bond with you, and it increases their pride in their work. There are so many amazing benefits of cooking with kids. Today, we're here to help convince you to get your kids involved in the cooking and meal-making process. We've got a list of kitchen tasks appropriate for kids of all ages and lots of fun ways to get them involved. Plus, we're also sharing a few of our team's favorite desserts and main courses to make (and eat) with our kids. Bon Appetit!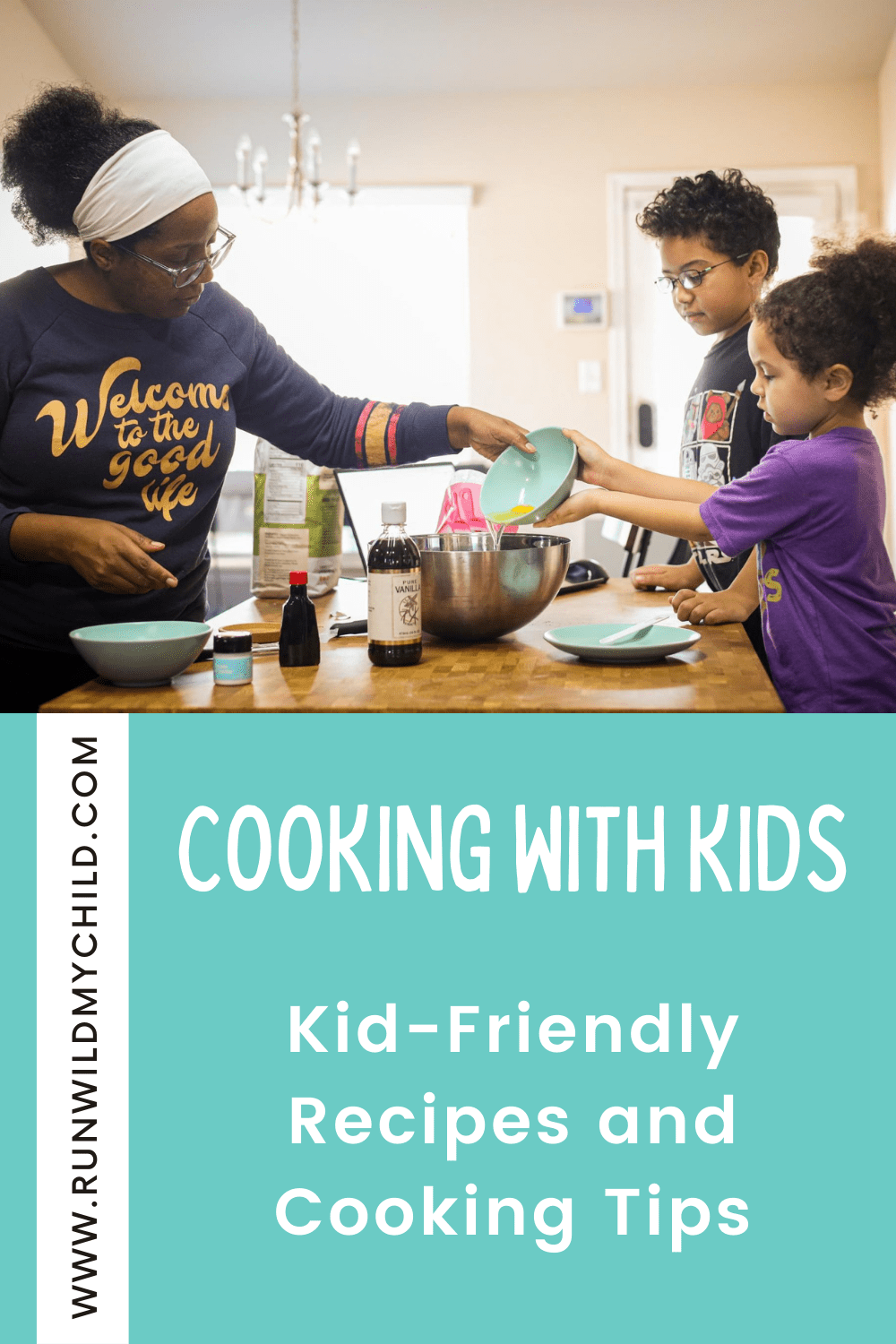 Cooking with kids
Cooking is an everyday part of life, even if we sometimes wish it wasn't. Kids love to be a part of (and even find joy in) the daily activities that long ago lost their novelty to us grownups. And while there are many people that enjoy cooking and even relish nourishing their families with healthy food, there are many others that do not find much joy in the kitchen.
Cooking is one of those daily activities that kids absolutely want to be a part of, even from a young age. Kids naturally want to help and a lot of times, they'd do just about anything to spend more time with you. Including cooking chores! They love feeling like they contributed and are so proud of the work they do to help out.
Cooking is not only a part of daily life, but it is something children all need to learn how to do. Only about 1/3 of children actually help prepare meals in their families. We'd love to help raise that number. There are so many great skills and lessons that kids can learn in the kitchen. Let's get them involved!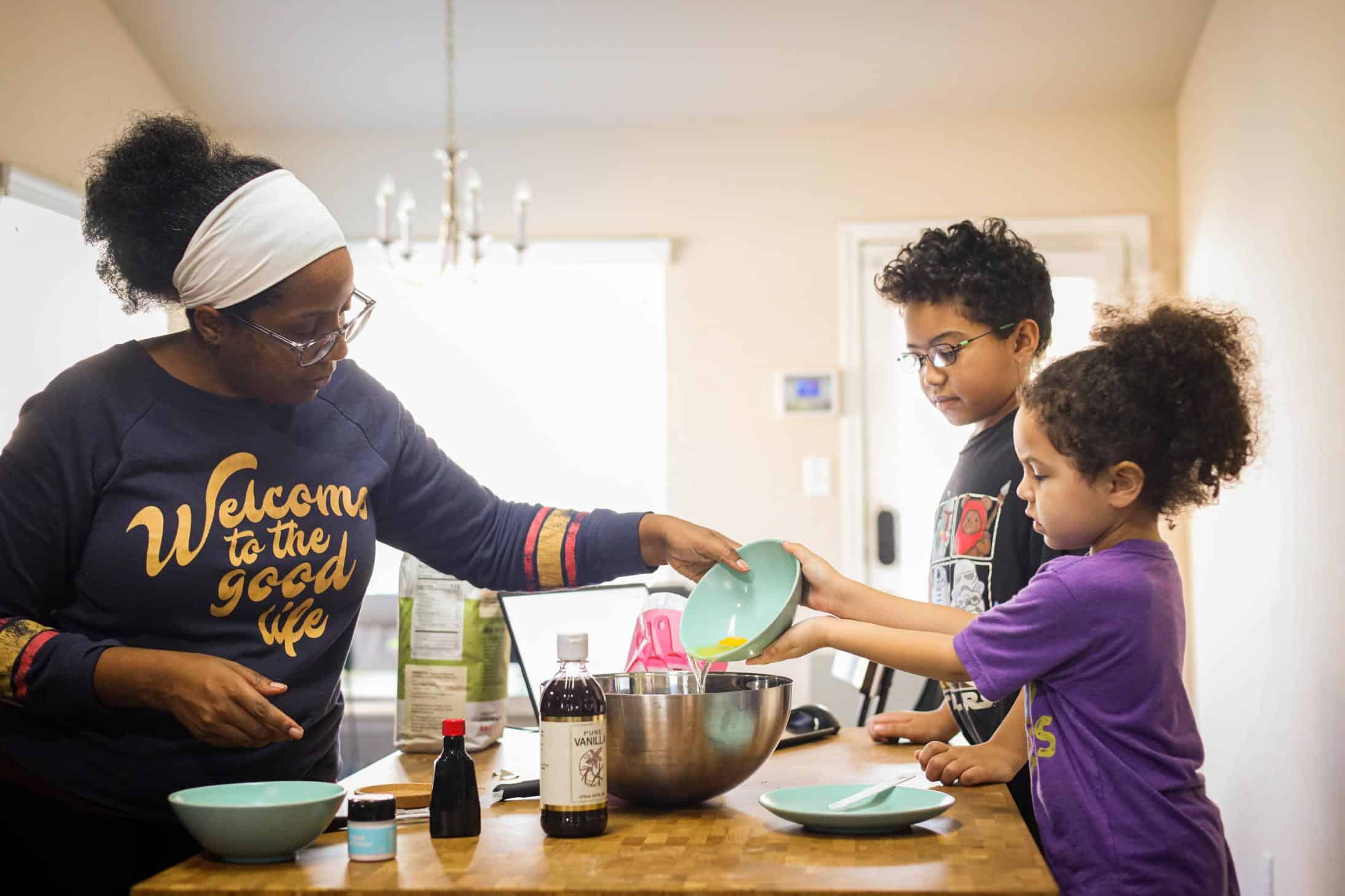 Why kids should help cook
Anyone who has ever cooked with kids knows that cooking with kids takes longer and the messes that are made are generally much larger than the ones you'd make yourself. This can be frustrating and when time is a factor, often not an option parents are willing to entertain. We get it. It is so hard to teach when doing it yourself is faster, easier, and less messy.
However, cooking with kids is not only beneficial for the kids, but also for the parents. Cooking with your child gives you a bonding experience and quality time together doing something together that benefits the whole family. Eating meals together allows time for family bonding and may even improve mental health. Eating together contributes to fewer emotional and behavioral issues in children and greater feelings of mental well-being, according to recent studies. If you can't let your child help you prepare meals daily, perhaps you can devote time once a week to cooking with your kids. 
Benefits of cooking for kids
There are so many benefits to sharing the task of cooking with children, beyond simply teaching them to cook. Shredding and chopping helps build fine motor skills. Following a recipe helps with reading. Measuring ingredients helps with math skills. Kids also take a lot of pride in the family meals they cook and are more likely to try new foods. While my kids might choose to eat macaroni and cheese, pizza, hot dogs, and chicken nuggets every day, we think it's important to try unfamiliar foods that have a variety of ingredients. Cooking with kids is a great way to do that! 
Here are a few science-backed reasons you should bring your children into the kitchen and let them help you cook on a regular basis.

How kids can help cook (kitchen tasks by age)
Children can easily help prep and cook almost any meal, but what and how they help depends on the age of your child. There are certain kitchen tasks that are more suitable for older kids, but lots of ways even the littlest ones can help and get involved. Young kids are great helpers, so don't overlook them! There are lots of easy ways to get your children involved in the cooking process. The best way is sometimes to ask them what they'd like to help with (kids often have strong opinions on these subjects).
Pro tip: For the younger kids, consider getting one of those kitchen helpers that adjust in height so that your child can safety step up to the counter to help. 
Here is a general guide for how children can help you in the kitchen, broken down by age.
Ages 0-1
Taste test edible ingredients
Help dump pre-measured ingredients into bowls
Play with unneeded cooking utensils
Ages 2-5
Mash ingredients
Tear lettuce for a salad
Wash vegetables
Wash fruits
Knead dough
Wrap potatoes in foil
Mix ingredients
Testing kitchen tools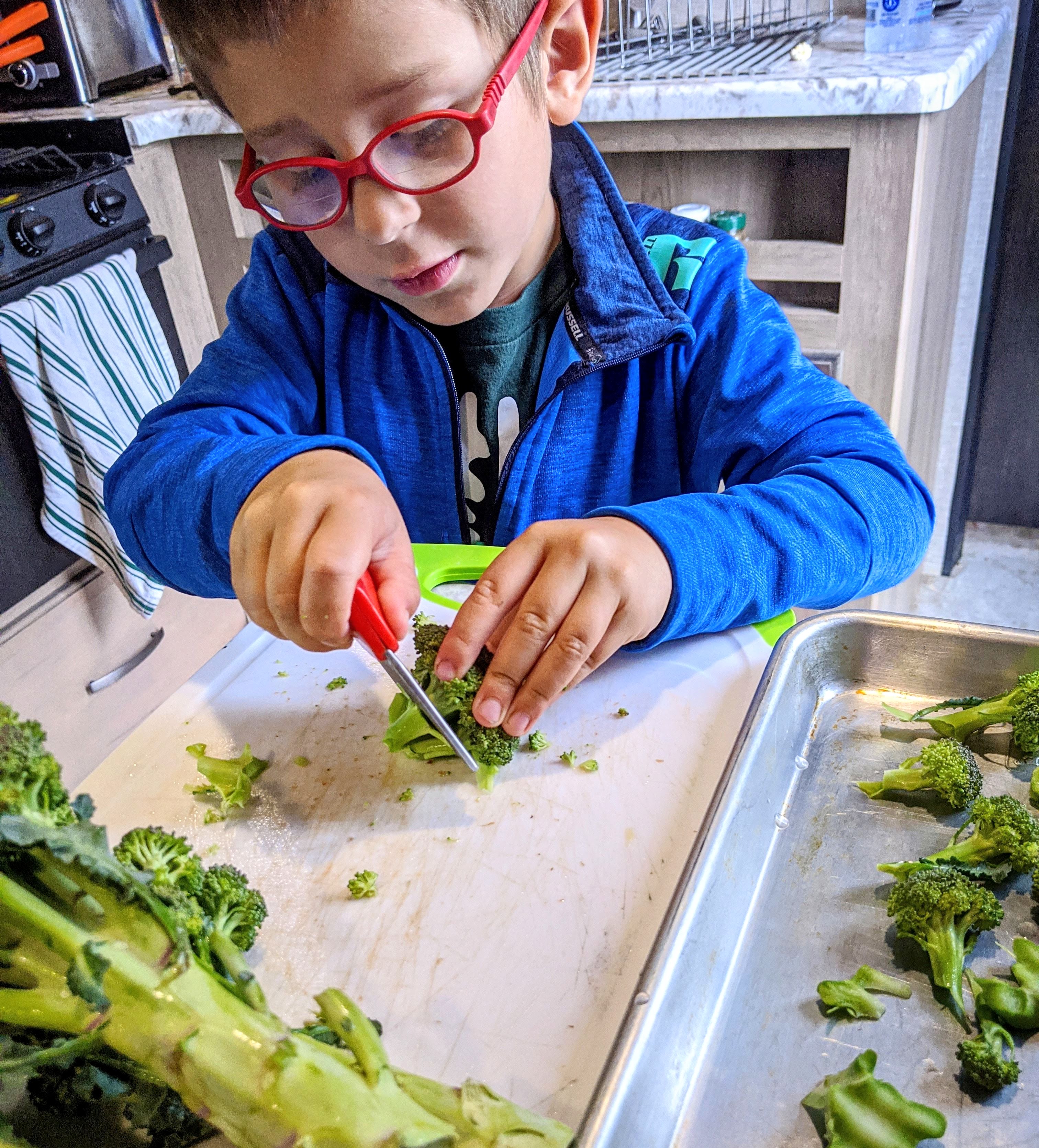 Ages 5-7
Mix dry ingredients
Measure ingredients
Count items
Set the table
Crack eggs
Chop softer fruits and veggies
Begin learning to read recipes
Washing dishes
Ages 8-12
Make shopping list
Unload groceries
Read recipes
Peel veggies
Toast bread
Mix a simple batter on their own
Wash and put away dishes
Make sandwiches
Ages 12+
Make stovetop recipes
Bake on their own
Use sharp knives
Try new recipes
Learn to use a variety of kitchen gadgets
These age-appropriate kitchen and cooking tasks for kids were taken from Taste of Home's A Guide to Kitchen Tasks for Every Age. This is just a guide and can be adjusted as necessary for your child's skill and interest level. Kids vary in abilities and desires and this is true with cooking as well. The idea is to involve them in some way, enjoy their company, teach skills, and instill healthy habits along the way.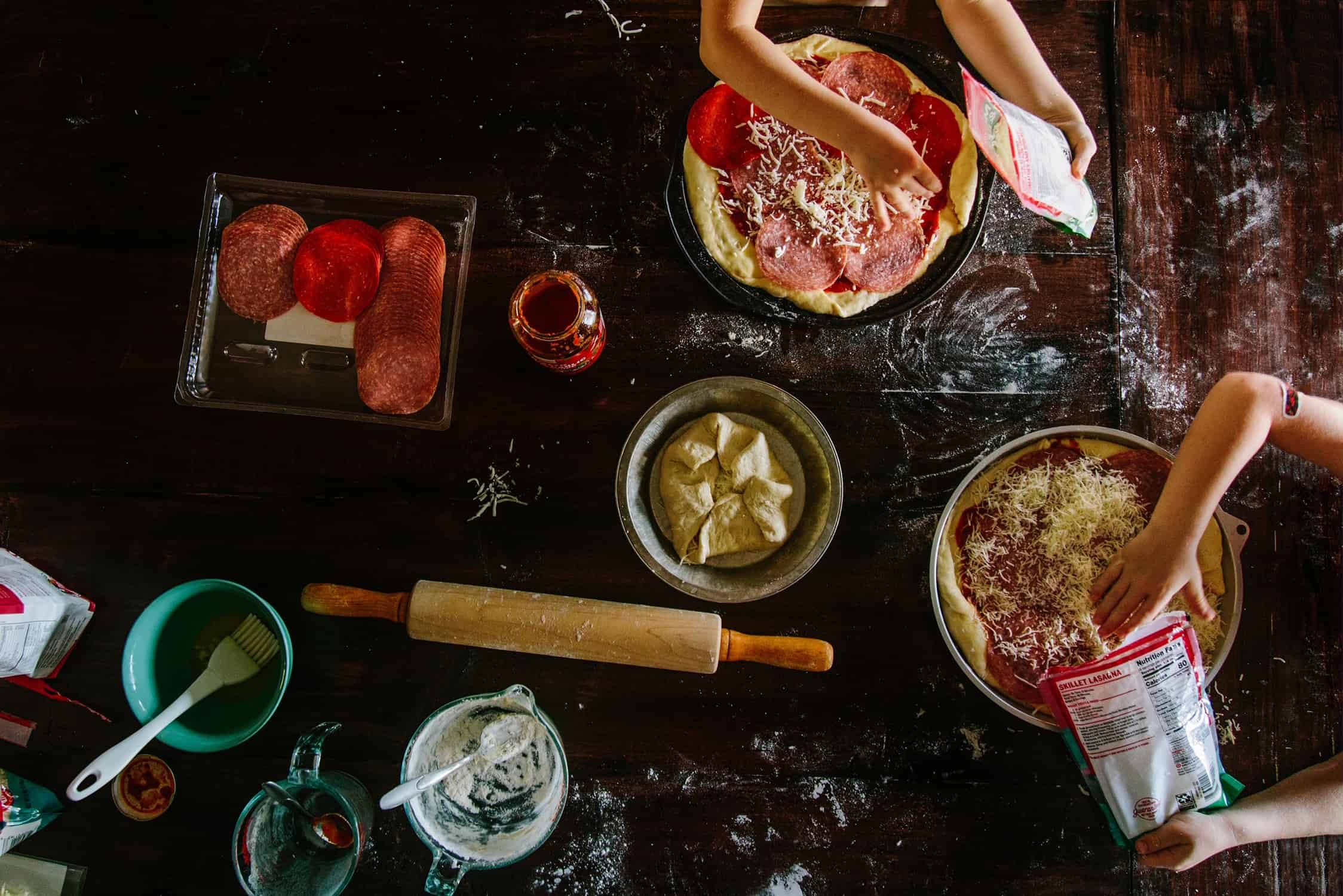 Fun recipes to cook with kids
The Run Wild My Child Creative Team came together to share some of our favorite recipes. These are all recipes that our children love to eat and help prepare. Not only do each of the following recipes share how kids can help cook it, but they are all tested and loved by the children and families who shared them.
We've included both desserts and main dish recipes below. There are vegetarian, gluten-free, vegan, and meat-filled options. Some of these recipes are great for busy parents that need a quick weeknight meal and some take time. All of them are customizable to fit your own family's needs and tastes. They're tried and true and guaranteed to be a big hit with your young chefs.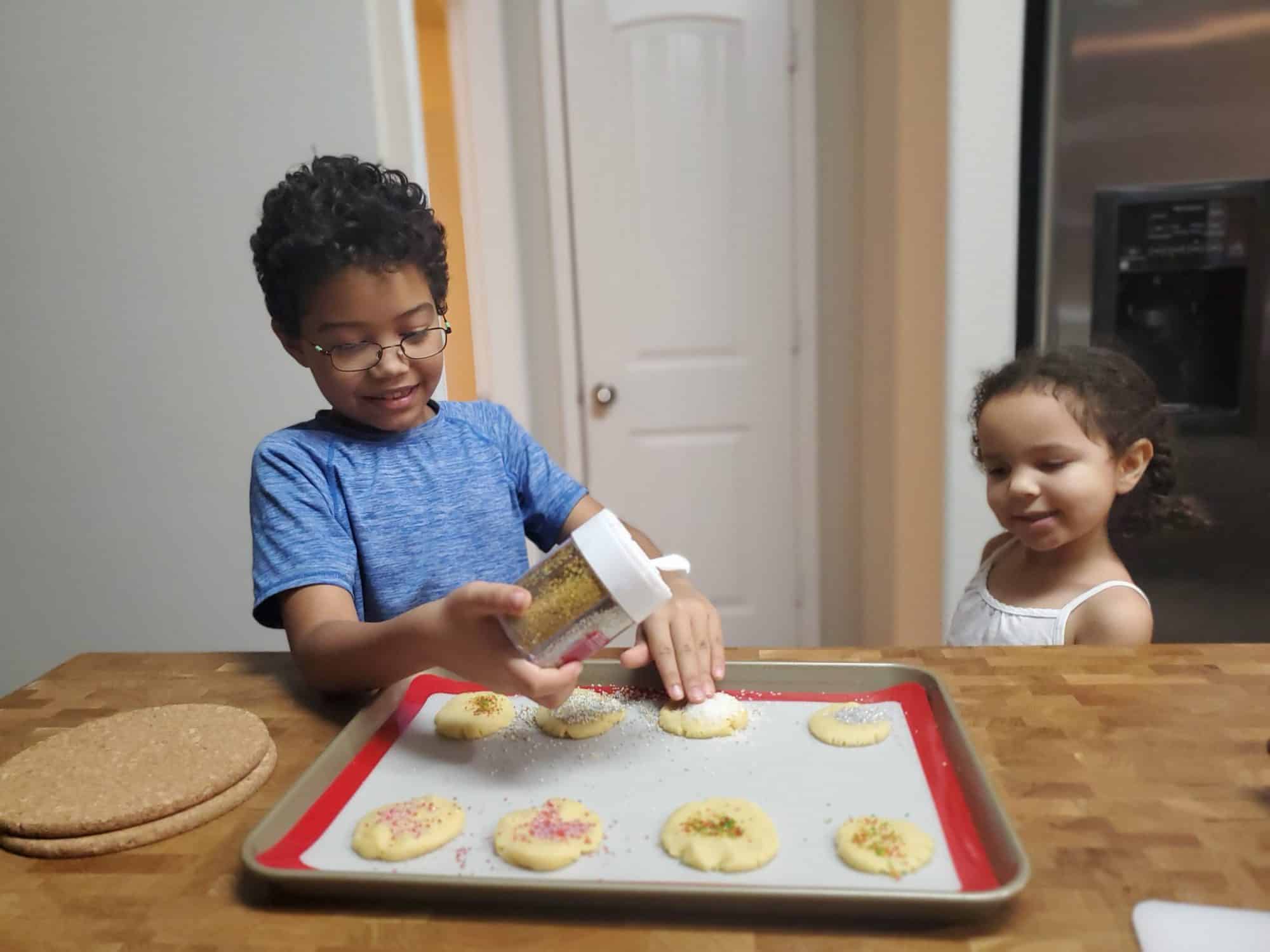 Dessert recipes kids love
We all know dessert is technically supposed to be served after the main dish, but kids (and many grownups) love dessert. So we thought we would start with dessert and work our way to the main dishes! Here are some tried and true dessert recipes that you can cook with your kids!
Almond meltaway cookies
This awesome almond dessert was shared by Creative Team member Tiana Kubik. Her family loves this recipe because it is super yummy and much easier to make than her mother's equally yummy Christmas cookie recipe. The kids literally beg to make these whenever they get a chance. The kids love to help measure and stir and her oldest is now the director, meaning he reads out the recipe and makes sure everyone stays on track!
Ingredients
Cookies
3 cups powdered sugar
2 cups butter or margarine, softened 
2 tsp vanilla
1 tsp almond extract
2 eggs
5 cups all-purpose flour
2 tsp baking soda
2 tsp cream of tartar
Decorating glaze
4 cups powdered sugar
1/4 cup water
1/4 cup light corn syrup
1 teaspoon almond extract
Food coloring, as desired 
Directions
In a large bowl, beat 3 cups of powdered sugar, butter, vanilla, 1 teaspoon almond extract, and eggs with an electric mixer on medium speed, or mix with a spoon.
Stir in flour, baking soda, and cream of tartar. Cover and refrigerate for at least 2 hours.
Heat oven to 375°F. Lightly grease cookie sheet.
Divide dough in half. On a lightly floured surface, roll each half 1/8 inch thick. Cut into desired shapes with 3-inch cookie cutters. Place about 2 inches apart on cookie sheet.
Bake 5 to 7 minutes or until edges are light brown. Remove from cookie sheet to wire rack. Cool completely, about 30 minutes.
In a small bowl, beat all glaze ingredients except food colors on low speed until smooth.
Divide among several small bowls. Stir desired food color, one drop at a time, into each until the desired color.
Decorate cookies with glaze and other decorations as desired.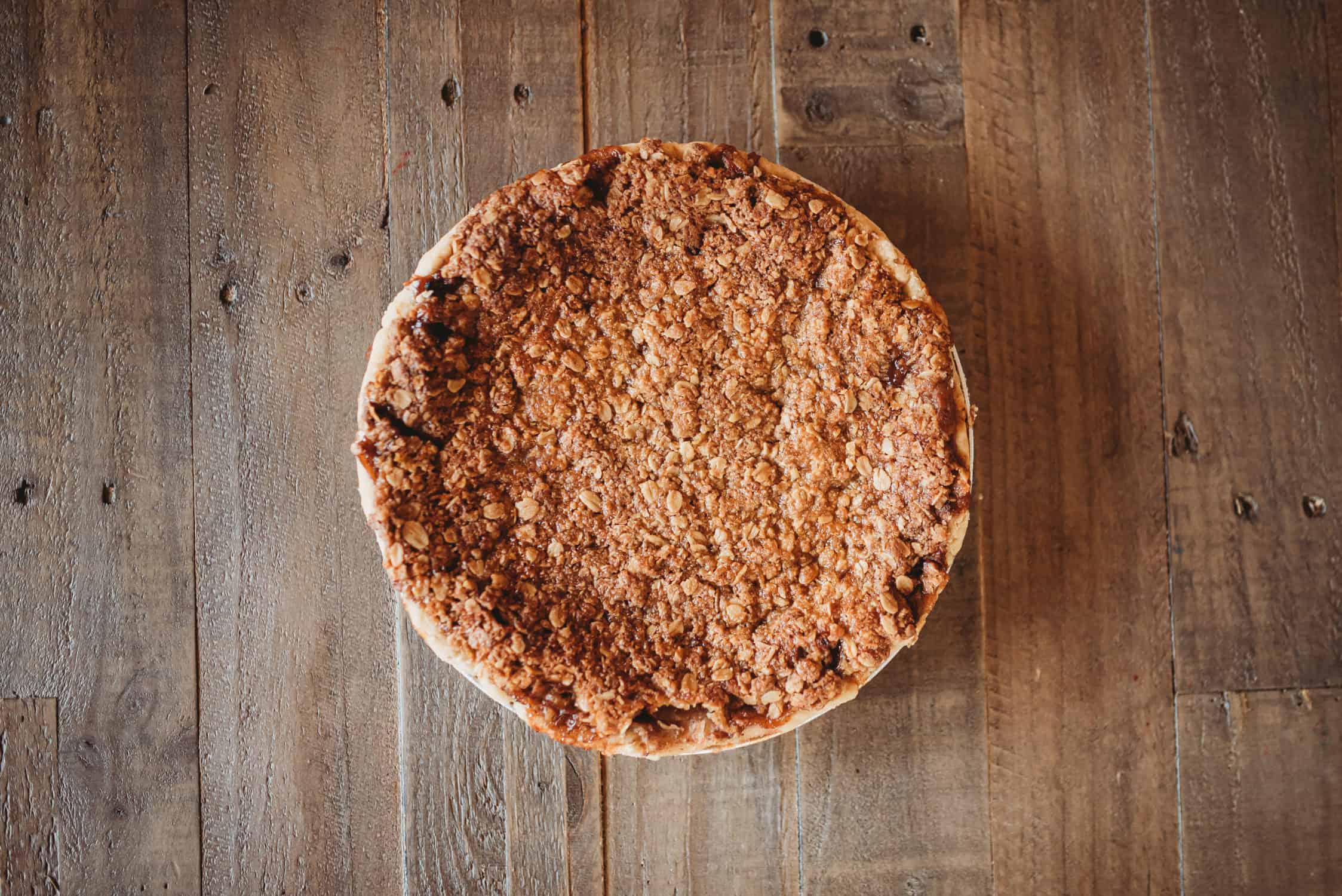 Apple crumble (vegan and gluten-free options)
This delectable dessert is a favorite of Executive Team member
Chelsea Furlong
and her family. The best part is how easy the recipe is to tweak to be gluten-free and vegan. Plus, the literal hands-on mixing is a great sensory activity that kids of all ages will enjoy if they don't mind getting a little messy. 
Ingredients
Apple filling
6-8 McIntosh apples (can't find McIntosh apples? Don't worry, any crisp, tart apple will do; pink lady, honey crisp, gala, etc. are all good choices)
1/2 cup sugar (you can use coconut palm sugar, cane sugar, or regular white sugar)
1 tsp cinnamon
1/4 tsp nutmeg
Dash of ground cloves
Dash of salt
Crumble topping
2/3 heaping cup of light brown sugar
1/2 cup flour – Chelsea recommends a gluten-free flour blend
1 cup old fashioned oats
1/2 cup almond meal
1/2 tsp cinnamon
Dash of salt
2/3 cup butter – Chelsea recommends Earth Balance Butter Spread (the salted and soy-free option)
Directions
Preheat oven to 400 degrees
Prepare your crust of choice. (either make the dough or start thawing the frozen dough)
Peel apples and cut them into slices. (kids love helping with this part!)
Put apple slices in a large bowl and add the following ingredients: (kids love adding the ingredients!)

Sugar
Cinnamon
Nutmeg
Ground clove
Salt

Mix well with a spoon or your hands until spices and sugar are evenly distributed and coat apple slices.
Now make the crumble topping! Add all crumble topping ingredients into a bowl and mix together until combined well. This is another perfect opportunity to get the kids to help. These ingredients mix together easiest when you use your hands. It's the perfect bit of messy and fun that makes cooking exciting for kids. (If the messy bit doesn't sound like fun, you can use a Kitchenaid mixer with the paddle attachment to combine these ingredients.)
Once the crumble topping is finished, fill one prepared pie shell with the apple mixture. Then cover the pie completely with the crumble topping. I use my hands to do this part as well and kids love to help sprinkle the crumble topping on top of the apples.
Place the pie on a metal baking sheet covered by tin foil. The pie mix may bake over and caramelize on the pan so the baking sheet and foil will protect your oven from a big mess!
Bake for 20 minutes uncovered. Then lower the oven temperature to 350 degrees. Bake for approximately 30 minutes more. Check occasionally to see if the top is browning. If your pie starts getting too dark or begins to burn, cover with foil.
Pie is finished when apples are soft, topping is baked completely through, and has a nice brown, crunchy crust over the top.
Serve as is, or topped with your favorite whipped topping or vanilla ice cream!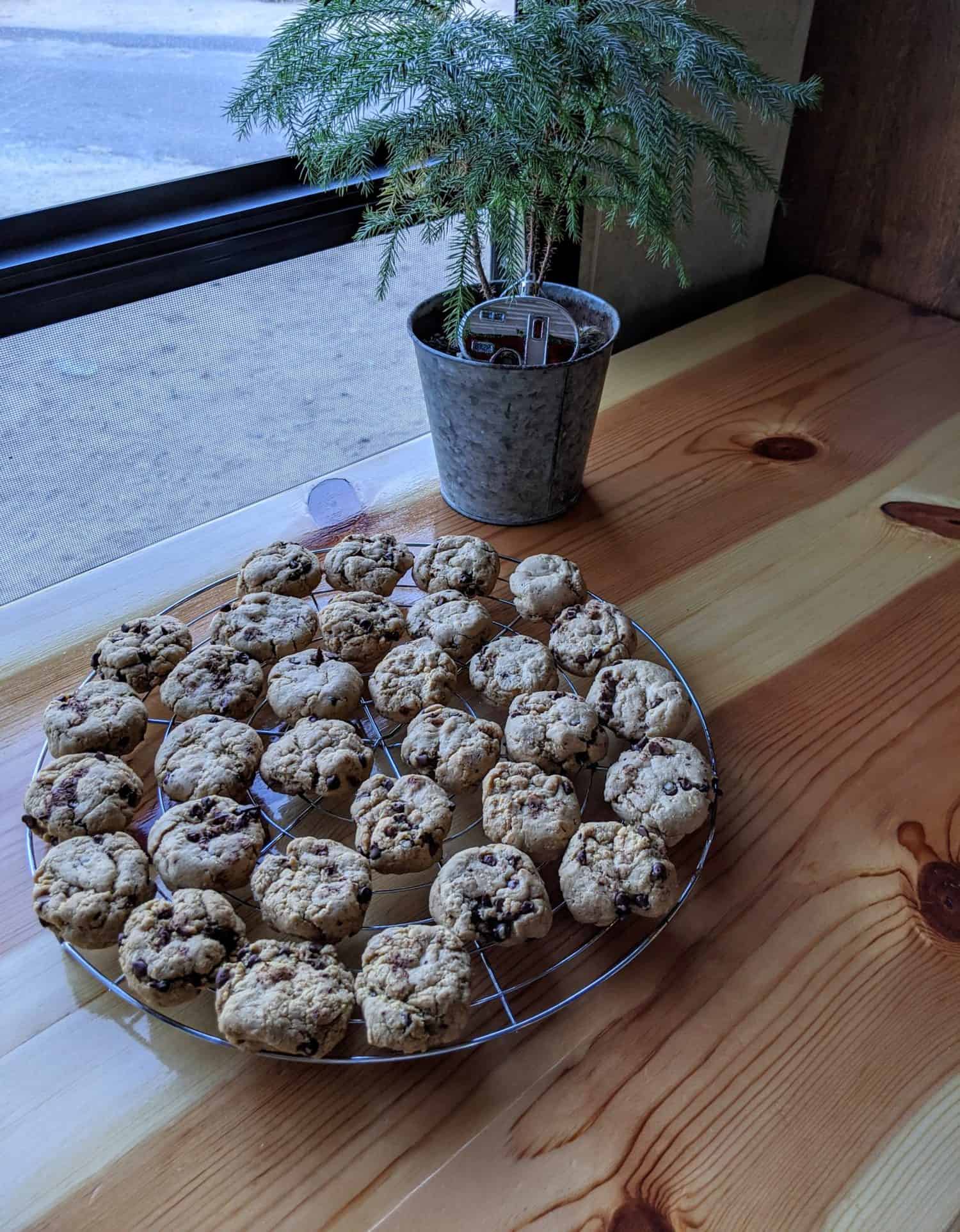 Easy chocolate chip cookies
This easy one-bowl cookie recipe is not only a hit with kids, but it's vegan too! While traveling the country full-time, Executive Team member Katie Fox did not want to give up cooking with her kids, but she had to adapt recipes a bit to make it easy to do. Using fewer dishes is a huge bonus when you only have essential dishes due to space limitations, but also it makes cleanup so much easier! And when cooking with kids limiting messes is always a plus! This recipe was adapted from Cookie and Kate's Amazing Chocolate Chip Cookies.
Ingredients
1/2 cup oil (coconut oil or extra-virgin olive oil work well)
1/4 cup water
1/2 cup brown sugar
1/2 cup white sugar
1/2 tsp vanilla extract (optional)
1 tsp baking power
3/4 tsp baking soda
1 tsp cinnamon powder (optional)
2 cups whole wheat pastry flour
1 cup chocolate chips
Directions
Preheat the oven to 350 degrees F and prepare your baking pan. Use a cooking spray or parchment paper to prevent cookies from sticking.
In a large mixing bowl mix together oil, water, brown sugar, and white sugar. Mix until both sugars have been incorporated into the oil and the texture is smooth. This takes about 1-2 minutes with a handheld or standup mixer. (kids love to mix things by hand, so let them watch the sugar dissolve in the oil while they mix by hand. You can always finish the job once their arm tires.)
Next add in the vanilla (if you are using it), the baking powder, baking soda, and cinnamon (if you are using it). Mix it all together. (kids love to scoop, measure, dump, and mix these ingredients in)
Add in the flour one cup at a time, mixing the first cup in completely before adding the second cup. Don't over mix, just mix until the flour is no longer visible.
Finally, add the chocolate chips. The dough is a bit sticky.
Use a spoon to scoop out walnut-sized amounts of dough (about 2 inches in diameter) and drop them onto the prepared baking pans. Leave 3-4 inches between each dough ball.
Bake for 14-17 minutes – until the edges of the cookies are turning golden brown.
Let them cool and enjoy!
Frozen yogurt berry bark
If you're in need of a sweet (yet very healthy) tasty treat, this is the perfect option! Super easy to make and kids love it! My big kids can now make this all by themselves. You can use fresh or frozen fruit (and feel free to swap out the berries for any fruit of your choice). Make sure to eat it quickly while it's cold so it doesn't melt all over! 
Ingredients
32 oz vanilla Greek yogurt
strawberries
raspberries
blueberries
2-3 tablespoons honey
1 tablespoon vanilla bean puree
Directions
Mix the honey and vanilla into the yogurt in a large bowl.
Spread the yogurt out onto a baking sheet using a rubber spatula.
Place berries on top.
Freeze (at least 1-2 hours).
Use a knife to break into pieces.
Enjoy right away while it's COLD!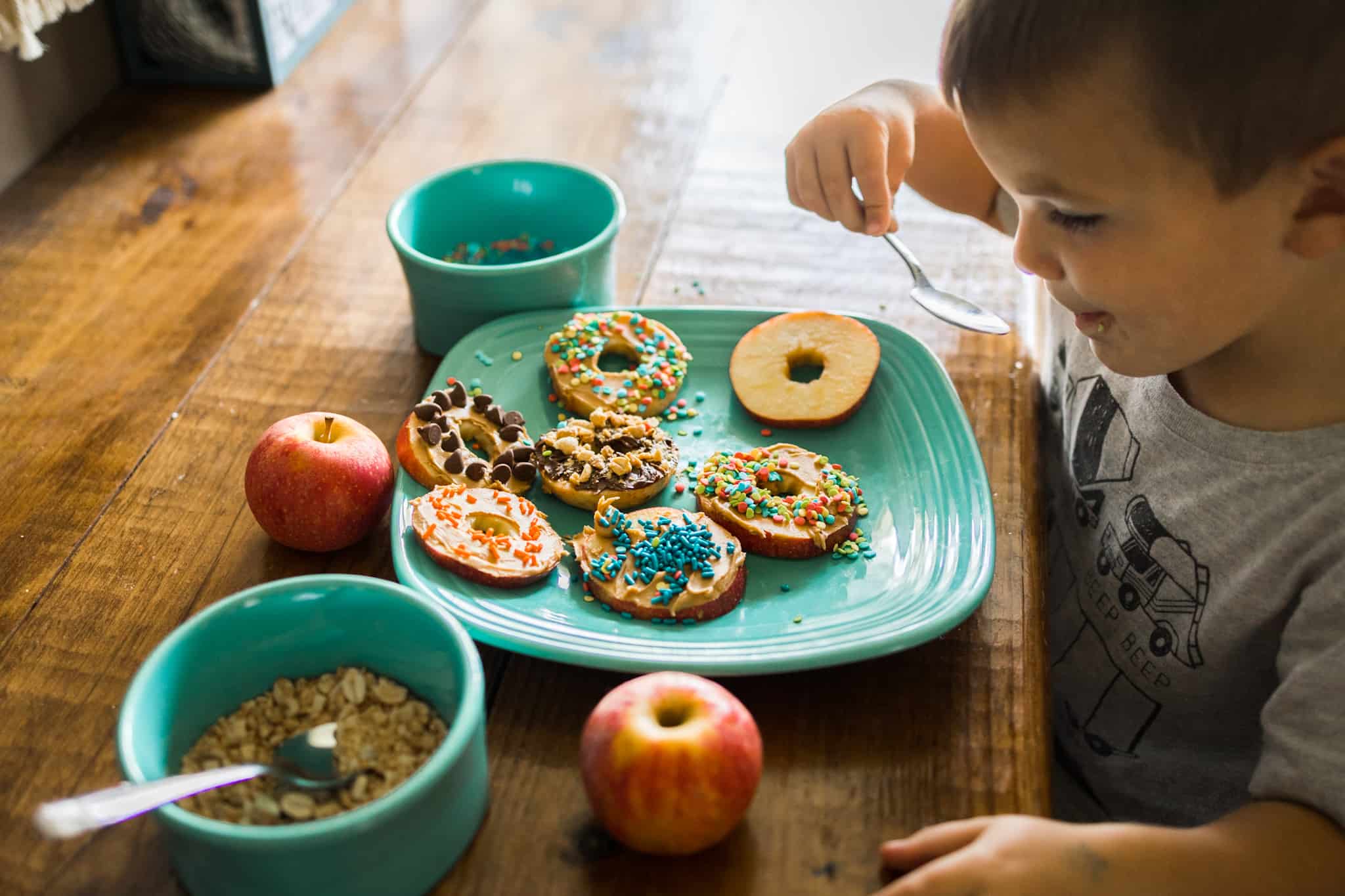 Photo credit: @meghangarriott
Apple donut rings
Ingredients
apples
peanut butter (or other nut butter), Nutella, marshmallow cream
nuts, candies, chocolate chips, sprinkles
Directions
Core and slice apples crossways.
Slather a thick coat of peanut butter, Nutella, or marshmallow cream for the "donut icing" onto each apple slice.
Let your kids have fun with the toppings using chopped nuts, chocolate chips, and sprinkles. 
Enjoy!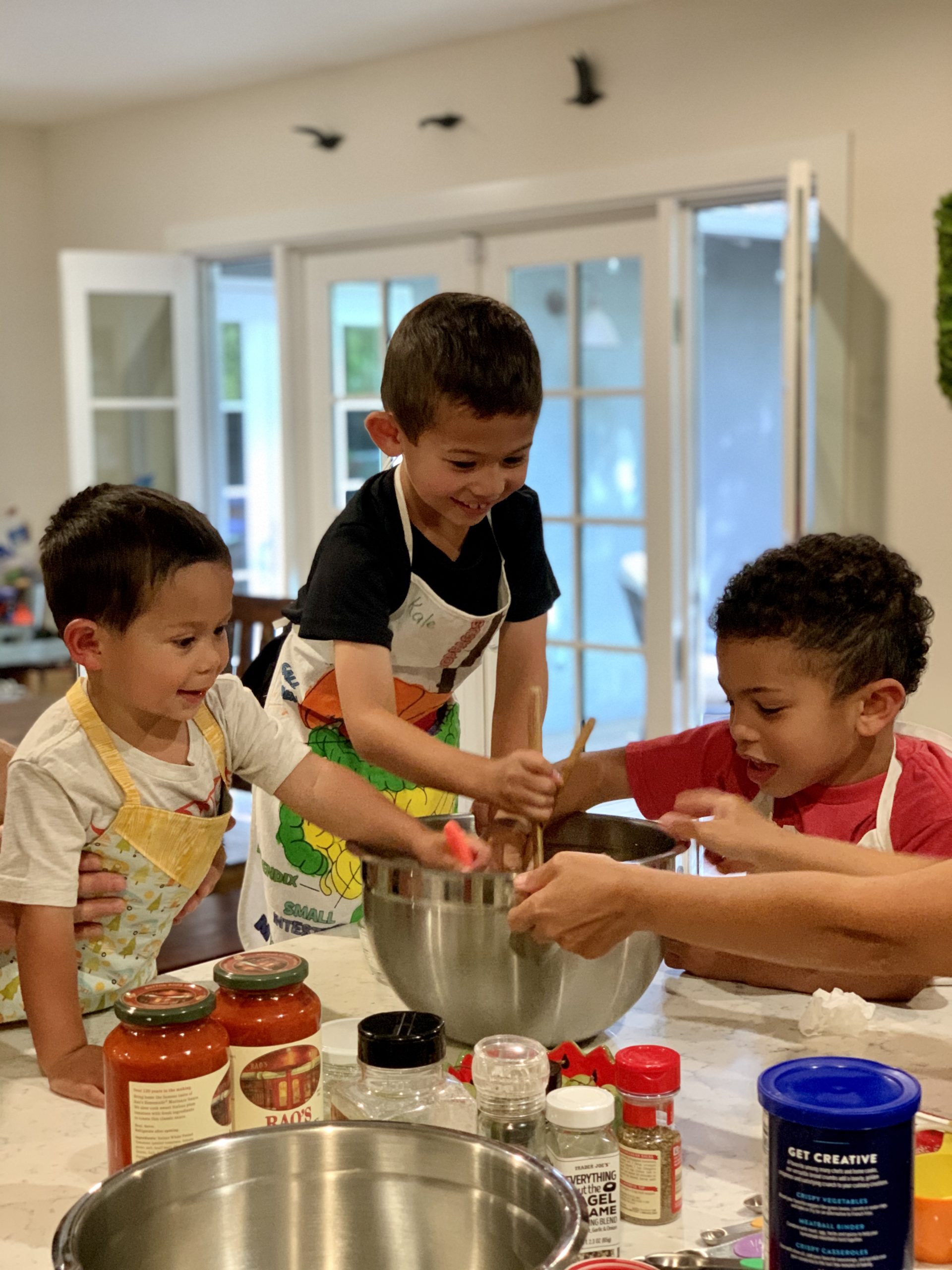 Main dish recipes kids love
Kids may love desserts, but those are "sometimes" foods. They are usually not cooked every day. But, most of us cook at least one meal every single day, if not more. Let's dive into the heart of the meal with some fun main dish ideas that your kids will love. The recipes below are some of our team's family favorites. 
We encourage you to invite your kids to be a part of the everyday cooking experience. Give them the age-appropriate tasks suggested above or find something they like to do and find ways to incorporate that into your meal preparation. Cooking with kids is fun and when they help cook meals, like dinner, they are far more likely to eat it without complaint (which is always a bonus!). The following recipes provide many different ways to get kids helping cook main dishes too.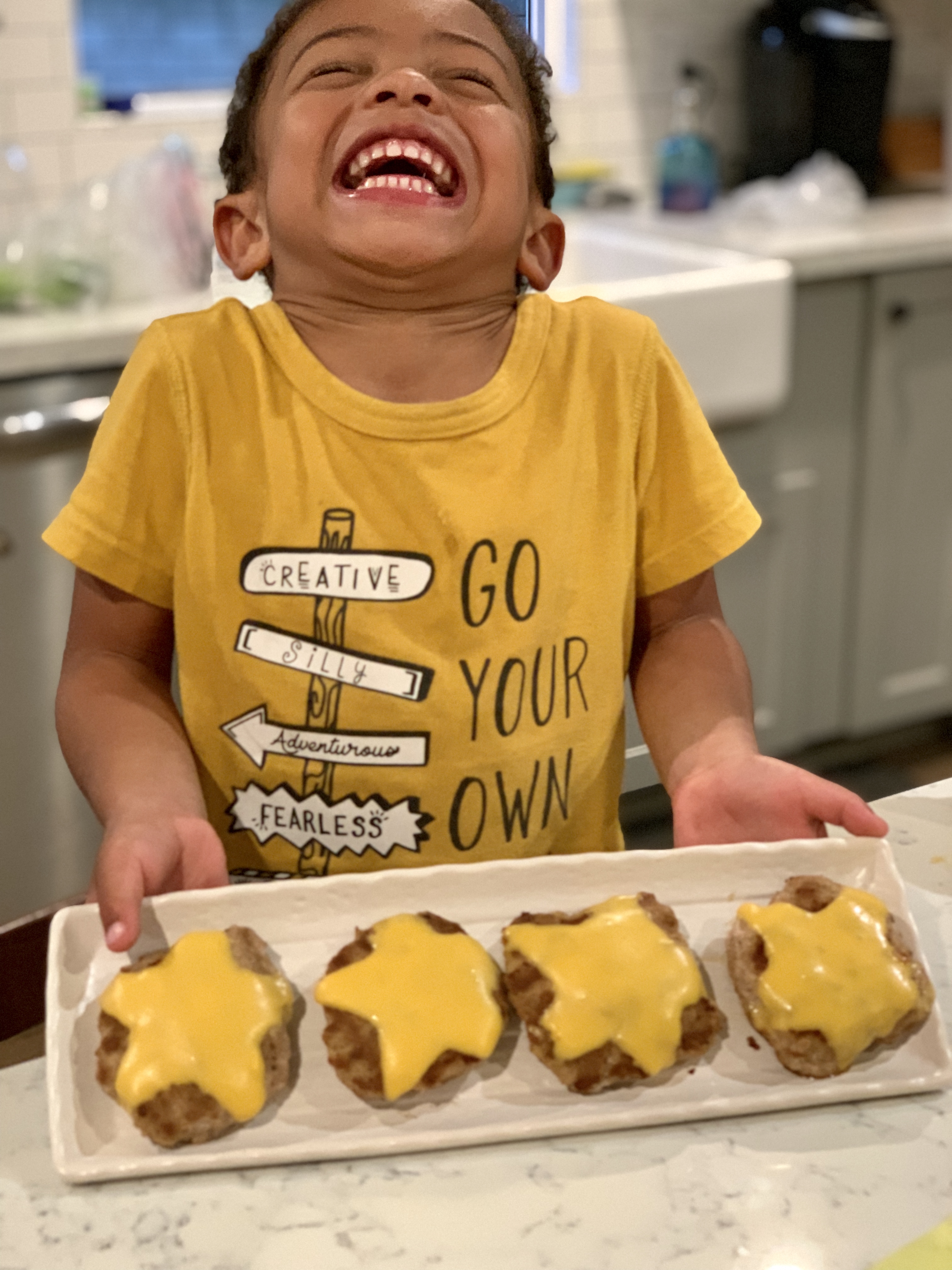 Krabby patties
An ode to SpongeBob SquarePants, this is one item on the Krusty Krab menu just about anybody can eat! Creative Team member and lover of SpongeBob Michelle Garret shared this fun and kid-friendly recipe. Her family first made these Krabby patties (no crab involved) to celebrate the birthdate of Stephen Hillenburg, SpongeBob's creator, but now the meal is a fun treat for any night of the week.
Ingredients
Ground burger meat of choice (ground beef or turkey)
Burger meat seasonings of choice
Quality cheddar cheese slices
Directions
Add seasonings to ground meat of choice and mix together. (Kids like mixing things together and using their hands to do it, let them help mix the seasonings in!)
Form the burger patties as you would any other burger. (Again, kids will love helping form the burger patties.)
Cut star shapes out of your cheddar cheese slices.
Cook your burger patties.
As the burgers finish cooking, place the star-shaped cheese slices on top of the burger and let it melt.
Enjoy!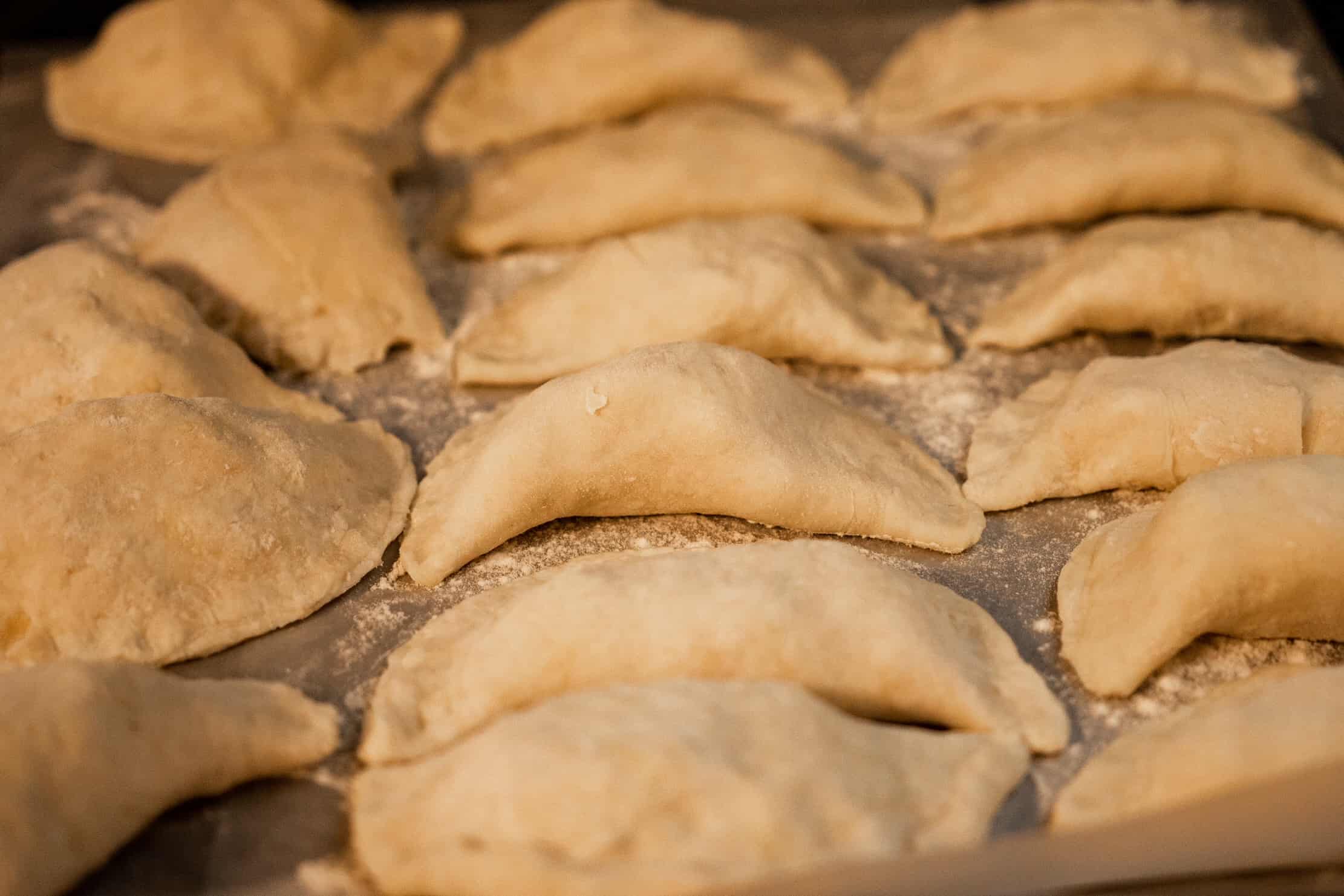 Pierogies
This savory dish was shared by Creative Team member Meghan Garriott. Pierogies are filled-dough dumplings and they can have many different fillings. Meghan's family makes them with a potato and cream cheese filling and eats them on Christmas. Pierogi-making is laborious, which is why her family only does it once a year. But the best part about them (other than how delicious they are) is that the whole family makes them together. There are so many different tasks that kids can help out with while they spend time working on a special family dinner.
Ingredients
Potatoe filling
12 medium potatoes (cooked and mashed)
1 – 1 1/2 large packages of cream cheese
Salt to taste
Dough
4 eggs
4 cups flour
1 1/2 tsp salt
12 generous tbsp sour cream
Directions
Cook potatoes. After they are cooked and while they are hot mash them.
Mix in cream cheese and salt to taste and allow the potato mixture to cool.
In a separate mixing bowl, add flour and 1 1/2 tsp salt and mix together.
In another mixing bowl, add all eggs and whip them. Add in sour cream and whip until it is well mixed together.
Add the egg mixture to the flour mixture and use a spoon to combine them. Once the dough comes together, use your hands and continue mixing and kneading the dough on a floured surface until the dough is smooth. (this is fun for kids to help with!) 
The dough will still be slightly moist when done. 
Cut dough into four pieces and on a floured surface roll out with a rolling pin.
Using a round cookie cutter or the edge of a drinking glass cut the dough into circles. Make sure to put flour on the cutter/glass to avoid dough sticking to it.
Add potato filling on top of each circle dough and fold over. Seal the half circles by pinching the dough together or using a floured fork to press the edges together.
Bring a pot of water to boil. Reduce heat so water is gently boiling.
Drop the pierogies into the boiling water and boil for 5-7 minutes or until the pierogies float to the top of the water.
Drain and cover perogies with a lot of melted butter so they do not stick together.
Enjoy!
Chicken pot pie puffs
Since that last recipe was a bit complicated, let's try a kid-friendly recipe that's as easy as pie – chicken pot pie! This super easy 4 ingredient recipe was submitted by RWMC founder Sara McCarty. This is perfect to throw together when you need a super quick weeknight meal that's warm, hearty, and filling. The puffs taste just like homemade chicken pot pie and are easy enough for kids to make all by themselves. 
Ingredients:
2 cups frozen mixed vegetables
1 can cream of chicken soup
1 rotisserie chicken
1 can biscuits
Directions:
Heat oven to 375°F. In a medium bowl, combine vegetables, chicken, and soup; mix well. 
Press each biscuit into 5 1/2-inch rounds. Place 1 round in each of 8 greased regular-size muffin cups of a muffin tin. Firmly press in bottom and up side, forming 3/4-inch rim. 
Spoon a generous 1/3 cup chicken mixture into each muffin cup. Pull edges of dough over filling toward center; pleat and pinch dough gently to hold in place.
Bake at 375°F 20 to 22 minutes or until biscuits are golden brown. Cool 1 minute; remove from pan.
Enjoy!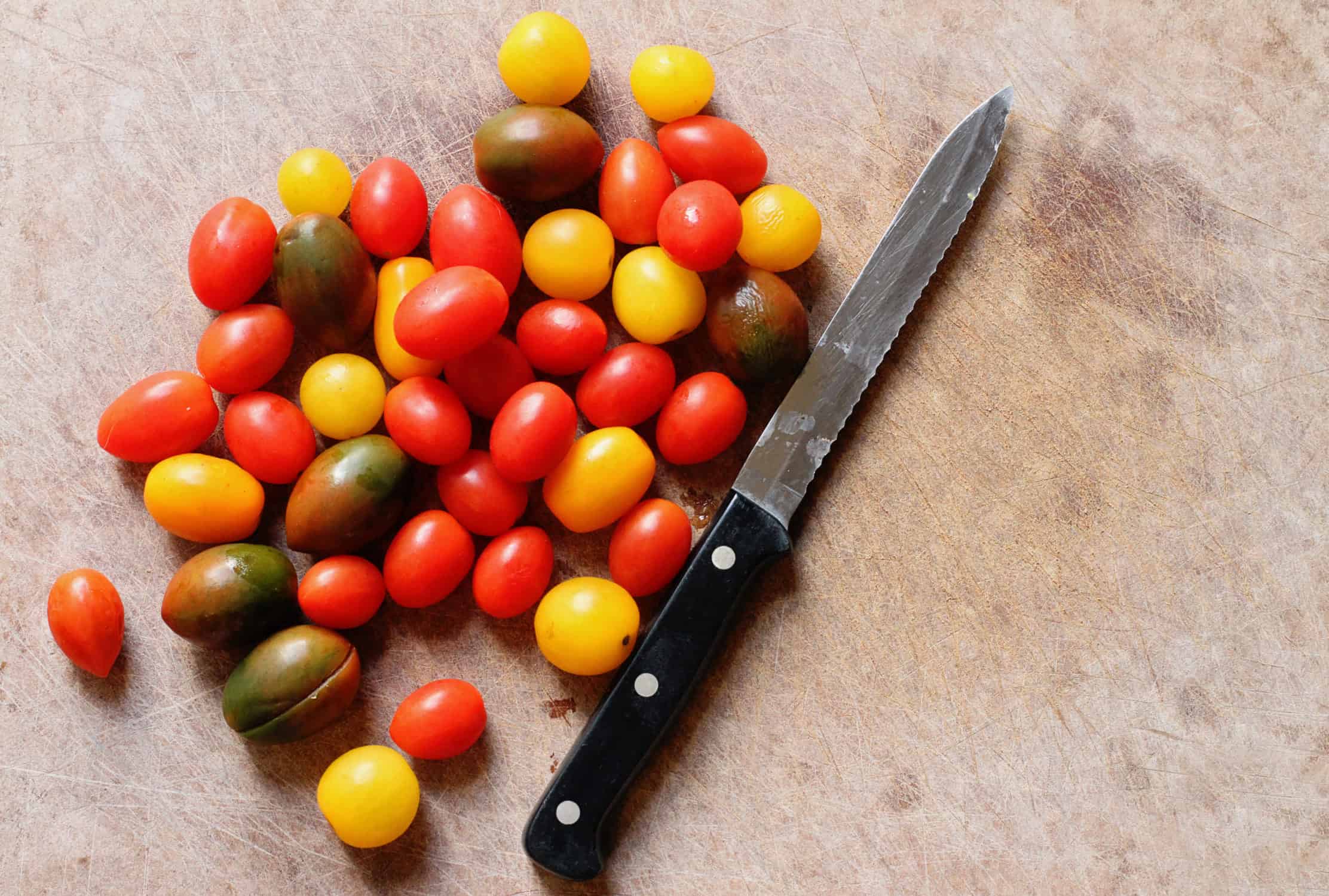 Taco pizza
Ingredients
1 lb. ground beef or turkey
1 packet taco seasoning mix
2 (8 oz) tubes crescent rolls
1 (16 oz) can refried beans
2–3 cups shredded cheddar cheese or Mexican blend
1/2 cup chopped tomatoes
1/4 cup sliced black olives (optional)
4 green onions, chopped (optional)
chopped green/red bell pepper (optional)
Directions
Preheat oven to 375 degrees.
In a skillet, brown beef and drain. Add taco seasoning according to the package directions.
Unroll crescent rolls from tube. Place in an ungreased jelly roll pan or cookie sheet. Press dough over the bottom and 1/2 inch up sides to form crust.
Bake at 375 for 11 -13 minutes or just until golden brown.
Microwave beans in a microwave-safe bowl for 1 minute. Carefully spread beans over warm crust creating a thin layer.
Top with cooked beef mixture.
You can also sprinkle on the tomatoes, black olives, peppers, and green onion (or you can wait until after cooking to add them). Top with cheese.
Return pizza to the oven for 3-6 more minutes until cheese is melted. Cut into squares and serve immediately!
Enjoy!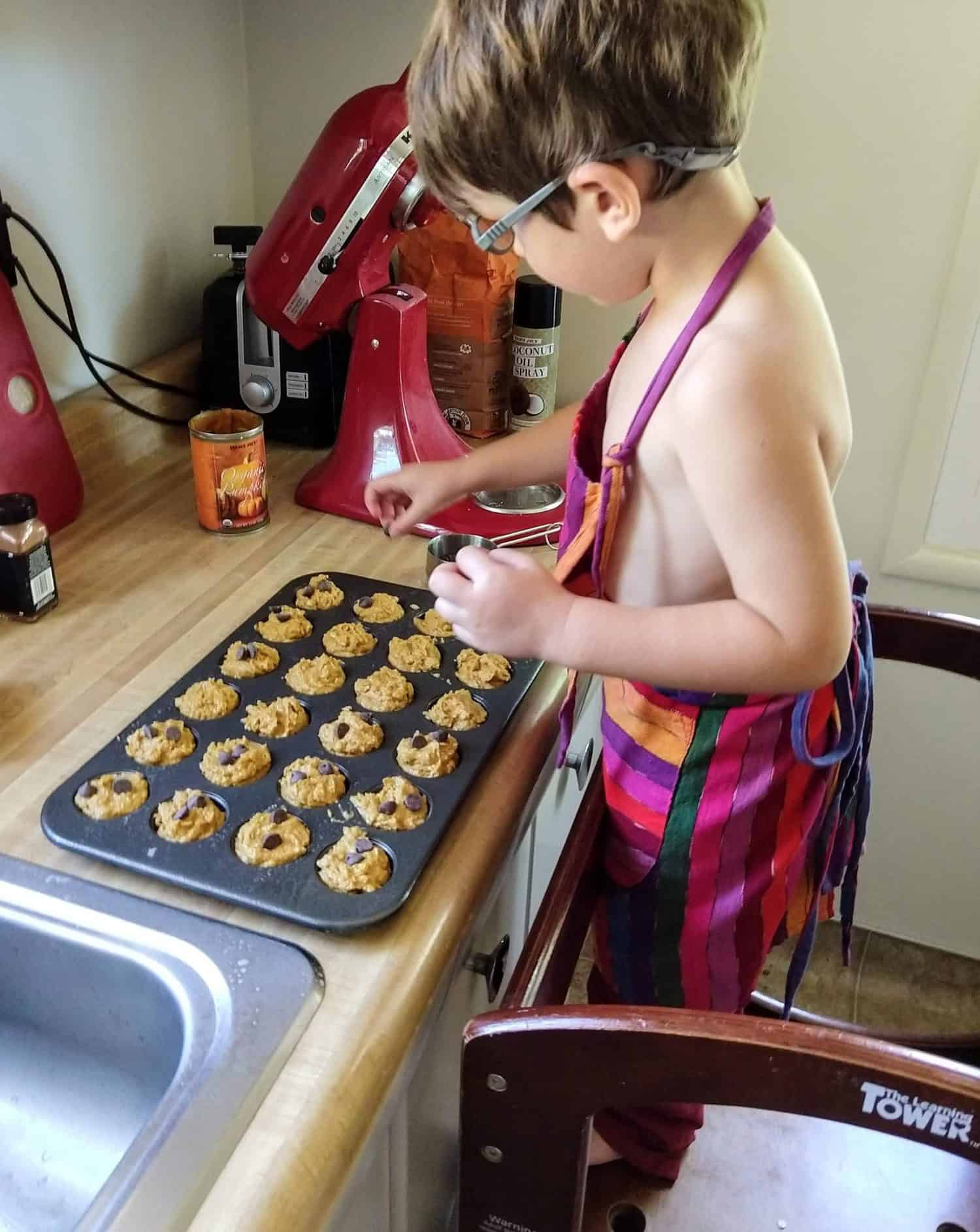 Tried and true kid-friendly recipes
Many of us search and find recipes all over the internet that turn into family favorites. Instead of sharing these recipes in full, we decided we would share the links to the original creators. Below you will find several recipes our team and their families love to cook and their kids enjoy. And just like above, they are separated by desserts (first of course) and main dishes.
Desserts and muffins
Main dishes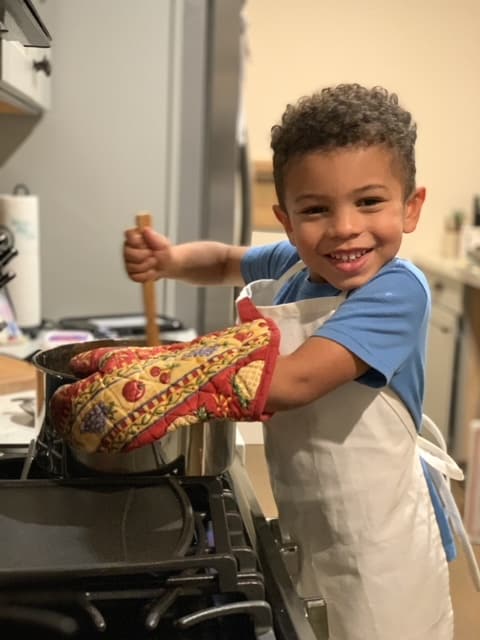 What are your favorite recipes to cook with kids?
The post Cooking with Kids: 25+ Recipes To Make With Your Kids appeared first on RUN WILD MY CHILD.