With rising gas prices, people are turning to electric transportation to get around. Battery technology advancements introduce a variety of rideable options including hoverboards, electric scooters, and electric bikes. The selection of electric bikes, hoverboards, and scooters available for children and adults keeps expanding. 
If you're in the market for an electric rideable, this guide will help. We'll break down everything you need to know to choose the right one for you. 
Table of contents
1. Benefits of using e-transportation
2. Types of e-transportation
3. Safety considerations for e-transportation
4. Maintenance considerations for e-transportation
5. Tips to make the switch to e-transportation

The benefits of using electric transportation 
1. Cost savings
The biggest benefit that electric vehicles provide consumers is the operating cost. The cost of electricity required to charge an electric vehicle is significantly less than gas. Simply put, it's a cheaper form of transportation compared to gas-powered vehicles. 
As a cleaner alternative to gas, electric vehicles are an important step in sustainable transportation. By eliminating carbon dioxide emissions, they reduce greenhouse gases helping the planet manage climate change. In addition, EV manufacturers are using and improving eco-friendly materials to build lighter, more efficient vehicles. 
2. Health and sustainability
Compared to car travel, new electric transportation methods can ease daily commutes to work. Users can take advantage of community bike lanes to avoid gridlock traffic. With electric transportation, people can still commute long distances in a short period of time. With a dedicated bike lane, this makes daily commutes consistent and predictable. 
In addition, electric bikes give commuters the opportunity to exercise. They may choose to pedal to work in the morning and use pedal assist or throttle assist on the commute back home. Whatever the case, riders have the flexibility to choose when to exercise, and when to rest during commutes. 
Lastly, choosing electric transportation reduces fossil fuel emissions and dependency. Imagine not stopping at the gas station each week to fill a vehicle; as more people adopt e-transportation for daily excursions, the benefits for the environment add up for our planet's overall well being.
What types of electric transportation exist?
Electric transportation options can be broken down into three main categories: electric scooters, electric bikes, and hoverboards. The main design difference is in how you ride them. In most cases, only electric bikes have a seat, though you will find a few exceptions. Electric kick scooters and hoverboards in most cases are meant to be used by standing on a platform base.  
They also differ in their portability. Most electric scooters and hoverboards can be carried around with ease. In that case, the overall weight becomes a consideration. Electric bikes resemble conventional bicycles and may require a specialized bike rack to transport long distances (e.g., to use as your transportation once you arrive at your vacation destination).  Let's take a look at each of these categories in more detail to help you understand the available options. 
Electric scooters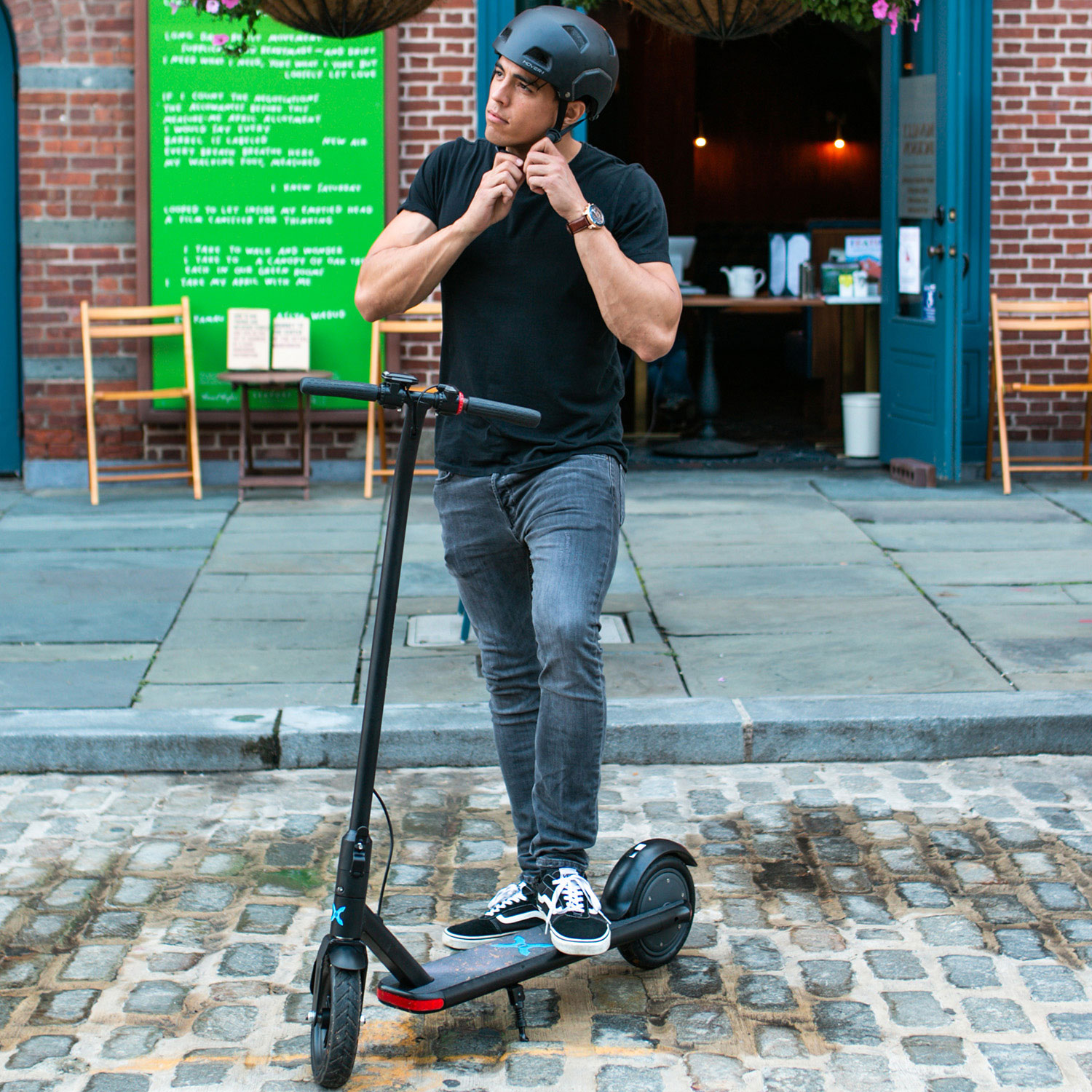 Most electric scooters consist of a T-bar-style handlebar, a standing platform, and two wheels. Some e-scooters can be folded and carried around. There are many electric scooters on the market, with both adult and kid options available.
People love to ride them because they are incredibly fun and easy to use. This makes it a great choice for beginners and kids.  Their portability also makes them a great choice for city commuters; ride it to work, carry into your workplace, and store it near your desk while it charges. 
Some high-end electric scooters from brands such as Segway and Gotrax rival the speed and range of ebikes. Their small size makes zipping along city streets a breeze so you get to where you need to quickly and cheaply: no fuel or parking costs are a huge bonus.  
Electric bikes
With dedicated bike lanes in many neighbourhoods, electric bikes let people travel large distances with ease. It's really the best of both worlds. You get exercise as you would on a regular bike, and get a helpful boost up challenging hills or just to give your legs a break thanks to the electric battery and motor. 

There are many ebike designs including road, mountain, fat tire, and folding bikes. While they come with pedals, they can either be pedal assist, where the motor helps you pedal, or a combination of pedal assist and throttle assist, where the motor can be engaged using a switch on the handle-bars. 
Most electric bikes have different assisted cruise speeds. The speed varies depending on several factors including what gear is engaged on the bike and on the pedal assist setting. Generally speaking, they have a top speed of 32 kilometres per hour. 
The battery life and range vary based on how often pedal assist and throttle assist modes are used in combination with other factors like the weight of the rider, the road conditions, and the elevation. Some manufacturers state that riders can get up to 80km of travel. However, you can increase the battery life by limiting the use of pedal and throttle assist. Also, keep in mind that you can keep riding after the battery runs out, just like a regular bicycle, so you are never stuck as you would be with a fuel powered vehicle. 
To learn more about electric bikes, read our electric bike buying guide.
Hoverboards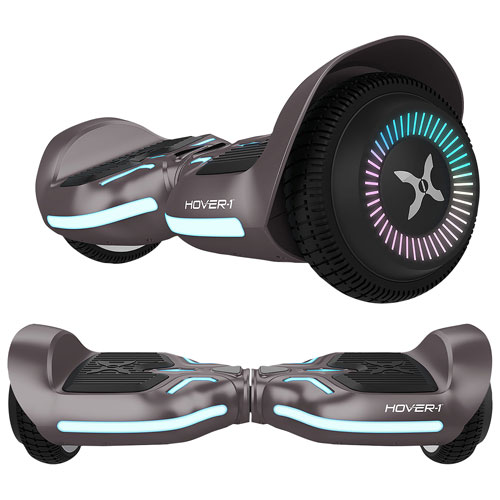 Perhaps the most novel electric transportation method is hoverboards. By definition, hoverboards are self-balancing on either one or two motorized wheels. Users stand on a platform and shift their weight to control it. It provides a hovering sensation over the ground, hence the name hoverboard.
Hoverboards are mostly used for fun but they're also great for making short trips. They have a max speed of approximately 16 kilometres per hour; so, it's much faster than walking. They can also be carried, and take little storage space when not in use. 
To learn more about hoverboards, check out our hoverboard buying guide.
Other types of electric transportation
New electric vehicles are entering the market every year, giving consumers even more choices to choose from. Go-karts, skateboards/longboards, and dirt bikes are going electric. While these are mainly used for fun, there are both kid and adult options available.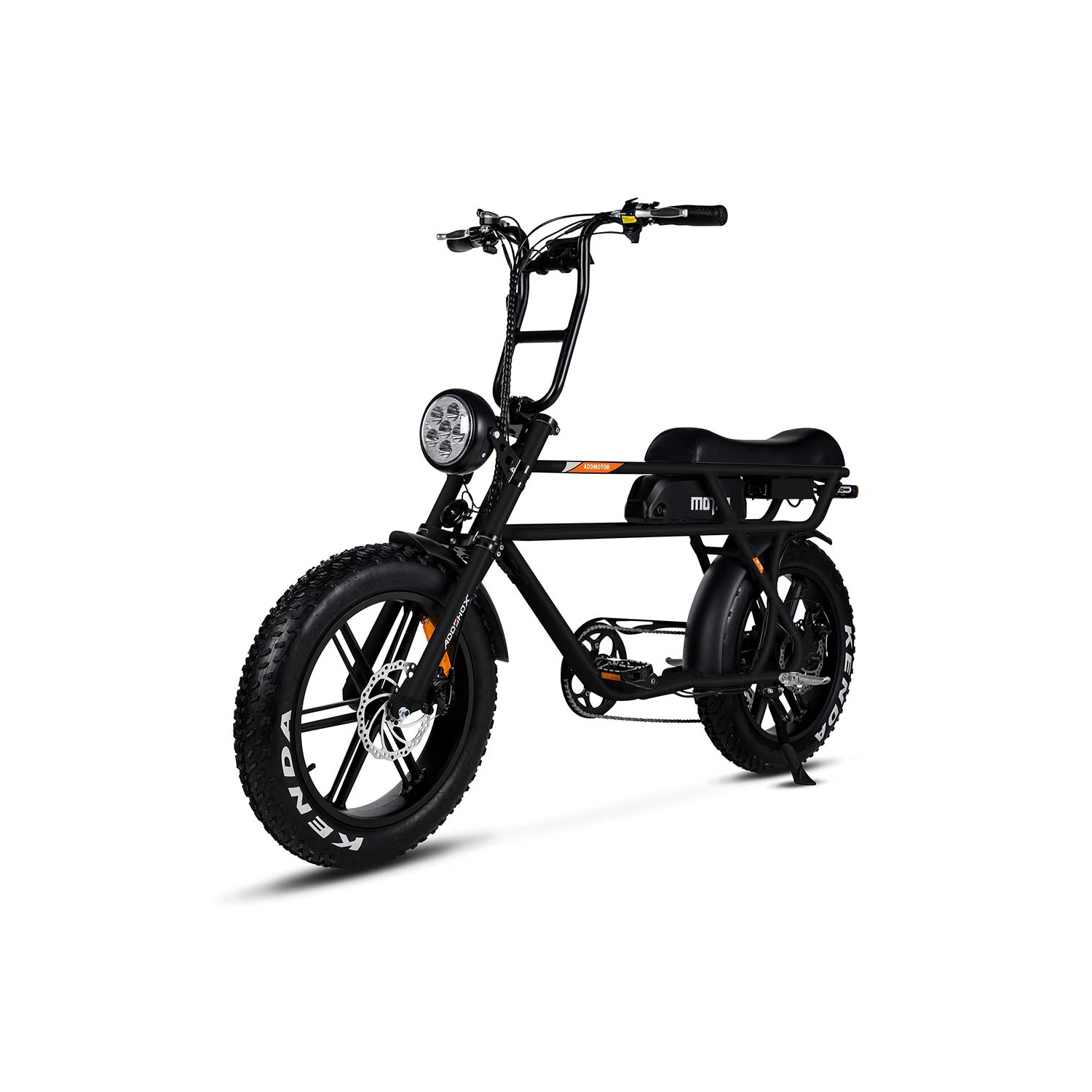 Electric mopeds are the newest type of electric bike to hit the market. By definition, a moped is a type of small motorcycle and typically travels only a bit faster than bicycles. They have either a step-through (V-frame) design or a step-over (A-frame) design. They often feature a carrying basket which makes it a great choice for running small shopping errands.  Like electric bikes, mopeds feature pedals and a two-wheel design. 
Electric transportation and accessibility
As people get older, it can be harder to get around by walking or riding a bike. Electric transportation options such as electric bikes and mopeds offer a safe and convenient way to travel short distances. This is a great choice for people with chronic mobility issues such as joint pain, bad knees, and sore feet. It provides an accessible way to travel up hills in and around town. They are easy to operate and it brings mobility options to those who want the freedom to move around.
Safety considerations for electric transportation
With max speeds of 32km/h, electric rideables come with a host of safety features. First, they are built from sturdy durable frames. This ensures stability for a variety of different terrain. Second, electric transportation features mechanical and hydraulic braking systems for safe operation. In most cases, this resembles the brakes of a traditional bike, which makes it both easy and intuitive to use for beginner and advanced users. 
Third, they come with a host of additional safety features to improve visibility. Reflectors and blinking LED lights to help others see riders at night. Rear-facing mirrors let riders know what is behind them. Riders can also use included bells and horns to alert others ahead.  
E-transportation safety gear
No matter what electric rideable you choose, purchasing additional safety gear is always recommended. Virtually all riders require a safety helmet. Currently, there are no helmets specifically designed for electric rideables so you'll want to look at helmets designed for regular bicycles.
With a standard cycling helmet, the inner lining is soft while the outer shell is hard. During impact, the shell spreads the force over a wider area. This guards your skull against fractures. Standard bike helmets can be used for rideables that go up to 32 km/h. 
Kids and adult beginners can also purchase a protective gear set for electric rideables. This consists of wrist guards and knee and elbow pads for ultimate protection. This is advisable for beginners who want the added safety protection for peace of mind. 
For everyday commuters, additional bike accessories such as locks, phone/water bottle holders, and gloves can provide more safety and convenience features. Most electric rideables require two-hand use, so it's important to think in advance about how you plan to store your phone.
Regional regulations for electric transportation
Many communities are embracing electric transportation and providing citizens with incentives to make the switch. That said, regional regulations vary from town, cities, and provinces throughout Canada.
One area of regional differences is what electric rideable is allowed on bike lanes. While most communities allow electric bikes, they may differ on other rideables such as e-scooters and hoverboards. It's a good idea to check your local regulations so you know what is permitted and where.
Maintenance considerations for electric transportation
Like traditional vehicles, electric rideables require regular maintenance. It increases efficiency, reduces future repair costs, and most importantly—it keeps you safe. Here are some maintenance tips to follow so you develop a good maintenance protocol from the start:
Check the tire pressure frequently to get the best performance and avoid future issues. If your rideable has inflatable tires, regularly check the tire pressure. It should never exceed the max pressure allowed by the manufacturer. Too much tire pressure can lead to a sudden burst. Having lower pressure than recommended leads to slower speeds, the potential for rim damage, and extra battery depletion.

Create a dedicated charging station at home; riders need to develop a consistent charging protocol to ensure battery maintenance. Never let the battery run out entirely. Electric rideables should always be charged in places where the temperature is above 0 degrees. Only use the original charger that is set up for your battery's voltage. It's also a good idea to charge a rideable after it has time to cool down.
Put a small cleaning kit together; regularly clean your rideable. If possible, avoid riding in the rain. That's when you're most likely to get it dirty. Many of the parts like the tires and frame can be cleaned with a cloth, brush,  and dish soap. Keeping your rideable clean prevents future issues. A good idea is to put together a cleaning kit so it's easy to clean.
Making the switch to electric transportation
It's safe to say that the future of transportation is electric. Advancements in battery technology are creating a host of new rideables that are fun to use, and inexpensive to operate. It can add a lot of value to your life by making it easier and cheaper to travel. Best of all, we can charge them in the same electric outlets we charge our smartphones. 
To make the switch to electric transportation, first, decide on the type of rideable you want. Electric bikes and e-scooters are great to travel in and around town using dedicated bike lanes. Even hoverboards can be used to make short trips. It's a good idea to start looking for bike lanes in your community. Be sure to check with your region to see what electric rideables are permitted. It's good information to know before choosing the type of rideable you want. 
Next, don't forget to purchase additional safety gear. Find a helmet that is comfortable and lightweight. For added peace of mind, a full protective gear set is recommended for kids. If you're buying an electric bike or scooter for work commutes, purchase a smartphone and water bottle holder. Riders can even purchase additional LED lights to help with visibility at night. 
---
Take the next step
Across the globe, people are embracing electric vehicles and rideables. If you're ready to make that switch, bestbuy.ca has you covered to make the switch to electric transportation. 
The post E-Transportation buying guide appeared first on Best Buy Blog.