A flourless chocolate cake is one of those restaurant-style desserts that it's tempting to think is too fussy to make at home. It's naturally gluten free, and easy to whip one up at home anytime.
Why this is the best flourless chocolate cake recipe
It calls for the simplest ingredients you can imagine, prepared in specific ways to get the best result
Even though there are a few steps, the cleanup is quite easy once you get a rhythm going
The cake is very rich and dense, like gf brownies, but as a fudgy cake, so it seems fancy!
Since this really is baked without any flour at all or other gluten-containing ingredients, it's naturally gluten free and doesn't call for any special ingredients like an all purpose gluten free flour blend, which you may not have on hand
You will love it plain, just as is, but it's also a perfect canvas for all sorts of toppings like chocolate ganache, fresh whipped cream, and fresh berries in season.
What is in flourless chocolate cake?
There are just a handful of ingredients in a flourless chocolate cake (also called a flourless chocolate torte). Each is essential to making a cake, rather than rich, chocolate fudge, which is lovely, but another recipe entirely.
Chocolate – Avoid using chocolate chips here, no matter how accessible they are, since they all contain some wax so they keep their shape during baking.
Butter – Good quality unsalted butter is melted with the chocolate, and added to the mixture of whole eggs, sugar, and cocoa powder.
Eggs – Flourless chocolate cake gets all of its rise from eggs, so they do a lot of work here; separate those whites carefully one at a time, because even a touch of yolk will prevent them from whipping into soft peaks.
Sugar – Most of the sweetness comes from granulated sugar, especially if you're using dark chocolate, which has less sugar; sugar is also a tenderizer, so don't skimp!
Cocoa powder – I have big containers of Rodelle brand Dutch-processed cocoa powder, since I bake so often, but you can also use natural cocoa powder here; just add 1/8 teaspoon baking soda to neutralize the acidity.
Vanilla extract – Good-quality vanilla extract helps bring out the rich chocolate flavors, and adds some complexity.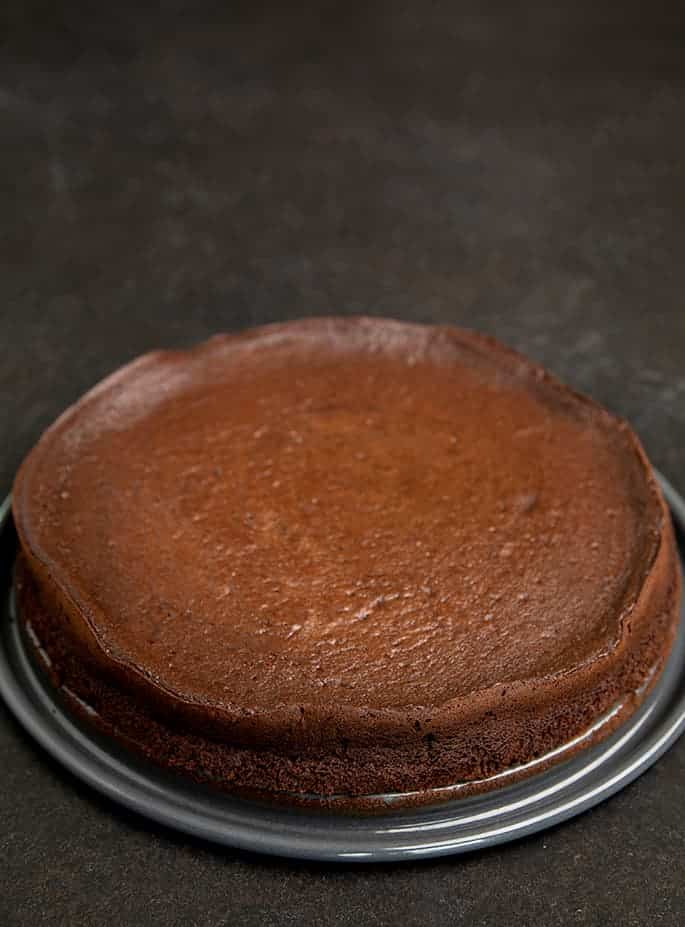 How do you make a flourless chocolate cake?
Although of course I tell you exactly how to make a flourless chocolate cake in the recipe below, the general idea is to melt chocolate and butter together, then set them aside to cool.
Whip egg whites until they form peaks. Beat some whole eggs with sugar and cocoa powder, then mix in the melted butter and sugar. Finally, fold in the whipped egg whites.
Is this chocolate cake really flourless?
Unlike some other desserts that some like to call "flourless," this decadent chocolate creation is actually without flour of any kind. There are no grains or anything ground into a flour-like powder at all used in the making of this cake.
If it calls for almond flour, it's not flourless. Oats or oat flour? Again, not flourless. If you have some chocolate, butter, eggs, sugar and cocoa powder, you can have flourless chocolate cake.
Since there are so few ingredients in this recipe, the quality of the chocolate and cocoa powder matters quite a lot. Use the best you can come by.
Using Dutch-processed cocoa powder will make for a smoother, less acidic cake. And remember that the melted chocolate is the star of the show, so its quality will shine through as well.
Tips for making this easy flourless chocolate cake
Use the best chocolate you can find
Since there are so few ingredients in this recipe, the quality of the chocolate and cocoa powder matters quite a lot. Use the best you can come by.
Using Dutch-processed cocoa powder will make for a smoother, less acidic cake. And remember that the melted chocolate is the star of the show, so its quality will shine through as well.
Beat the egg whites… or don't
This recipe doesn't call for a water bath or any other sort of fanciness. It's not a cheesecake, but it's going to fall and crack a bit after it's baked. It's meant to. I promise.
You can make the cake without beating the egg whites separately and folding them into the batter. Simply beat the sugar, egg whites, and eggs vigorously until pale yellow in color before whisking in the cocoa powder, melted butter, and chocolate. Your cake will be more dense and even more fudge-like.
Springform pan or regular cake pan?
The truth is, for flourless chocolate cake, for cheesecake, or anything else, I hate using springform pans. I'll do almost anything to avoid them.
They tend to leak, they're confusing to assemble if you're not really on your game (which is the top, which is the bottom, for crying out loud?), and they're just crazy hard to clean. But for this cake, you're best off using one.
If you don't have a springform pan, though, just use a round cake pan. I do recommend that you chill the cake for at least an hour in the refrigerator before transferring it carefully to a serving dish.
That's true whether you use a springform pan or not. Once it's chilled, the cake will become much more firm and stable.
Rise and fall of your flourless chocolate torte
If you've never made a flourless chocolate cake before, you may find its tendency to rise like a regular cake and then fall abruptly after it is removed from the oven rather alarming. No worries. That's what it is meant to do.
If you do use a springform pan that is dark in color, start watching it closely at 20 minutes as it will have more of a tendency to burn. You're less than an hour away from creating the ultimate restaurant-quality, naturally gluten free flourless chocolate cake in your very own kitchen.
Achieving nice, clean slices
A flourless chocolate cake is so dense and fudgy, that it must be chilled until set, similar to a cheesecake. Even once it's been chilled until set, though, a sharp knife still might not glide through the cake for clean slices. But there's an easy fix!
Before each cut, run your large, sharp knife (a clean edge works best, not a serrated one) under the hottest water your sink can make. After the first cut, wipe the knife clean, run it under the hot water, and then make another slice. Clean as a whistle!
Serving flourless chocolate cake
The rich chocolate taste and fudgy texture of a classic flourless chocolate cake makes the perfect canvas to top with all sorts of flavors. Here are a few of our favorite toppings.
Flourless chocolate cake with ganache
I'm partial to a chocolate ganache glaze on many things, like our peanut butter no bake bars—and this rich chocolate cake. Chocolate ganache is made with a simple combination of chopped chocolate and heavy whipping cream.
For the perfect balance of a pourable glaze that still sets properly in the refrigerator, for this recipe I make ganache using 8 ounces chopped dark chocolate with 2/3 cup (5.3 fluid ounces) simmering heavy whipping cream poured on top. Let sit, then stir and pour over the cooled cake. *chefskiss*
Other flourless chocolate cake serving suggestions
Dust the cooled cake with a thin layer of Dutch-processed cocoa powder and pile on fresh chopped strawberries
A thin layer of powdered sugar dusted on top of the cooled cake, then topped with fresh raspberries and blueberries
A scoop of homemade vanilla ice cream on top of each generous slice of cake
Fresh whipped cream with berries and chocolate shavings
Storing flourless chocolate cake for later
Making chocolate flourless torte in advance
This cake will last for at least a week in the refrigerator. Let it chill uncovered until properly set, then remove the sides of the springform pan and cover with plastic wrap.
Flourless chocolate cake can be served chilled right from the refrigerator, or at room temperature. But do your slicing when the cake is chilled with a sharp, wet, clean knife for clean slices.
Freezing no flour chocolate cake
If you have enough leftovers that you expect them to last longer than a week, this flourless cake freezes perfectly. I prefer to freeze individual slices, each wrapped tightly in freezer-safe wrap. Then defrost in the refrigerator and served slightly chilled or at room temperature.
Gluten free, flourless chocolate cake: substitutions
Dairy free flourless chocolate cake
If you'd like to make this cake without dairy, it's relatively easy to find a dairy free dark chocolate. The only other dairy containing ingredient is the butter in this cake, and it can easily be replaced with vegan butter, like Melt or Miyoko's Kitchen brands.
If you use Earth Balance buttery sticks instead, the cake may rise a bit and fall a bit more, due to the extra moisture, but it will still be rich and fudgy. Make sure eliminate the salt as an added ingredient, since Earth Balance is really salty.
Can you make egg free flourless chocolate cake?

Once this cake is dairy free, it's a short step to making it vegan if you replace the eggs. However, that's a tall order.
There are not only three eggs, but two egg whites in the recipe. The two egg whites can possibly be replaced by aquafaba, although I haven't experimented with that replacement.
Generally, my favorite replacement for whole eggs is one "chia egg" (1 tablespoon ground chia seeds mixed with 1 tablespoon lukewarm water until it gels). But I typically only recommend replacing up to 2 eggs per recipe with chia eggs.
Chocolate free flourless chocolate cake?

Haha just kidding this is a rich chocolate cake. No making it without chocolate, silly! If you're making a gluten free chocolate cake, it's going to have chocolate in it!
FAQs
Is a flourless chocolate cake gluten free?
Yes! Unless one or more of the basic pantry ingredients that you source contains gluten, it will be naturally gluten free.
Is a flourless chocolate cake the same as a chocolate torte?
Yes! I think the term chocolate torte is what they call it in restaurants, so they can charge more. :)
Does flourless chocolate cake taste different?
It tastes different than a regular flour-containing chocolate cake, since the crumb is dense and super fudgy. But this cake is naturally gluten free, so this recipe tastes no different than one you'll find on a conventional food blog or recipe book.
What's the best chocolate for this chocolate torte?
Use the best-quality chocolate you can find, since it's a cornerstone of this recipe. That means avoiding chocolate chips—and making sure that you're using dark chocolate, not white chocolate (even if it's not chips). For white chocolate, you need our recipe for flourless white chocolate cake.
Dark chocolate, also called bittersweet chocolate, is just chocolate that has less sugar and usually no dairy, compared to semi-sweet or milk chocolates. For a slightly less rich chocolate, you can use chopped semi-sweet chocolate in this recipe.
How do make sure my flourless chocolate cake is soft and fudgy?
For a properly soft and fudgy flourless cake, be sure not to overbake your cake. You'll know it's done when it looks set all the way in the center (it won't shine, like it does when wet). A toothpick test isn't useful, since before the cake sets and chills, a tester will probably come out somewhat wet.
Why is my flourless chocolate torte crumbly?
Did you overbeat your egg whites, so they turned a bit crumbly, and were no longer smooth? That can lead to a crumbly texture in the cake, since the whipped egg whites won't fully combine into the rest of the batter.
How do I get this chocolate flourless cake out of the pan?
Be sure to grease your springform pan well, then line the bottom and butter the paper. Let the cake cool fully, and even chill it, before you attempt to unmold it. Then, run a thin tool like a butter knife around the perimeter of the cake to make sure the cake didn't fuse the cake to the bottom of the pan. Slice, and lift each slice out cleanly!
Print
Easy Flourless Chocolate Cake Recipe | Naturally Gluten Free
Satisfy your craving for chocolate with this naturally gluten free, flourless chocolate cake. This chocolate torte uses simple ingredients and is super easy to make.
Keyword
flourless chocolate cake
Ingredients
6

ounces

dark chocolate

chopped

8

tablespoons

unsalted butter

chopped (plus more for greasing)

2

egg whites

3

eggs

at room temperature

¾

cup

granulated sugar

½

cup

unsweetened cocoa powder

sifted (Dutch-processed is best)

1

teaspoon

pure vanilla extract

½

teaspoon

kosher salt
Instructions
Preheat your oven to 350°F. Butter an 8-inch or 9-inch round springform pan, line just the bottom with a round of unbleached parchment paper, then butter the paper. Set the pan aside.
Melt the chocolate & butter.
In a double boiler or a medium-sized microwave safe bowl, melt the chocolate and 8 tablespoons butter until both are melted and smooth.

If you are using the microwave method, microwave in 30-second increments at 70% power, stirring in between intervals, taking care not to burn the chocolate. Set the mixture aside to cool briefly.
Beat the egg whites.
In a stand mixer fitted with the whisk attachment (or in a large bowl using a hand mixer), beat the 2 egg whites on medium-high speed until soft peaks form. (For a slightly fluffier cake, separate one of the 3 whole eggs and add that white here.)

Add about half of the sugar and about half of the cocoa powder slowly, beating on medium speed until glossy peaks begin to form.

Adding cocoa powder to the egg whites makes it easier to incorporate them into the rest of the mixture later without deflating the whites.
Assemble the batter.
In a large bowl, whisk the 3 whole eggs (or 2 whole eggs and remaining egg yolk), remaining sugar, remaining cocoa powder, vanilla and salt until well-combined.

Add the melted chocolate and butter mixture slowly, whisking constantly, until fully combined. Continue to whisk until the mixture is smooth and glossy.

Fold the egg white mixture into the batter carefully but completely. The mixture will be thickly pourable.

Pour the batter into the prepared pan, and smooth the top carefully. Tap the pan gently on the counter to break any very large air bubbles.
Bake the cake.
Place the pan in the center of the preheated oven. Bake for about 25 minutes (closer to 30 minutes for an 8-inch cake), or until the cake is just set in the center.

If you are using a dark-colored springform pan, begin checking at 20 minutes to ensure that the cake doesn't burn. Remove the pan from the oven and place the cake on a wire rack, still in the pan, to cool completely.

Chill the cake in the refrigerator for a few minutes before unmolding it from the springform pan. Slice with a sharp, wet knife and serve.
Notes
This recipe was originally posted on the blog in 2013. The recipe method was slightly updated and the photos were redone in 2016, the video was added in 2017; more photos and resource text added in 2022.
The post Easy Flourless Chocolate Cake Recipe | Naturally Gluten Free appeared first on Gluten Free on a Shoestring.