Looking for some Entryway Organization Tips? Your homes entryway is a hard-working space! It has to handle the comings and goings of every family member and guest, and provide a welcoming landing spot for both people and stuff. Its the first thing to greet homeowners and their guests. It needs to be both functional and inviting, providing a spot to drop keys, bags, shoes, and jackets upon arrival in the home. But if its not organized, its easy for this small space to become cluttered and unusable. Here are some tips to help you organize your entryway, whether its an expansive mudroom, formal foyer, or utilitarian back entry.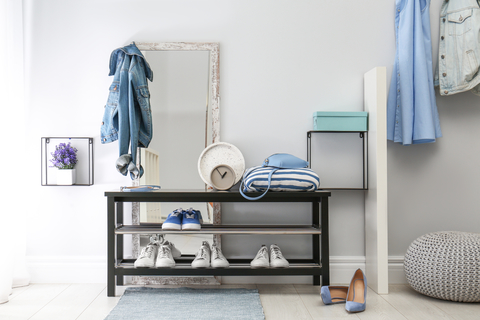 FIRST, MAKE DROP ZONE DECISIONS
Decide what should reside in your familys entryway. Ideally, this should be a spot for coats and other outerwear, umbrellas, daily-used backpacks, purses, briefcases, and totes anything needing easy access on the way out the door. Dont let the entryway become a catch-all for things you dont know what to do with. What do you grab daily on your way out the door? Thats what needs to live in this area!
HOOKS & RACKS MAKE IT EASY
Hooks are handy in the entryway. A coat rack or set of wall-mounted hooks in the entryway will work wonders if closet space is minimal. A sturdy hook rail (mounted into the walls studs) creates an easy way for kids to hang backpacks and jackets. There are a variety of styles available, but no matter which you choose, make sure they are set at optimal heights for each member of the family. (Meaning, if you have little ones and they cant reach them, they wont use them.) And be sure to raise the height once your kids hit the teenage years!
LET EM SIT
If you have space, the addition of a bench or chair will make putting on shoes so much easier! Benches can do double duty because you can stash a few bins underneath to hold other outdoor essentials.
BASKETS RULE THE ROOST
Baskets in the entryway can make a pile of messy shoes or mittens look neat and tidy. Assign each family member a bin or basket to hold their items, such as hats, mittens, scarves, sports equipment, or whatever they need to grab on the way out the door each day. (Be sure to label the bins.) Slide the bins under a bench in the entryway.
Create dedicated bins for out-the-door necessities such as mittens, hats, and dog leashes. By giving every item a home, youll also know where to find them when you need them!
Label baskets or boxes with a label maker or hanging tags. Labeling is often an overlooked step in the organizing process, but it really is the icing on the cake. When you label a container or area, you are declaring the types of items that are allowed to live there, eliminating hasty stuffing of random items into that particular space. It also makes retrieval a snap for the entire family!
CREATE A MESSAGE CENTER
For some households, hanging a memo board or chalkboard in the entryway is a great way to leave quickie communications and reminders. If you need a place to corral paperwork in the entryway, add a slim basket in the entryway to catch incoming mail or to place the outgoing.
LAST LITTLE TOUCHES
A pretty urn can hold umbrellas, and a wicker basket on the floor can hold shoes.
Add a wall-mounted key rack or place a small dish to catch keys as you walk in the door each day. Dedicate a little space on the shelving to hold a small container for keys and loose change, plus some decorative items like picture frames and a clock.
Adding a mirror to your entryway is fabulous for last-minute hair checks, and also brightens this often-dark area by allowing more light to bounce.
I hope these entryway organization tips help you create a pleasing and functional space! More great tips can be found by clicking here!