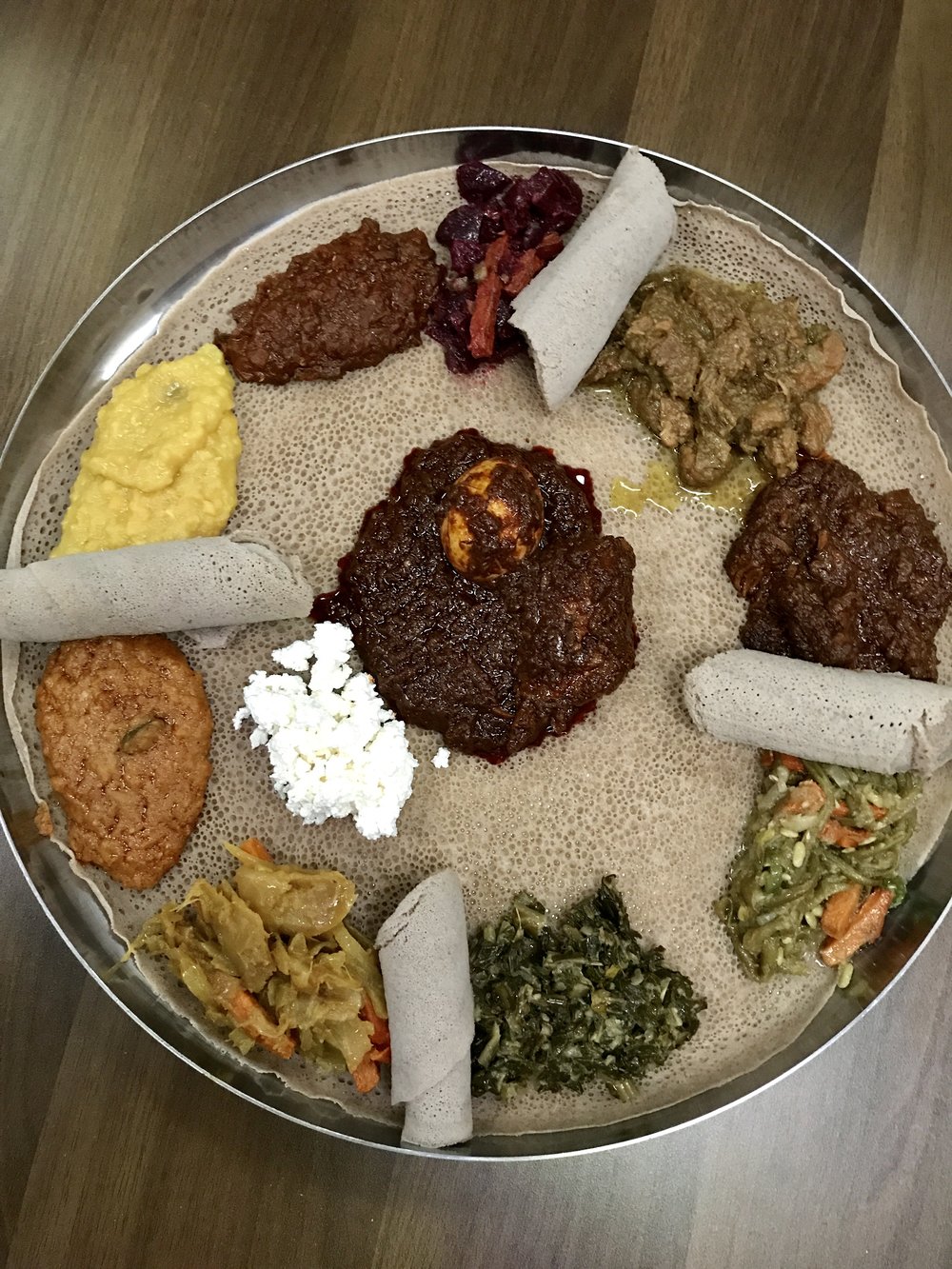 Miami has plenty of steak, seafood, Italian and New American restaurants.  Mediterranean, Thai and Asian fusion have many options, but for some reason, Ethiopian food has never been able to garnish enough support to survive the fickle Miami food scene.  Many of us remember Sheba in the Design District followed by Kafta in Midtown, but Miami has been devoid of this flavorful and unique East African "eat with your hands" cuisine for more than a few years.
Lucky for us Awash Ethiopian Restaurant in Miami Gardens has survived and flourished in a non-descript strip center anchored by the now defunct Payless Shoes on 441 and a few minutes west of I95. And under a 30-minute ride from Downtown Miami (depending on traffic, of course).
We made dinner plans early for 6:30 pm, which was a good idea because by the time we left close to 8 pm, every table was taken and there were people waiting to be seated.  The interior is colorful with dark wood tables, woven colorful baskets and a bamboo adorned bar.  A wall of spices and Ethiopian coffee beans adorn a side wall next to the setting for a traditional coffee ceremony offered at 4 pm on Friday, Saturday, and Sundays.
But it is the menu and the gleaming silver trays of authentic dishes topping injera bread coming out of the kitchen that are the specialty and focal point of the meal.
Husband and wife, Fouad and Eka Wassel, are the owners at Awash and their welcoming smiles and attention to detail is what makes Awash a success. Dining there feels like a casual dinner at their home… as they have created a traditional "gojo bait" or Ethiopian country home environment.  The name Awash refers to the main river in Ethiopia that runs through the country never leaving its borders and is a major resource for Ethiopians.
Fouad and Eka both greeted us the moment we walked in and led us to one of the booths along the back wall.  After ordering beverages we settled in to study the Awash menu. The menu is straightforward and quite descriptive of each dish and ingredients.  Many dishes are even pictured so you can actually see what they will look like.
Starters included lightly fried meat or lentil Sambusas, which are like samosas and Firfir, a mixture of injera bread, tomato, green peppers and spices.
Main dishes feature Tibs and Wet, which basically refer to cubed or shredded beef, lamb or chicken dishes with many spices and designed to be eaten with a piece of injera.  An Ethiopian spice rack is extensive and includes cardamom, cinnamon, ginger, nutmeg, clove, garlic and berbere, a spicy mixture of chili pepper added to many of the above listed. 
But to fully understand Ethiopian food, one must understand injera.  A spongy, gluten-free bread that is made with a special teff flour is fermented for many days and is the centerpiece for every dish. It resembles a thick crepe or pancake.
Ethiopian food is designed to be eaten with your hands without flatware, and the injera provides the technique for scooping up the dishes.  It comes either as a base under the various Tibs, Wet or Vegetarian dishes or individually rolled up on a side plate.   Just unfurl and rip off a small piece and start scooping up the food.   Promise, you will get hooked almost immediately.
Since we couldn't decide which of the dishes to select we opted for the Taste Of Awash, a sampler plate for one or for two that included a delicious assortment of chicken, beef and vegetable dishes.
The sampler comes to the table on a gleaming silver platter with each of the ten dishes arranged creatively on an injera pancake, with four extra injera rolls.
The assortment is a perfect way to experience Ethiopian food for the first or millionth time.  The meat dishes were hearty, flavorful and delicious, especially the Doro Wet, which is a spicy chicken dish with hard-boiled egg, but it is the vegetarian dishes that were a welcome surprise.
The Red Lentils, the Cabbage Gomen, Beet Key Sir and Collard Greens Gomen all had their own distinctive but complementary flavors.  The Split yellow peas were creamy and delicious.   We ordered extra injera as we did not want to miss a single morsel.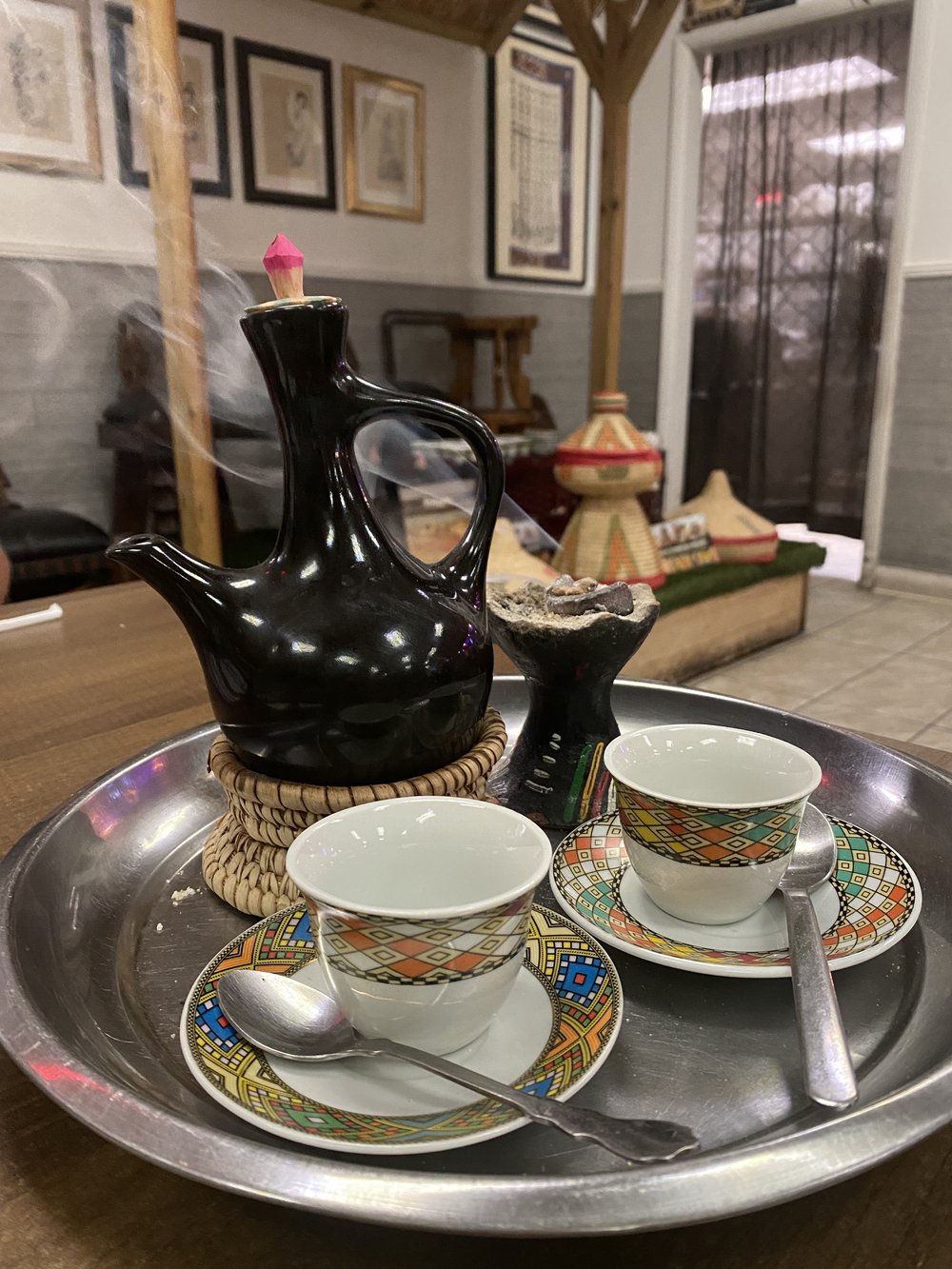 Make sure to finish your meal by ordering Ethiopian Coffee. It takes a bit of time as the Ethiopian beans are freshly roasted in a skillet and ground and brewed before serving. The coffee service is an experience itself as it arrives tableside in a special pot accompanied with burning incense to complete the traditional service. The coffee is smooth, soft and needs no sugar and is sipped in colorful cups.
This is a road trip that needs to be made.  Let's show Foaud and Eka some of that Miami foodie hospitality and support this unique and flavorful cuisine.
19934 NW 2nd Ave.
Miami, FL 33169
305 770 5100