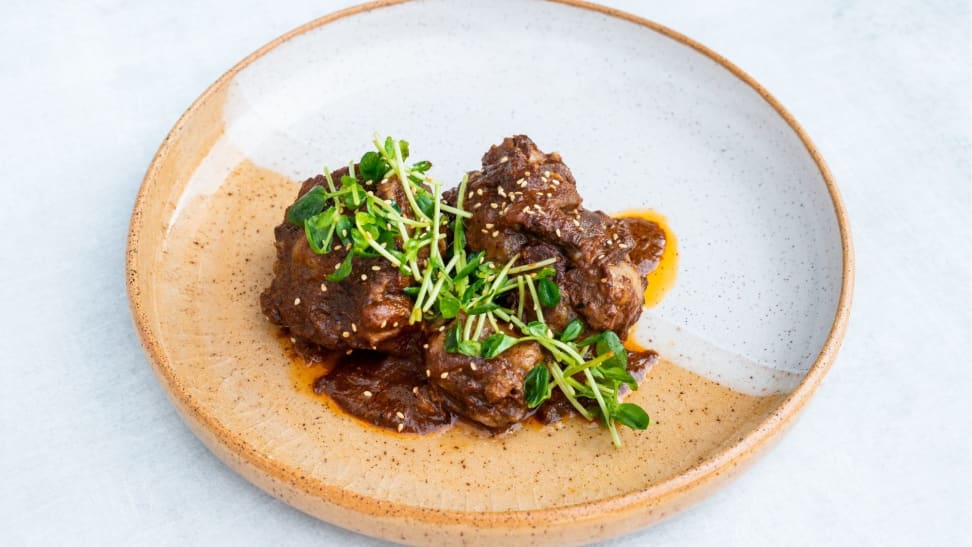 — Recommendations are independently chosen by Reviewed's editors. Purchases you make through our links may earn us a commission.
The Instant Pot (or any similar pressure cooker) is truly a busy person's best friend when it comes to weeknight meal prep. By applying a high amount of pressure during the cooking process, the Instant Pot is able to transform otherwise tough cuts of meat into shreddable, collagen-rich, and wonderfully flavorful braises, soups, and stews. It's also a lifesaver for foods needing long cook times like legumes and root vegetables.
You can layer more depth into the flavor base you're building in your pressure cooker by combining the versatility of the Instant Pot—like our favorite, the Instant Pot Ultra—with a few simple tricks, like charring onions and ginger over an open flame before blending them into a sauce.
This braised oxtail dish was inspired by mole poblano—it's a favorite of mine because it's so easy to whip together, especially once you have a batch of the walnut-guajillo sauce handy. I like to make this recipe at the beginning of the week, shred all the meat, and use it to top salads, grain bowls, and make tacos with it throughout the week. You can also make big batches of this meat in advance, debone everything, and portion them into vacuum-sealed bags to freeze and eat later. To reheat, simply thaw the meat in bag in your refrigerator and reheat it in the oven or stove.
What You Need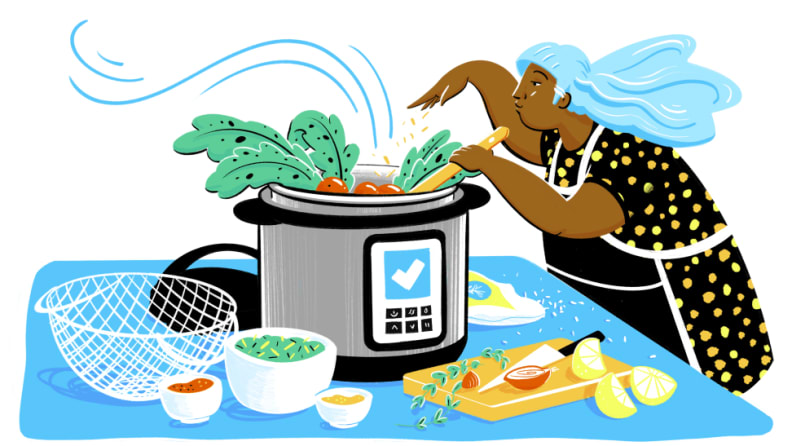 Ingredients:
For the braised oxtail
4 pounds oxtail
Kosher salt, as needed
2 tablespoons neutral oil
Unsalted chicken stock, as needed
For the walnut-guajillo sauce
1 cup unsalted roasted walnuts (can substitute pecans)
5 guajillo peppers, stemmed, toasted at 400°F until darkened
2 roma tomatoes, halved, charred on stovetop until blackened
5 cloves garlic, charred on stovetop until blackened
2/3 cup unsalted roasted peanuts
½ yellow onion, peeled, charred on stovetop until blackened
¼ cup unsalted chicken stock
¼ cup raw sticky rice, toasted until golden brown (optional)
1-inch piece ginger, peeled, charred on stovetop until blackened
2 dates, pitted
2 tablespoons oxtail renderings (from the initial sear)
2 tablespoons bittersweet chocolate
3 sprigs of thyme, leaves only
2 teaspoons whole cumin seed, toasted
1 teaspoon kosher salt
1 teaspoon whole iru (optional)
½ teaspoon whole aniseed, toasted (can substitute star anise or fennel seed)
½ teaspoon grains of paradise (can substitute black cardamom)
For the optional garnish
Cilantro
Pea tendrils
Toasted sesame seeds
Chili flakes
Lime wedges
Note: For those unfamiliar with charring vegetables on your gas stovetop, all you need is a handy wire cooling rack (like this stainless steel cooling rack set) and some tongs. First, turn up your kitchen fan to high. Place a wire rack on your largest burner available, and place the onions, ginger, and garlic on top where the flames will reach them easily. Turn on your stove to high heat, and char all sides until blackened but not burnt. The vegetables should take on some hefty black grill marks, but not be so charred they are turning ashy and flaking.
If you have an electric stove, you can do this instead using your broiler in the oven. Put all the vegetables on a sheet tray lined with aluminum foil, and turn the broiler on high to char them, flipping them intermittently so they cook evenly.
Tools:
Time Needed
Prep Time: 15 minutes
Cook Time: 2 hours
Difficulty
Easy
How to make Braised Oxtail with Walnut-Guajillo Sauce
Step 1: Sear oxtail
Liberally salt oxtail. Heat oil in a large saute pan over high heat until it's slick and shiny, then reduce heat to medium. Add oxtail to pan and sear on all sides until well-browned and some of the fat has rendered off. Transfer oxtail to a plate, then strain fat and reserve for the sauce.
Step 2: Make walnut-guajillo sauce
Combine all ingredients in a blender. Puree until smooth.
Pro tip: If you have leftover sauce, freeze in it an ice tray so you've got sauce cubes to use at a later date.
Step 3: Prepare pressure cooker
Add oxtail to pressure cooker, then add enough chicken stock to cover oxtail by at least two thirds. Add roughly half of completed sauce, and mix with chicken stock to suitably coat oxtail. Cook on high pressure for 90 minutes, using the Pulse or Natural Release functions to release pressure.
Step 4: Reduce sauce
Once pressure has been released, turn on the Saute function of pressure cooker and let the oxtail and sauce continue to cook and reduce by half.
Step 5: Garnish and serve
Garnish with cilantro, pea tendrils, toasted sesame seeds, chili flakes, and lime if desired. Enjoy this braised oxtail with a side of rice, in tacos, or on top of salads.
If you'd like to learn more about the world of Instant Pots, check out our comprehensive guide on how to use a pressure cooker.
You're on your way to becoming a kitchen master. Take the next step and sign up for Chef's Course. You'll get weekly tips, tricks, and recipes from top chefs sent straight to your inbox. It's a whole master course for free.
The product experts at Reviewed have all your shopping needs covered. Follow Reviewed on Facebook, Twitter, and Instagram for the latest deals, product reviews, and more.
Prices were accurate at the time this article was published but may change over time.