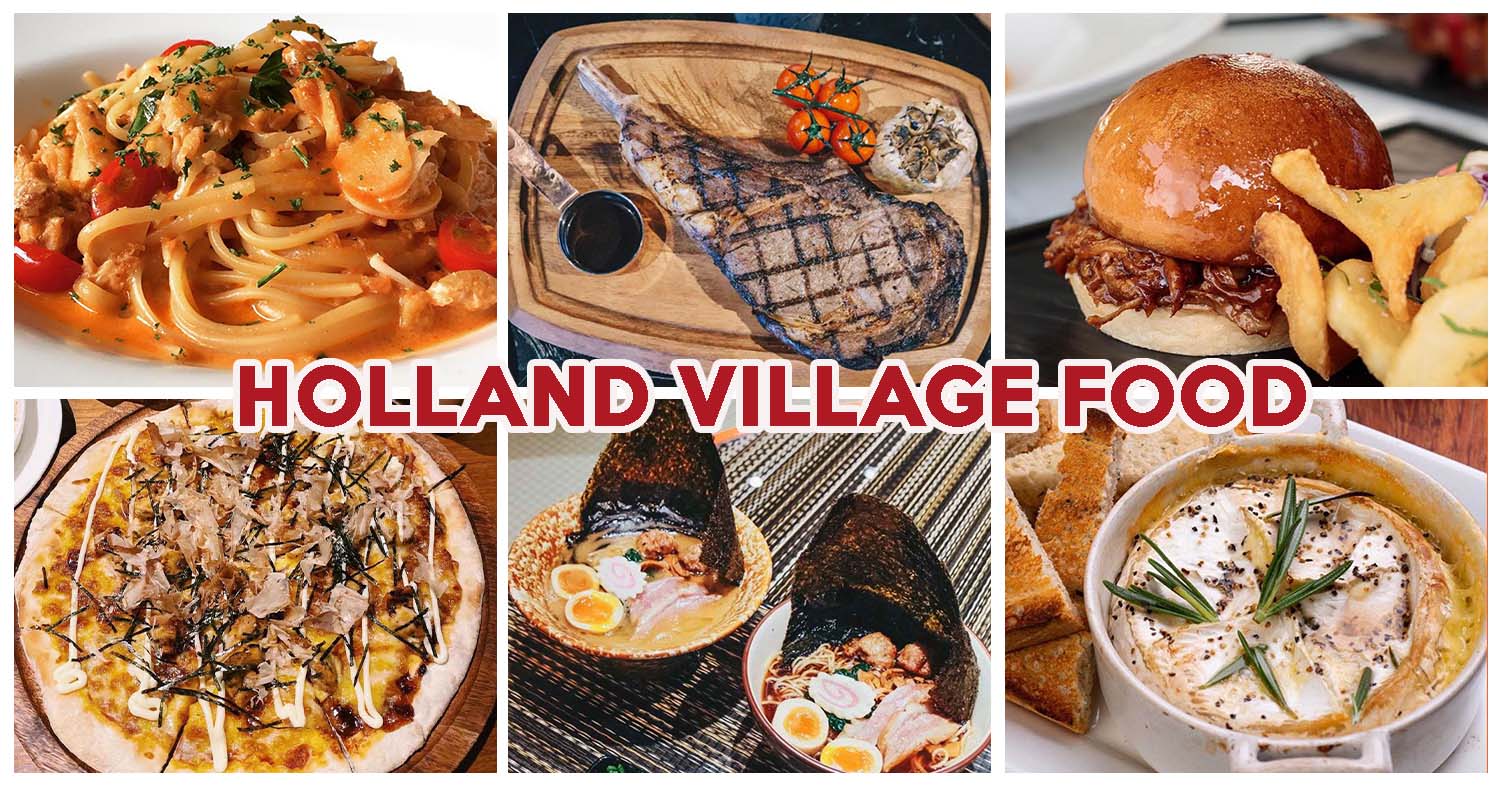 ---
Holland Village food spots
---
With its numerous restaurants and bars lining the street, Holland Village is a place you'll never go hungry at. This vibrant enclave is brimming with food choices from all around the world, and you'll be spoilt for choice! For a fun night out with the boys or a nice romantic evening with your plus one, these Holland Village food spots have got your back. 
---
1. Kamo Soba Keisuke
---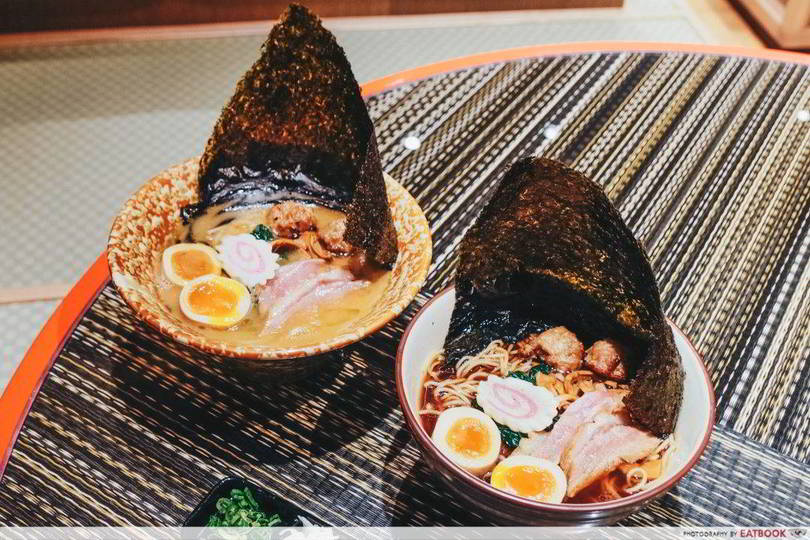 Kamo Soba Keisuke is yet another one of Chef Keisuke's outlets for those looking for Holland Village food. This is his second duck ramen restaurant, with the first being in Tokyo. The Special Hybrid Duck Broth Ramen ($19.90++) comes in two types: one with clear broth and one with rich broth.
The clear soup is light yet full of flavour after being simmered with pork bones for a good five hours. However, if a light broth is not your cup of tea, go for the rich broth! The broth is further thickened by adding more duck bones and simmering it for eight hours.
Check out our full review of Kamo Soba Keisuke!
Kamo Soba Keisuke Review: Duck Ramen By Chef Keisuke At Holland Village
Address: 16A Lorong Mambong, Singapore 277677
Opening hours: Mon-Fri 11:30am to 2:30pm, 5pm to 10pm, Sat-Sun 11:30am to 10pm
Tel: 6463 4344
Website
---
2. Tai Cheong Bakery
---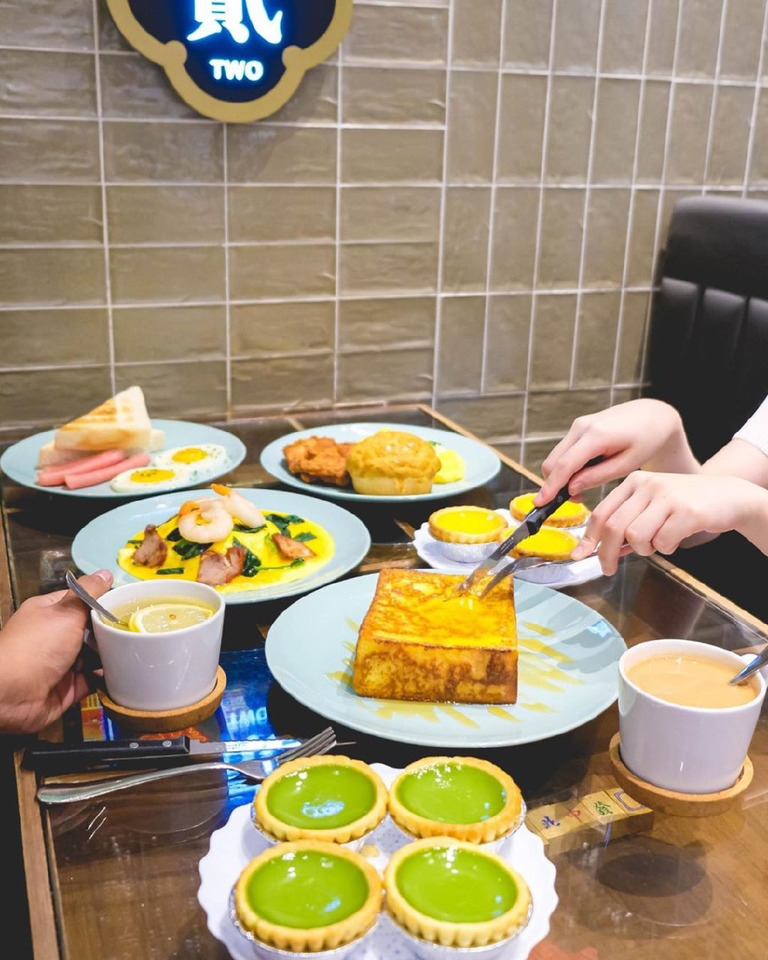 Image credit: @taicheongsg
Tai Cheong Bakery is a household name in Hong Kong, and the brand has won over many Singaporeans since its arrival in Singapore a few years ago. Fans of traditional Hong Kong cuisine would love their Cha Chaan Teng concept. Their Egg Tart ($2.20+) features smooth and creamy egg custard that's surrounded by a crisp, buttery pastry. It's a prized commodity, and each dine-in customer is only allowed to purchase a maximum of two egg tarts.
Suitable for rainy days, their comforting Three Eggs Macaroni Soup with Luncheon Meat ($9.90+) consists of springy macaroni, a sunny side up egg, and strips of savoury luncheon meat, all simmered in a savoury tomato broth.
Address: 31 Lorong Liput, Singapore 277742
Opening hours: Mon-Fri 10am to 10pm, Sat-Sun 9am to 10pm
Tel: 9828 1954
Website
---
3. Crystal Jade La Mian Xiao Long Bao
---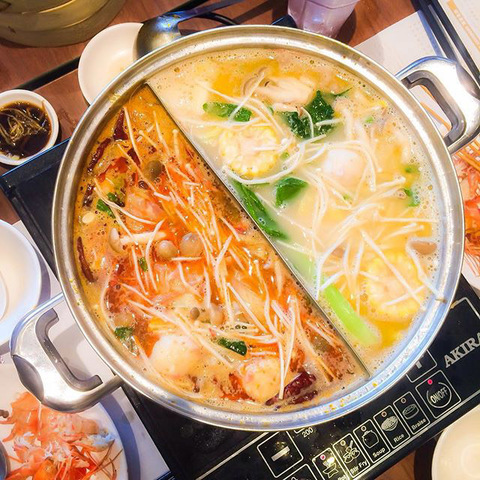 Image credit: @shujunfu
The Crystal Jade group is well-known among Singaporeans. Aside from serving tantalising Chinese dishes, Crystal Jade La Mian Xiao Long Bao has a xiao long bao (XLB) and steamboat buffet every night! The prices are $27.80++ on Mondays to Thursdays, and $30.80++ from Fridays to Sundays. Do note that the buffet only consists of the original XLB, not their other exotic XLB flavours, and reservations are essential.
Address: 241 Holland Avenue, Singapore 278976
Opening hours: Mon-Thurs 11:30am to 9pm, Fri-Sun 11am to 9:30pm
Tel: 6463 0968
Website
---
4. Umi Nami
---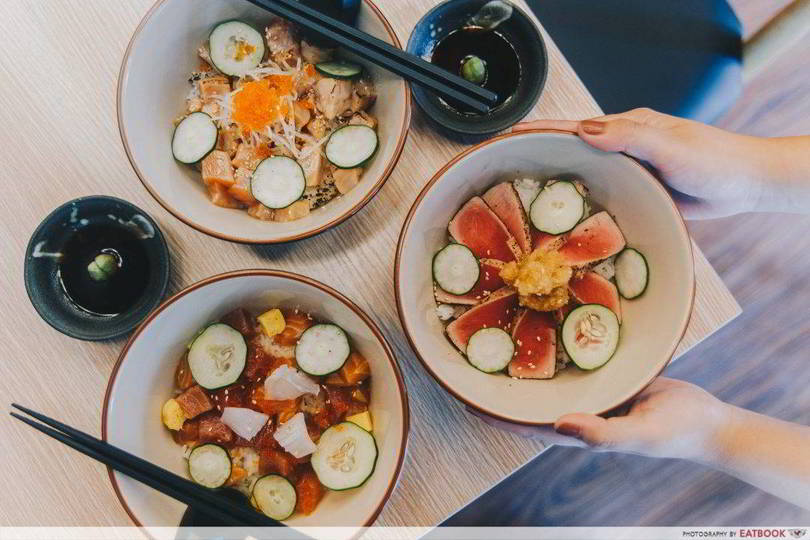 Umi Nami is a Japanese restaurant specialising in affordable donburi. Out of the 10 rice bowls they offer, one that is worth trying would be the Aburi Salmon Don ($13). It consists of a bed of Japanese white rice blanketed by torched salmon cubes with charred corners, sliced cucumbers, shredded radish, and a spoonful of tobiko. The aromatic salmon cubes complement the vinegared rice, and melt in your mouth with every bite you take.  
Check out our full review of Umi Nami!
Umi Nami Review: Bara Chirashi Don At $10 And Aburi Salmon Don At $13 Nett
Address: 8 Lorong Mambong, Singapore 277674
Opening hours: Daily 11am to 10:30pm
Website
---
5. Cha Cha Cha
---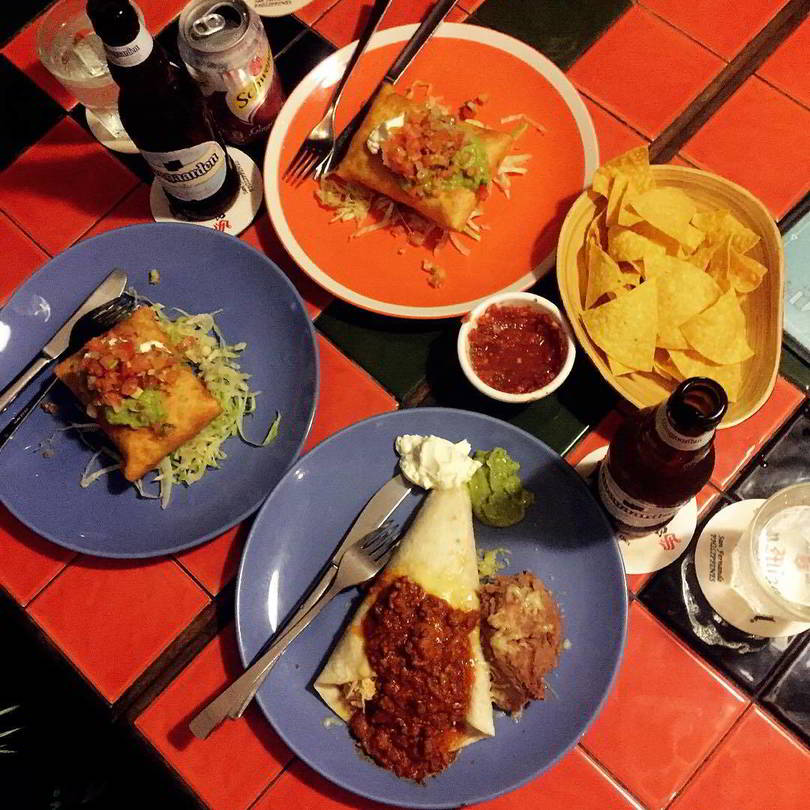 Image credit: @chinatsucandy
Cha Cha Cha is a Mexican restaurant and bar, serving up a tantalising spread of dishes such as tacos and burritos. Their Chimichanga ($16++), deep-fried burrito with cheese, sour cream, guacamole, and salsa Mexicana, is popular among regular customers. Great to go along with their Tortillas Con Salsa ($5++) is the collection of alcohol they offer such as frozen margaritas and beer.
Address: 32 Lorong Mambong, Singapore 277690
Opening hours: Daily 11:30am to 10:30pm
Tel: 6462 1650
Website
---
6. Black Marble
---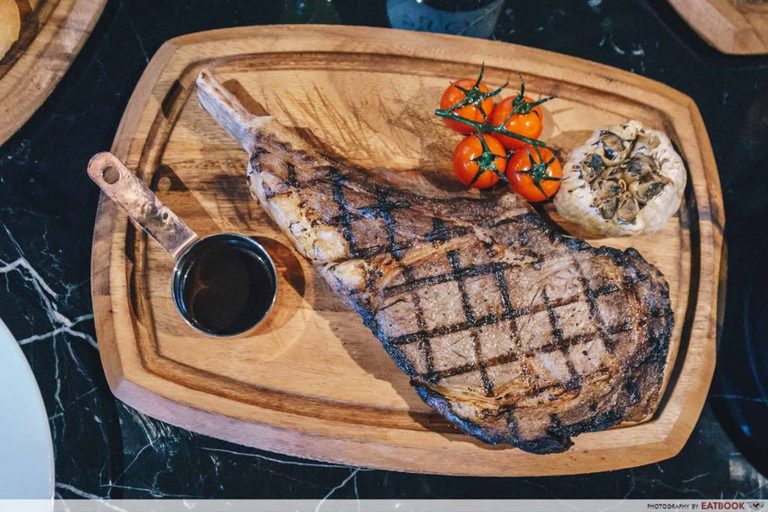 Started by celebrity chef Otto Weibel, Black Marble is a spiffy steakhouse at Raffles Holland Village. While prices are steep, the quality and taste of the dishes make it worthwhile. Meat eaters will enjoy the 45 Days Dry-aged Angus Bone-in Ribeye ($78++ for 600gm) and Grain-fed Lamb Rack ($38++ for 350gm) that are full of robust flavours. Although this place focuses on grill and meat, their Lobster & Scallop Saffron Risotto ($34++) is a noteworthy dish as well, with its medley of seafood including Boston lobster tail and octopus.
Address: 118 Holland Avenue, #02-01, Raffles Holland Village, Singapore 278997
Opening hours: Daily 11am to 10pm
Tel: 9641 6913
Website 
---
7. Wala Wala Cafe
---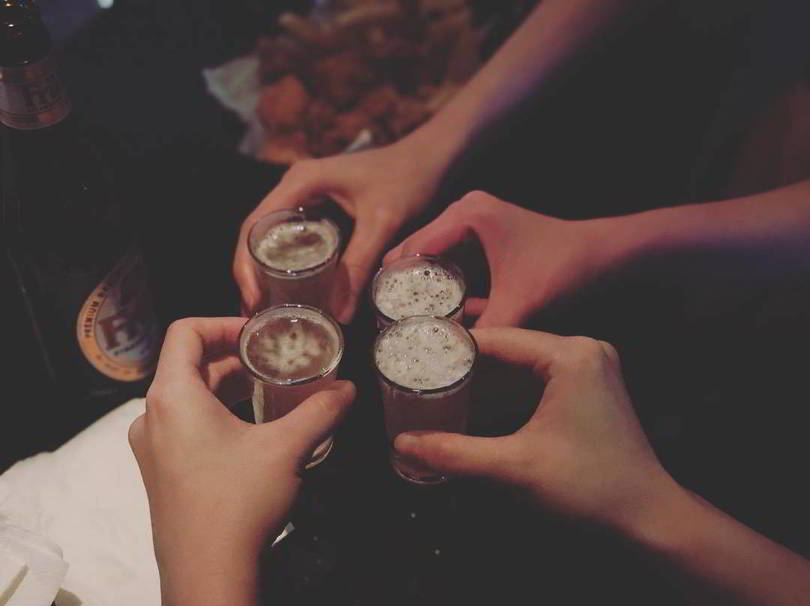 Image credit: @sheeryyy
Wala Wala Cafe is a two-storey pub that serves a wide range of alcohol to go along with various mains and sides. One popular choice would be the Wala Wala Chicken Wings ($13), which is often seen on customers' tables. Customers would also get to enjoy live music from talented musicians while chilling with their drinking buddies.
Address: 31 Lorong Mambong, Singapore 277689
Opening hours: Daily 3pm to 10:30pm
Tel: 6462 4288
Website
---
8. La Nonna
---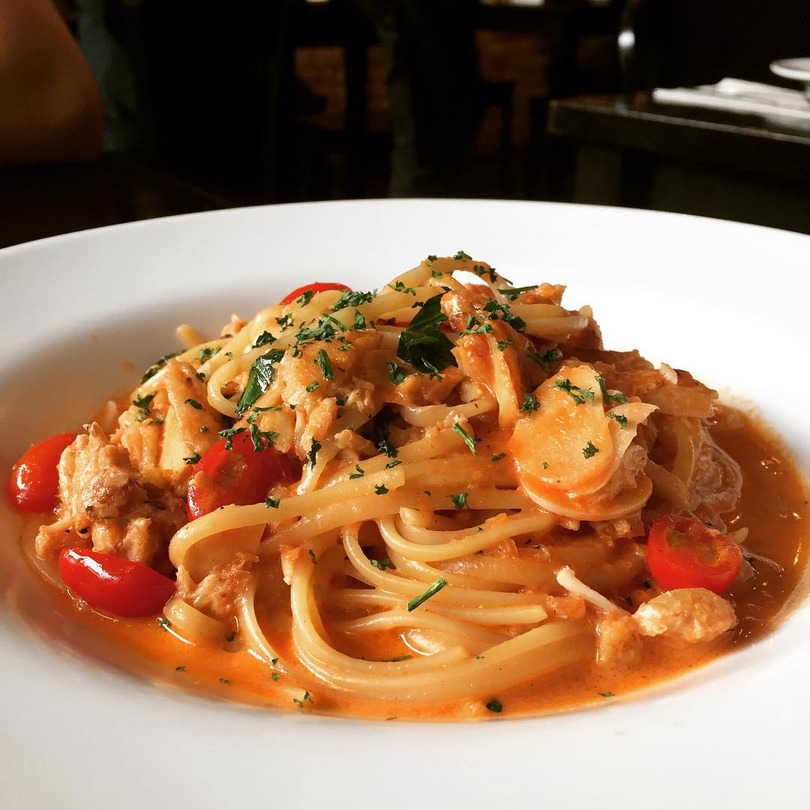 Image credit: @with.rachelle
Opened in 2006, La Nonna is an experienced contender in Singapore's Italian food scene. Seafood lovers will enjoy their Fettuccine ($32++), which consists of large and succulent king tiger prawns on smooth squid ink fettuccine pasta. Their Manzo ($36++) is another favourite among many customers. It features tender cuts of beef ribeye with a beautiful red wine sauce, and a medley of roasted potatoes and steamed vegetables.
Address: 26/26B Lorong Mambong, Singapore 277685
Opening hours: Mon, Wed 11:30am to 2:30pm, 5:30pm to 10pm, Tue, Sun 11:30am to 10pm, Sat 11am to 9pm
Website
---
9. Martin Zwerts Friture
---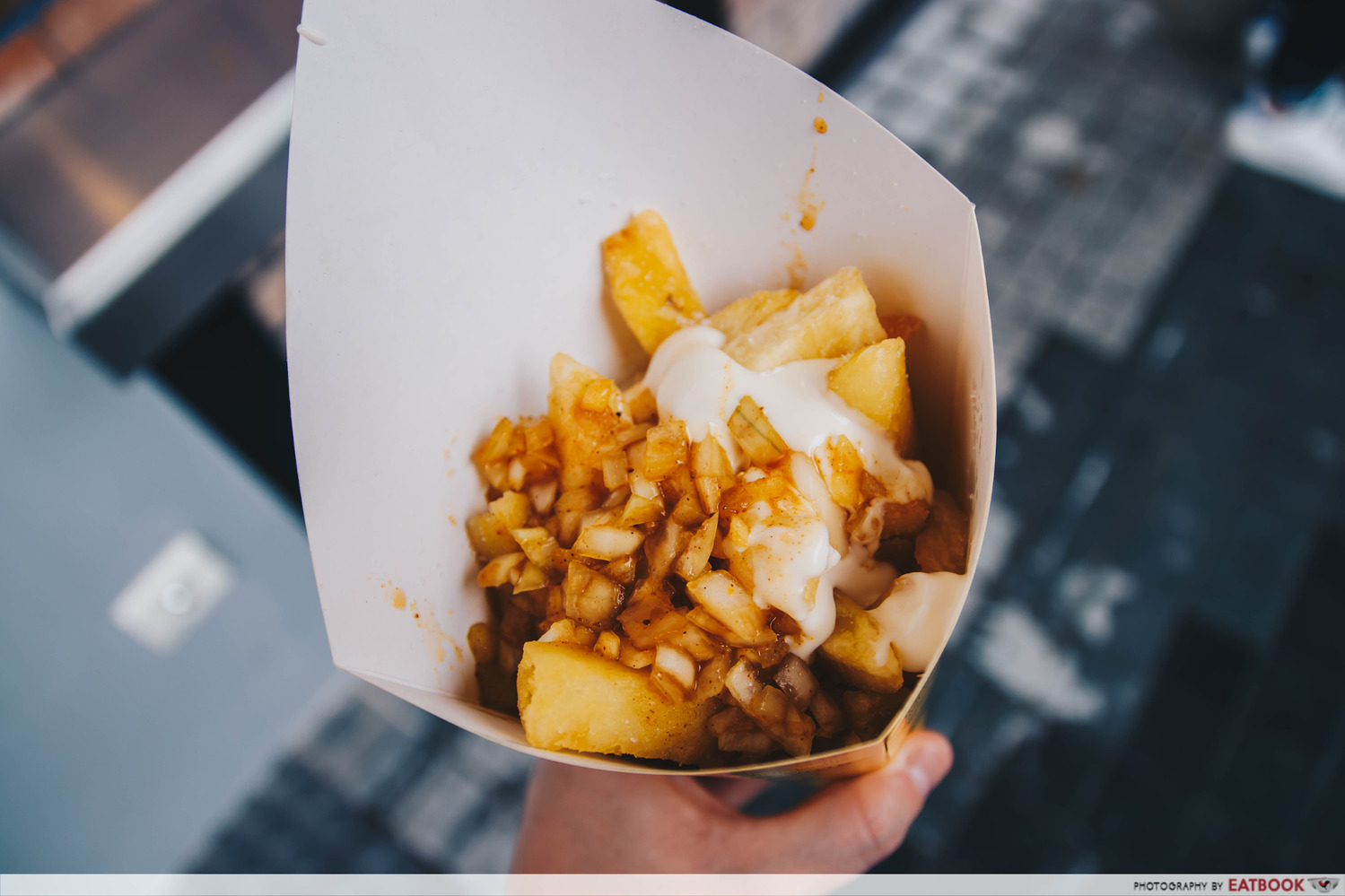 If you thought only cheese or chilli and tomato sauces go well with fries, you thought wrong. Hailing from the Netherlands, Martin Zwerts Friture brings tasty portions of their unique fries to the Singaporean masses. The fries are thickly cut, and they come piping hot upon each order. Their Regular Fries ($6.50) comes with a choice of a whopping 13 different sauces. Many customers have raved about their Joppie sauce, which is also known as Dutch sauce. It's delightfully creamy with a hint of sweetness, and it'll definitely zhng up your order of fries to the next level.
Check out our full review of Martin Zwerts Friture!

Martin Zwerts Frites: Popular Fries Shop From The Netherlands Opens In Singapore
Address: 3 Lorong Liput, #B1-07, Holland Piazza, Singapore 277725
Opening hours: Tue-Sun 11:30am to 8:30pm
Tel: 6463 4868
Website
---
10. Fatboy's The Burger Bar
---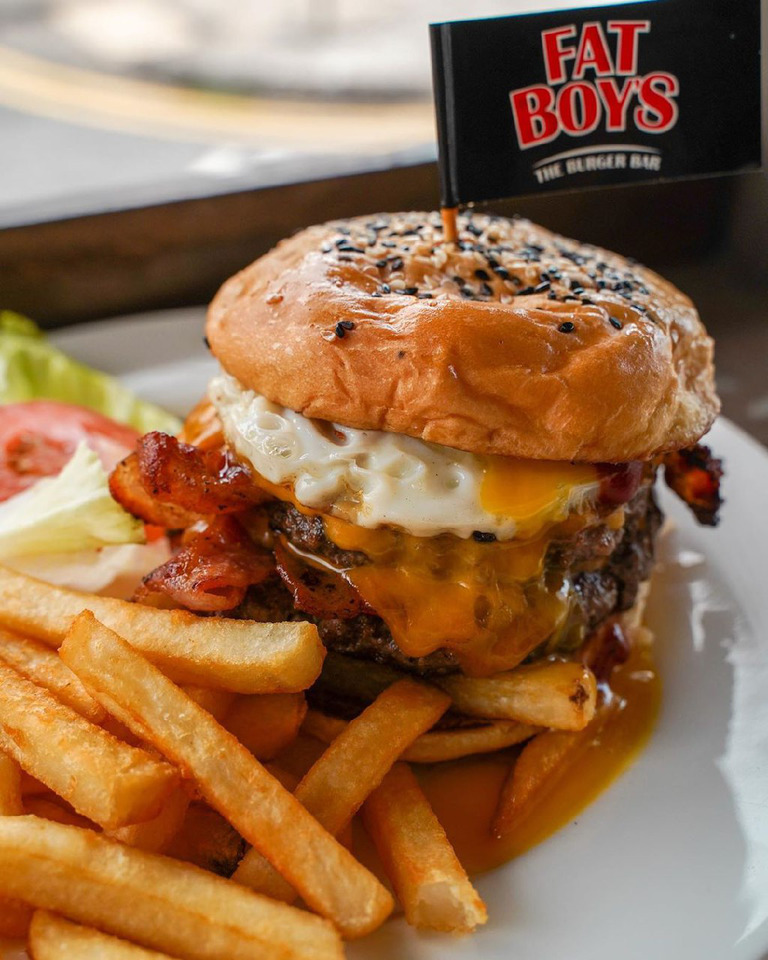 Image credit: @fatboyssg
Fatboy's The Burger Bar is no stranger to the burger scene in Singapore, and they dish out quality burgers with a no-frills presentation. Their Fat Bastard ($19.80+) is a worthy challenger to a hungry man's ravenous appetite. It features a giant mix of two thick beef patties, smoky bacon, cheddar cheese, a fried egg, and copious amounts of barbecue sauce, all sandwiched between two buns. If you don't fancy beef, their Fried Chicken & Waffle Sandwich ($14.50+) is sure to entice. Placed between two pieces of freshly made waffles, the combination of juicy, crispy fried chicken, tender strips of bacon, and creamy bechamel sauce, is superb, and it's the ultimate sinful treat.
Address: 29 Lorong Mambong, Singapore 277687
Opening hours: Mon-Fri 12pm to 11pm, Sat-Sun 11am to 11pm
Tel: 6463 2312
Website
---
11. Yuzu Japanese Restaurant
---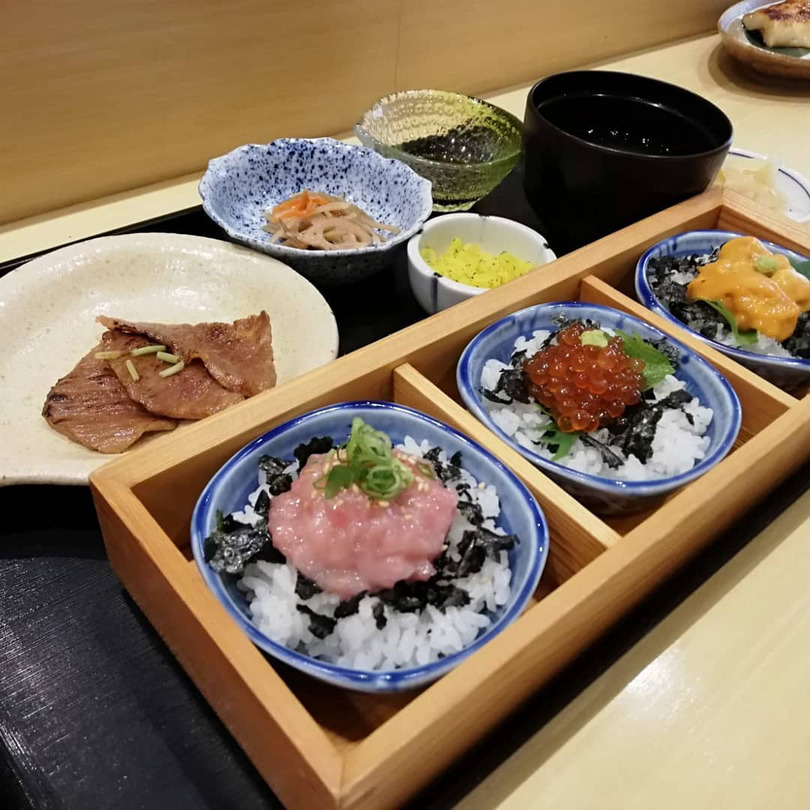 Image credit: @yuzujapaneserestaurant
Yuzu Japanese Restaurant is the brainchild of Tokyo-born Chef Takahashi Tadashi, who's had an illustrious culinary career at many top Michelin-starred restaurants. The Yuzu Special Don ($65++) is a favourite among many diners, and it features three petite rice bowls that are topped with luxurious uni, ikura, negitoro and Japanese A4 Wagyu beef. It's accompanied by a bowl of salad, chawanmushi, pickles, a side dish, miso soup, and a dessert.
Address: 6A Lorong Mambong, Singapore 277673
Opening hours: Tue-Sun 12pm to 3pm, 6:30pm to 11pm
Tel: 6463 2016
Website
---
12. Fosters Steakhouse
---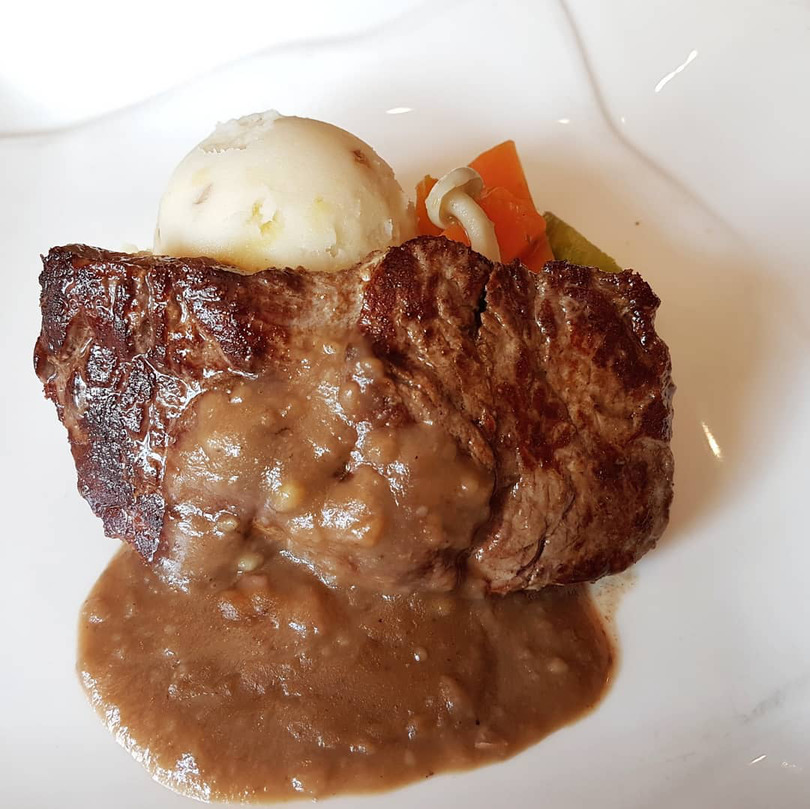 Image credit: @xreckea
Fosters Steakhouse is a rustic English steakhouse that dishes out quality steaks in a chill atmosphere. Classic steak lovers would swoon over the Fillet Steak ($39++) which features a piece of succulent tenderloin that's served with an earthy mushroom sauce. If you're feeling extravagant, their Wagyu Ribeye Steak ($98++) is a good choice. The steak is marbled wonderfully and melts beautifully in the mouth, making each bite a decadent experience.
Address: 277 Holland Avenue, Singapore 278994
Opening hours: Sun-Thurs 11am to 10pm, Fri-Sat 11am to 11pm
Tel: 6466 8939
Website
---
13. Original Sin
---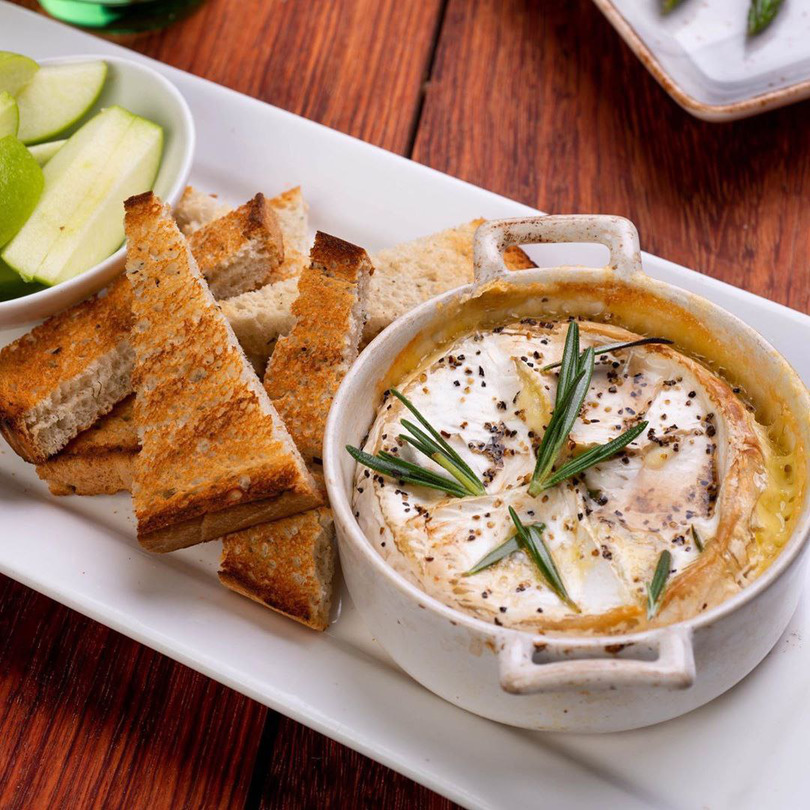 Image credit: @originalsinrestaurant
Original Sin is known as Singapore's first Mediterranean vegetarian restaurant, and they serve wholesome plant-based foods in an intimate setting. Their King Oyster Mushroom ($28++) consists of a beautifully grilled king oyster mushroom which is marinated in a tasty sauce. It's accompanied by a refreshing mix of asparagus, artichoke, roasted potatoes and tomatoes. For an extra romantic touch, diners have the option to dine al fresco under the beautiful night stars.
Address: 43 Jalan Merah Saga, #01-62, Singapore 278115
Opening hours: Daily 11:30am to 2:30pm, 6pm to 10:30pm
Tel: 6475 5605
Website
---
14. Chir Cafe + Bar 
---
Chir Chir, a popular fried chicken fast-food chain, has opened Chir Cafe + Bar, a cafe and bar concept serving modernised, Korean-inspired food. The Bulgogi Cream Pasta ($16++) is something worth trying as you get a combination of sweet and savoury flavours. Alternatively, get the Chir Chicken Croffle ($17.50++), which comes with whipped cream atop a buttery croffle, together with fried chicken and salad on the side. 
Check out our Chir Cafe + Bar review!
Address: 26A Lorong Mambong, Singapore 277685
Opening hours: Mon-Fri 11:00am to 10:30pm, Sat-Sun 09:30am to 10:30pm
Tel: 6235 9950
Website
---
15. Ice On You
---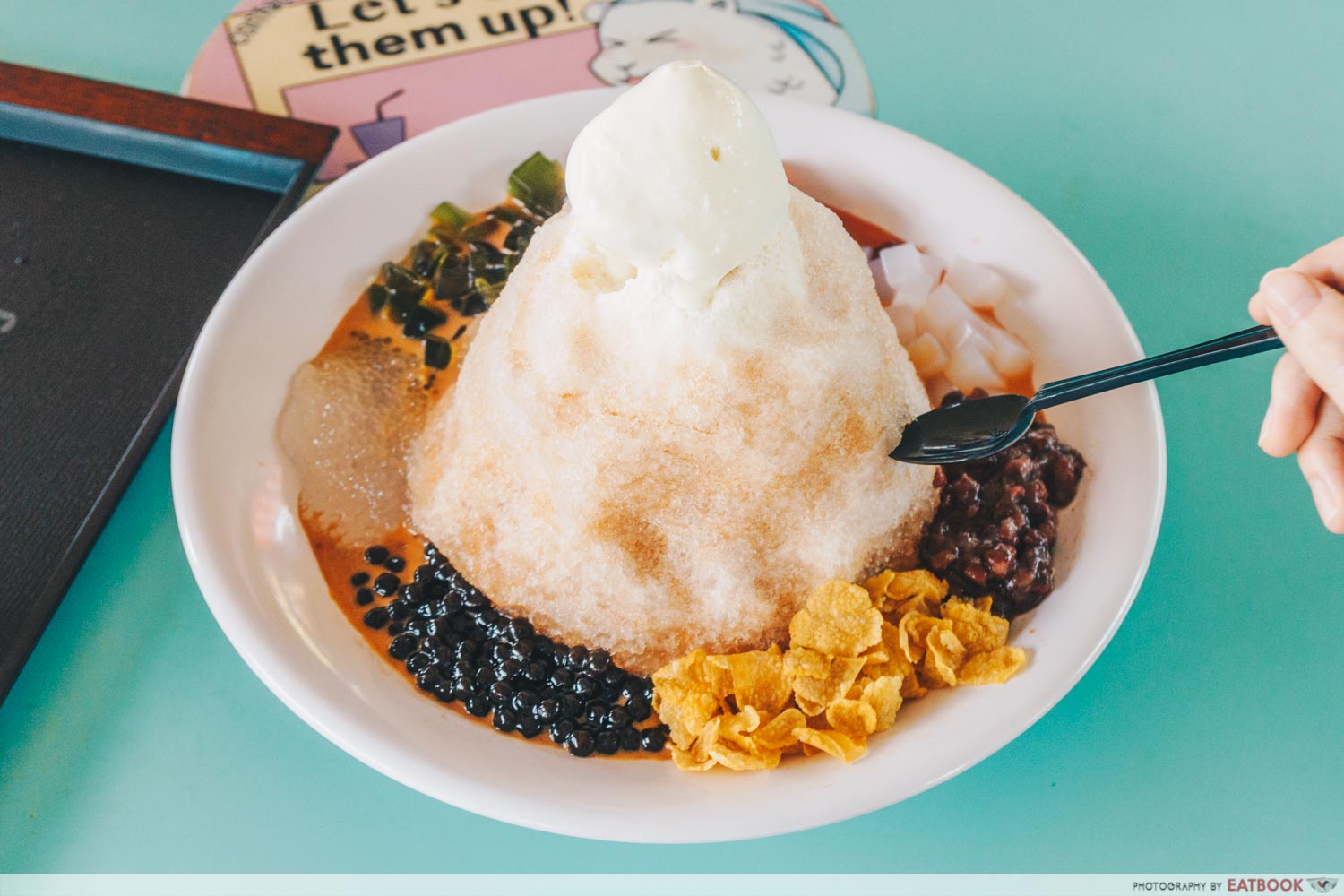 Indulge yourself with cold desserts from Ice On You. They have Thai-inspired shaved ice desserts and ice-blended drinks that are sure to remind you of popular desserts in Thailand. Fans of Thai milk tea should try the Giant Thai Milk Tea Shavers ($13.80), which is big enough to feed four people. It's drenched in Thai milk tea and a scoop of vanilla ice cream, along with an assortment of toppings such as black pearls. You can also get the Red Ruby Blender ($5.50), which is a mix of fresh coconut water, coconut ice cream, coconut flesh, red ruby, and sago. 
Check out our Ice On You review!
Address: 20 Ghim Moh Road, #01-01, Ghim Moh Market and Food Centre, Singapore 270020
Opening hours: Thurs-Tue 11am to 7pm
Website
---
Eat good food at Holland Village
---
No matter where you end up in Holland Village, you'll always have food around you. Be it a nice meal with your special someone or a night of fun with your friends, these Holland Village food spots will surely fit the bill.
10 Buona Vista Food That'll Tempt You To Alight The Next Time You're Changing Train
Drag your food kakis to Holland Village for a feast along the stretches of food places! For more articles such as this Holland Village food guide, check out these Buona Vista food gems. If you're looking for restaurants suitable for date nights and special occasions, do check out these 15 halal date night restaurants.
This article was originally published on 9th January 2020. 
The post Holland Village Food Guide: 15 Places For Duck Ramen, Fried Chicken Croffles And More appeared first on EatBook.sg - New Singapore Restaurant and Street Food Ideas & Recommendations.