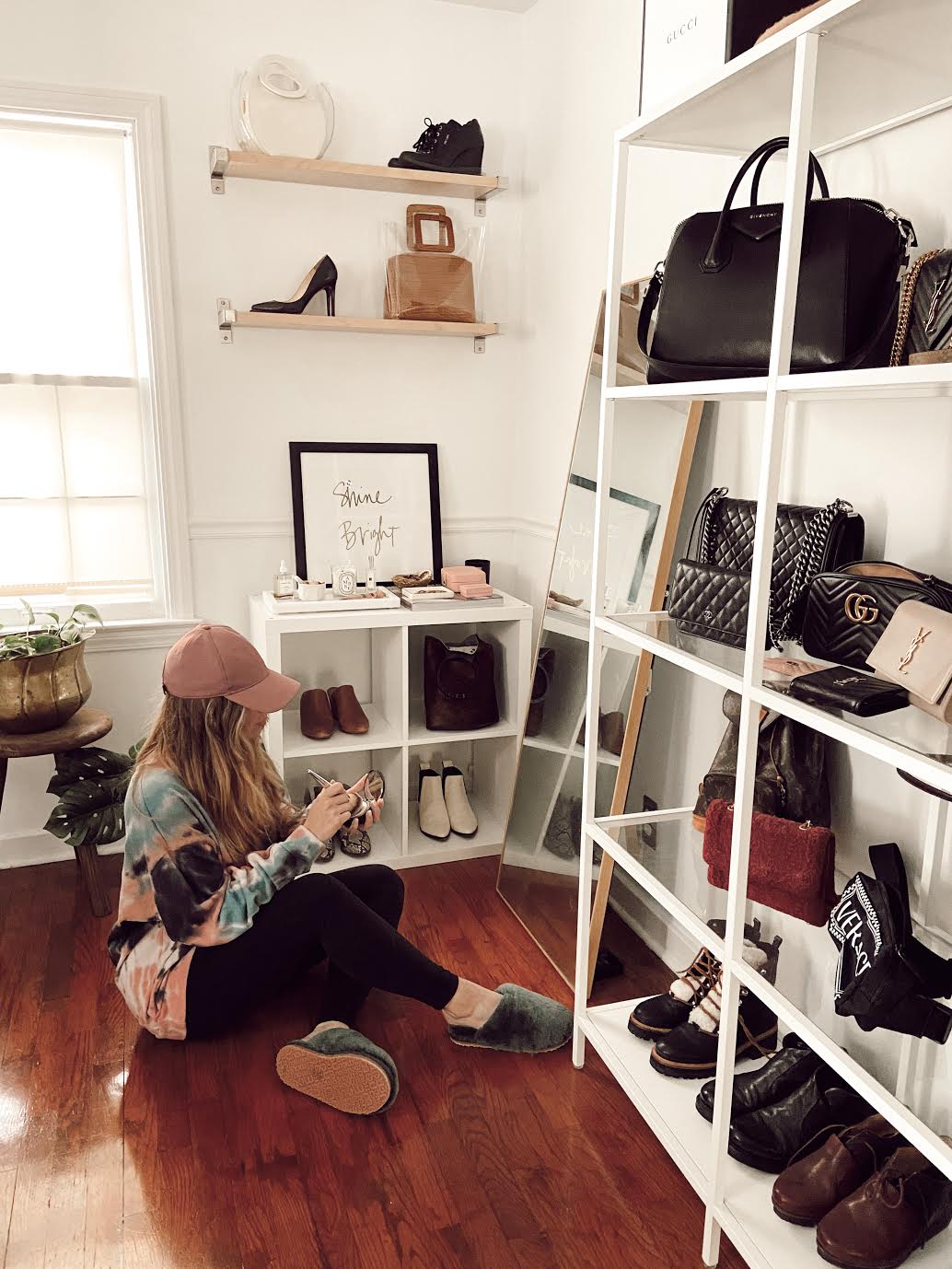 I finally cleaned and semi-organized this room! If you recall, I reclaimed a guest room as my walk in closet since the closets in this 1950 house are so small. And over the last three or so years, Ive made updates to better store and organize everything from my shoes to bags to cosmetics and jewelry.
Read on for the full post on where Ive bought EVERYTHING in this space!
Shelving & Bookshelves
All of the shelves are from Ikea or Target. The tall bookshelf with glass shelves is Vittsjo in white. I bought two of themone for this room and another for the living room and since I had two, it made sense to pay the extra $80 for shipping. I hate going to Ikea!
The white stained oak effect floating shelves and the long white floating shelves over the garment racks are also Ikeathe LACK wall shelves. The small white shelf unit by the mirror is also Ikeathe Kallax shelf unit in white.
The small floating shelves by the vanity are from Target.
Garment Racks + Shoe Racks
The garment racks are super cheap (just $10) and have held up well for me over the years and the shoe rack is from Meijer, but you can find the same shoe rack at Target.
I also own this garment rack which I use in my bedroom. Its a little more sturdy and has more storage than the Ikea version.
Jewelry Storage Solutions
To organize and store my necklaces, I use these key racks! Super cheap solution and they look pretty on the wall. For rings and larger earrings, I love ring dishes like this beautiful one from Etsy.
I have something similar that I bought from an art fair a few years ago. I also have a few more from Target and love this rectangular gold foiled dish for $12.
You can also repurpose small bowls and dishes or candle motives for the same purpose. I just bought this Jonathan Adler candle motive to toss some barrettes and odds and ends inside! Would work perfectly for rings too. Love these white marble bowls!
For jewelry, I also like a travel organizer (never actually take it for travel, just for home use.) This super cute pink one is just $20 and looks similar to mine which I got from Katie Dean Jewelry (you can get one for free when you spend $75 and add code GIFT at check out.) This is another great option too for $20.
Vanity Area
The small midcentury desk is from West Elm and this color is sold out, but its still available in white. This was the biggest splurge in this room and I am so happy with the purchase.
The chair is from Target and also sold out/gone, but this wicker chair is super similar.
My mirror is sold out at Target, but this gold mirror so similar and priced the same at $45.
Makeup Storage Solutions
I love an acrylic make up tray and recently got rid of a few, but I love this one to hold a variety of items and this lipstick organizer. I wouldnt mind adding this acrylic case with drawers though to the desk or side storage.
I also use small bowls to hold some products or something like this ceramic and gold pencil cup would be perfect to store make up brushes.
For make up and travel bags, I have two vintage Louis Vuitton cosmetic bags (I have the monogram toiletry pouch 15 and Trousse toilette 28) and a Lululemon travel bag (on sale) that I find myself using most days at home. You can shop pre-owned LV cosmetic bags here and Trousse toilette bags here. I also heard great things about the Beis cosmetic travel bags from a few big bloggers I follow.
Other Odds & Ends: Shelf Styling
Im obsessed with this marble tray I bought as decor for the top of this shelf below. It effortlessly transforms a cheap table top into something that looks a little more upscale! This lucite and gold tray is gorgeous and just $30, another great option especially if your style is more glam.
For decor, I like a couple coffee table books to help define areas on tables like the Magnolia Pearl book placed next to the marble tray. Its such a beautiful book and a brand I love. Lots of beautiful designer books like Tom Ford, Chanel and Alexander McQueen over on Amazon. Those are the next few Id like to add!
I also love to incorporate fun and funky bookends to help hold up and organize bags like clutches and suchjust so many ways to repurpose. Most of mine have been thrifted or found at vintage shops, but found a couple lovely options to shop online like these agate bookends, alabaster stone with brass bookends and these striped marble bookends.
More Odds & Ends
I prefer all wood hangers like these or plastic white hangers just so that it looks super clean. I use the wood hanger for this room and plastic white hangers for a lot of my pants and all other actual closets. Ive tried the velvet hangers and I actually hate those since its hard to get clothing on and off and I dont have patience for that shit.
The full length gold trim mirror is from Overstock and was a bit of splurge too, but I desperately wanted a more polished mirror than the cheap plastic one I had before.
I love sheepskin rugs for use as a rug, chair layering and more. Lots of uses! And this ivory sweater wool rug is the one I use on the floor in the room. It sheds, but Im fine with that trade off since its so soft and comfortable. And it really brightens up the room.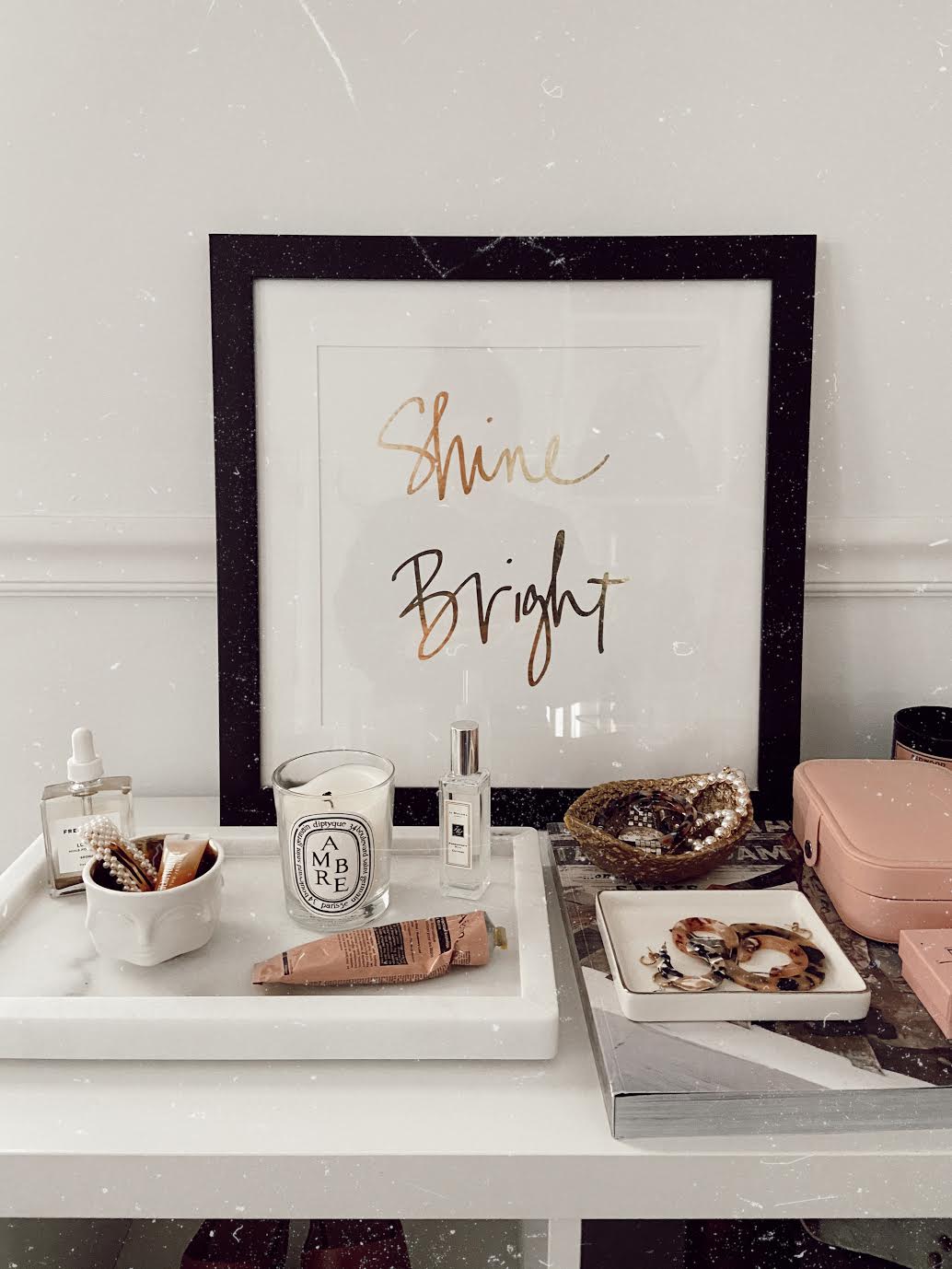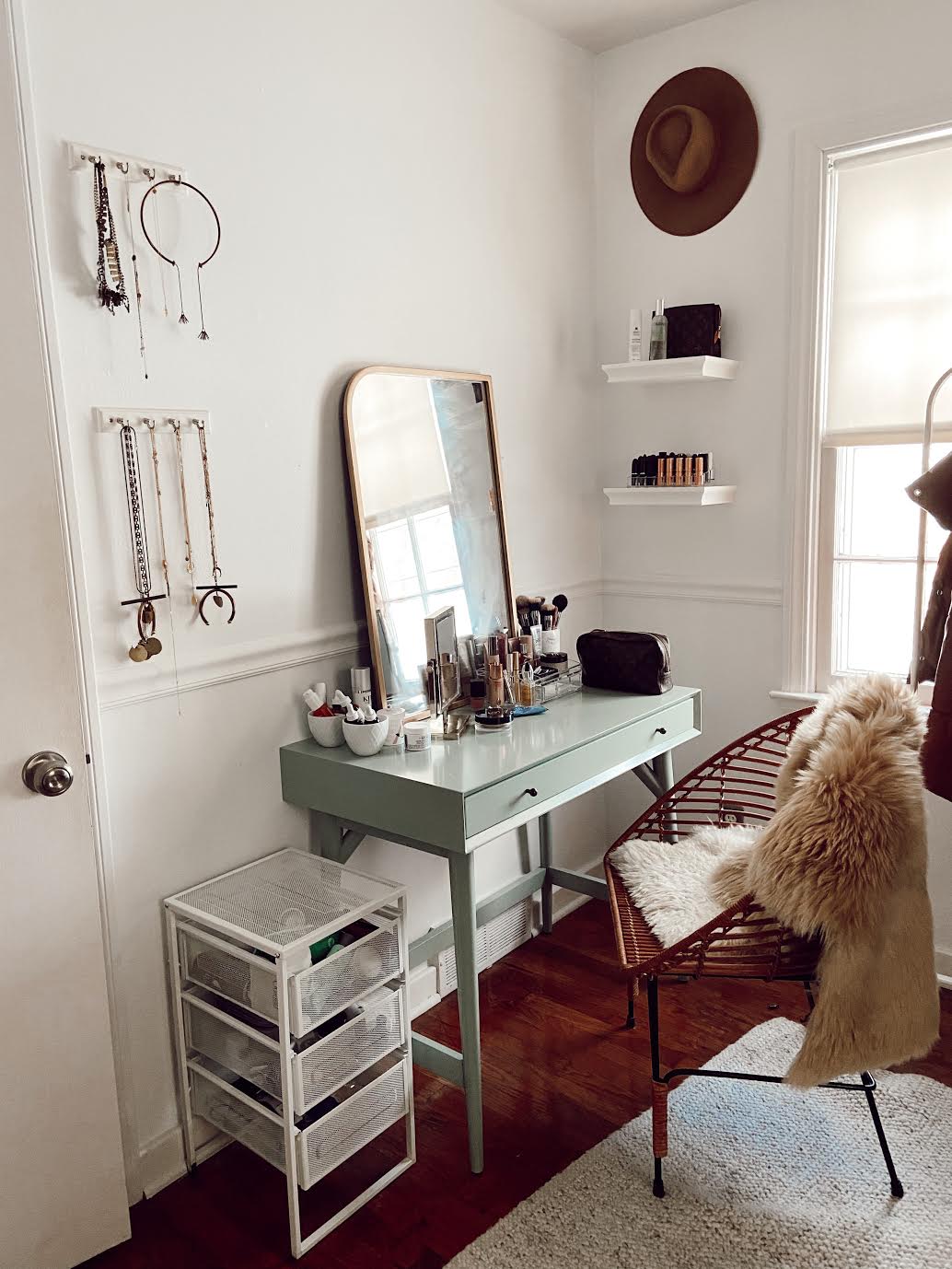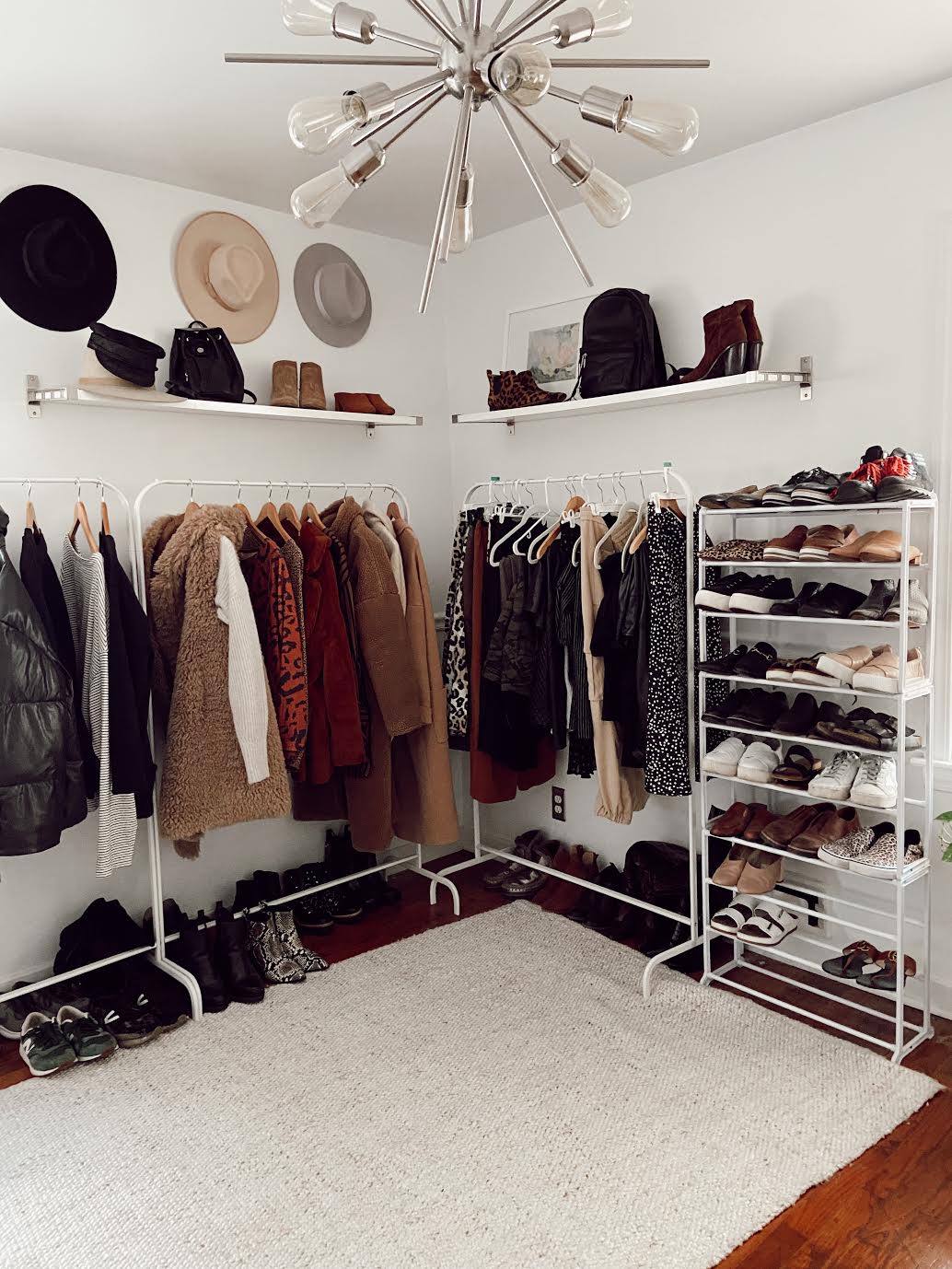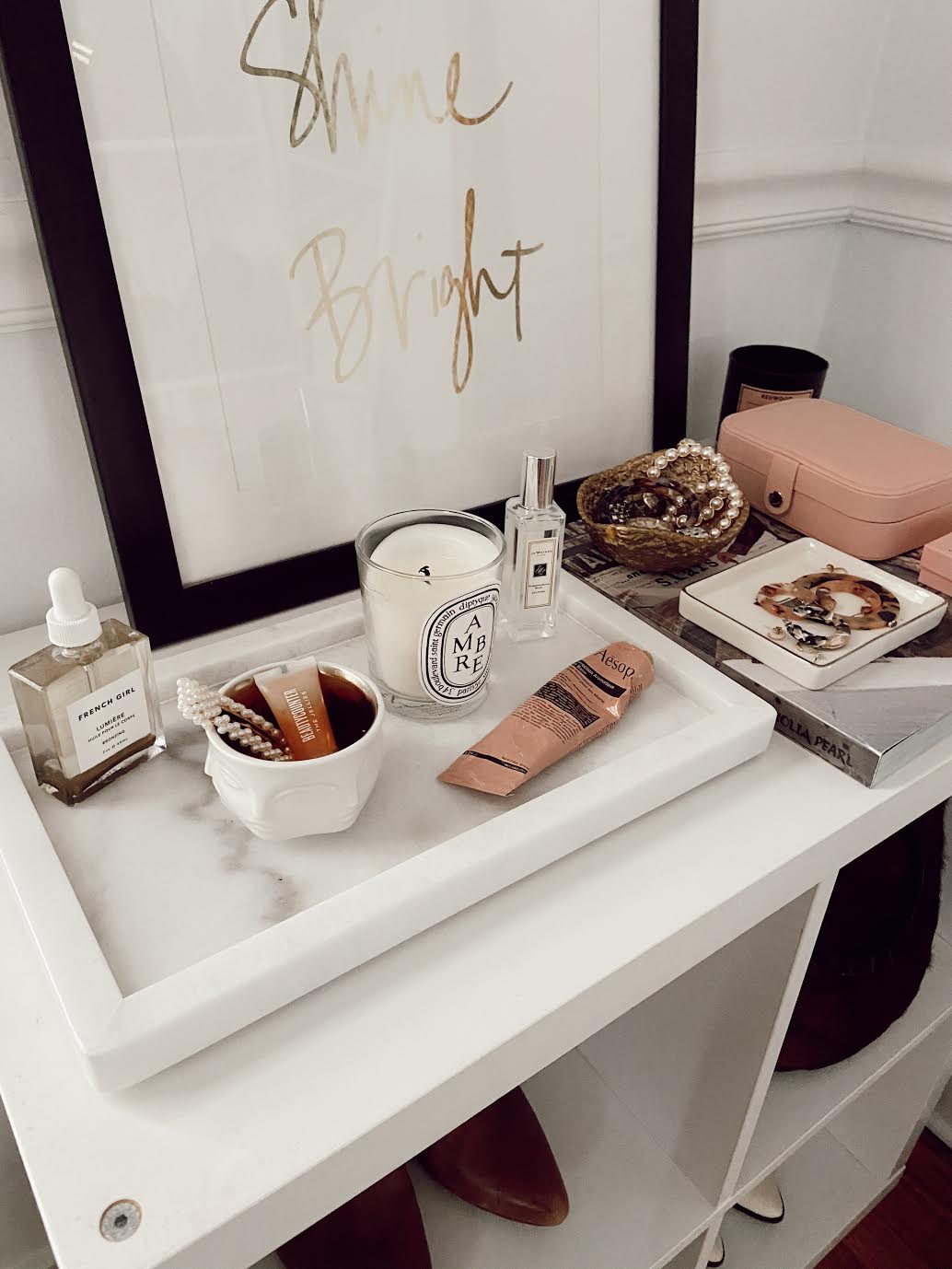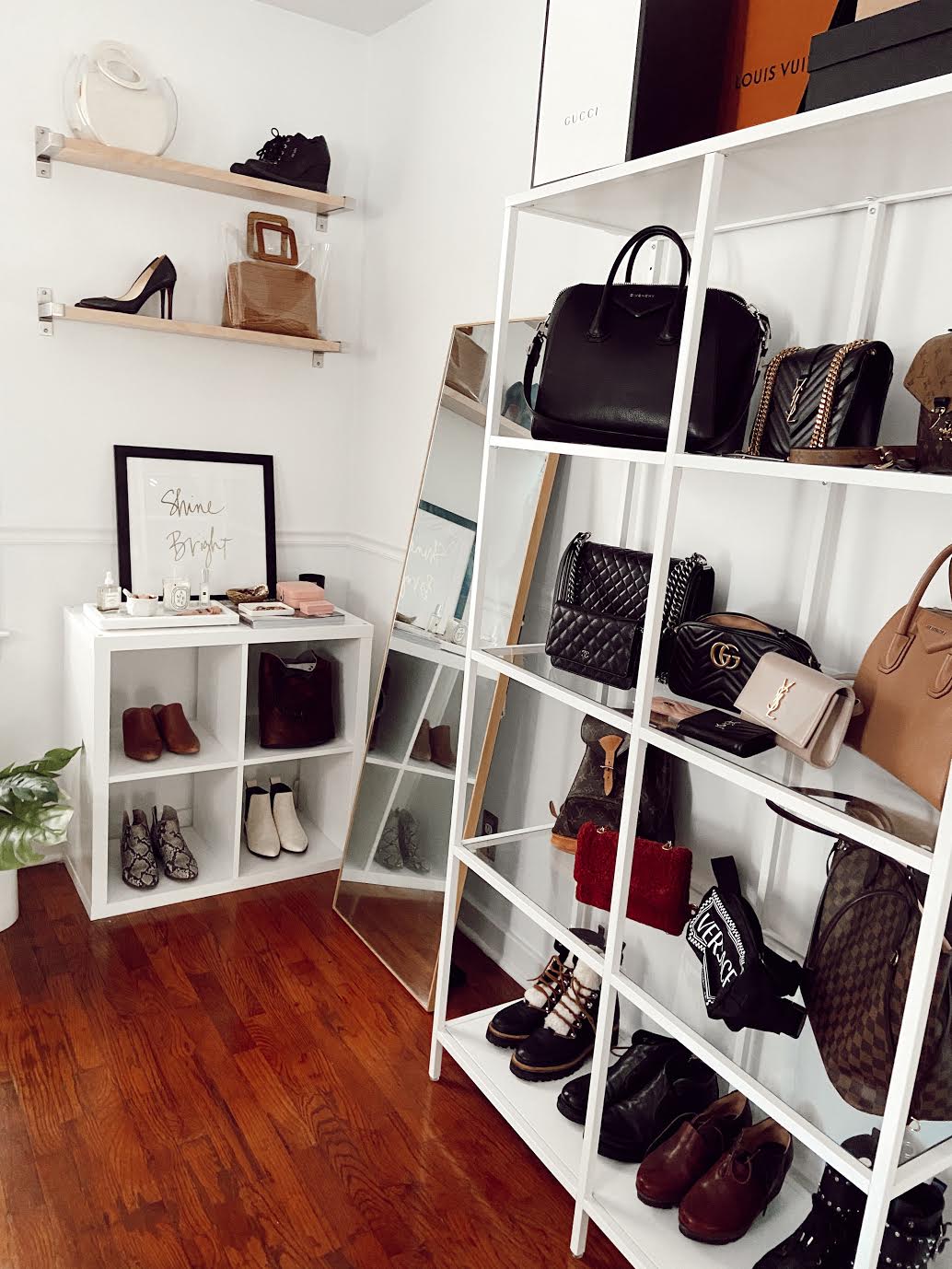 The post How I Organize My Closet & Vanity appeared first on Blonde Bedhead.