This tomahawk steak is juicy, tender, and filled with insanely delicious flavor! Make it your main dish for any occasion and your guests will keep coming back for more!
Steak goes with just about everything and this tomahawk steak is no exception! Make it a meal and add in these potatoes, Brussel sprouts, and rolls to go with it. You will be sure to get a "WOW!" from your family and friends!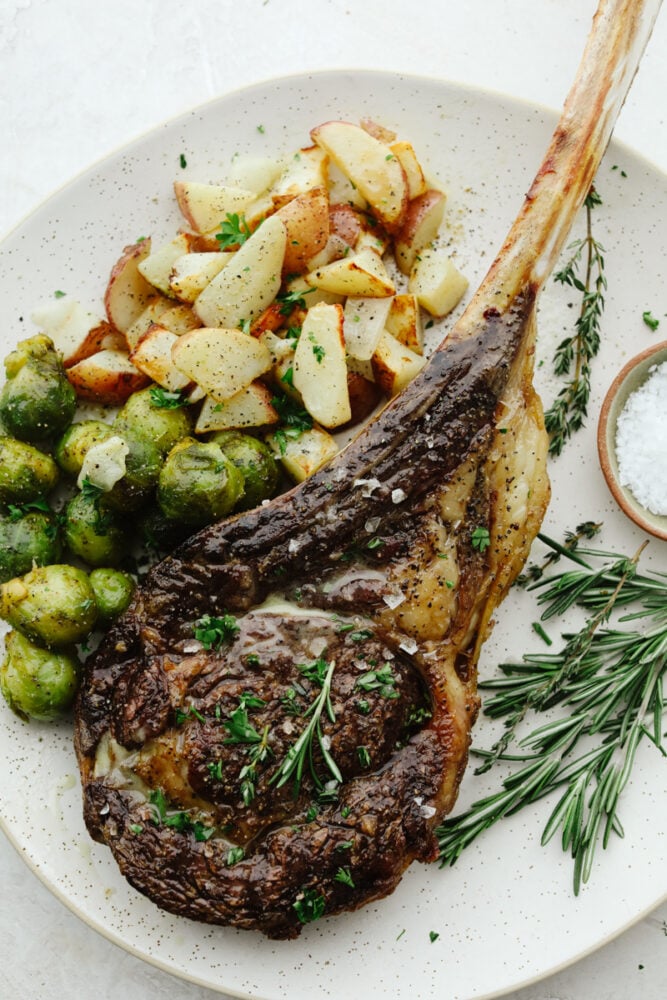 Tomahawk Steak
If you have never had a tomahawk steak then you are in for a real treat! They are so delicious and hold in the juices so well that it makes my mouth water just thinking about it. This type of steak is incredibly tender with a delicious, rich flavor. The marbled fat in the meat gives in a deep flavor that you will go crazy over! Cook this up for a special occasion or a holiday and then you will want to have this all the time!
This cut of meat actually has about an 8-inch bone left in it. The meat is trimmed off of the bone to make it look like the handle of an ax. This gives this cut of meat a total "wow factor" but it really also helps it cook! The bone-in keeps the meat super tender while it cooks. This steak is often seen at restaurants but with this recipe, you can recreate it at home and enjoy it whenever you want!
Ingredients to Make Tomahawk Steak
Start making fancy restaurant dishes at home with this steak. It's SOO GOOD and you will see just how simple it is to make! See the recipe card at the bottom of the post for exact measurements.
Tomahawk Steak (rib-eye): Make sure to let your meat rest at room temperature before you sear it.
Kosher Salt and Pepper: Salt and pepper will be what you use to season the meat.
Olive oil: This is used to make the salt and pepper stick to the meat.
Rosemary and Parsley: These fresh herbs are for garnishing the top of the steak.
Let's Cook Some Steak!
This delicious and juicy tomahawk steak will soon become a requested favorite at your home. And the best part is that it only takes 10 minutes of prep time before you have to put it in the oven!
Get your meat to room temperature: Allow the steaks to rest at room temperature for 45 minutes before cooking.
Preheat and prep: Preheat oven to 300°F. Line a baking sheet with parchment paper. Place a cooling rack in the baking sheet and set aside.
Rub on oil: Rub olive oil on all sides and edges of the steak using your hands. Then, season the steak generously with salt and pepper.
Sear the steak: In a large skillet, sear both sides of the steak. About 3-4 minutes per side. Use tongs to help sear the edges as well.
Bake: Place the steak on the prepared baking sheet. Cook in the oven until desired doneness. About 35 minutes for rare, 45 minutes for medium rare, and 55 minutes for medium. Be sure to use a digital thermometer to be certain of the temperature doneness.
Let it rest: Remove the steak from the oven. Cover tightly with foil and rest for 10 minutes before slicing and serving. Serve with delicious sides, and garnish with fresh herbs.