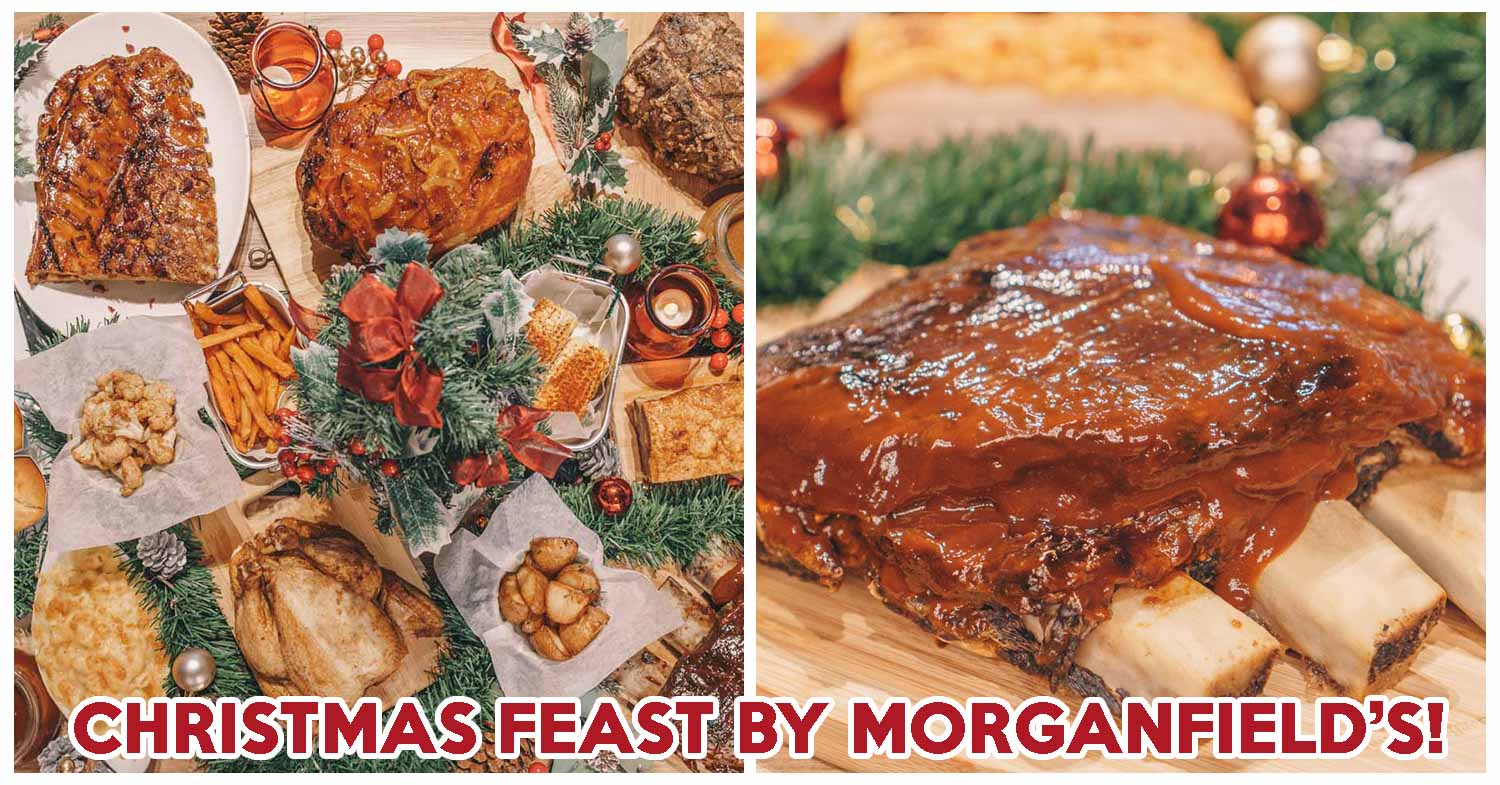 Morganfields delivers a full festive feast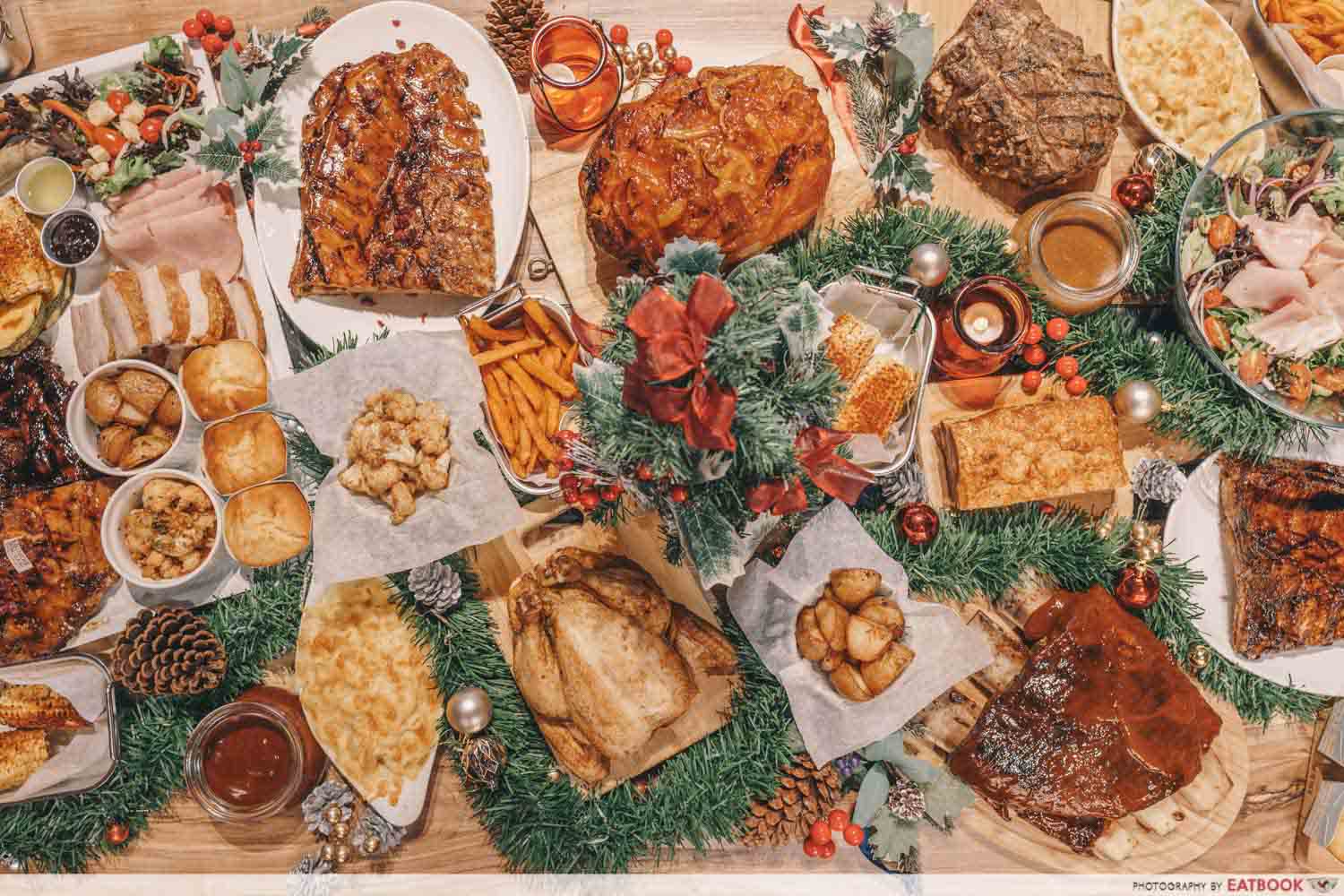 Its beginning to look a lot like Christmas. And that means its time to enjoy plate after plate of festive dishes. Morganfields Christmas feast is back this holiday season, delivering their signature ribs and other festive roasts right to your doorstep.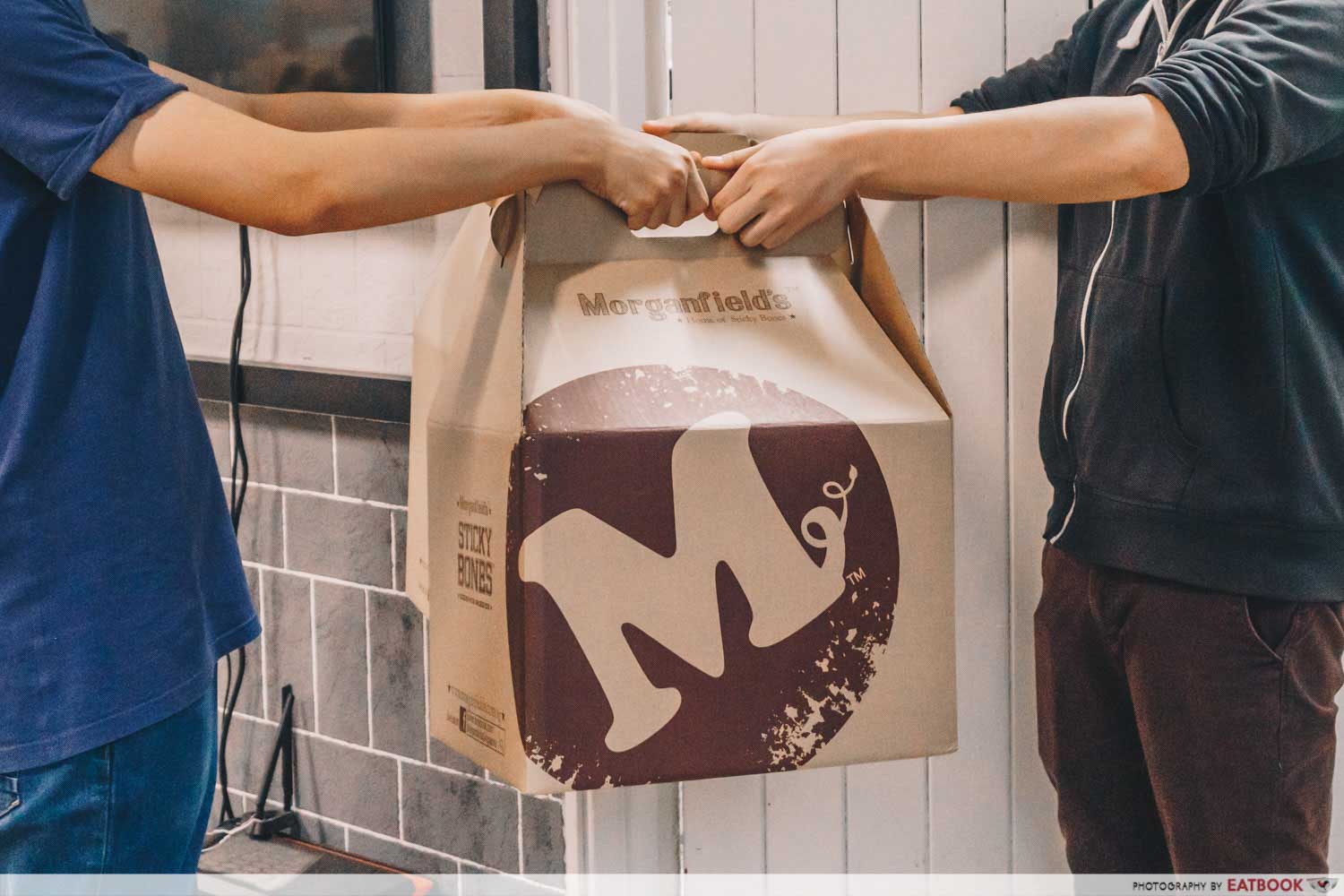 The Christmas feast is available from 11 November 2019 to 1 January 2020, with either in-store pick-up or delivery right to your doorstep! Delivery is free for orders above $300, which is good news if youve got a ton of hungry mouths to feed.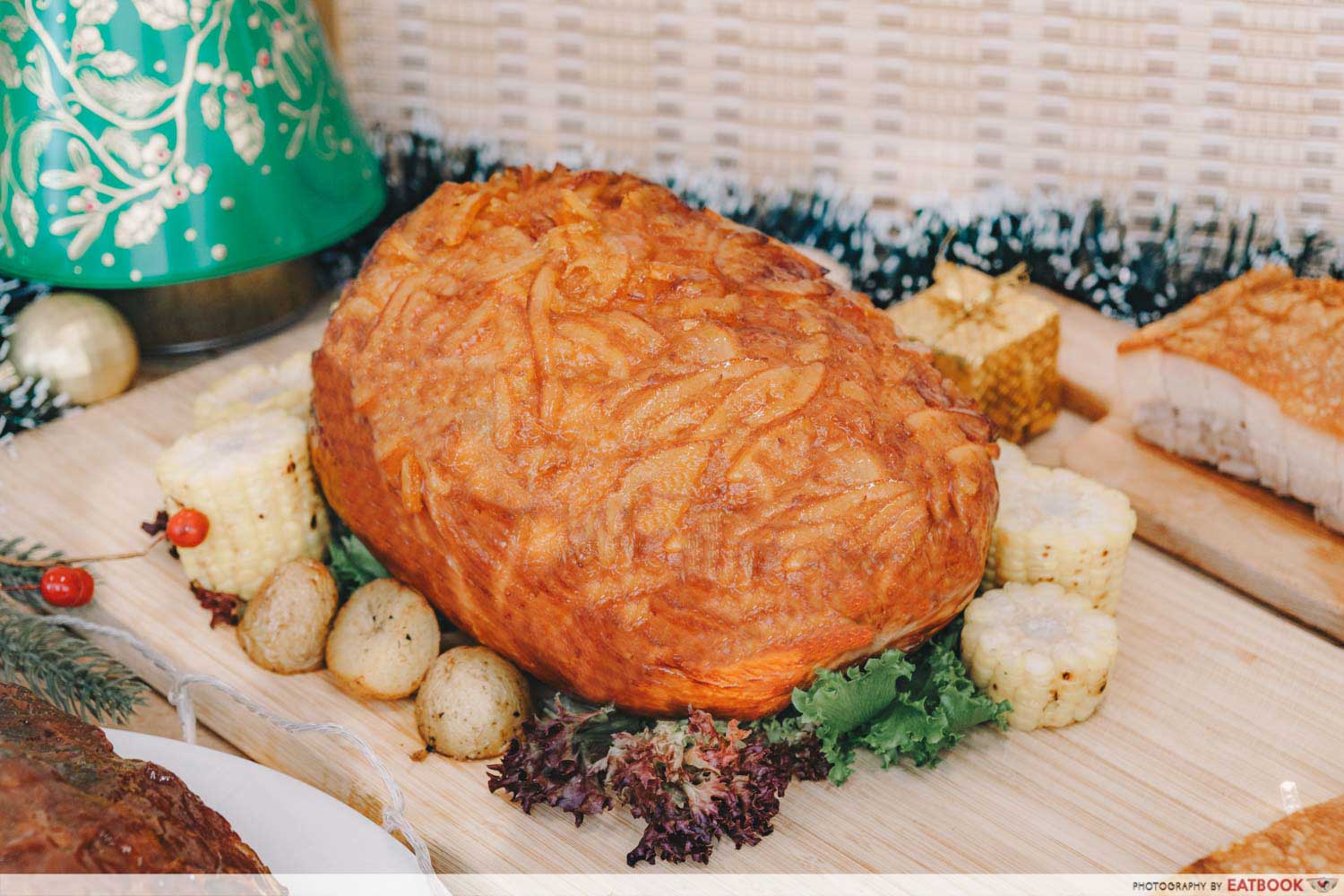 One of the massive centrepieces was the Orange Marmalade Glazed Whole Gammon Ham ($149.90+). This gargantuan hock of ham is meant to feed six to eight people, but not even that many hungry diners could polish it off.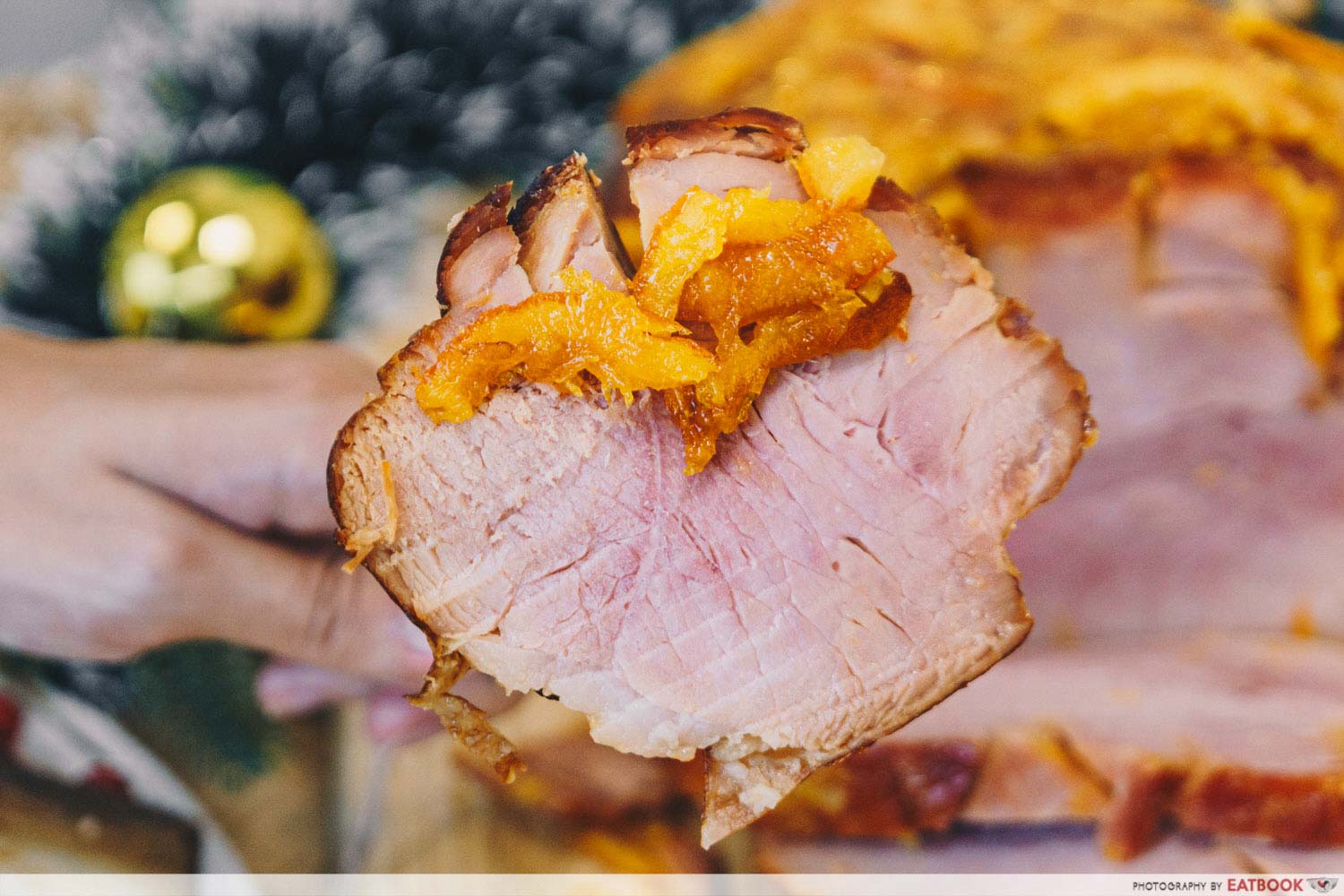 The sweet orange marmalade gave the ham a boost of candied, sugary flavour. The taste of the orange jam itself wasnt too strong when eating the meat by itself, but the subtle sweetness was present throughout the whole cut of succulent pink meat. I particularly liked the firm and sweet crust.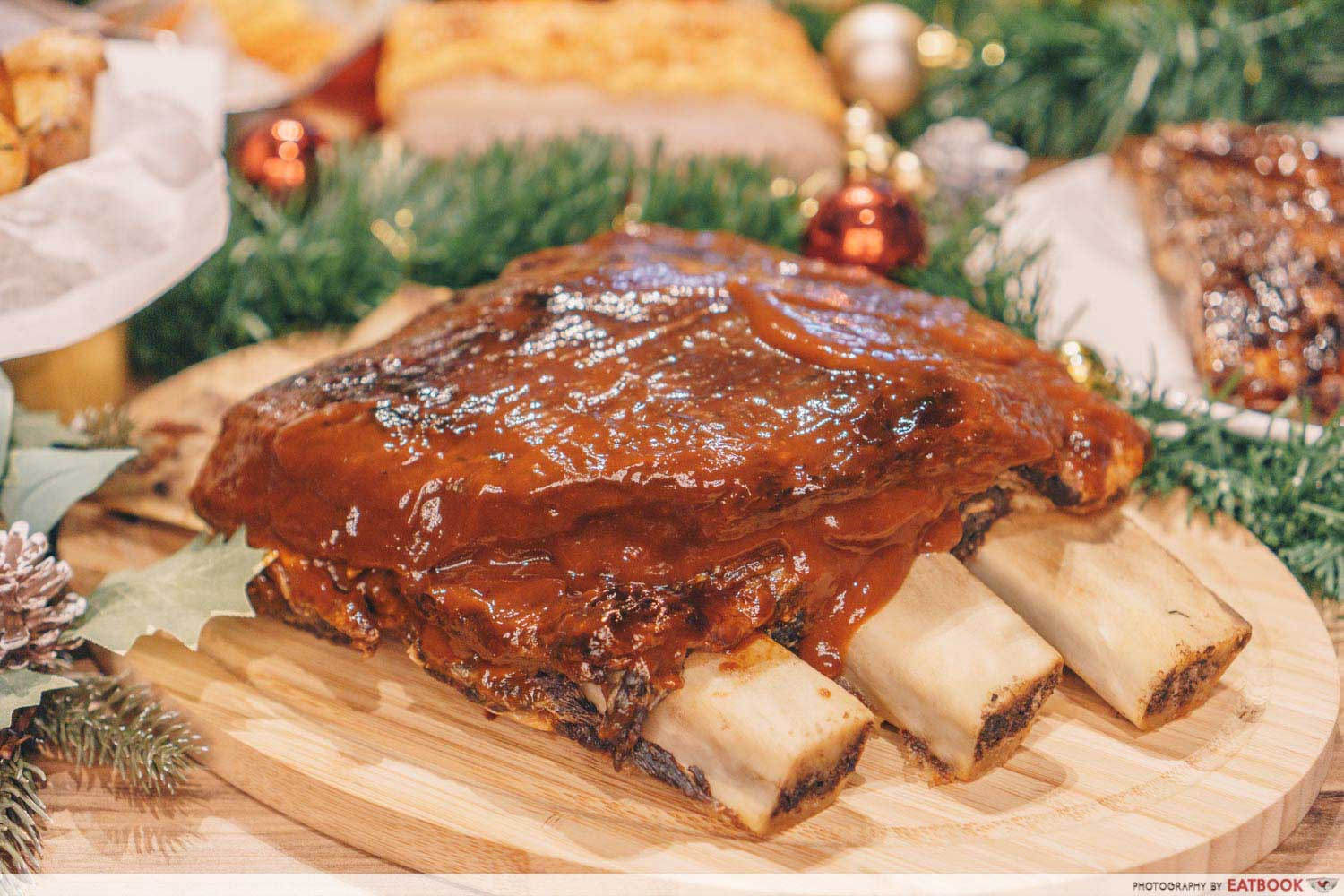 The second superstar of this meal was the Barbeque Beef Rib ($179.90+), glazed with a layer of Morganfields signature hickory BBQ sauce. The ribs serve four to six, and none of us could keep our hands off the tempting display of meat. This huge rack of fork-tender beef was practically falling off the bone.
Every bit of meat was melt-in-your-mouth tender. It was delightfully juicy and had a smoky sweetness from the thick barbecue sauce. While it was served with Dijon mustard, demi-glace sauce and hickory BBQ, I felt that only the original hickory bbq sauce did the ribs justice. Any other sauce would overpower or wash away the taste of the meat, while the barbecue sauce complemented it and helped bring the juices out even further.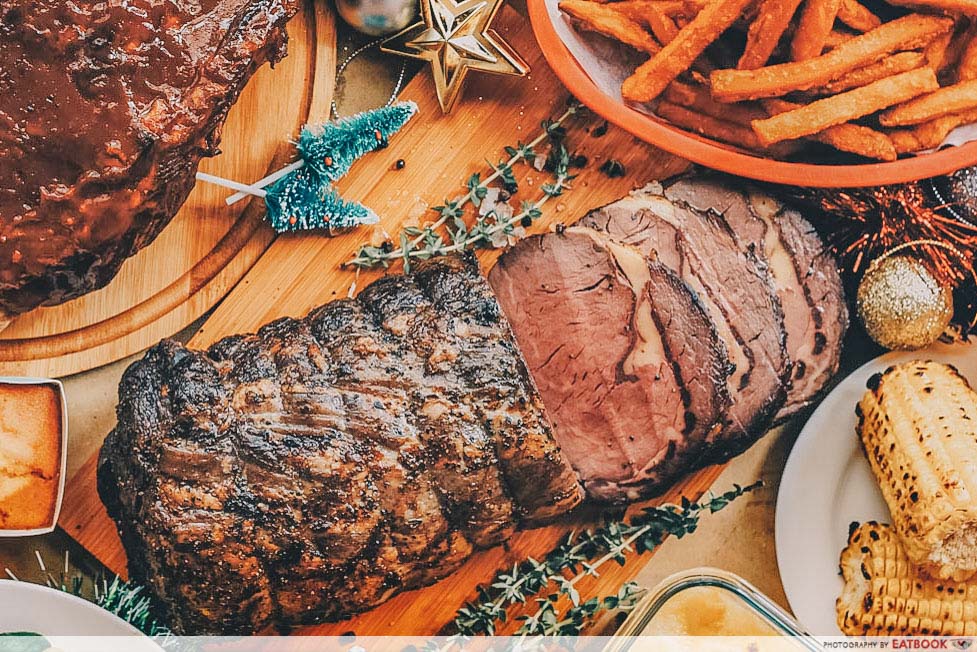 The Roast Beef Ribeye ($189.90+) is my Christmas time favourite. I can never get enough of these delicious roasts at any dinner. This chunk of mouth-watering beef came medium-rare and was accompanied by a serving of robustly flavoured demi-glace sauce.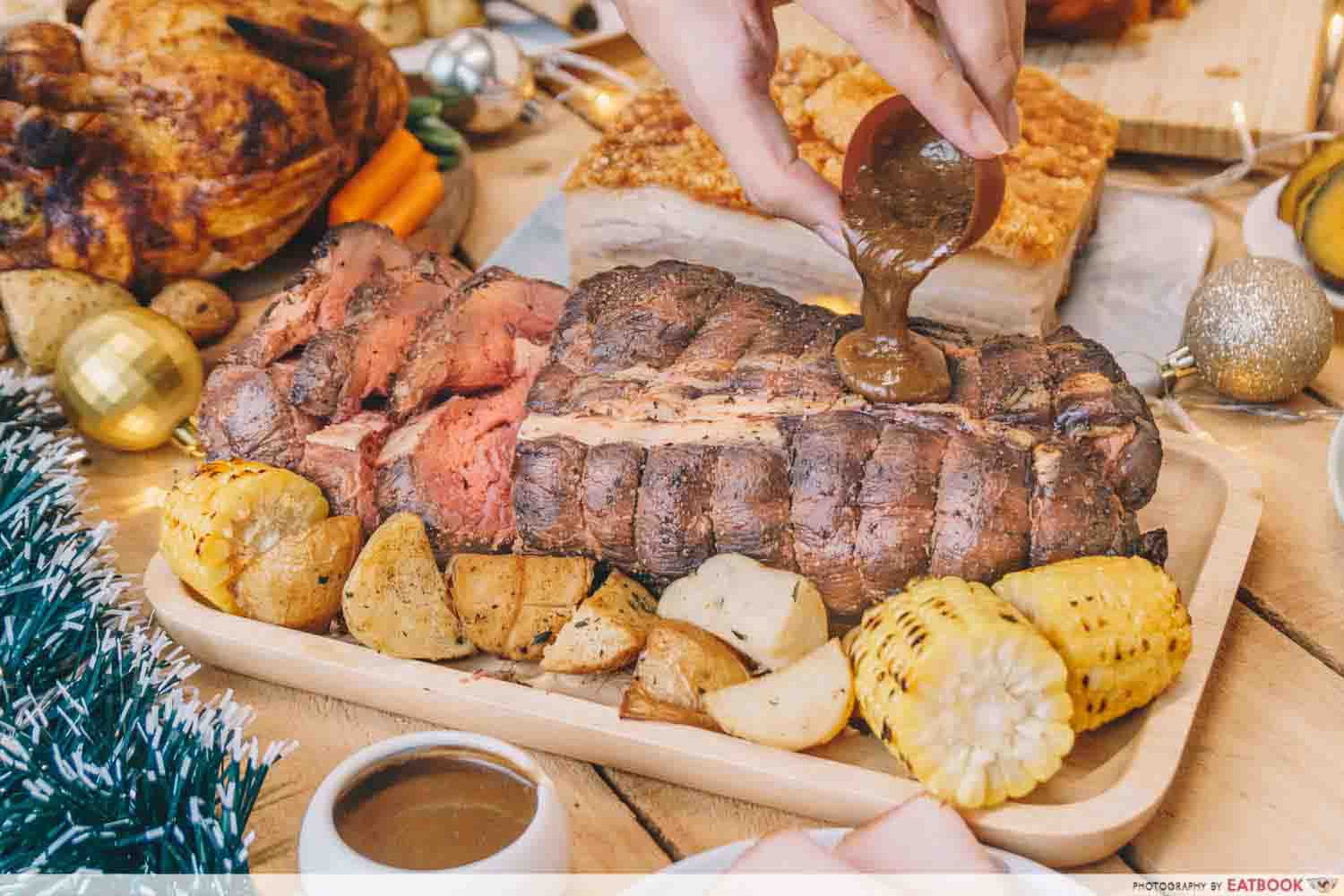 The whole ribeye cut came with a charred crust and a sprinkling of coarse pepper. The meat was tender, juicy and savoury, with kicks of spices from the seasoning. Adding the rich sauce enhanced the flavour of the roast beef even further.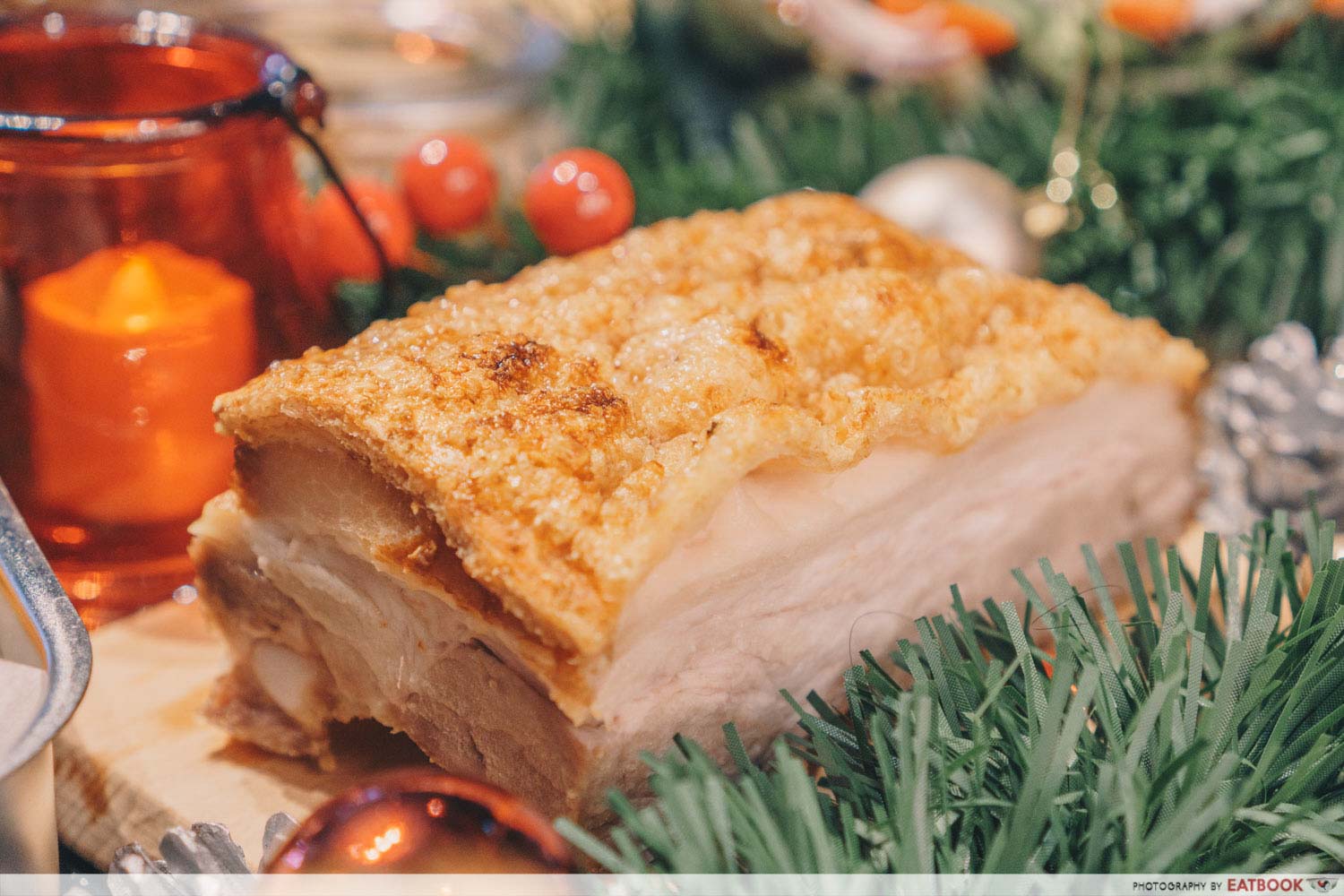 The Crackling Pork Roast ($39.90+ for 1kg, 68.90+ for 2kg) is a huge slab of pork belly topped with golden-brown crispy skin. The skin crunched loudly as we cut into it. It was crispy and satisfying to chew on, with the juicy meat right beneath it. Before cooking, the pork belly weighed a whopping 2kg. You can order the 1kg version for 39.90+.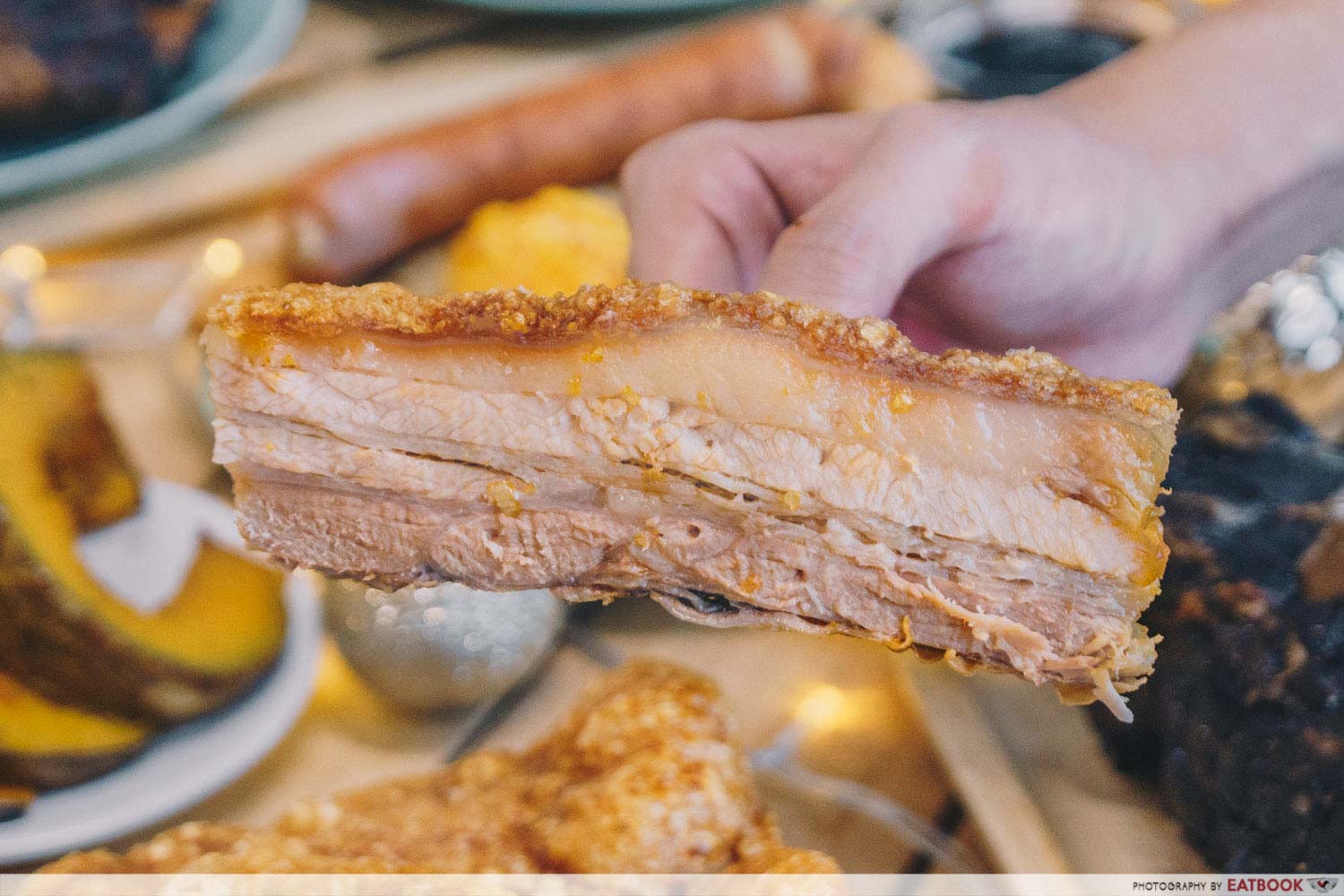 The succulent pork was tender and flavourful, with the crispy skin pairing beautifully with juice-packed meat. There was a layer of rich fat beneath the crackling, that gave a certain sweetness to the delicious dish.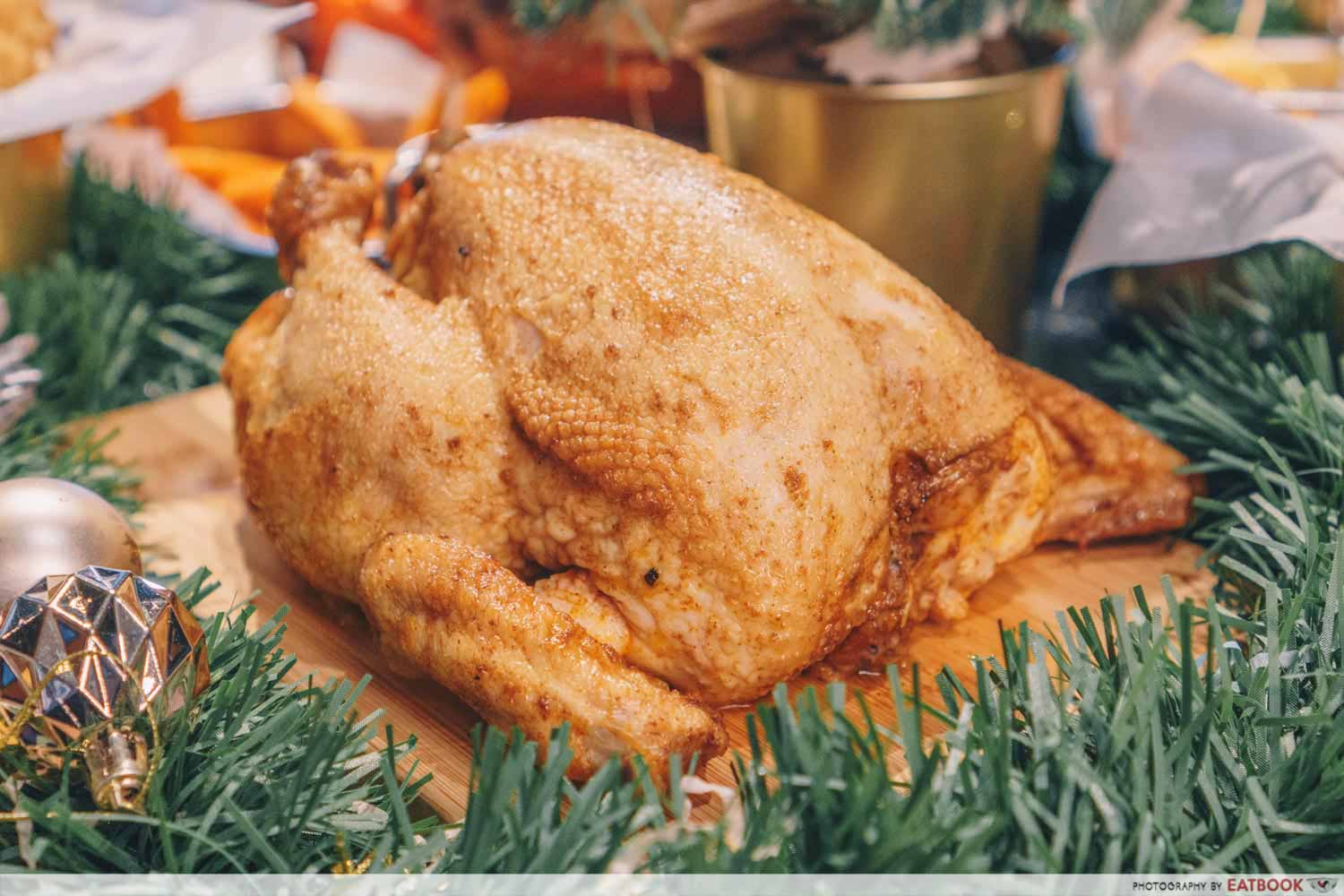 While a chicken isnt as grand as a Christmas turkey, Morganfields Roast Chicken ($35.90+) still managed to impress. The skin was crispy and charred. Cutting into it revealed that it was stuffed with rosemary, onions, celery, and carrots. It was a pleasant surprise, and the veggies went well with the juicy and plump meat.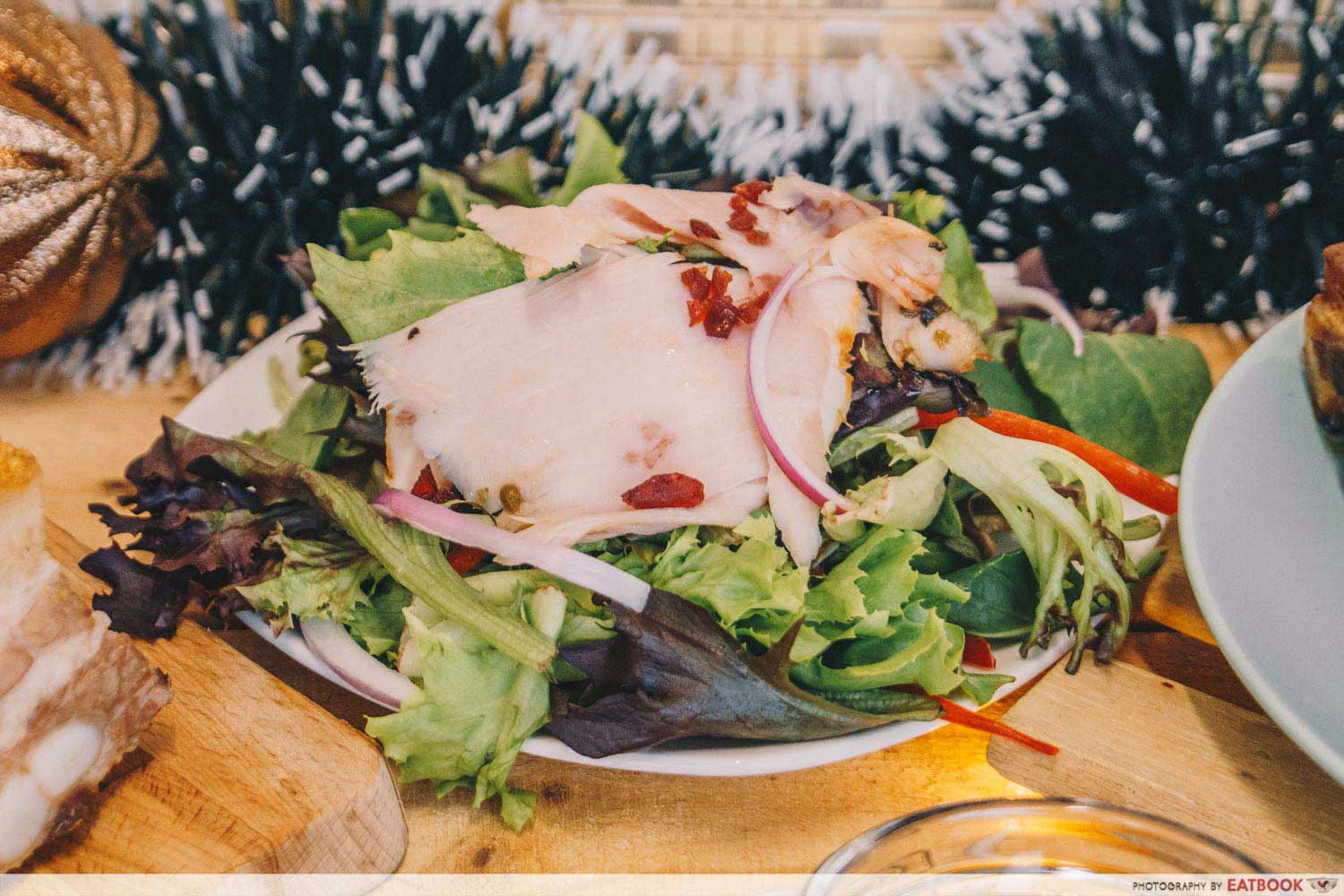 For side dishes, theres the Cranberry Ham Salad ($15.90+), served with slices of gammon ham and sweet cranberry dressing. The tart fruit and refreshing greens provided a burst of freshness among the other rich and juicy meat.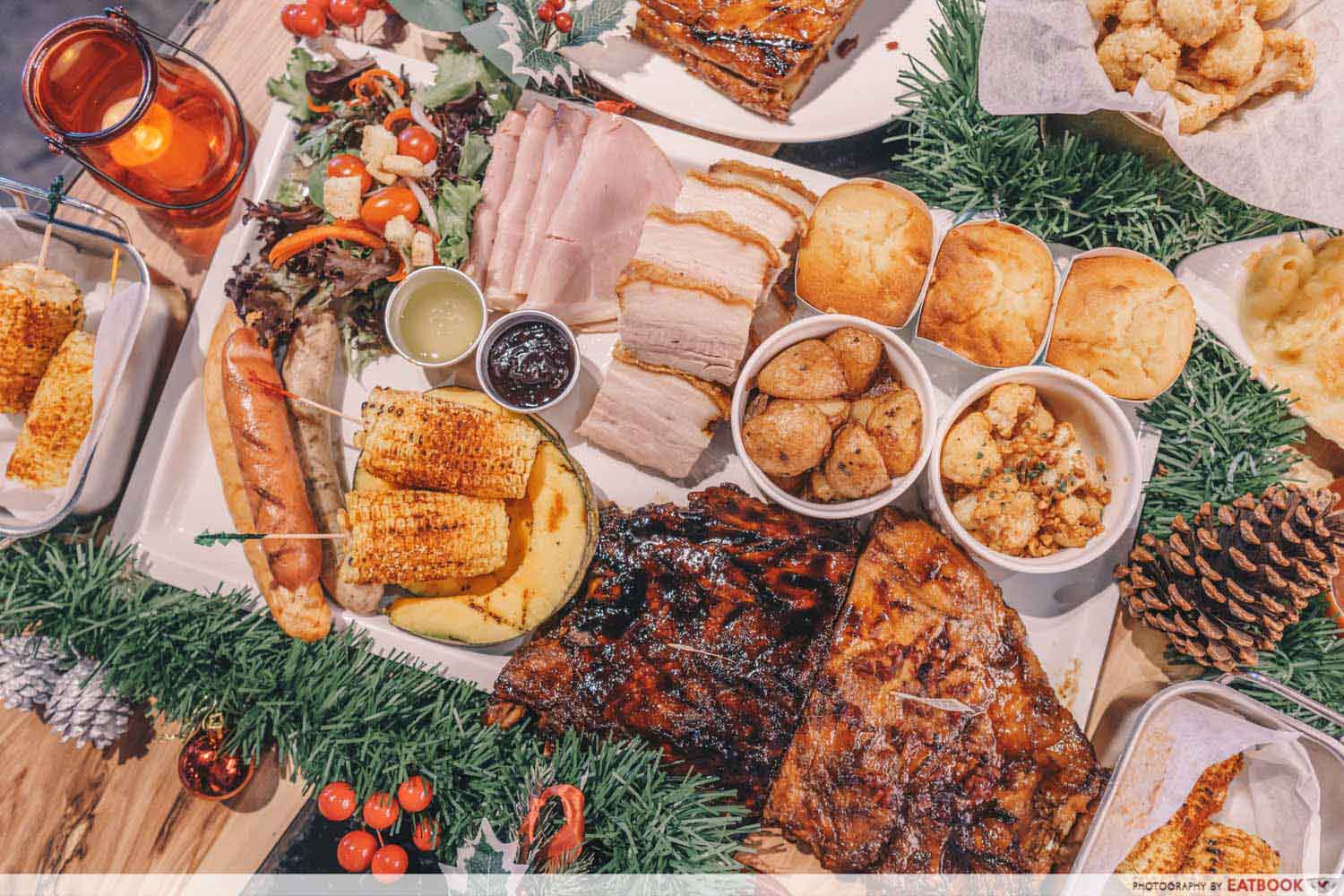 Morganfields Morgans Christmas Feast ($149.90+) gives you a little bit of everything. The set comes with a full spread of sides such as the sweet and crumbly Corn Bread, three juicy Assorted Sausages, succulent slices of Gammon Ham, and various vegetables such as the Mexican Grilled Corn and Roasted Cauliflower.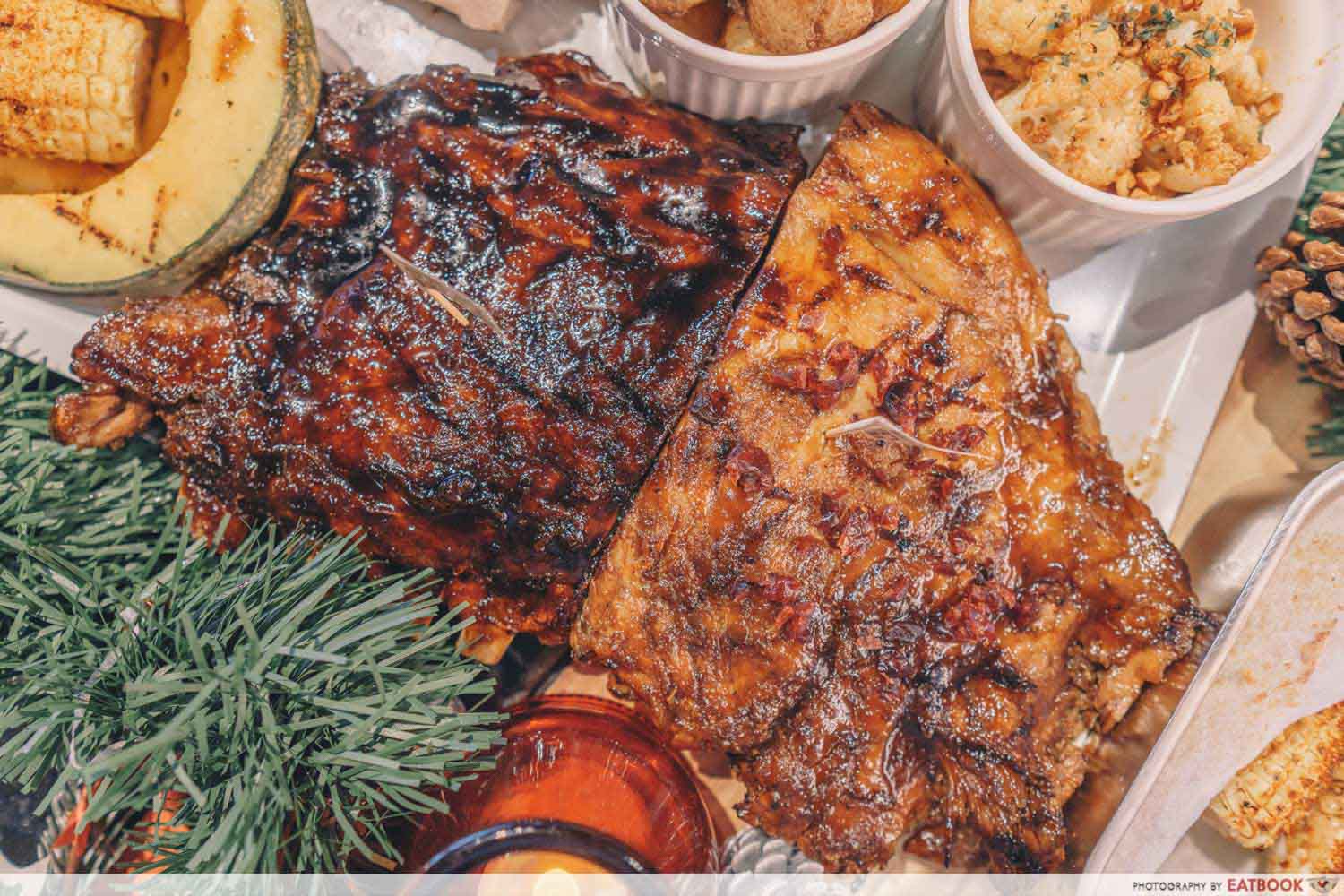 Topping off the Christmas Feast set are Morganfields signature Sticky Bones: Hazelnut Sticky Bones and Cranberry Sticky Bones. Both sets of slow-cooked pork ribs were smoky and tender. They nearly fell off the bone as we handled them.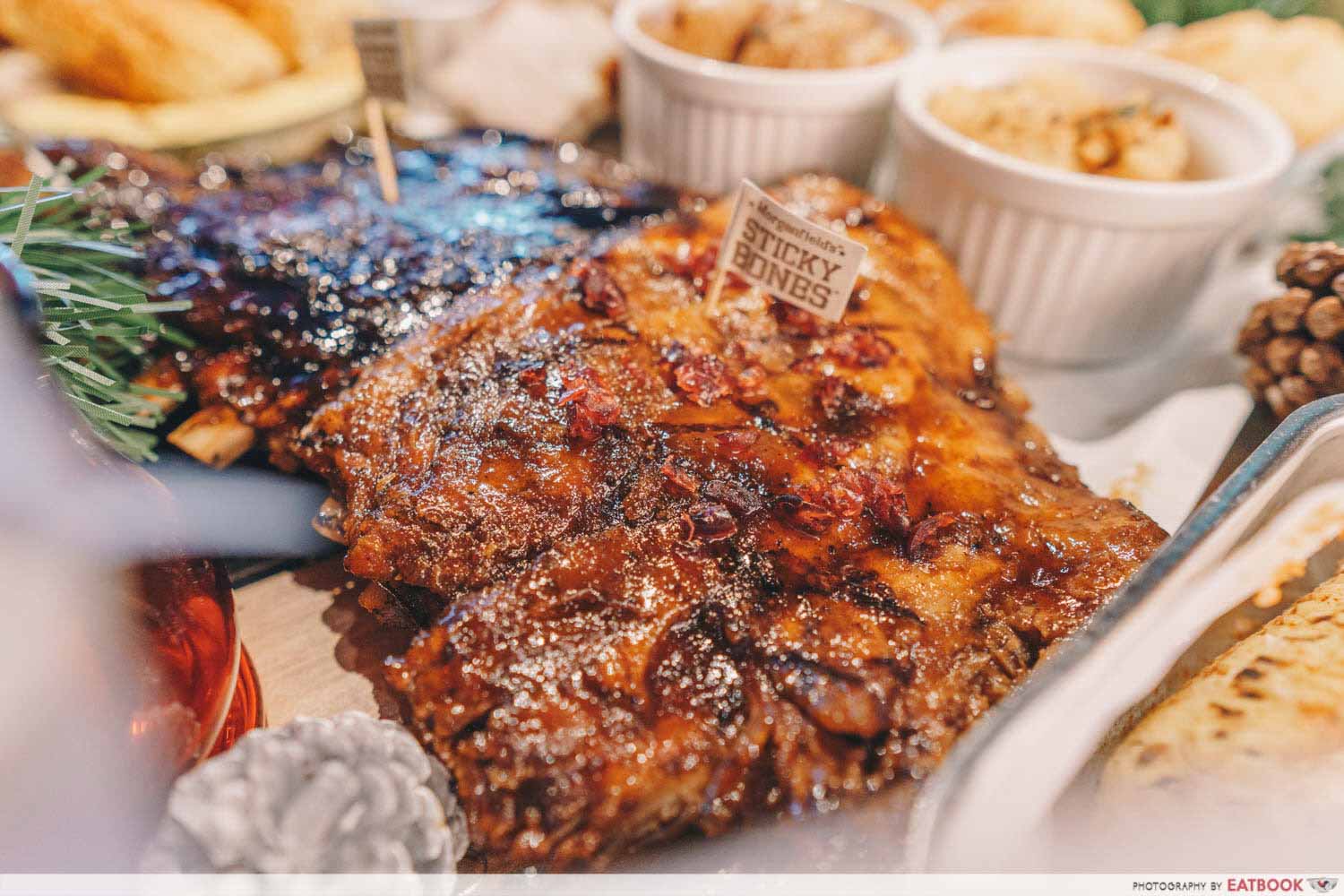 The cranberry ribs were distinctly sweeter, with bits of dried cranberries topping it. The caramelised glaze had a strong taste that went well with the juicy meat. I enjoyed it best without any additional condiments, since the tart flavour of the fruity glaze was already strong enough.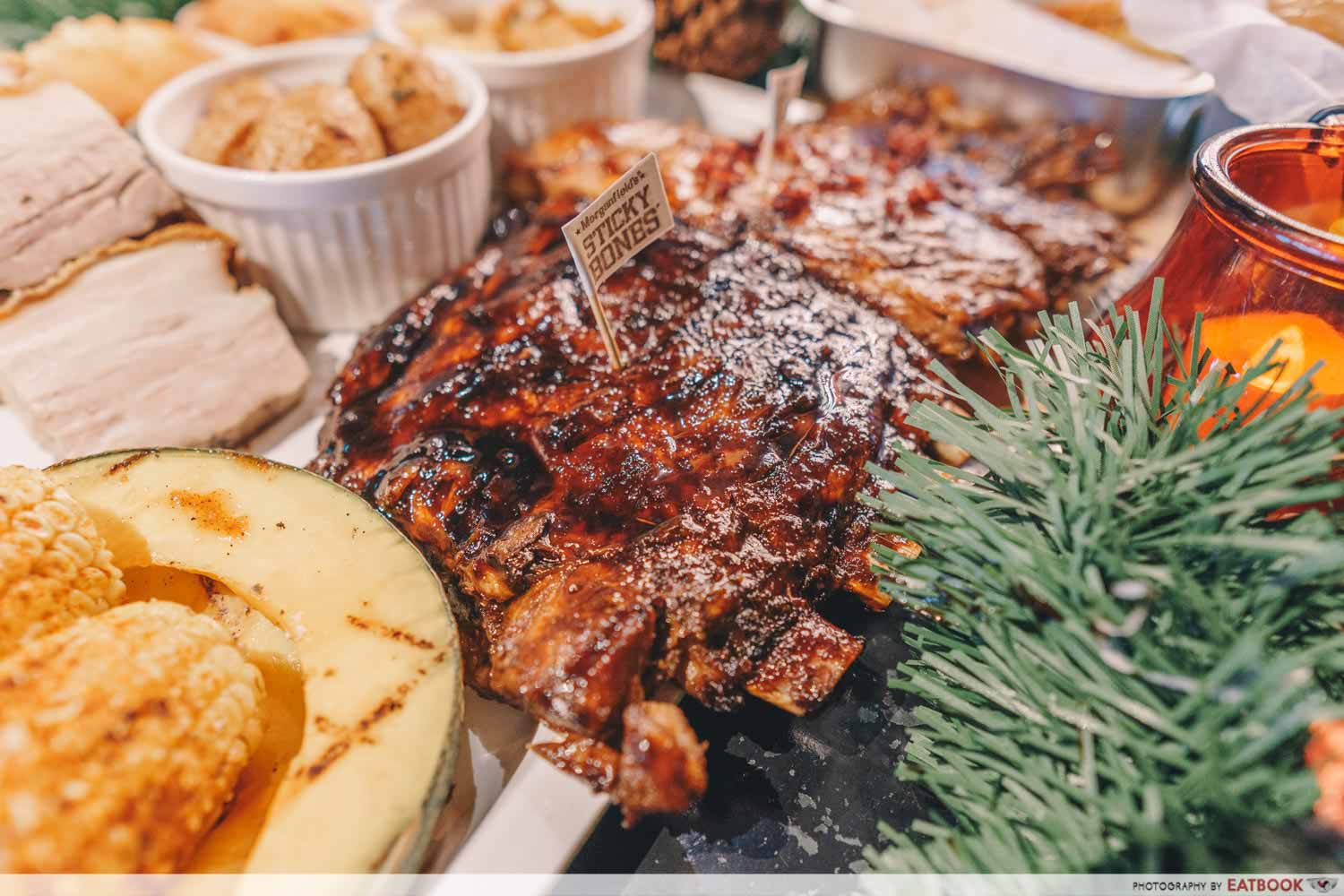 On the other hand, the hazelnut flavour had a smokier, less intense taste. It paired well with the various sauces and had a nutty, earthy fragrance. I preferred it over the cranberry ribs. This half-slab of spare ribs was savoury, tender, and packed with natural flavour.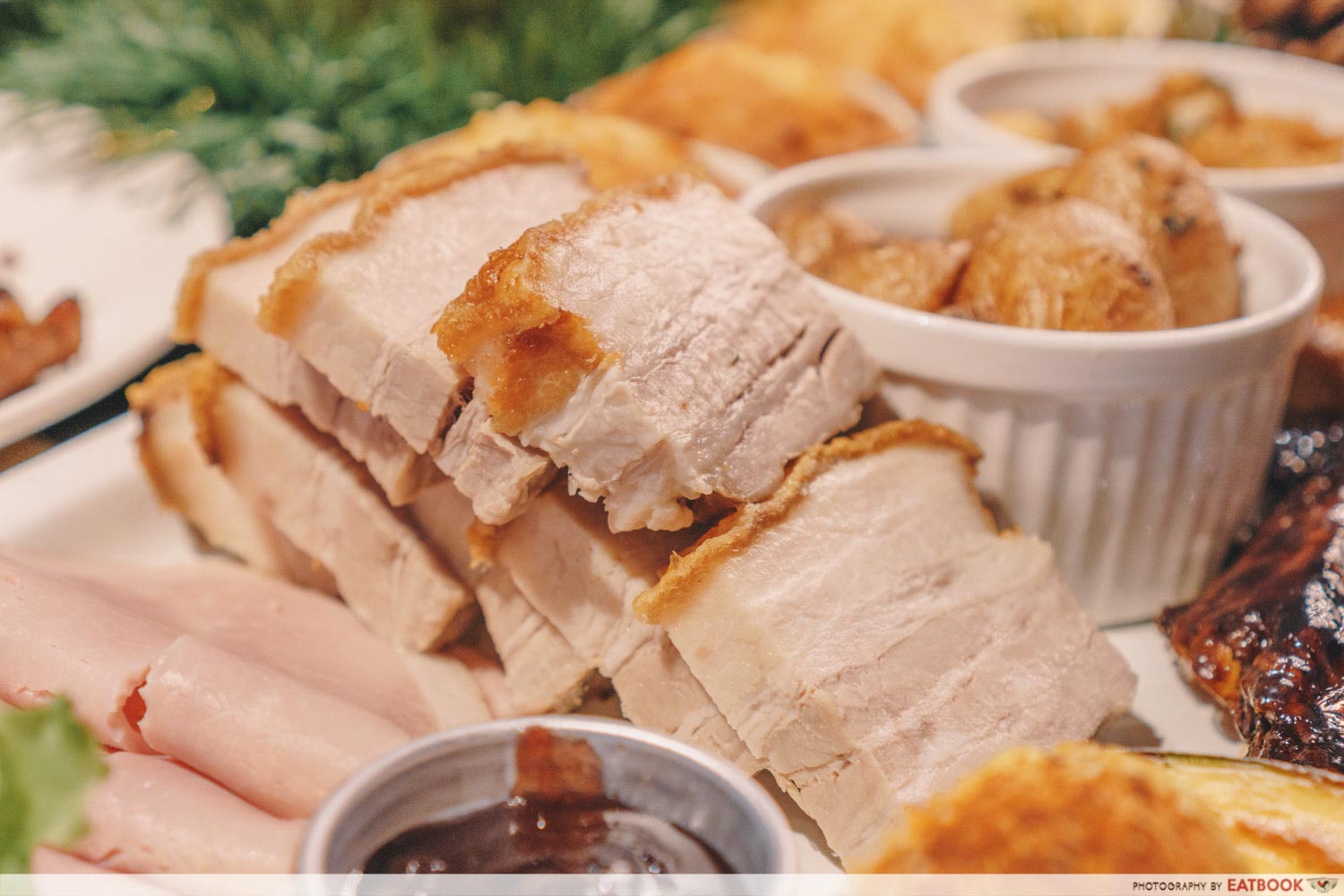 The Christmas feast also comes with a smaller portion of Crackling Pork Roast, providing yet another serving of delicious meat and crispy skin to feast on. Overall, the whole set was well worth it, with tons of delicious sides, flavourful veggies, and generous servings of meat.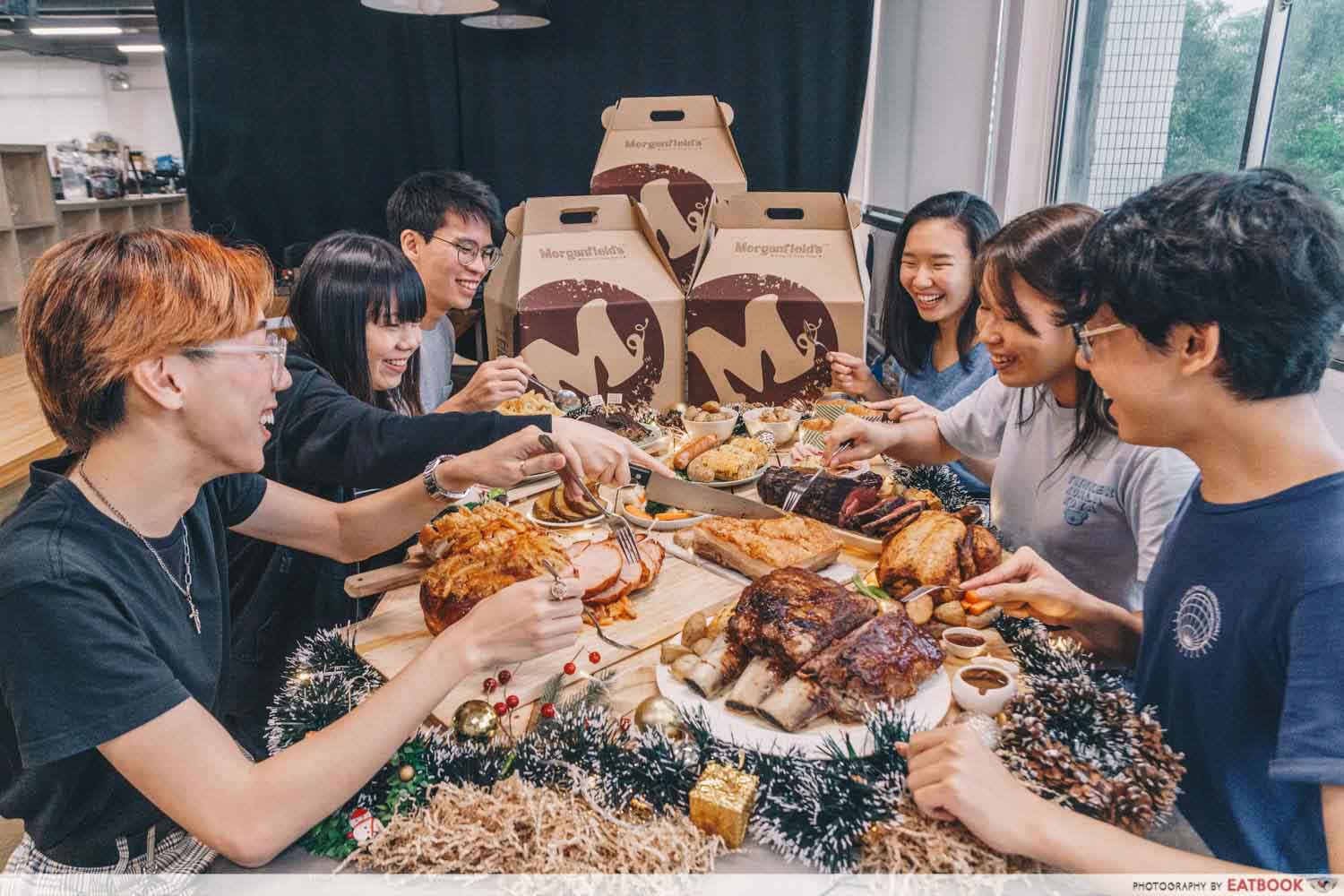 Morganfields Christmas spread can easily feed a whole family, or a big group of hungry colleagues at an office party. The signature ribs were absolutely delicious, and we couldnt get enough of the tender meat. If you order before 8 December 2019, you can get a 10% early bird discount by using the code EATBOOK10. This discount is only available for delivery and takeaway.
Do be sure to order at least three days in advance so you can get your food in time for that office Christmas party! However, if youre planning a last-minute get-together, you can still order the Morgans Christmas Feast, which only requires a pre-order lead time of four hours.
Its difficult to prepare ribs at home, and its a time-consuming process. Not everyone has the time to spend hours cooking up such a huge Christmas dinner. You can skip the long wait and stressful prep, and treat the whole family to a platter of fork-tender ribs!
Photos taken by Nadia Loewito and John Lery Villanueva.
This post is brought to you by Morganfields.
The post Morganfields Christmas Delivery: Get The Famous Hazelnut Sticky Ribs, Marmalade Ham & More At 10% Off appeared first on EatBook.sg.