Shortly after boarding a small Six Senses speedboat at Kadhdhoo airport in the Maldives, I was given a cloth bag. Then I was invited to remove my shoes and join Six Senses Laamu's barefoot culture. It wasn't until I arrived back at the airport four days later that I took my shoes out of the bag and put them back on my feet.
IHG Rewards announced its acquisition of Six Senses back in February 2019, and on March 31, 2021, IHG Rewards fully integrated the first Six Senses properties for earning, redeeming and elite perks. As an IHG Rewards loyalist, I was curious about the Six Senses brand, so I planned a trip to the Maldives to try out Six Senses Laamu and four other resorts.
Each resort I visited in the Maldives had its strengths. But, as I've told friends and family about my trip, I've realized that Six Senses was my favorite. In short, Six Senses Laamu was an entirely different experience than anything I've experienced before. It is the first luxury hotel I've visited that I believe is truly worth the cost to stay. Here's a look at my visit.
Get the latest points, miles and travel news by signing up for TPG's free daily newsletter.
Booking
Some Six Senses resorts, including Six Senses Laamu, are fully integrated into the IHG Rewards program. So I recommend booking directly through IHG Rewards to maximize earnings and get elite perks.
Six Senses Laamu has a minimum stay requirement on some dates. You can check the minimum stay requirements for your dates by visiting the Six Senses Laamu website, clicking on "Book now" in the upper right corner and hovering over your date if it's in blue.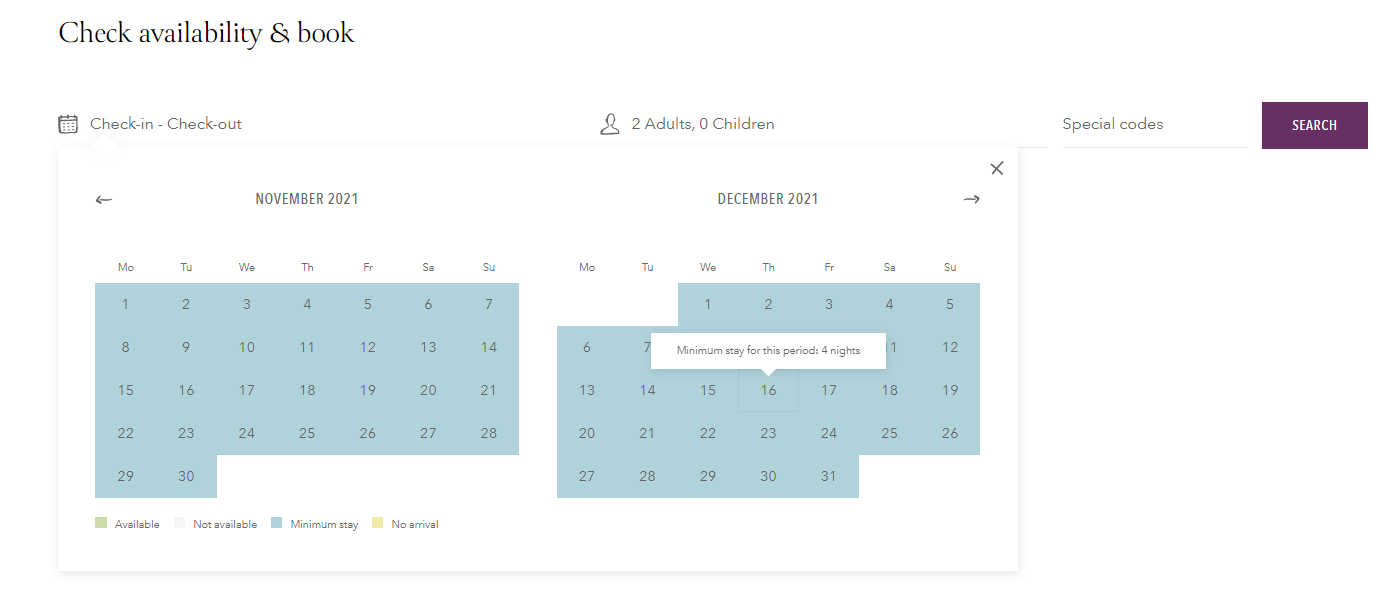 A four-night minimum was in place during my stay. I paid $3,388.60, including taxes and fees, for a four-night summer flex rate that provided 40% off the best flexible rate, a half-board upgrade, a 30-minute signature massage and 30% off domestic flights to reach the resort.
On top of this rate, I paid $508.82 per person, including taxes and fees for the mandatory domestic flight and speedboat round-trip transfer.
Due to IHG Rewards Spire Elite status, my husband and I earned 78,666 IHG points (since only some of the total cost was qualifying). We put the room rate and transfer fees on his new Chase Sapphire Preferred® Card to work toward the minimum spending requirements for the sign-up bonus. As such, we earned 2x points for a total of 8,812 Ultimate Rewards points.
I recommend using a card that earns bonus points on general travel or hotels for these costs instead of an IHG Rewards credit card. After all, at least one reader didn't earn bonus points when using the IHG® Rewards Club Premier Credit Card since Chase doesn't consider Six Senses an eligible IHG brand for earning. Try using a card like the Chase Sapphire Reserve® or Ink Business Preferred® Credit Card to maximize earnings on your stay.
You can redeem IHG points and even get a fourth-night-free reward if you have the IHG Rewards Club Premier Credit Card. IHG Rewards uses dynamic award pricing and award availability at Six Senses Laamu is sometimes sparse. But, if you find availability, award nights typically cost 100,000 points per night.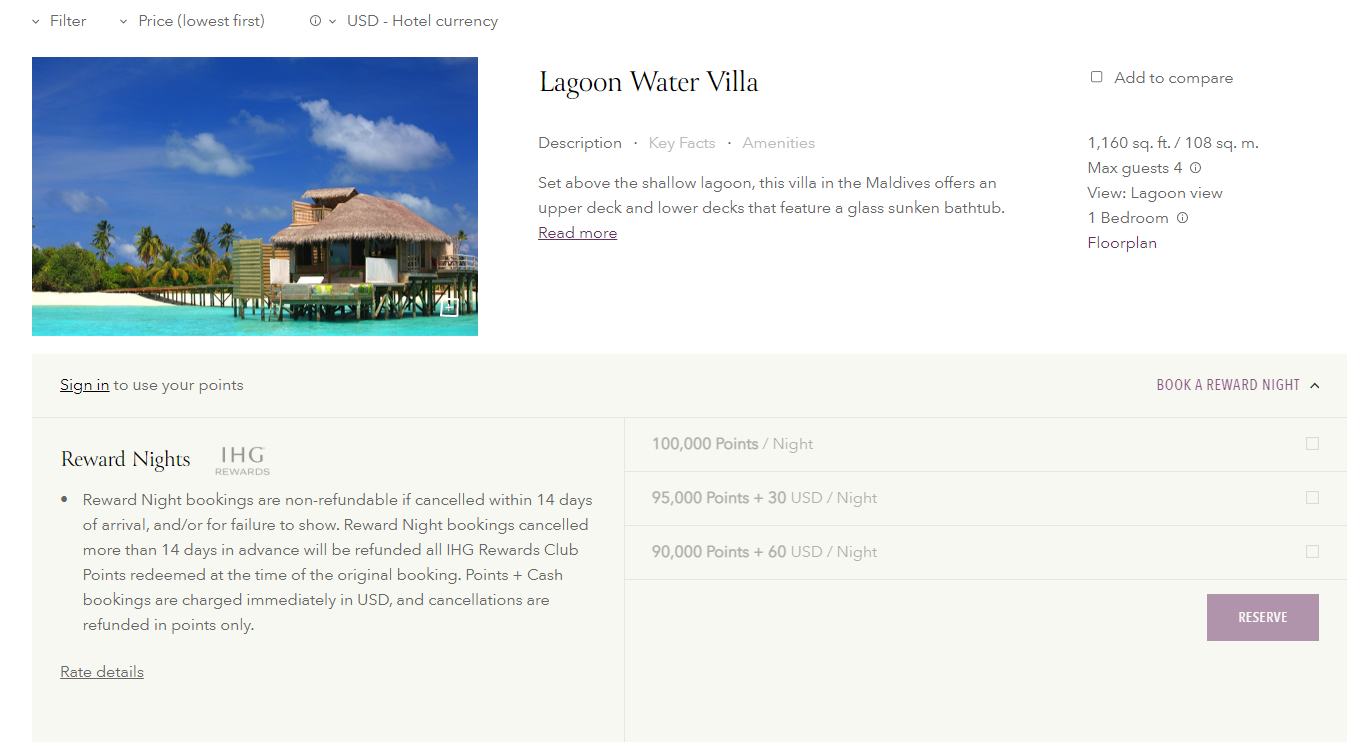 Based on TPG's valuation of IHG points at 0.5 cents per point, redeeming points can provide excellent value. You can typically buy IHG points for as little as 0.5 cents per point during several buy points sales each year.
You can also book stays at Six Senses Laamu through American Express Fine Hotels + Resorts. However, the rates available through IHG often provide much better value.
Finally, if you're going to visit Six Senses Laamu and plan to book through IHG or an authorized travel agent, it's worth paying $200 for a one-year InterContinental Ambassador membership. As an InterContinental Ambassador, you'll get the following perks at Six Senses hotels that participate in IHG Rewards:
Complimentary breakfast for two daily in the main restaurant.
A signature amenity of a complimentary 50-minute massage for two or one local experience.
Complimentary one category room upgrade (subject to availability and excluding select room types).
Extended check-out of 4 p.m. and early check-in of 10 a.m. (both subject to availability).
Complimentary internet access.
Wellness platter welcome amenity.
Related: You'll want to save your IHG points for these Six Senses properties
Location
Six Senses Laamu is located south of Male on the Laamu atoll in the Maldives. Multiple staff members maintained that Six Senses Laamu is the only resort on the Laamu atoll. However, a search of my own uncovered several small resorts and guest houses within the Laamu atoll. Nonetheless, Laamu is undoubtedly far from packed with tourists.
To get to Six Senses Laamu, you'll need to take a domestic flight from Male to Kadhdhoo and then a speedboat to the resort. It's mandatory to let Six Senses arrange the domestic flight and speedboat for you; all you have to do is provide full names, arrival information and departure information to the resort when asked.
Related: Loyal to paradise: All you need to know about the Maldives' Border Miles program
Domestic flight and speedboat
A Six Senses representative met us at the arrivals area of Male's Velana International Airport (MLE). He was still waiting for other guests, so he passed us off to another Six Senses representative who walked with us the short distance to the domestic terminal.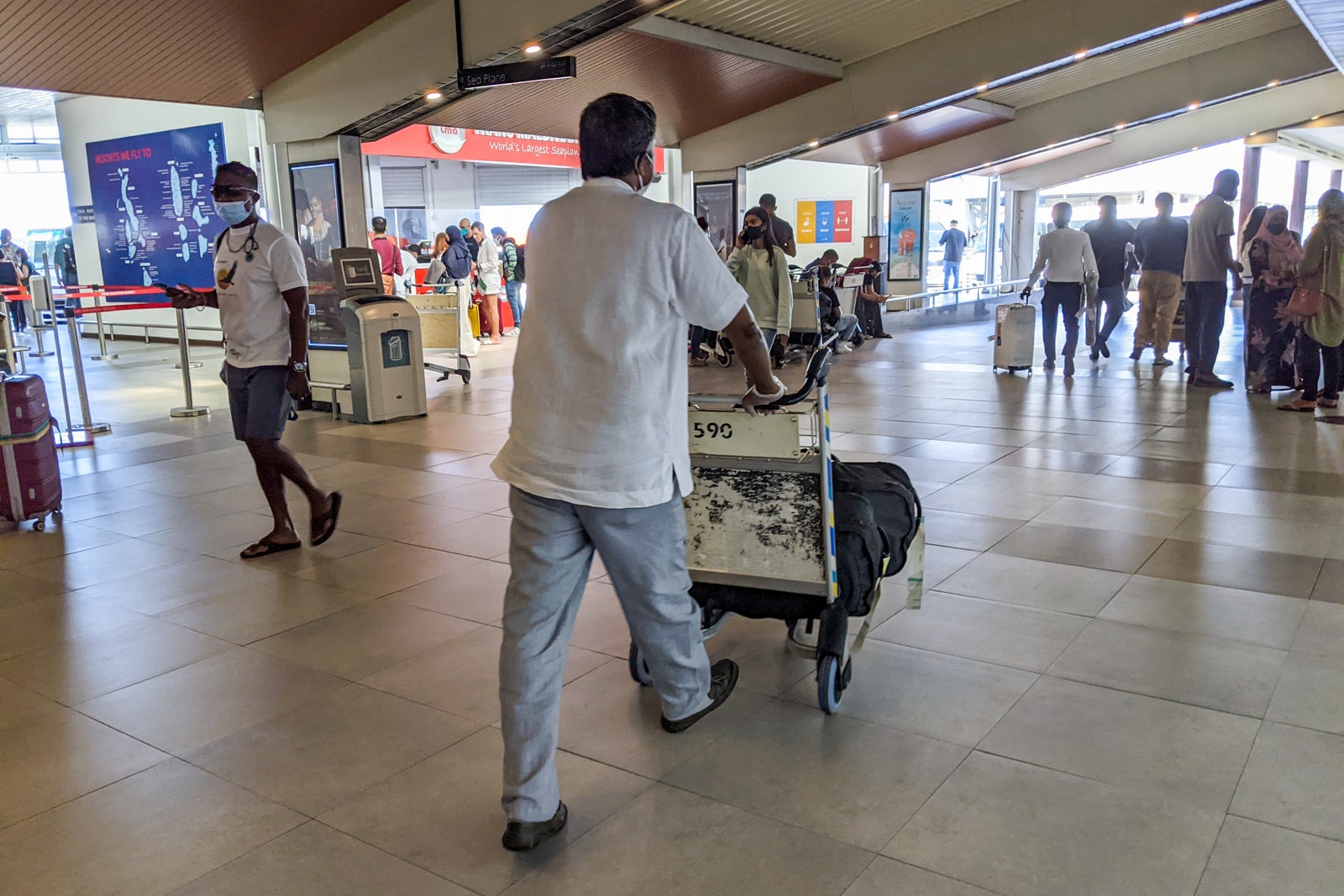 We arrived before check-in opened for our domestic flight, so the Six Senses representative stored our bags and told us to relax in the Moonimaa Lounge outside security. This lounge was crowded, but we snagged two seats at the side of the room. The lounge didn't have any noticeable power outlets, but did offer a selection of light foods and non-alcoholic drinks.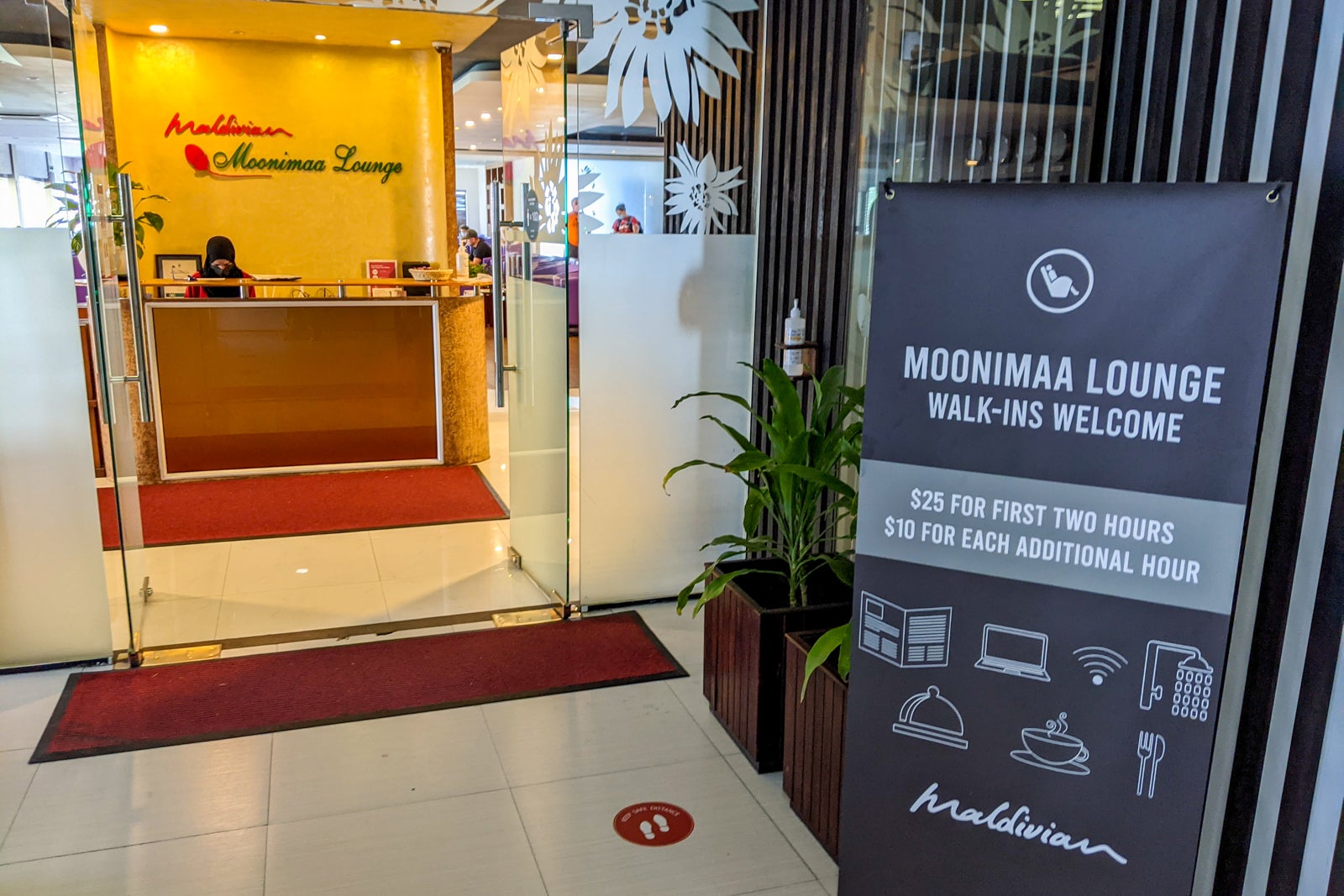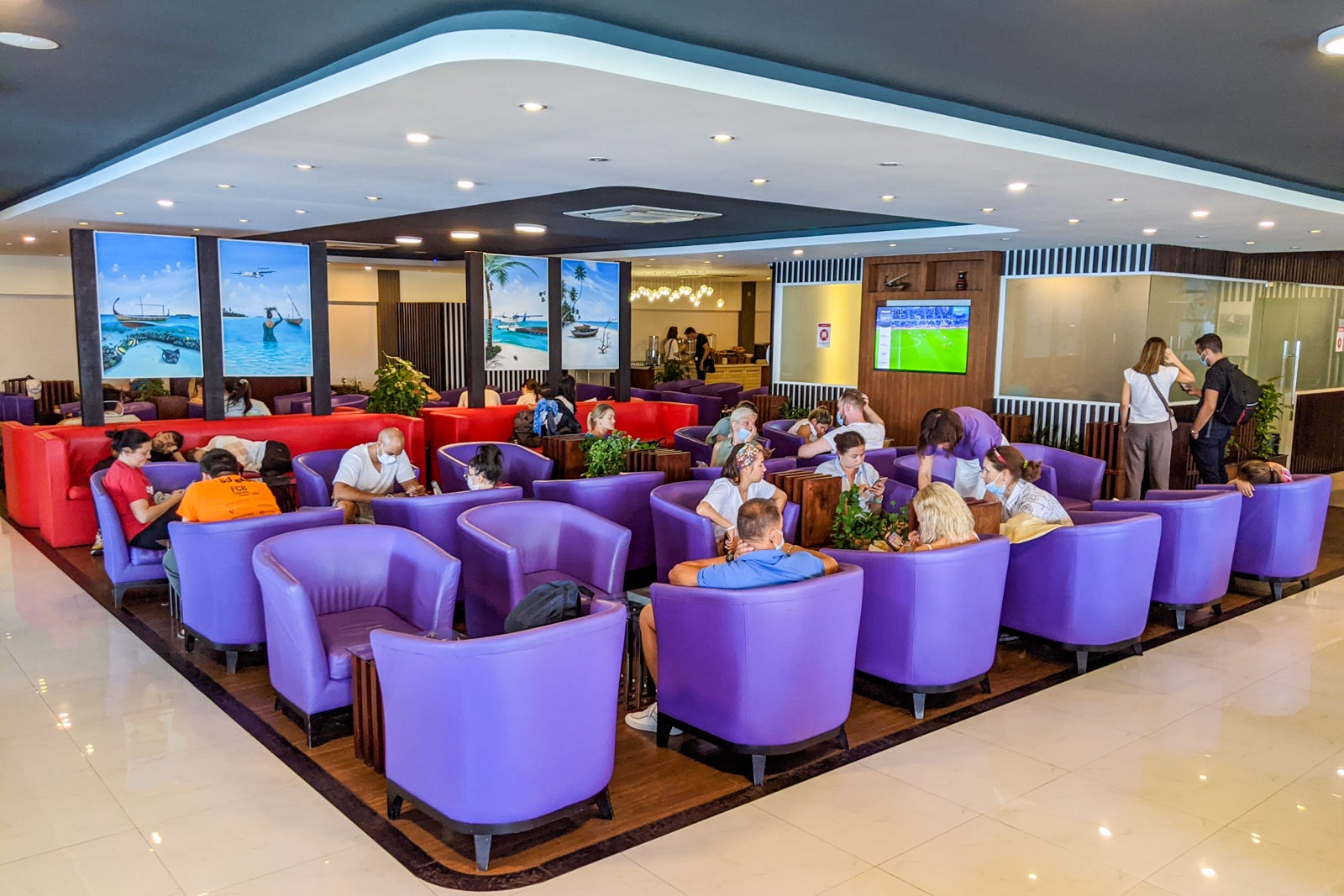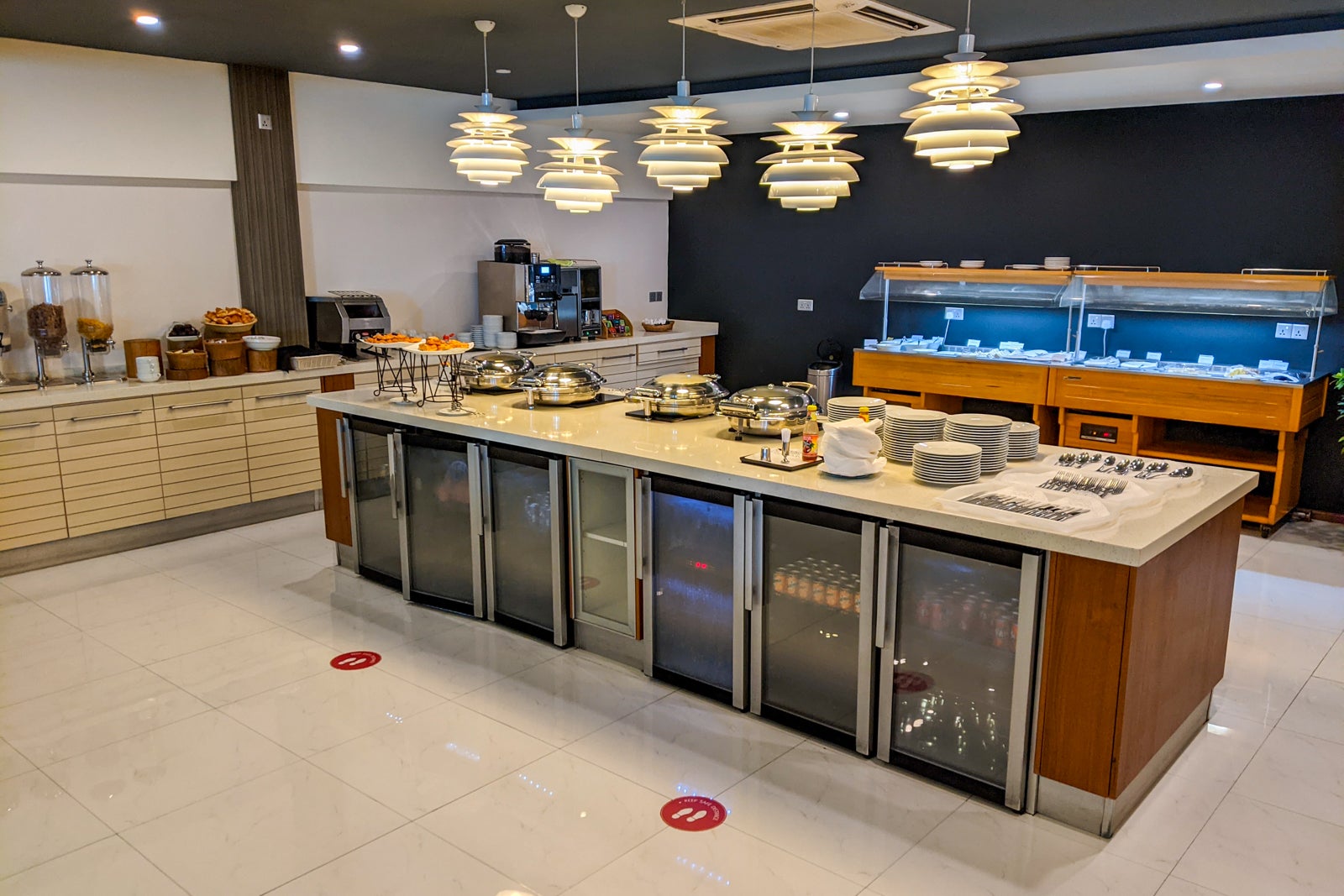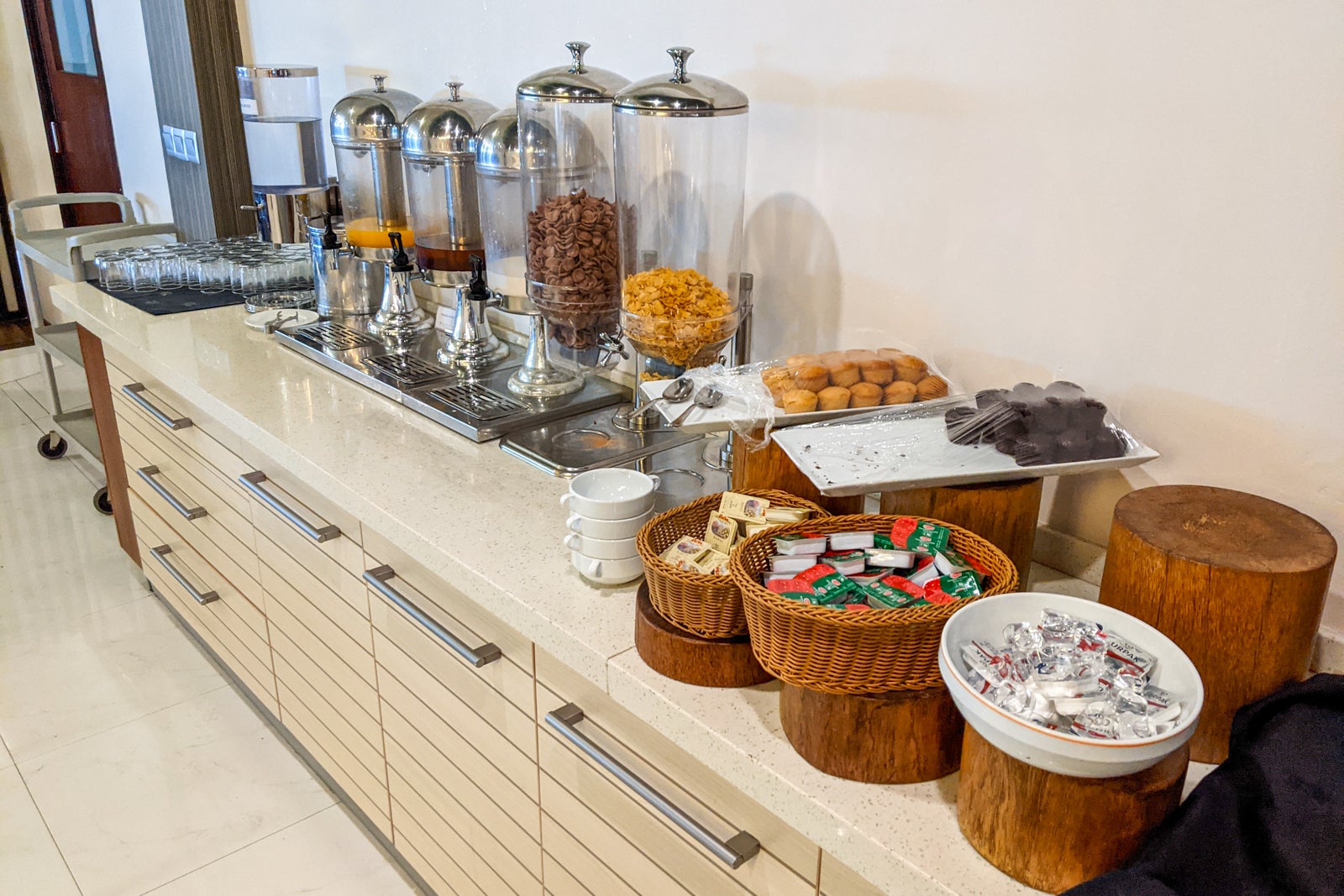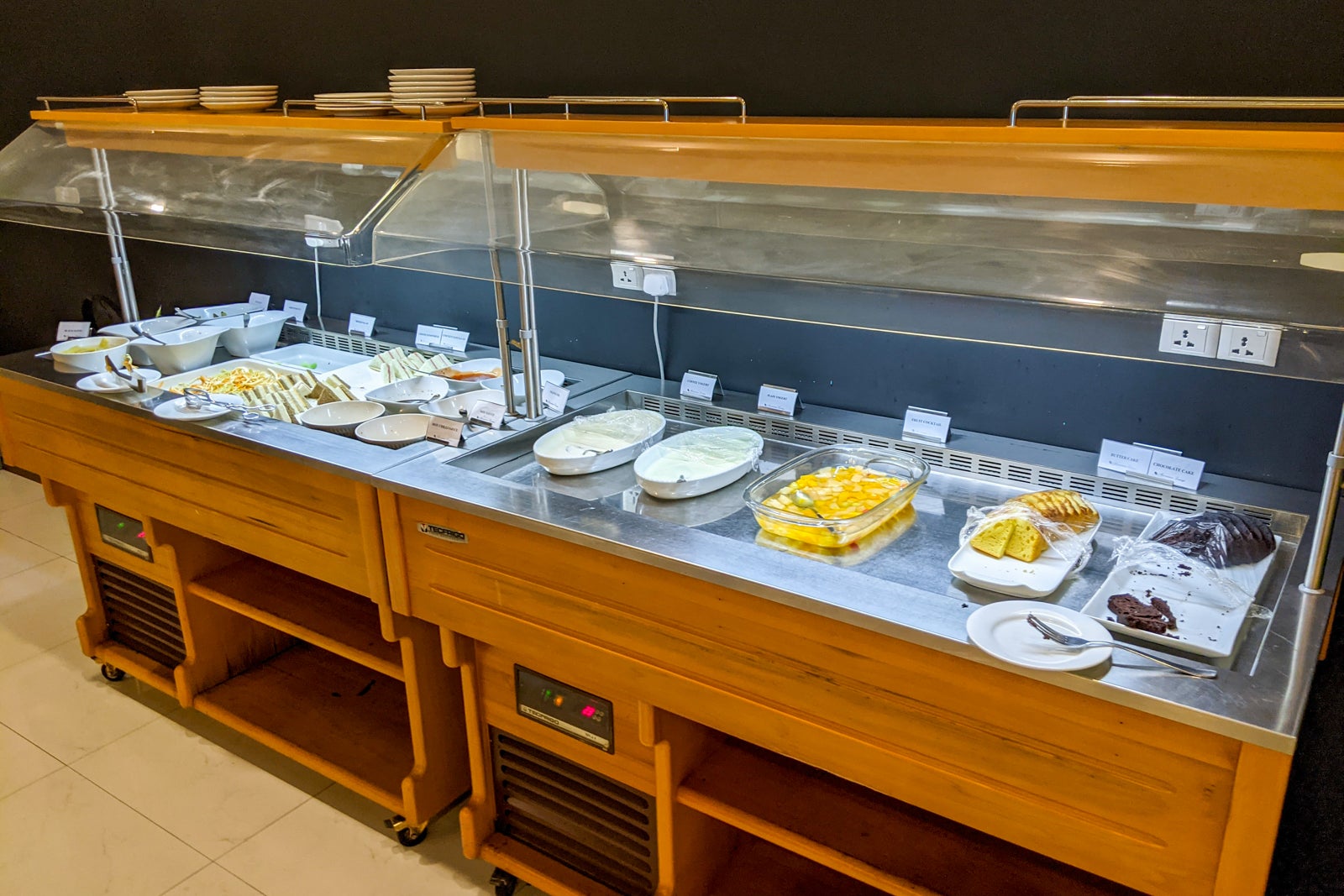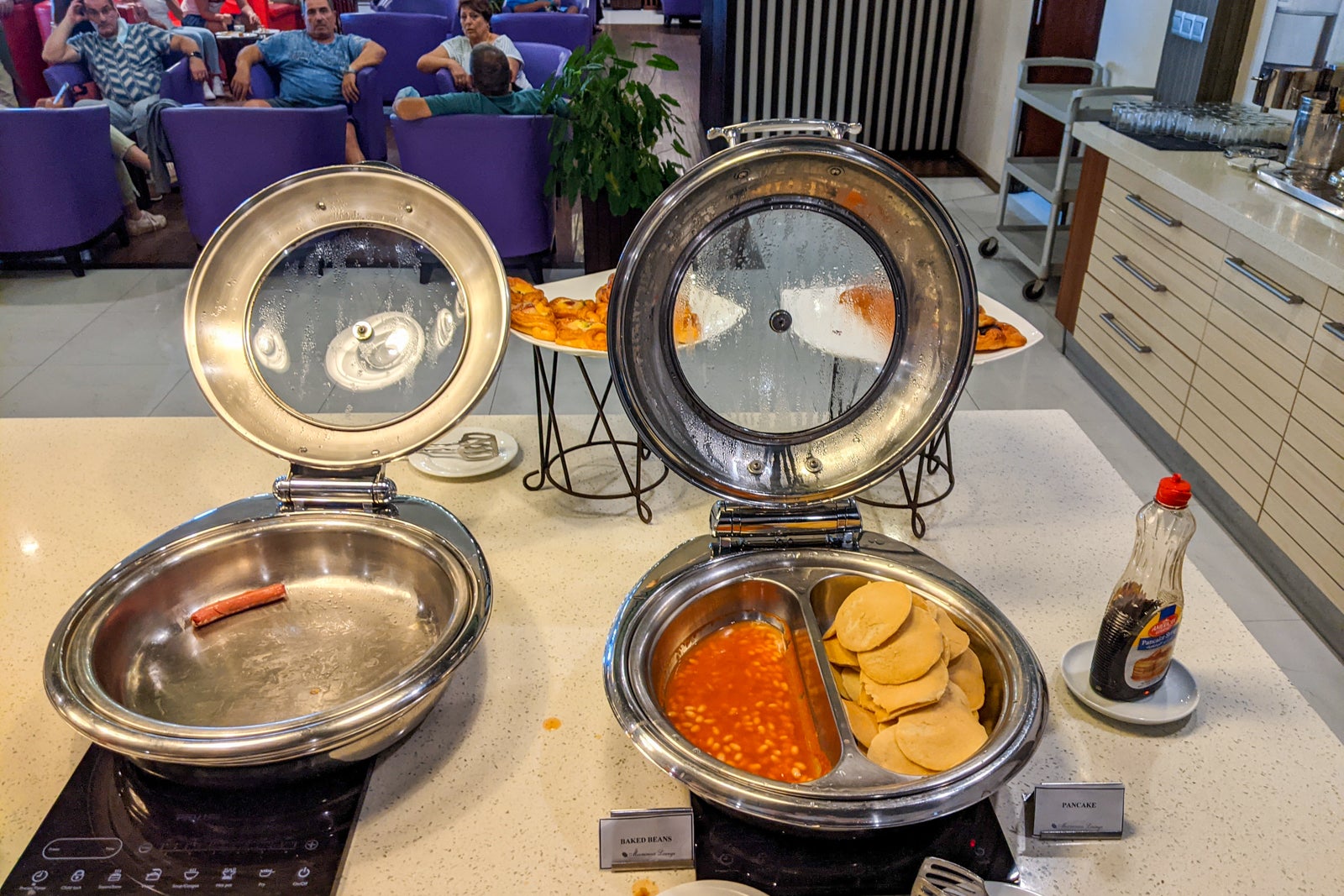 Once check-in opened for our domestic flight, a Six Senses representative came to collect our passports. He handled check-in for us and returned about an hour later with boarding passes and baggage tags. Then he returned about 30 minutes later to tell us our flight was boarding. We left the lounge and went downstairs where we went through a slow security check and reached our gate during final boarding.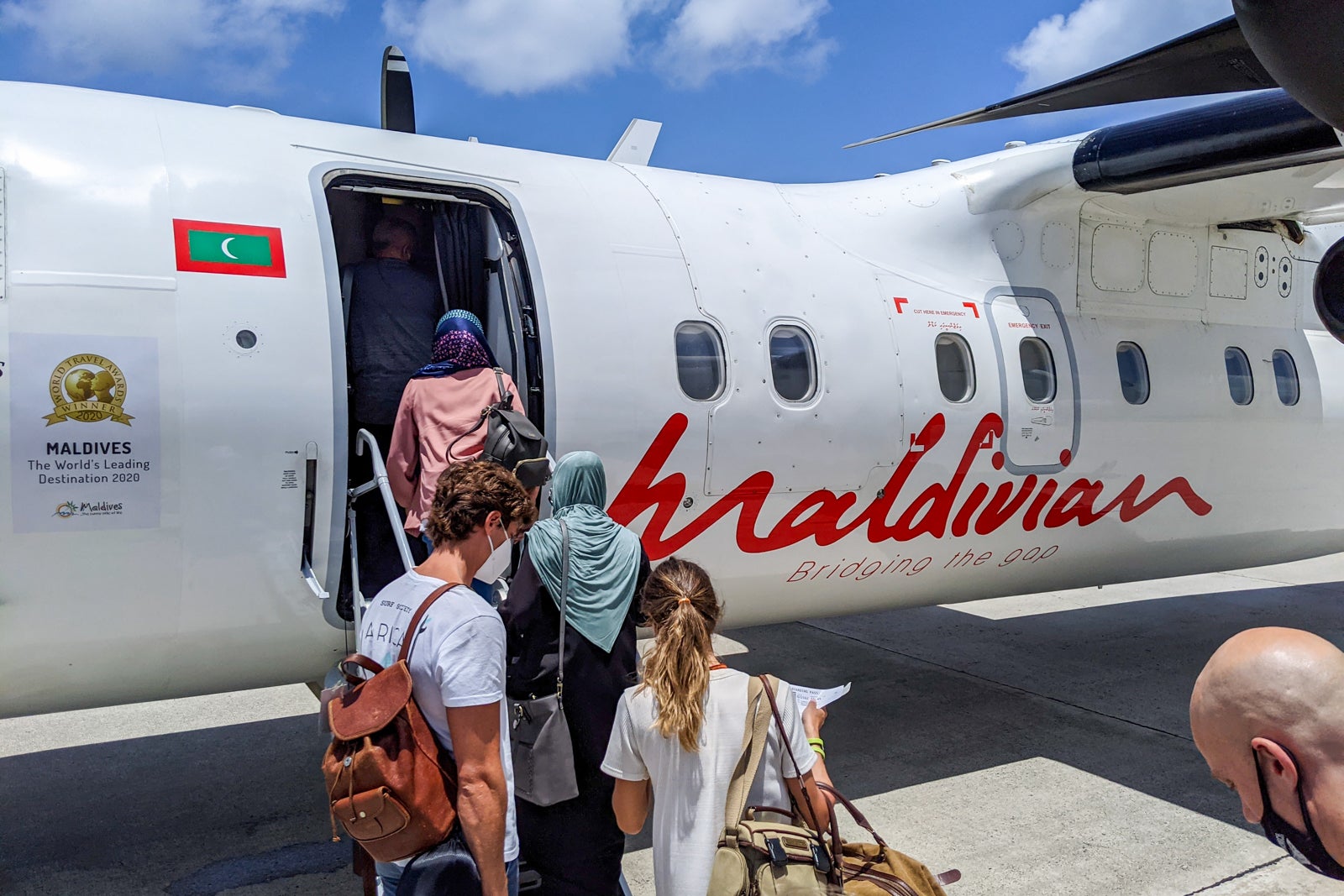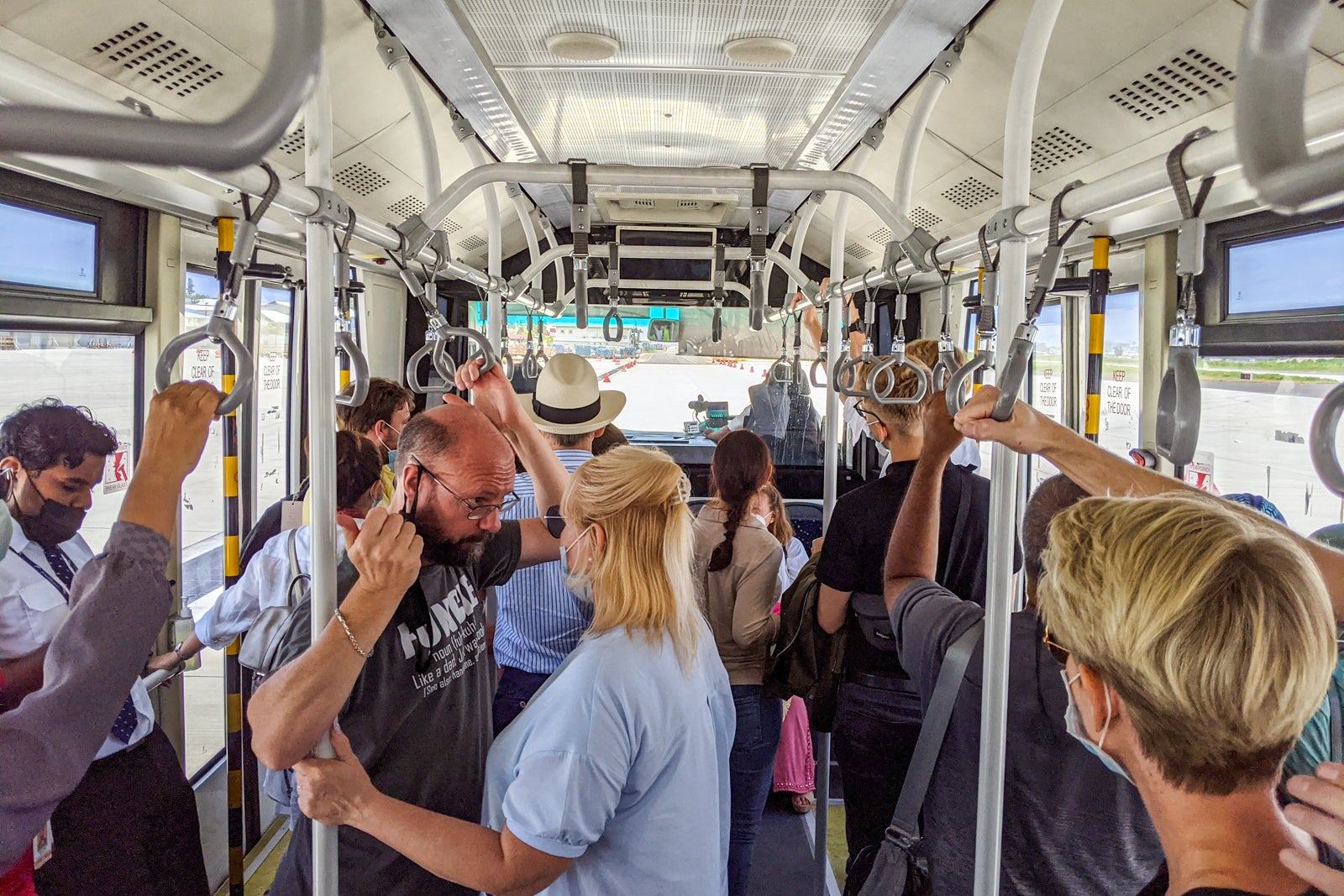 Once we were on board the Dash 8 aircraft, some mechanical issues delayed our departure by about an hour. Although our flight was just 44 minutes, there was a beverage service of juices and water.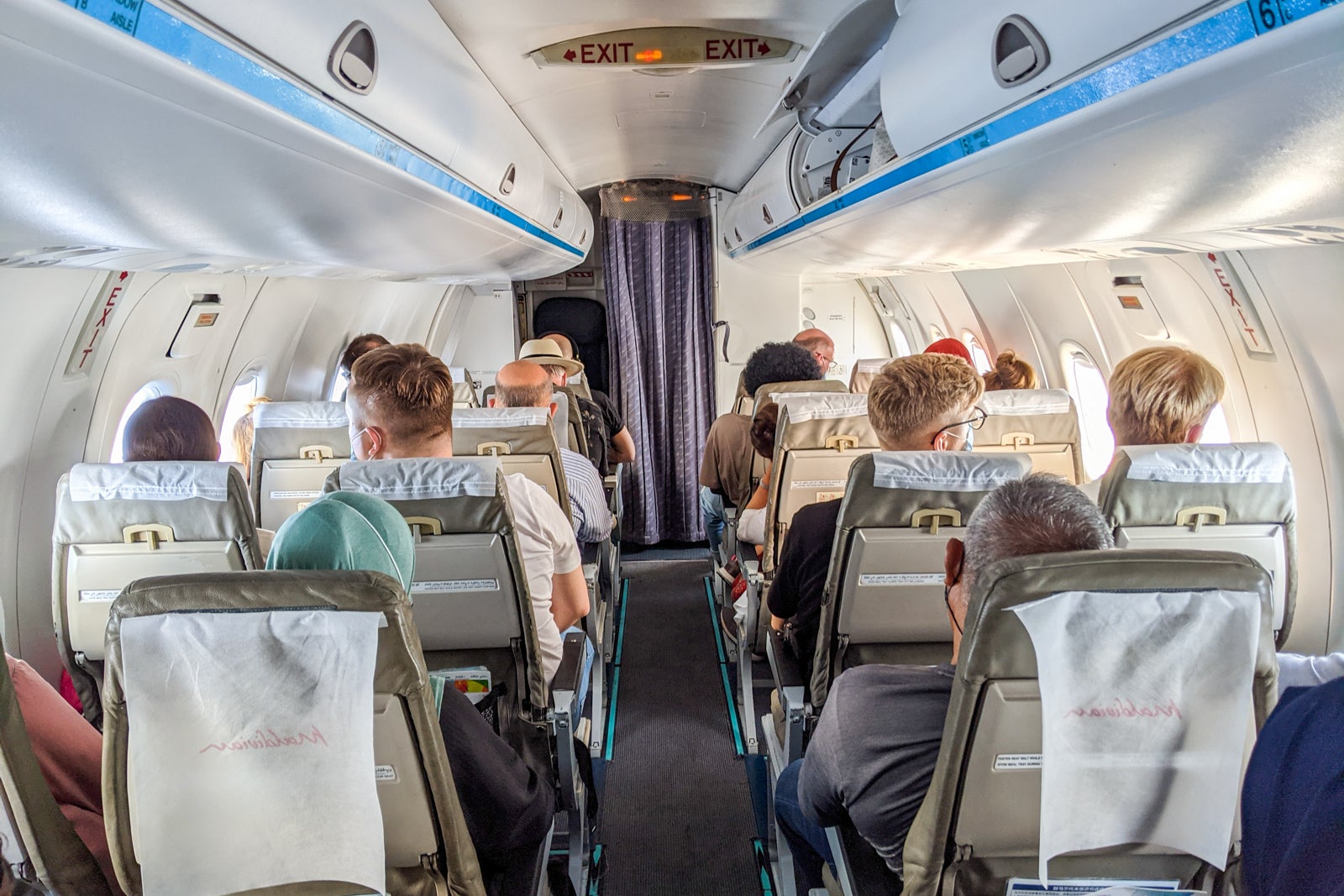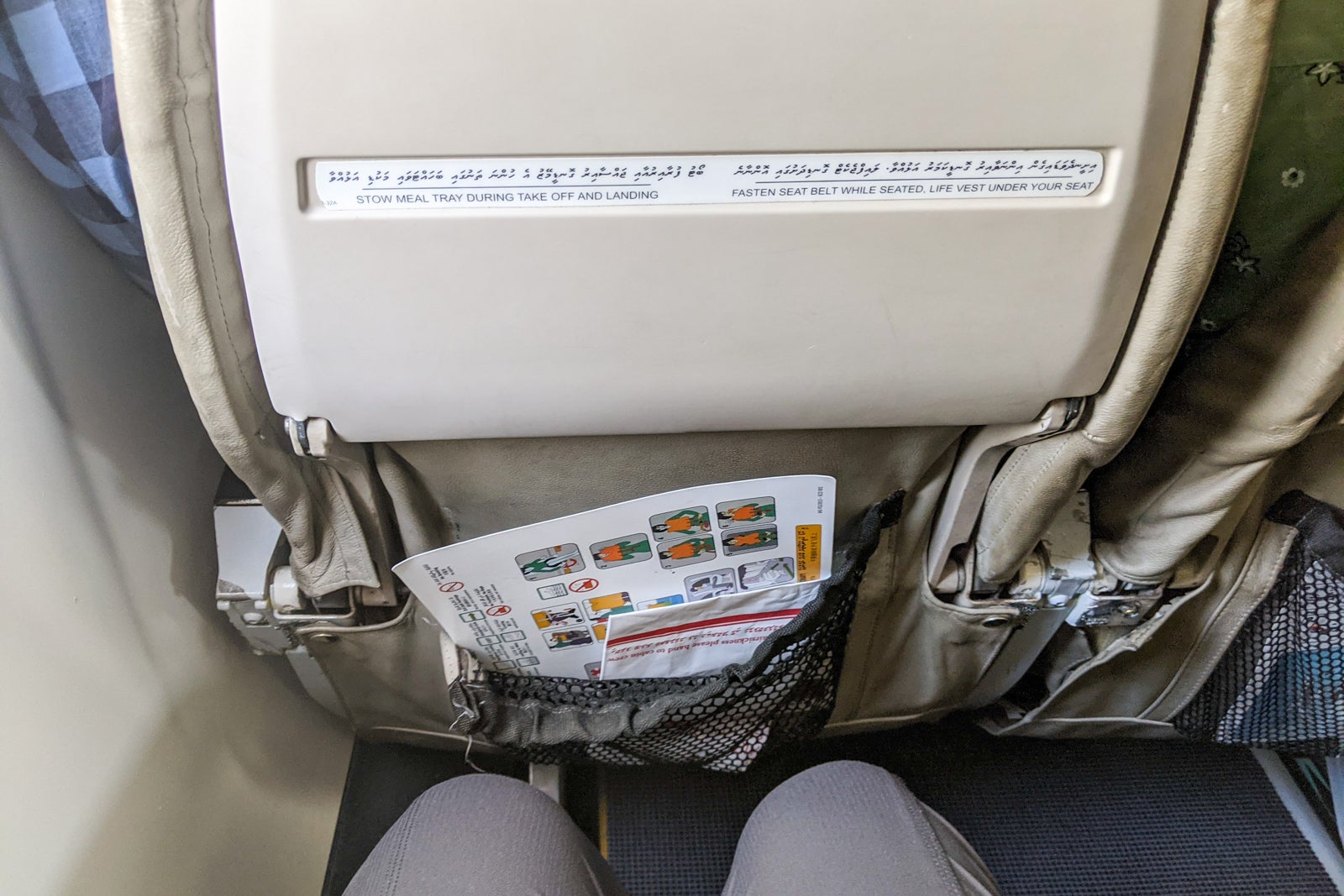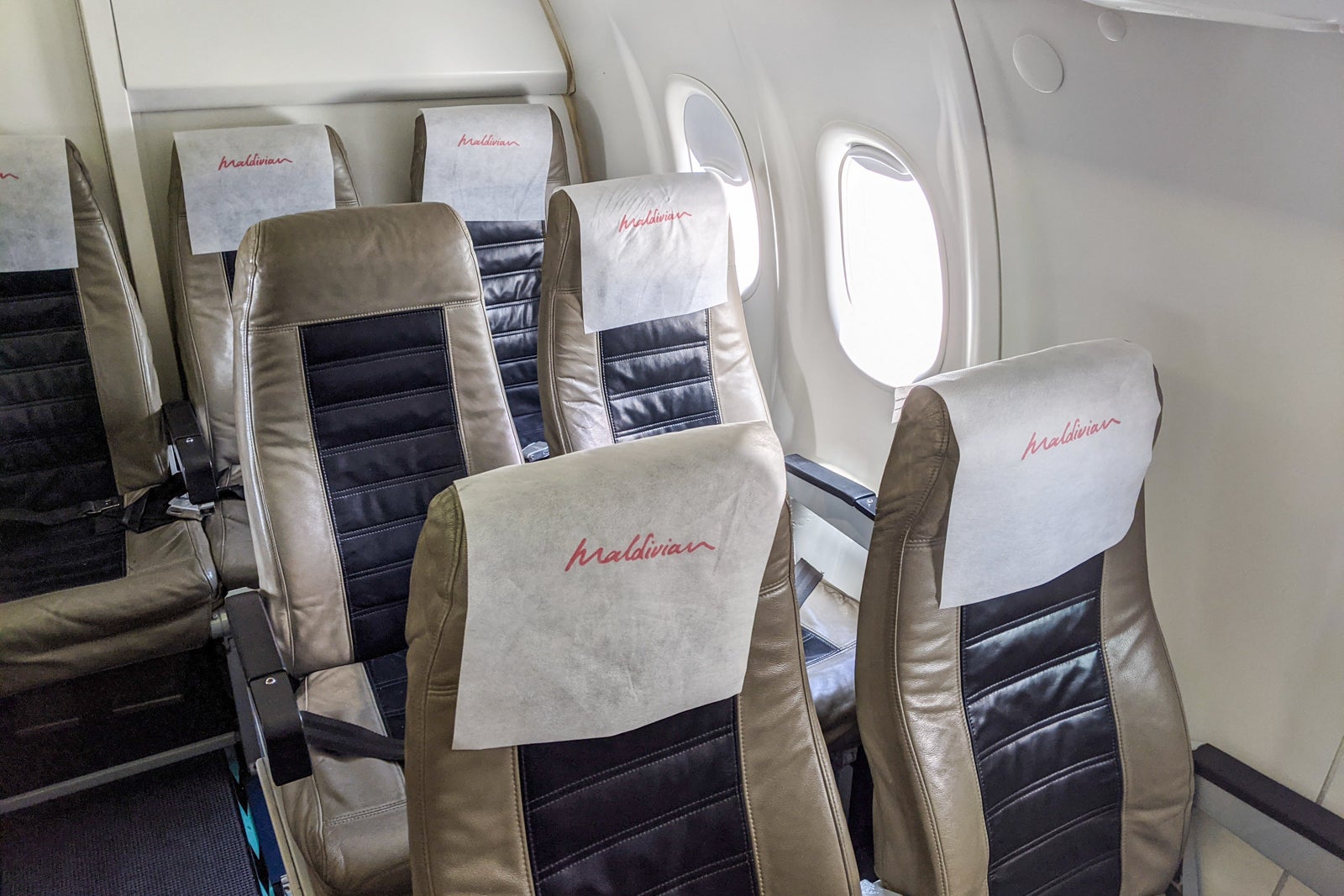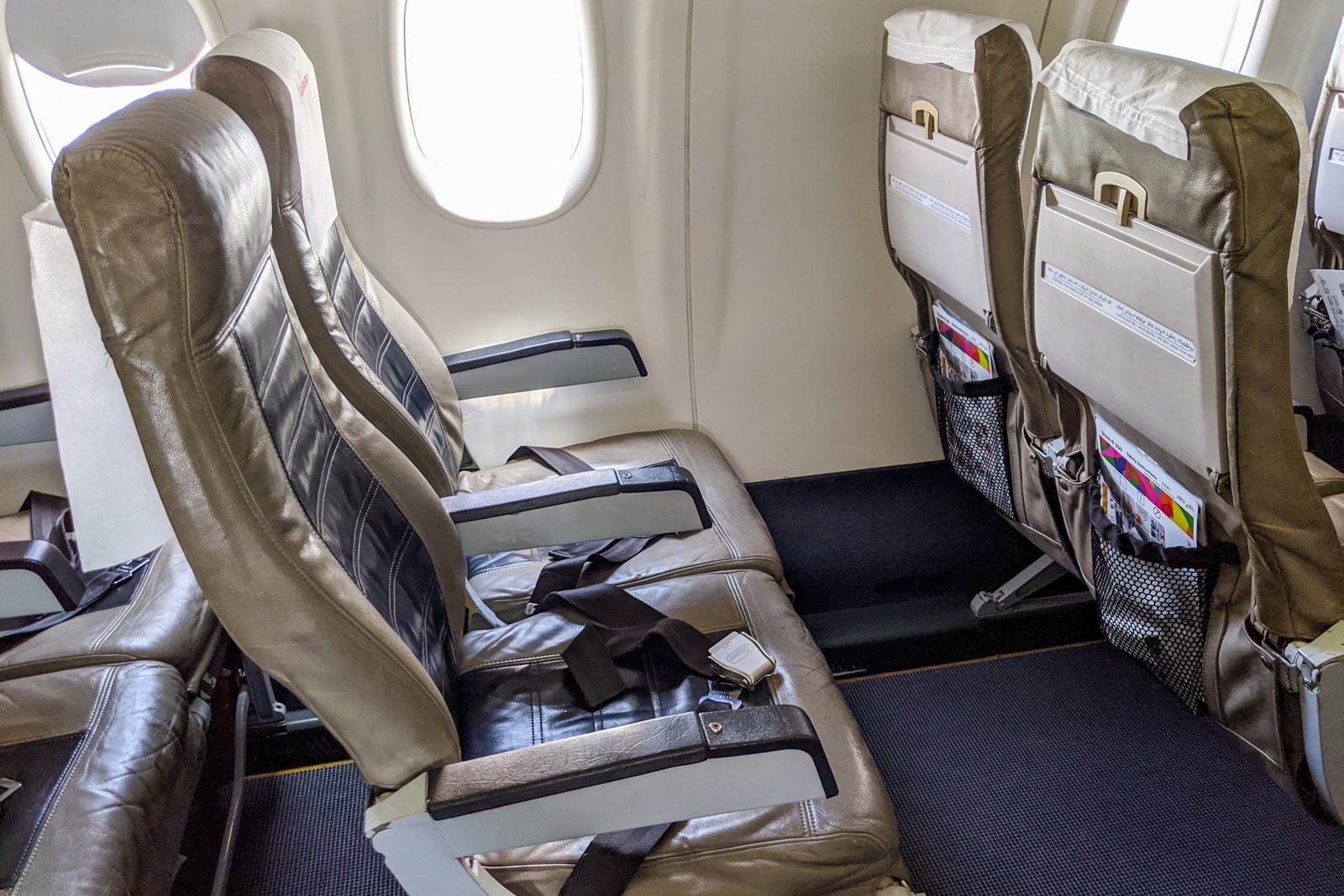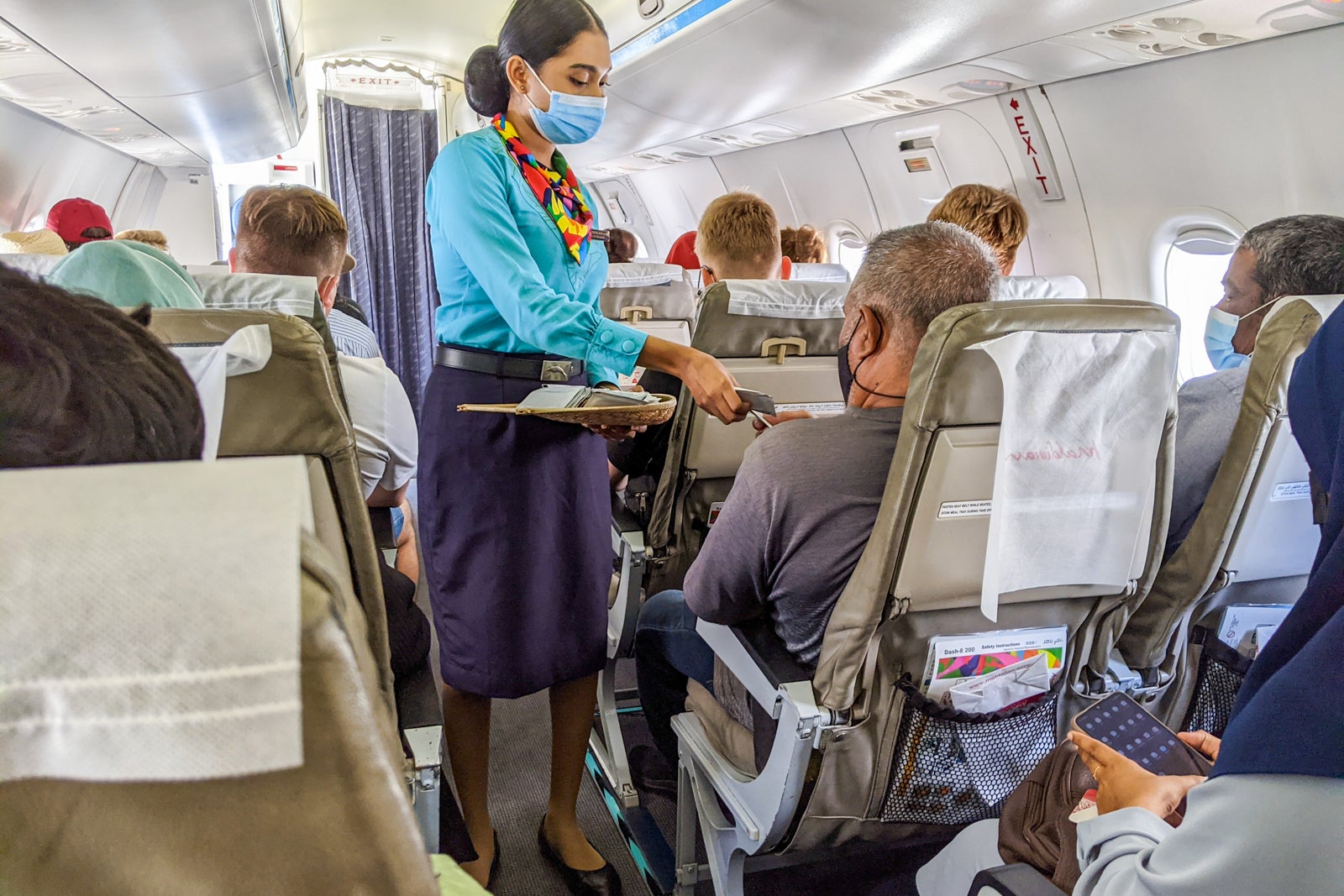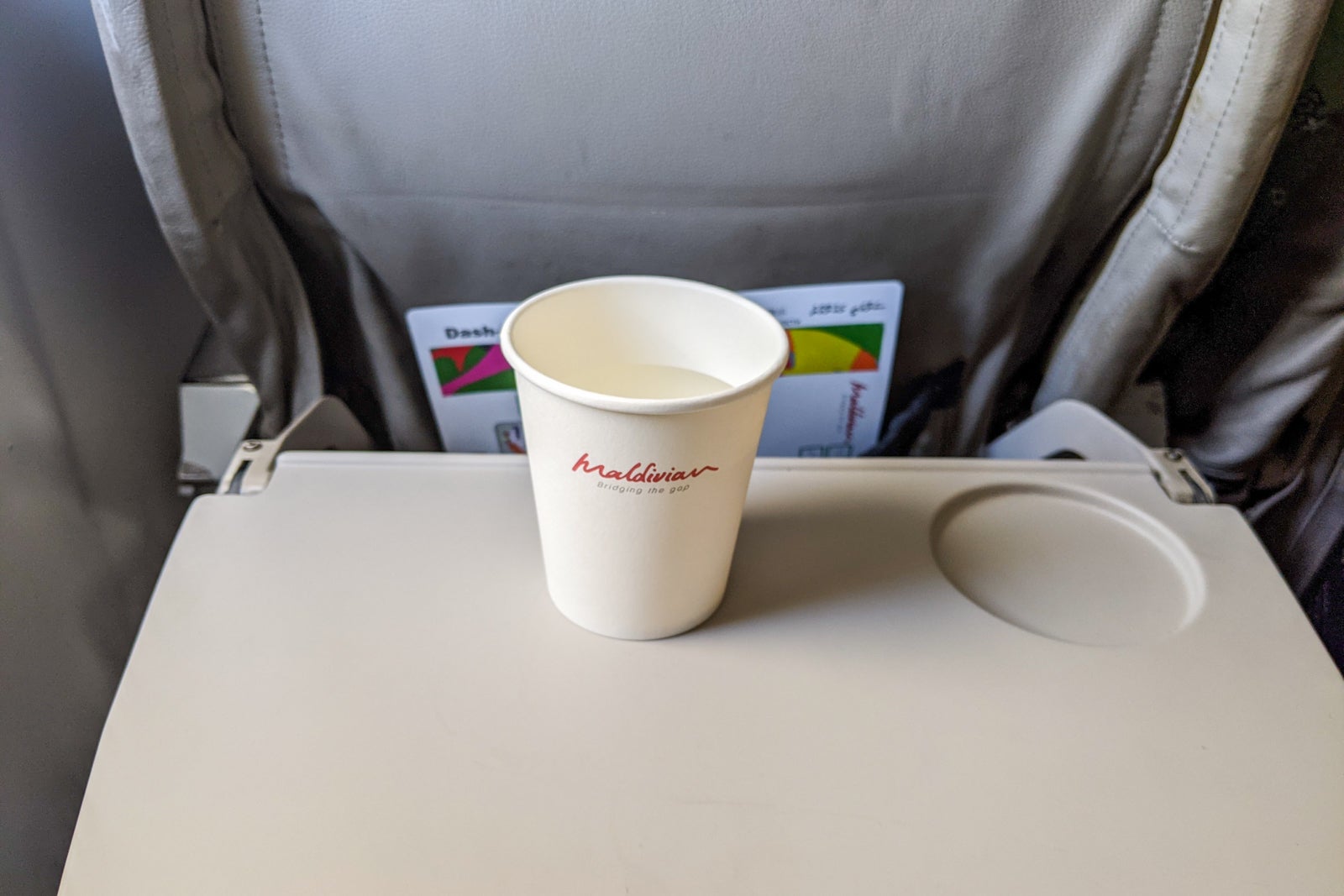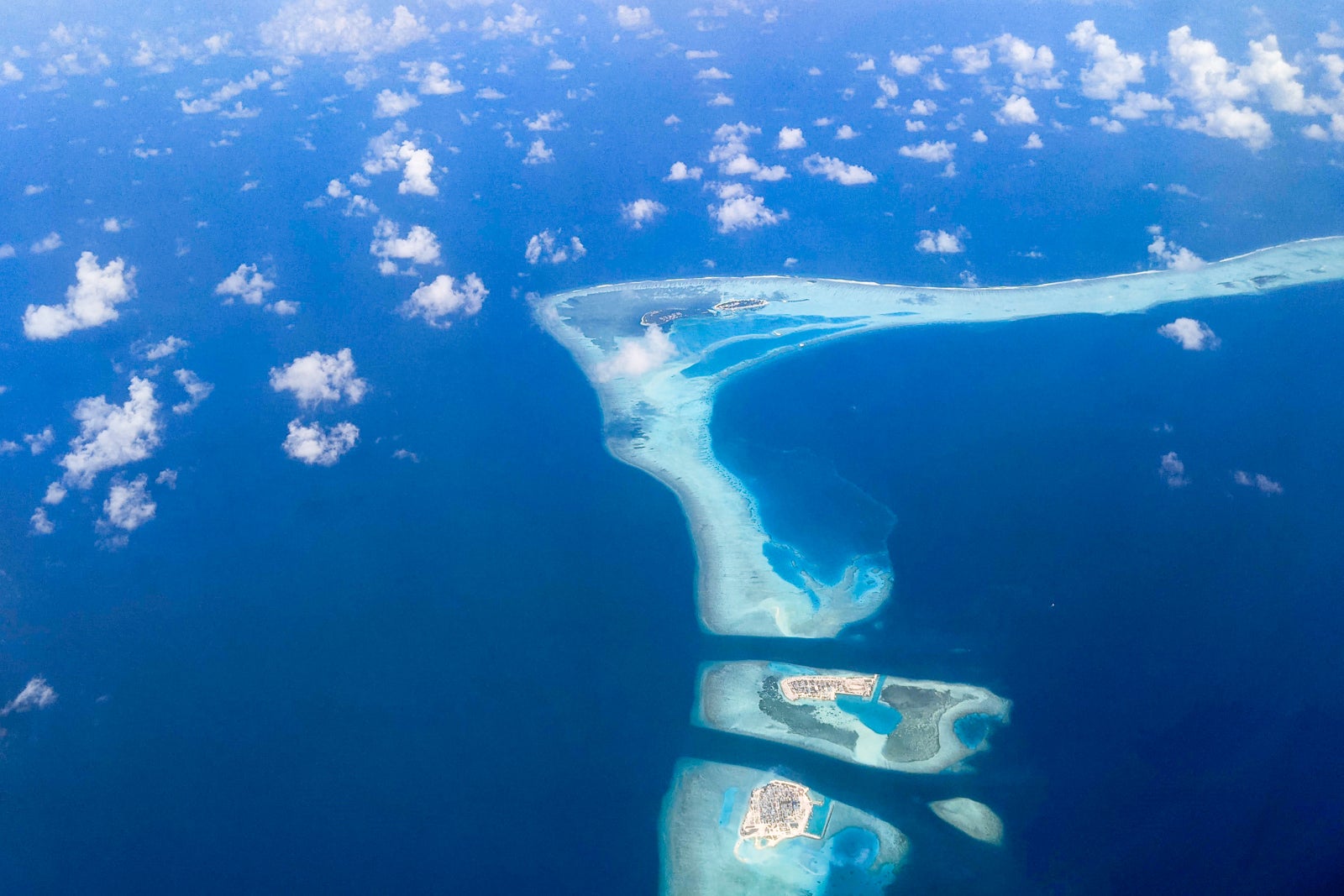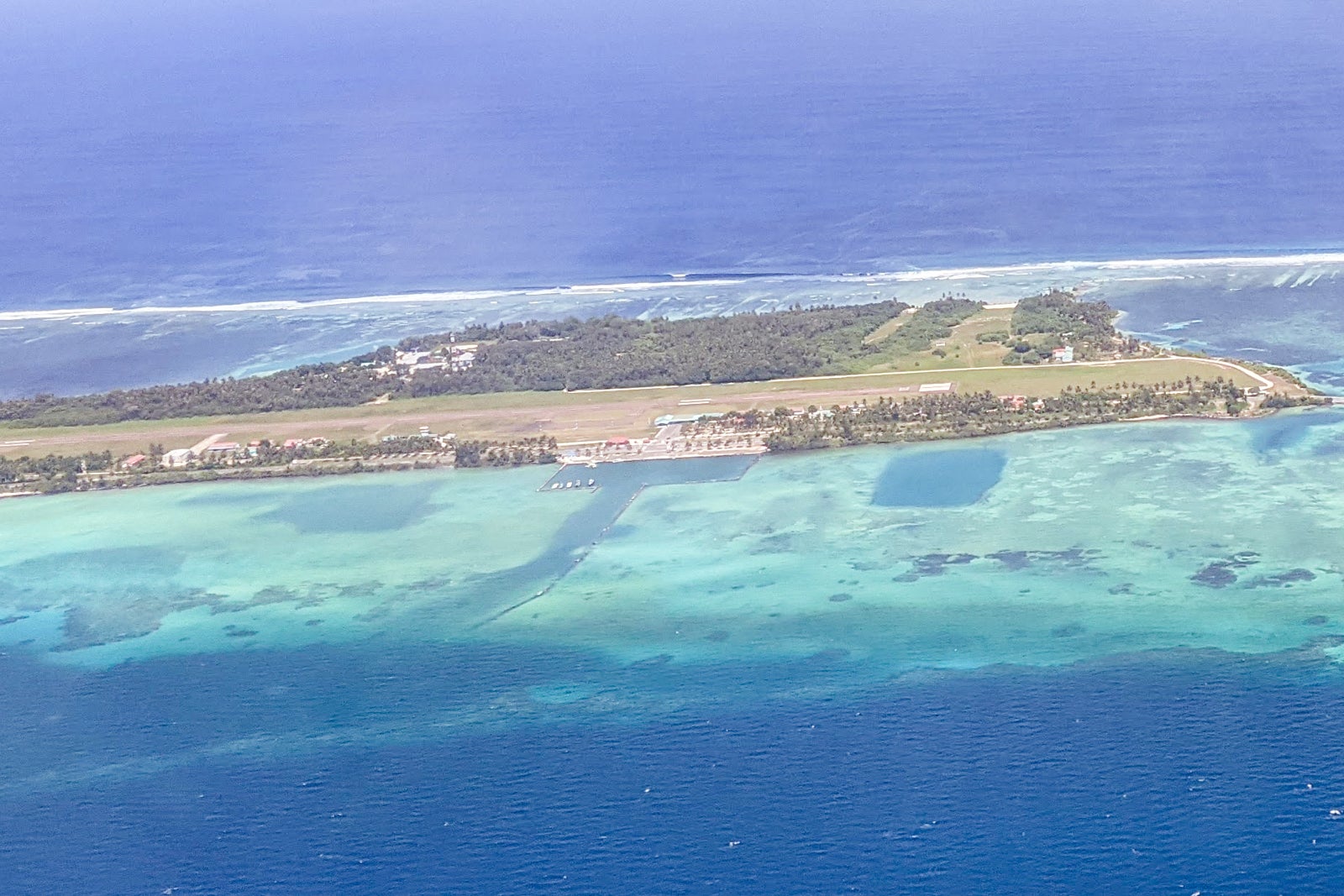 Once at Kadhdhoo airport, we claimed our checked baggage and found representatives from Six Senses. We followed these representatives to two nearby speedboats and got on the less crowded of the two boats with four other couples.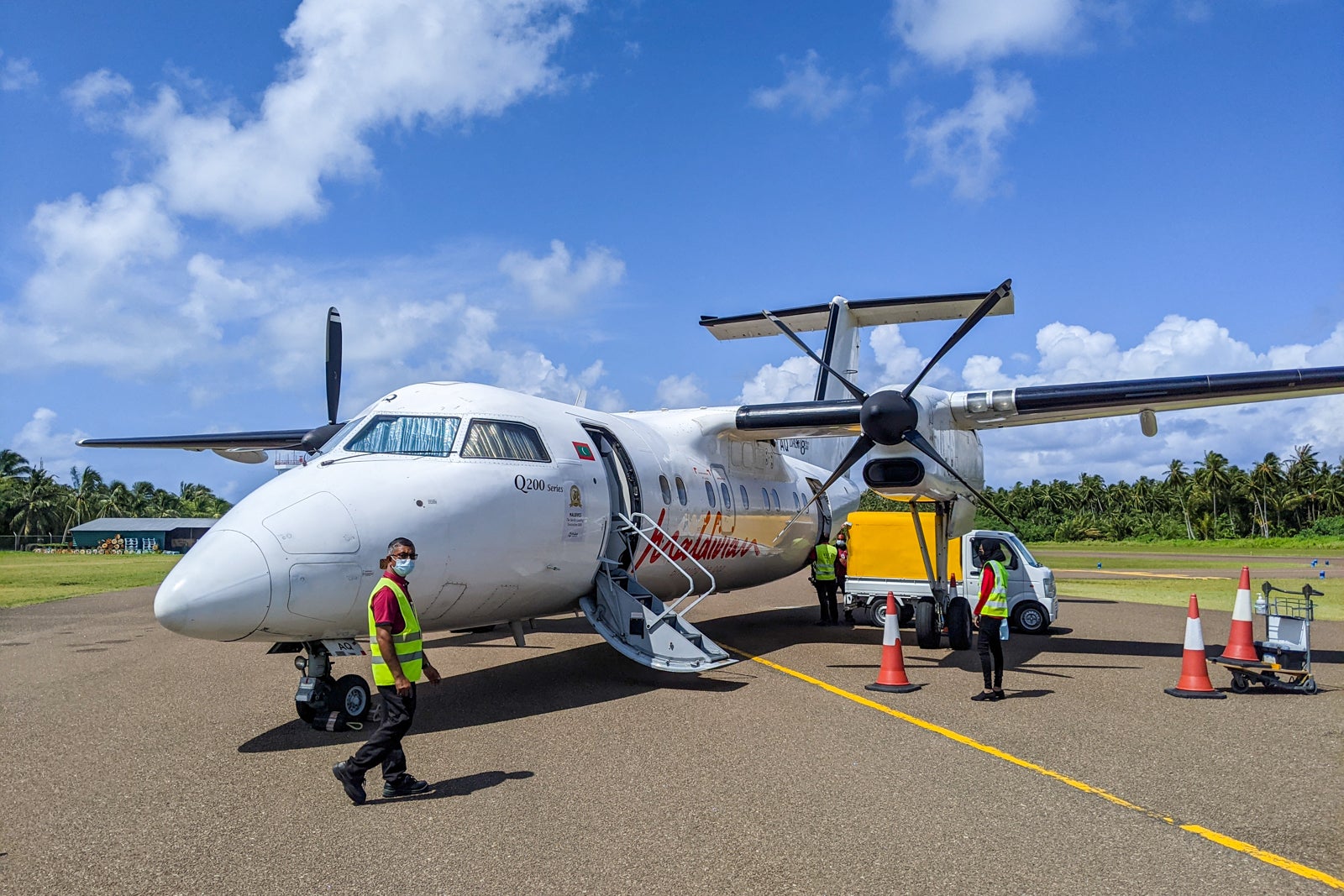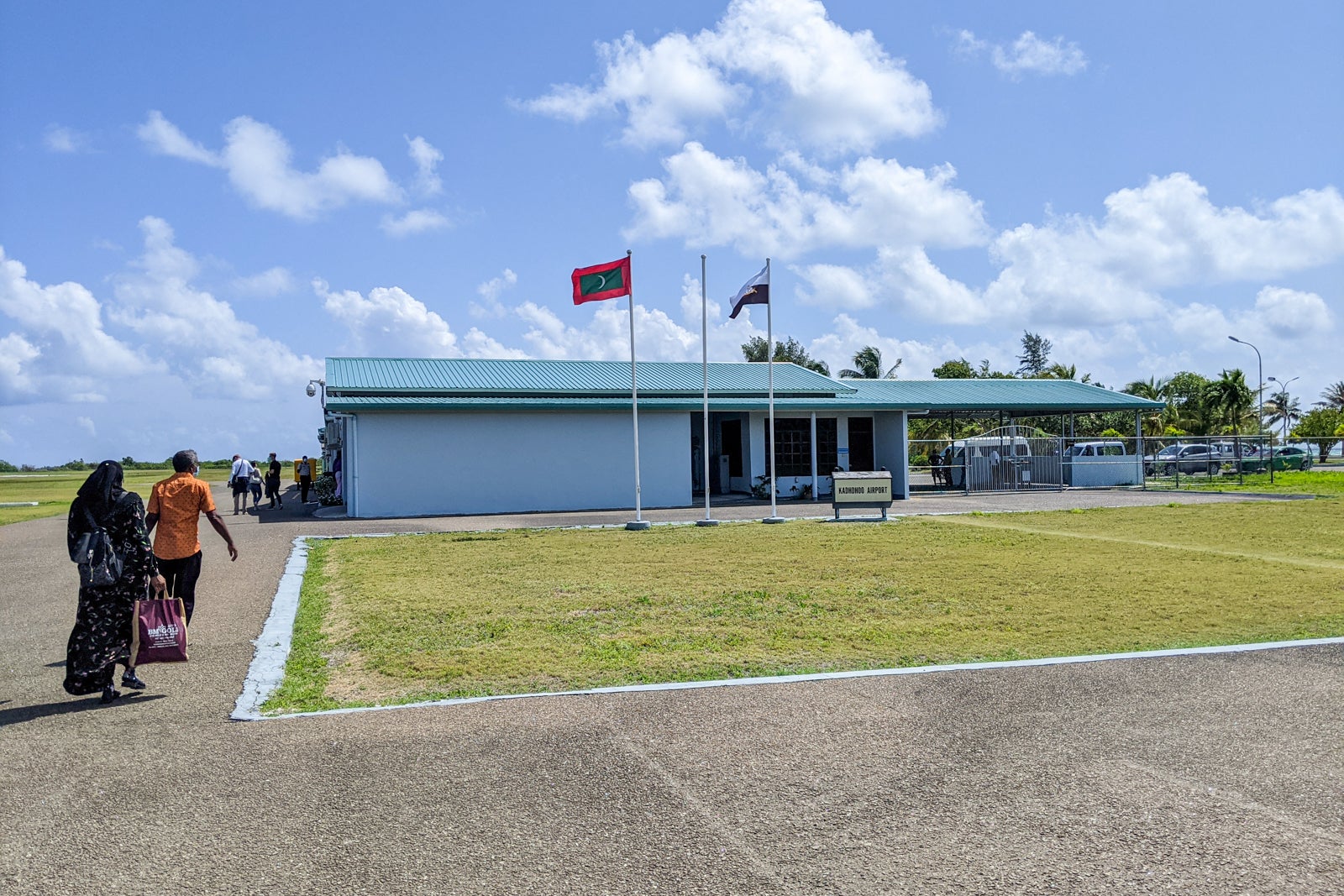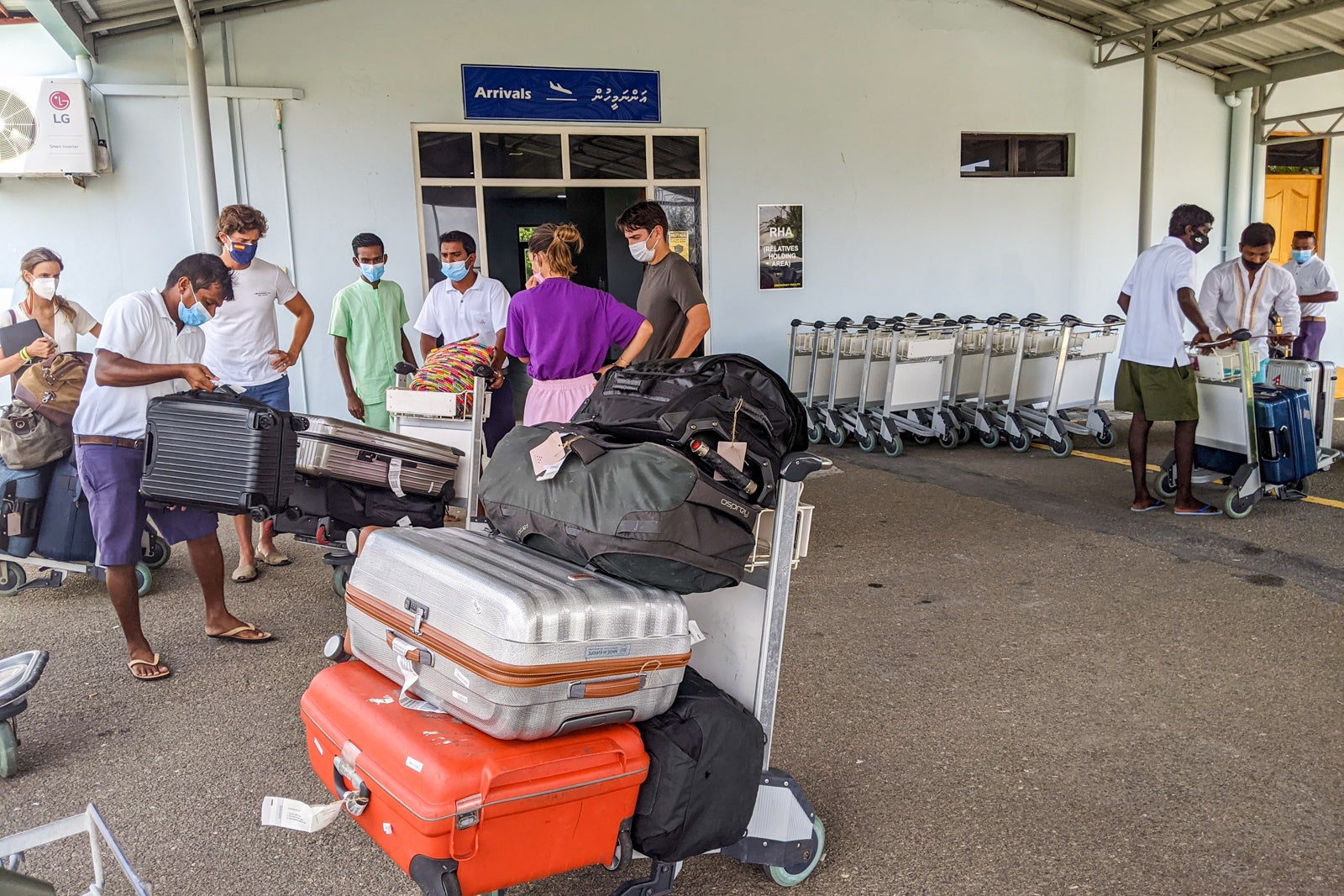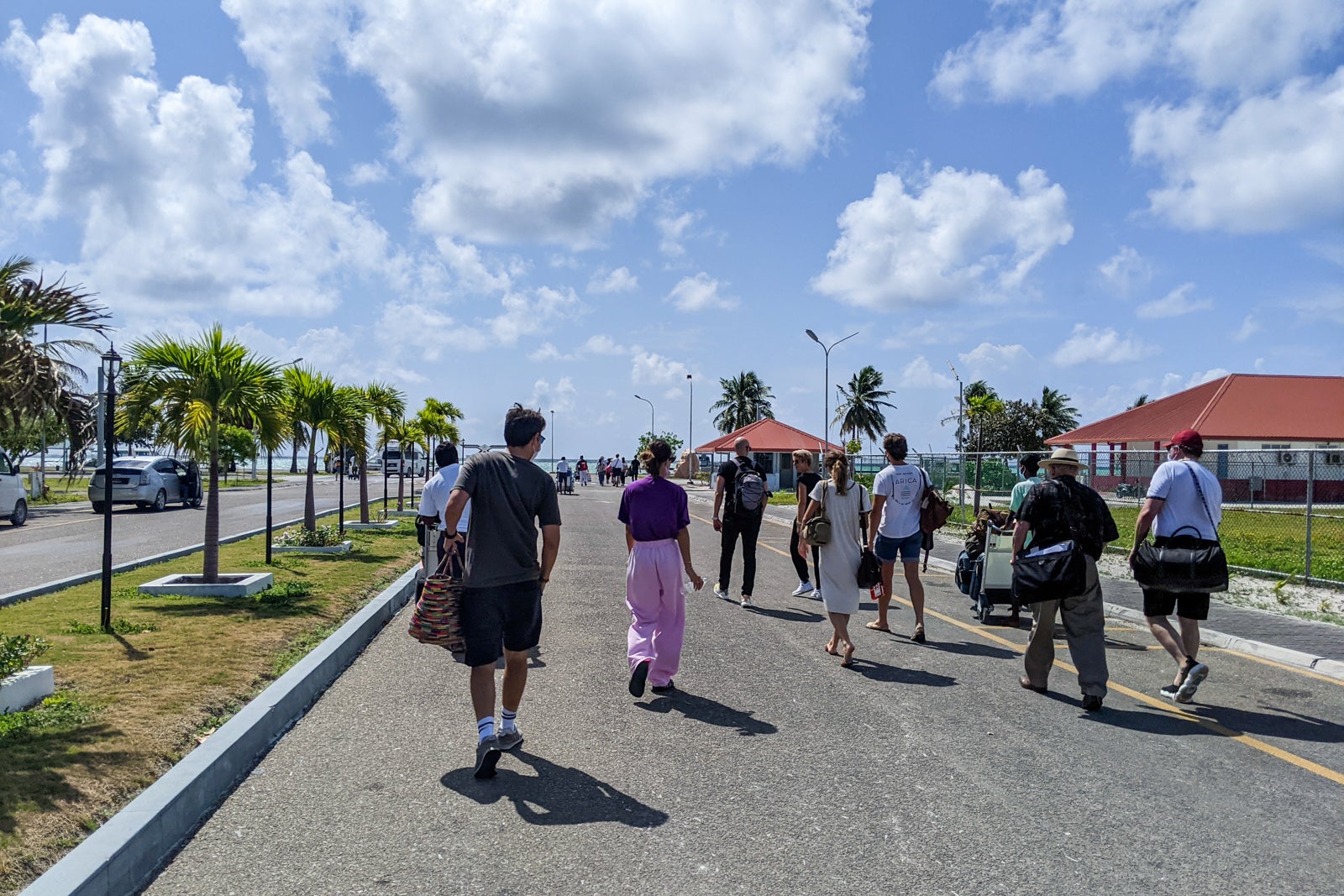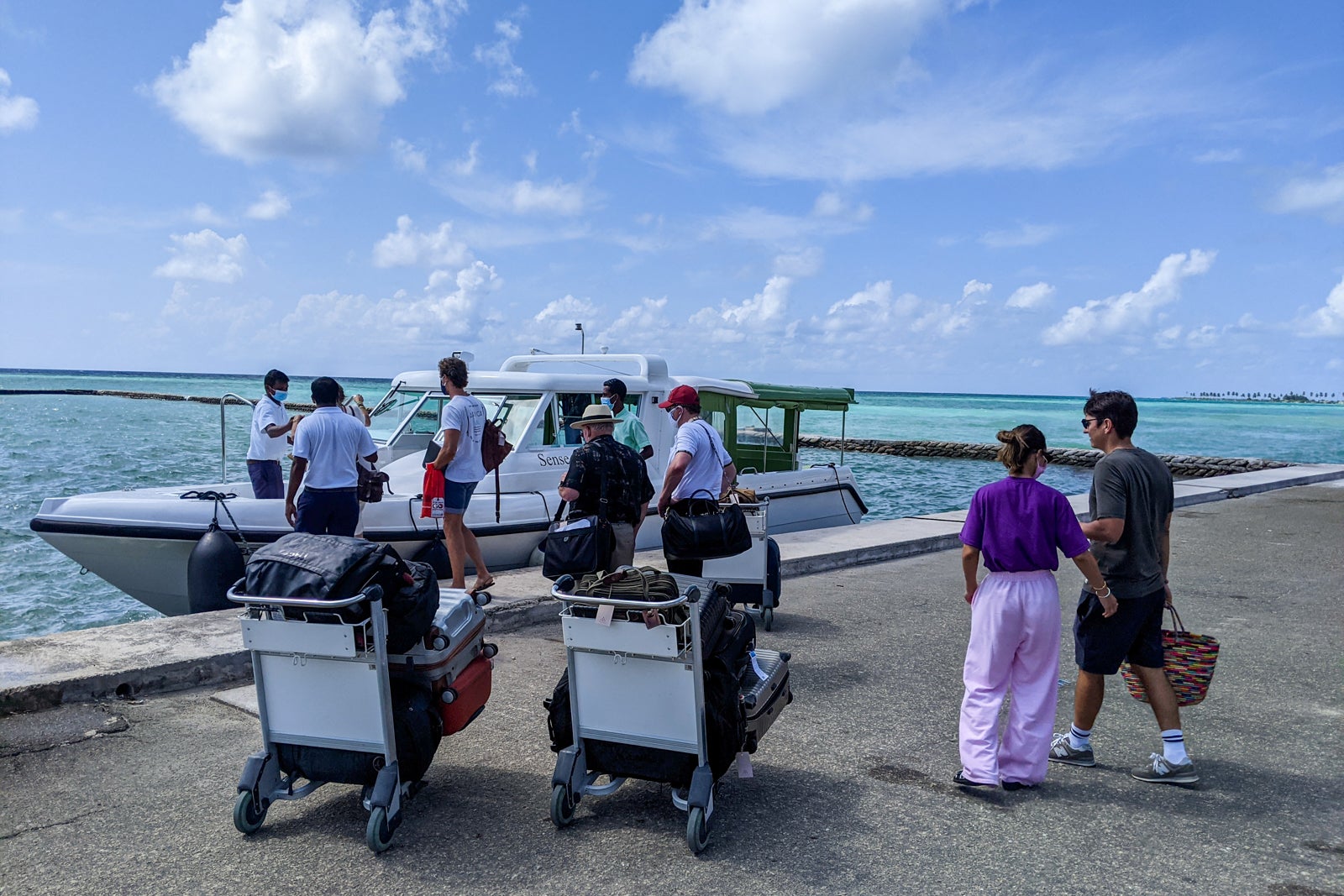 On the speedboat, bottles of lemonade waited for us. After a quick introduction, a staff member invited us to join Six Senses Laamu's barefoot luxury culture by removing our shoes and putting them into the aforementioned cloth bags. Then we speed across the water for about 30 minutes before reaching the resort.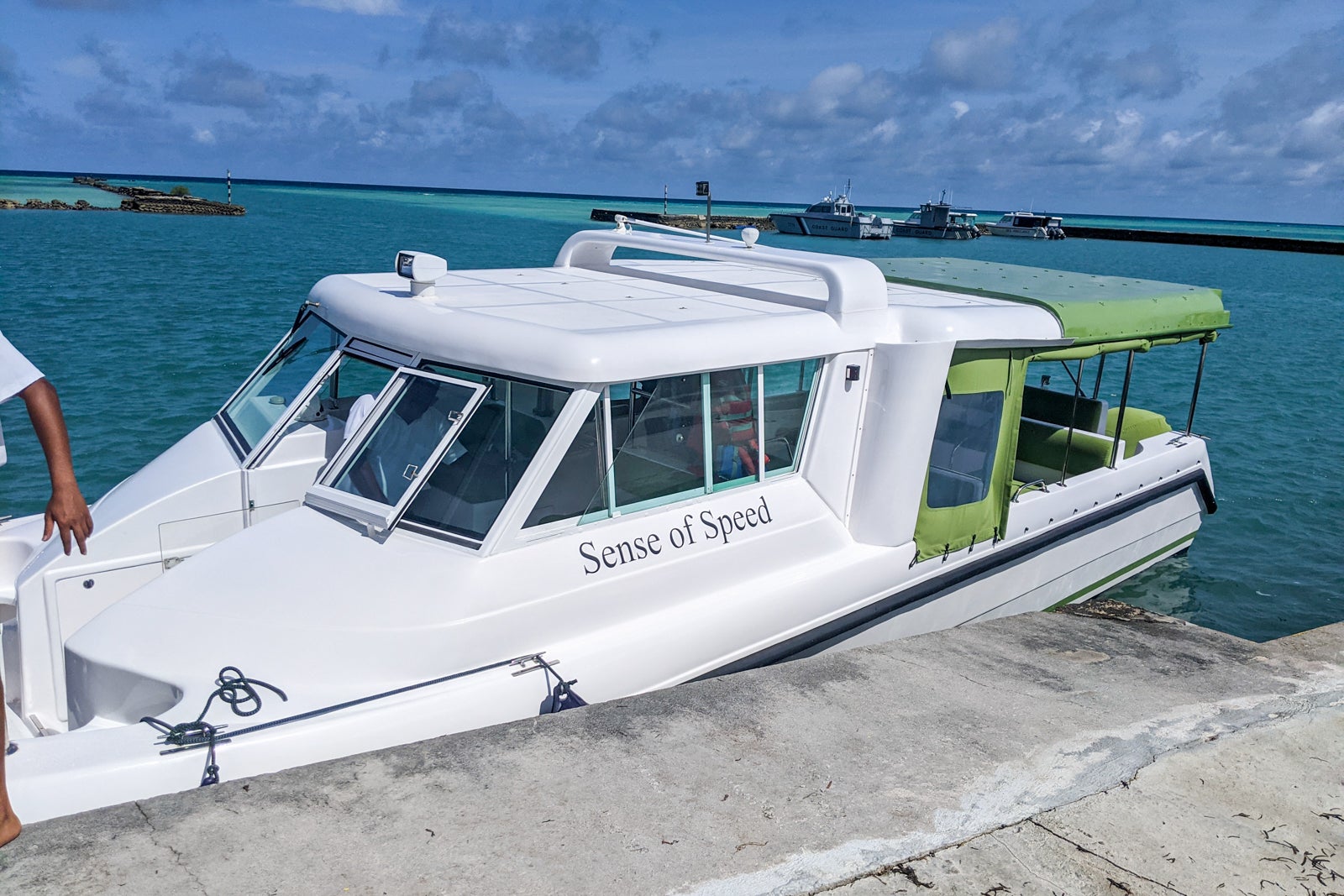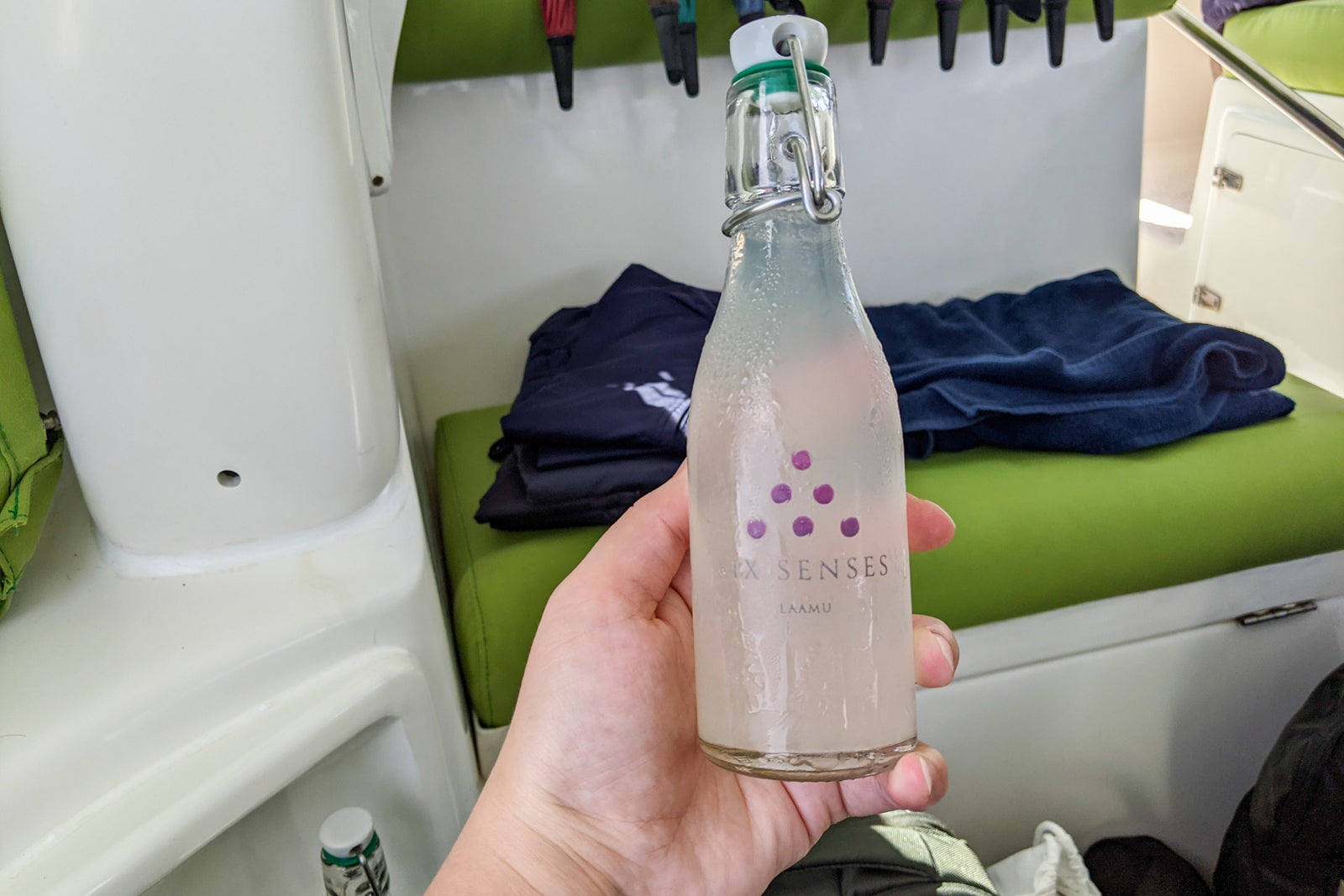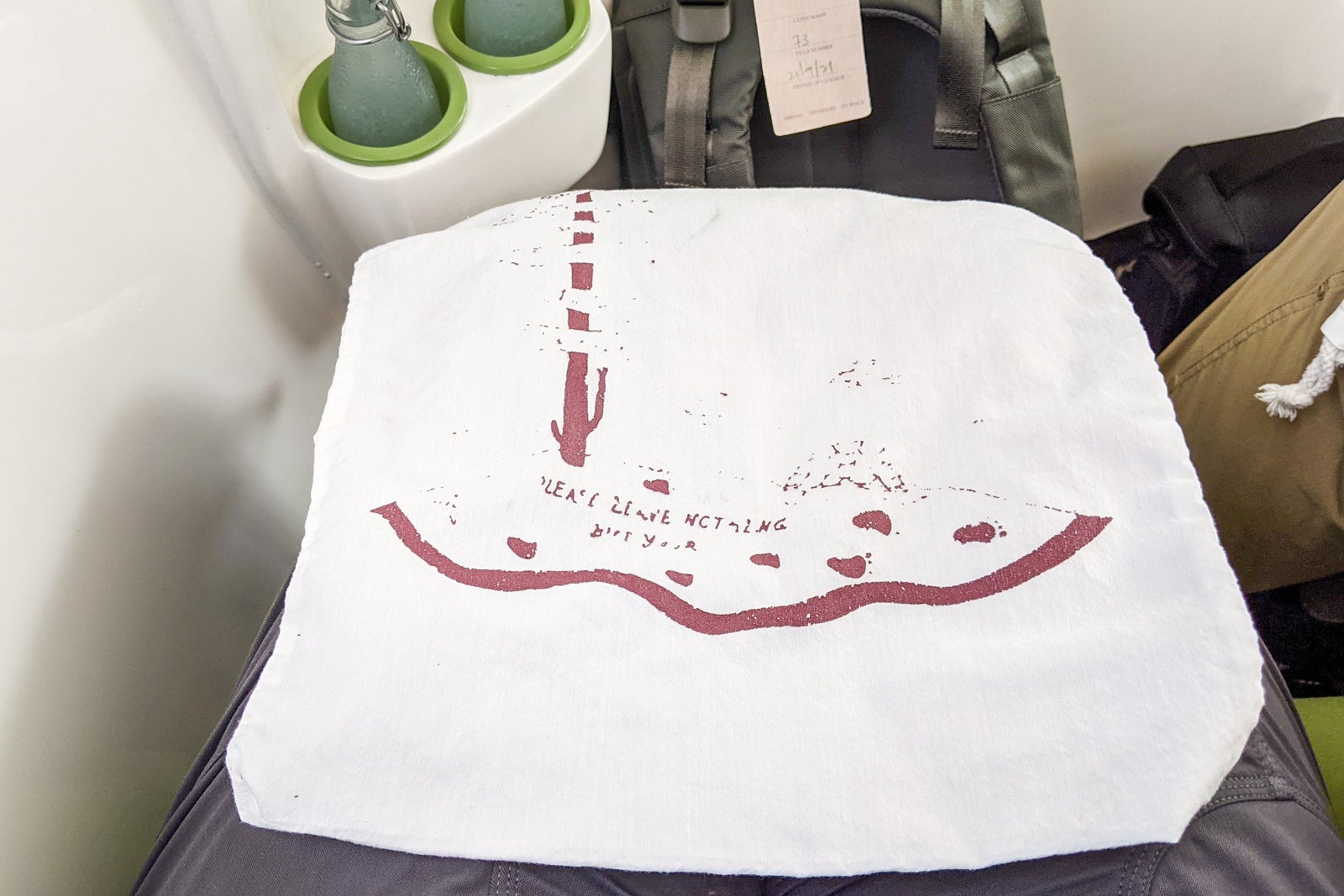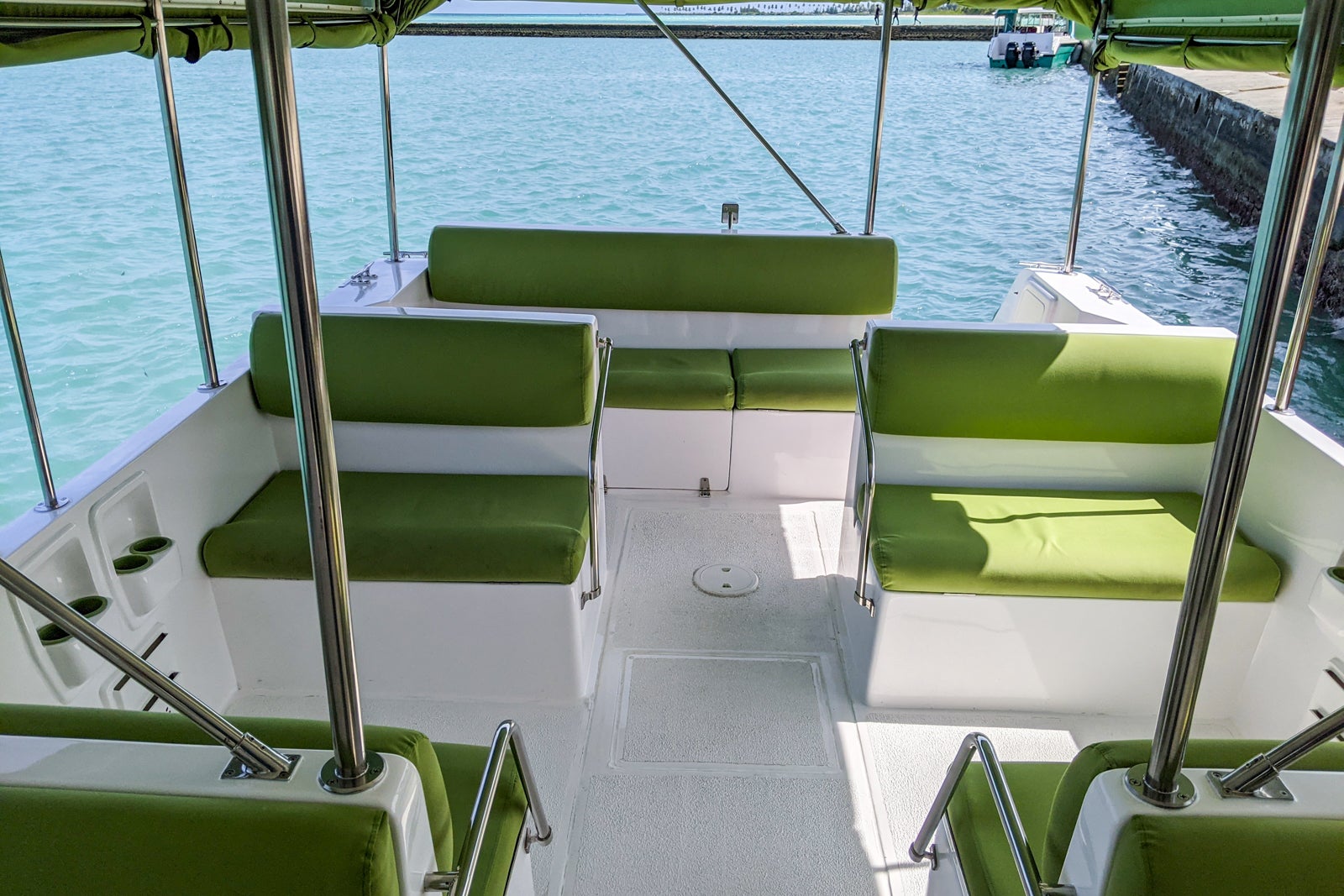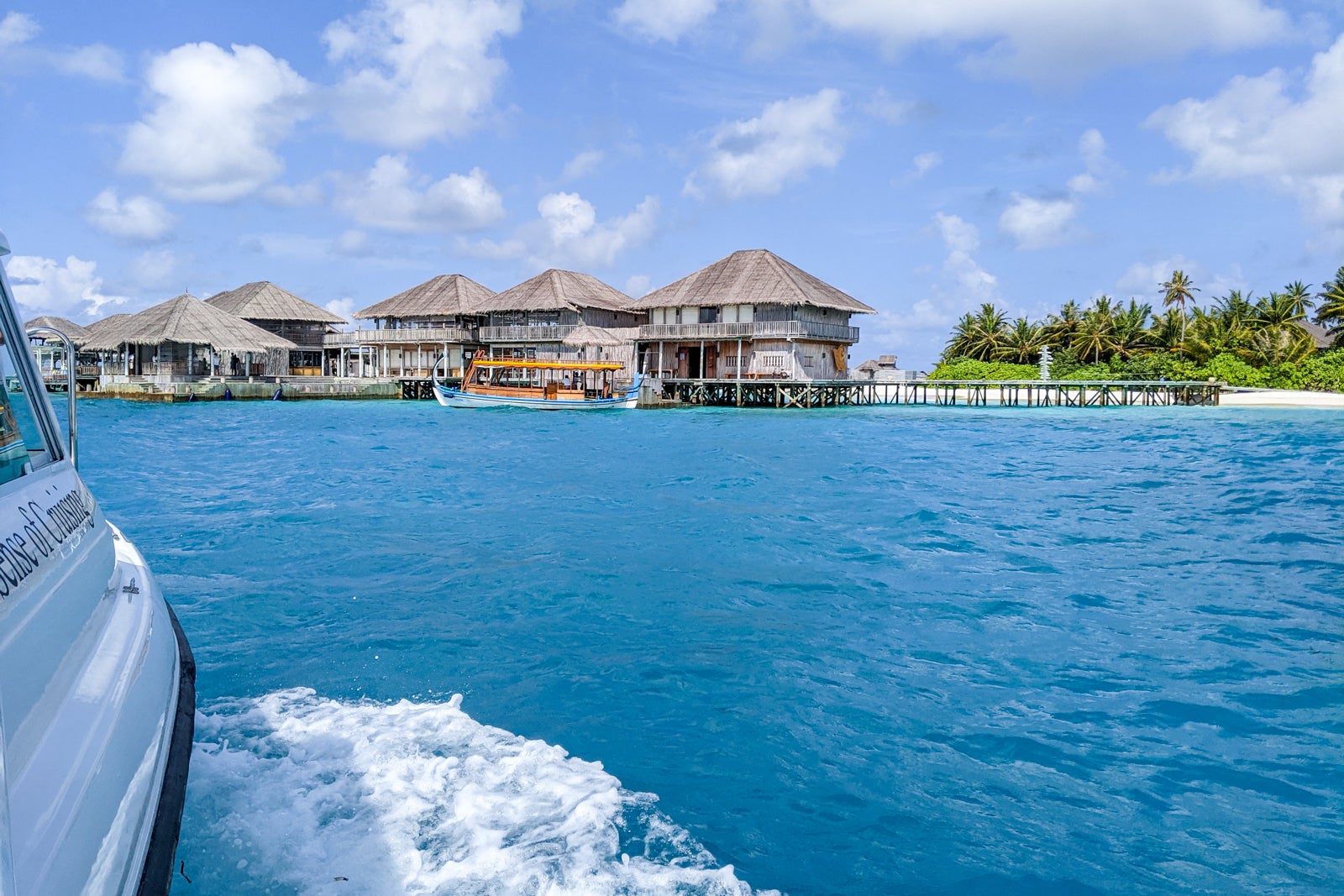 When our stay ended, we traveled with five other guests on a speedboat back to Kadhdhoo airport. Six Senses staff got our luggage checked and boarding passes printed and then said goodbye. We passed through security into a small waiting area and had about a 10-minute wait before we walked onto the tarmac and took a 60-minute flight back to Male.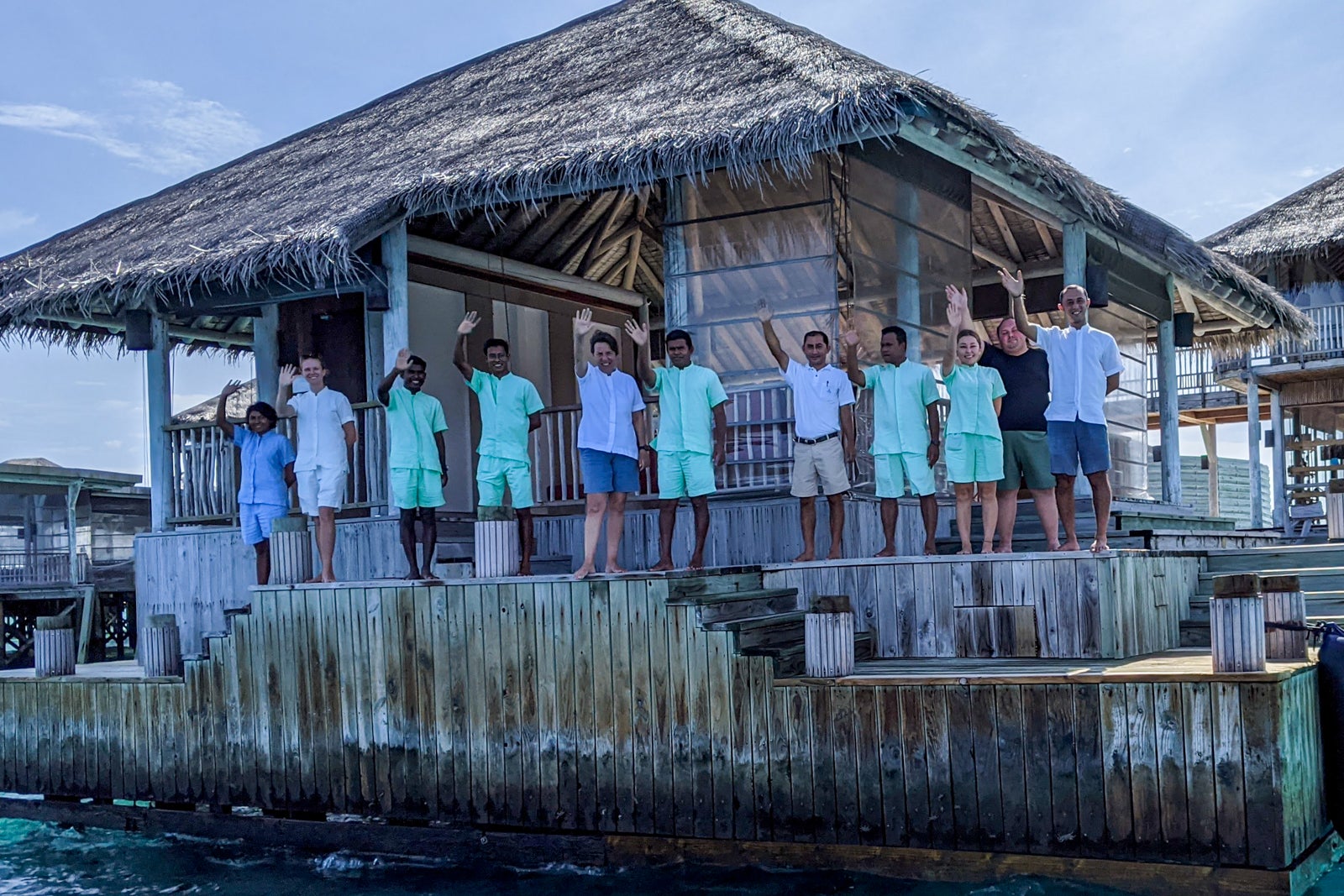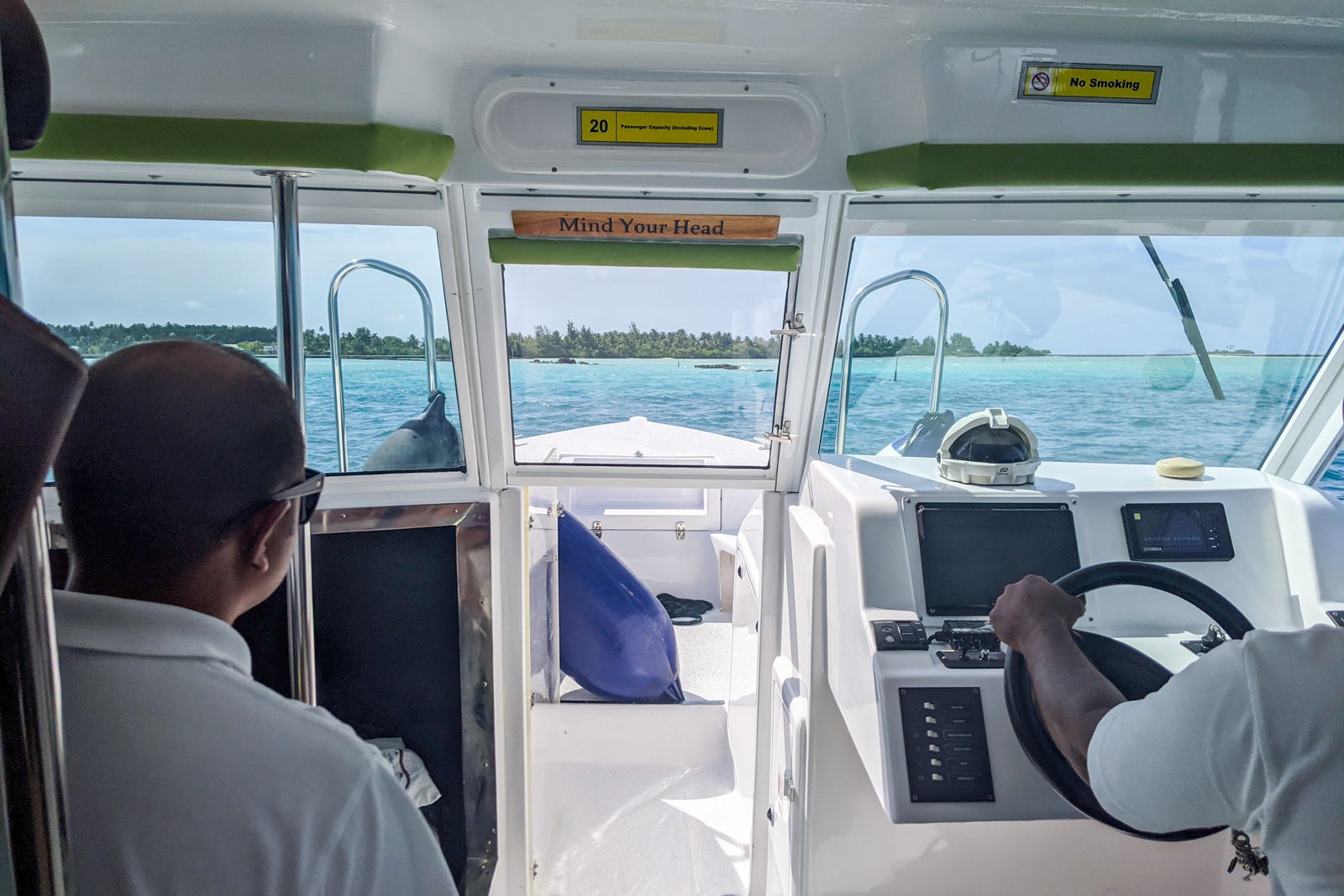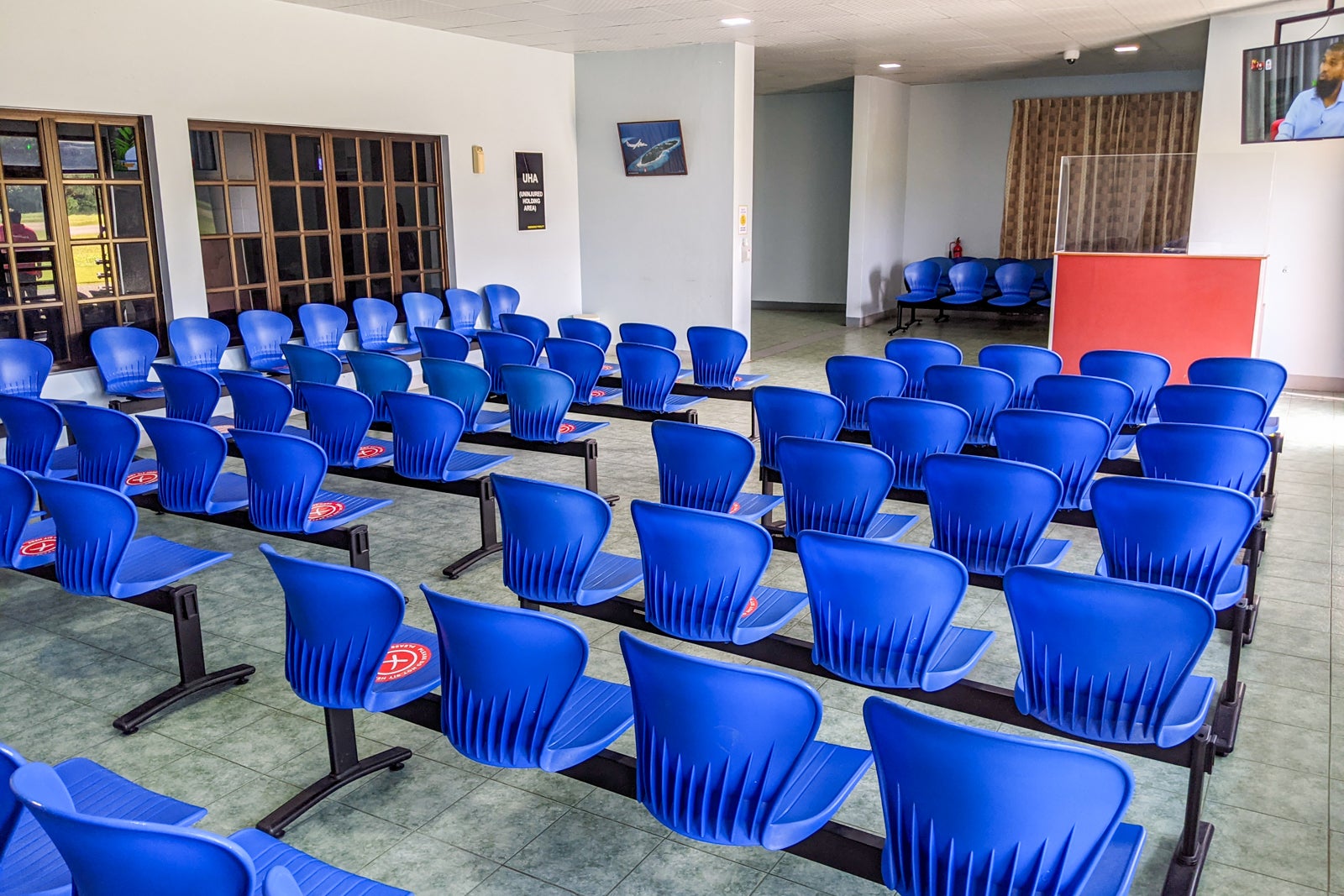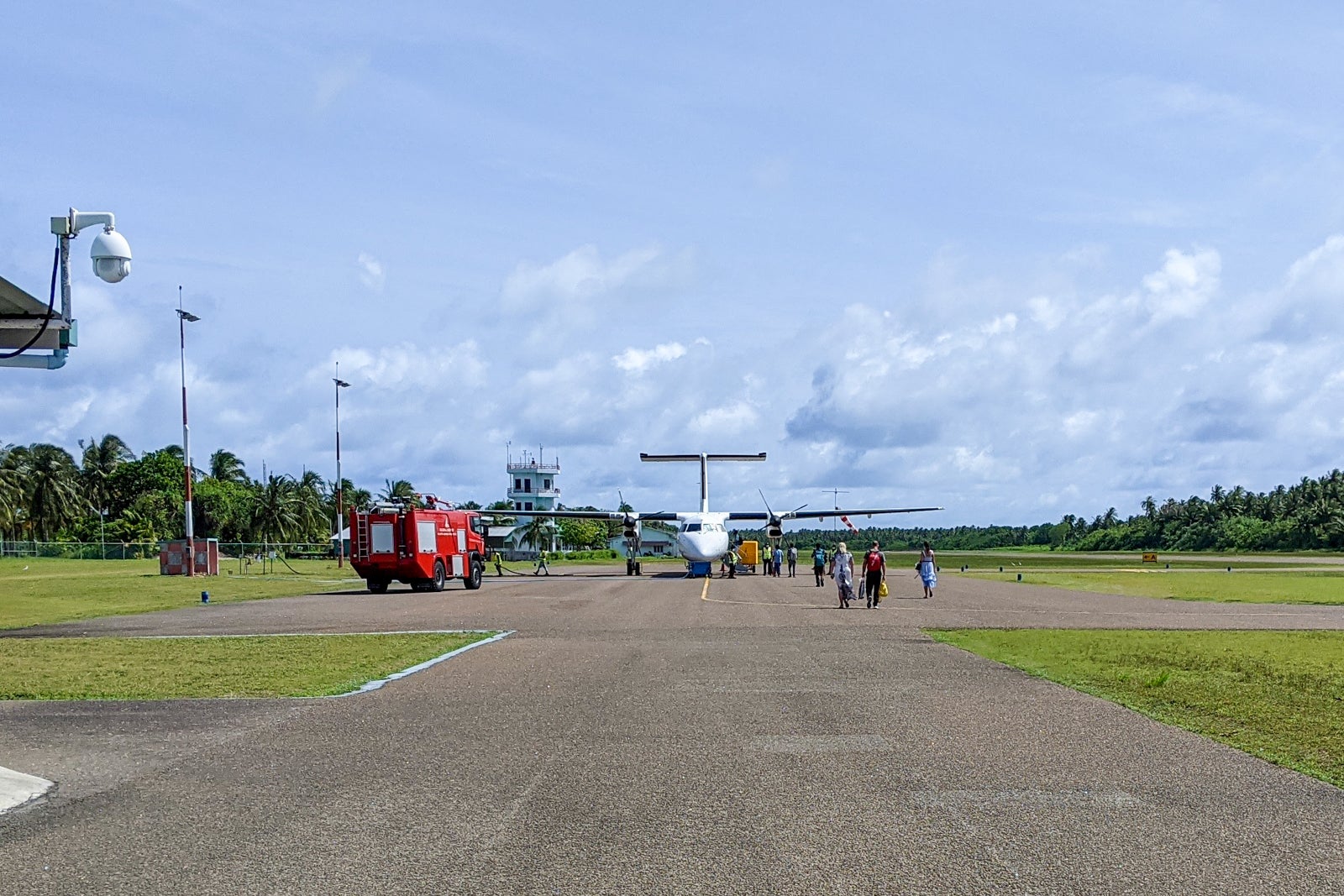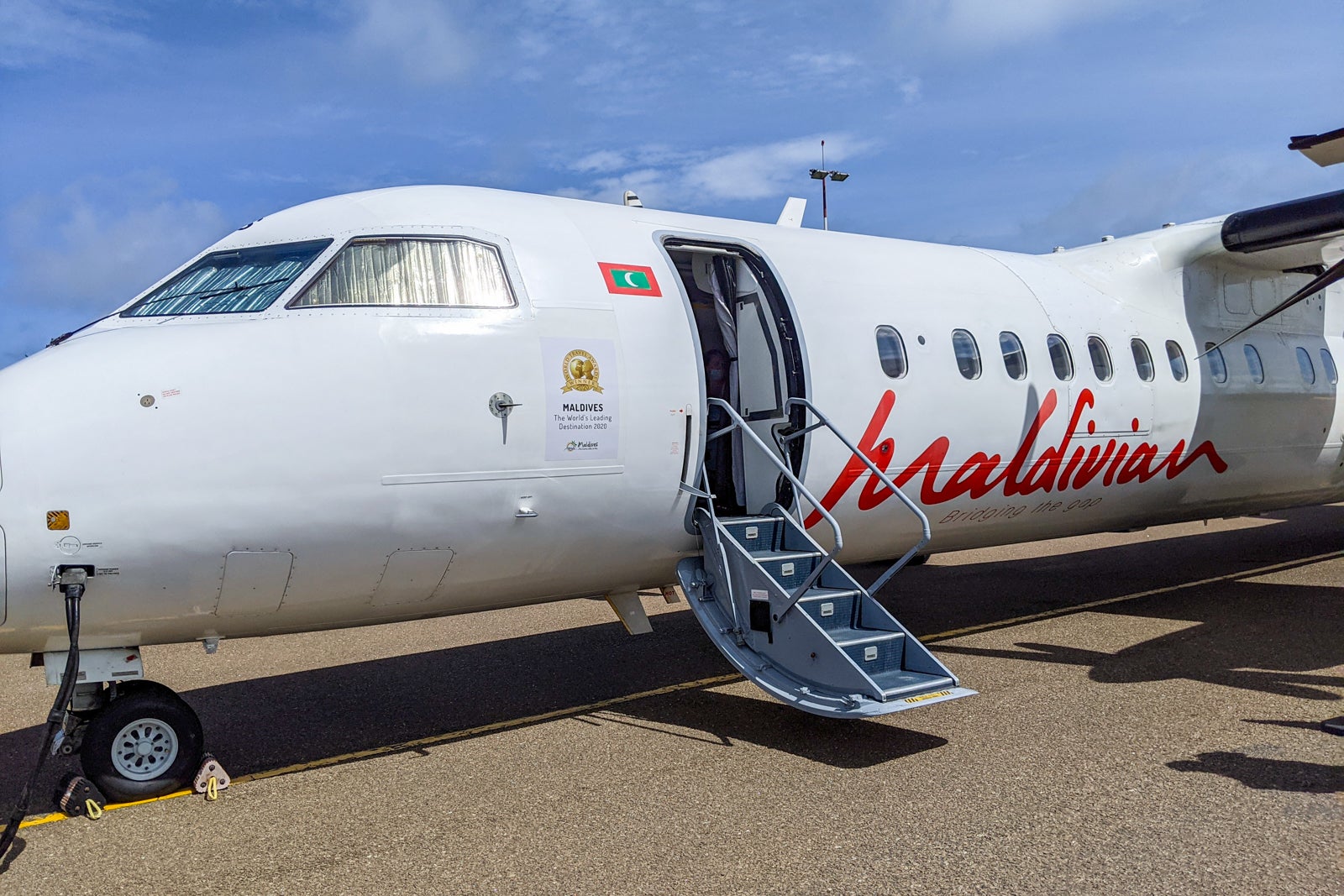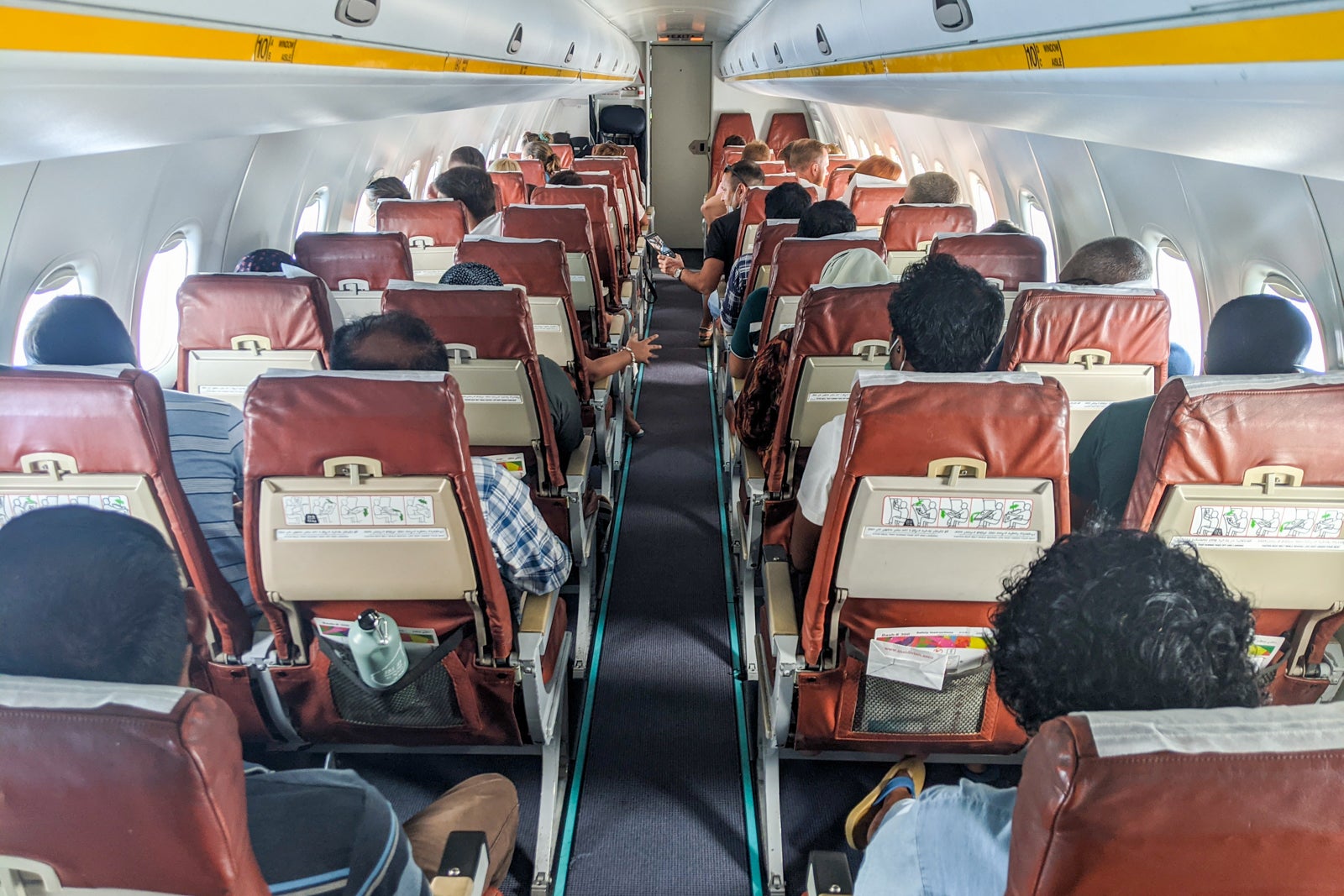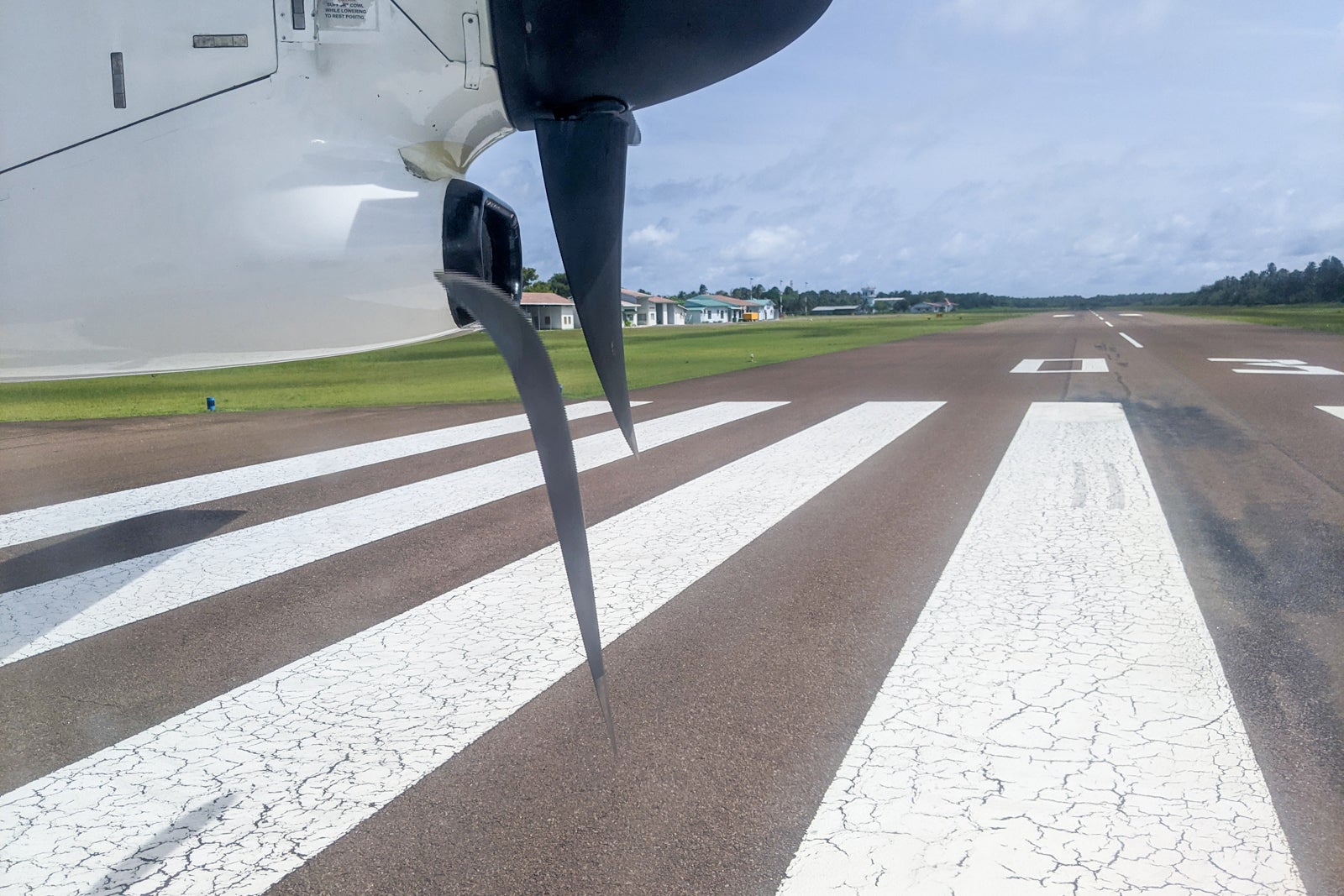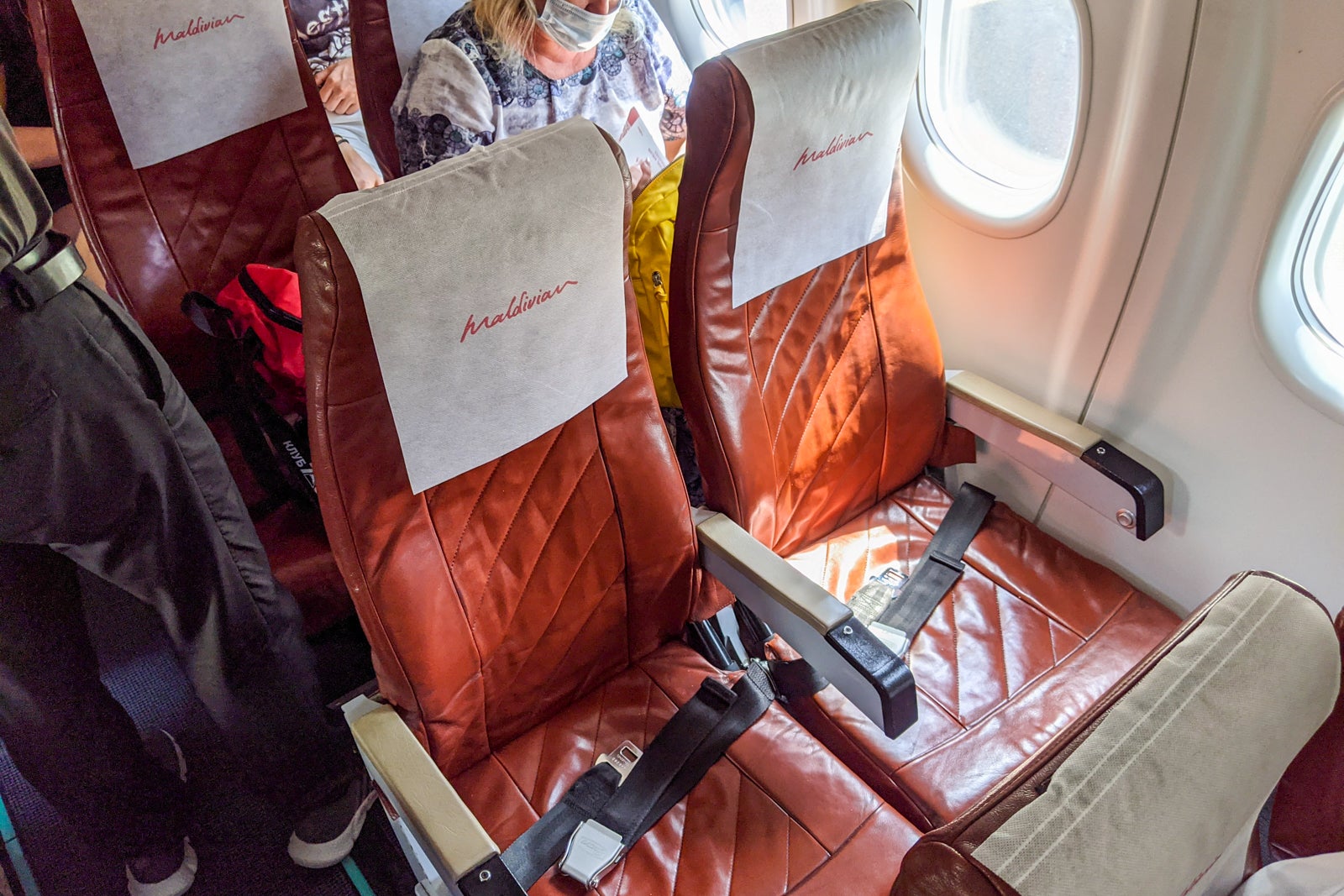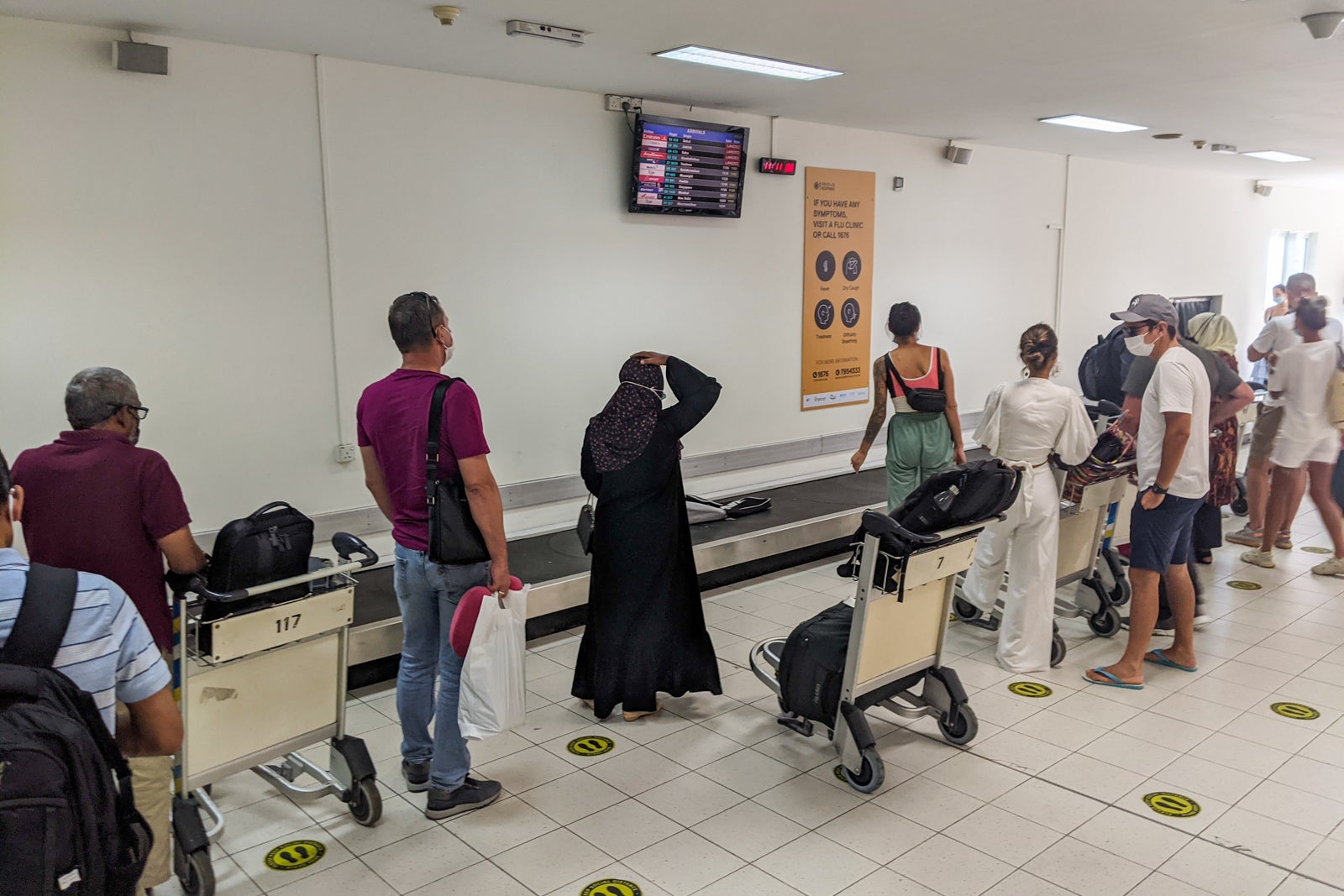 Once we were back in Male, a Six Senses representative introduced us to a representative from our next resort.
Related: Maldives vs. Bora Bora: Which remote island chain should you visit?
Check-in
Once we reached the resort with our fellow boat passengers, Six Senses staff greeted us, gave us glasses of sparkling wine and ushered us to couches near the dock. The general manager then quickly introduced herself to the group. She told us about the mask requirements on site (they were not required for staff or guests except in select indoor areas), noted that all staff members are fully vaccinated and introduced several staff members.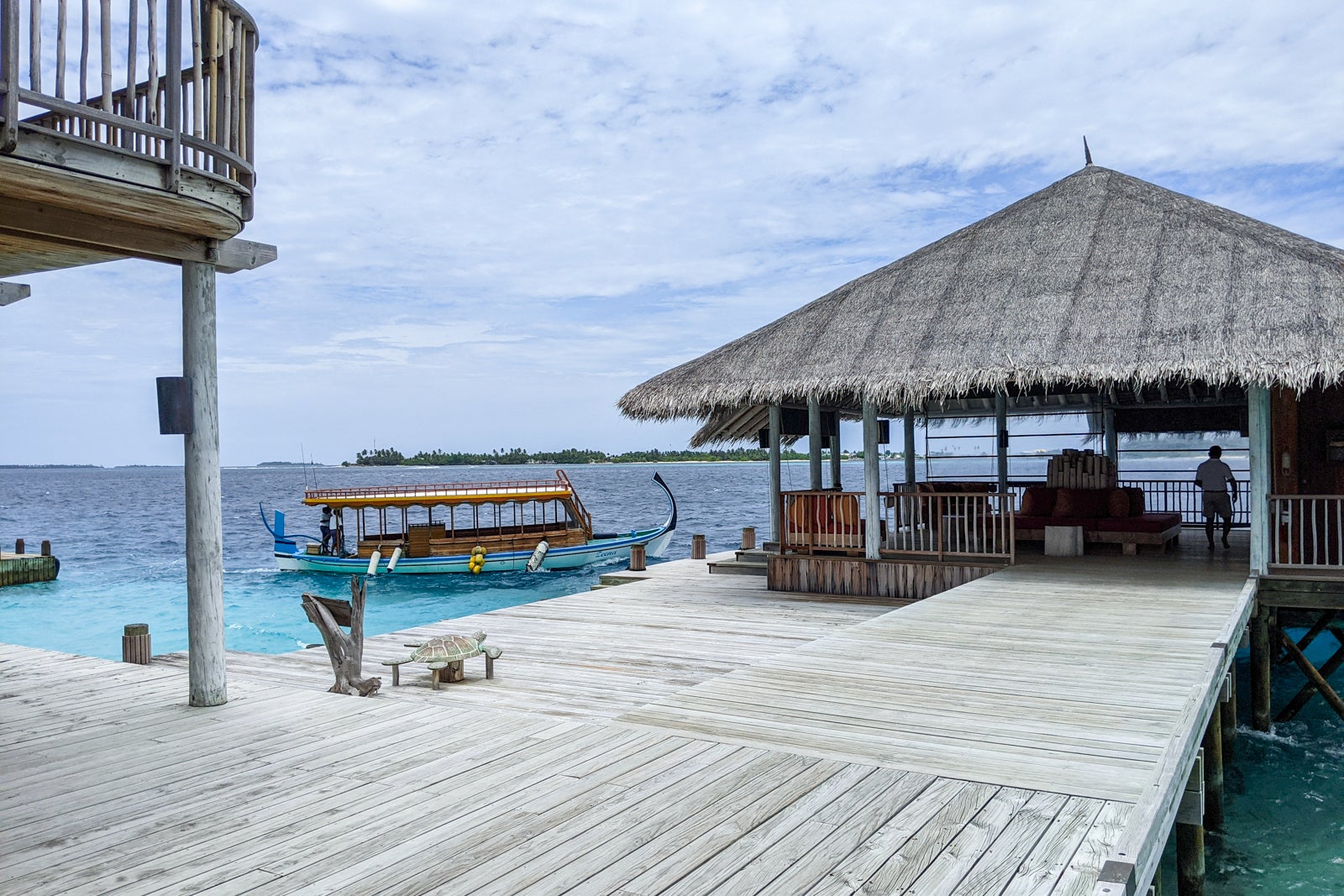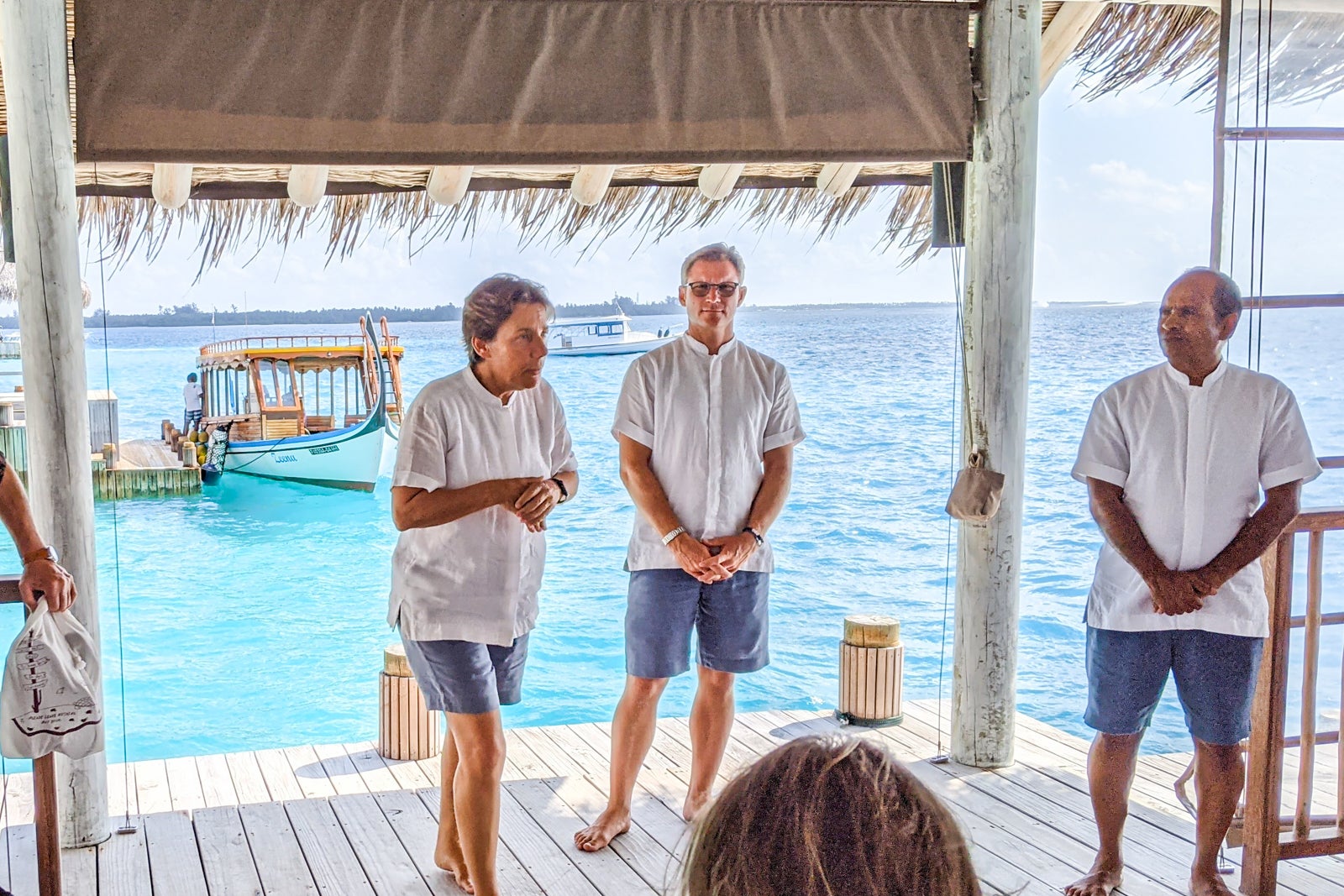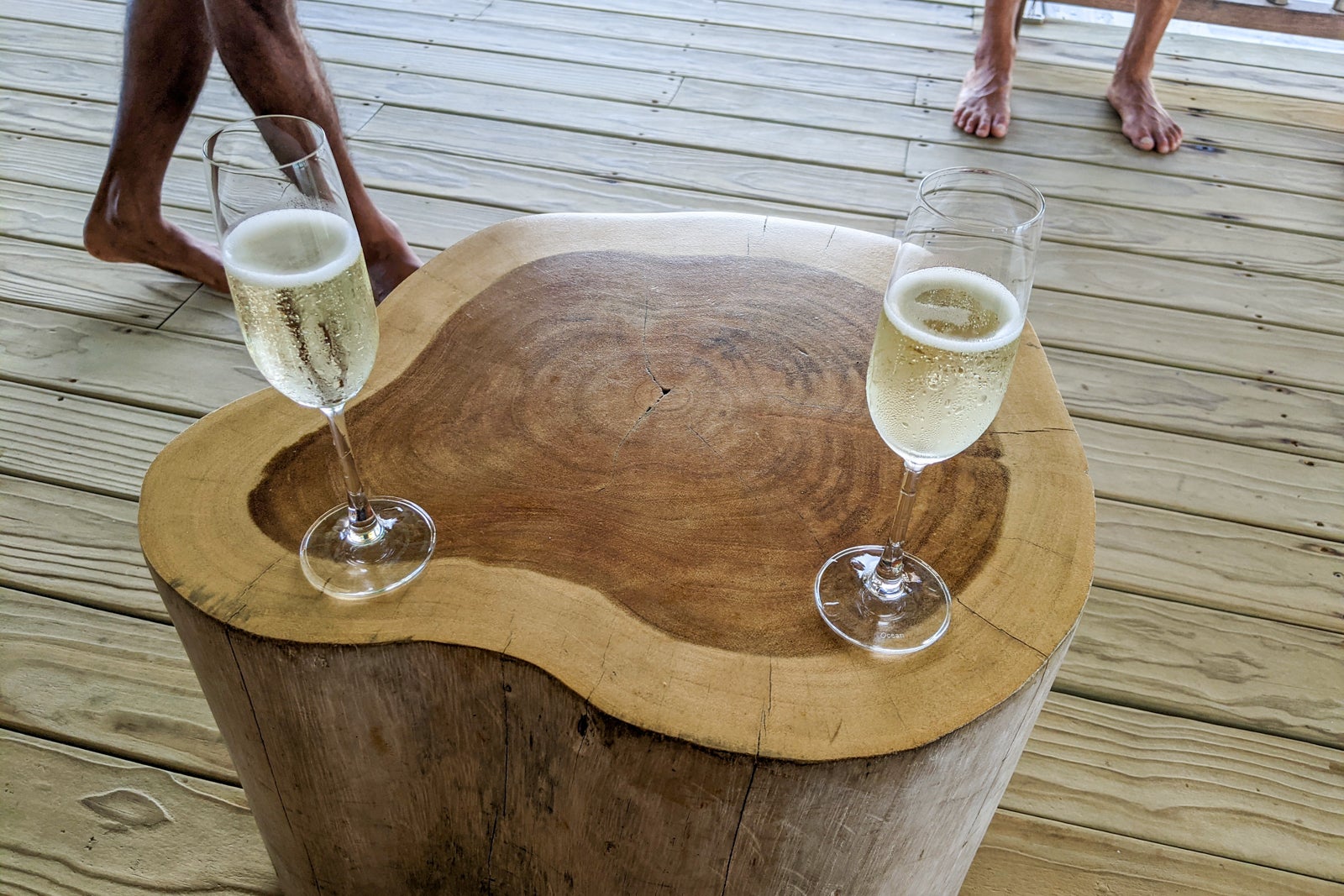 Then we met our Guest Experience Maker (GEM;  the resort's version of a butler). He gave us a walking tour of the central, overwater heart of the resort and then took us in a cart to our villa. We'd booked an overwater villa, but the resort upgraded us to a Laamu Water Villa. In speaking with our GEM, we realized that the property had only seen Spire Elite status, not Spire Ambassador status, on our booking.
Once at our room, our GEM gave us a thorough room tour. Our GEM then did our first daily health check, which involved a temperature check and answering a few health questions. He also gave us his WhatApp number and encouraged us to use that number to communicate with him as needed.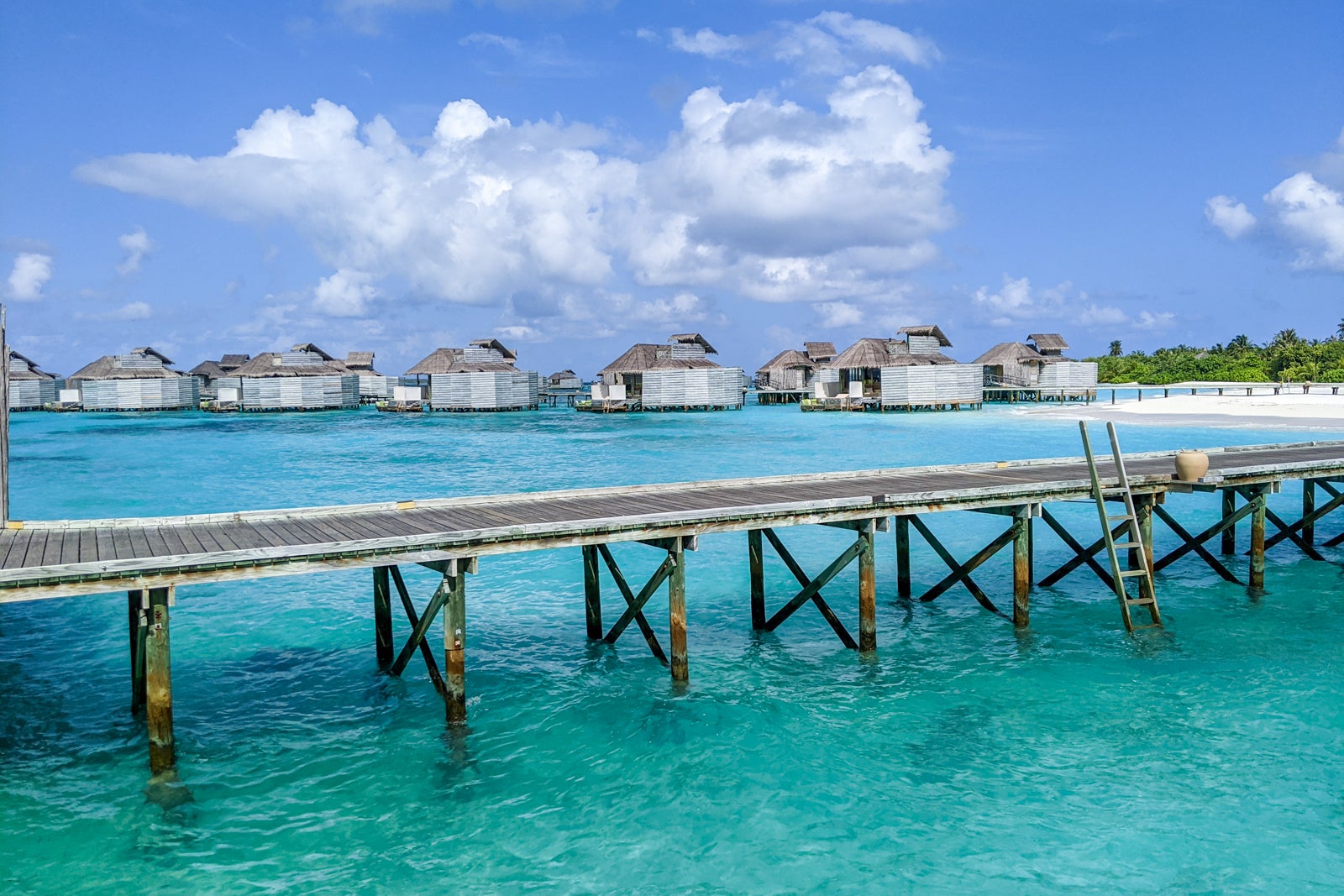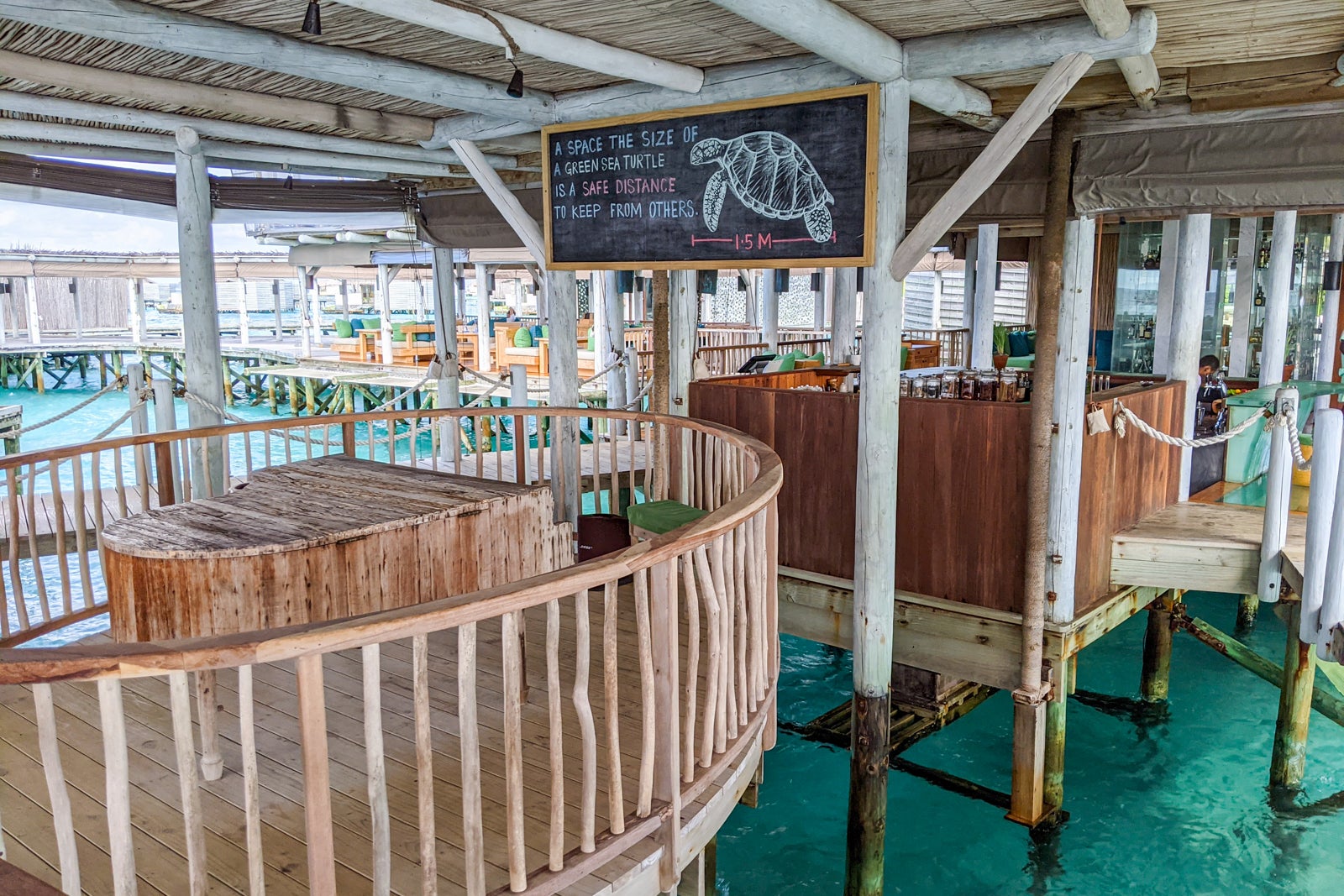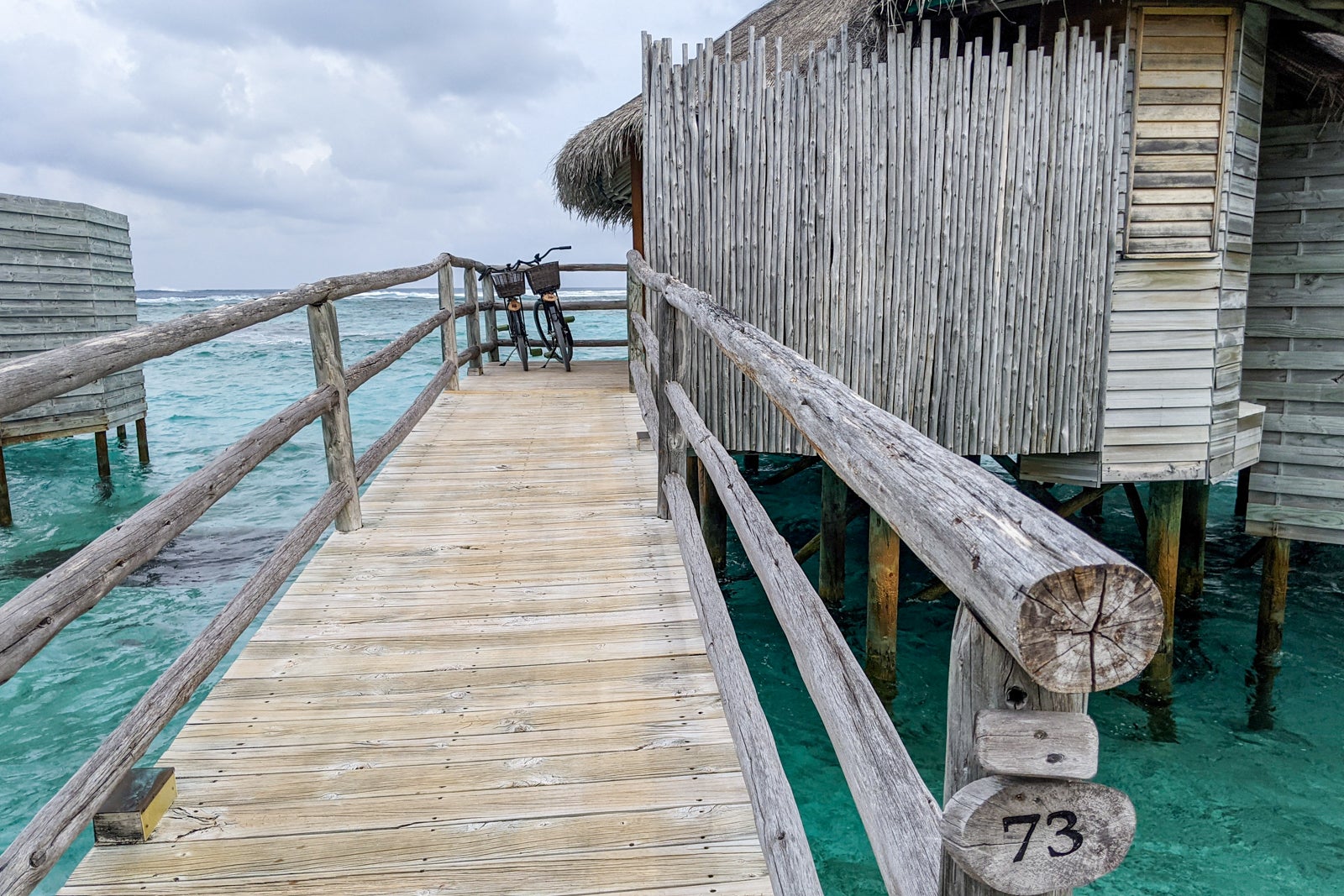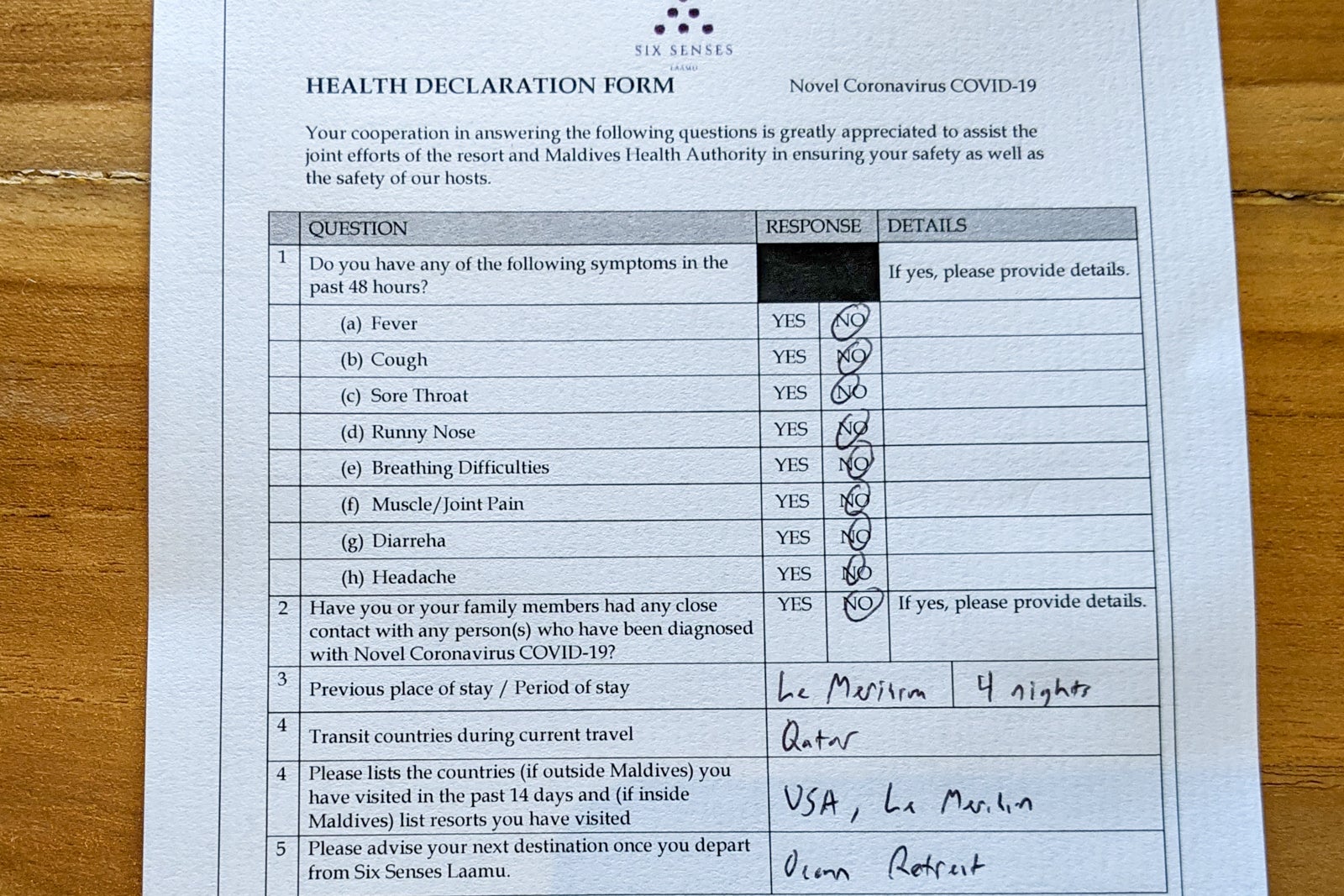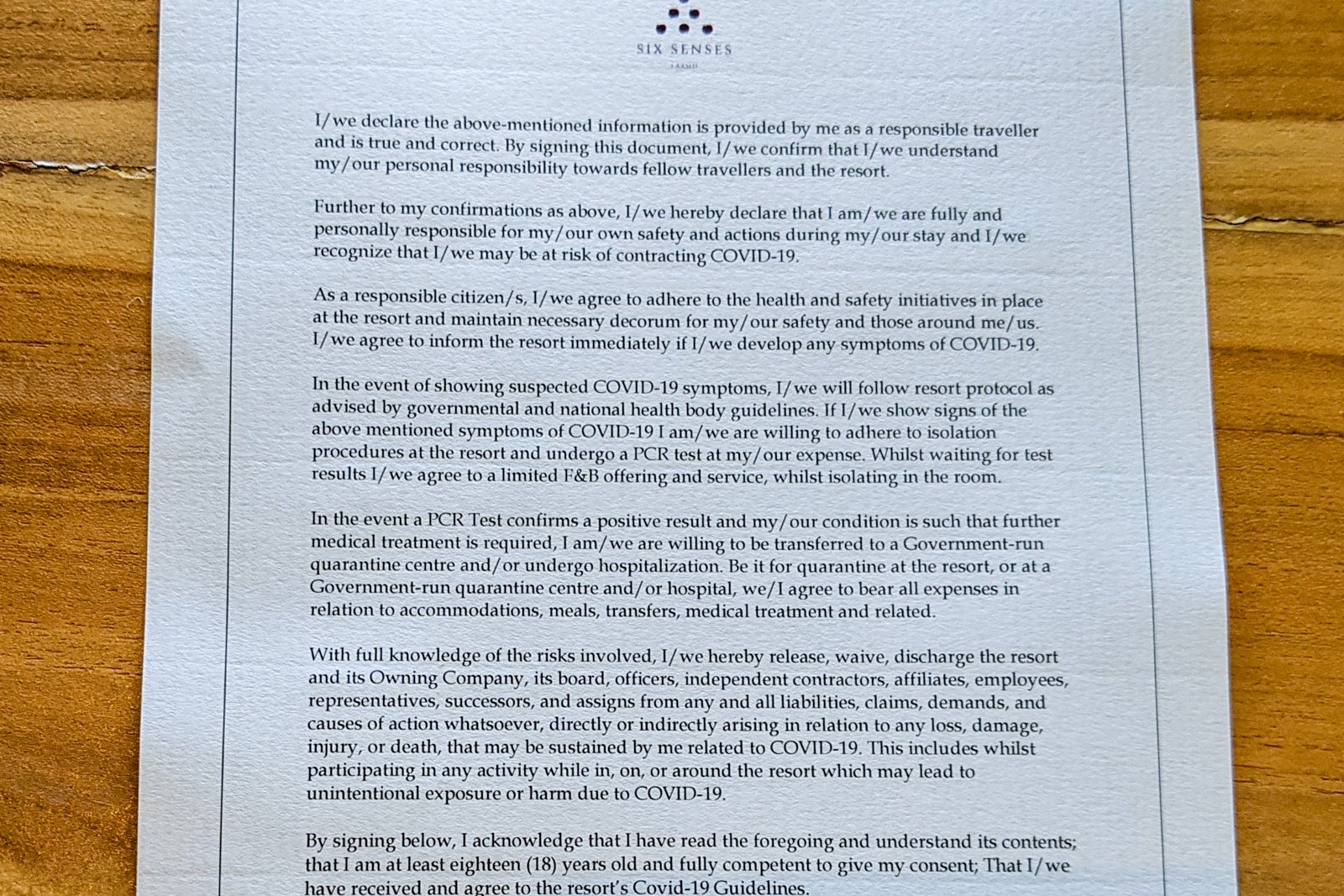 Related: The best ways to get to the Maldives on points and miles
Laamu Water Villa
We stayed in Laamu Water Villa 73 on Jetty C. The water villas at Six Senses Laamu look like beehives due to their privacy walls. You'll be given a physical key with a wooden key chain for your room, so you'll need to remember to lock your door each time you leave.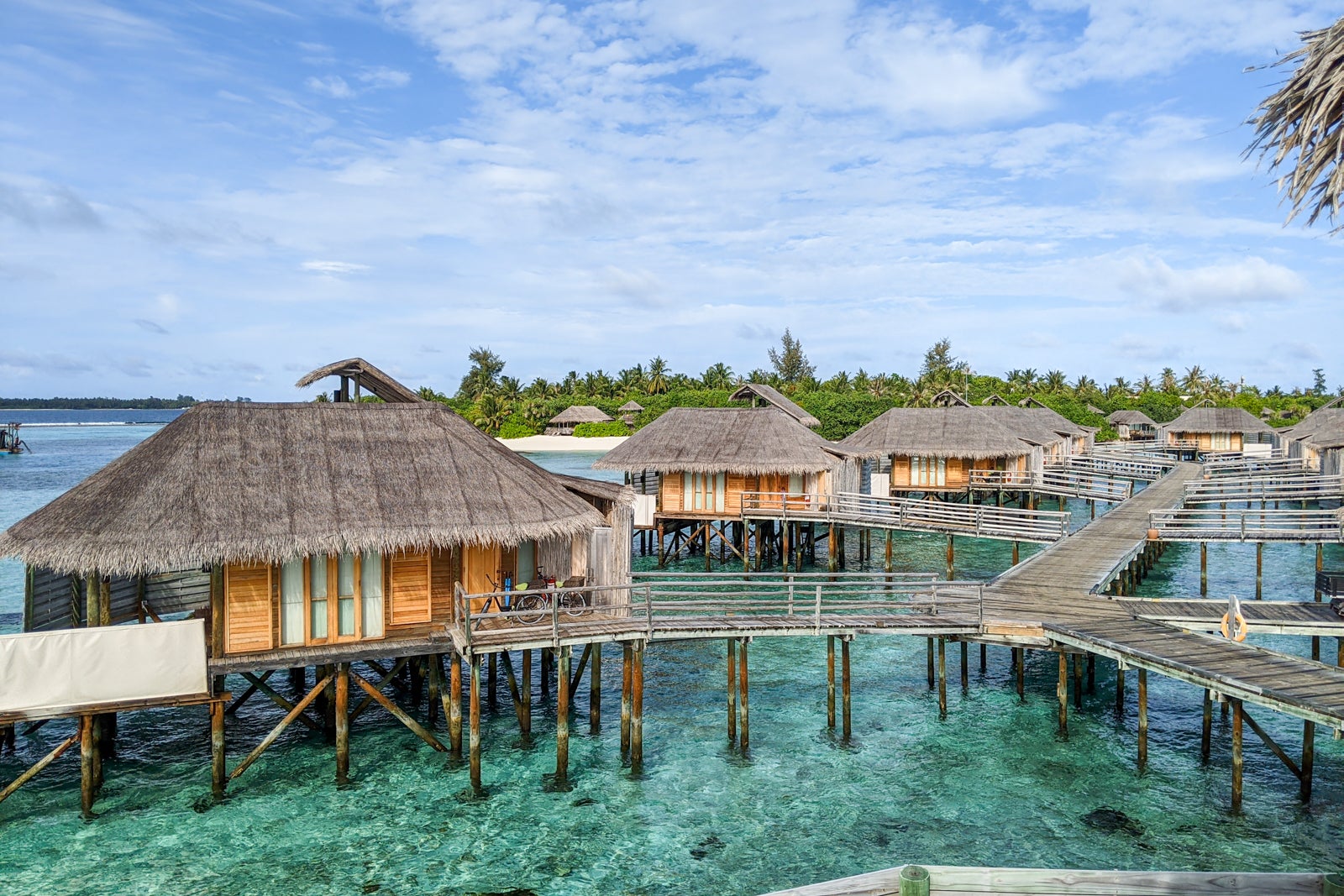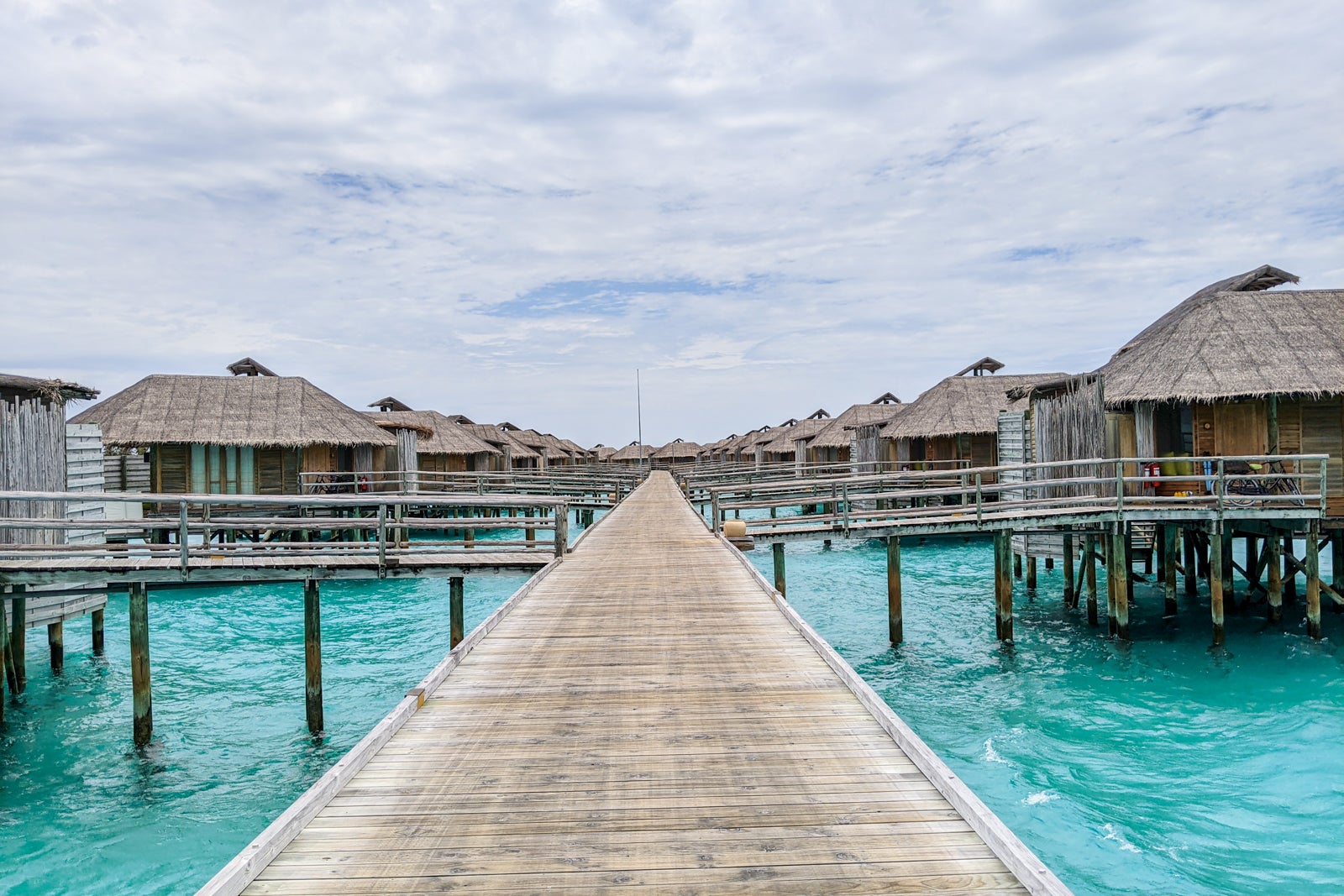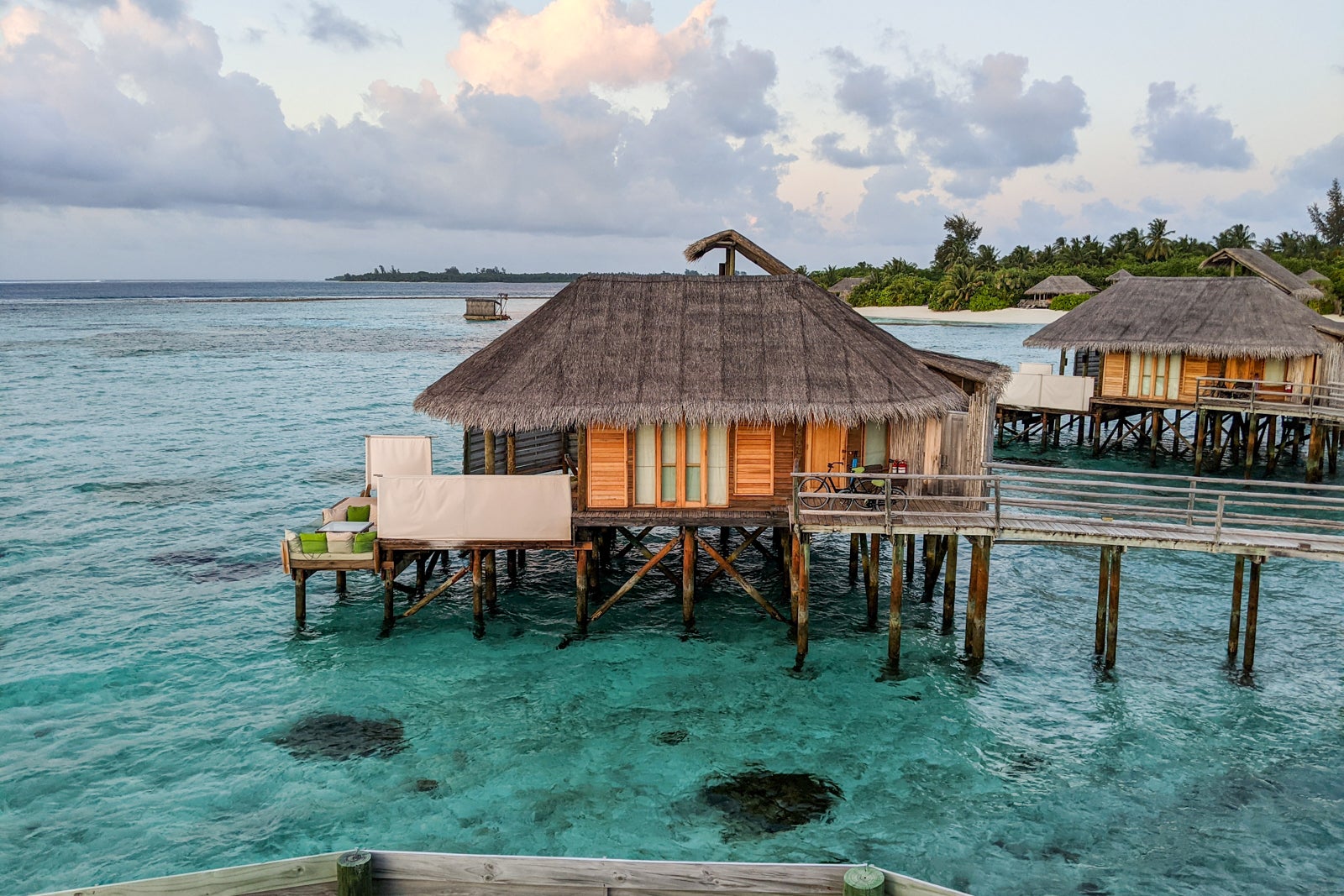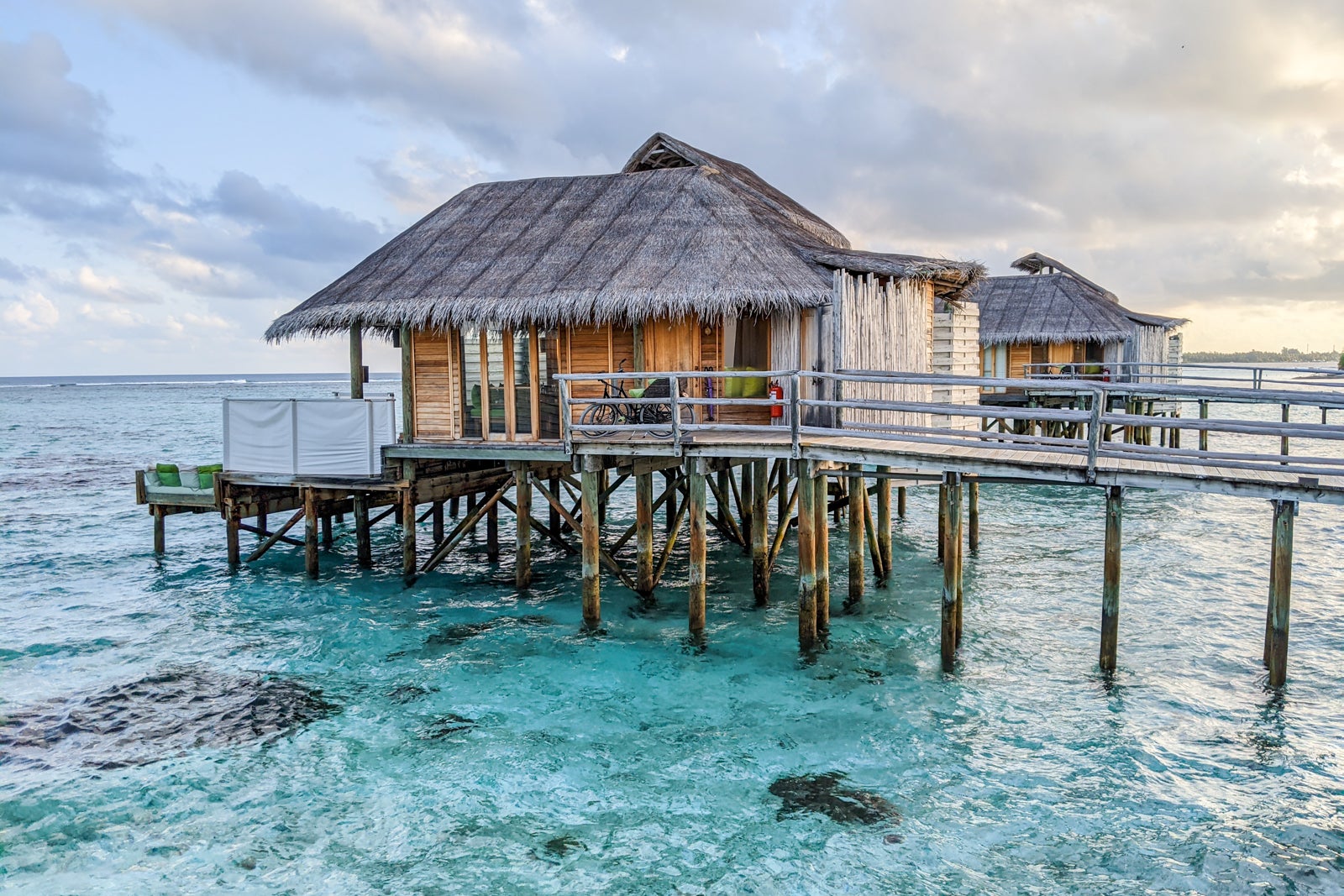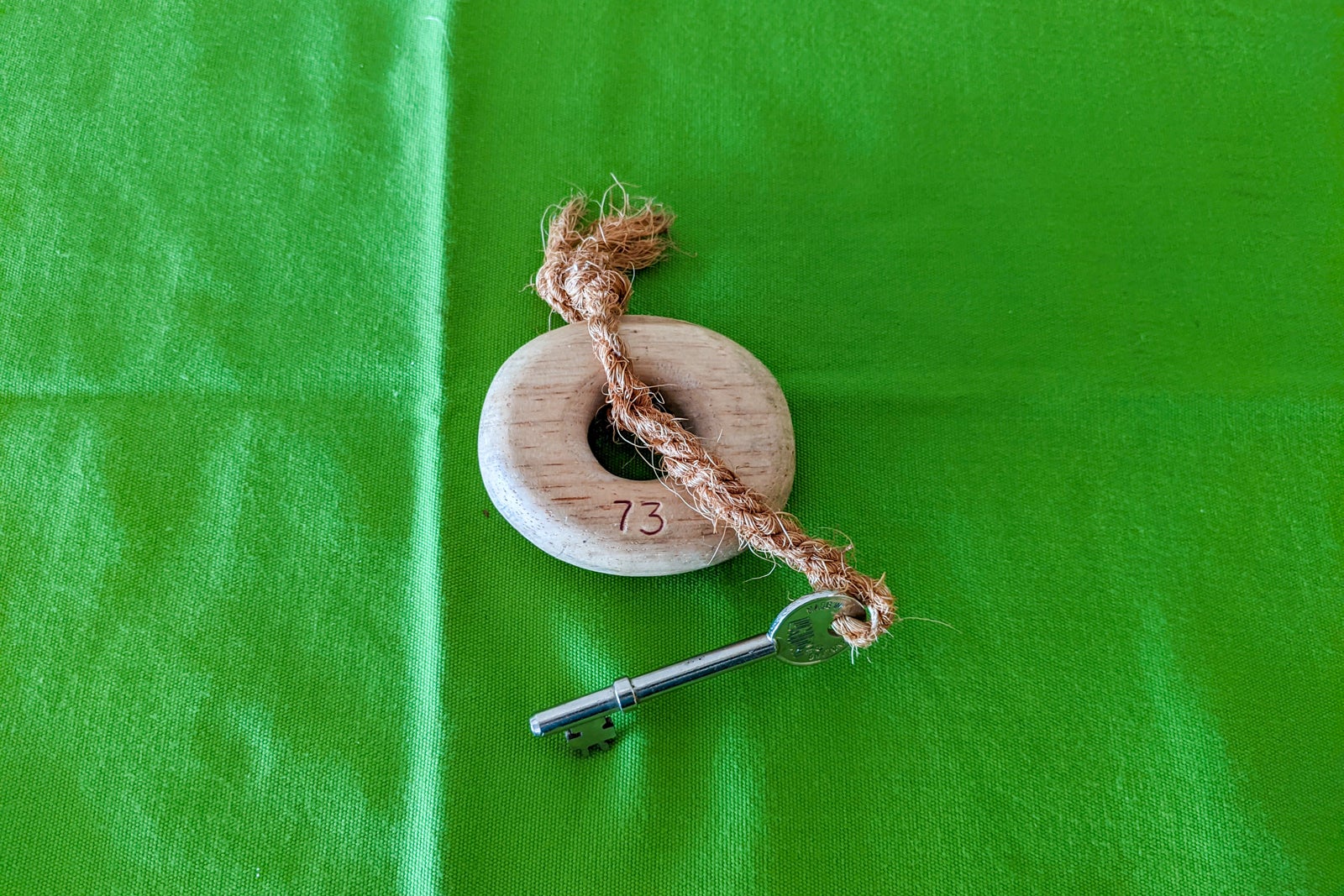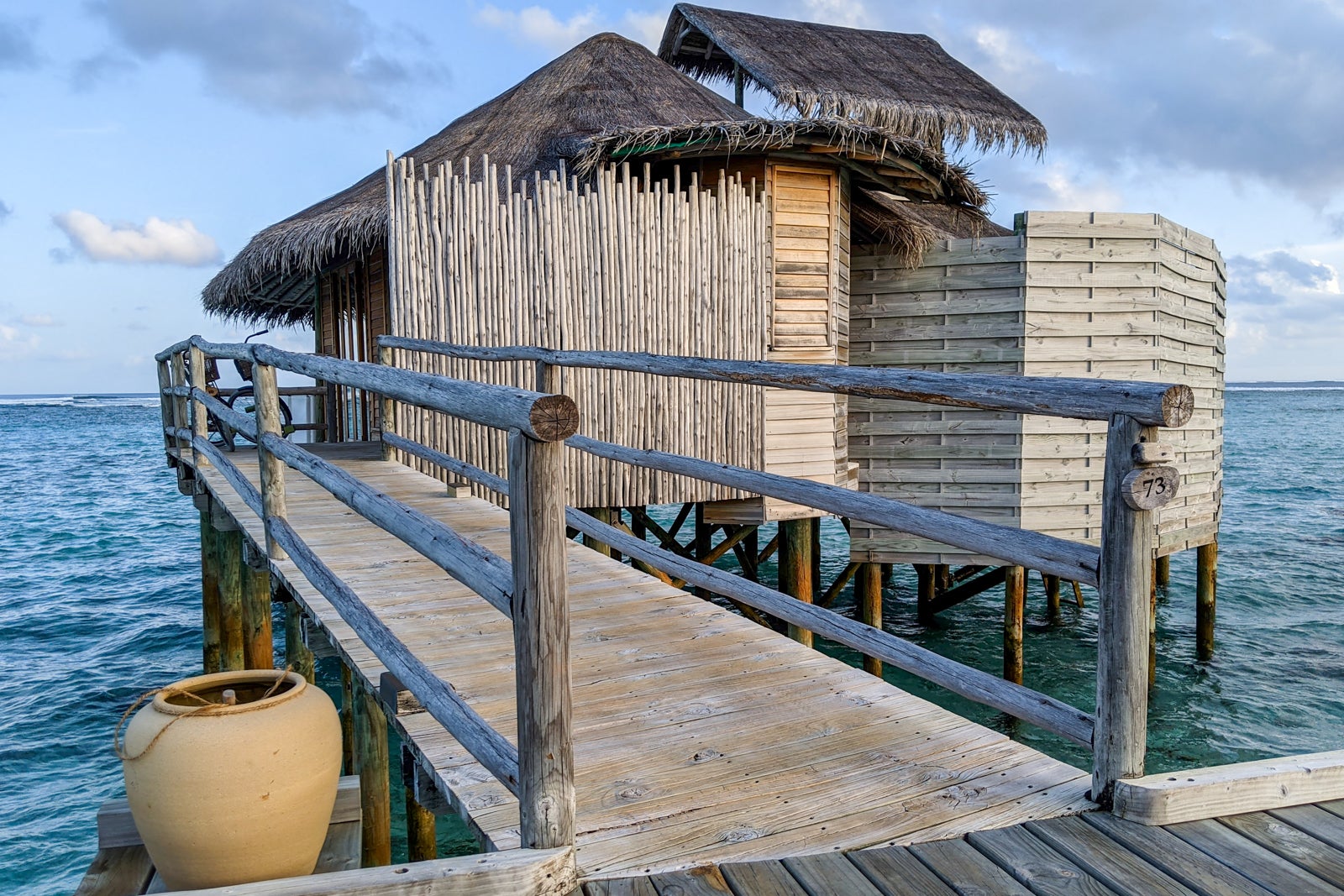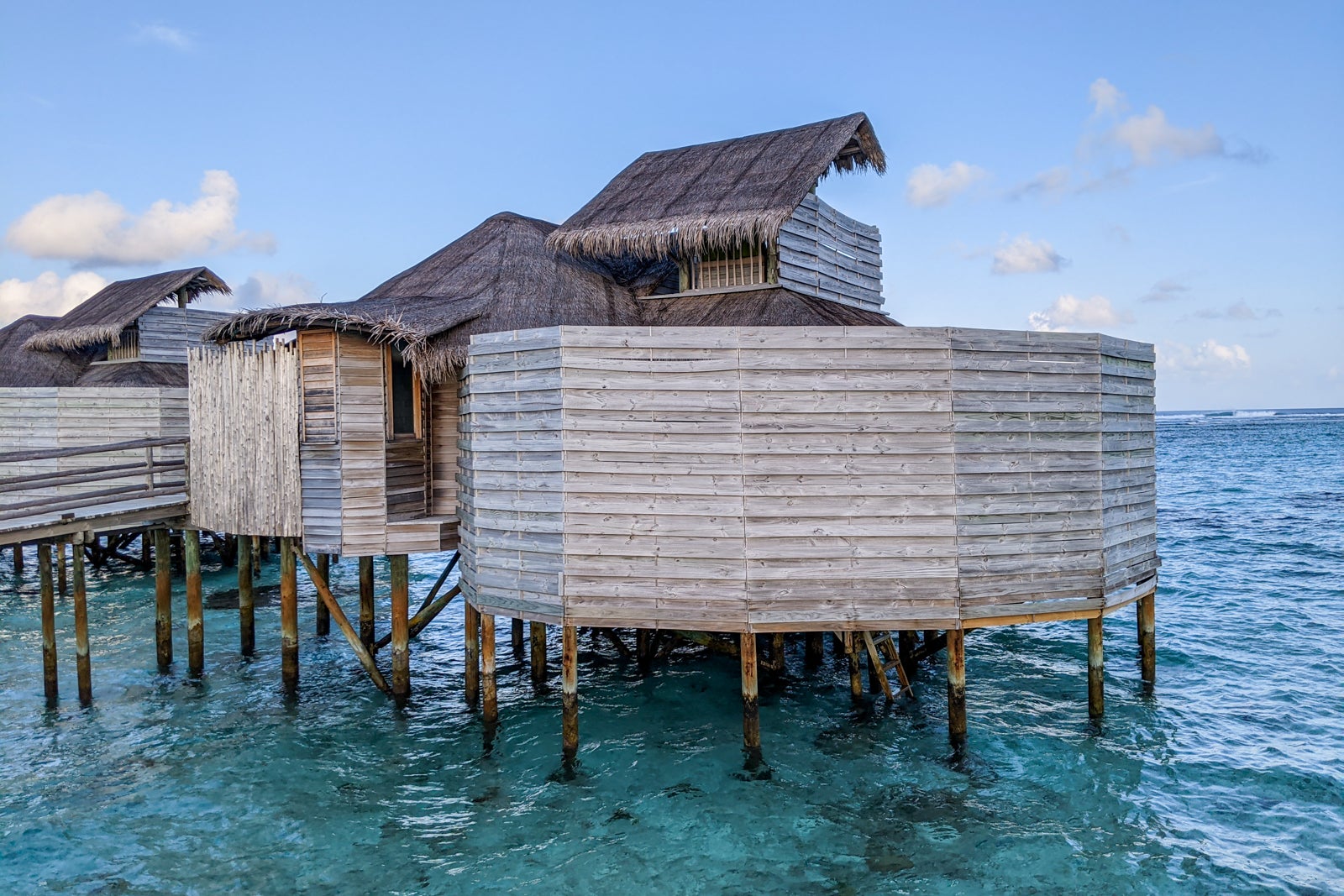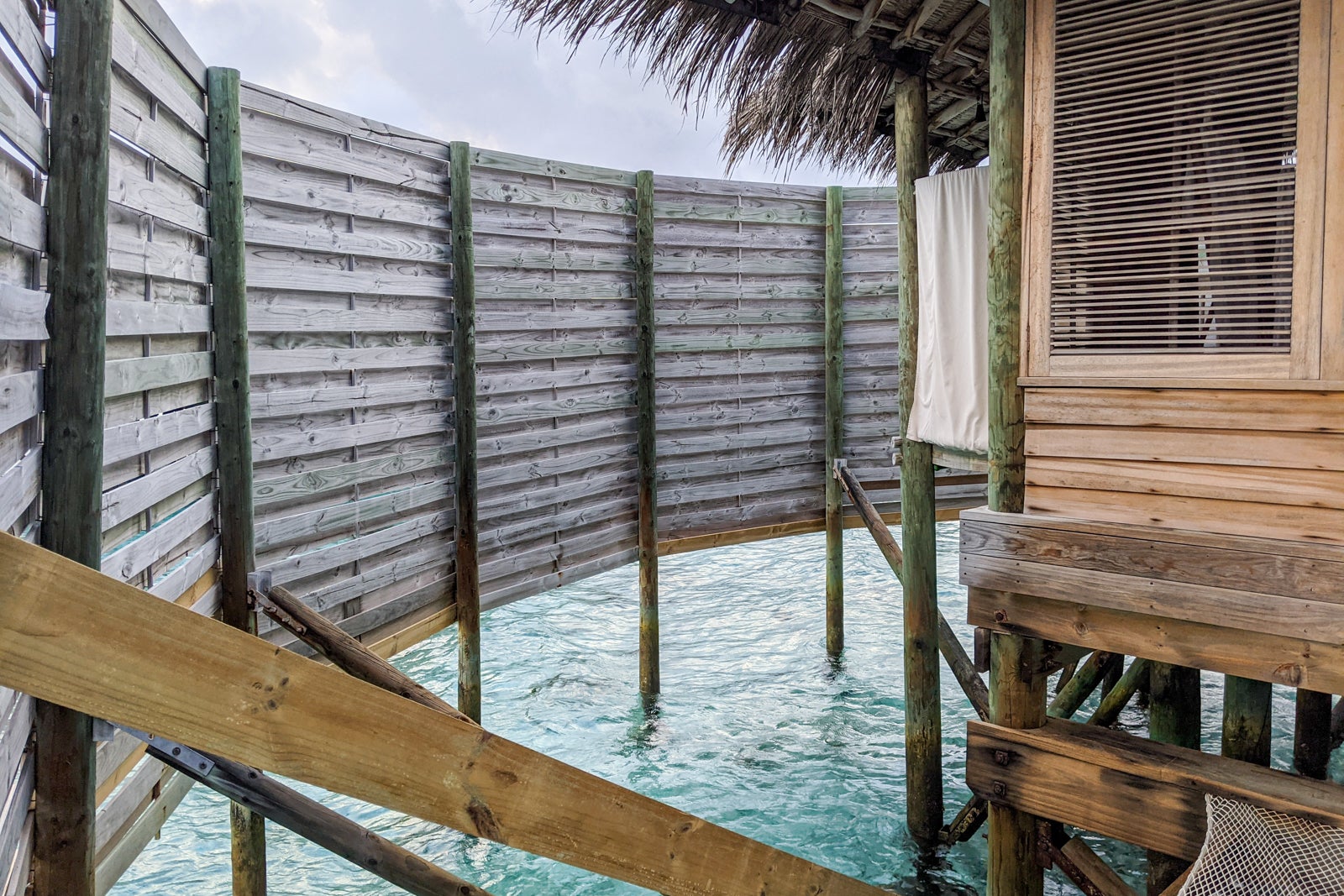 When you unlock the door, you'll step into the sink area of your room but have a view from the doorway across the entire indoor, air-conditioned part of your room.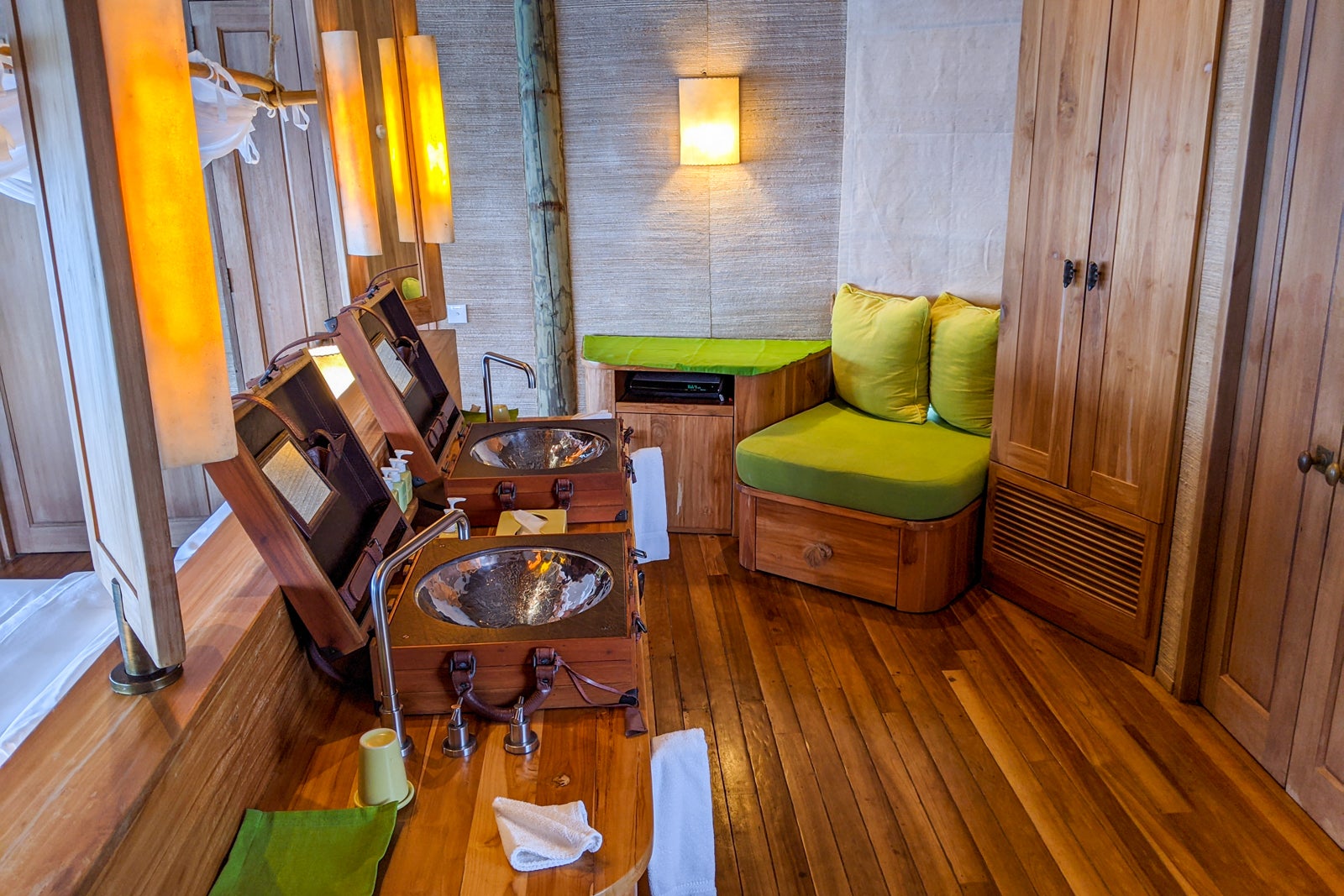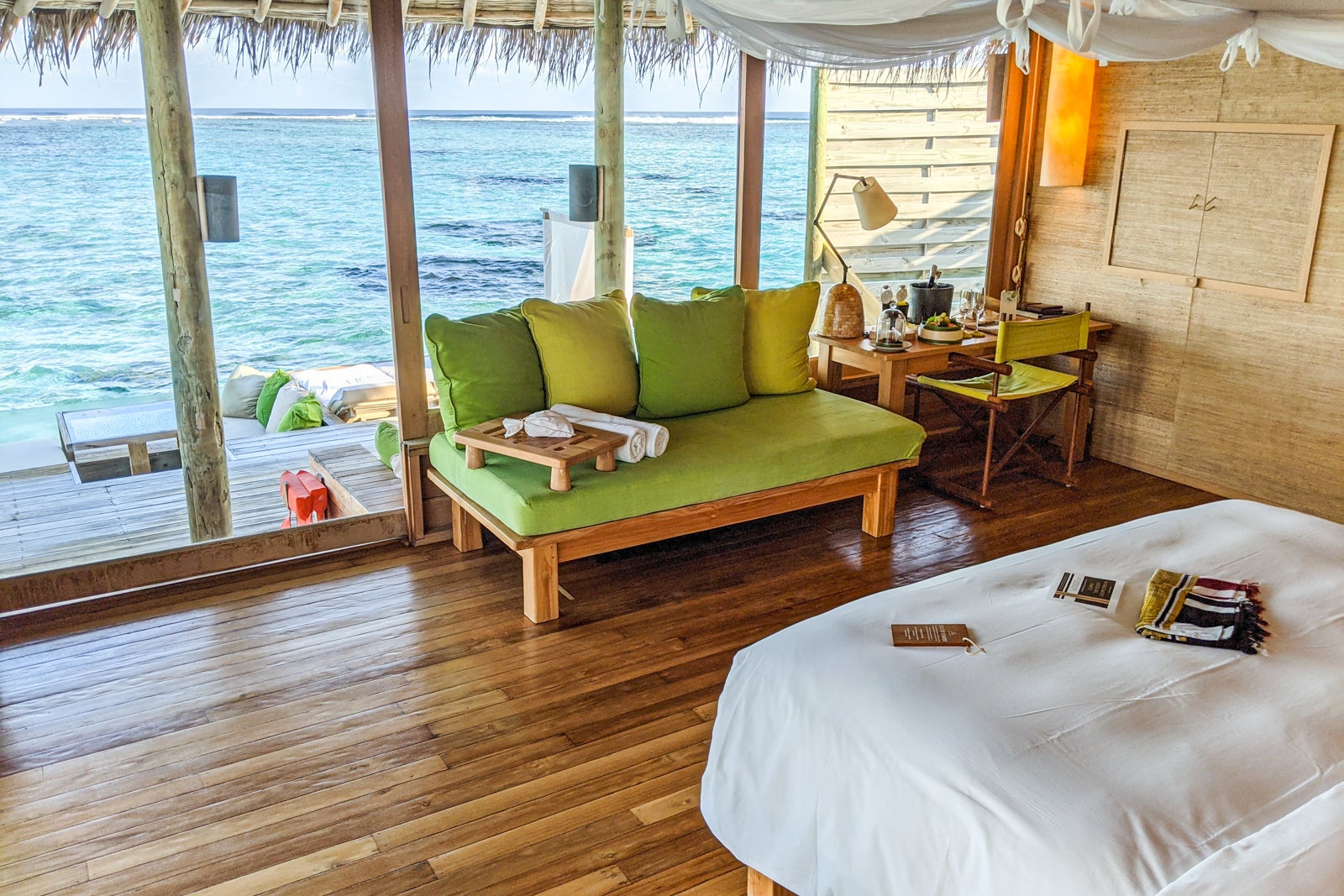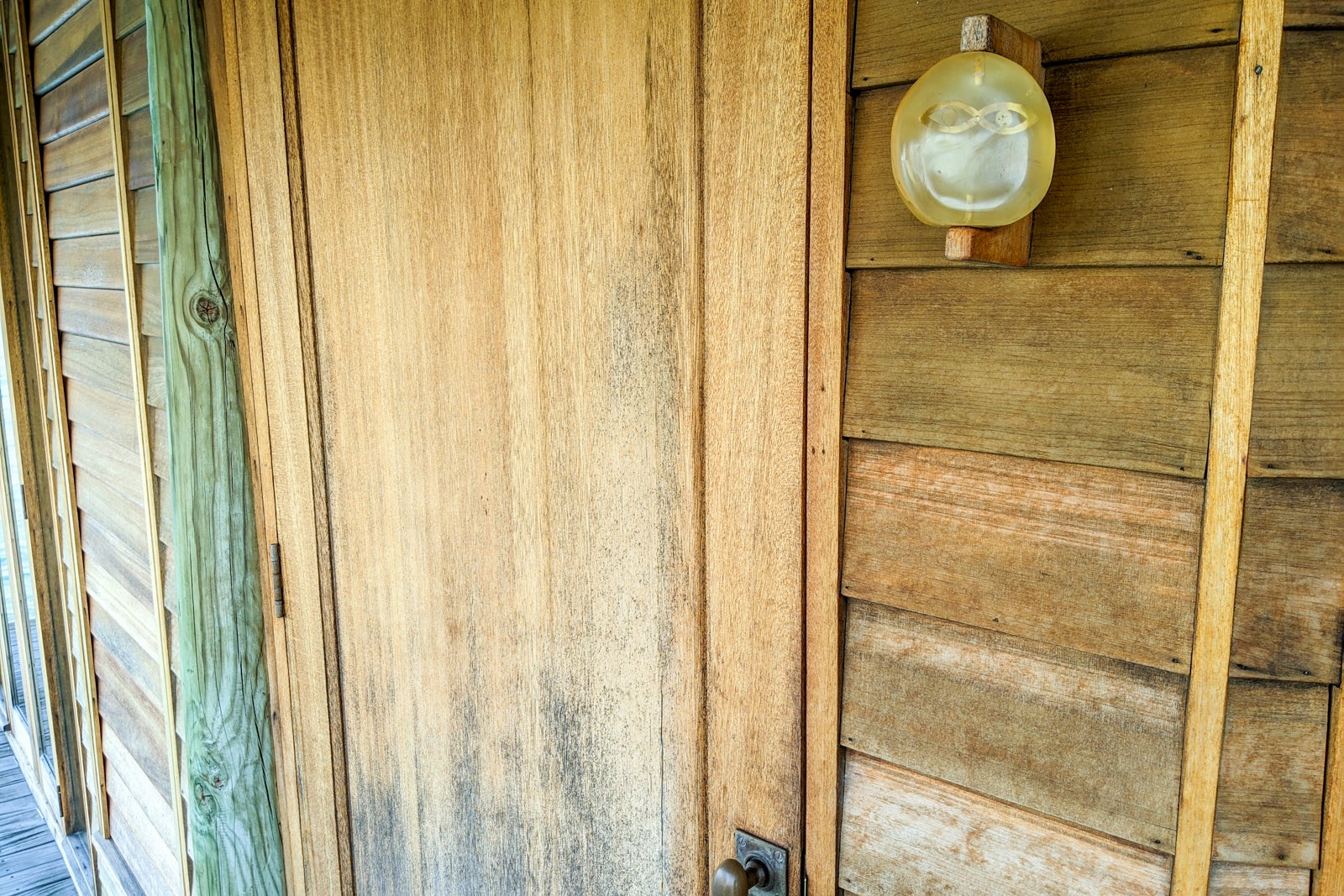 Straight ahead are two sinks in closeable cases. Between the two sinks are a variety of refillable Six Senses-branded amenities, including after sun shampoo, after sun conditioner, aloe vera gel, insect repellent, body lotion and liquid soap.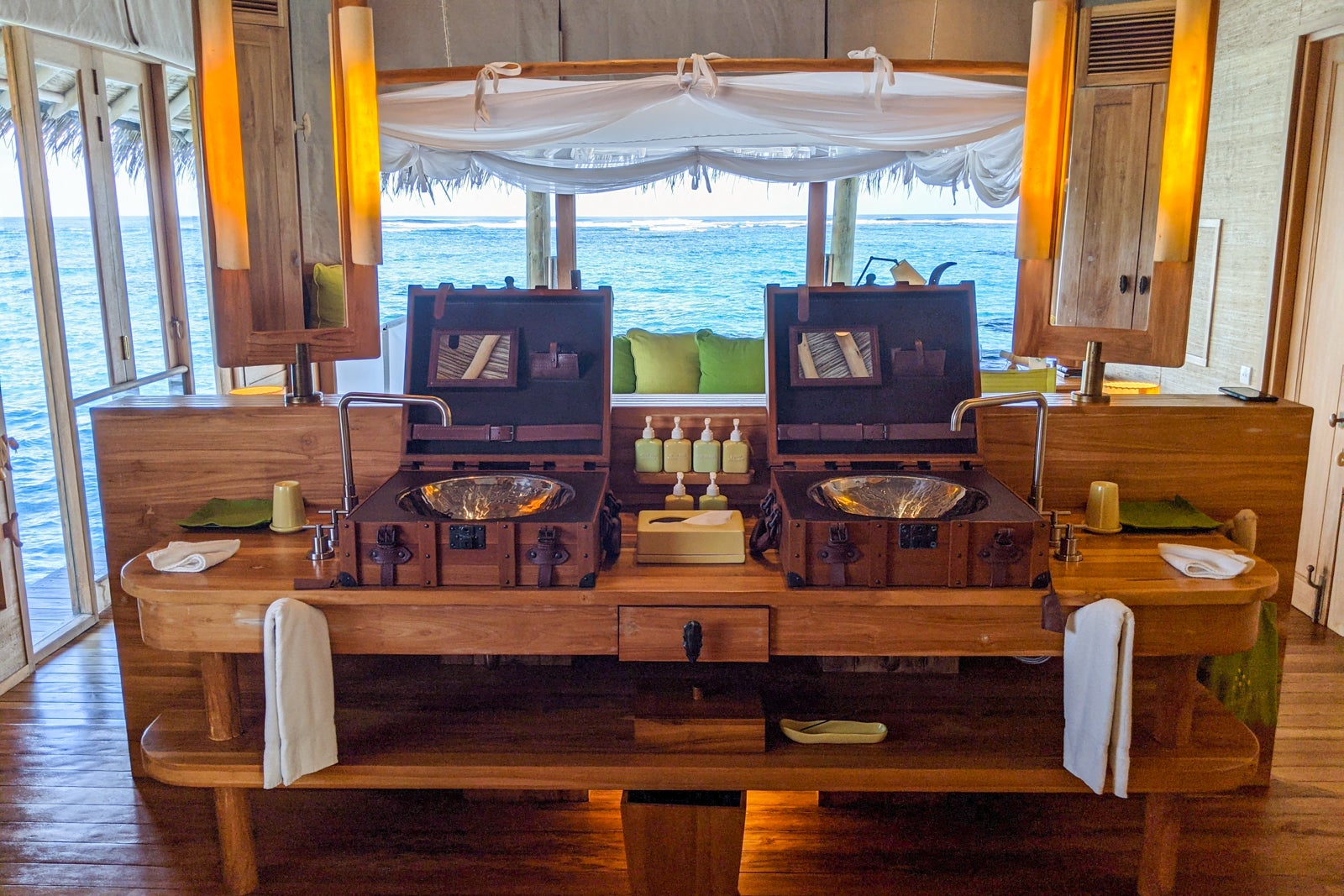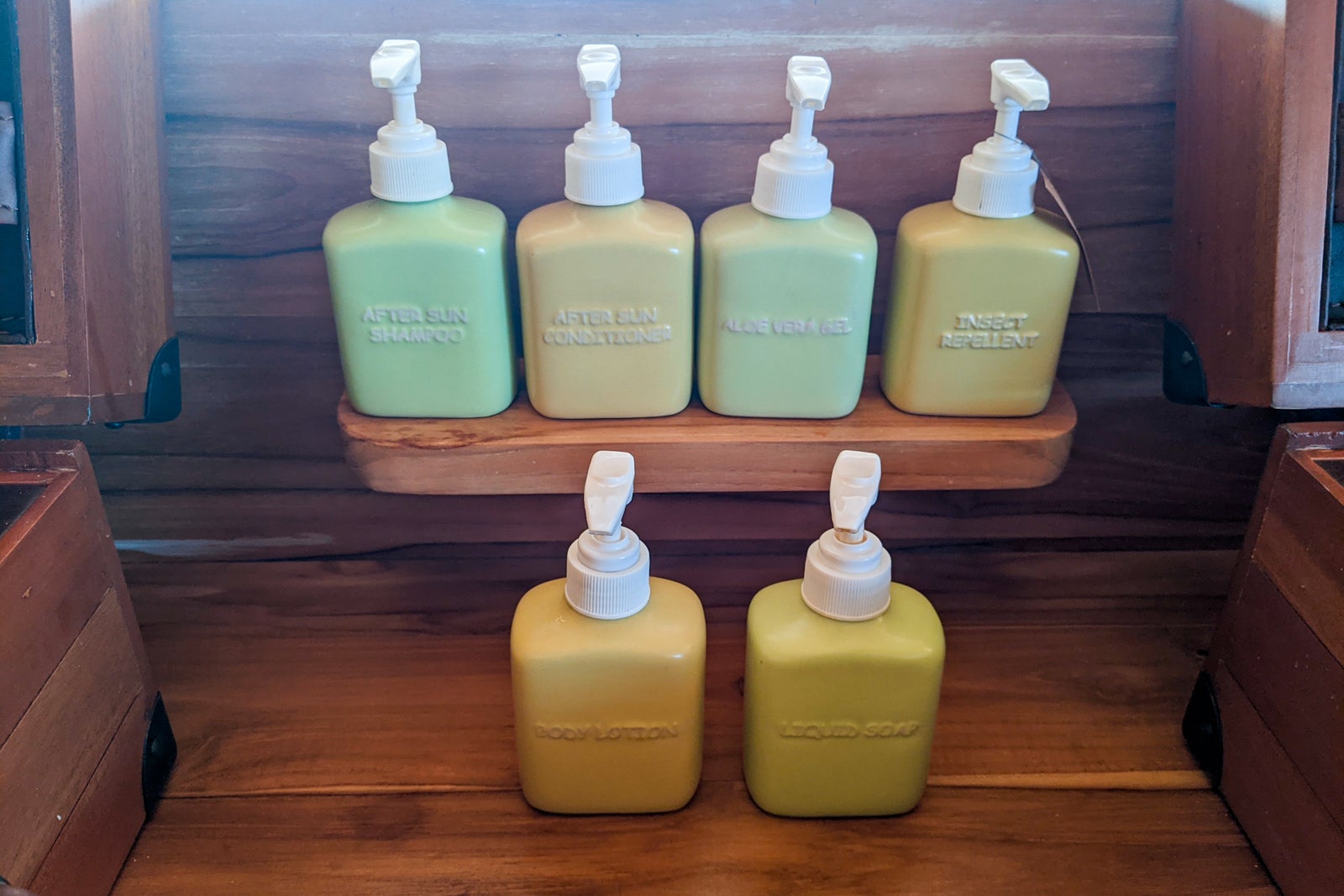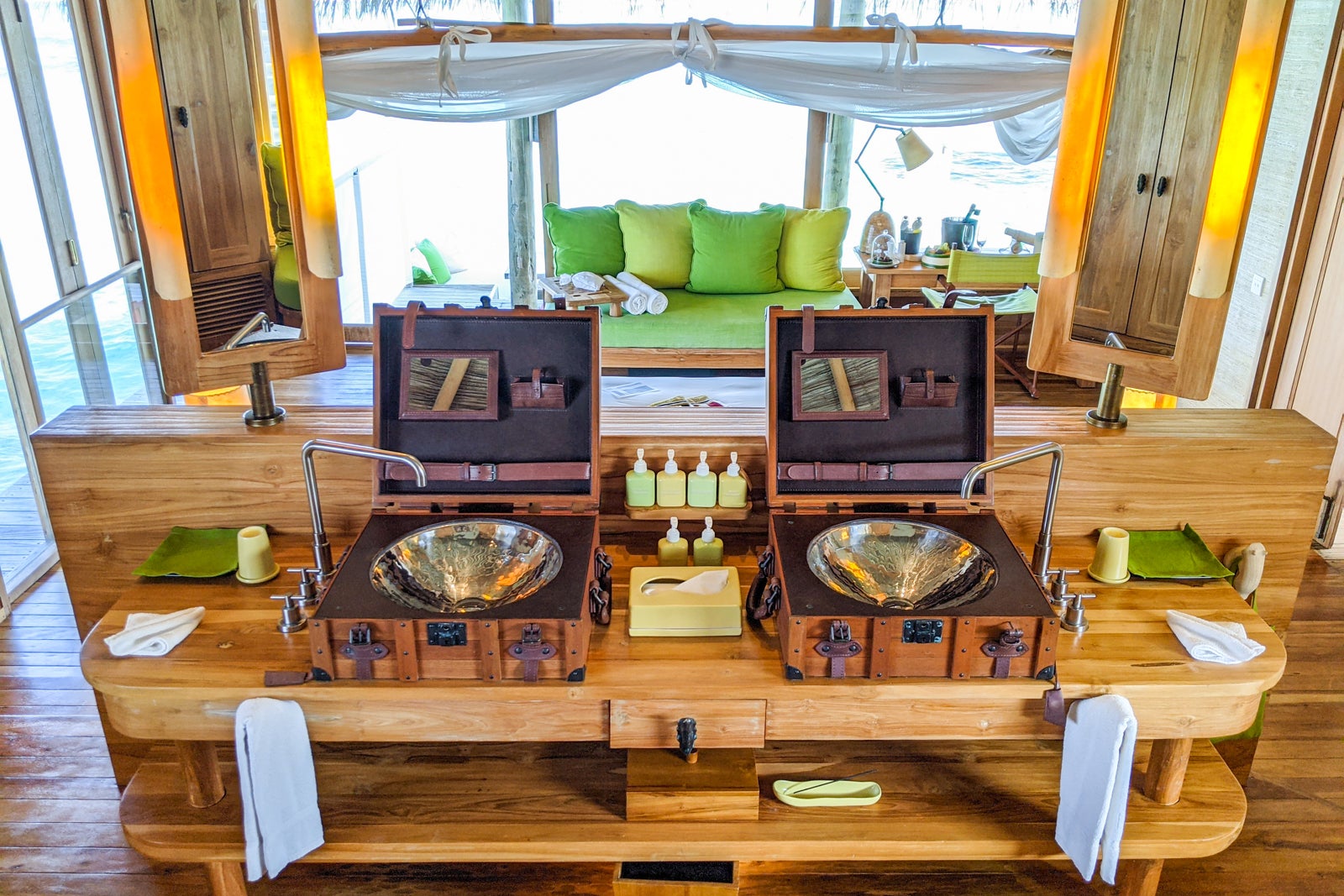 Under the sinks is a box with several other amenities. Next to the sink area, there's a BaByliss Paris 2100 watts hair dryer in a bag. You can also order a wide selection of other complimentary items by filling out a list that's by the bed. One morning, I requested a magnifying make-up mirror and pumice stone from the list and our room attendant delivered them quickly.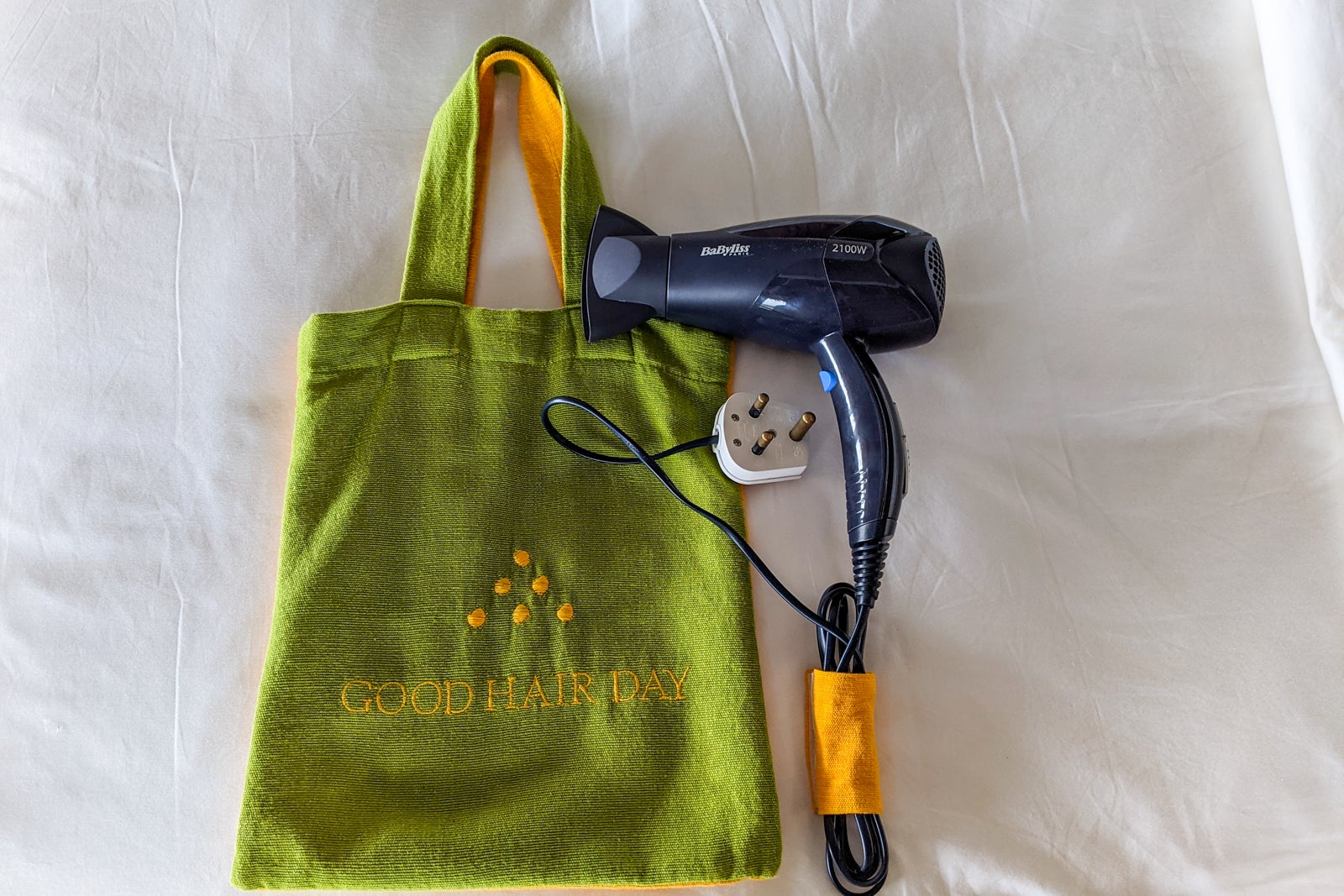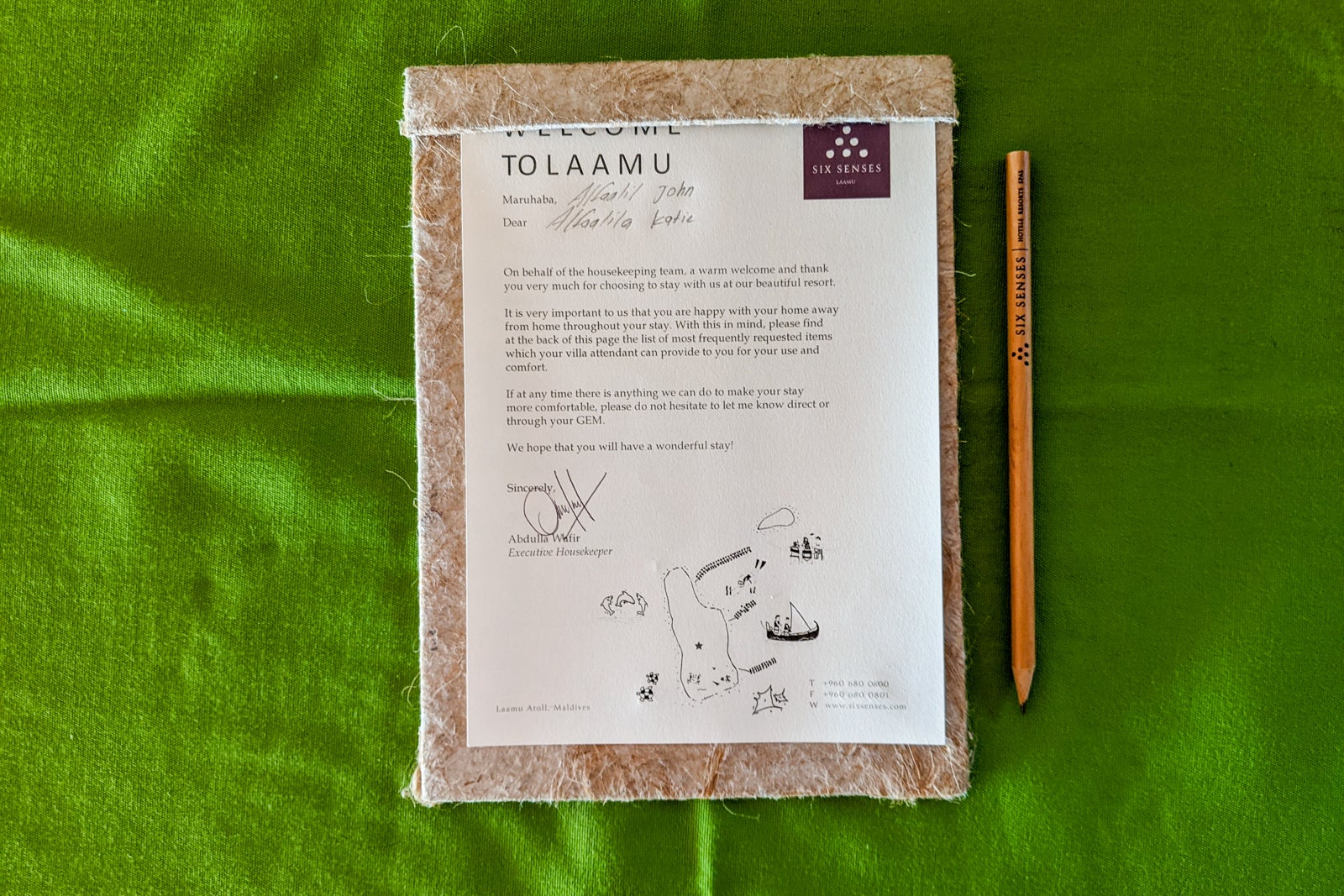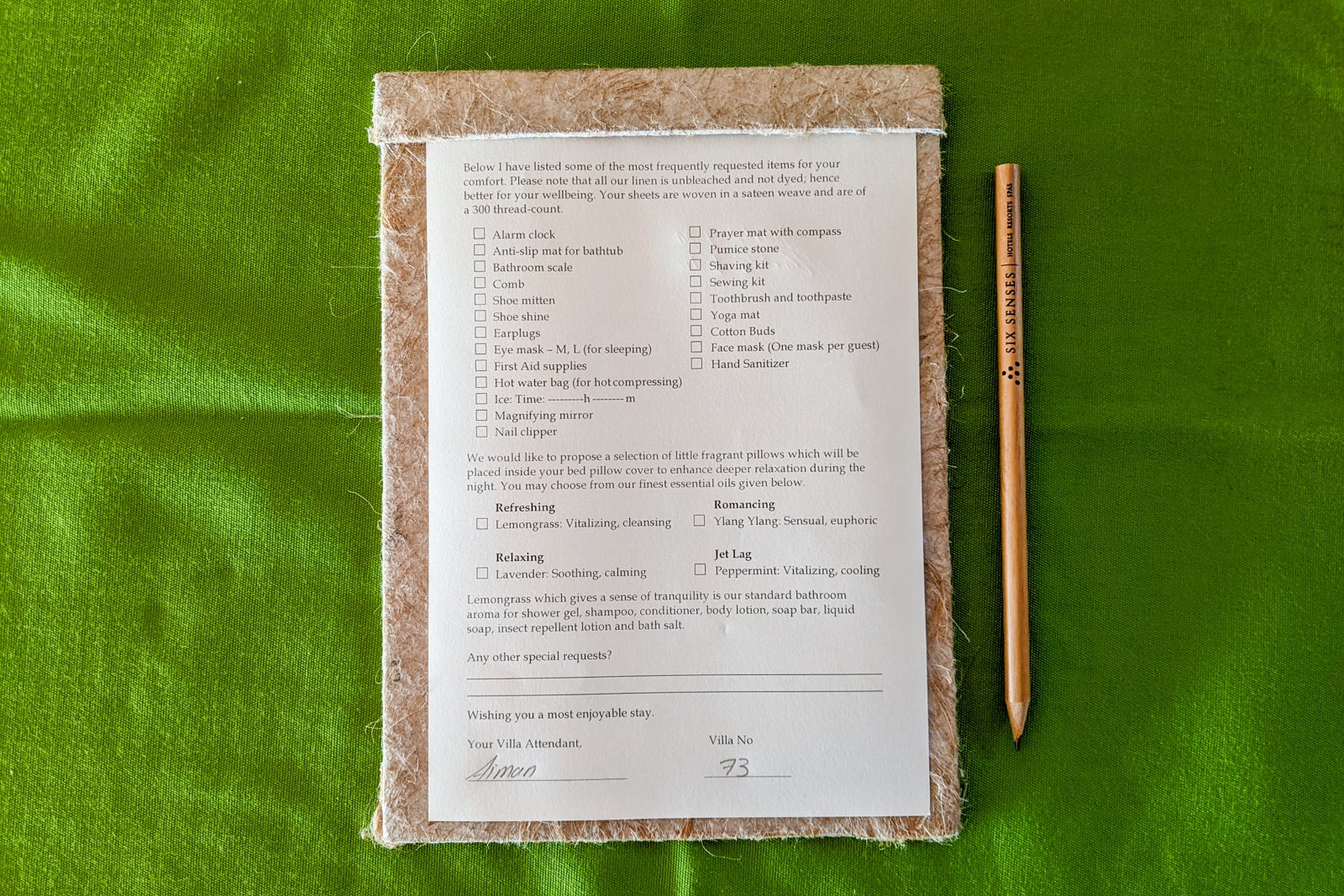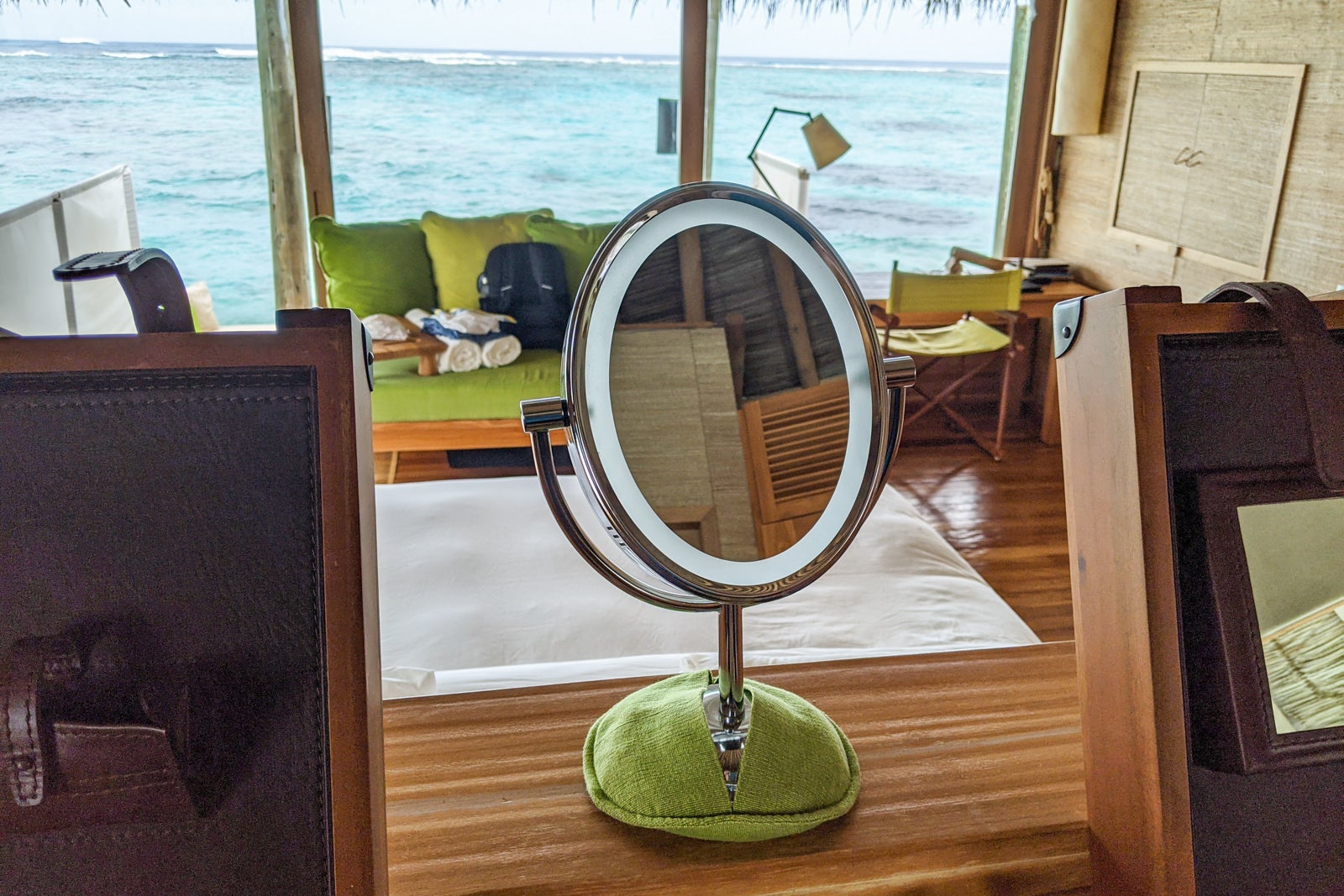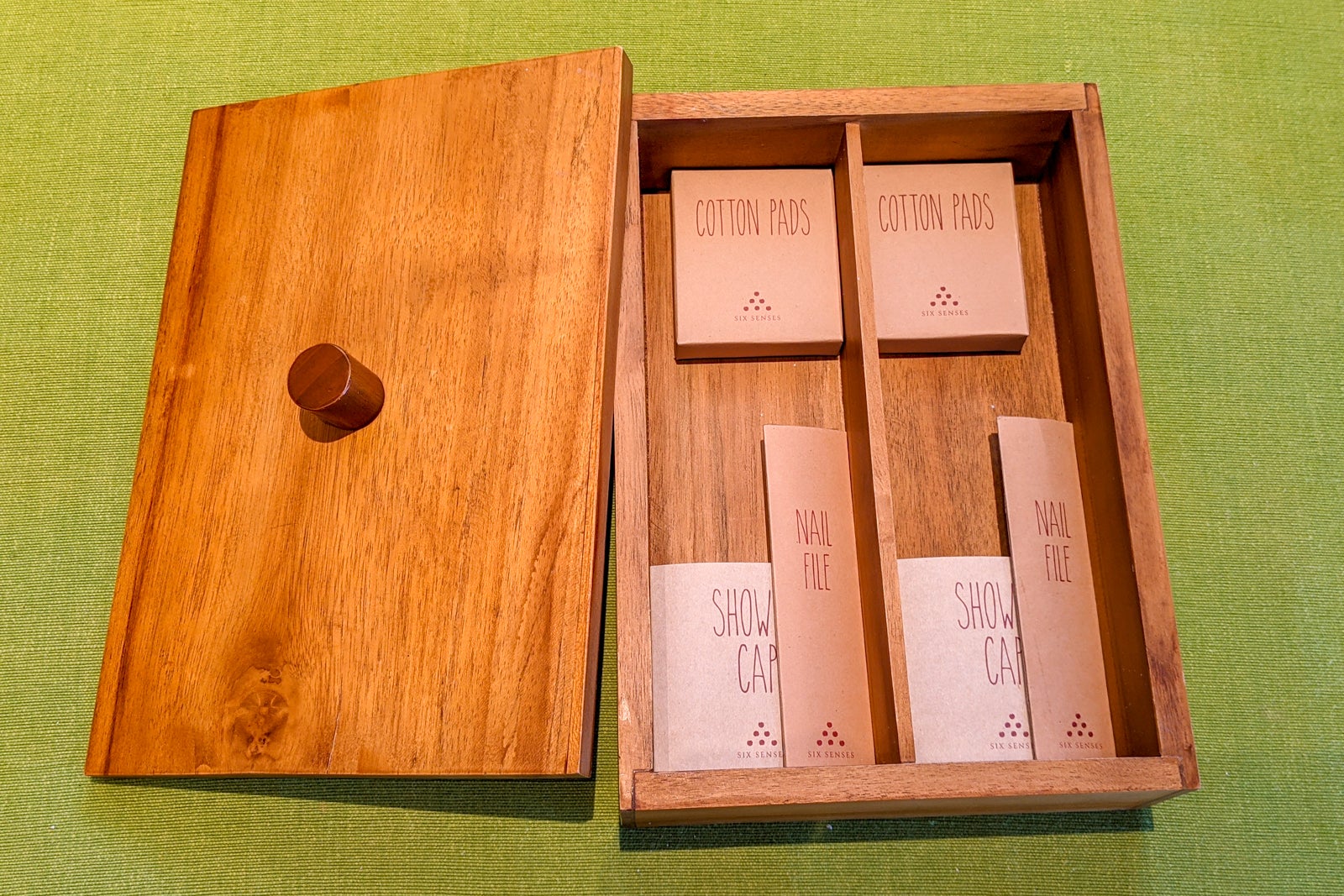 Behind the sink area are two sitting areas, two closets and the toilet room. The toilet room isn't air-conditioned but does offer ocean views through a glass window on the floor. Unlike some TPG writers who think glass-bottom bathrooms are gimmicky, I enjoyed watching crabs and fish through the window and thought it fit in well with the room design. Unfortunately, the doors to the toilet room rattled on windy nights.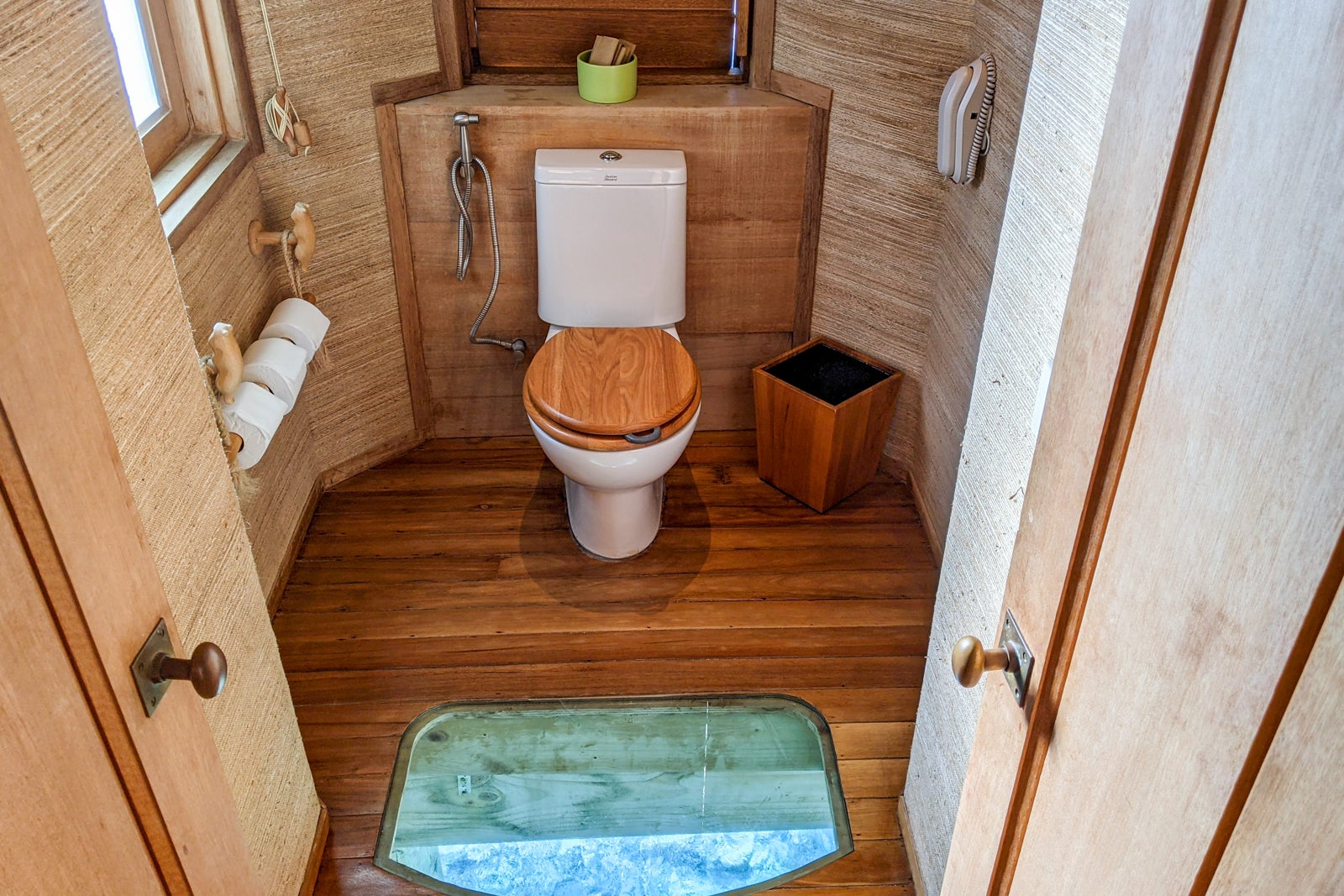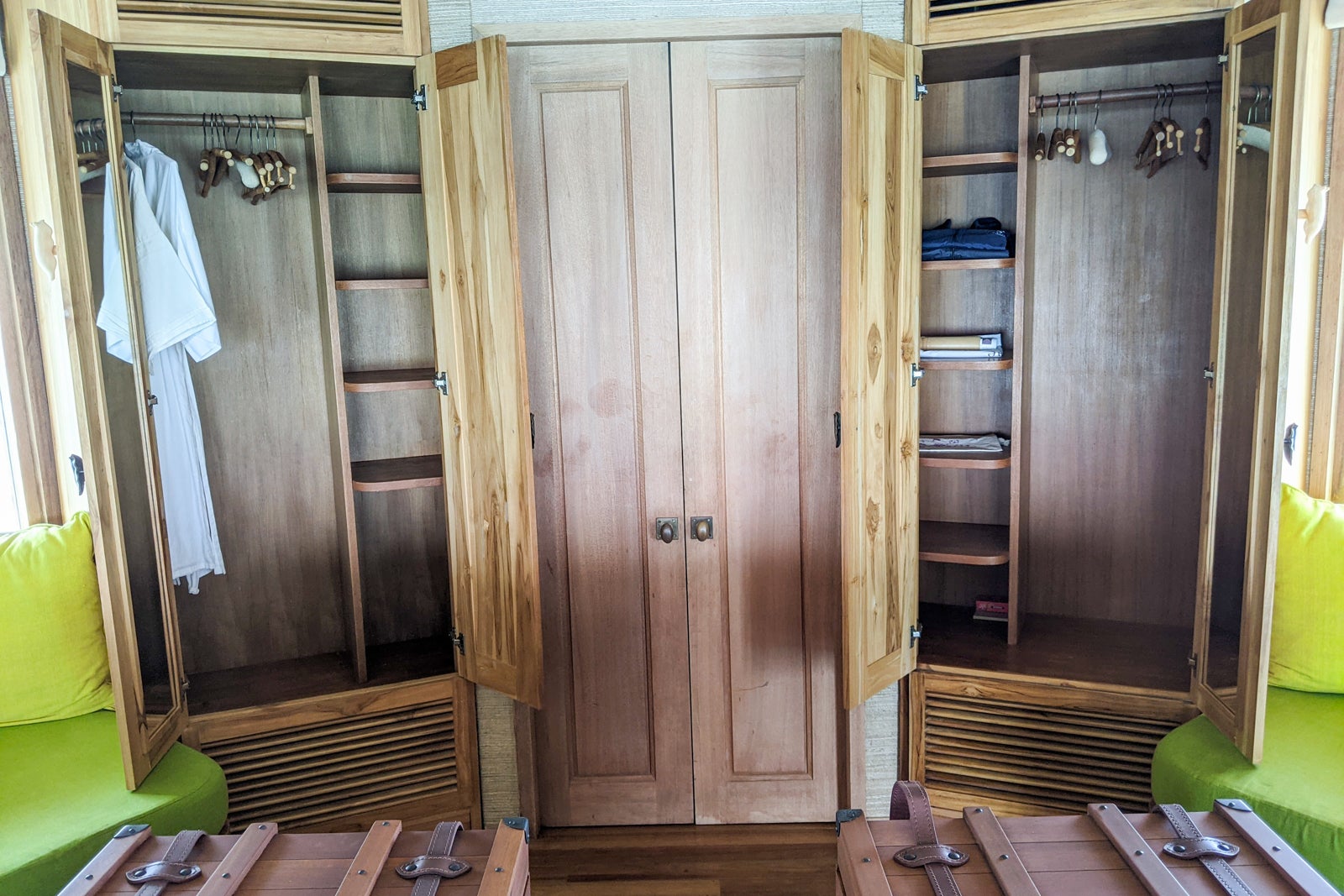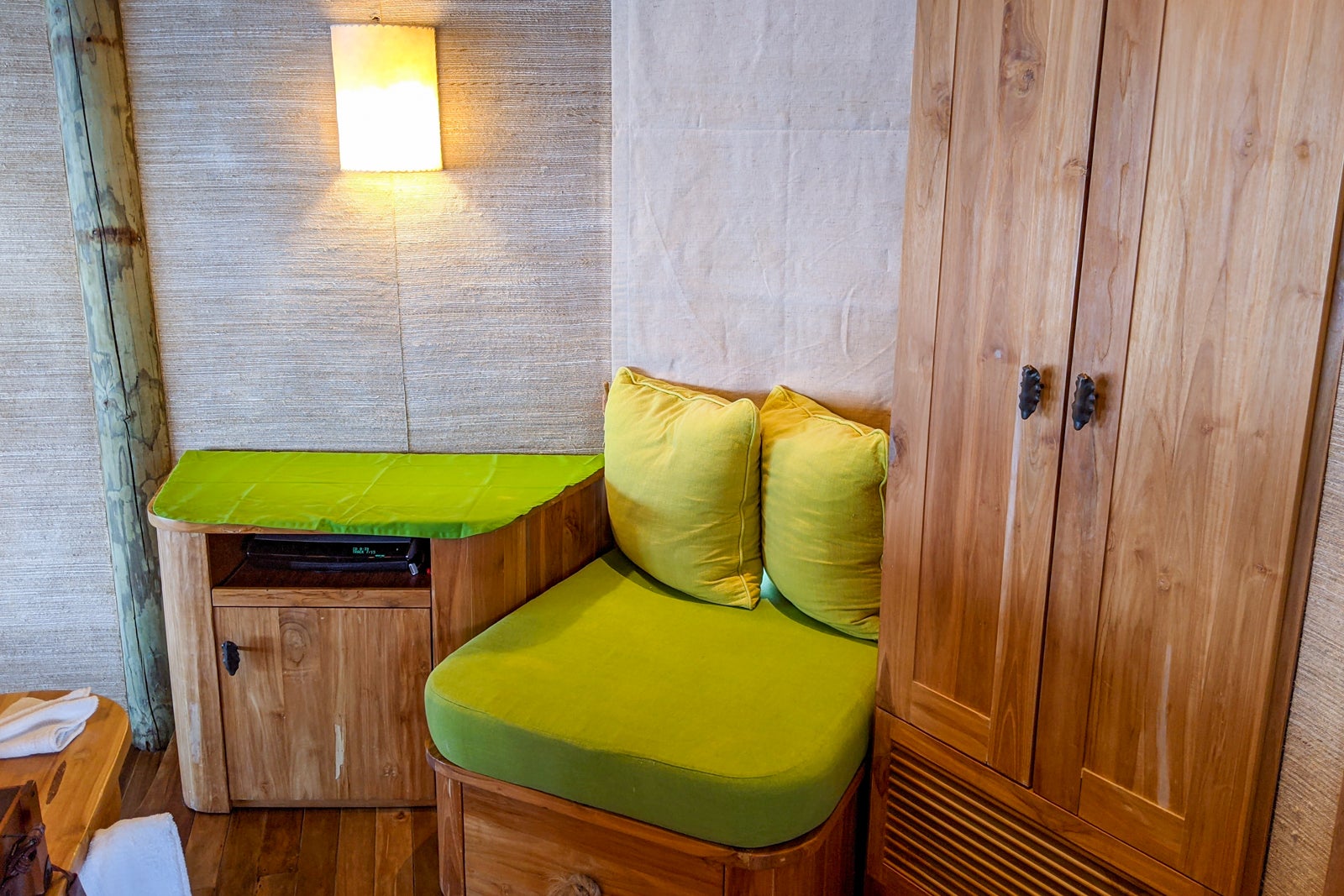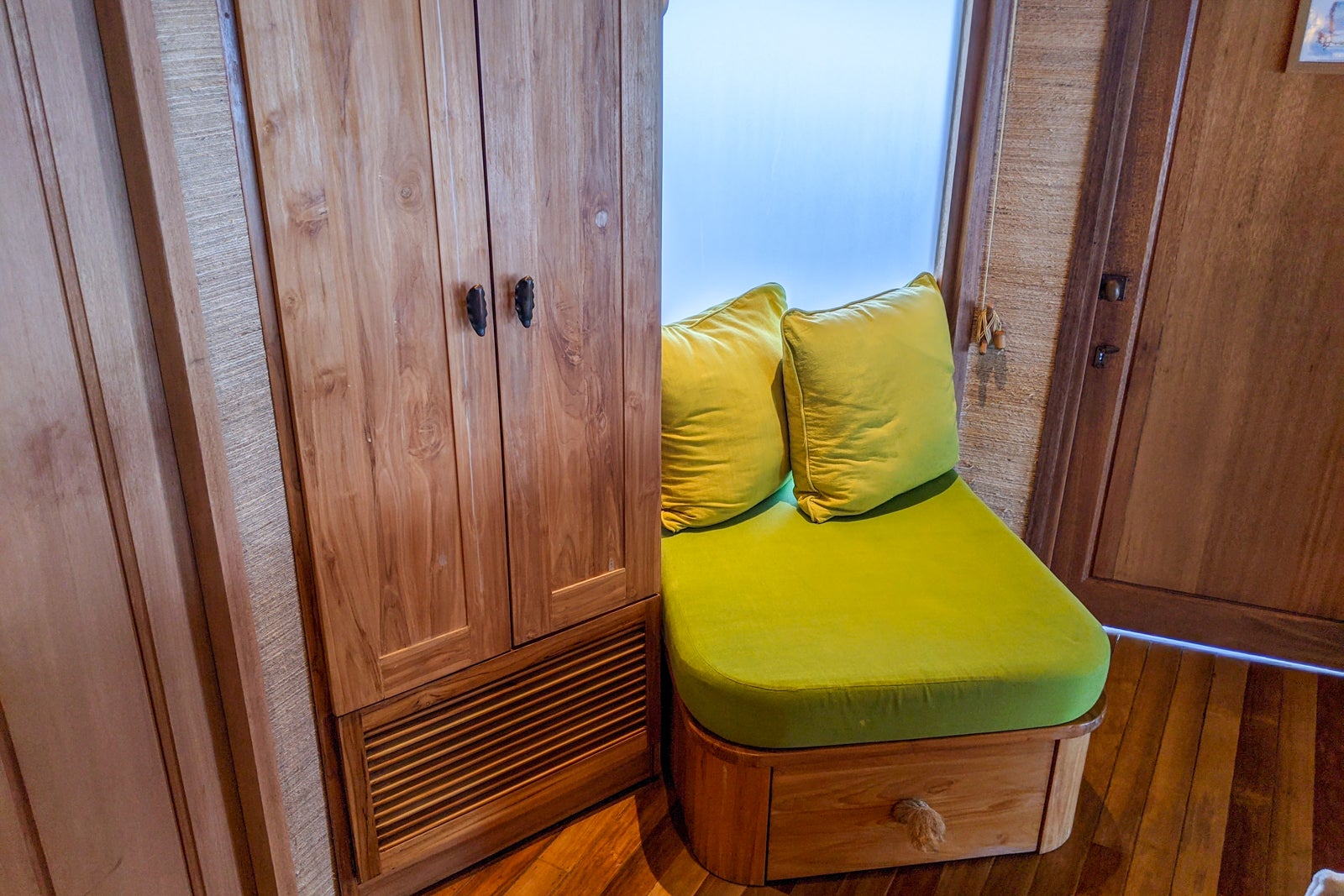 There is plenty of storage in the water villas. The closets provide ample hanging space (with a total of 20 hangers across the two closets) and shelving. There are also drawers under the cushioned seating areas next to each cabinet.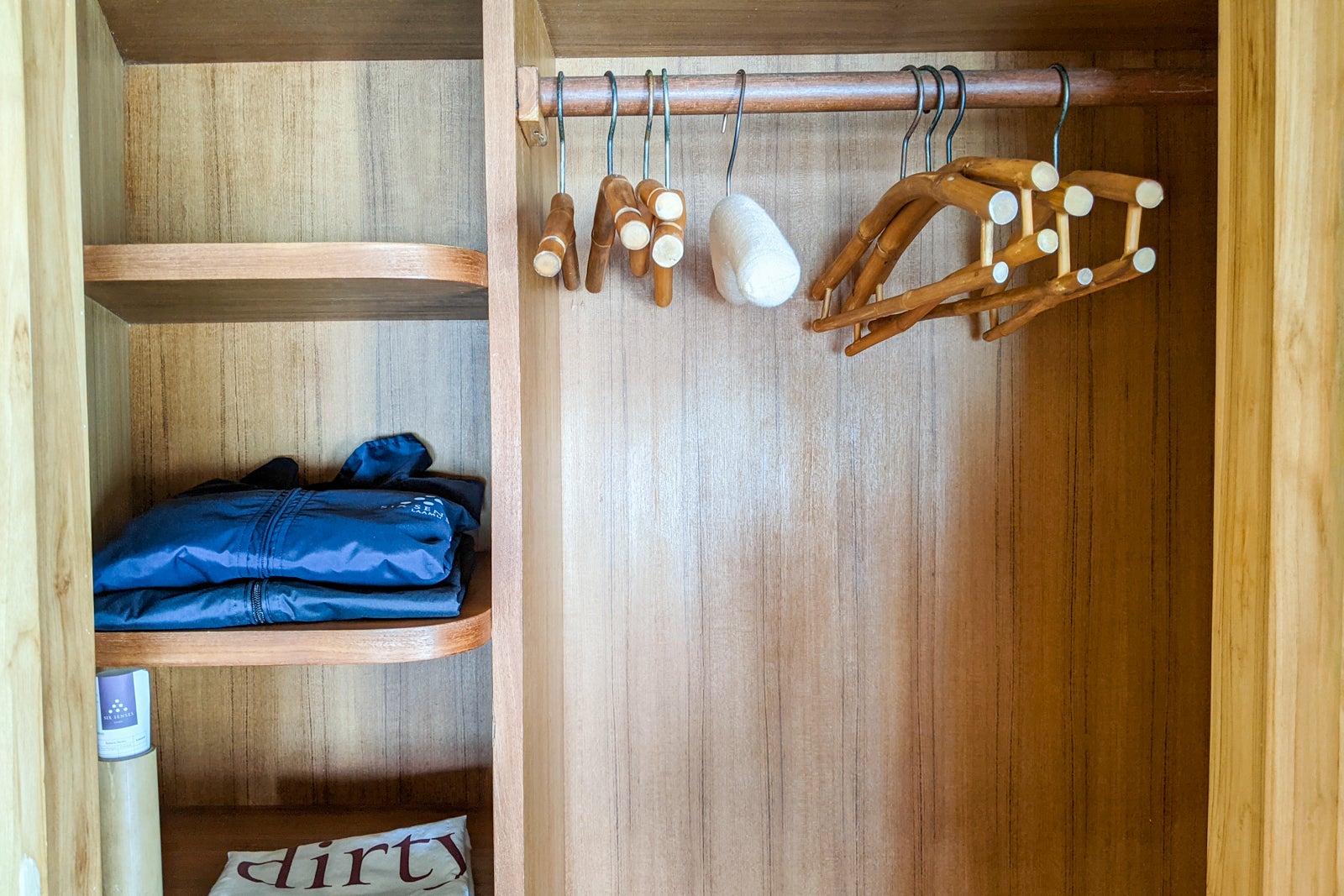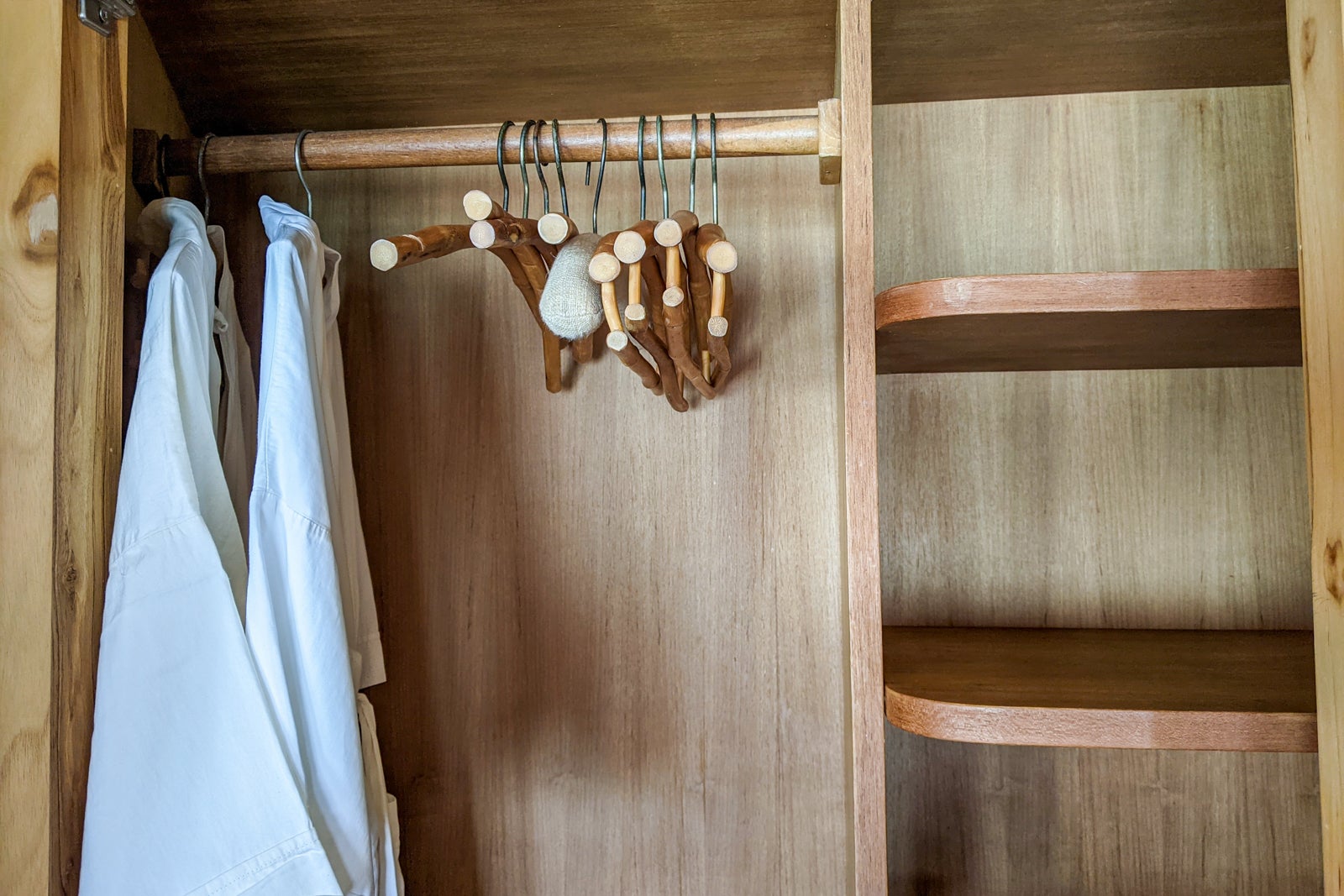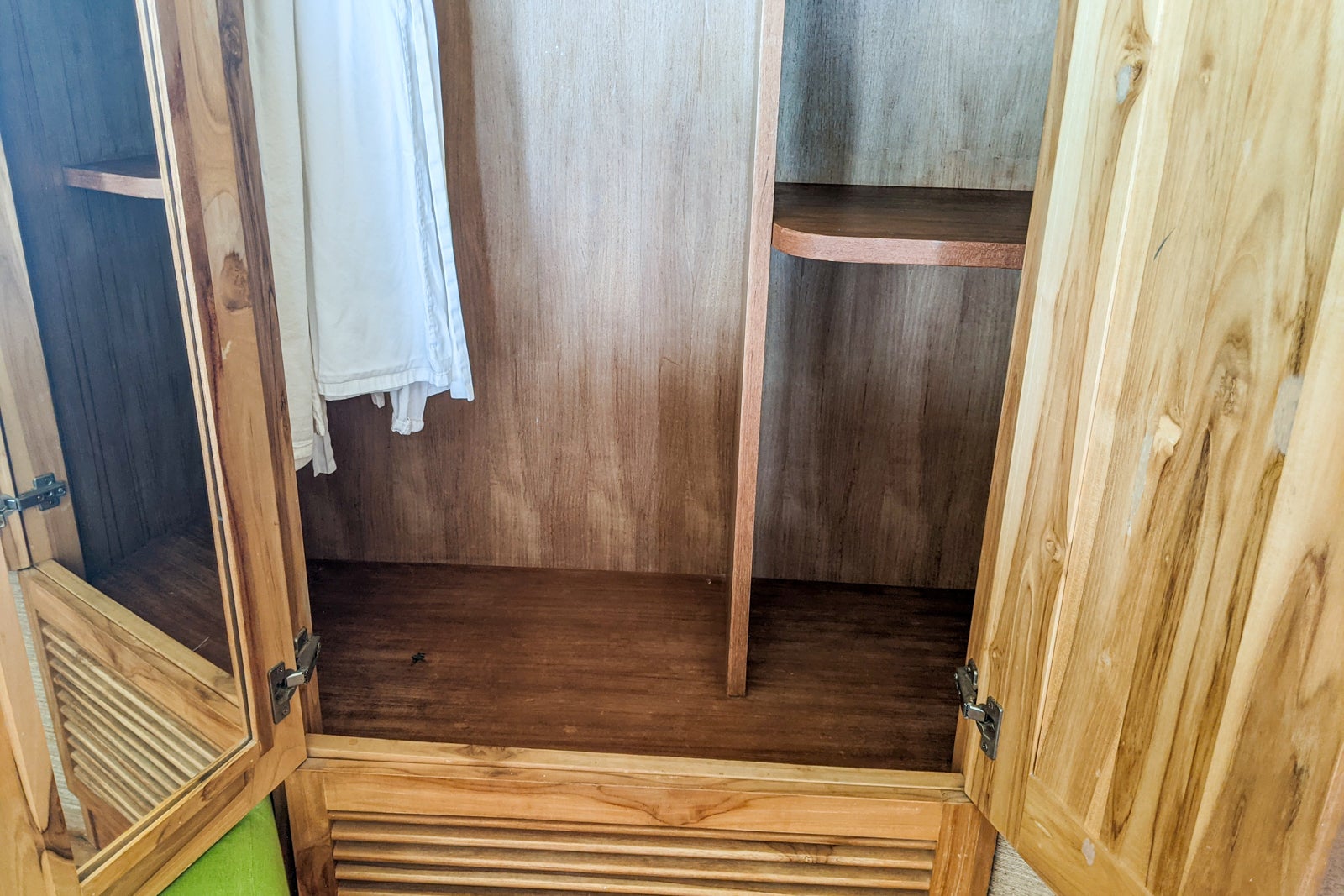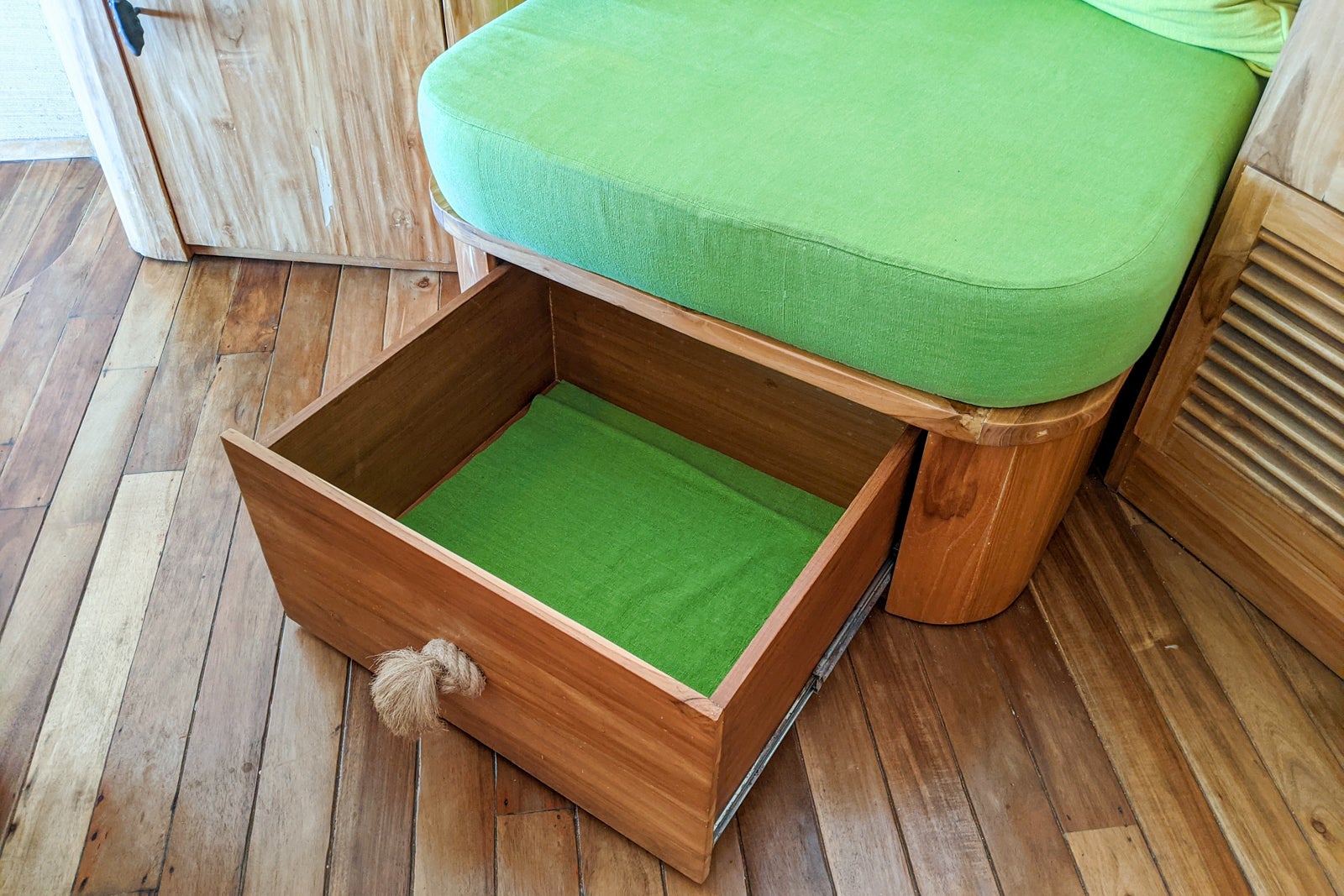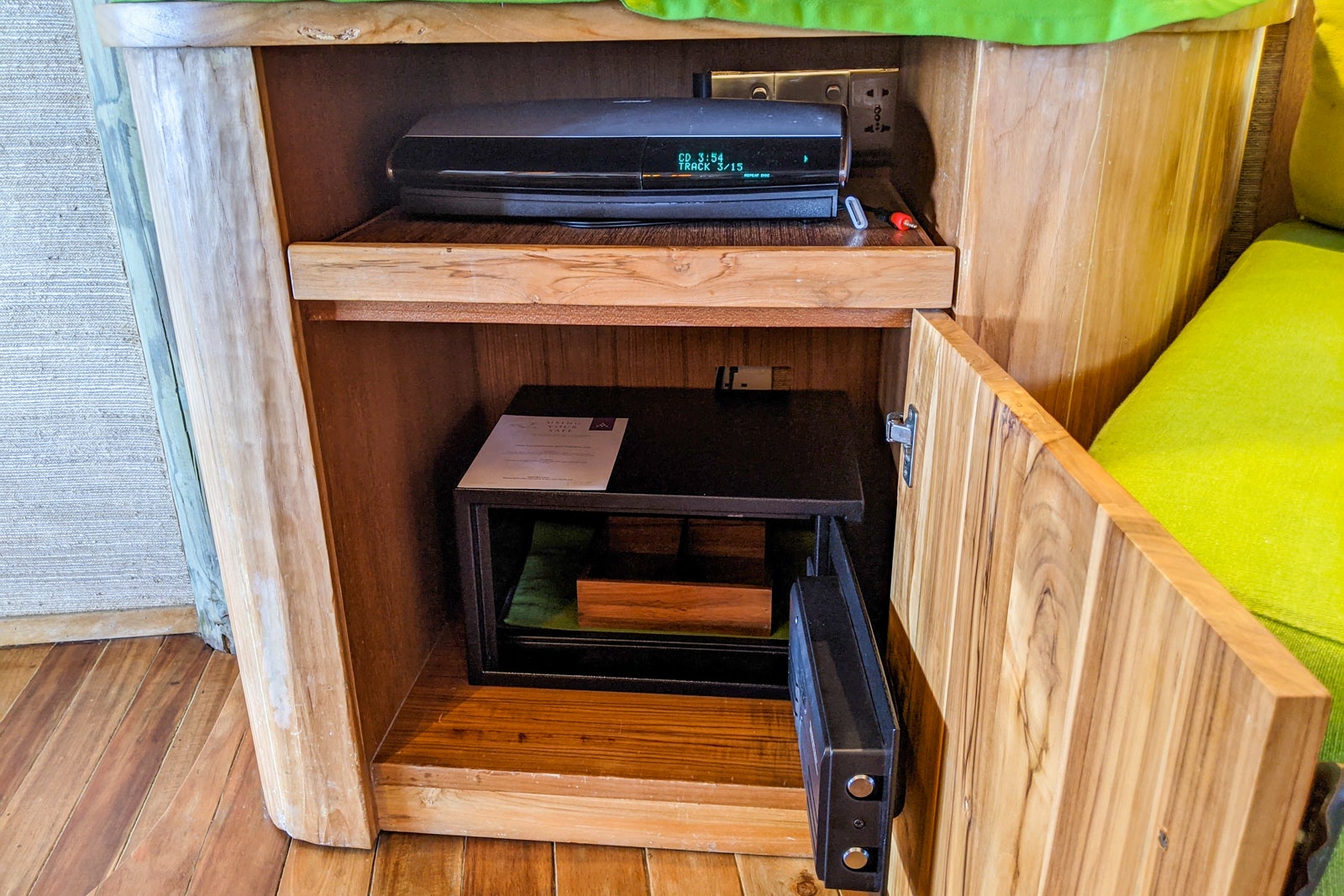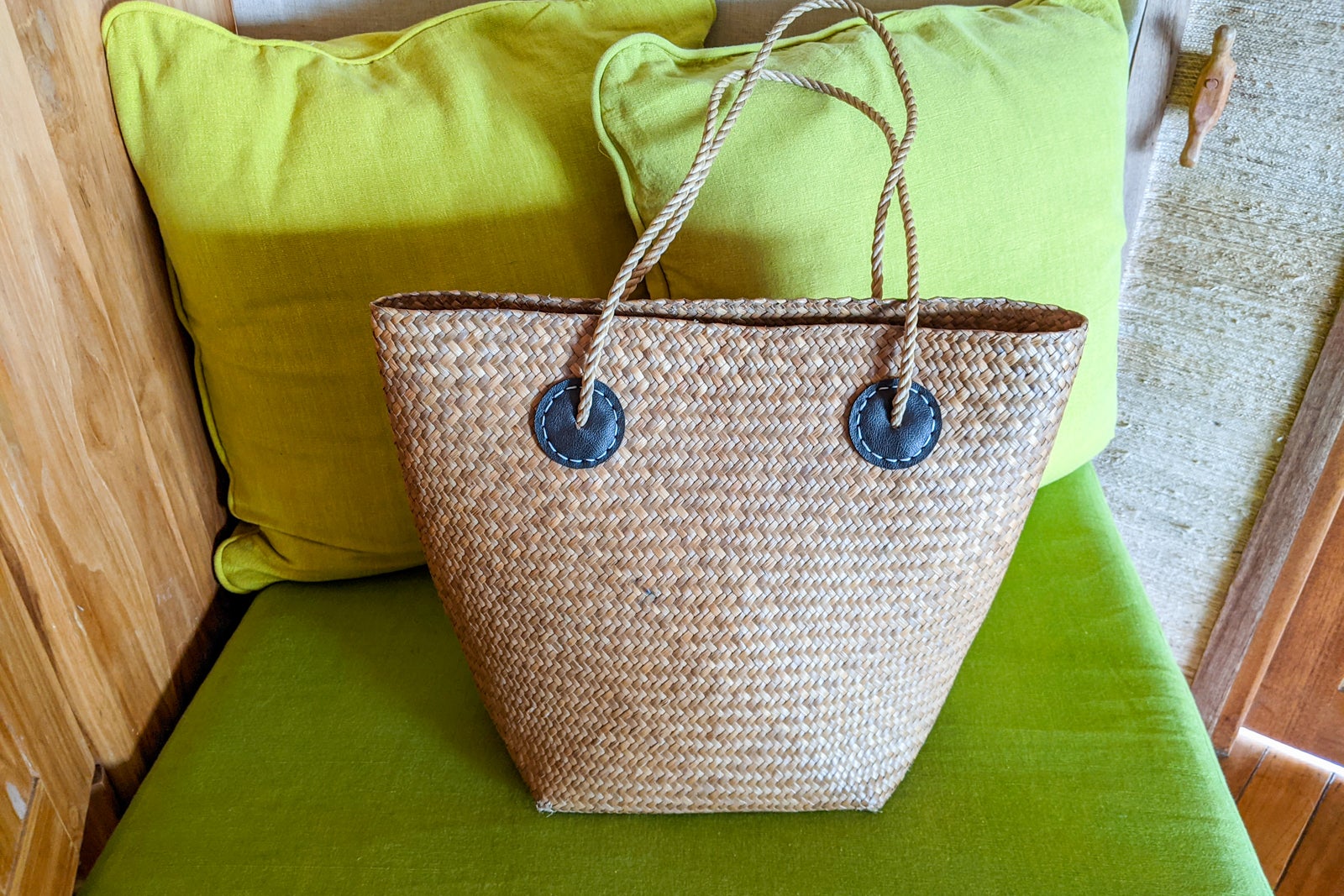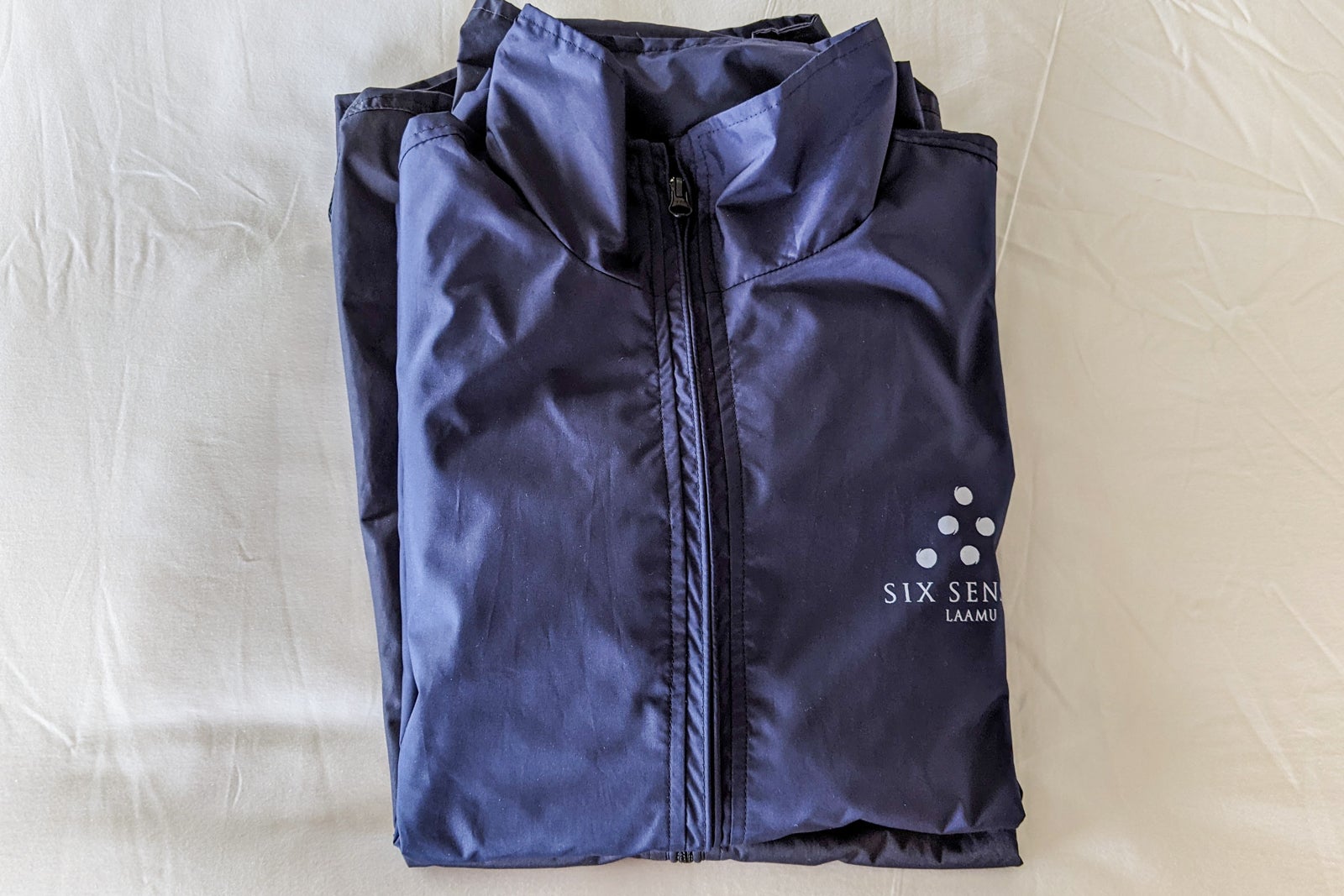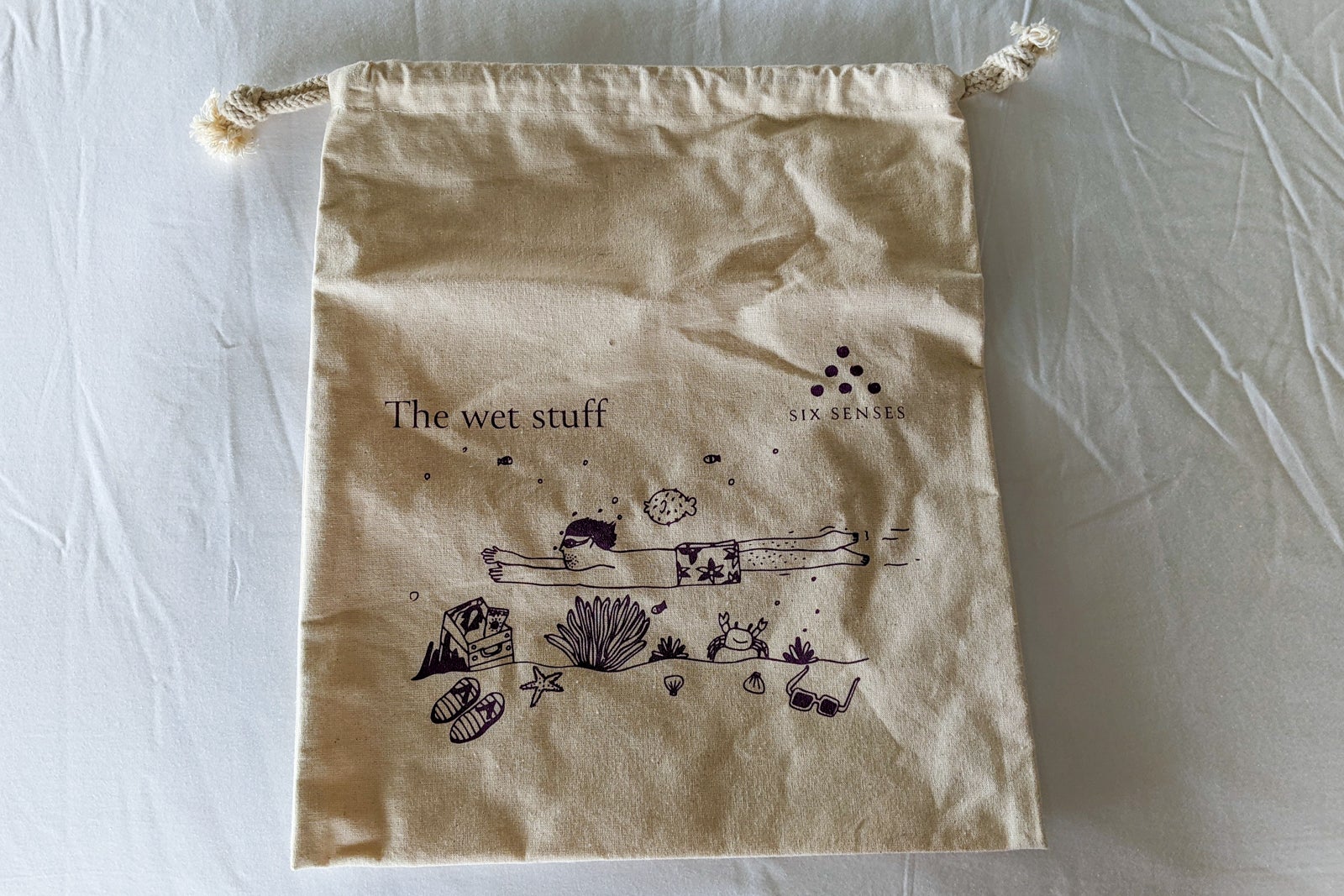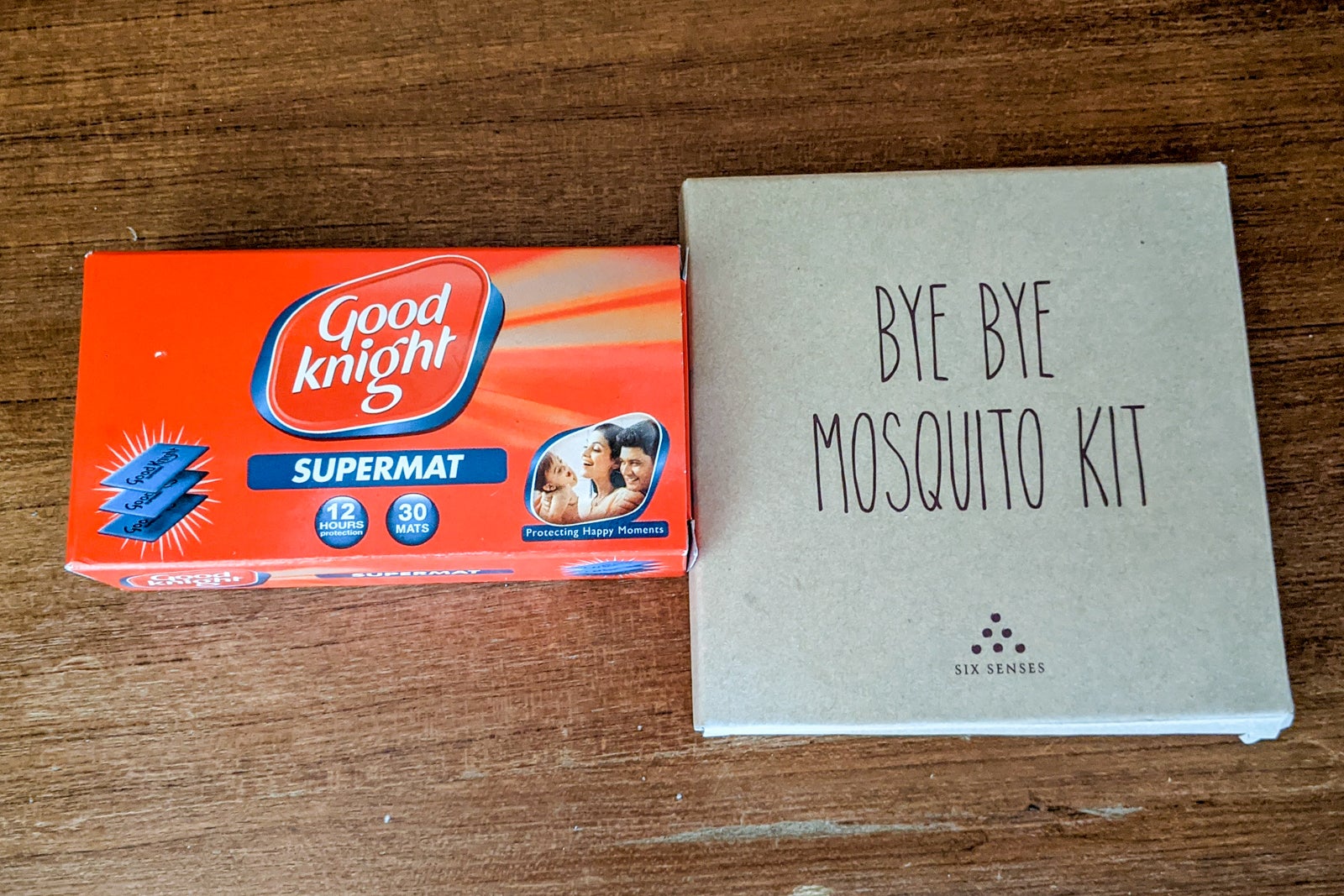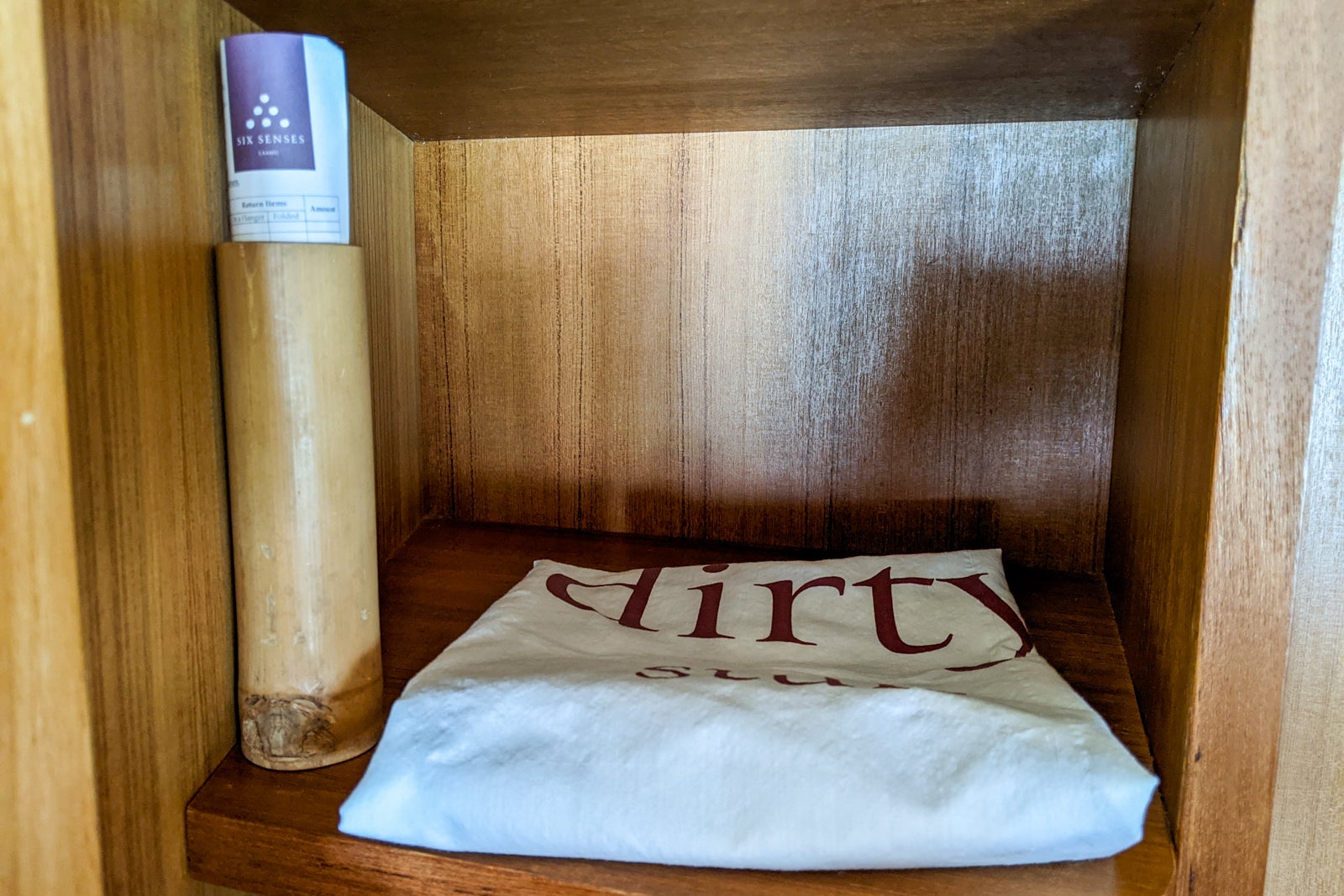 On the other side of the sinks is the bed. A mosquito net hung over our king bed and our room attendant deployed the net every evening and then rolled it back up every morning. We didn't find many bugs in our room, but the netting provided extra comfort. There are bedside tables on both sides of the bed, each with a small drawer. There also are labeled light switches, two USB outlets and two power outlets on both sides of the bed (including two outlets that accept U.S.-style plugs).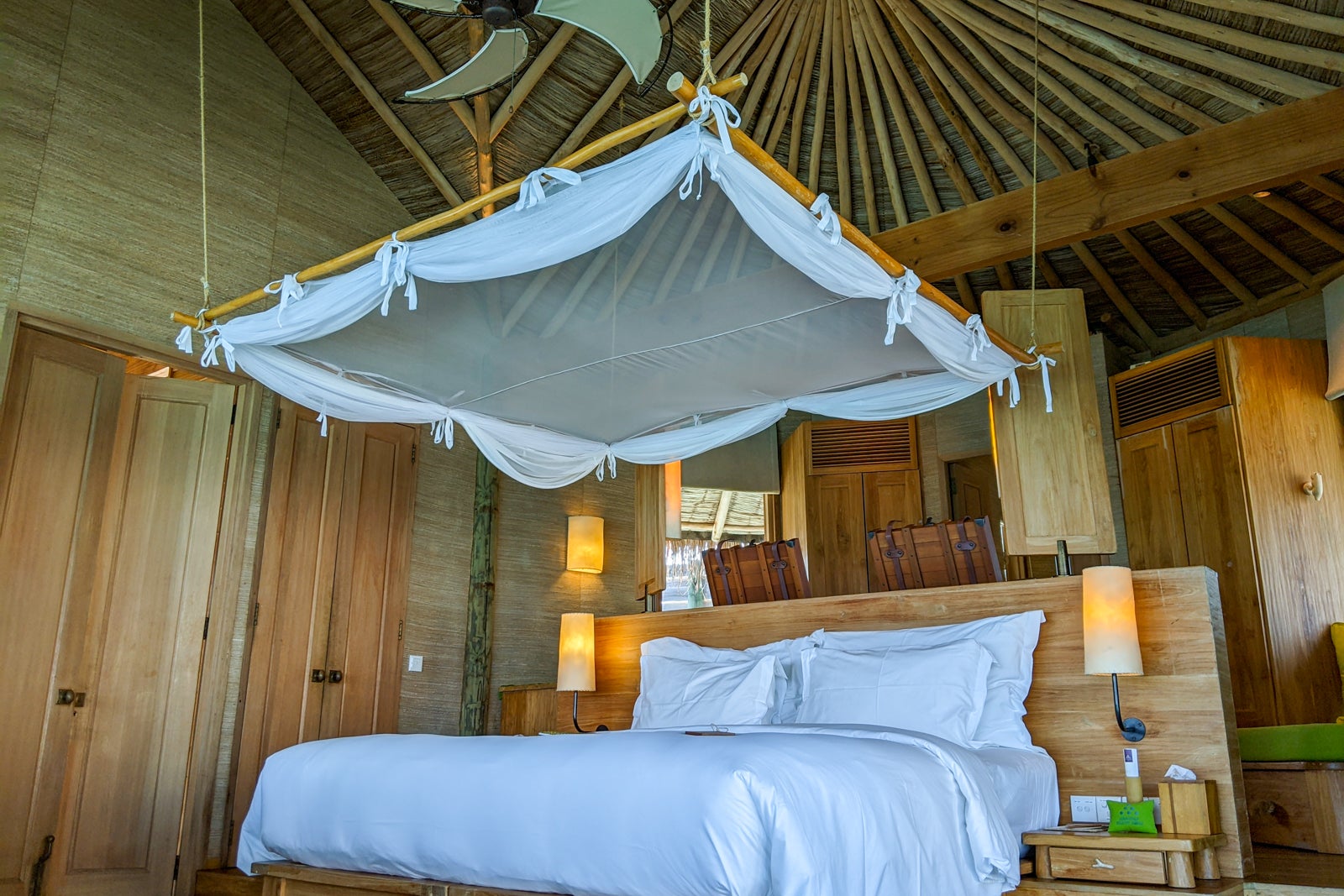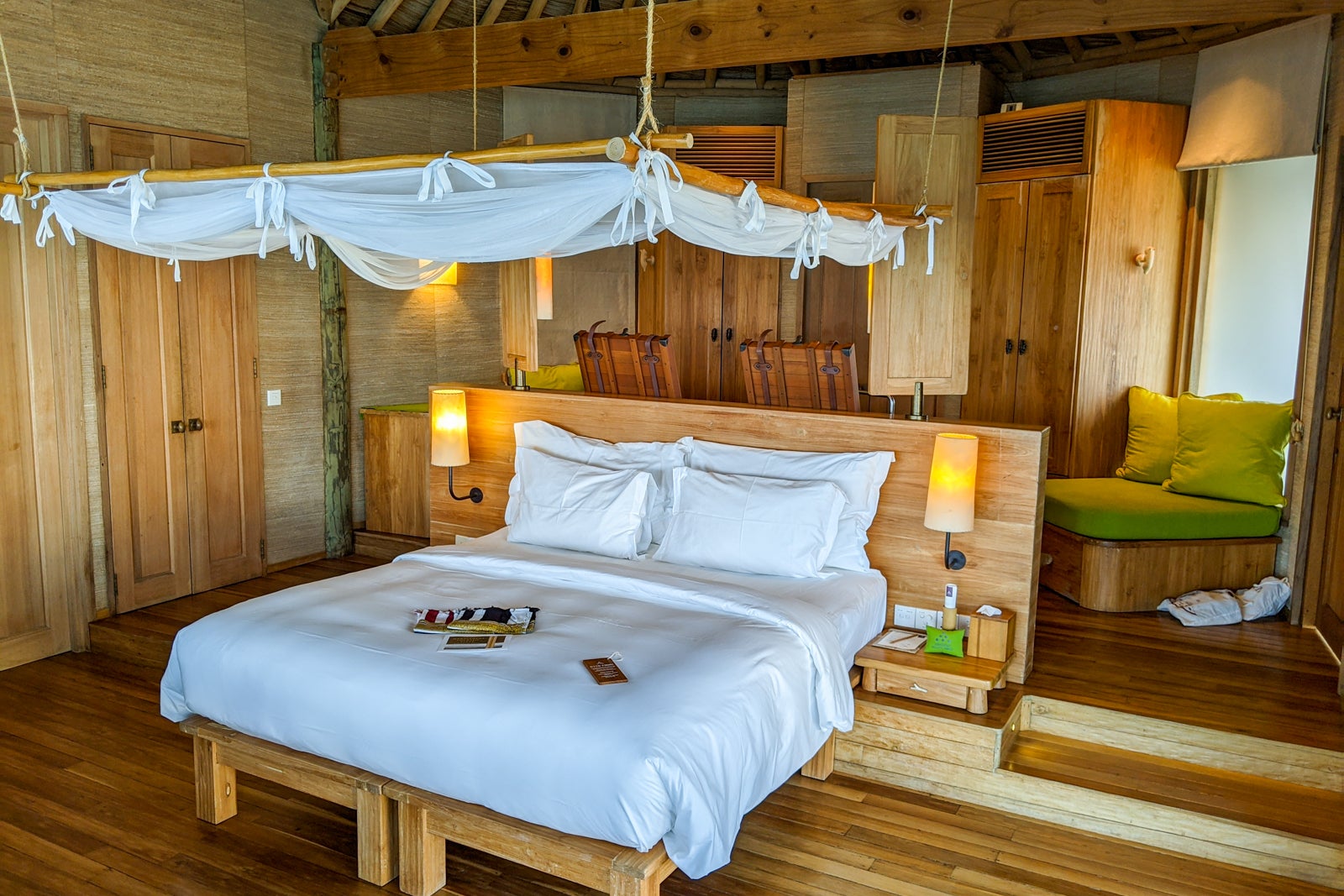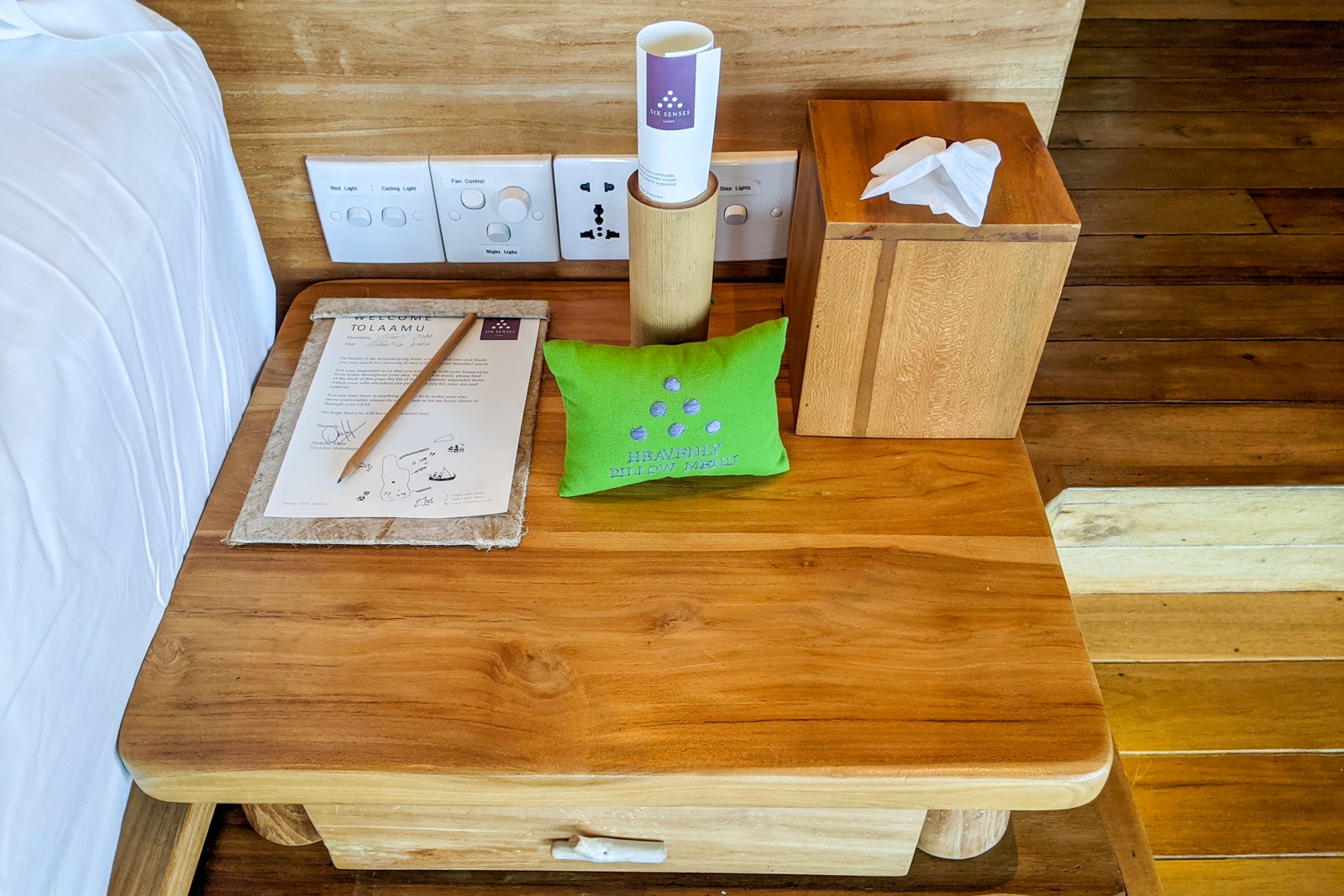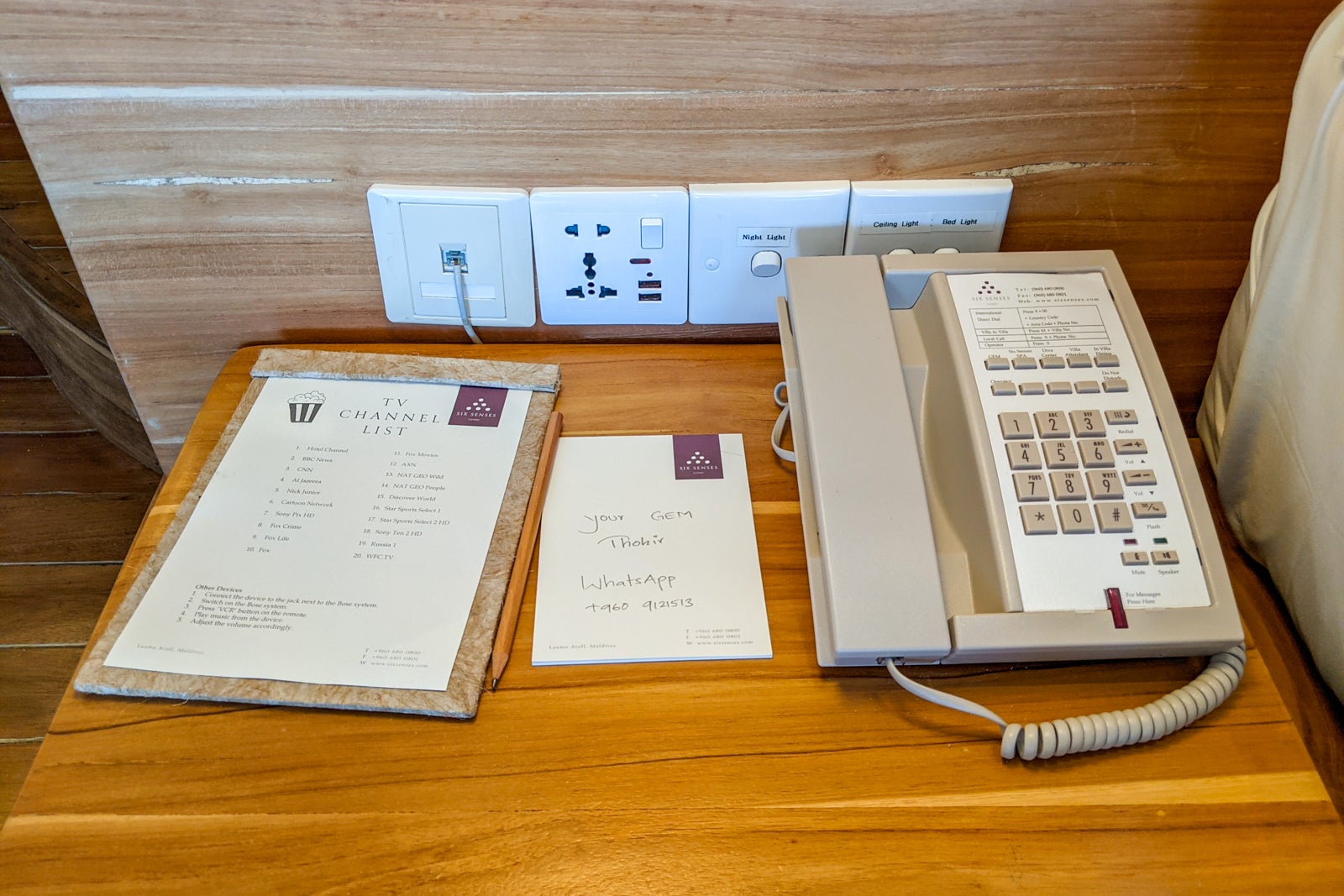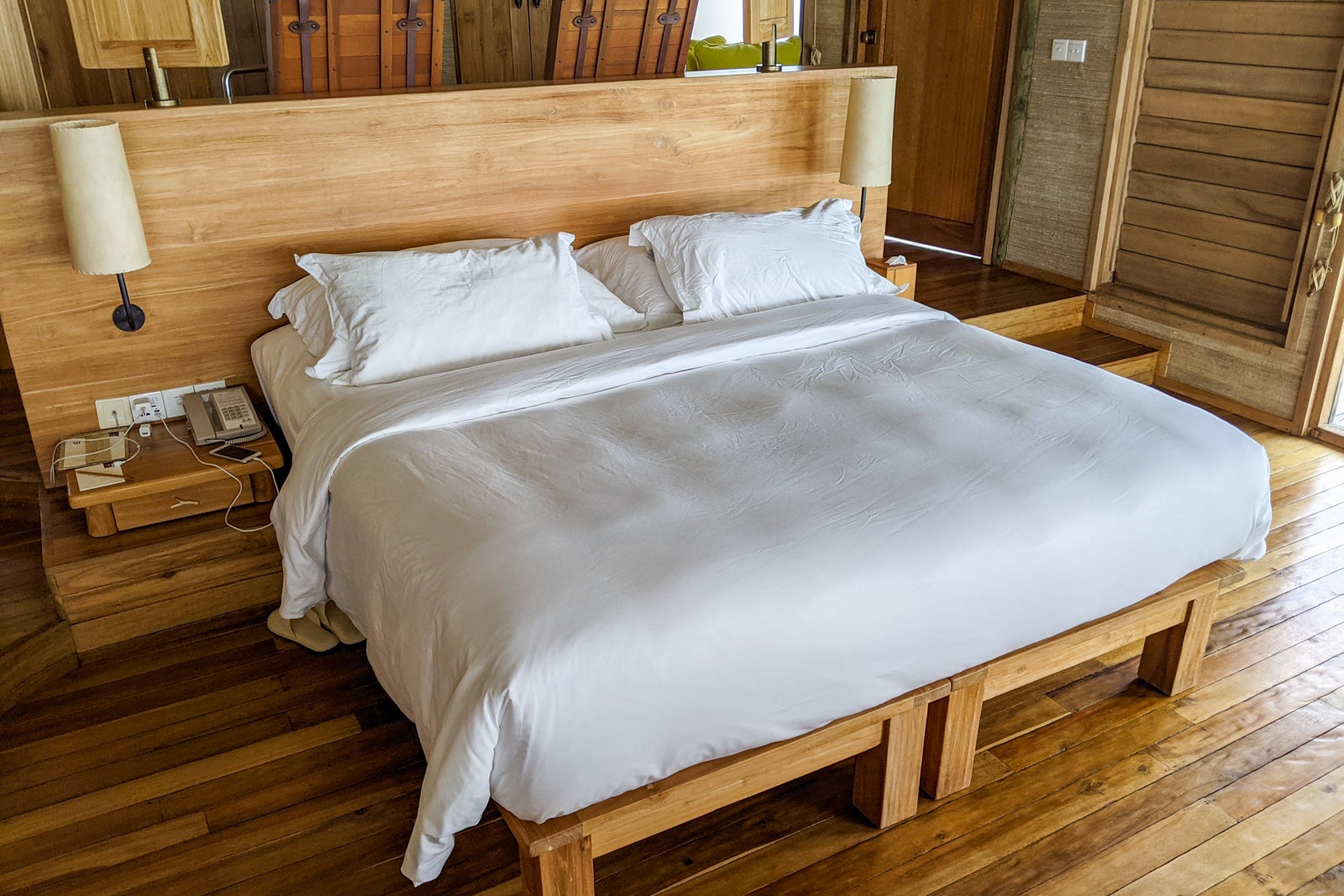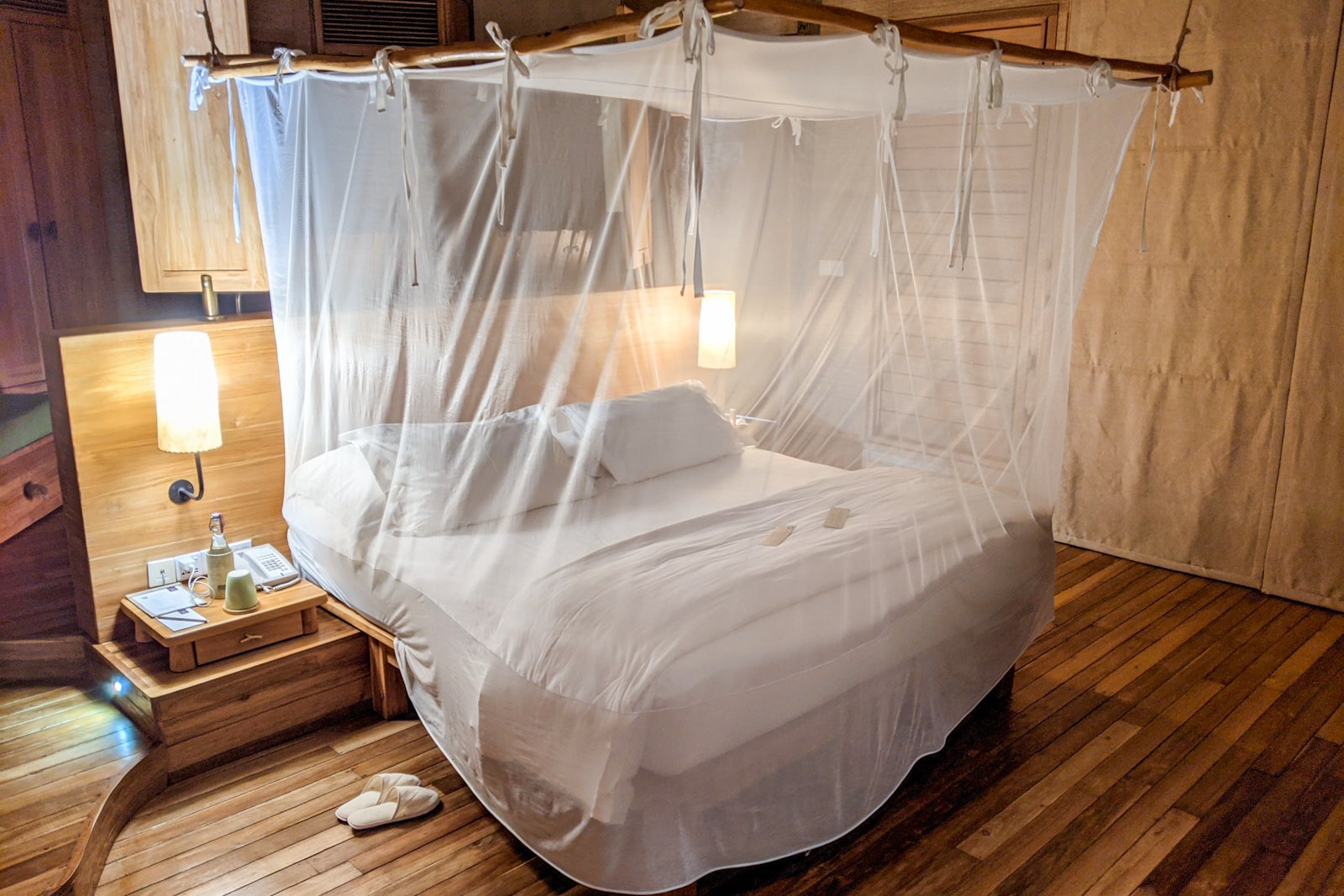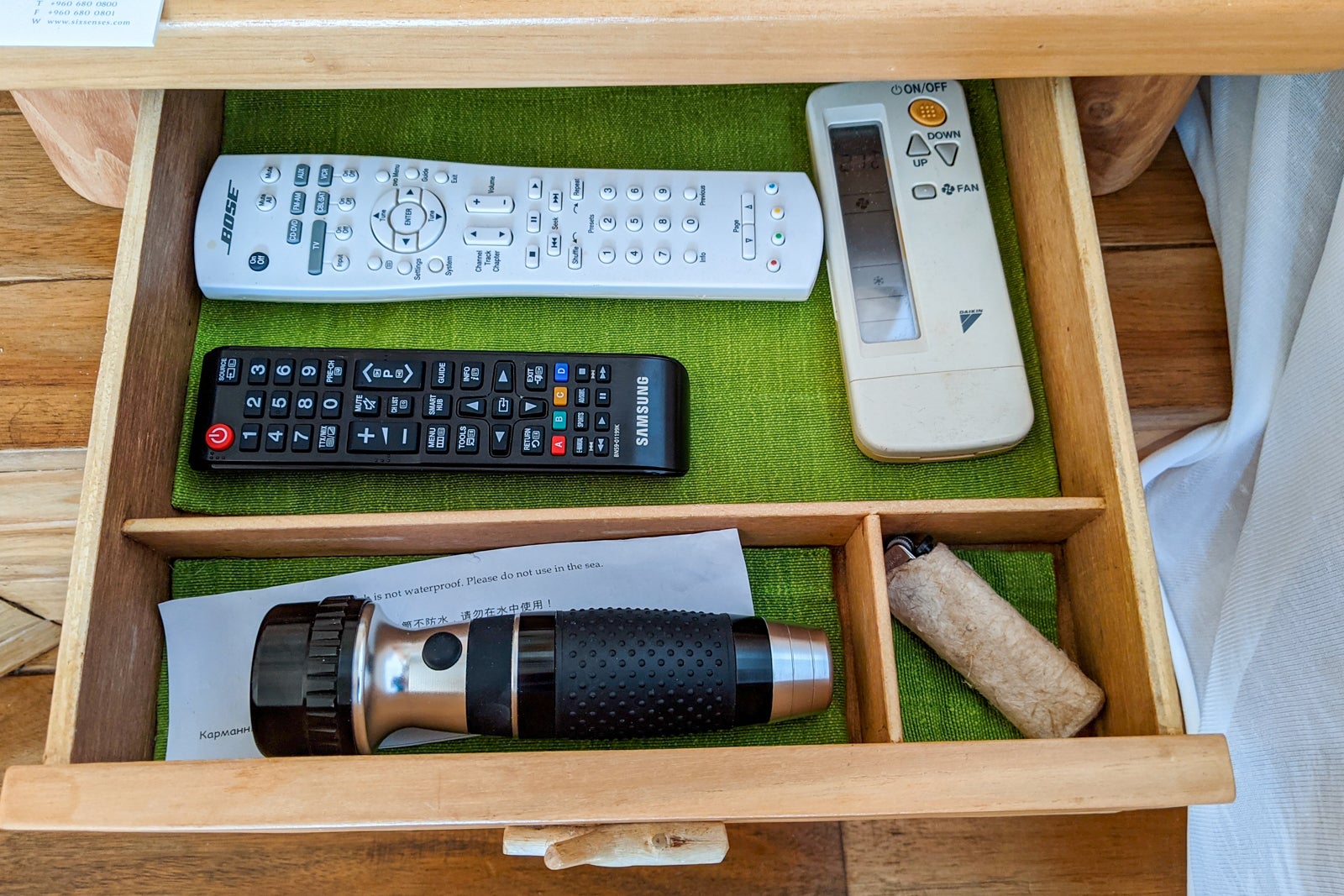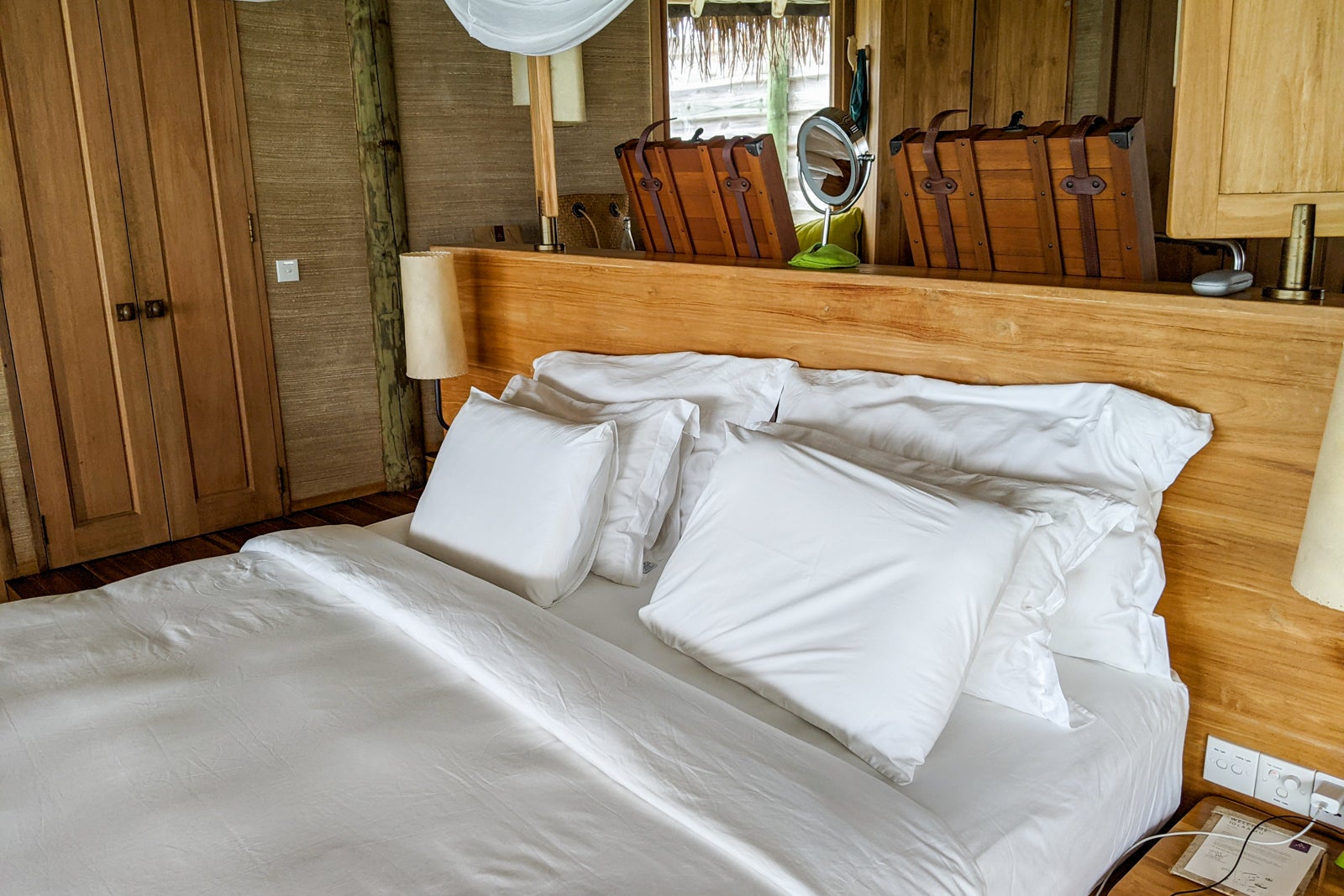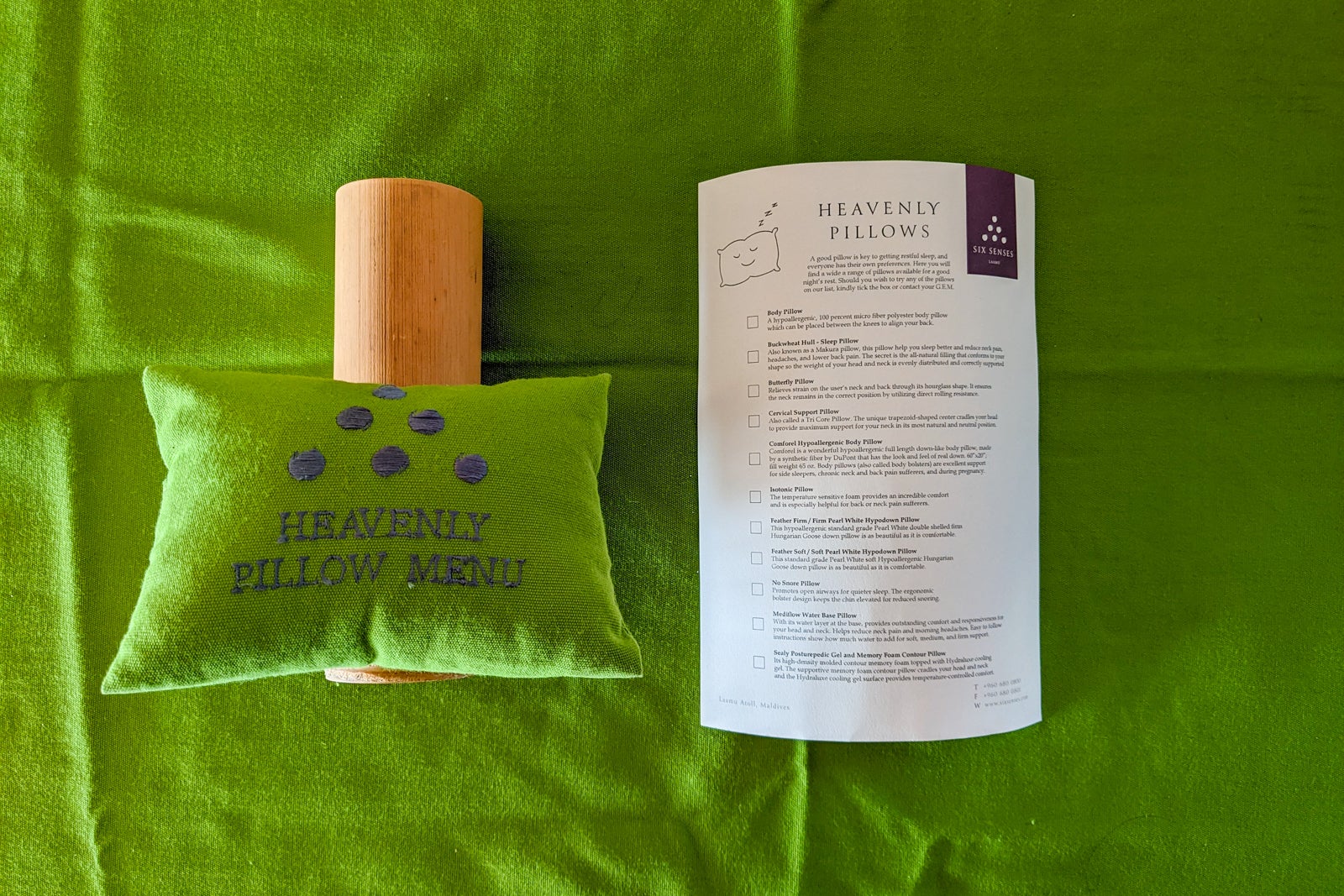 Next to the bed on one side is a double-doored cabinet with a minibar containing complimentary water, coffee, tea and hot chocolate. There's a single-serve Nespresso type C60 coffee machine, along with ground coffee, a French press and a hot water kettle.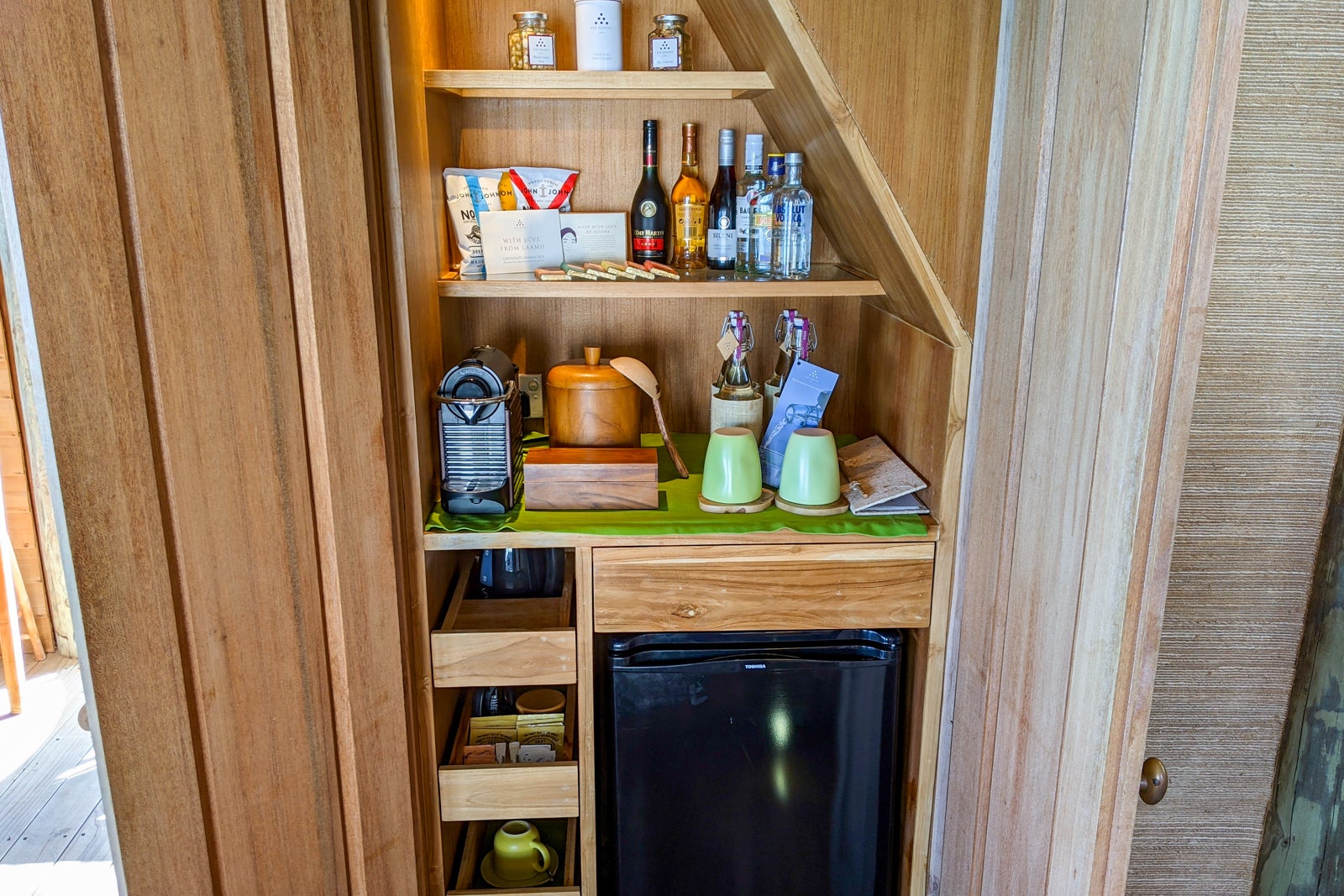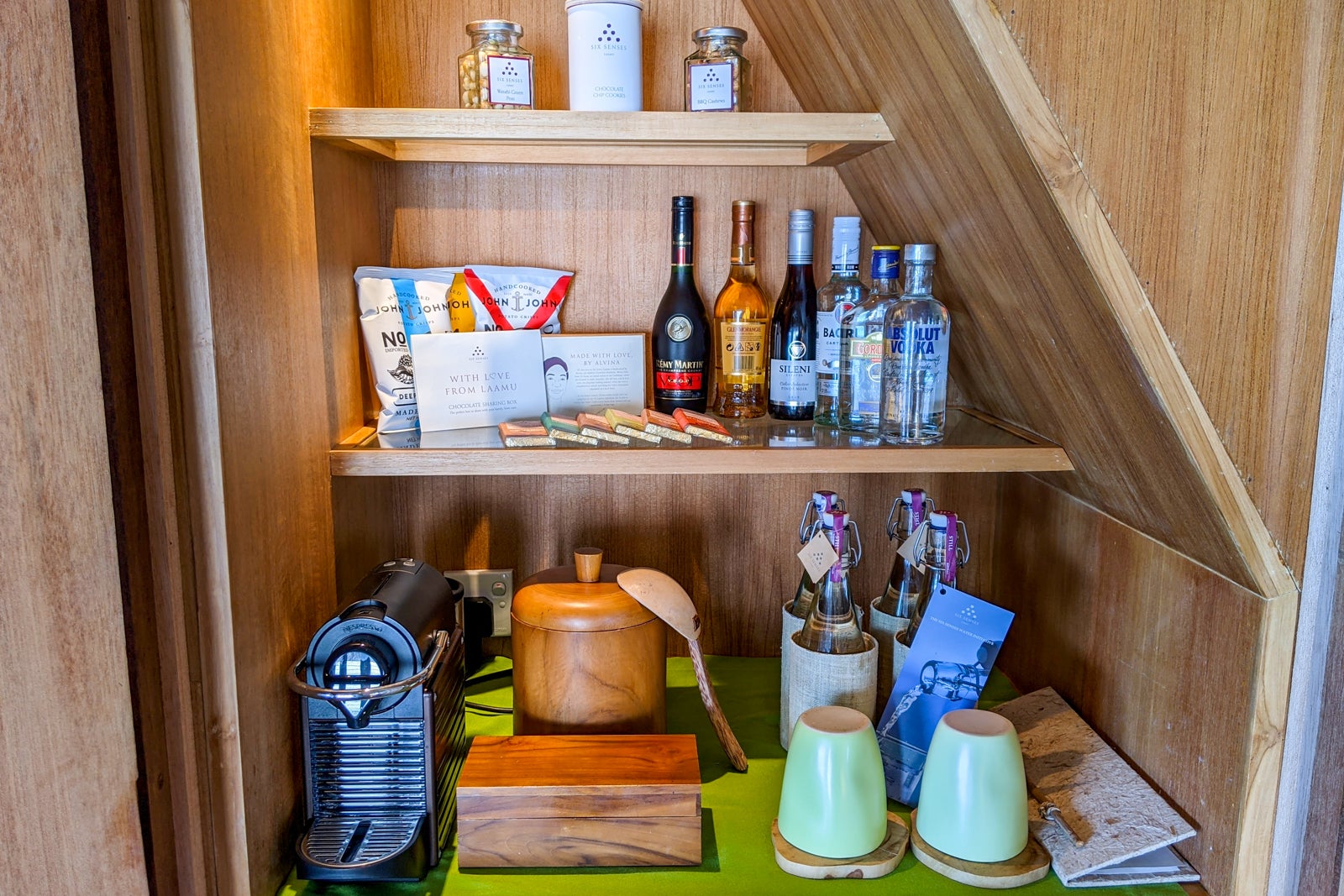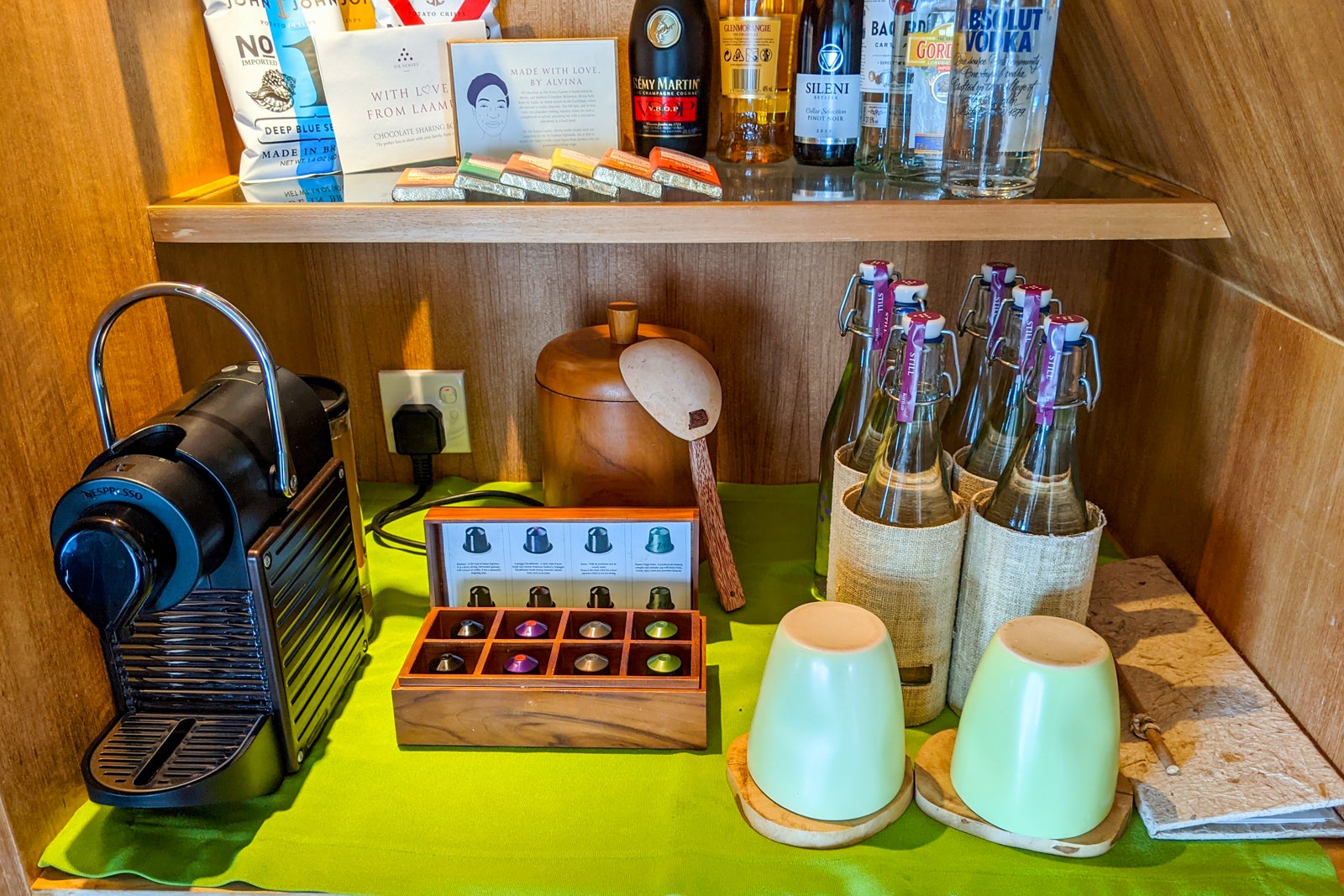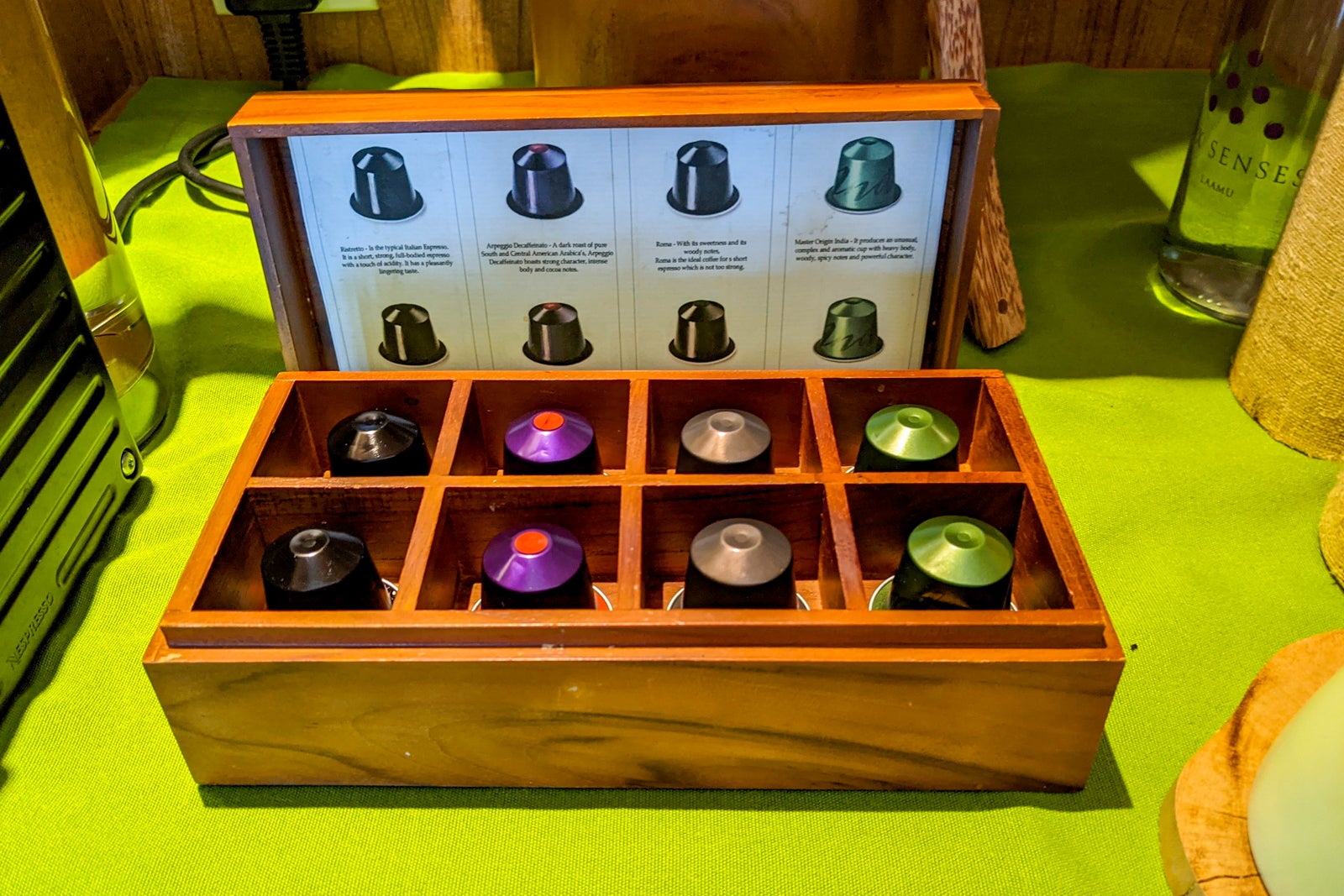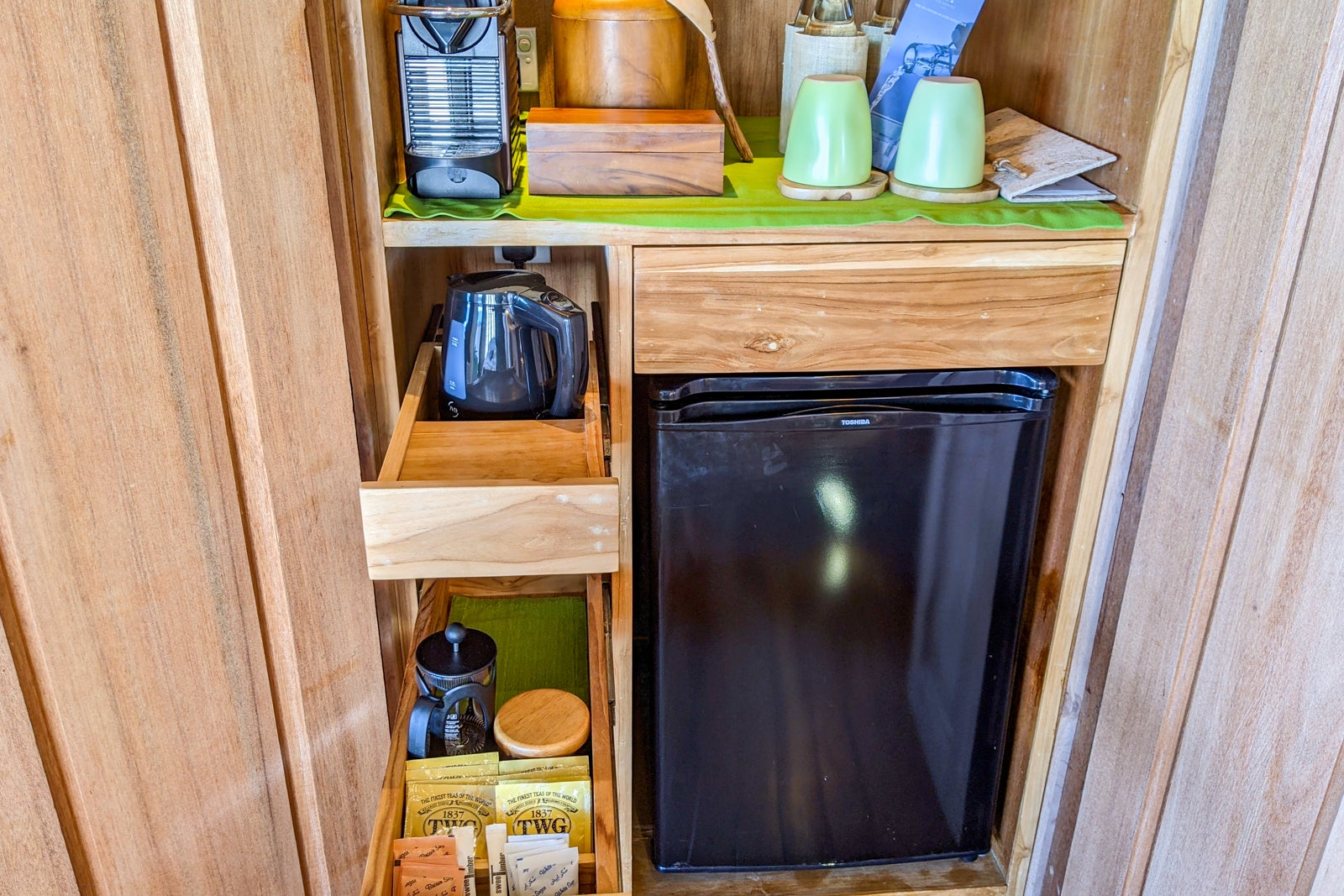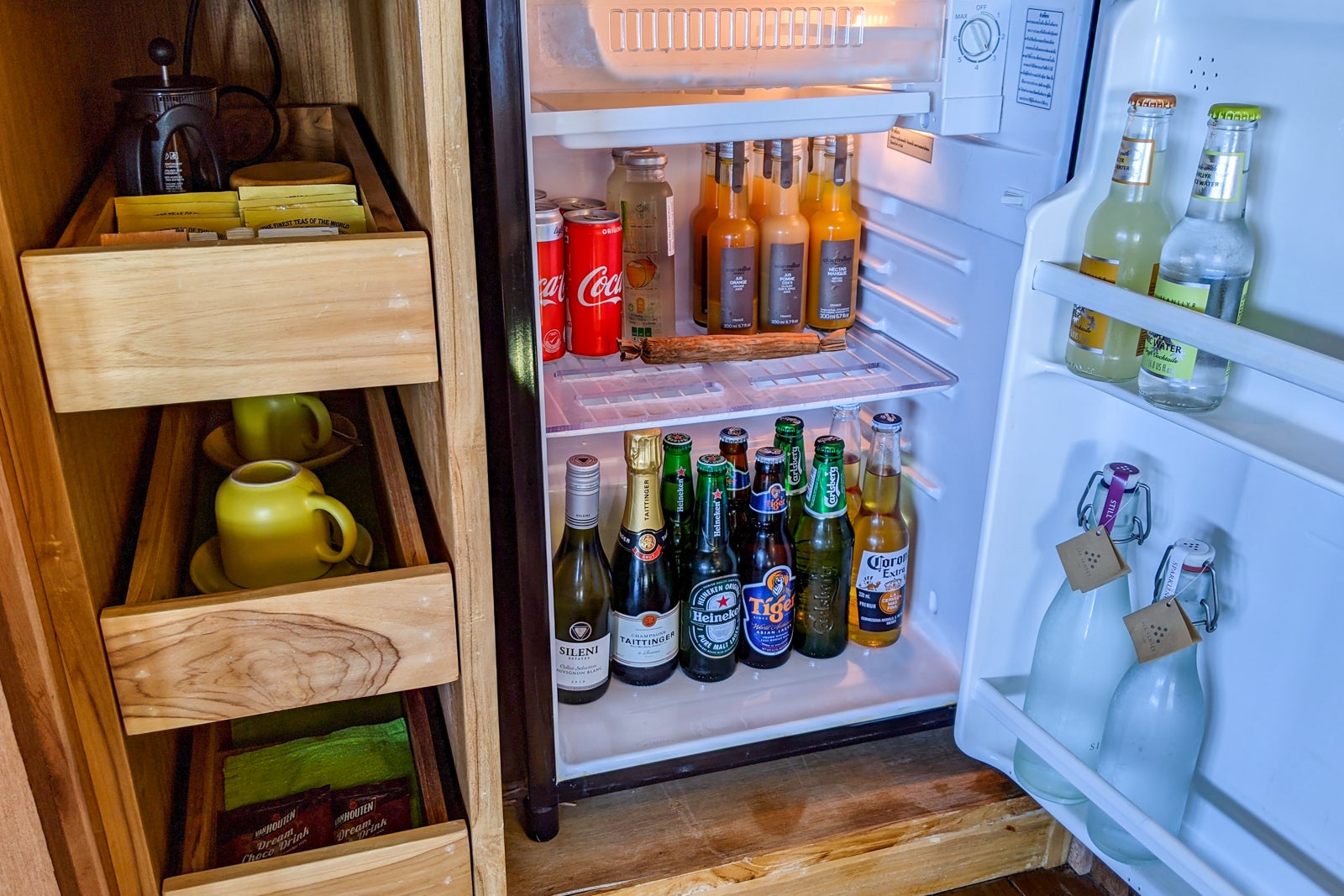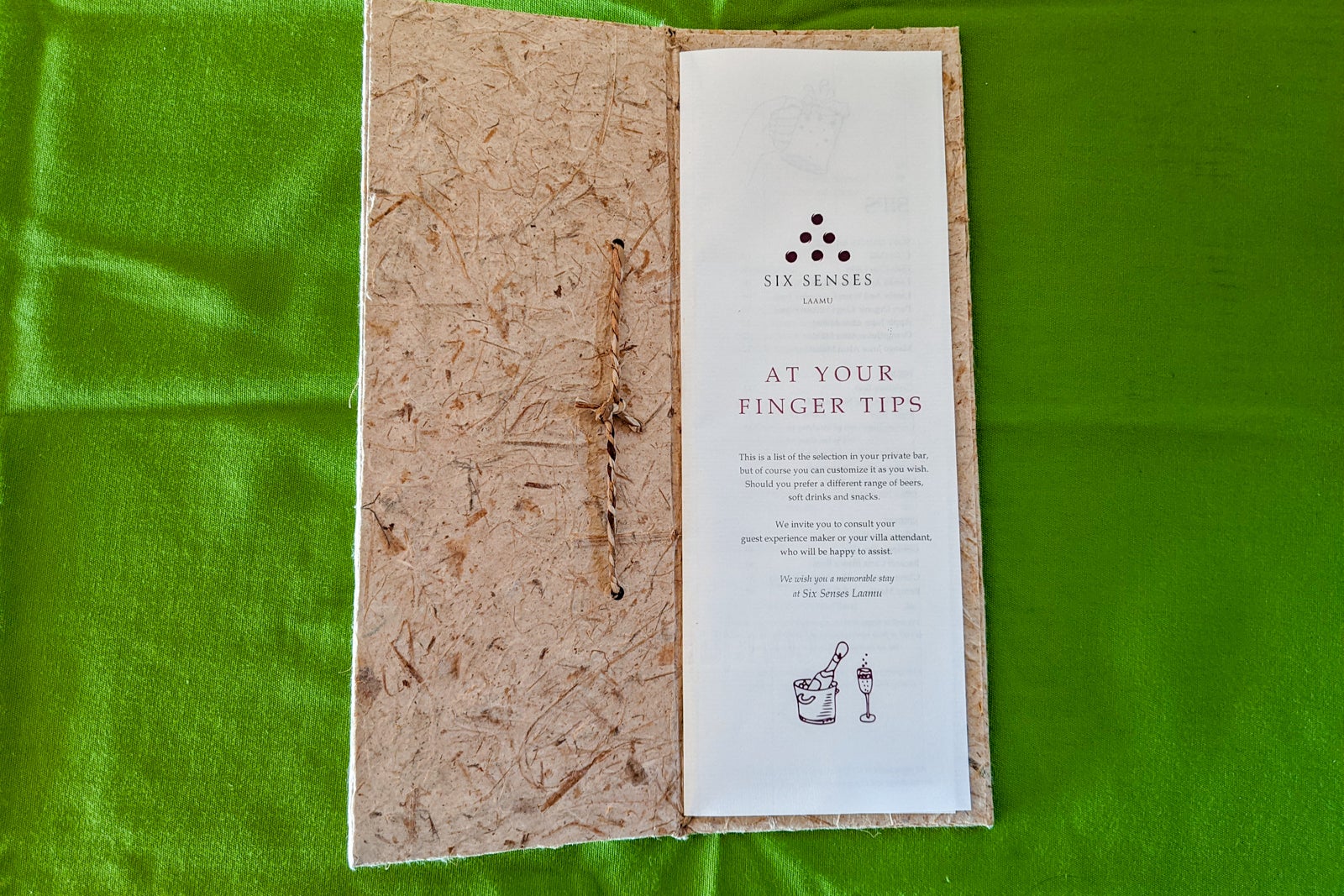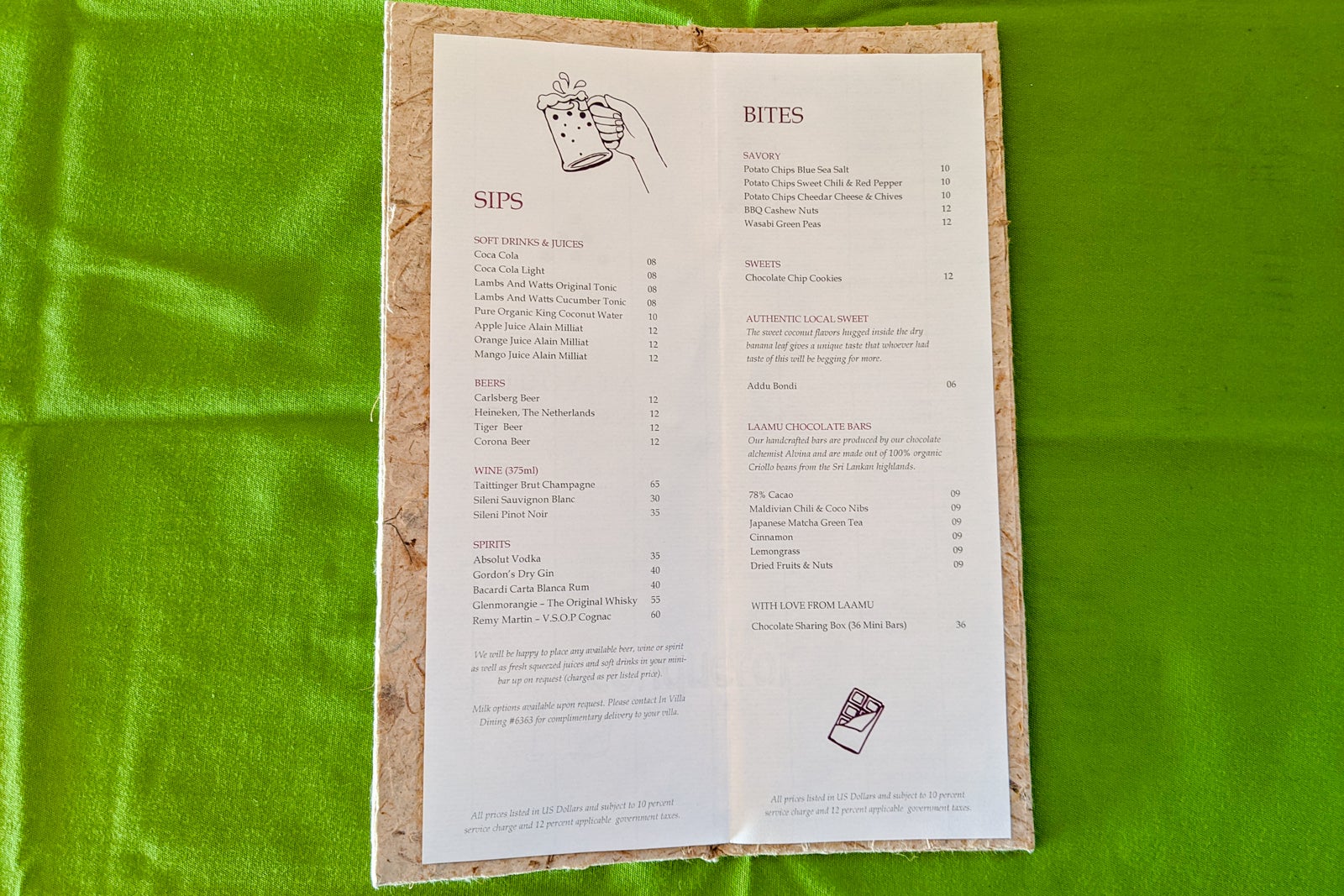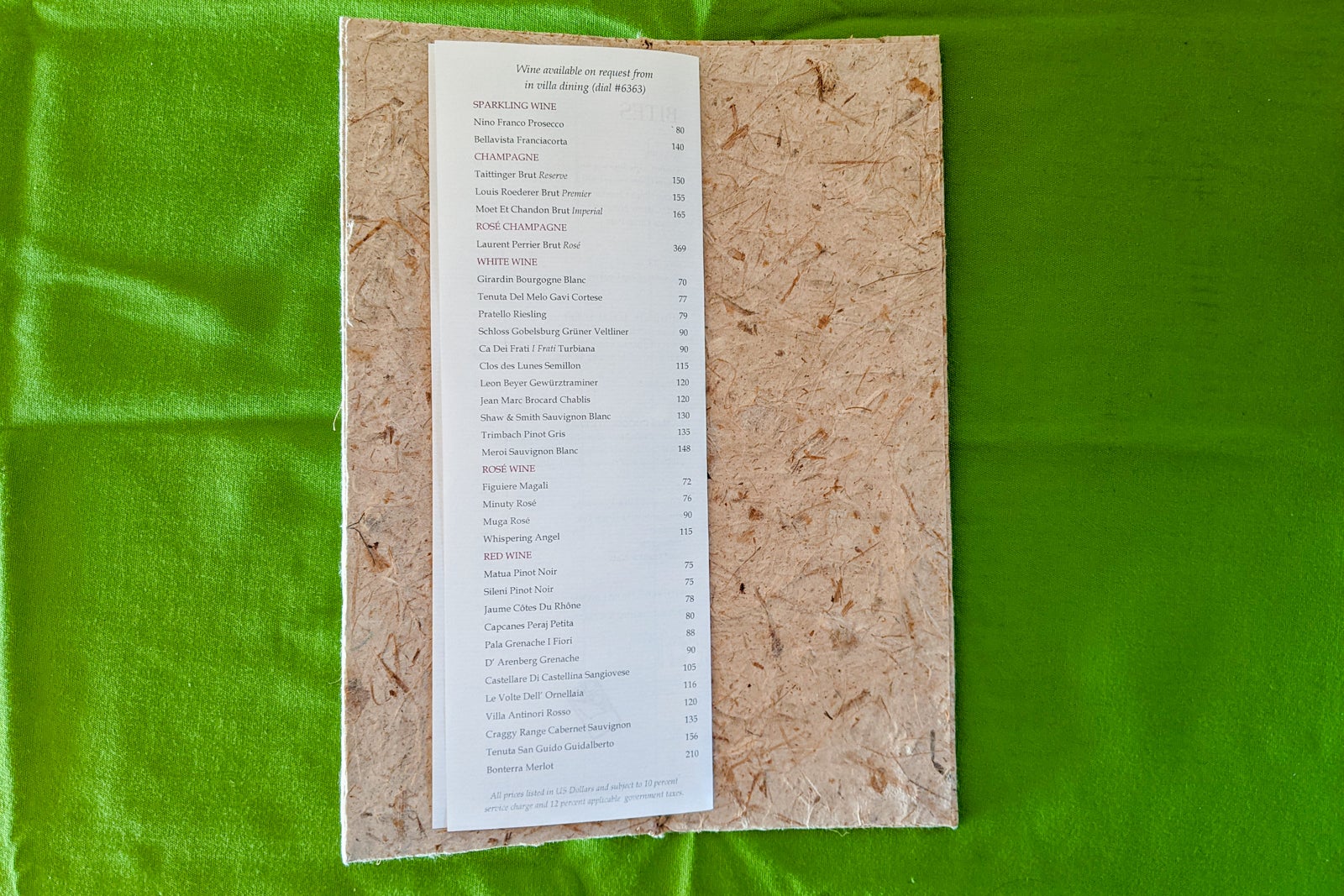 Across from the base of the bed is a desk, daybed and compartment that has a 39-inch TV stored behind two hideaway doors. You can swing it out to see it from bed or you can open a door in the outdoor bathroom area to watch it while bathing. Somewhat strangely, there's only one outlet near the desk.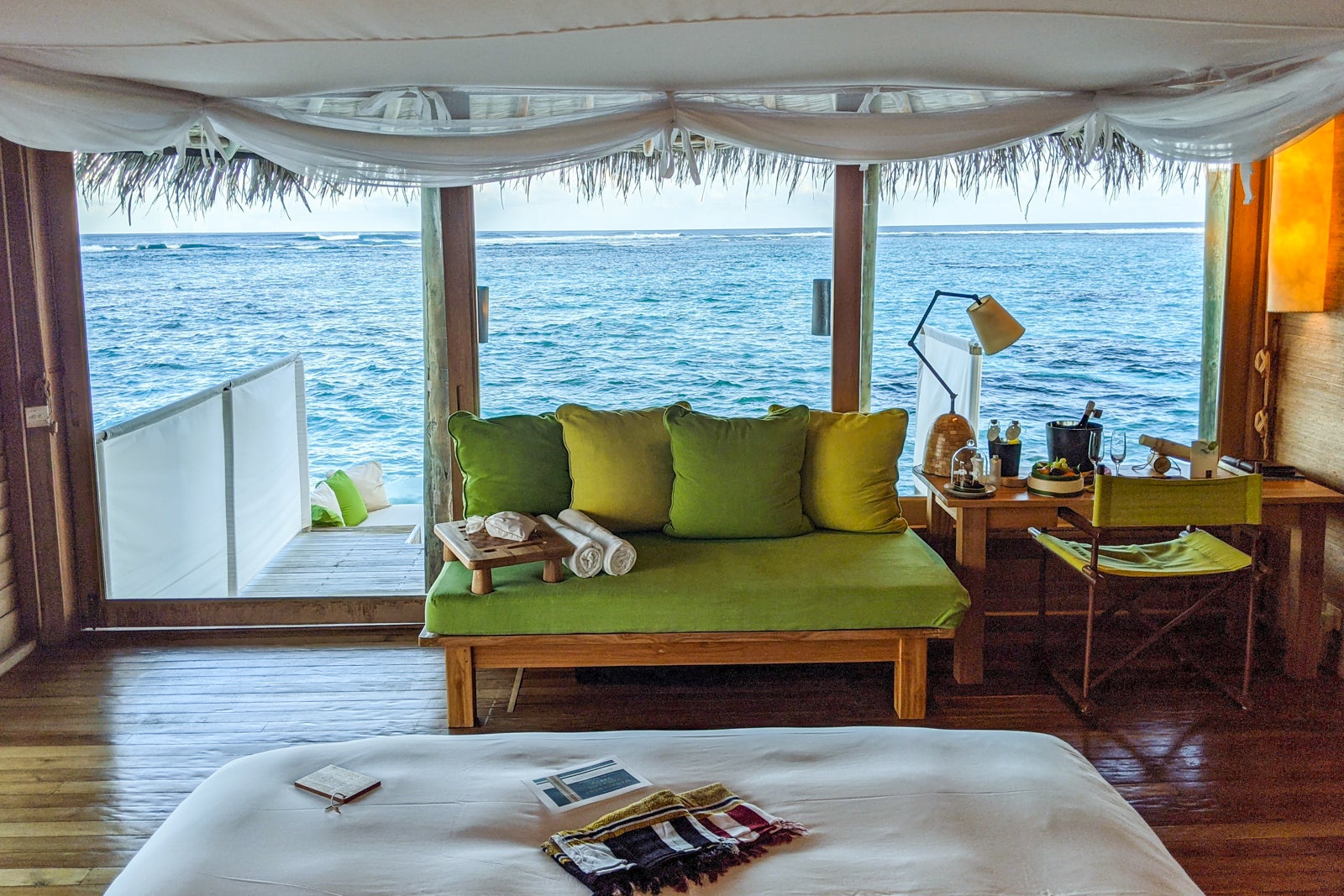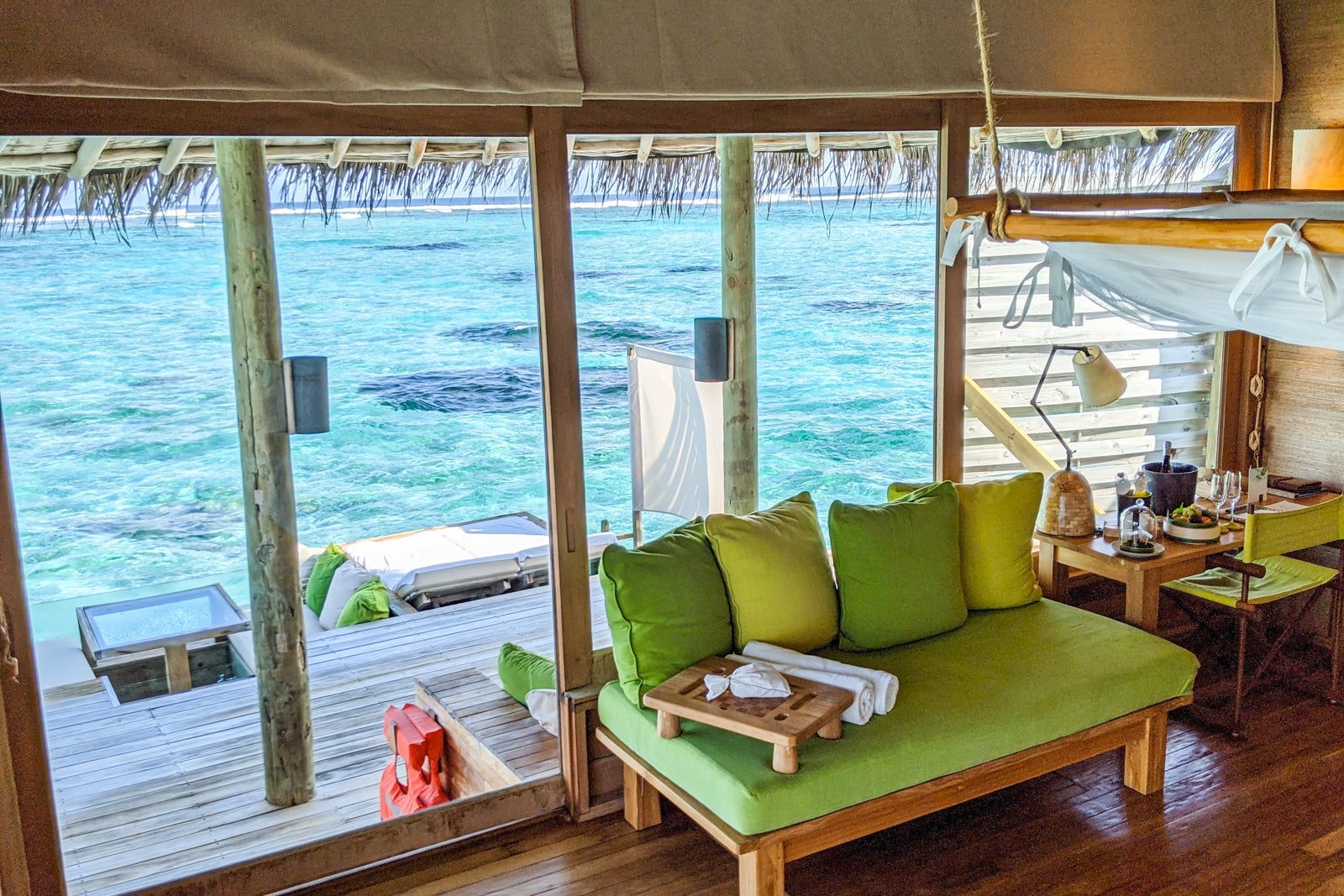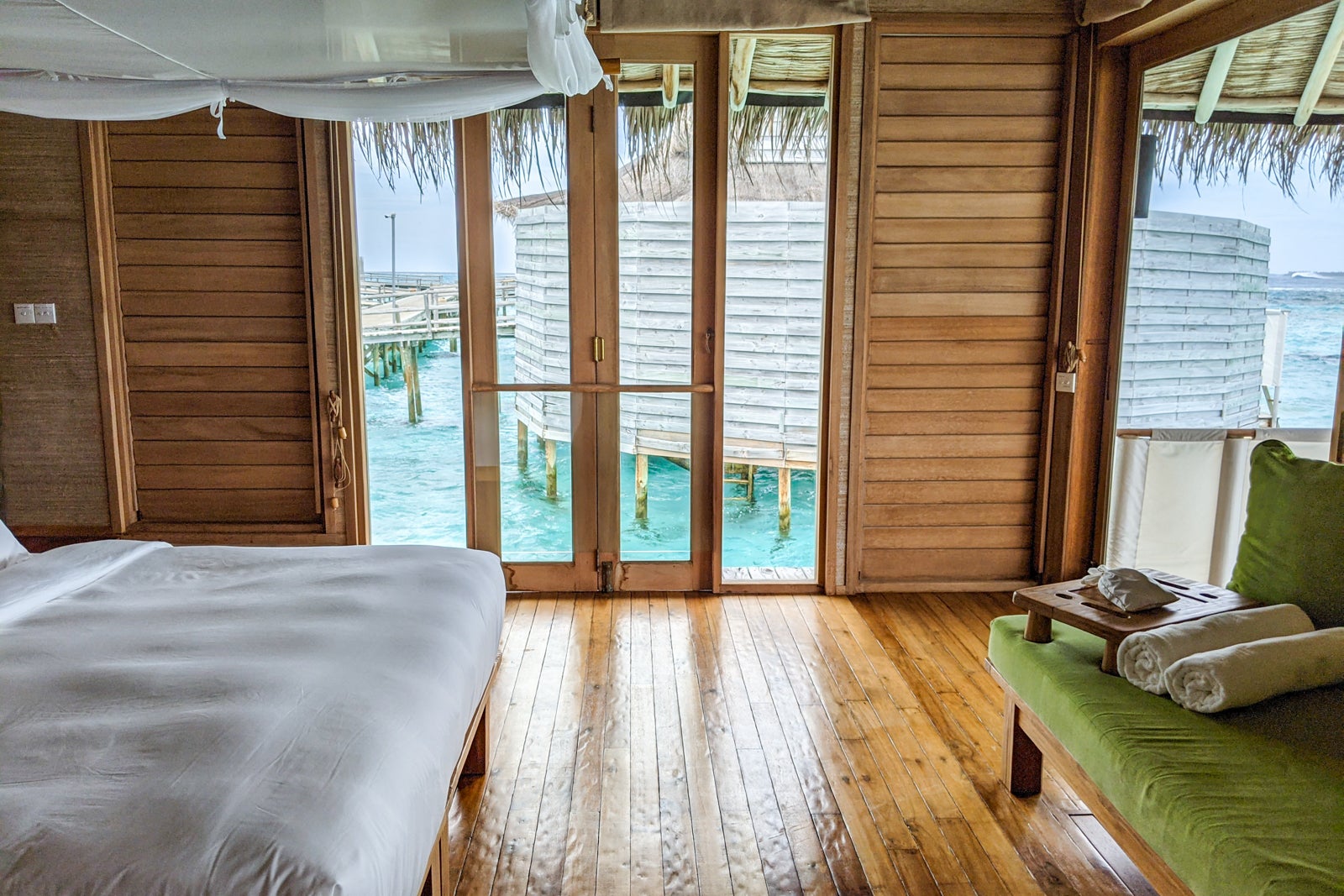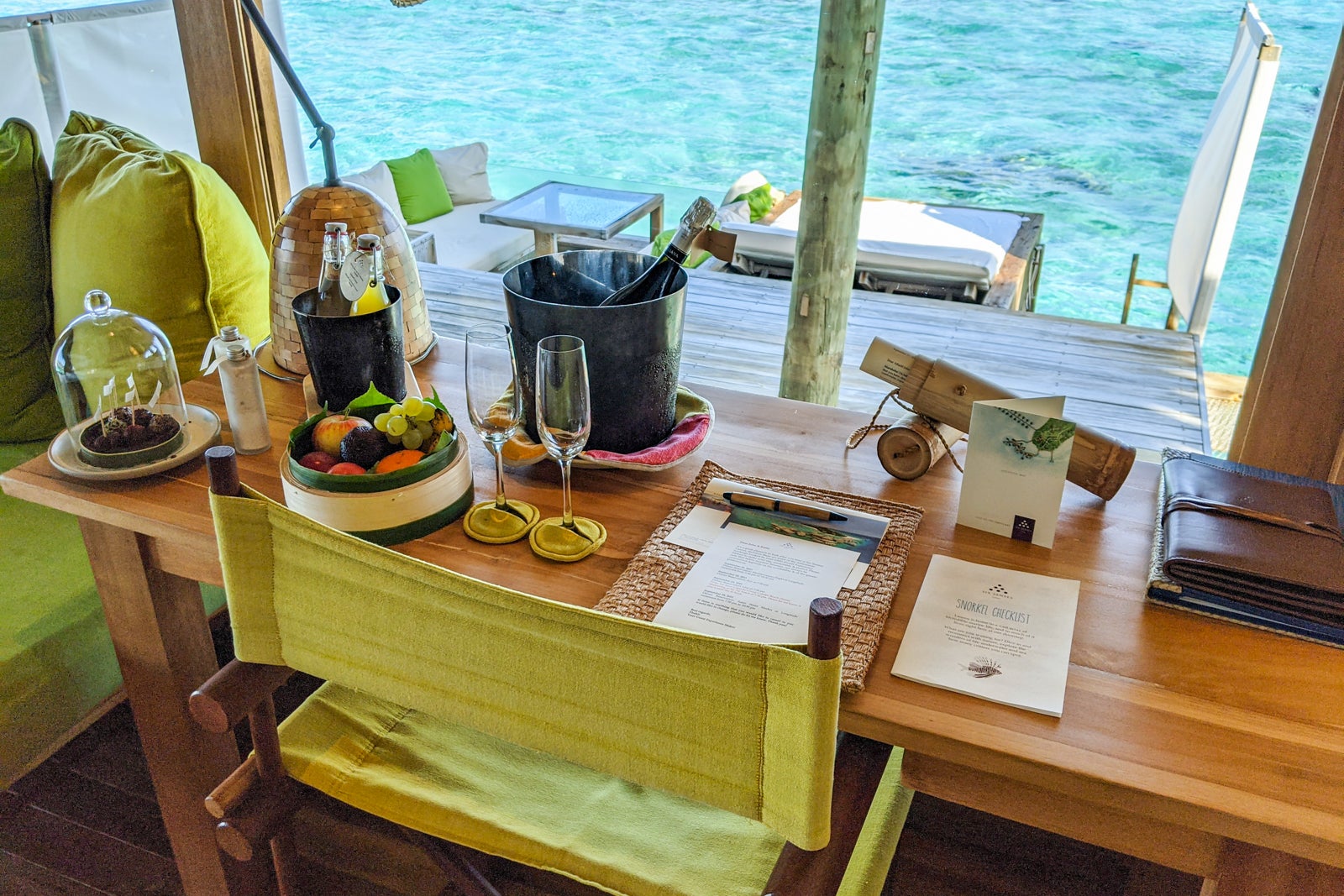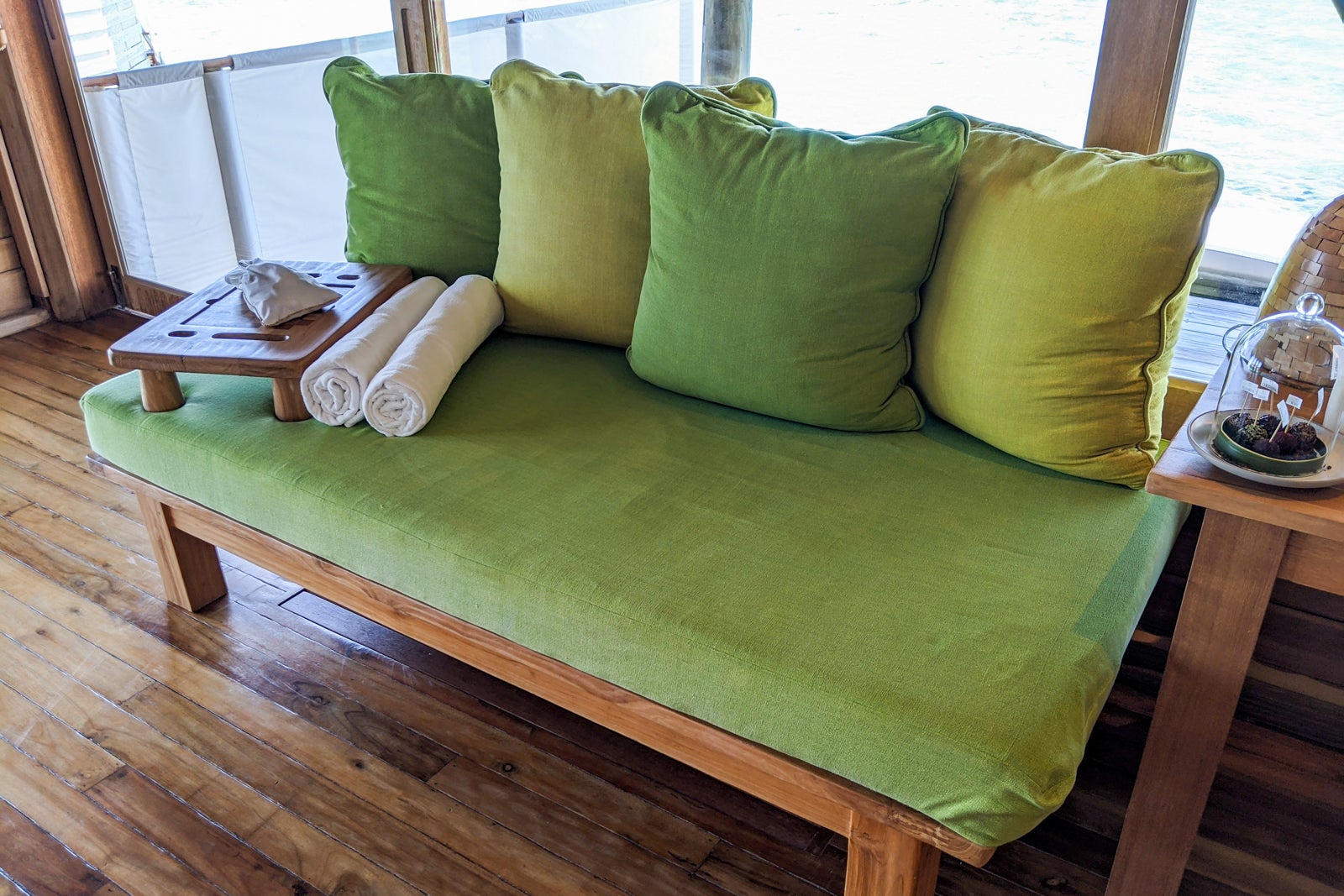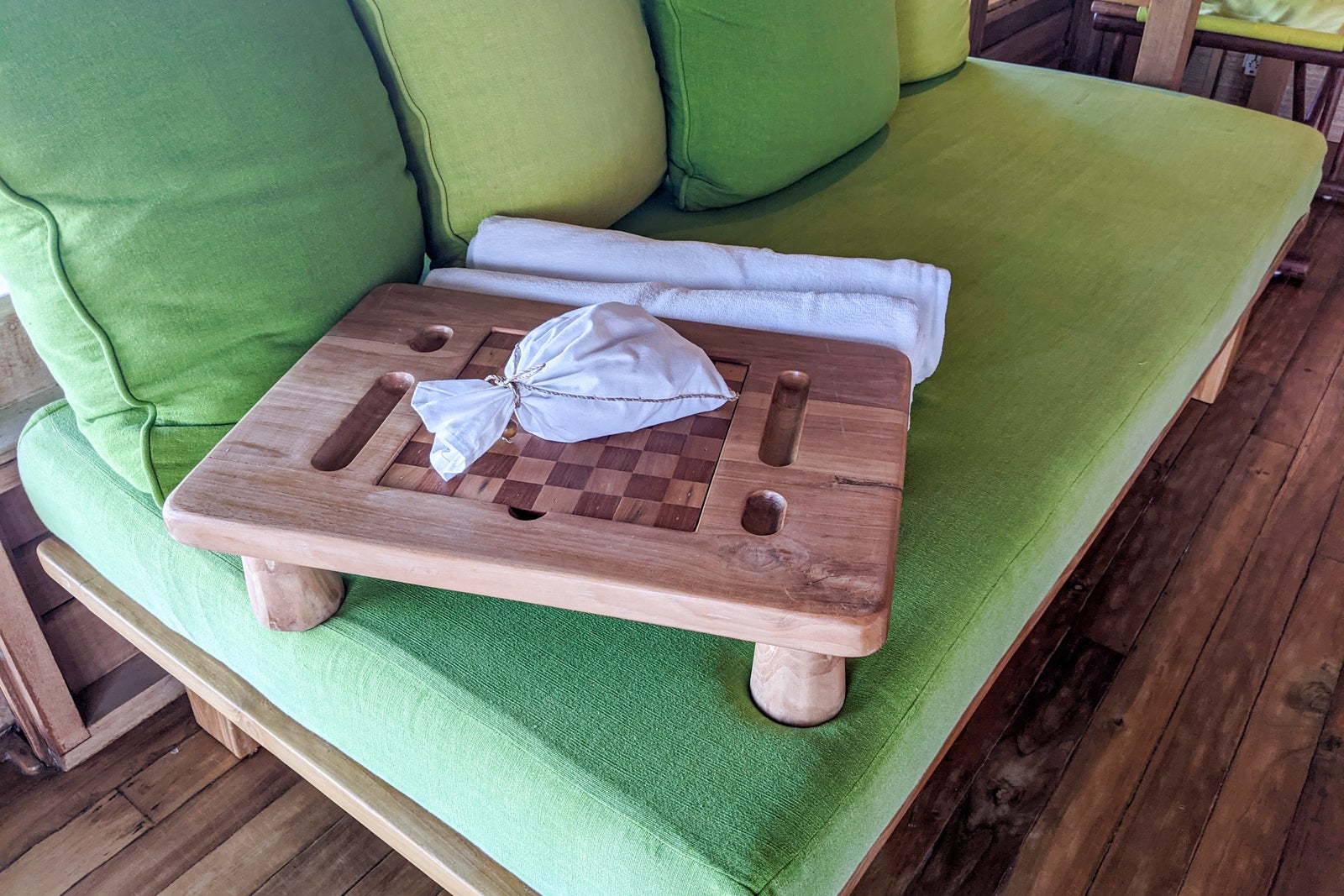 That's the end of the air-conditioned spaces in the villa. However, the water villa has a large, lower deck that's accessible from the bedroom area. This outdoor area had an oversized daybed, two overwater nets for lounging, two lounge chairs, a unique sunken table and a ladder into the ocean. However, the lounge chairs and sunken table remained moist during our stay due to daily waves that would splash this area. When giving us a tour of our villa, our GEM noted that the tide was very high due to the full moon.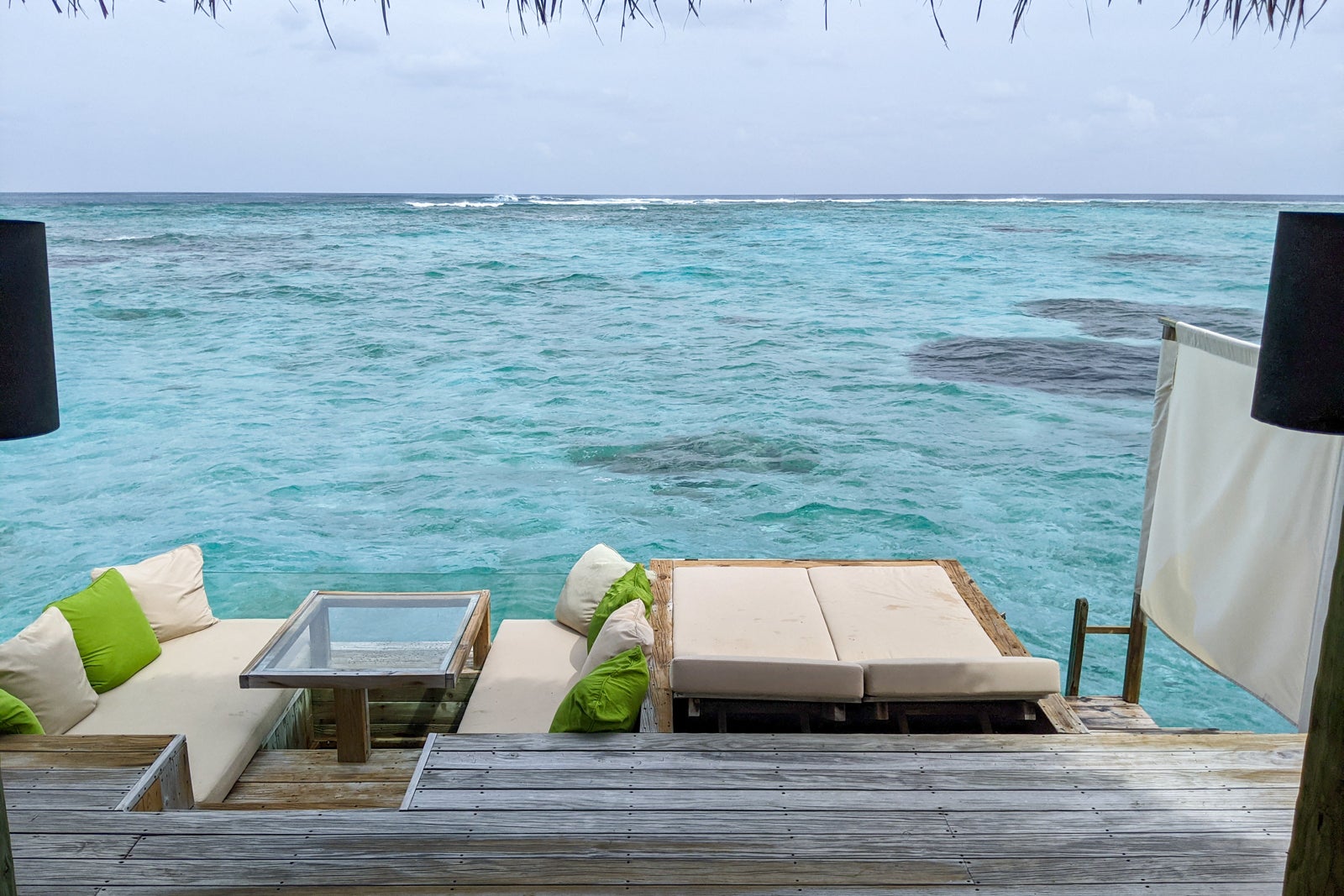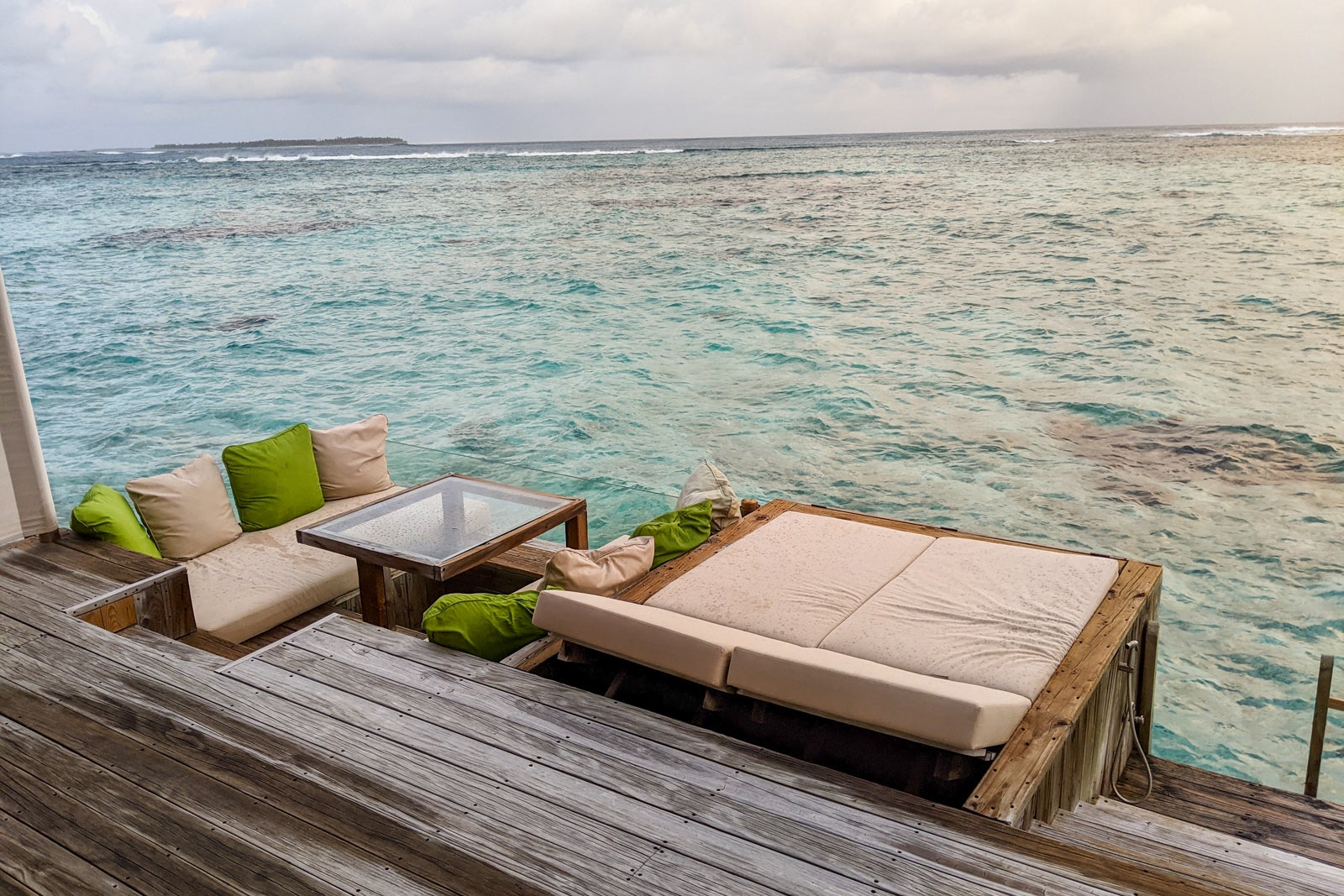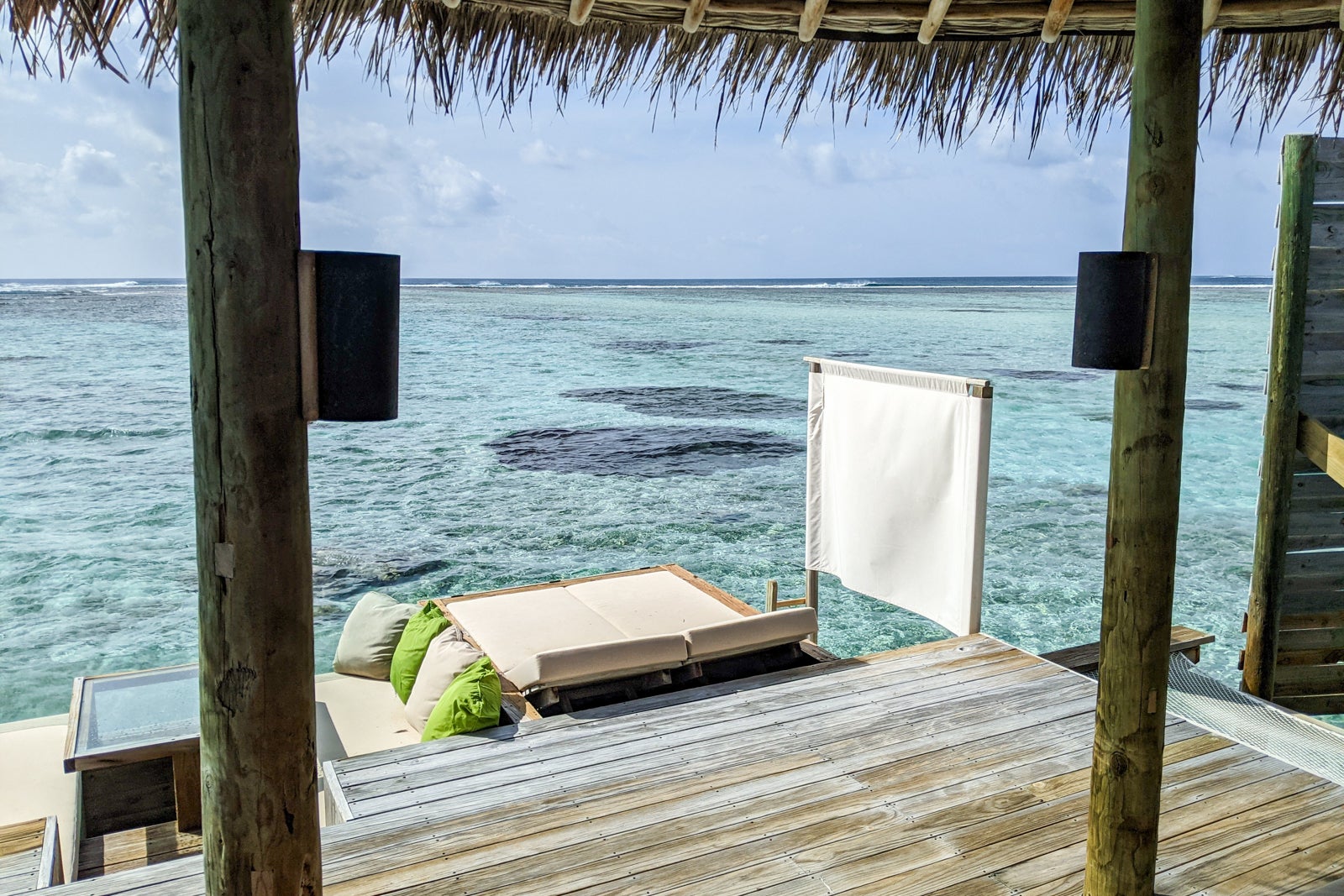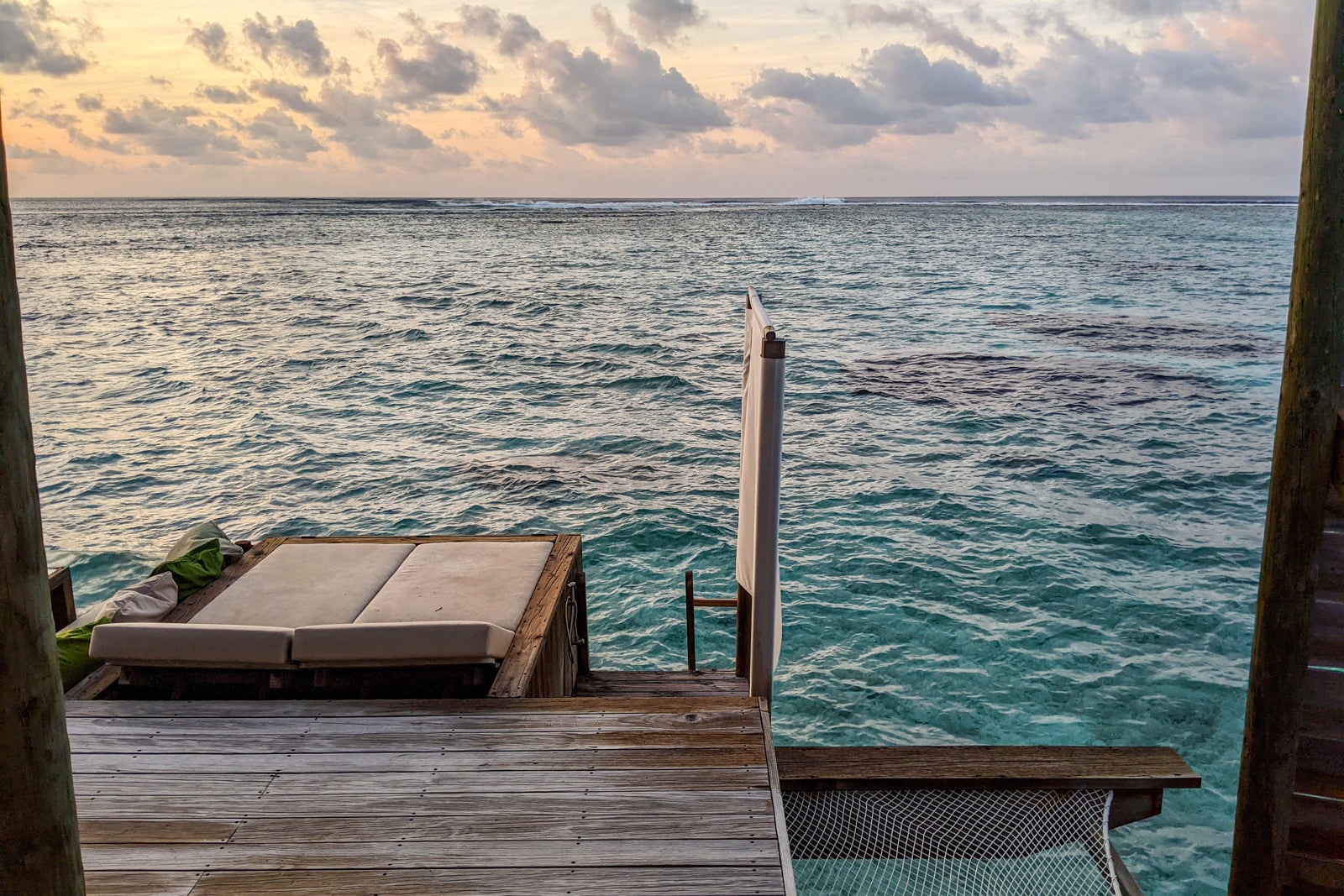 You can access another outdoor area through doors by the desk. This area has an Instagram-worthy bathtub with a glass bottom and an outdoor shower. The shower has a rainfall showerhead as well as a hand-held showerhead. There are two towel hooks as well as a large drying rack. And as a note: Our room attendant respected our wishes to reuse our towels throughout our stay.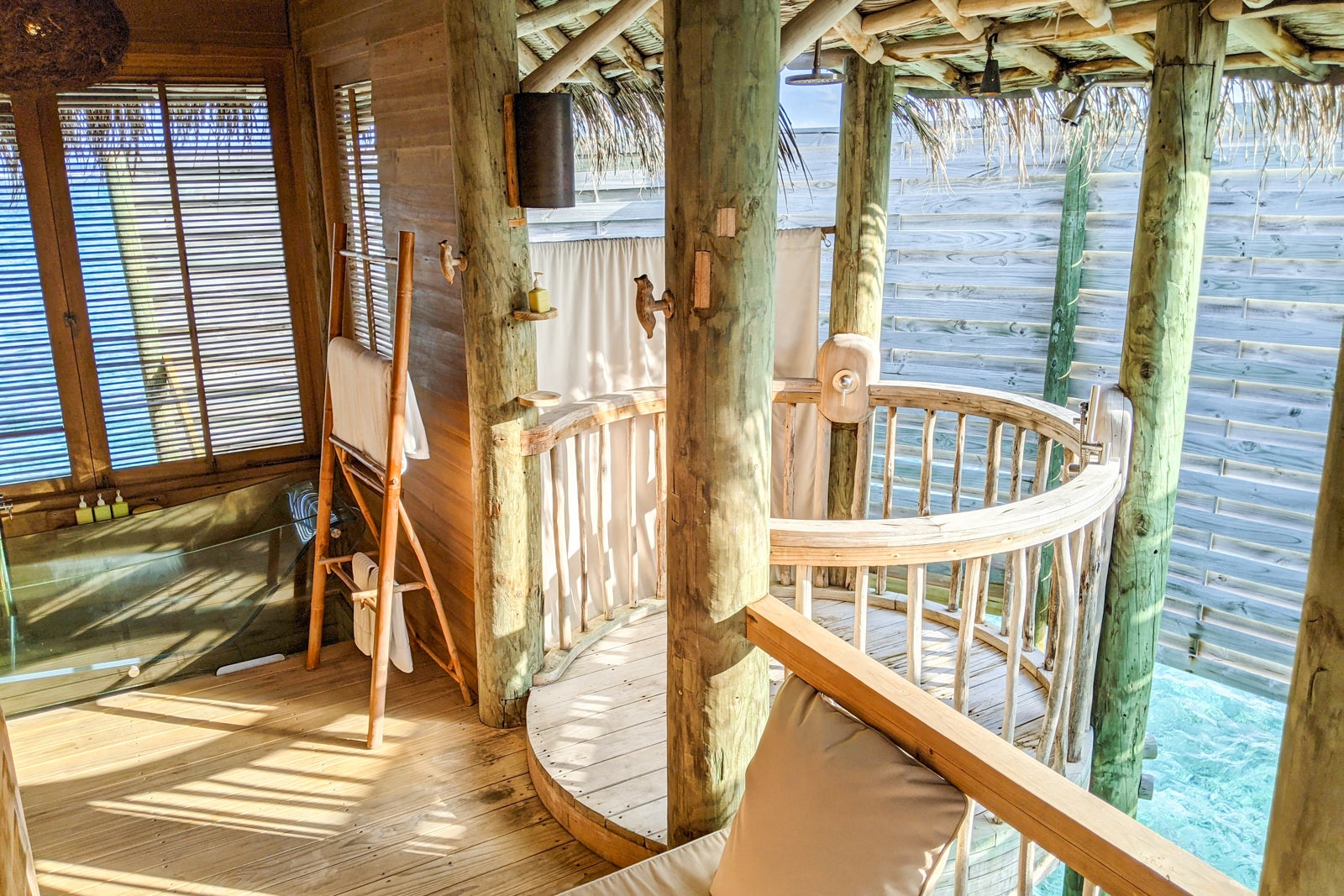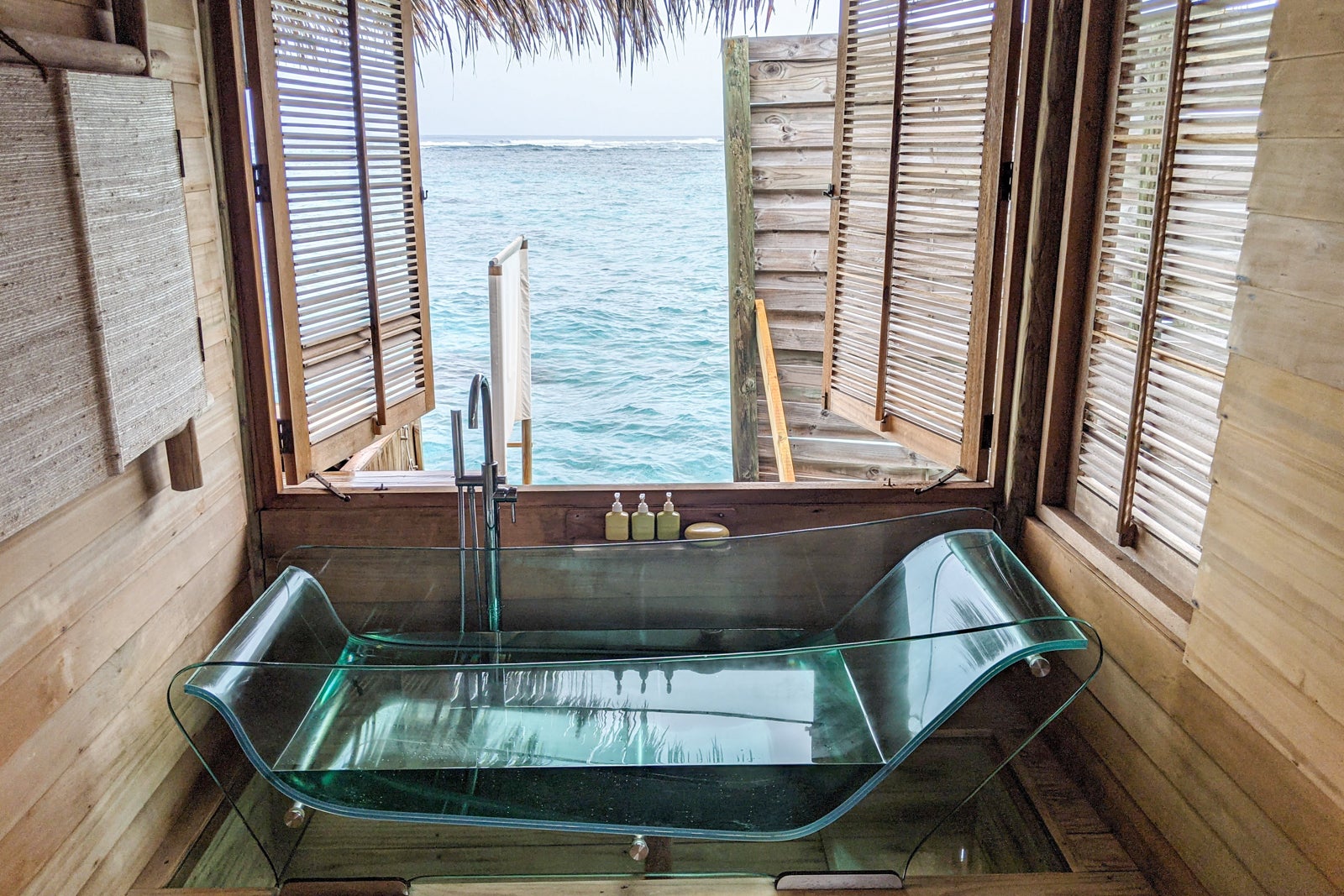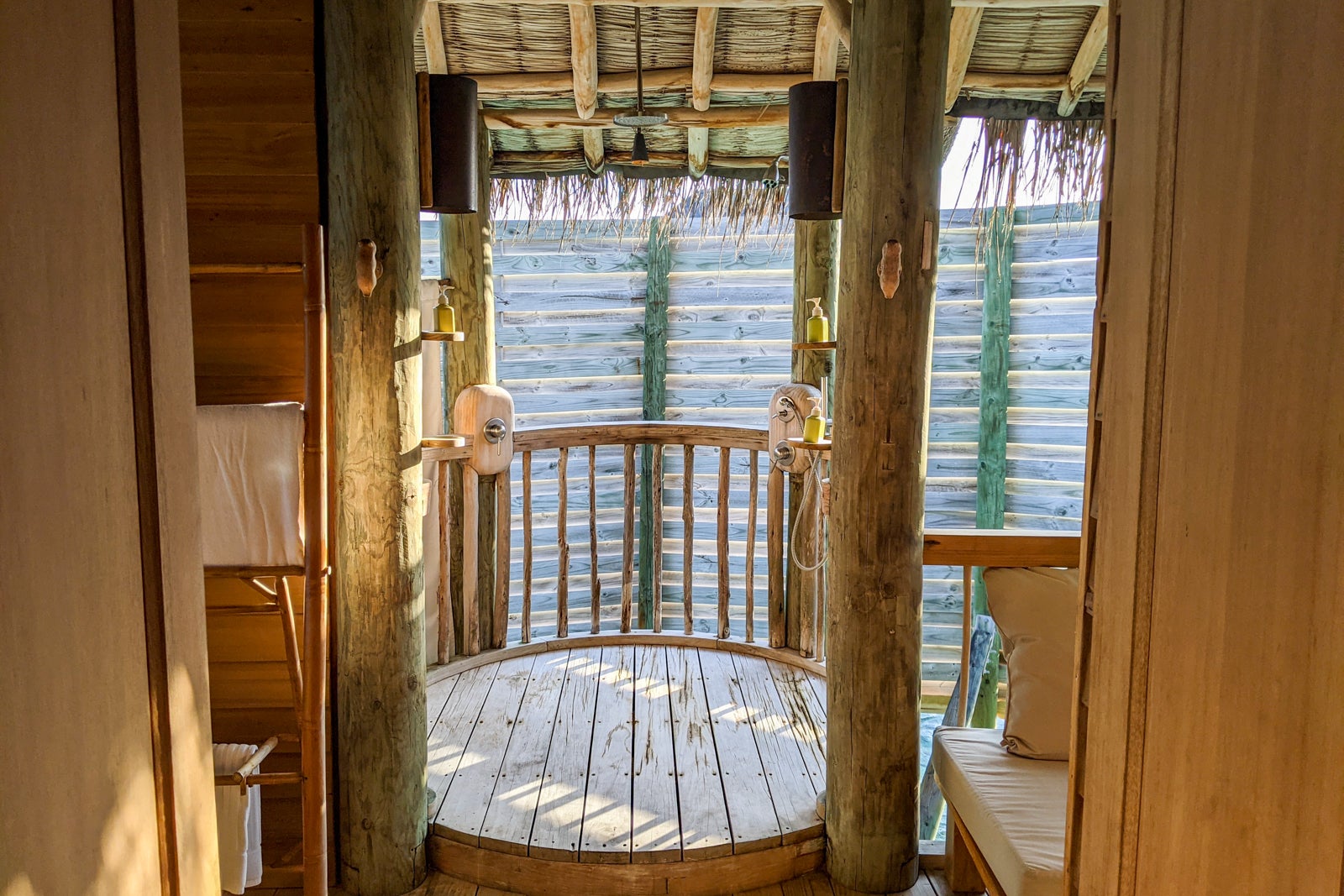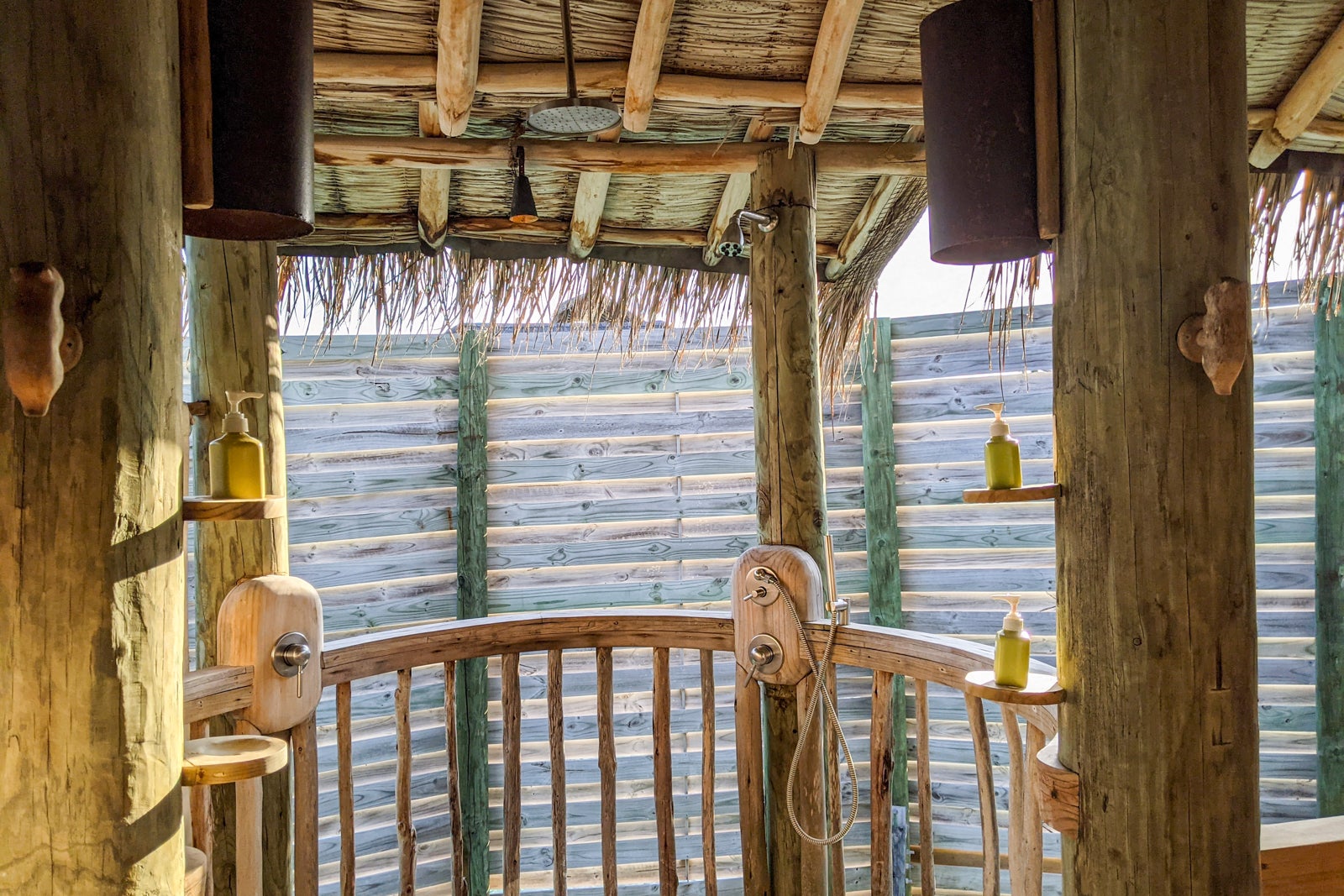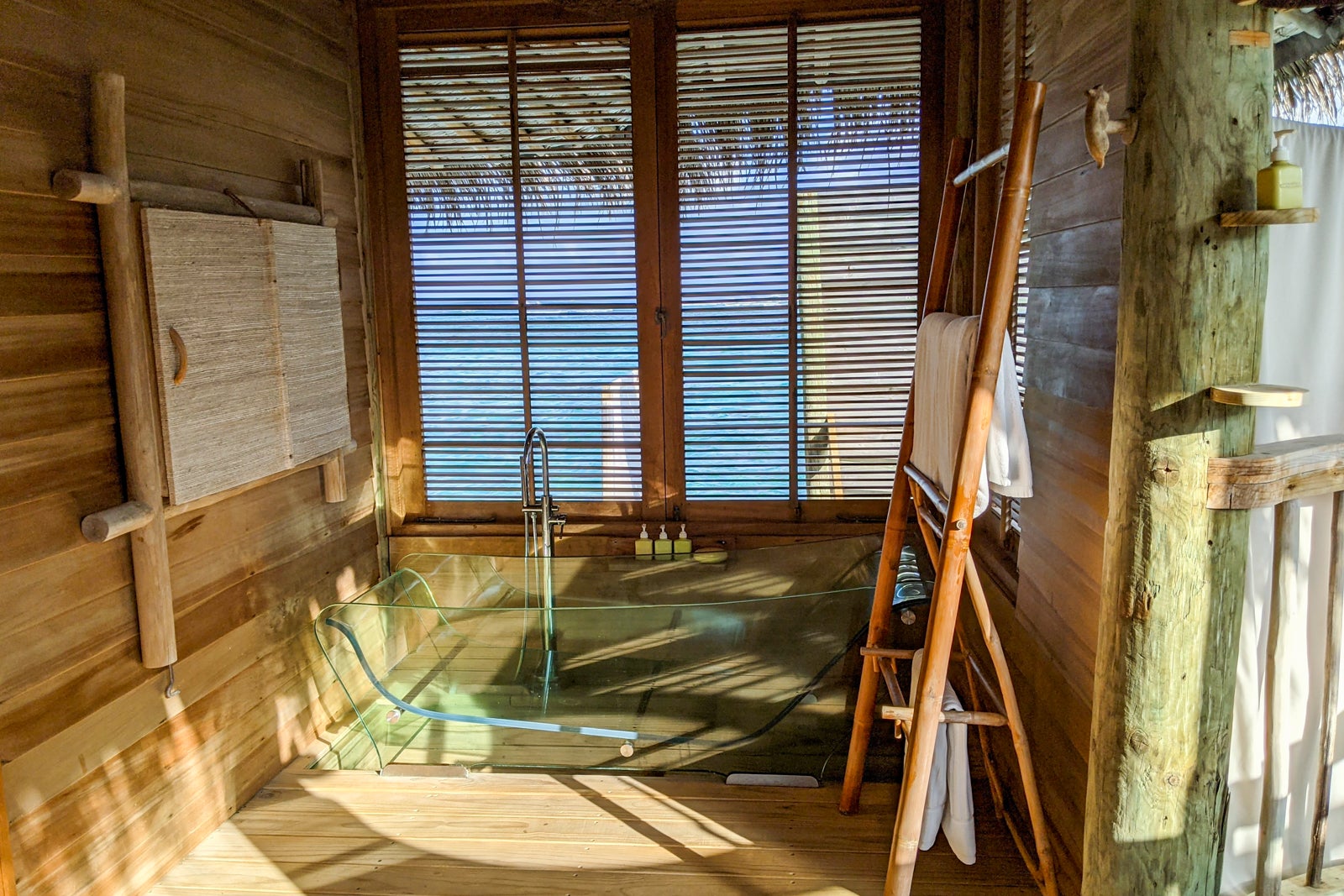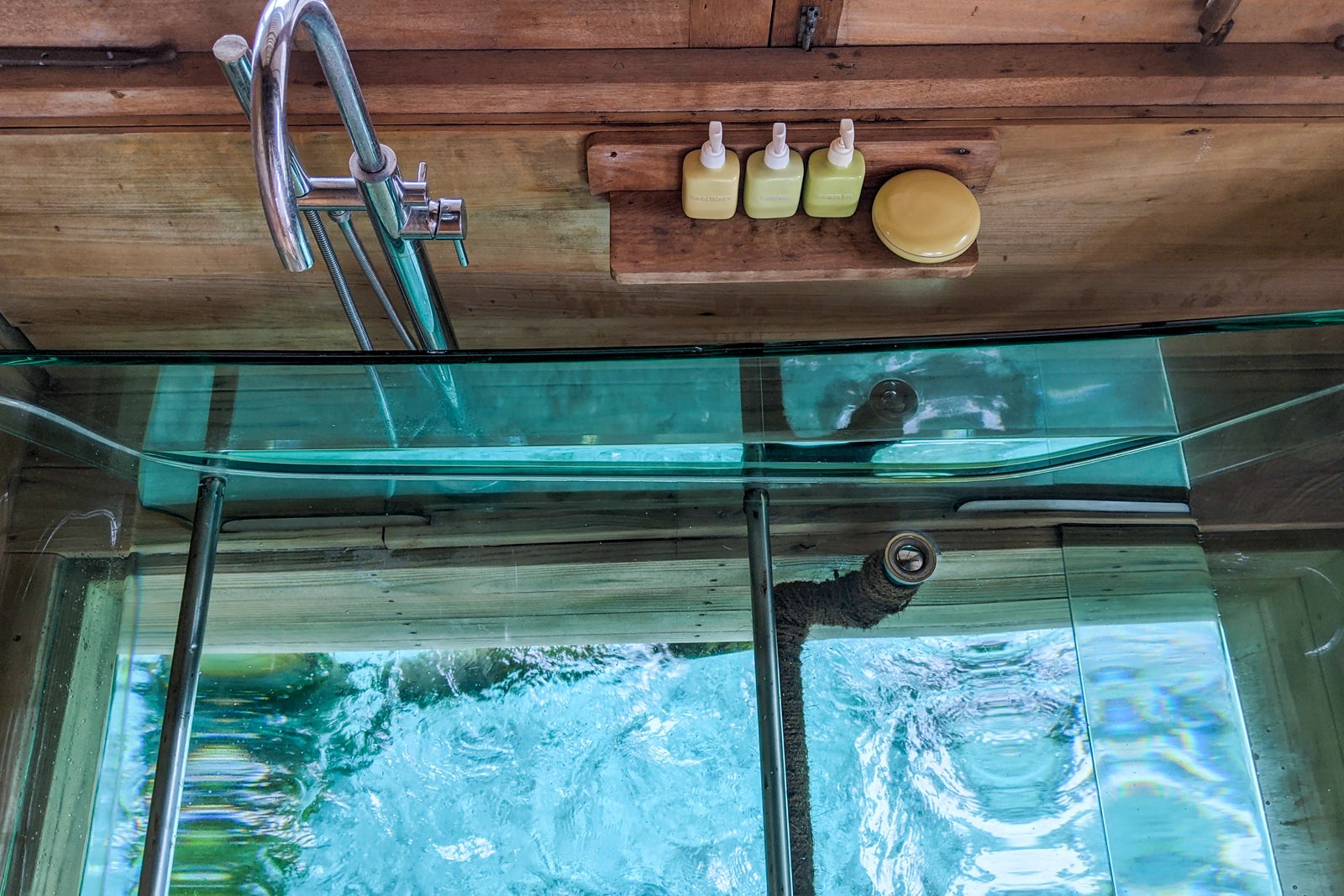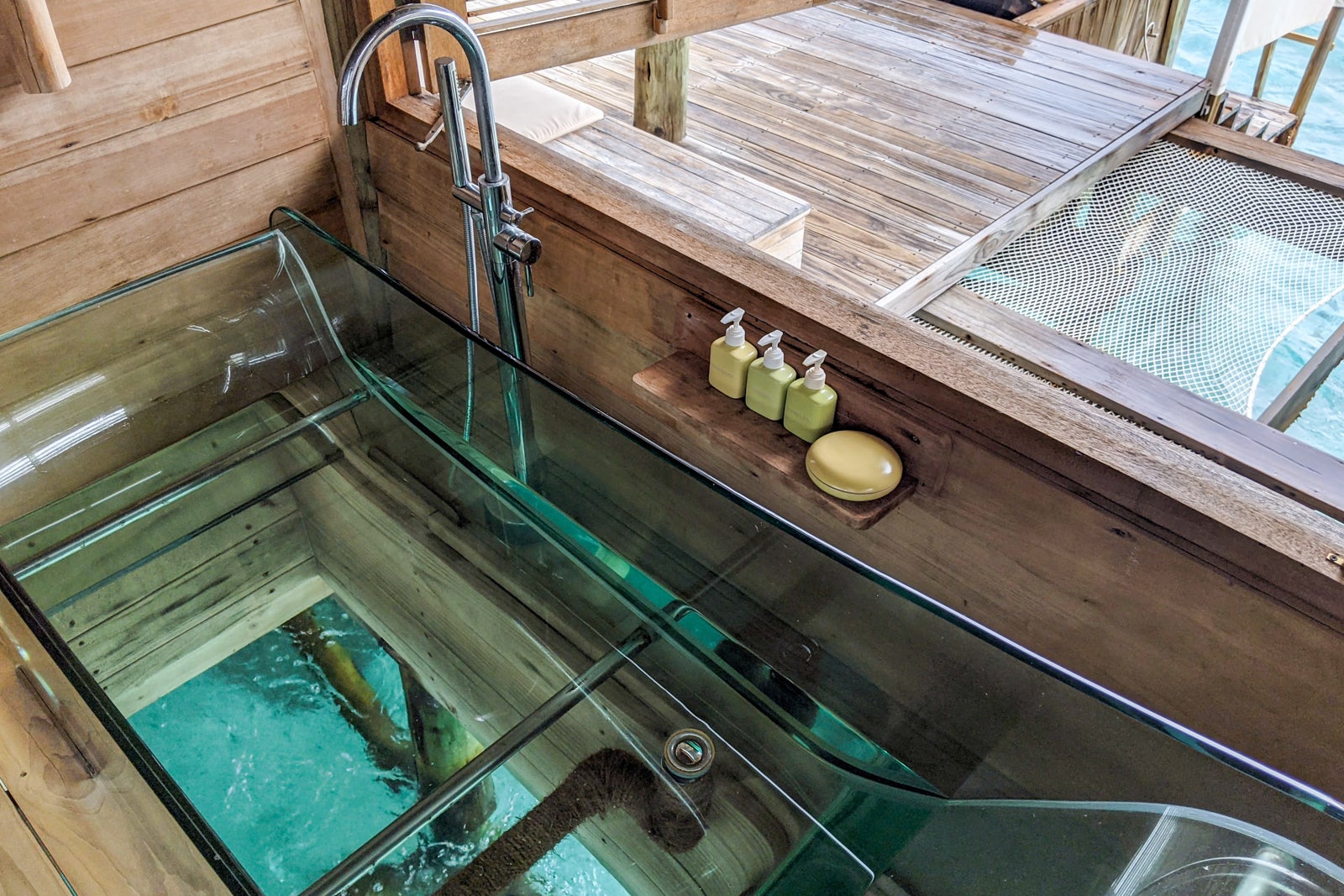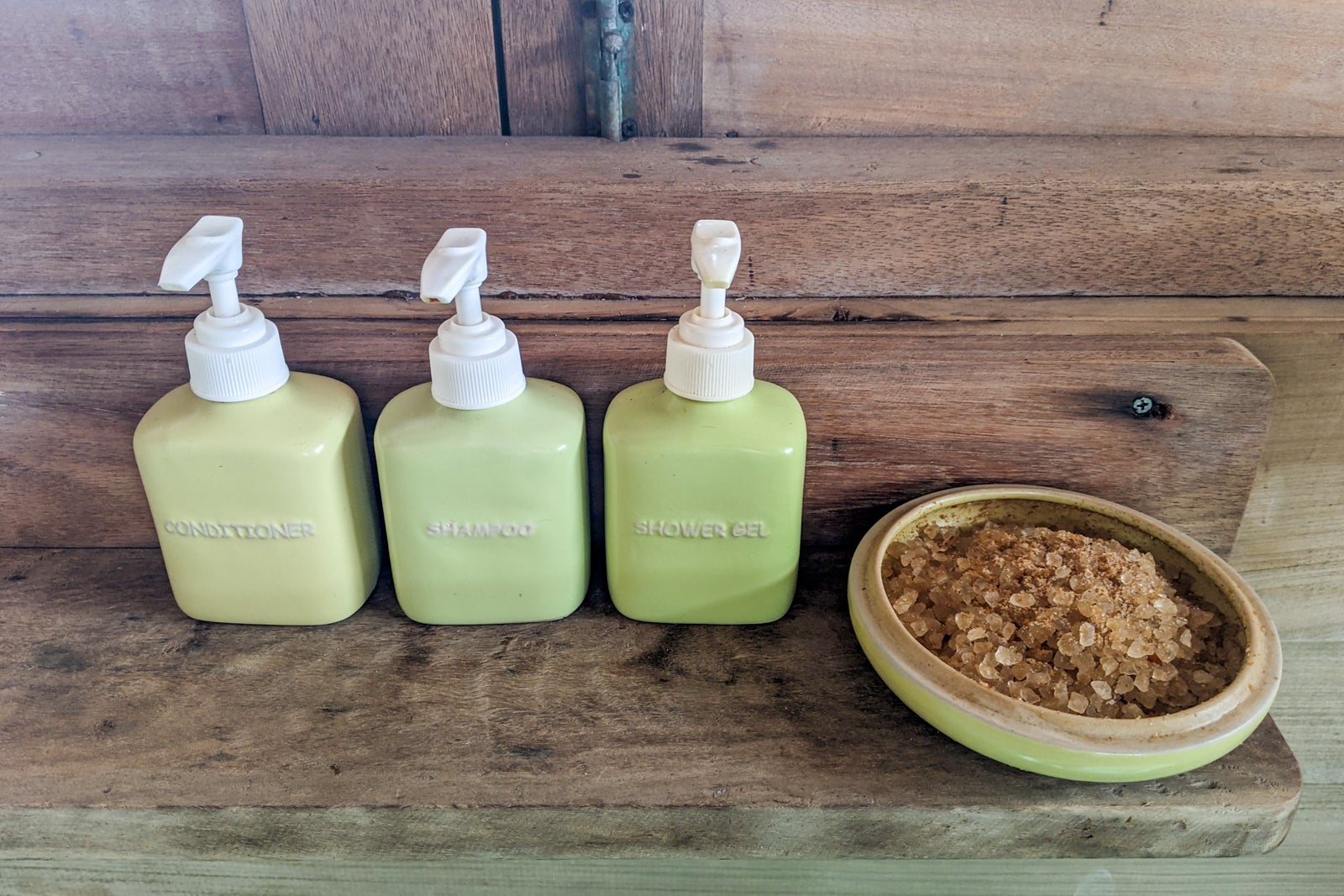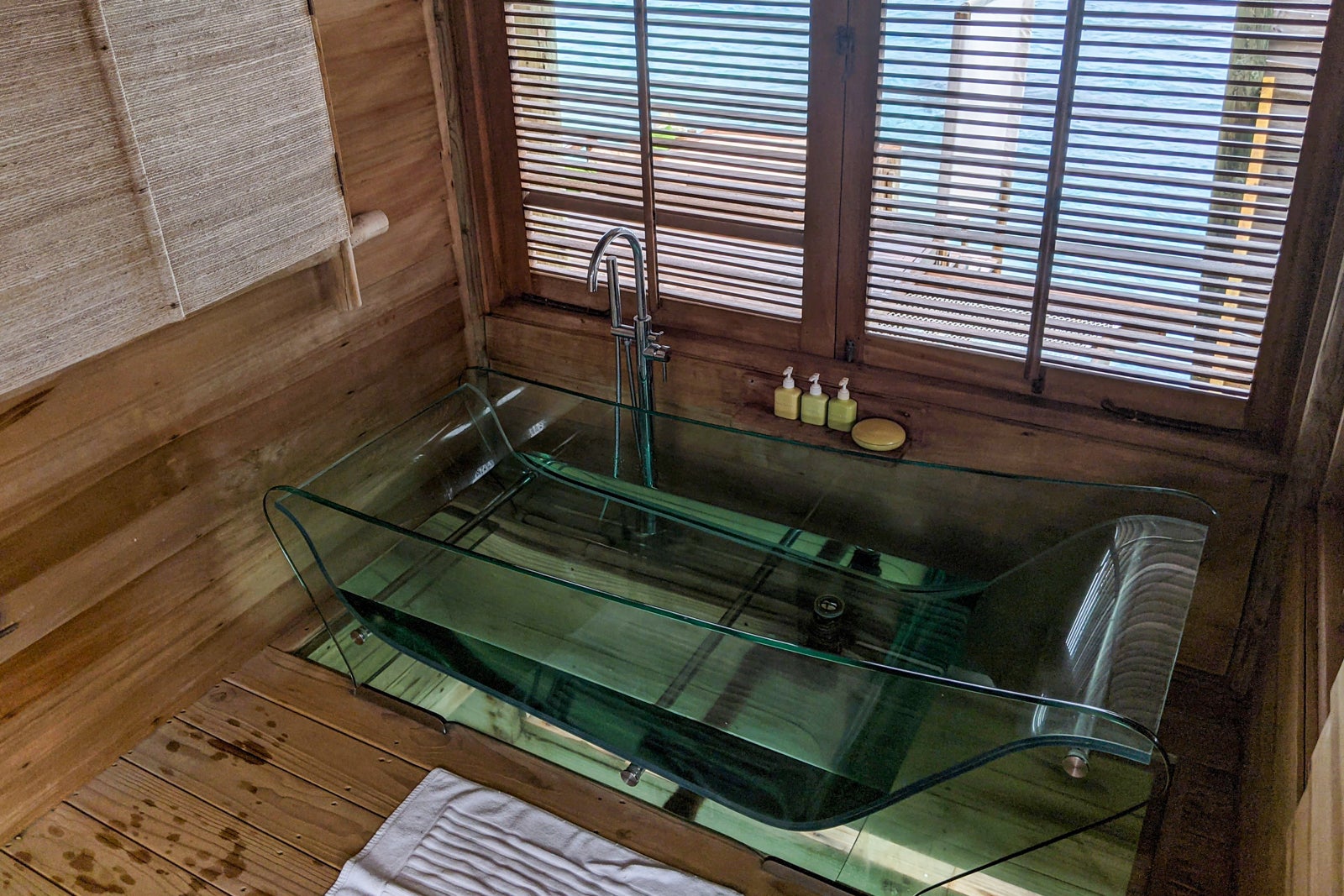 A ladder leads down to the ocean from this patio, so if you want to swim or snorkel near your villa, you can go straight to the shower without walking through your room. Stairs from this patio led to one of my favorite features of the villa: a roof-top area with a covered day bed. I enjoyed working up here as I could see the ocean from the day bed.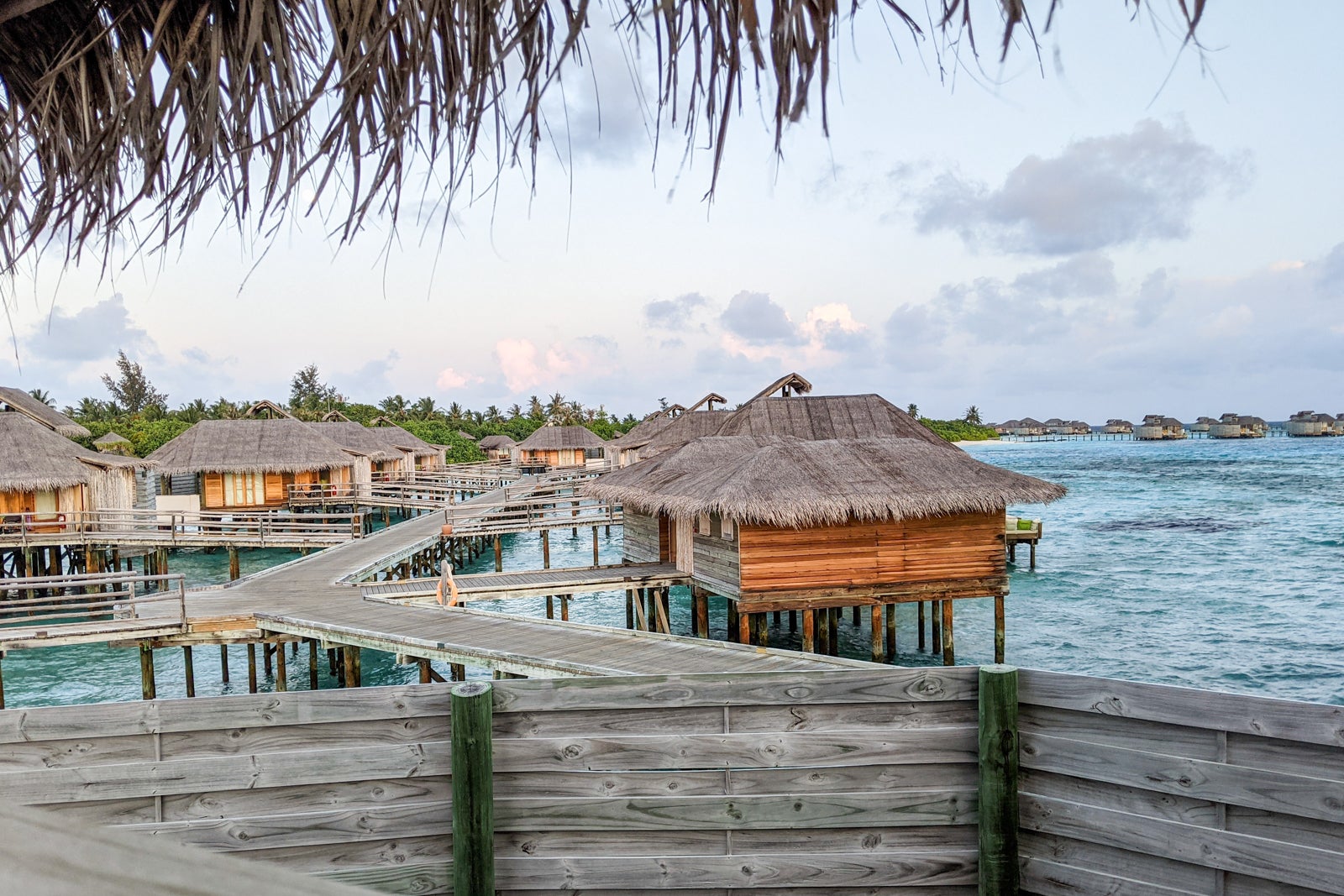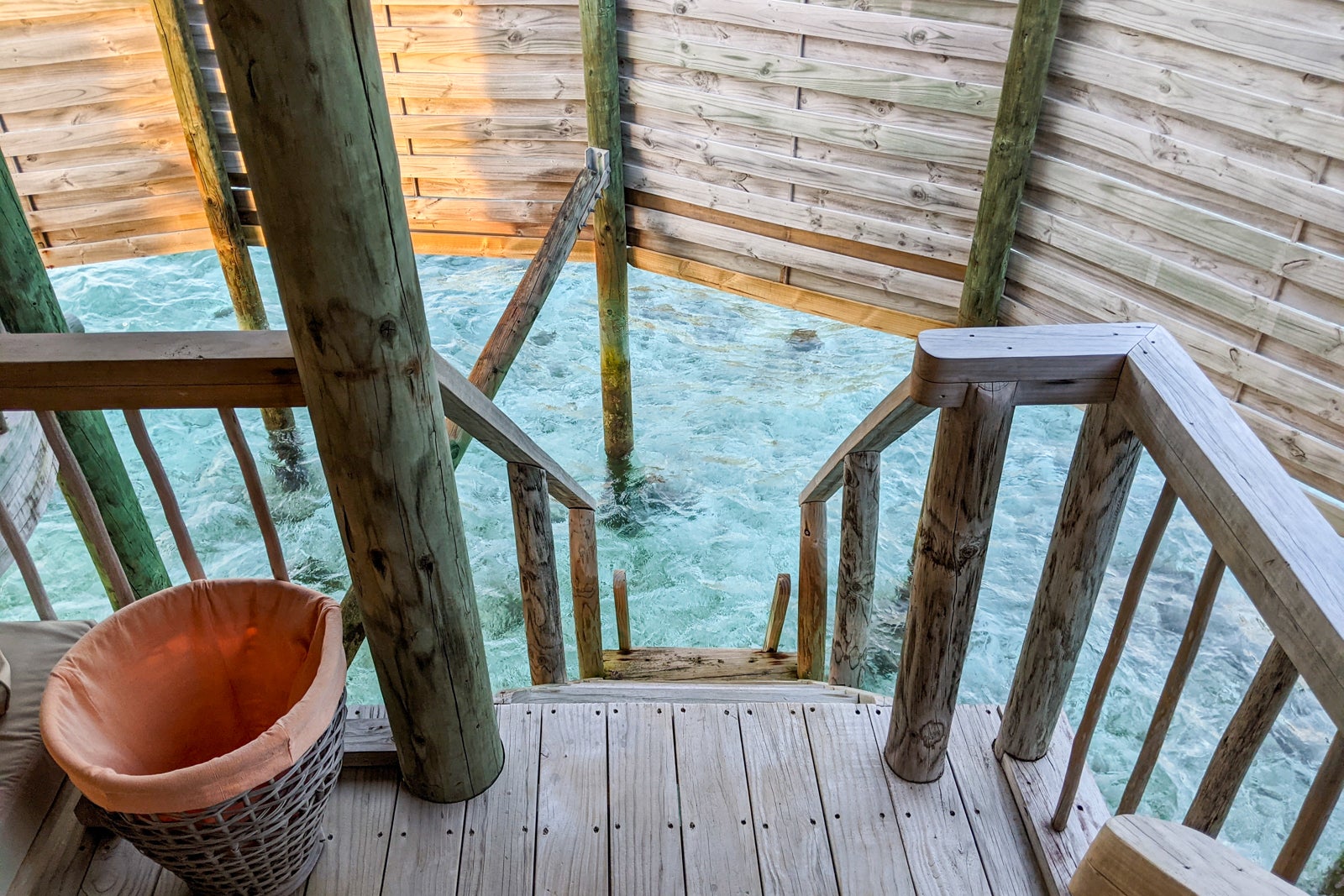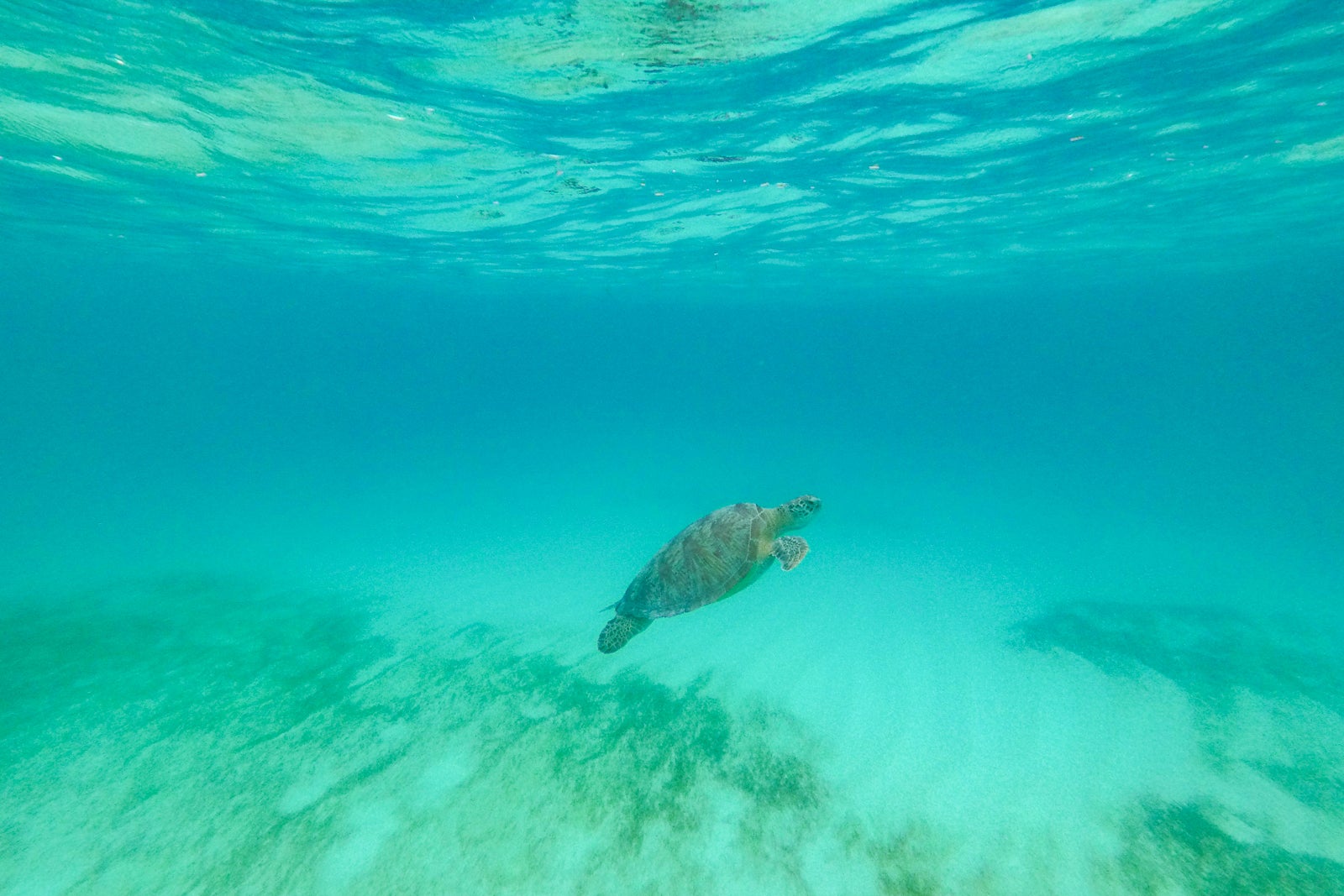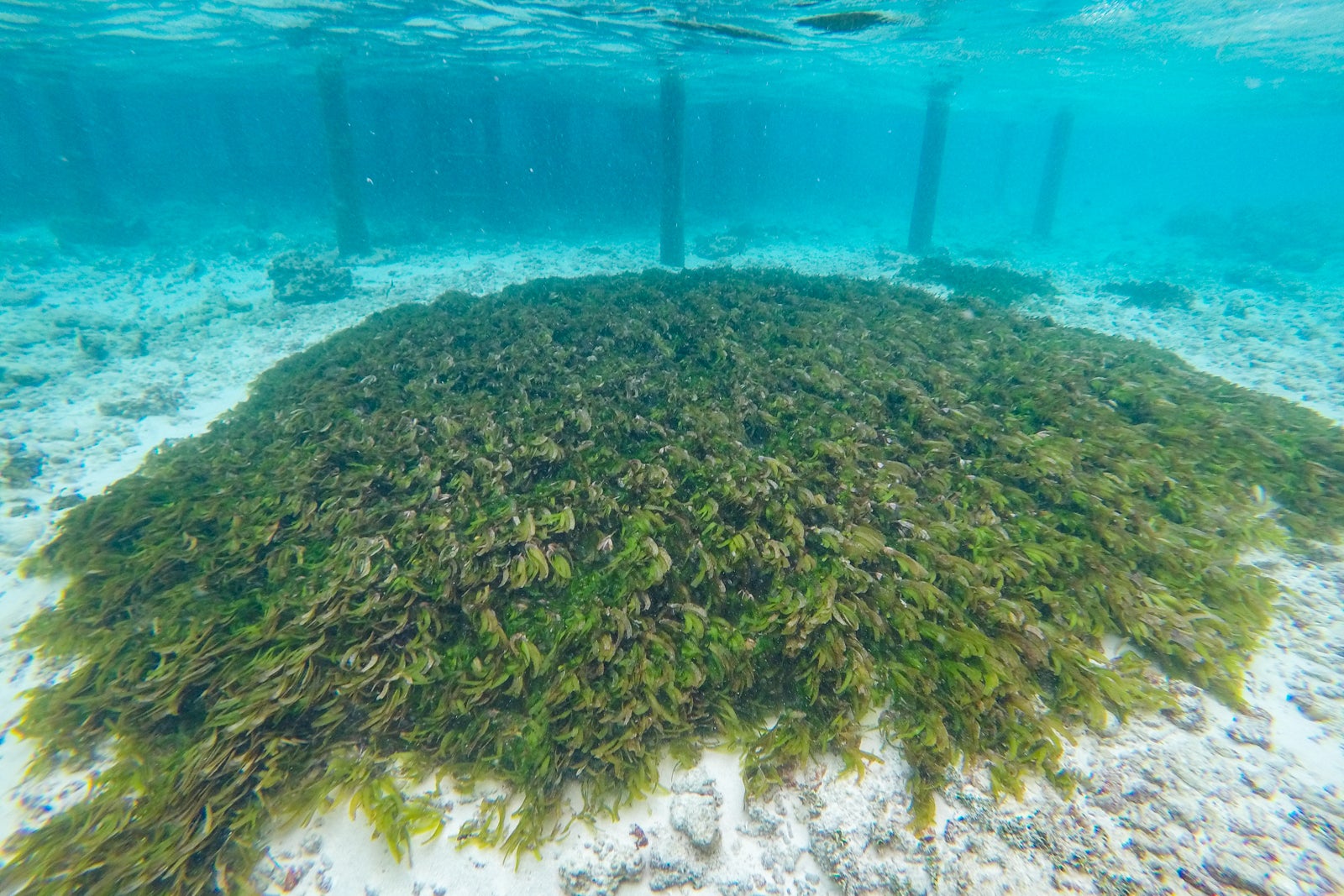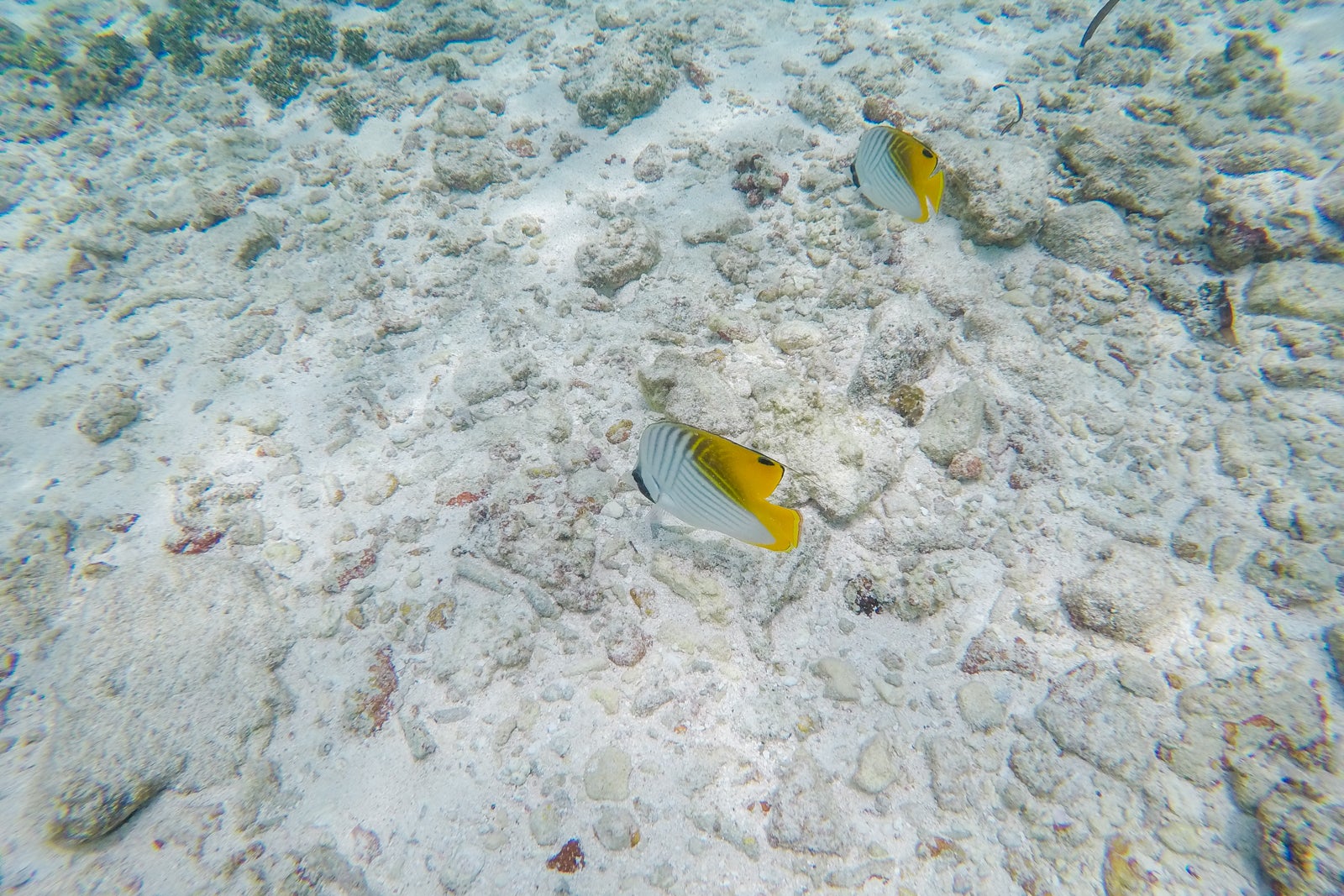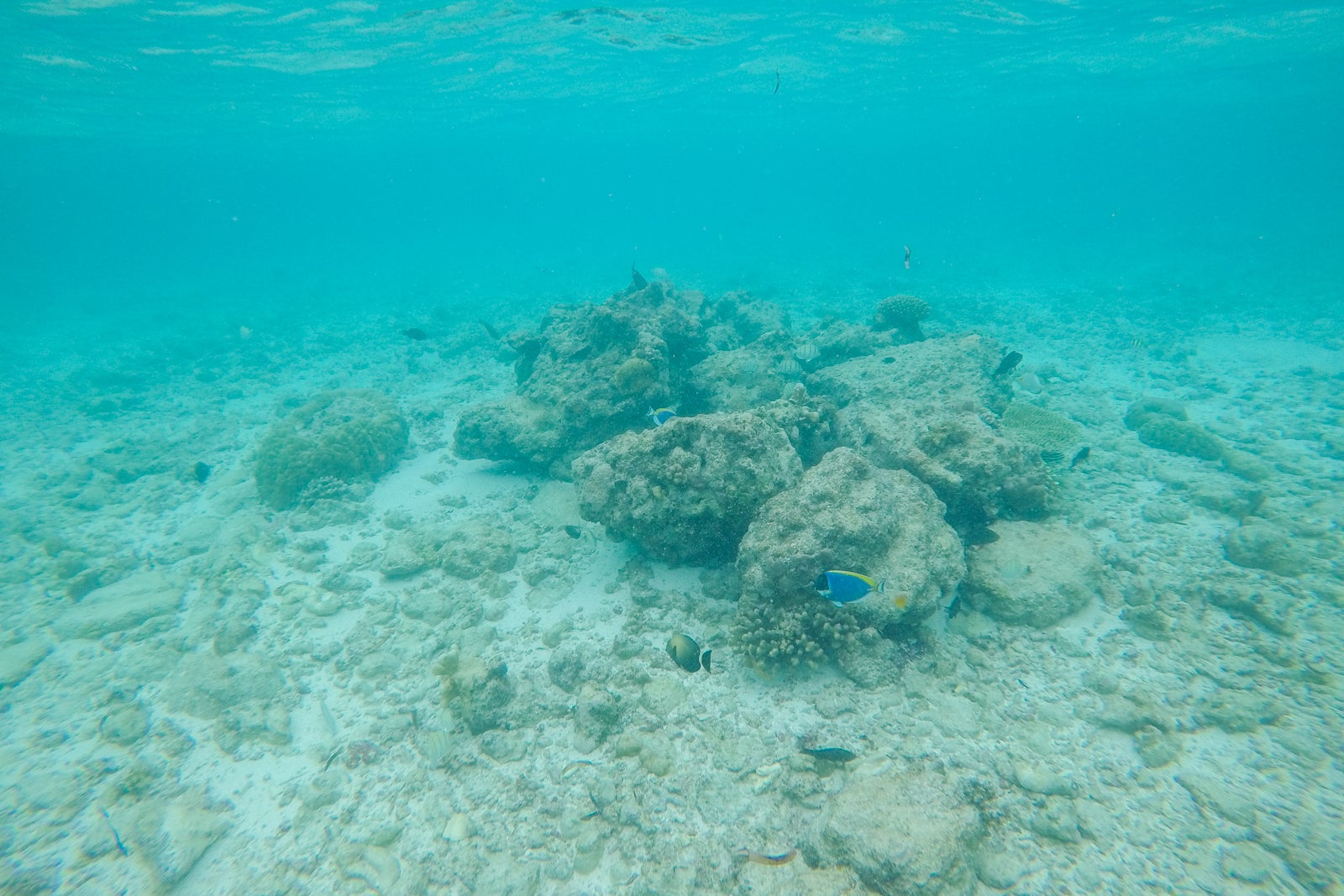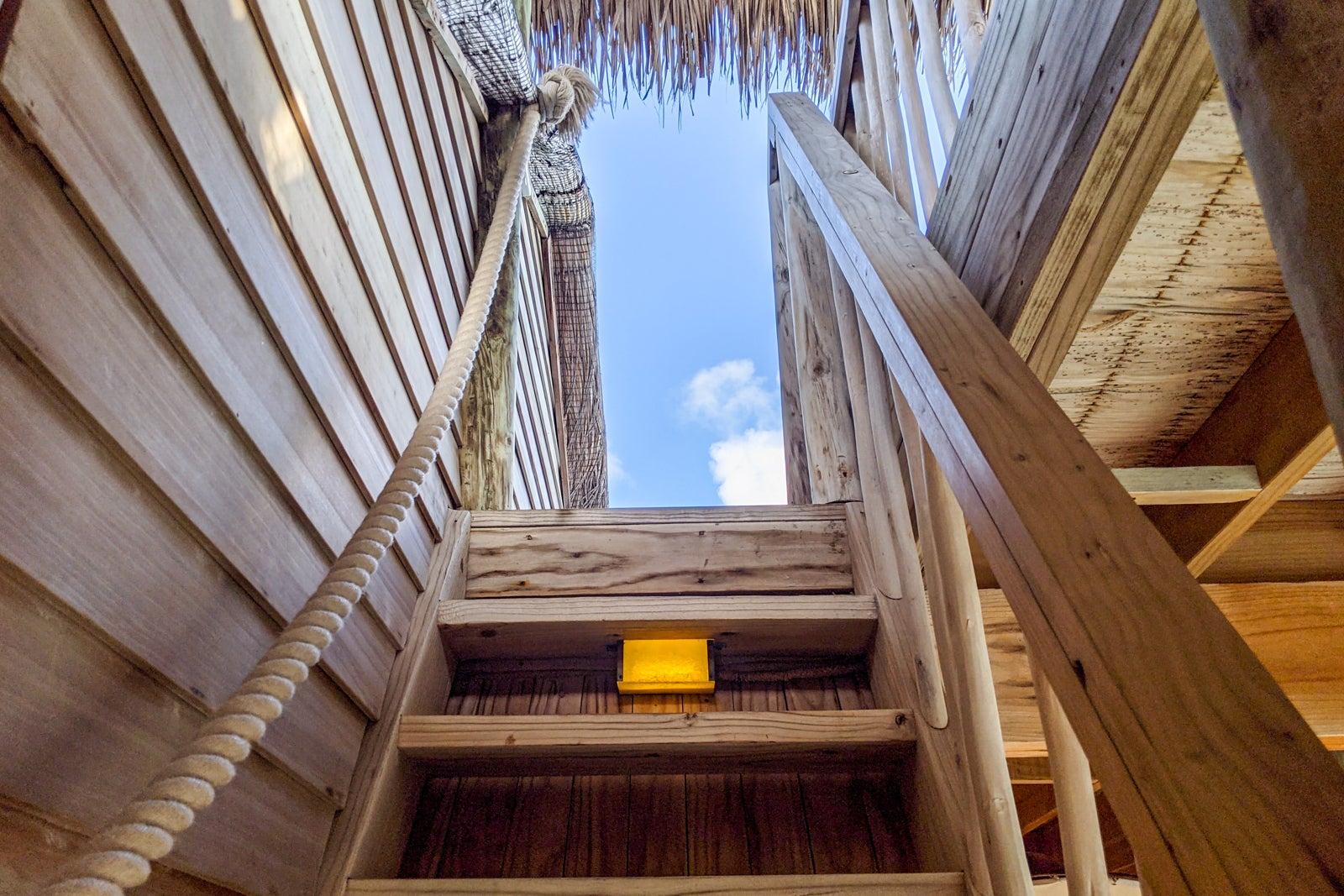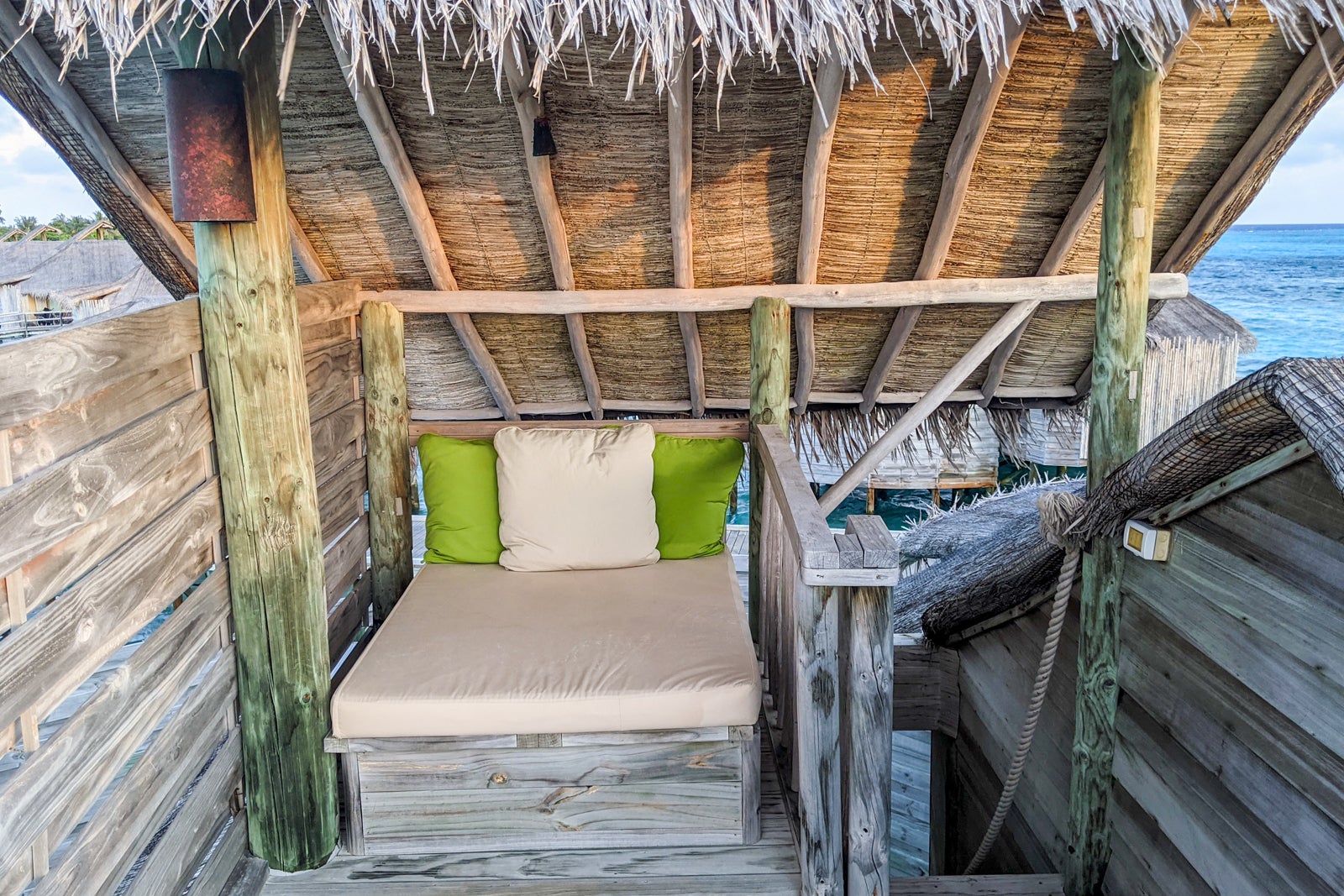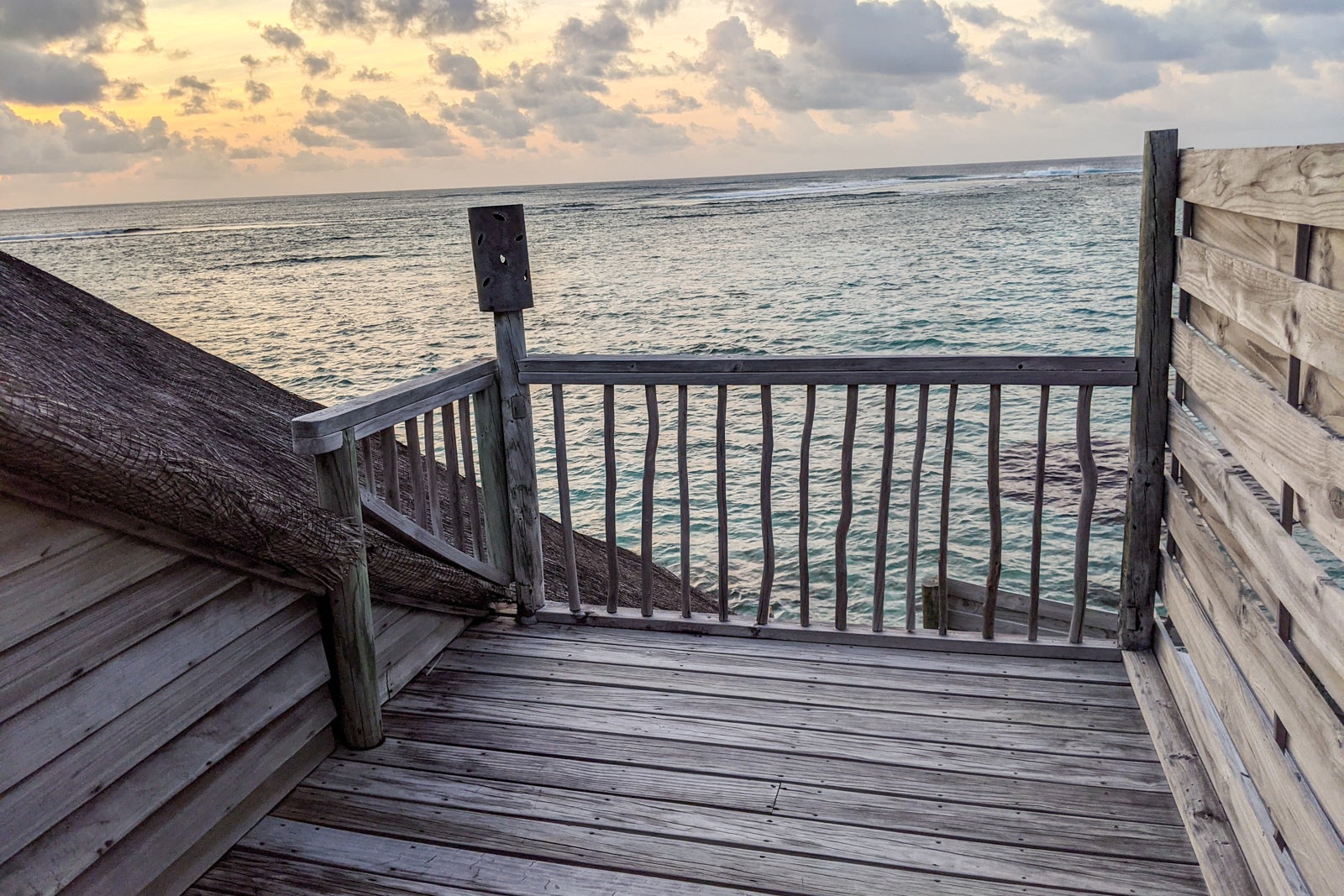 We lovingly referred to our villa as an overwater treehouse due to its outdoor shower area, upper porch and lower patio. I found the slightly swollen bathroom shutters, fluctuating shower temperature and doors banging in the wind charming. But it's important to realize that villas at this resort are more rustic than you might expect at this price point.
Accessibility
We didn't book an accessible room. So, it isn't surprising that our room didn't feature any accessible elements. The bed height in our room was 24 inches, while the clearance under the bed was 8.5 inches. The entrance door was 35 inches wide.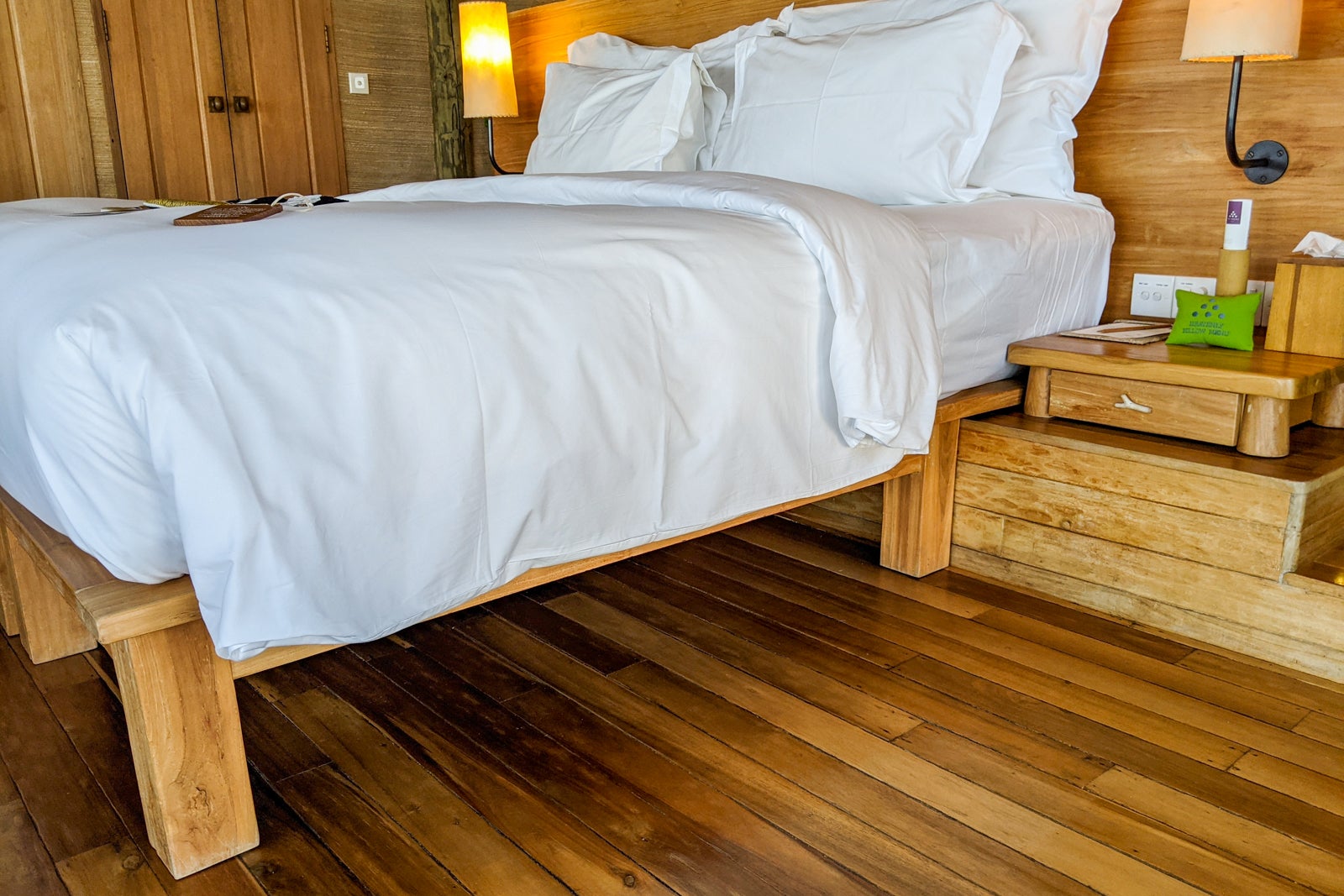 Guests with mobility concerns might struggle in this room type due to the two stairs between the sink and bed areas. Plus, guests with limited mobility might not be able to experience the roof-top deck or the lower deck. Additionally, the sand pathways and steps throughout the property might make visiting Six Senses Laamu difficult for some guests.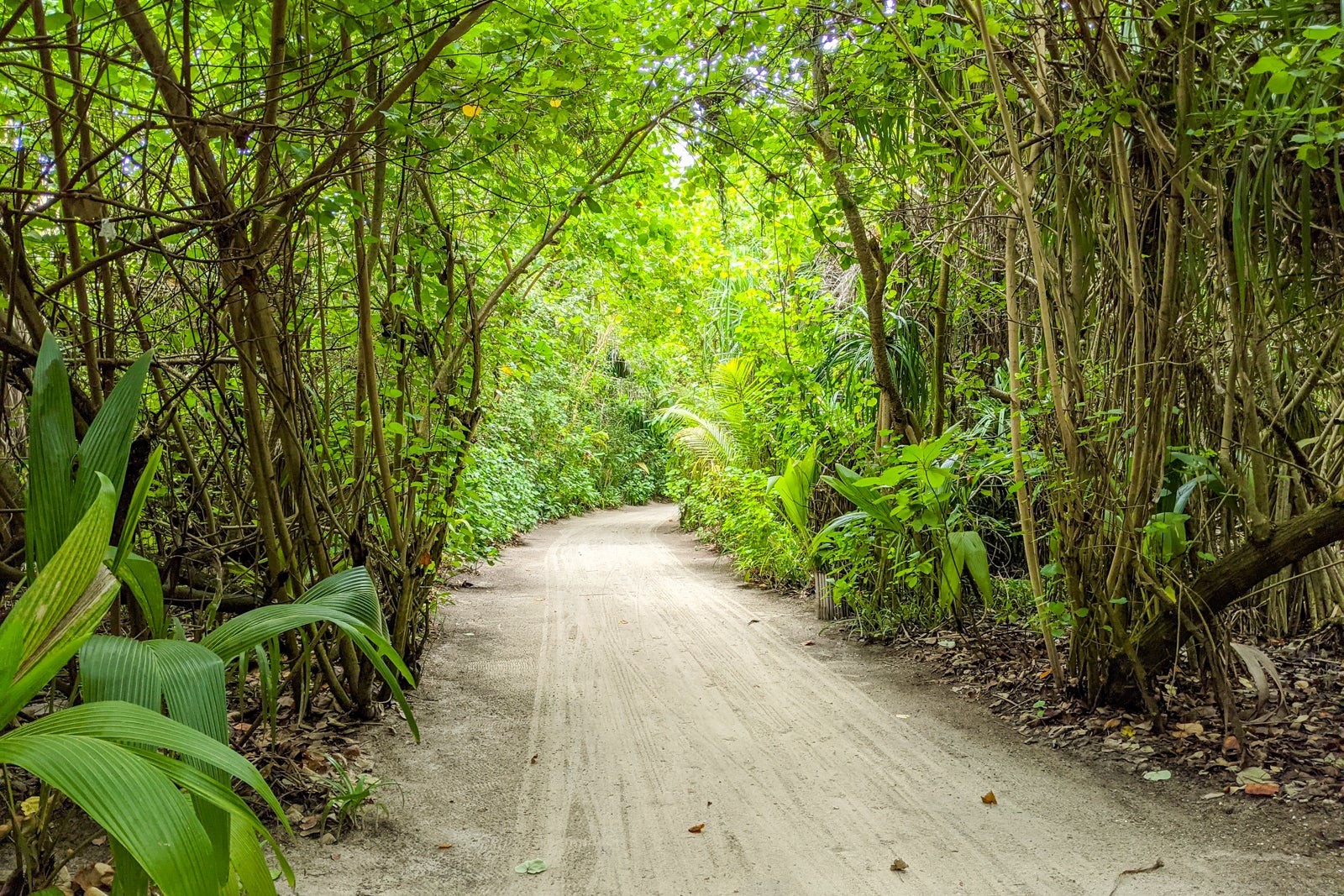 I spoke with our GEM about an accessible room for a friend. He said that Six Senses Laamu doesn't offer any accessible rooms and admitted that my friend likely wouldn't enjoy his or her stay if unable to handle stairs easily. However, he noted that the resort is happy to discuss accessibility needs with any potential guest.
Related: 10 incredible overwater bungalows you can book with points
Food and beverage
Thanks to the summer flex rate that we booked, we got breakfast and dinner included each day. Frankly, these meals were filling enough that we were able to skip lunch. So, although Six Senses Laamu offers an extensive in-room dining menu – which includes the option to ask for meals not listed on the menu – we didn't find a need to order room service.
Breakfast was served each day in the buffet restaurant, Longitude. A variety of bread, fruits, cereals, juices and sides were available from the buffet. But, the cost of the buffet also included drinks and dishes from a menu. Although most of the menu remained the same from day to day, there was a daily list of specials. This list included a different healing drink, coffee and meal each day.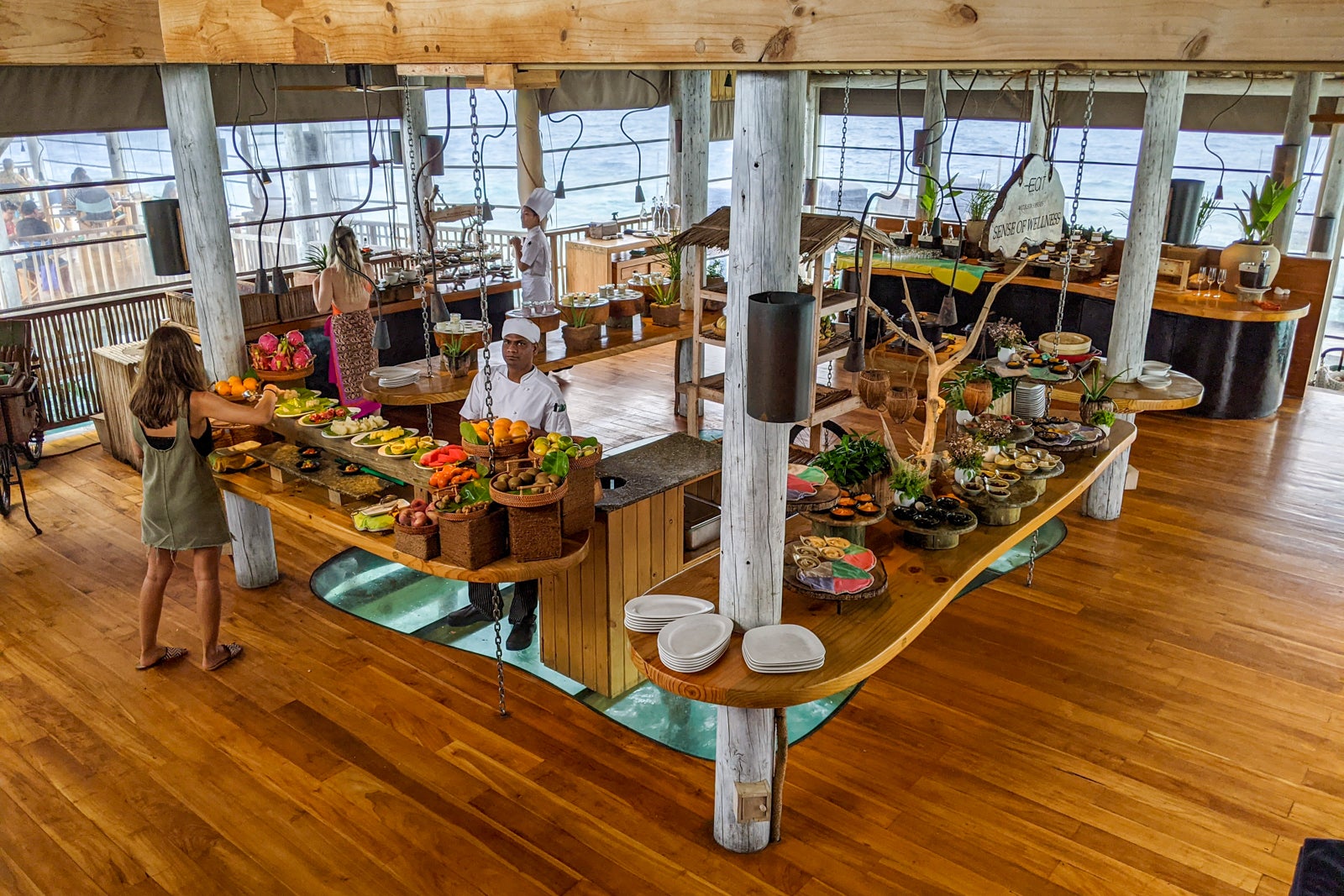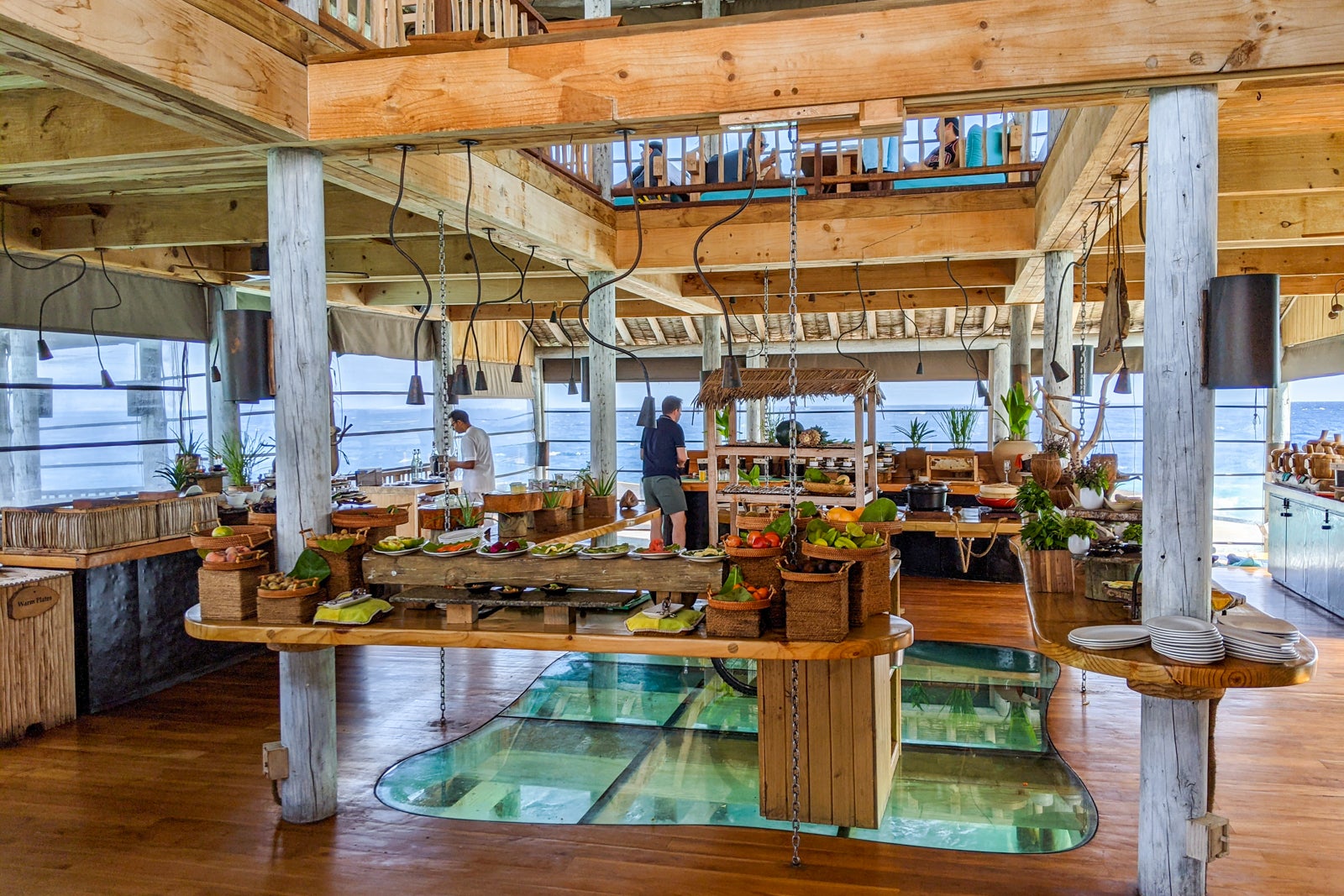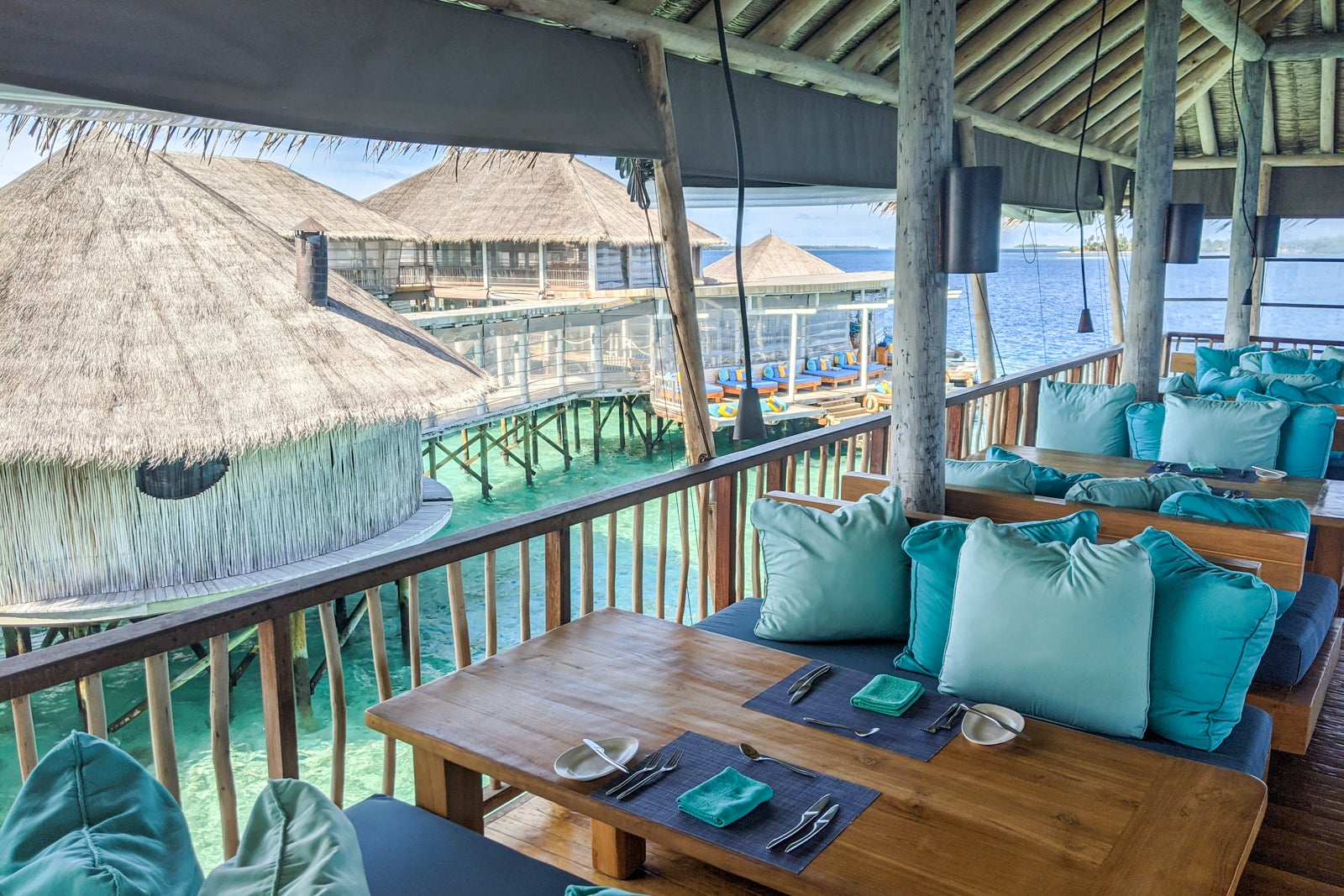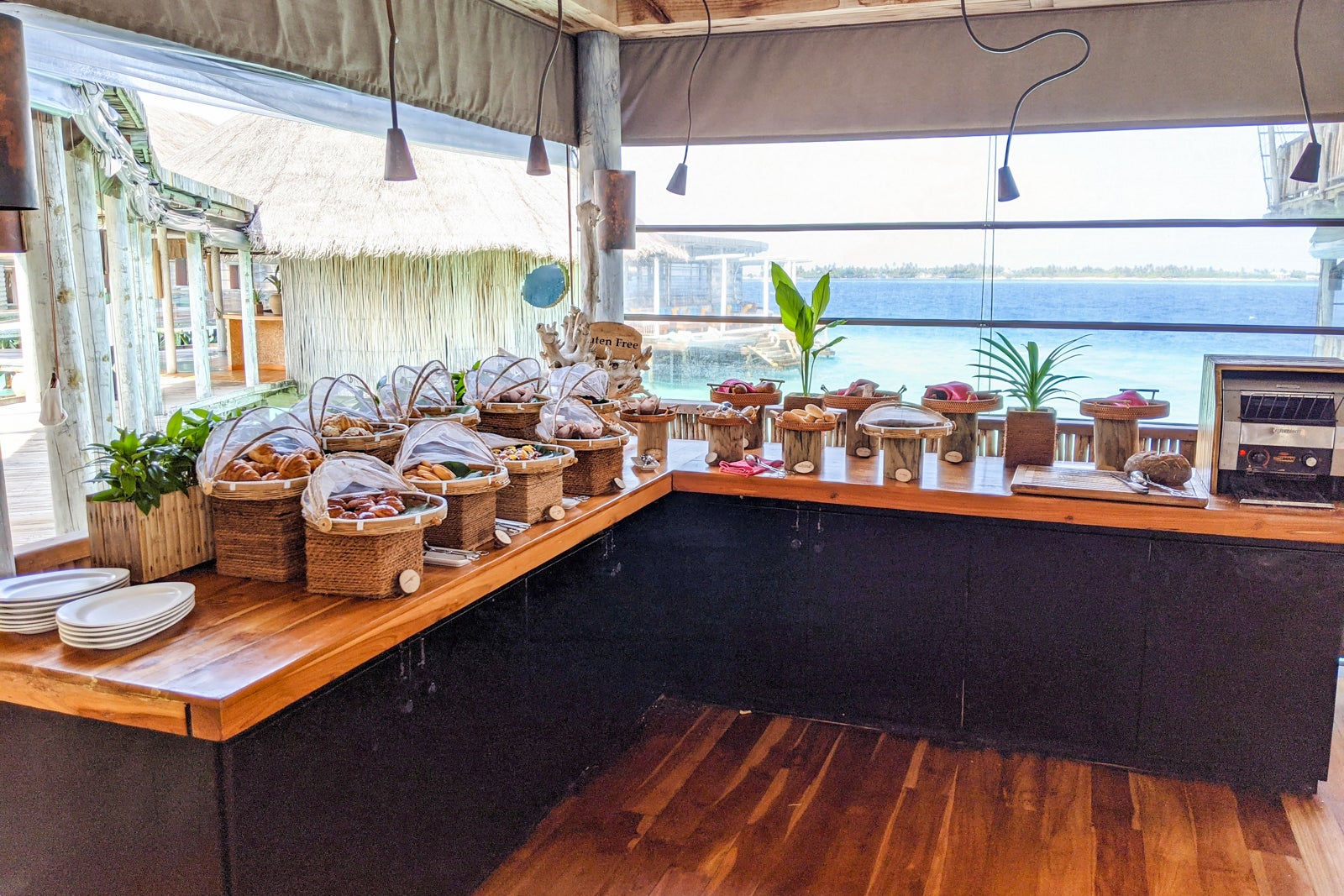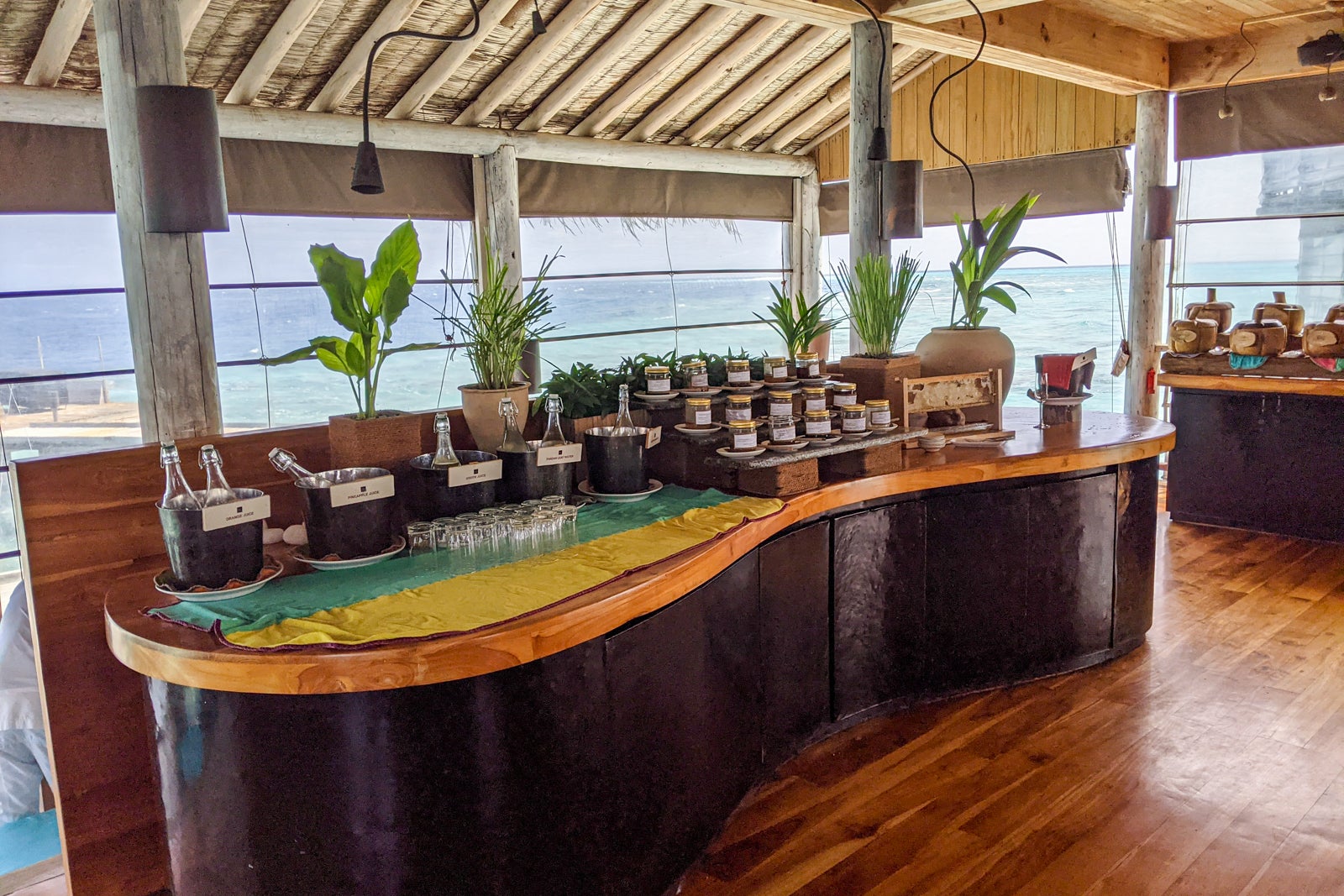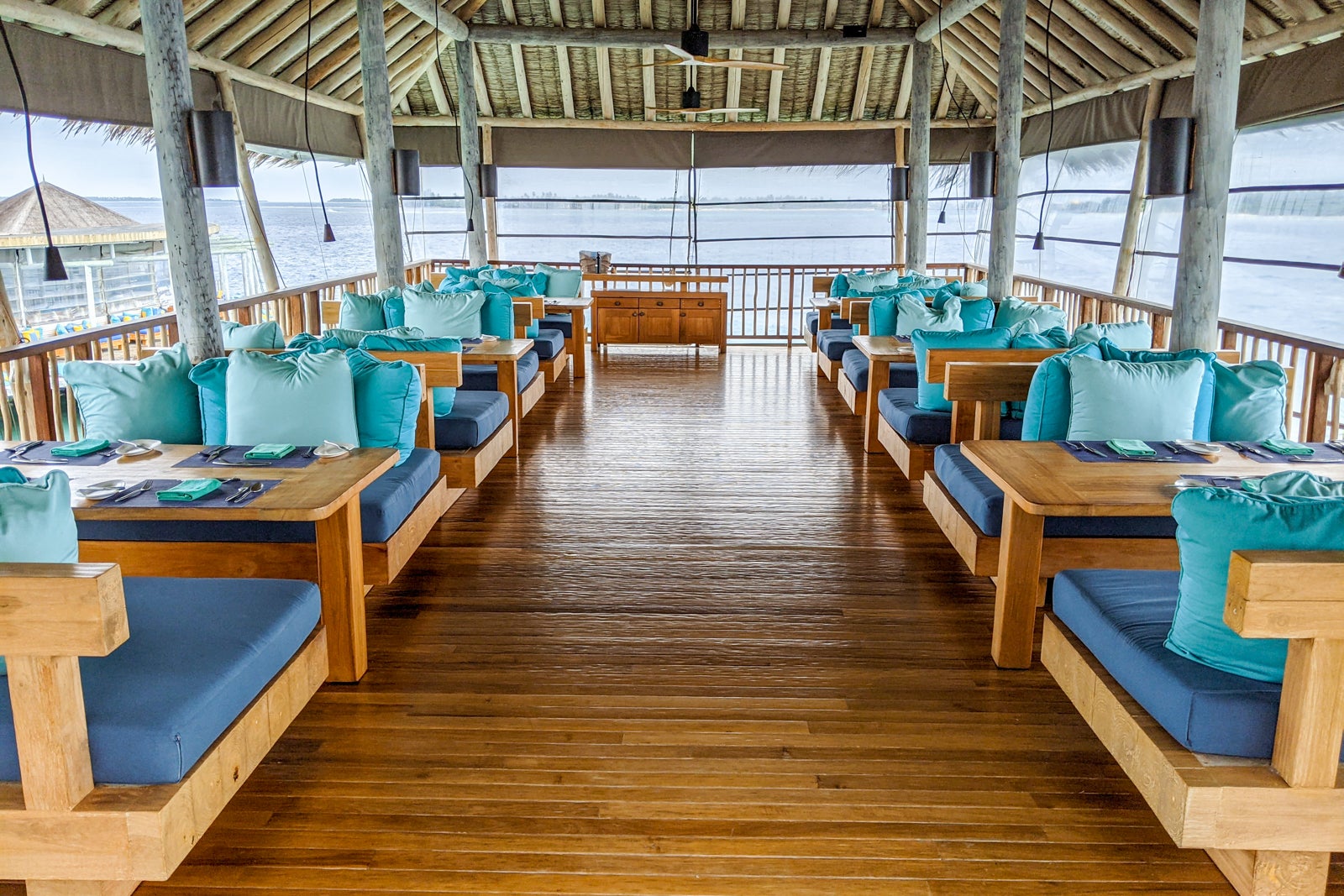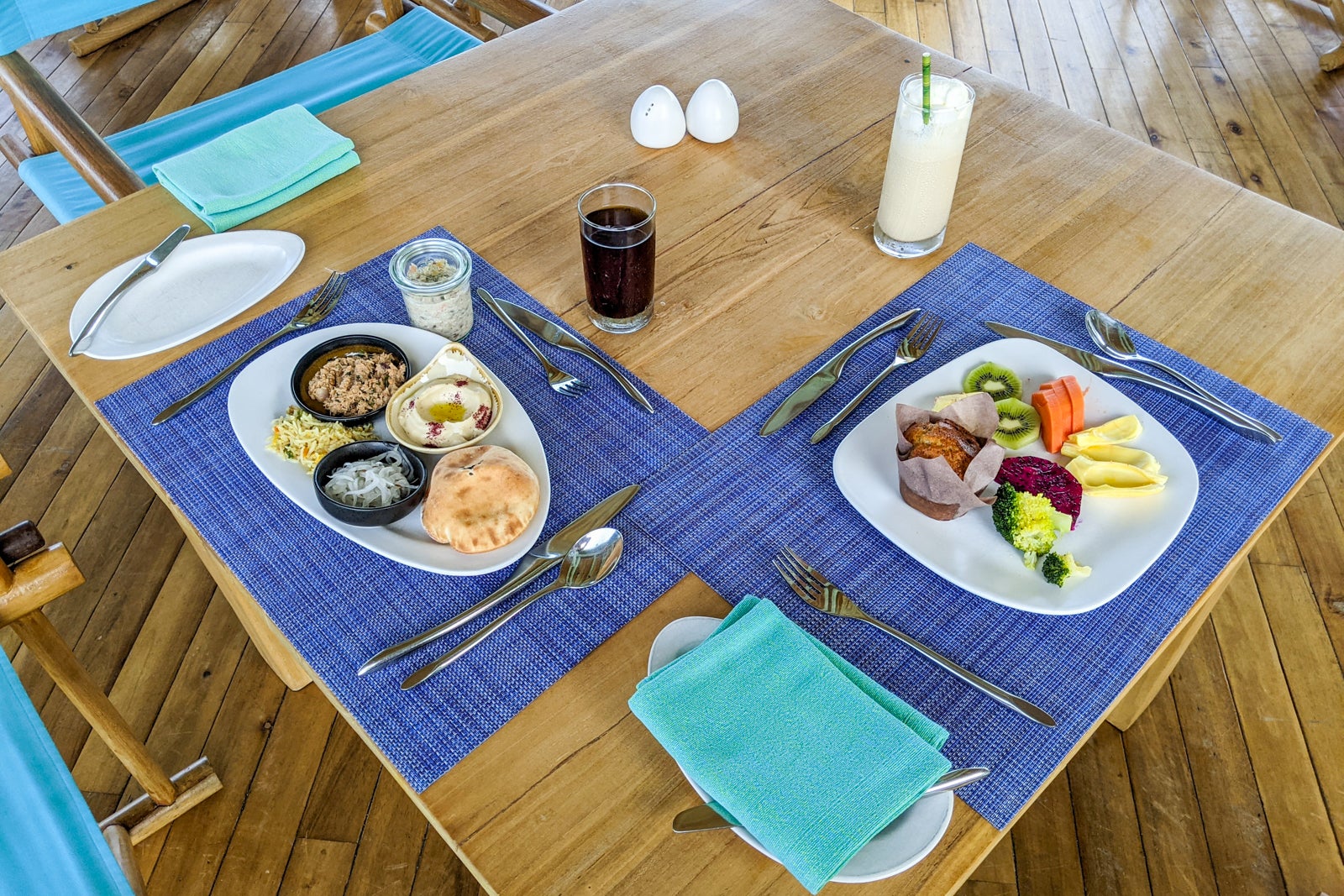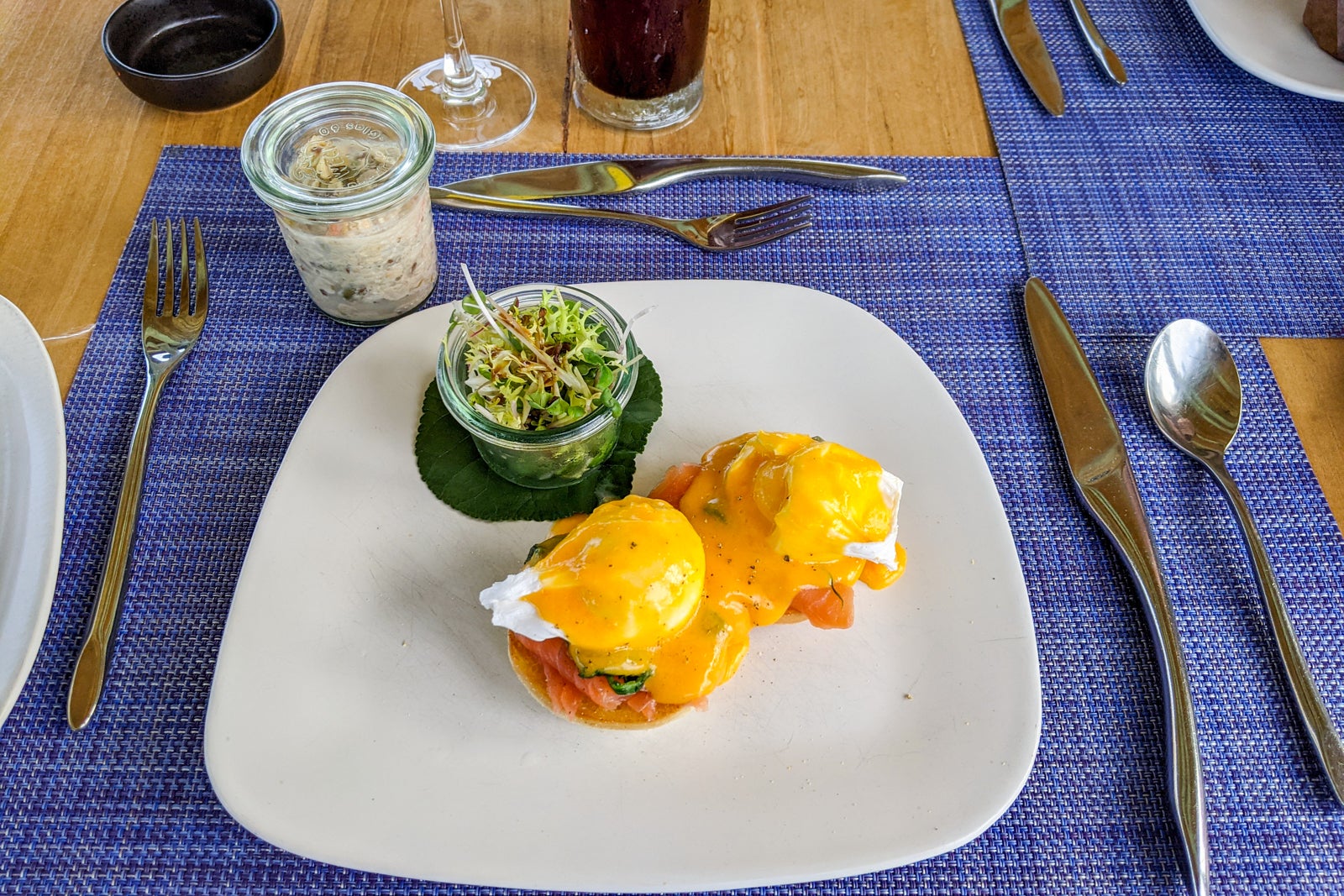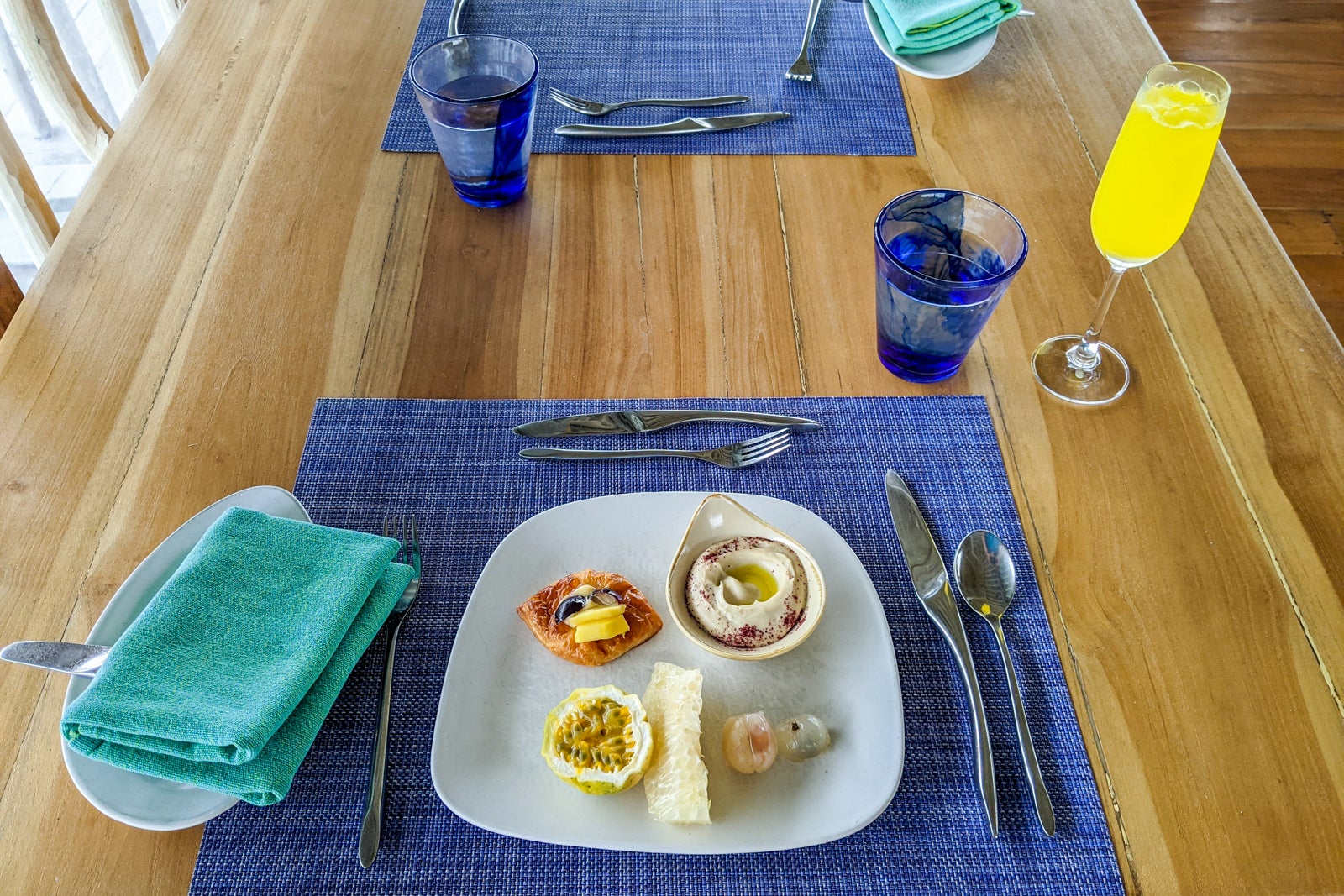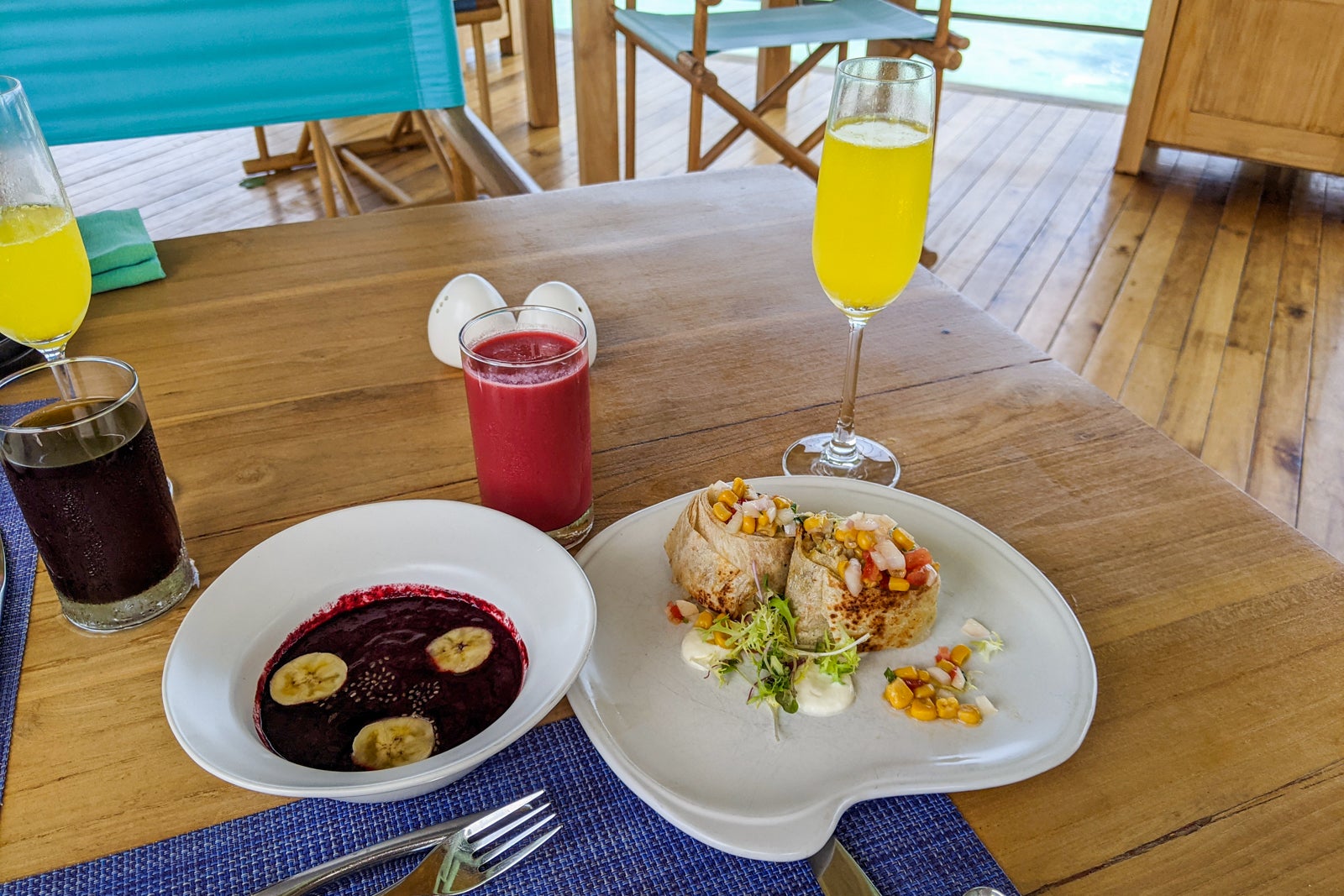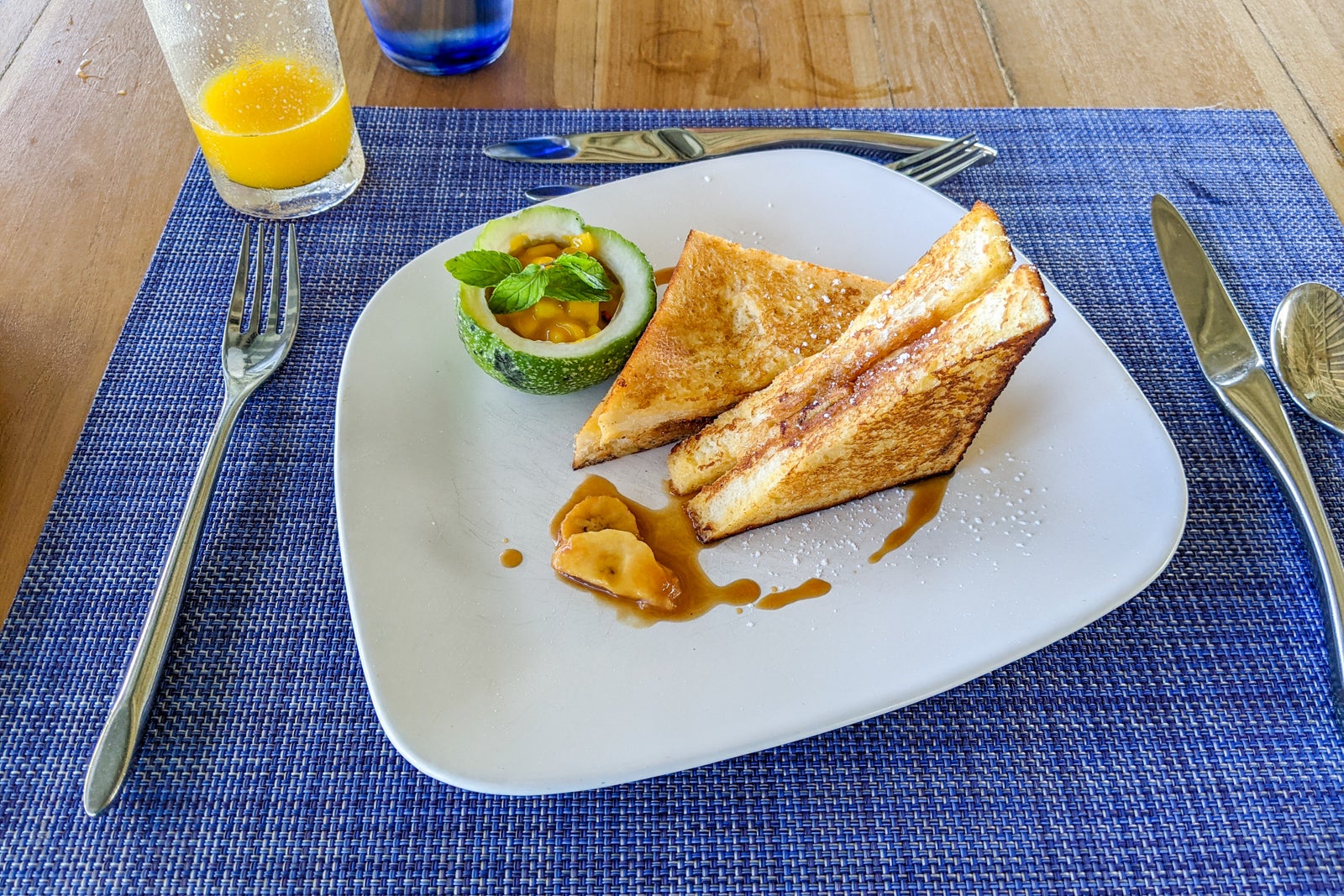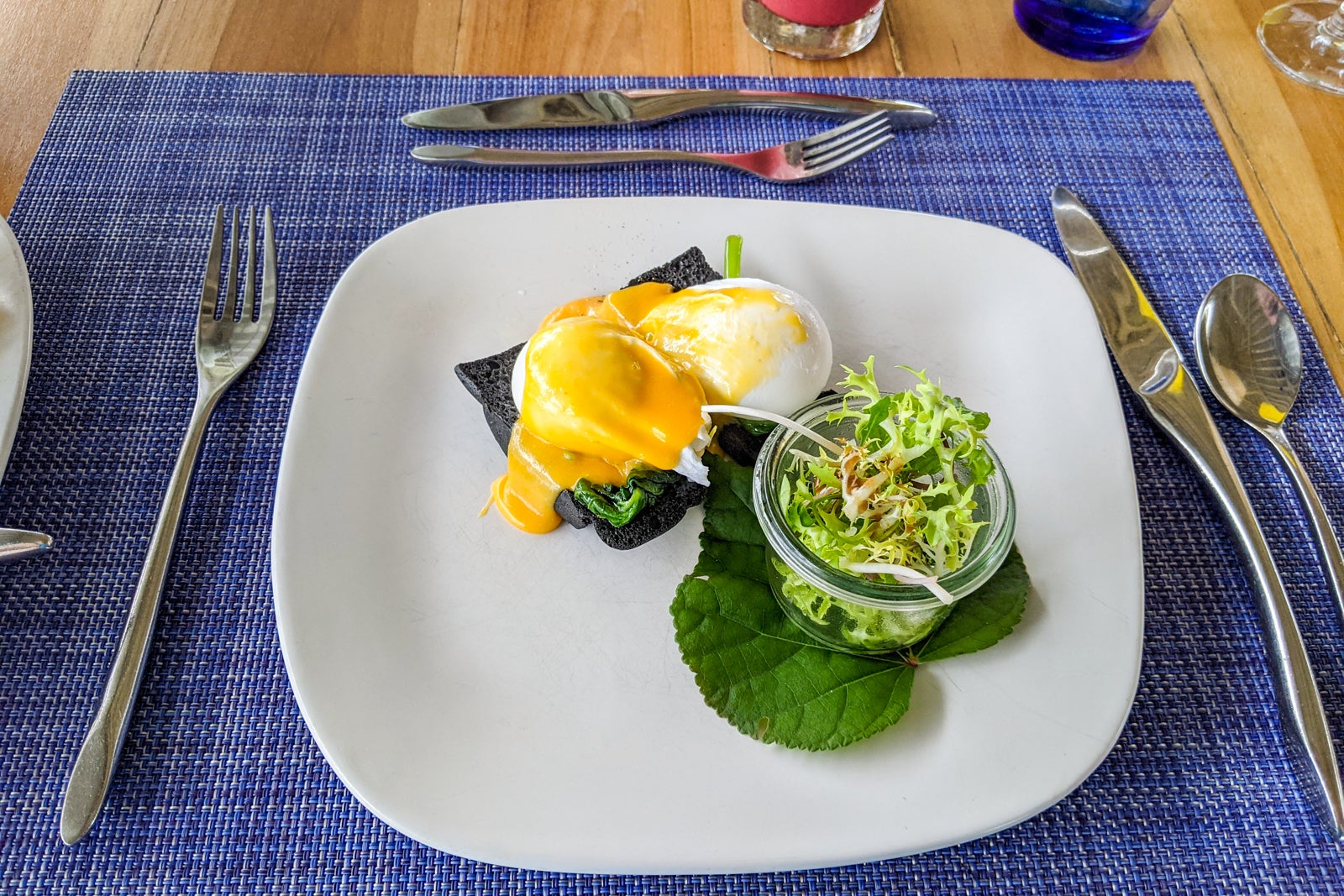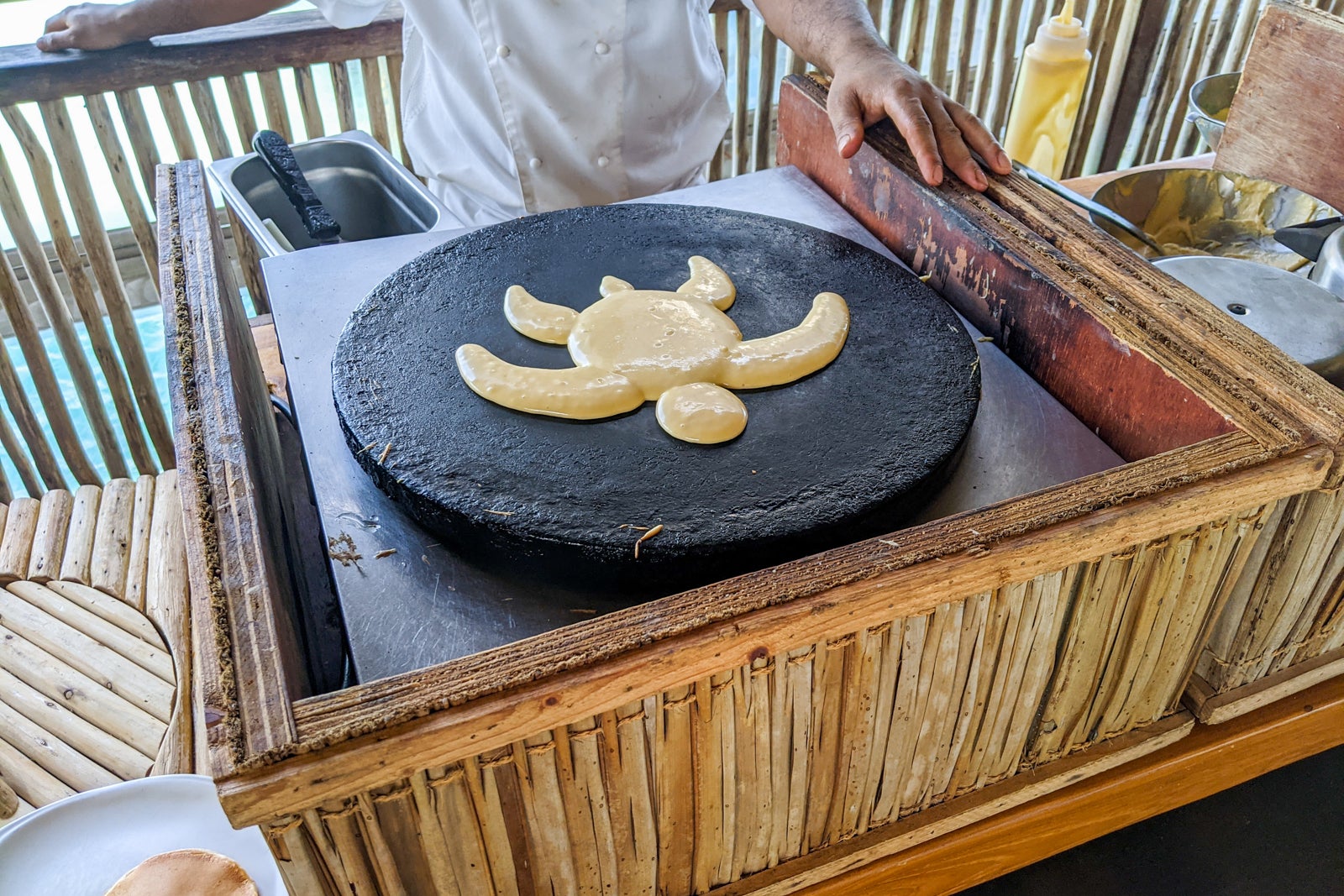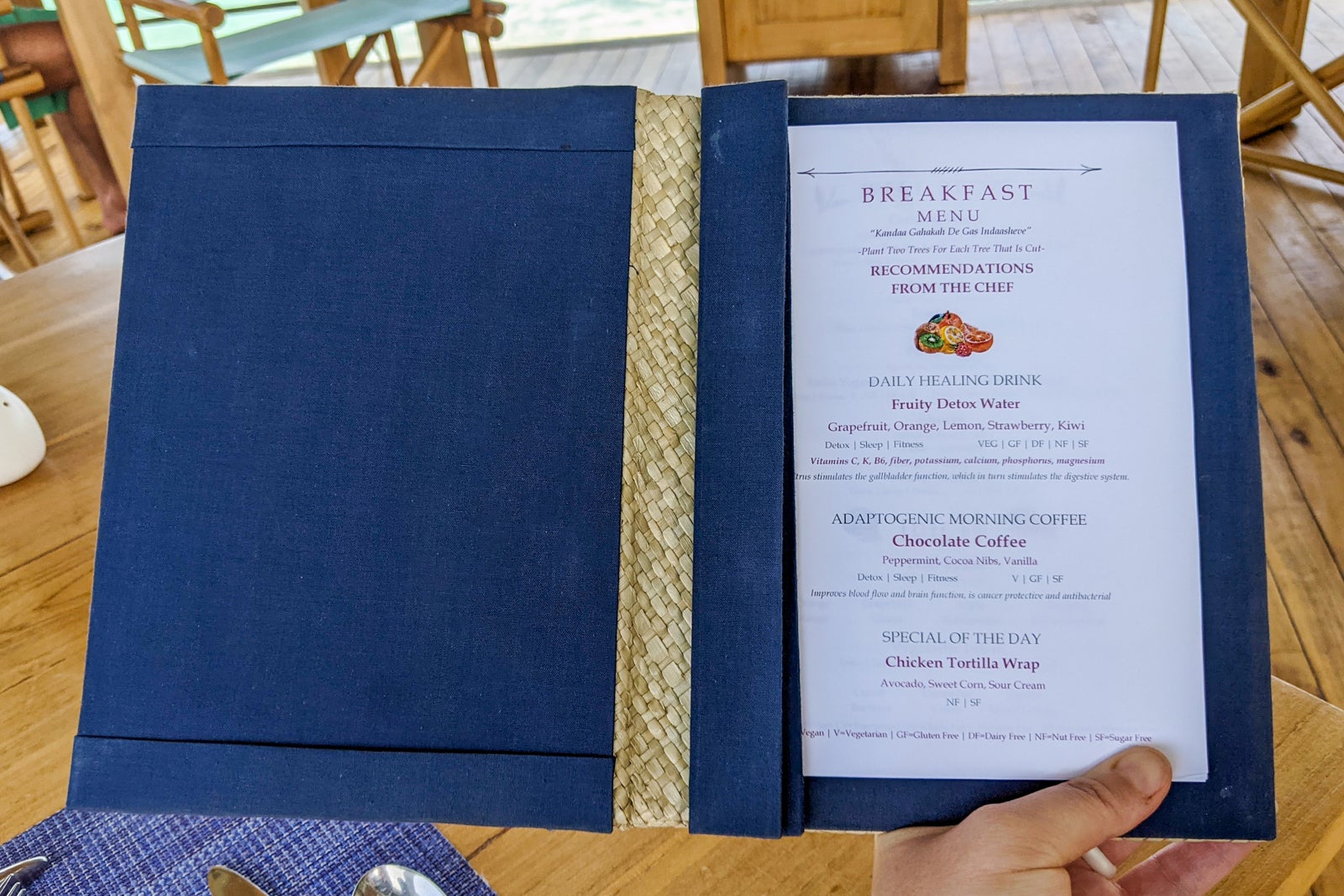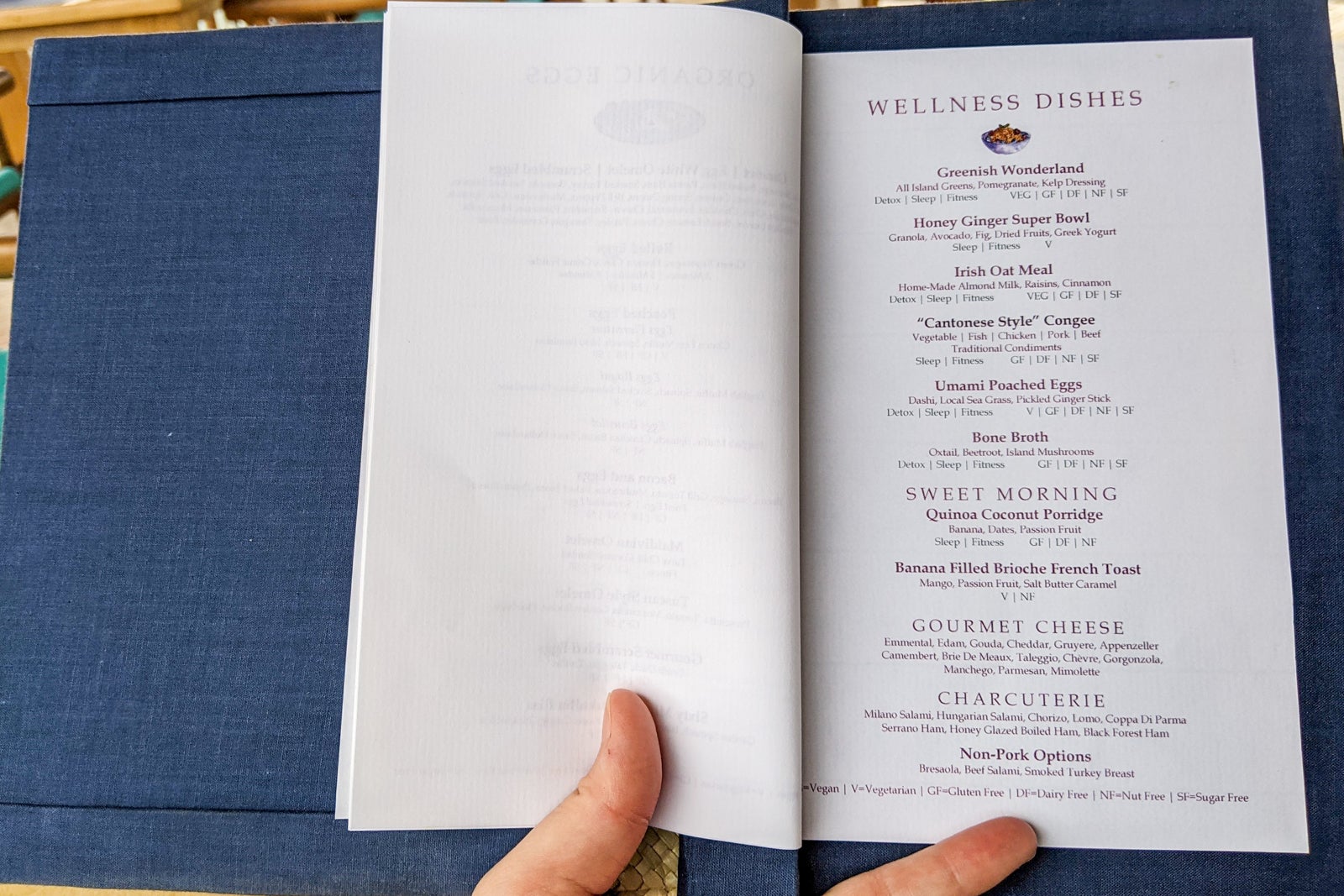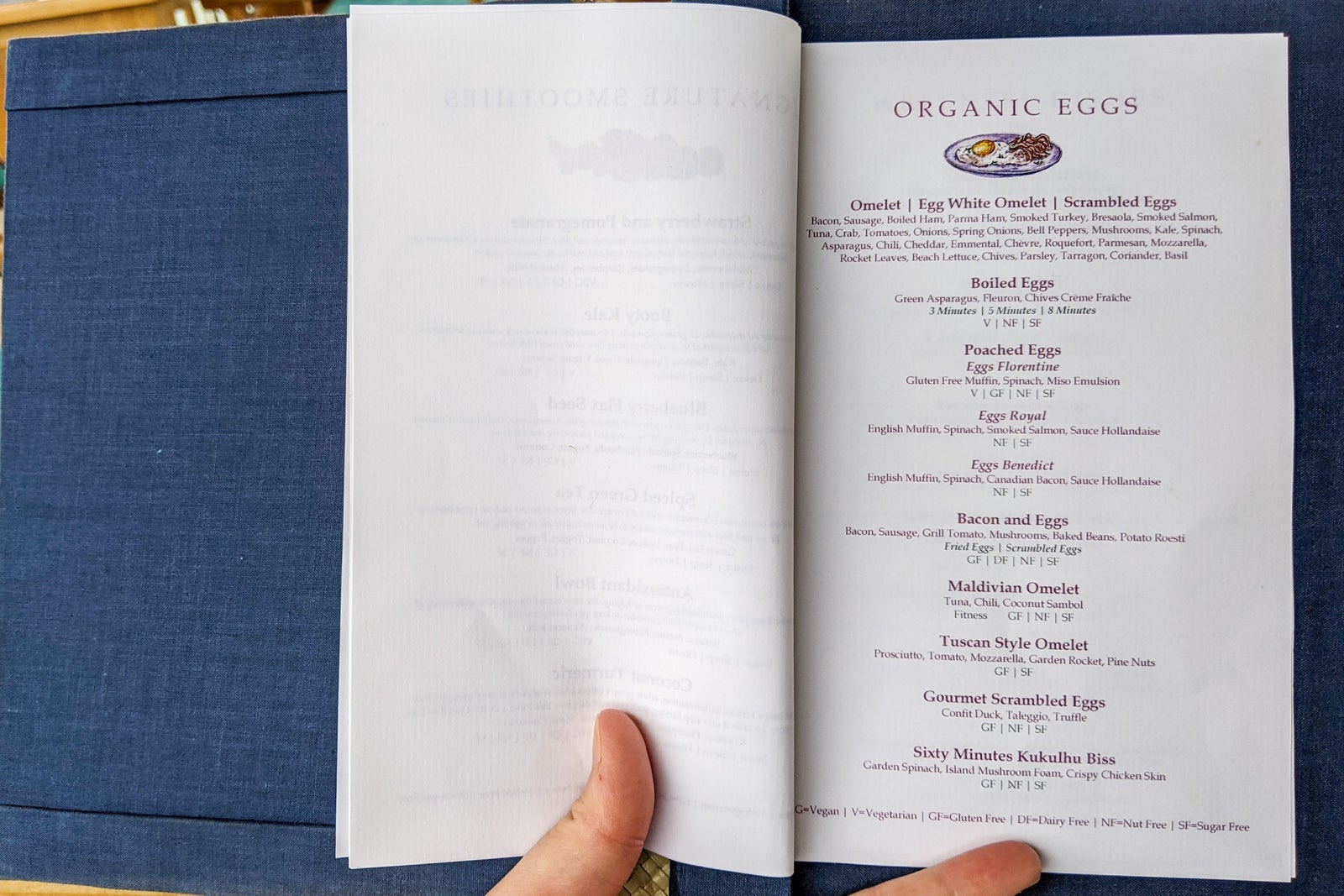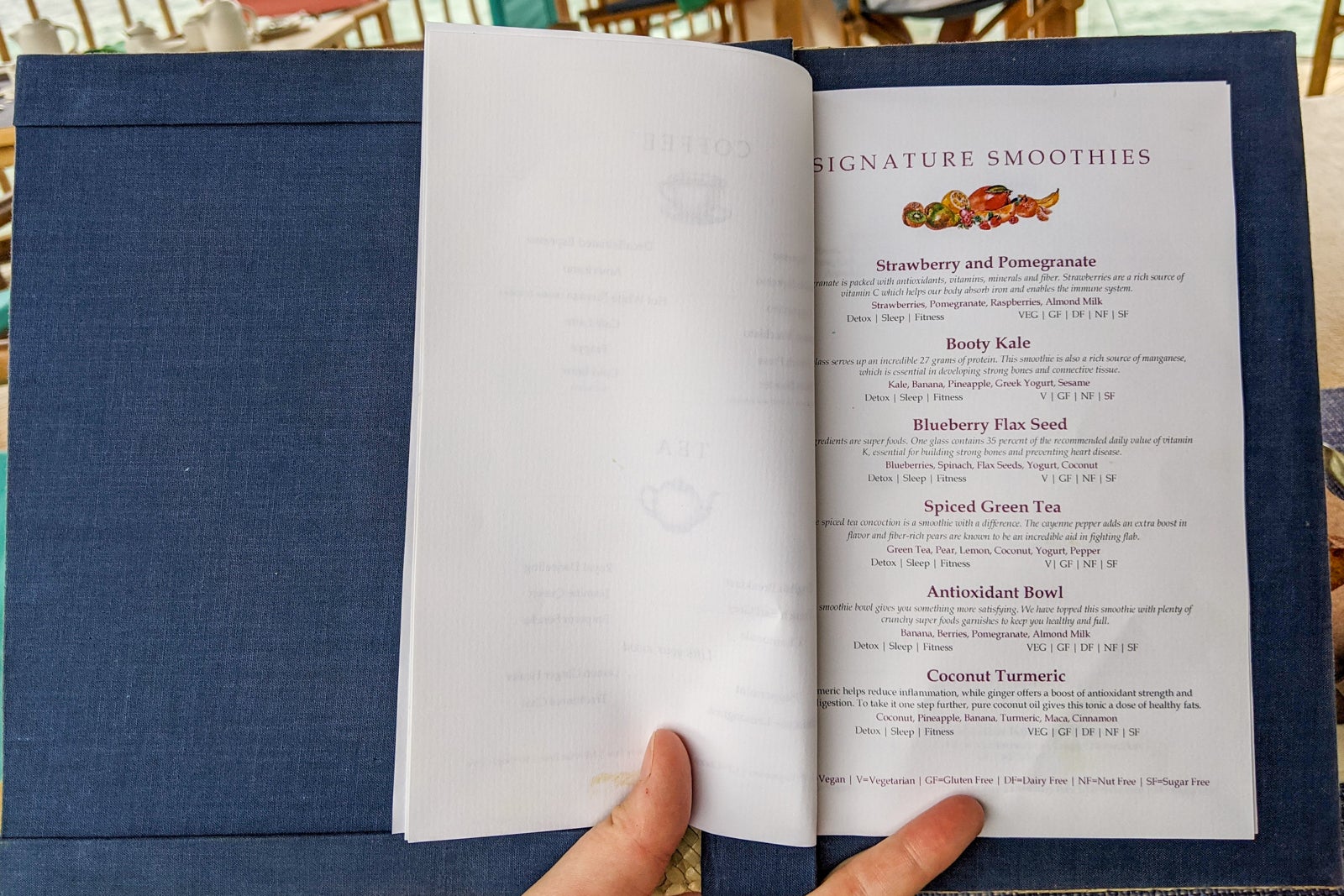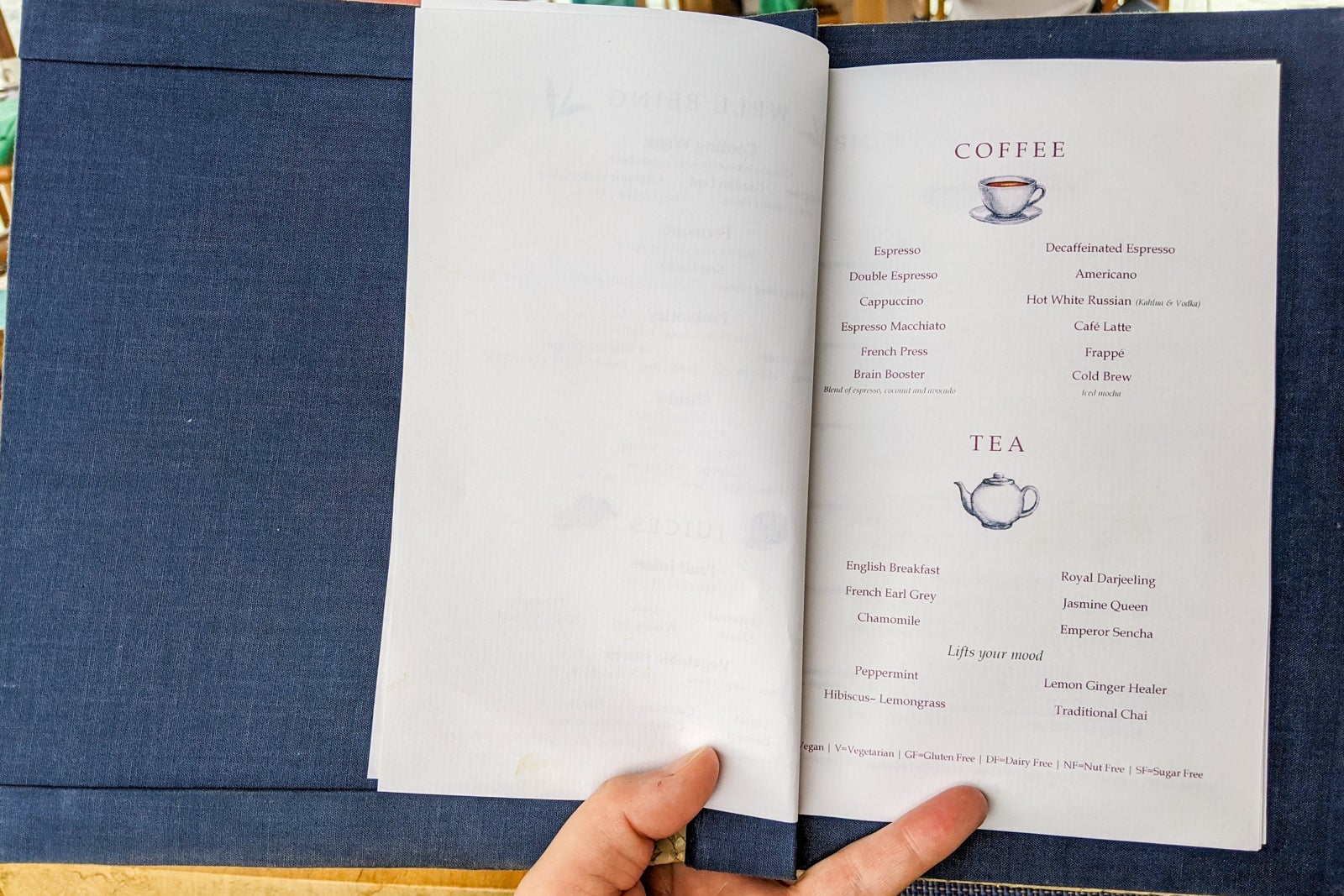 Our GEM had pre-arranged dinner reservations for us each evening before we arrived, although he said we could change anything if we wanted. Our package included $120 plus taxes and fees per person for dinner each night, which could have been applied to more expensive dinner options if we chose. But, we simply stuck to our GEM's recommendations, which were all fully covered by our half-board package.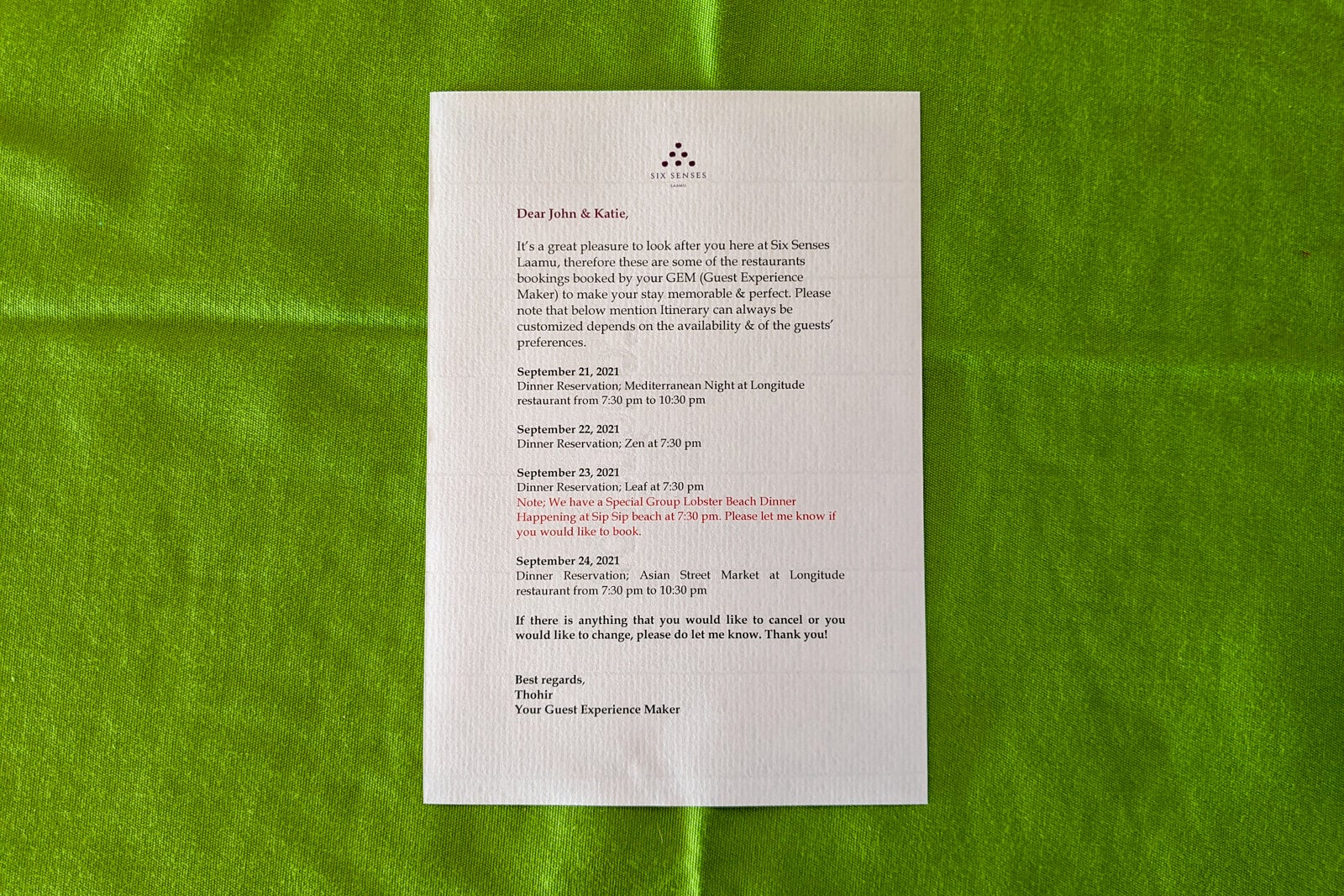 Due to low occupancy, only select restaurants were open each night. That meant we had no option other than a themed buffet at Longitude for two nights. On each night, though, I was impressed by the quality of the buffet, and I appreciated that chefs staffed many of the buffet stations to make dishes on demand.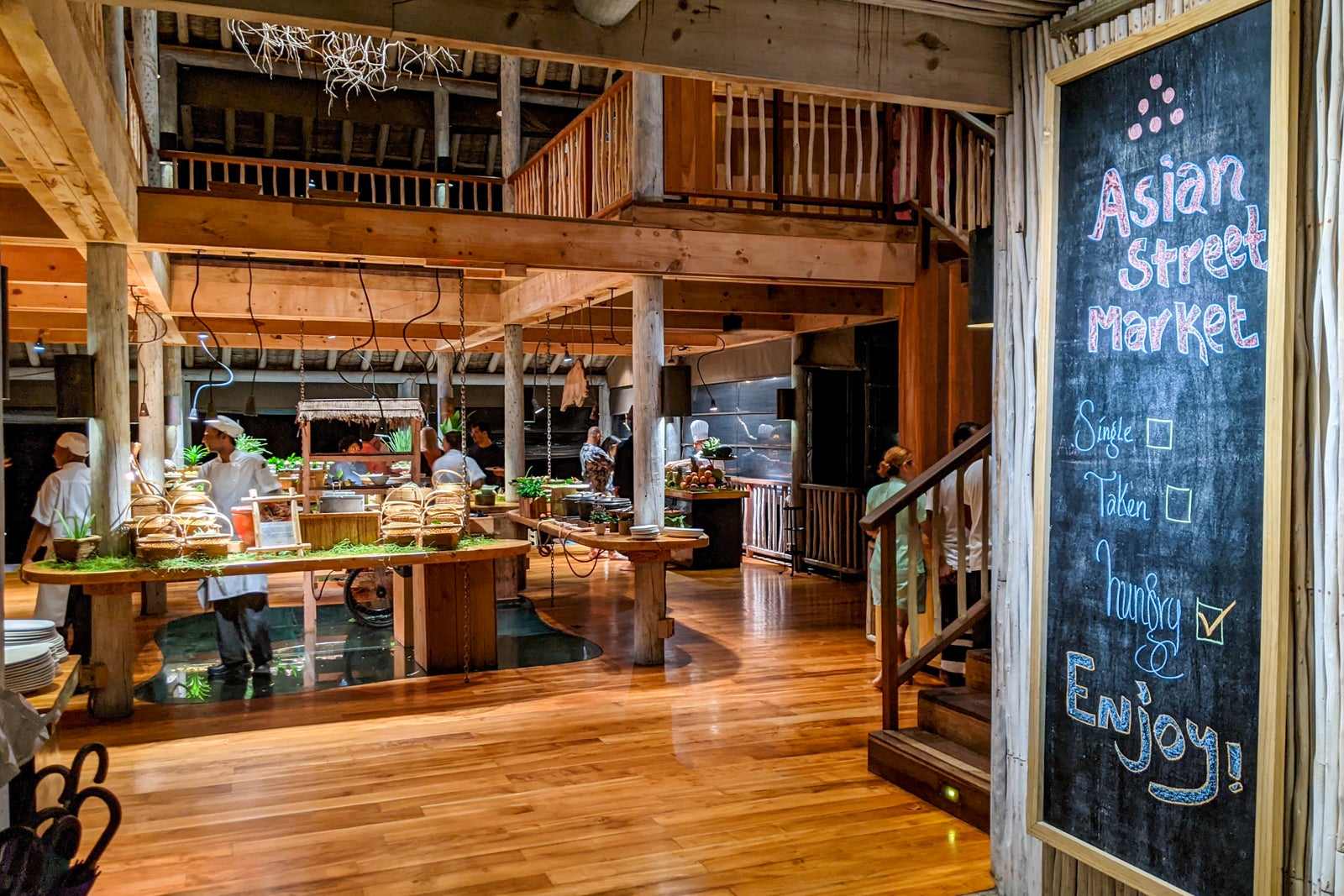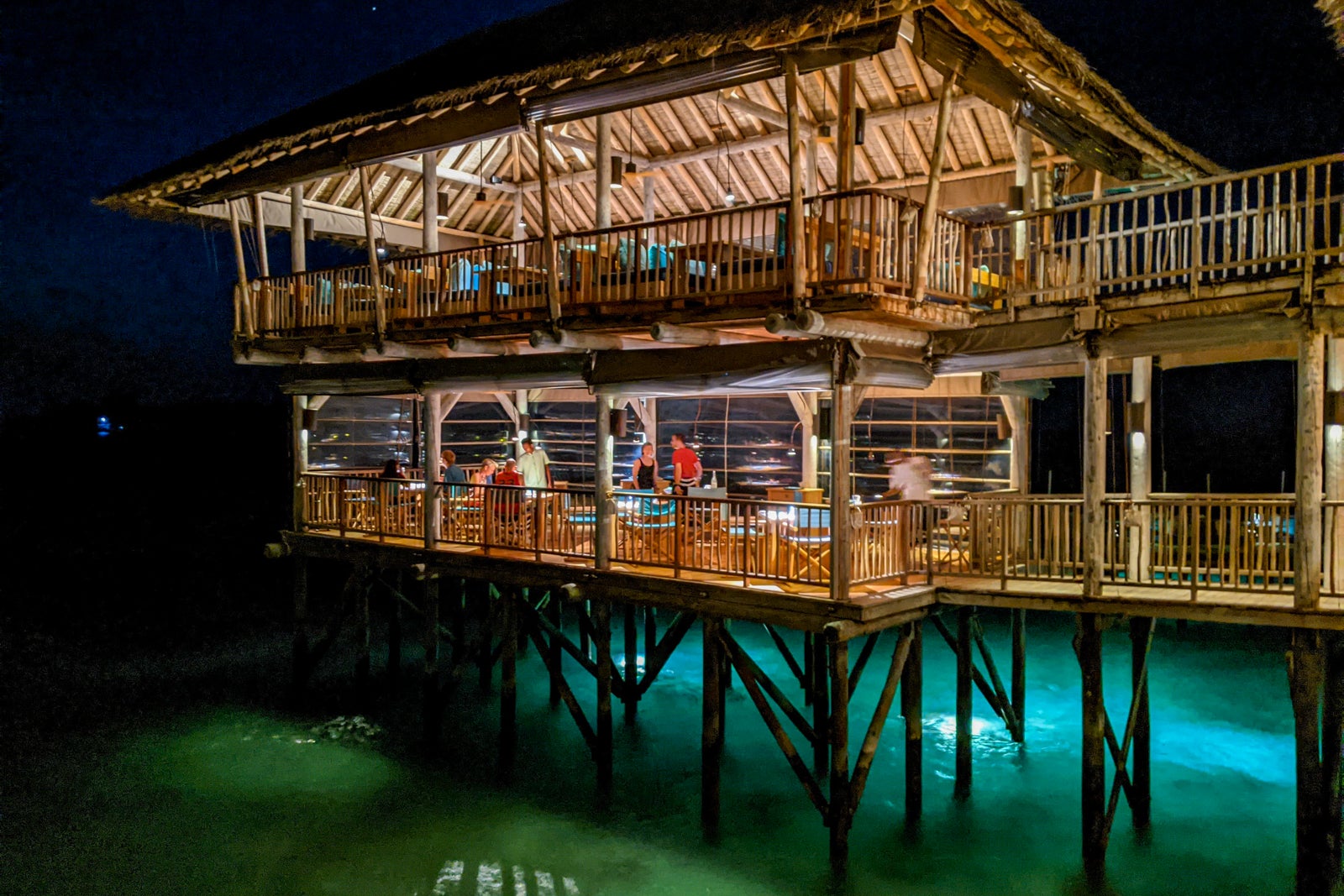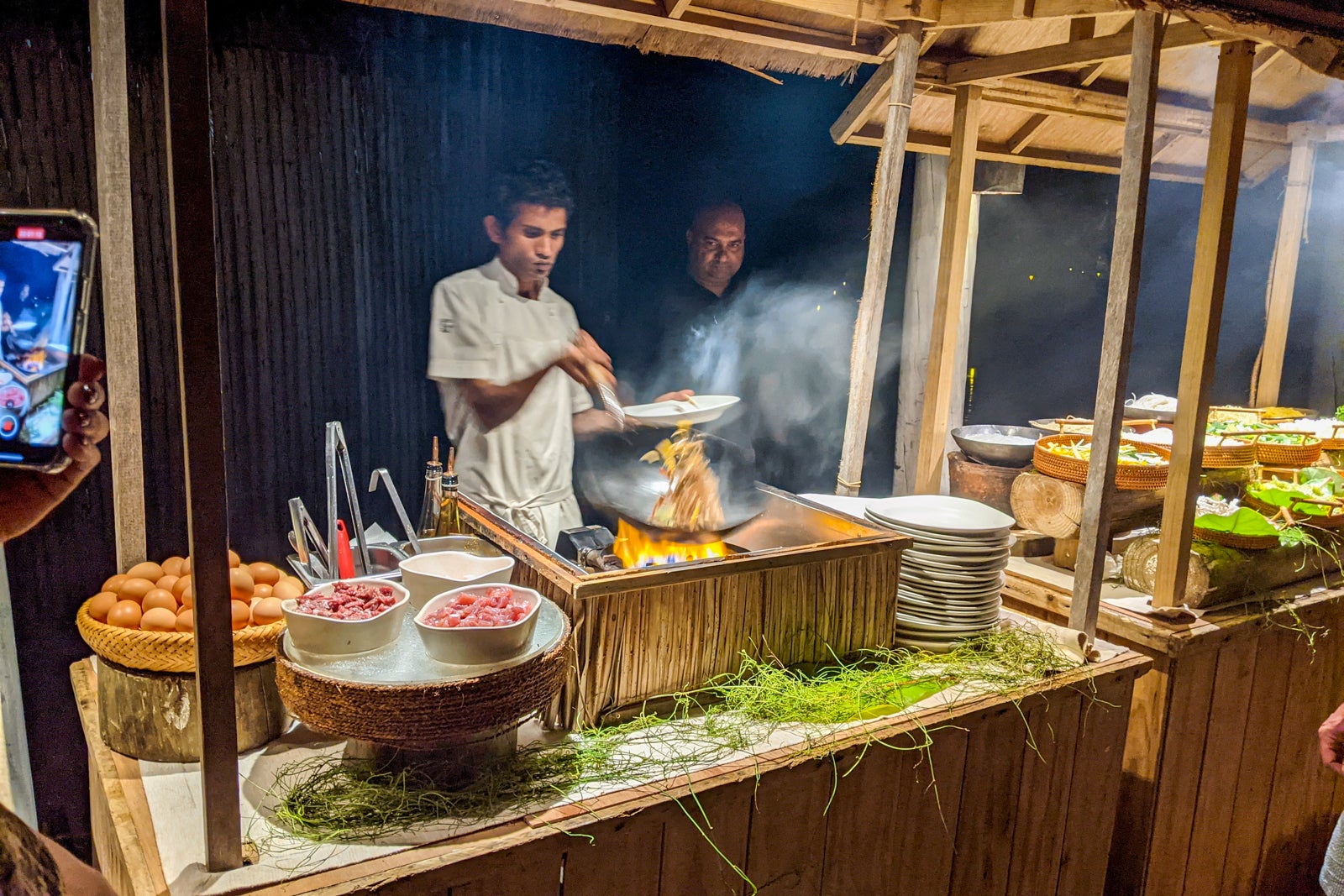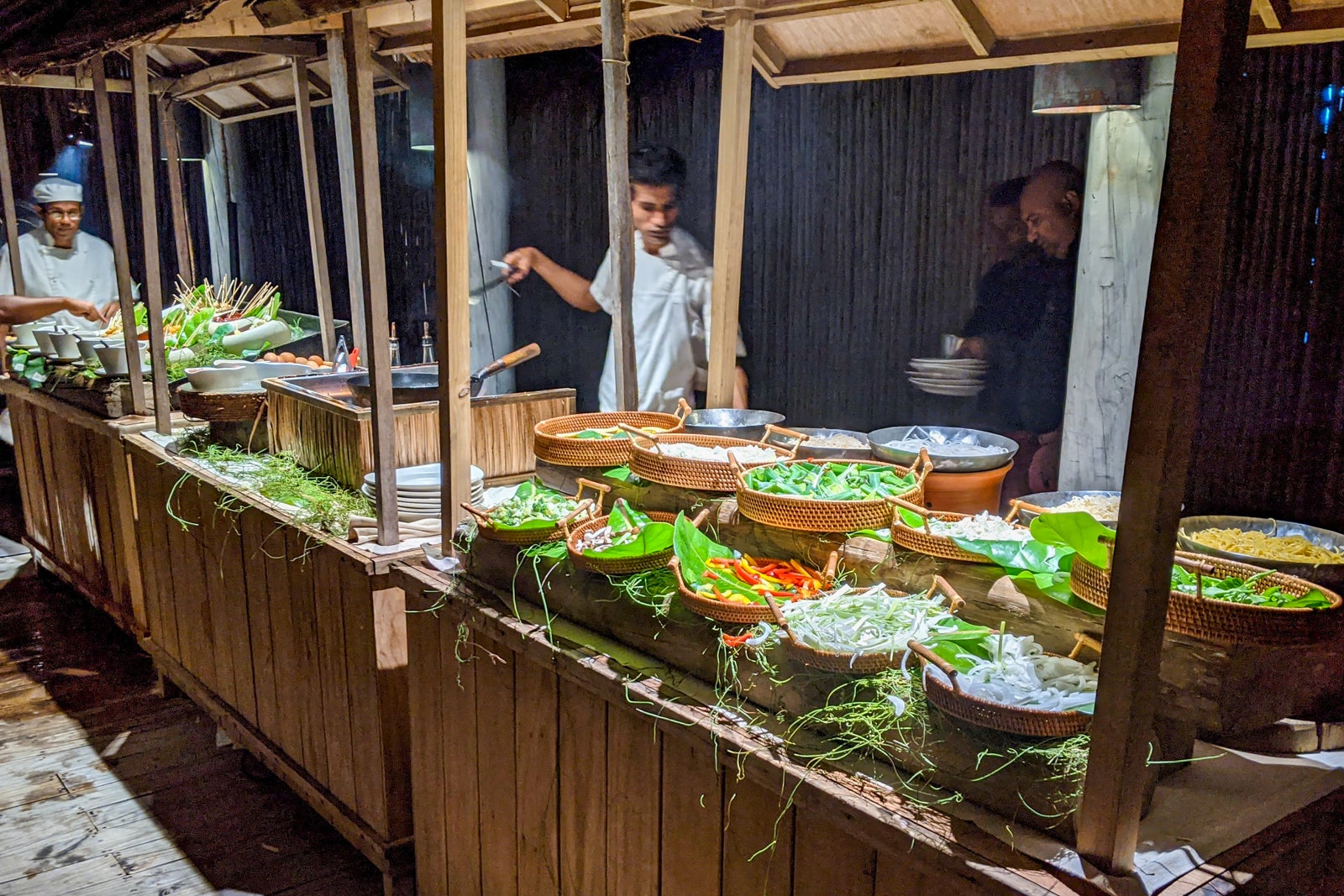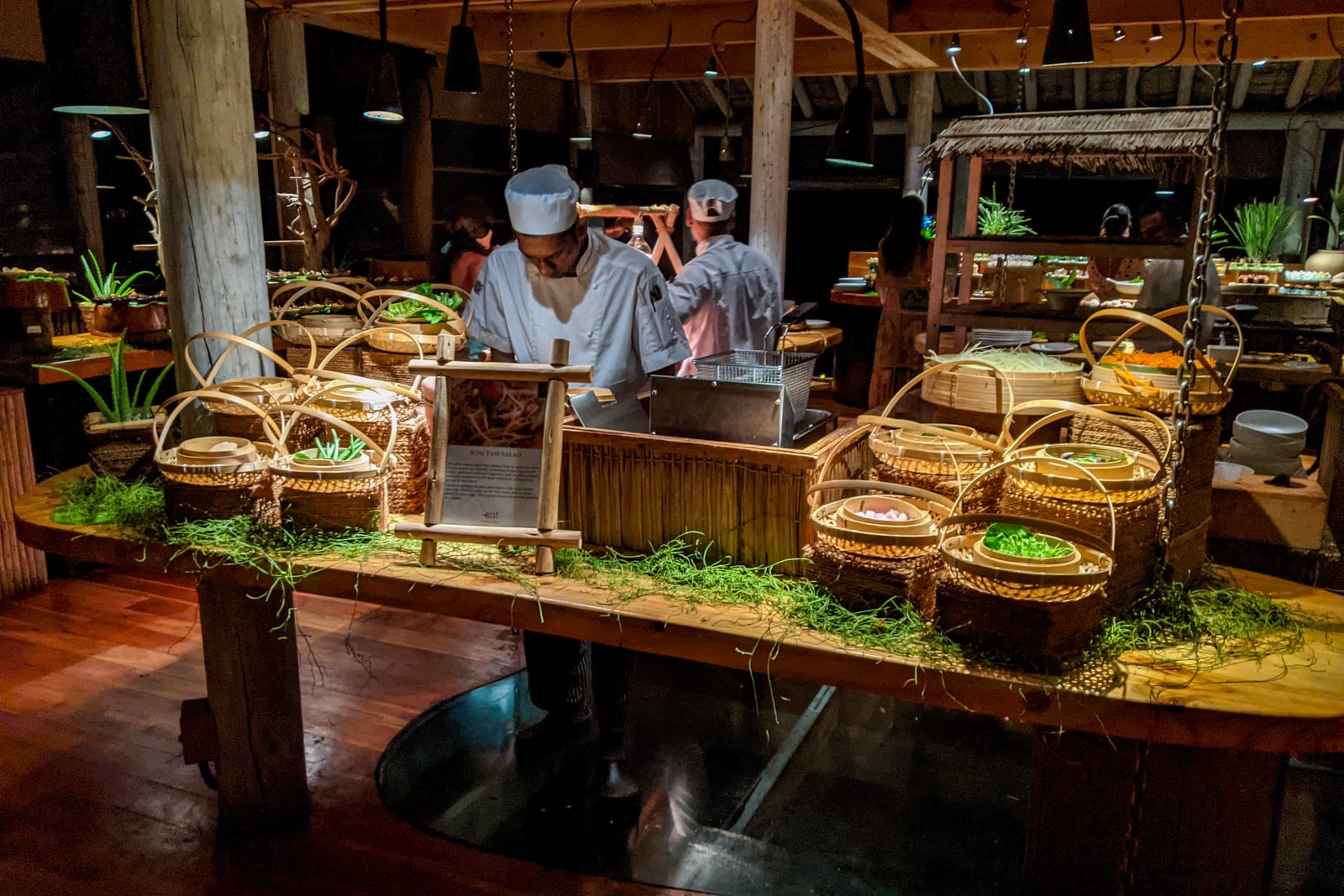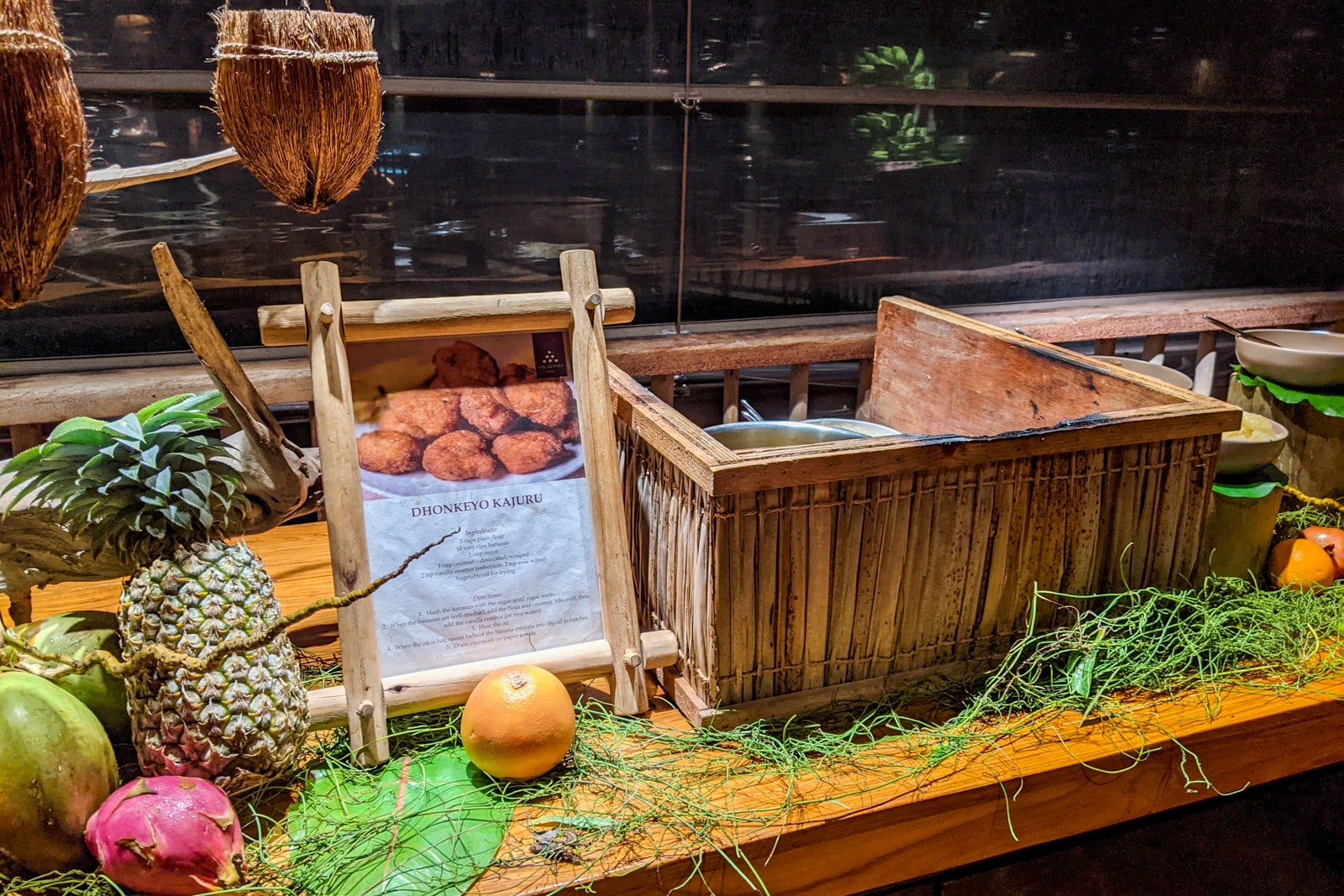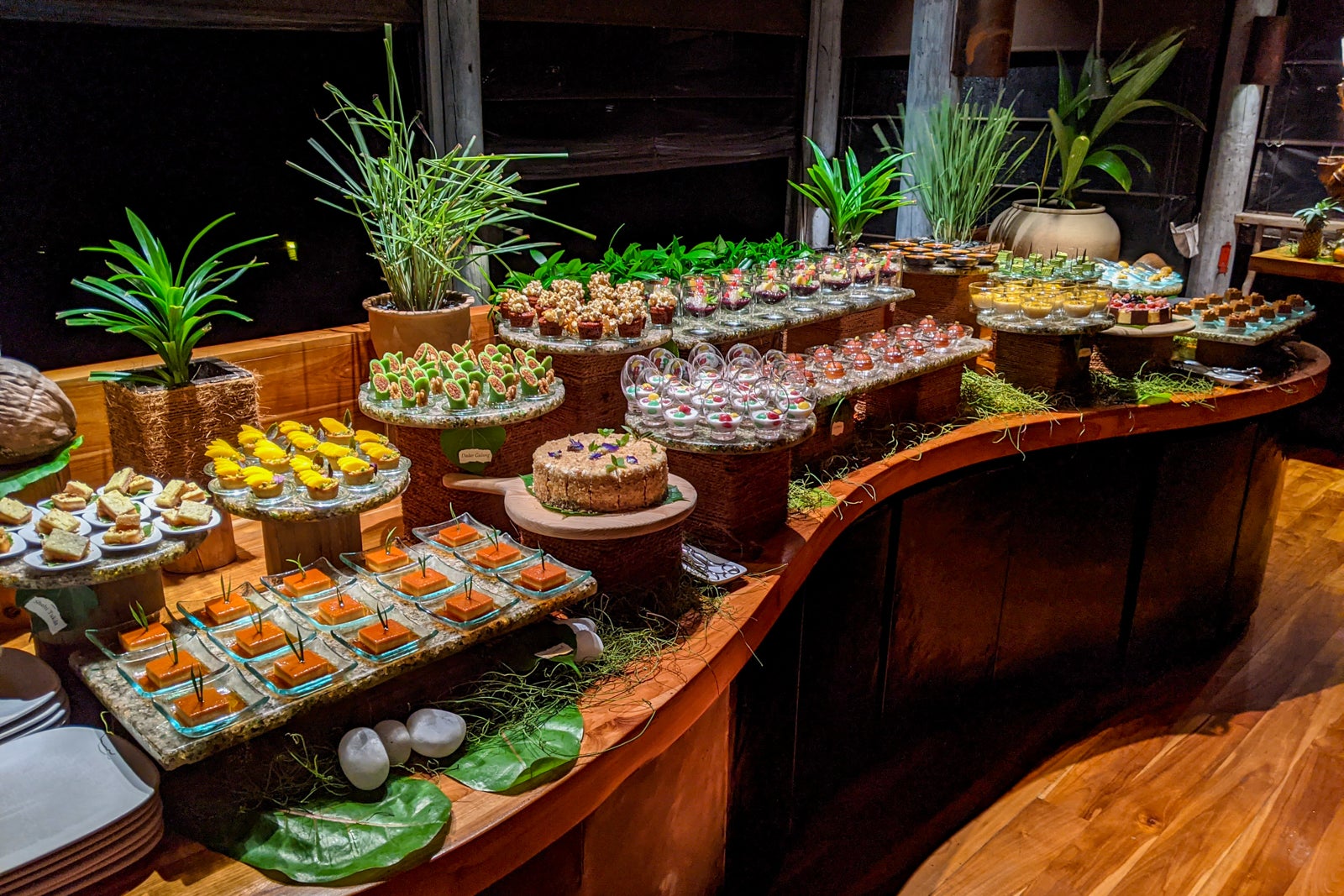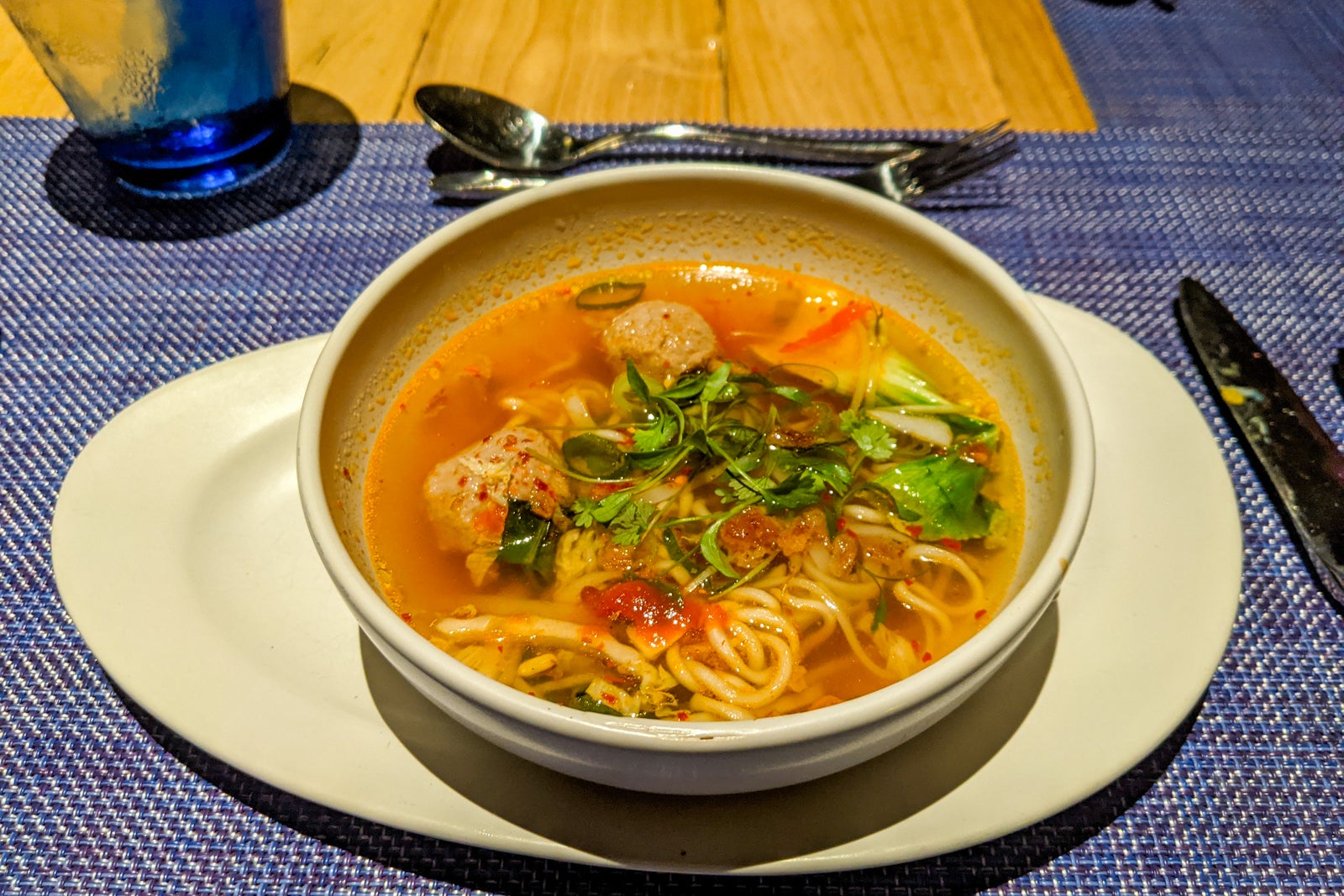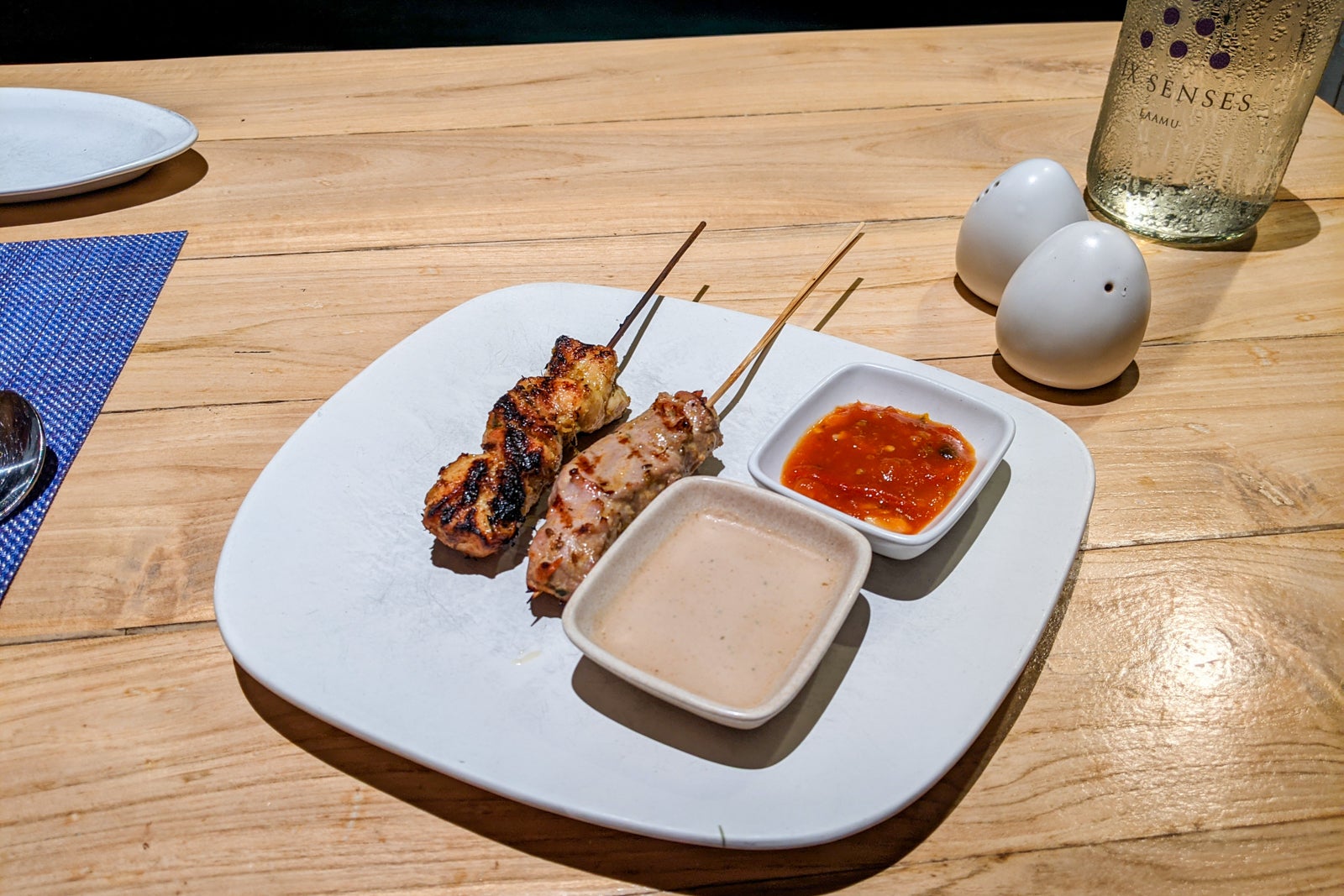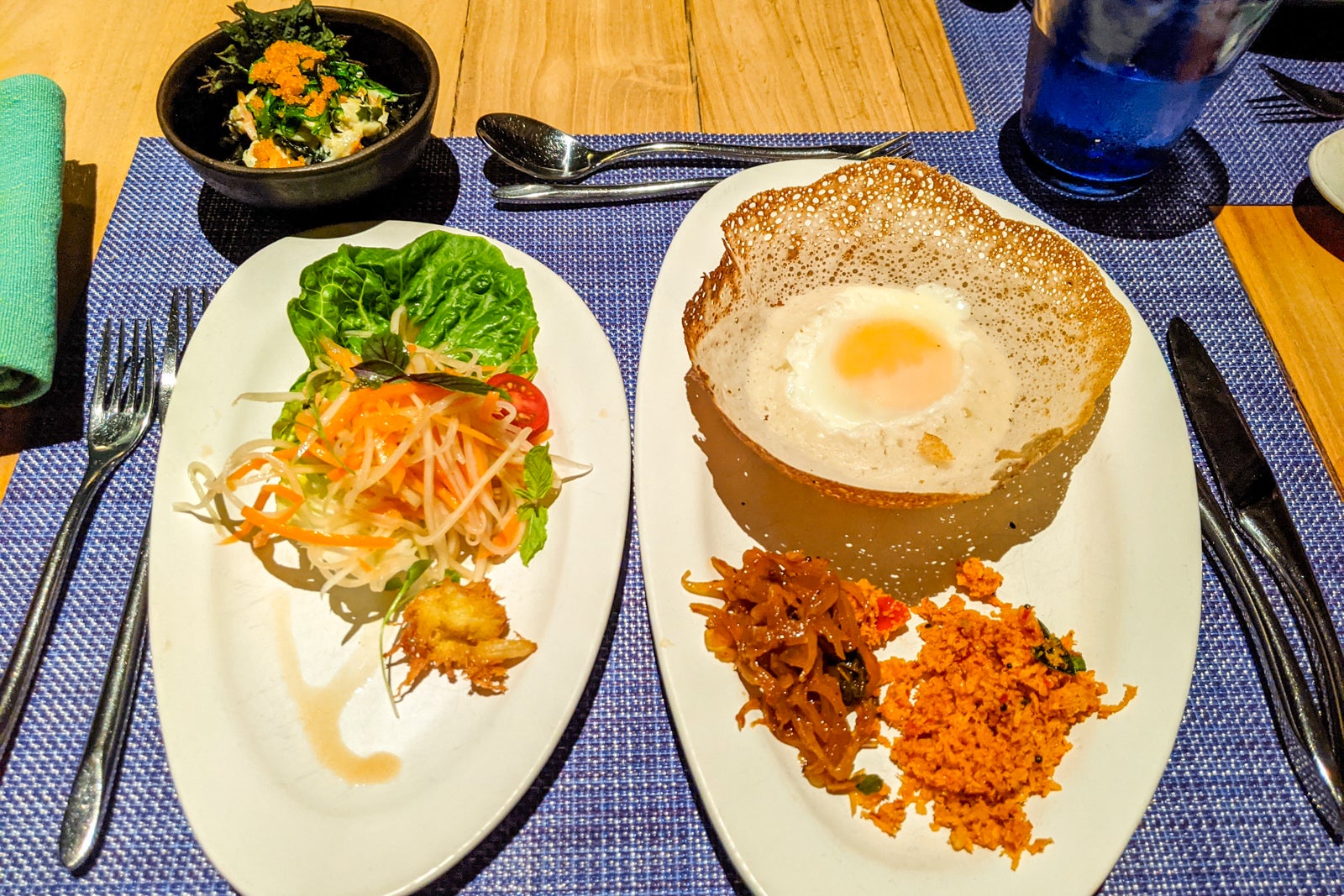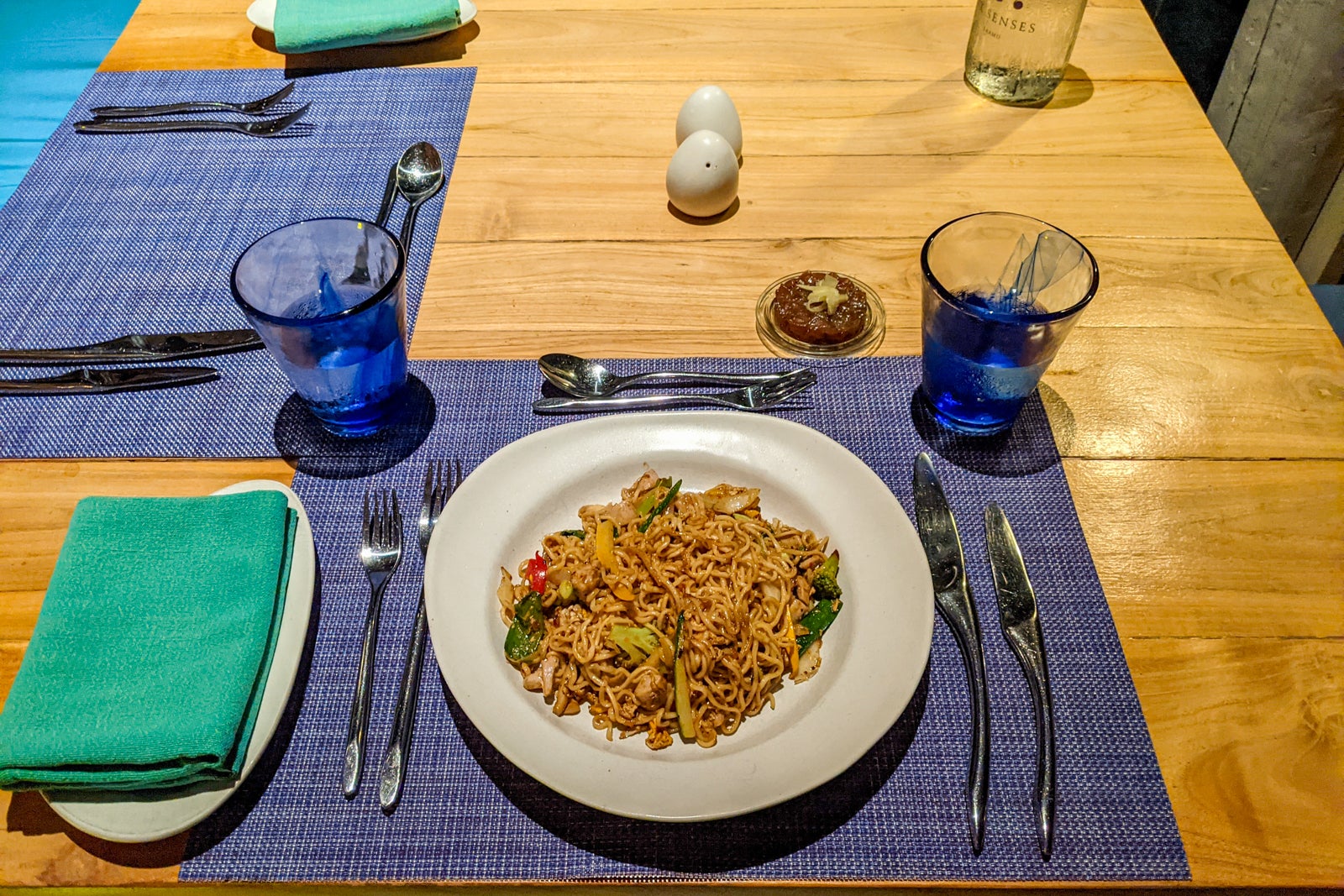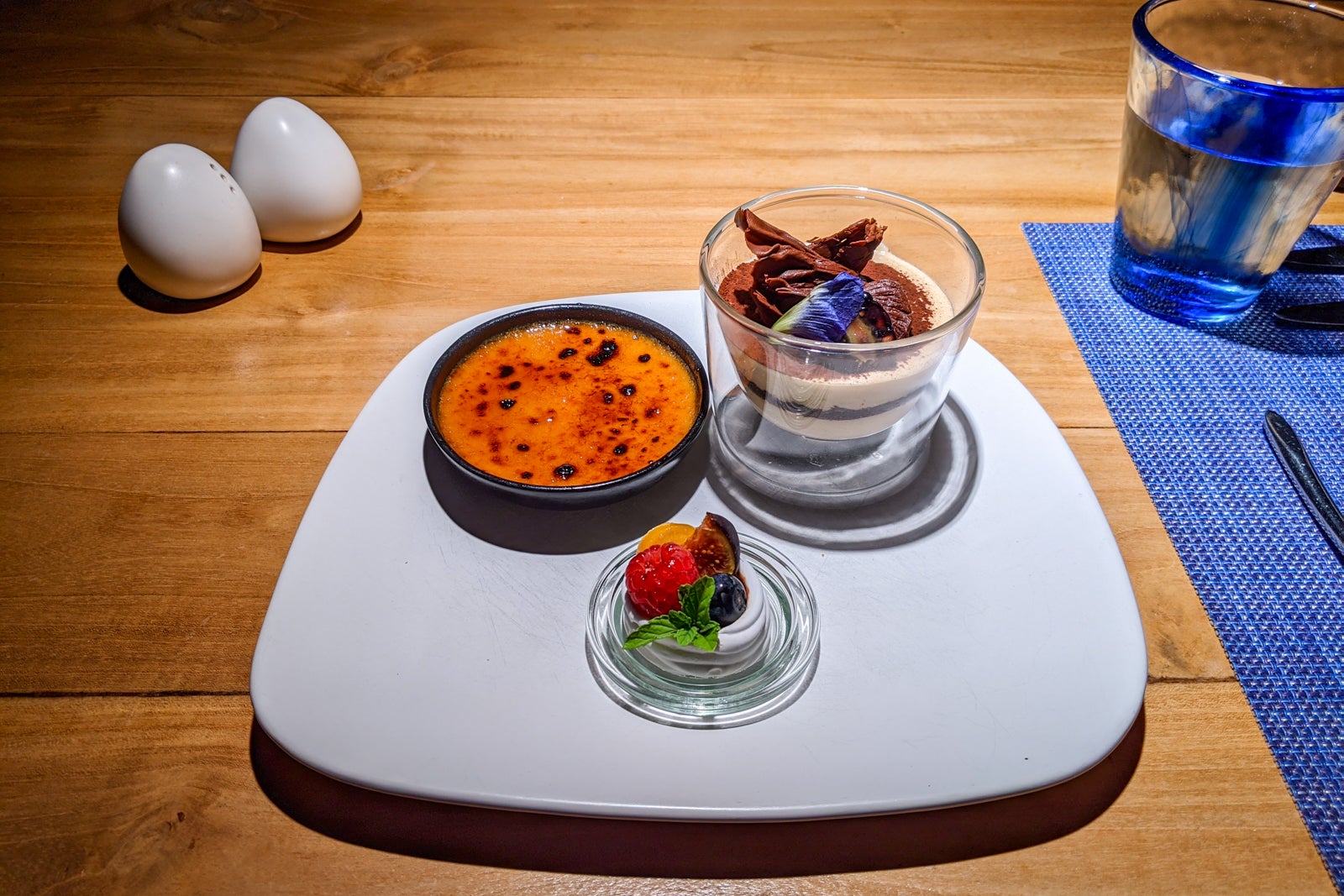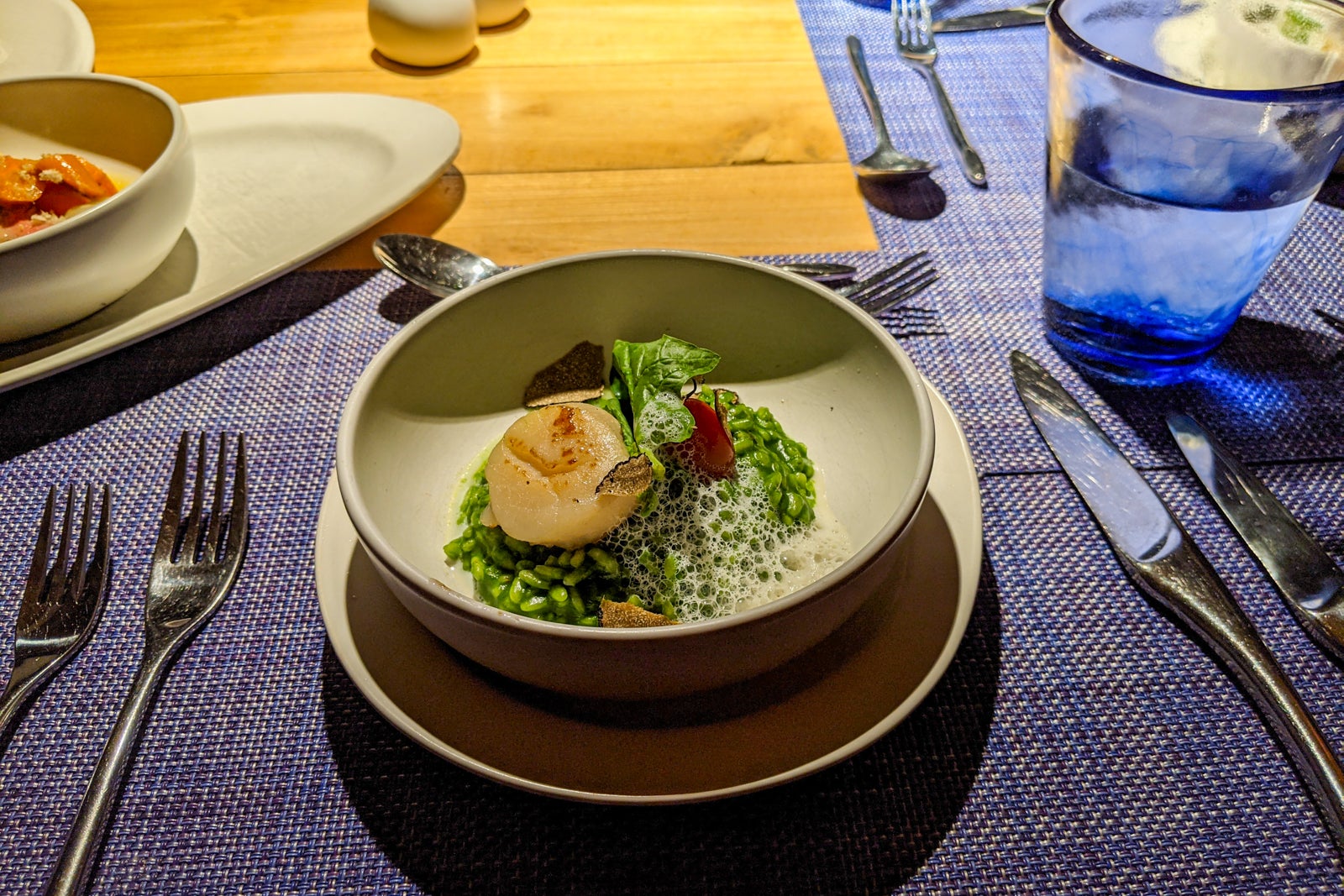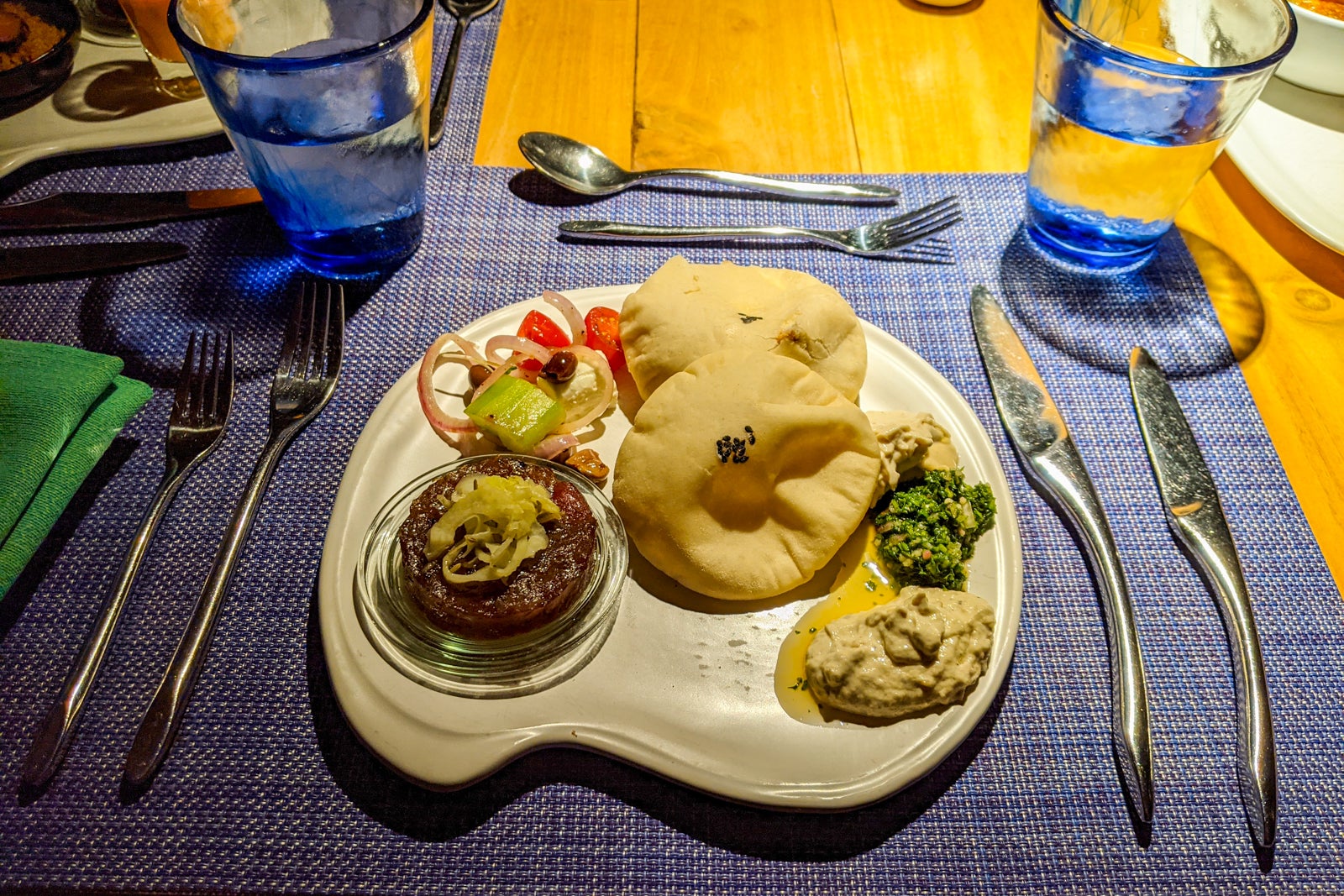 We tried the Japanese restaurant, Zen, one evening for a seven-course set menu. There were two menus to choose from, so the waiter recommended ordering different menus and sharing. I appreciated the high quality of the fish and I enjoyed reading about the fisherman of the day (Abdul Latheef), who had caught that night's coral reef fish by handline, a sustainable fishing method.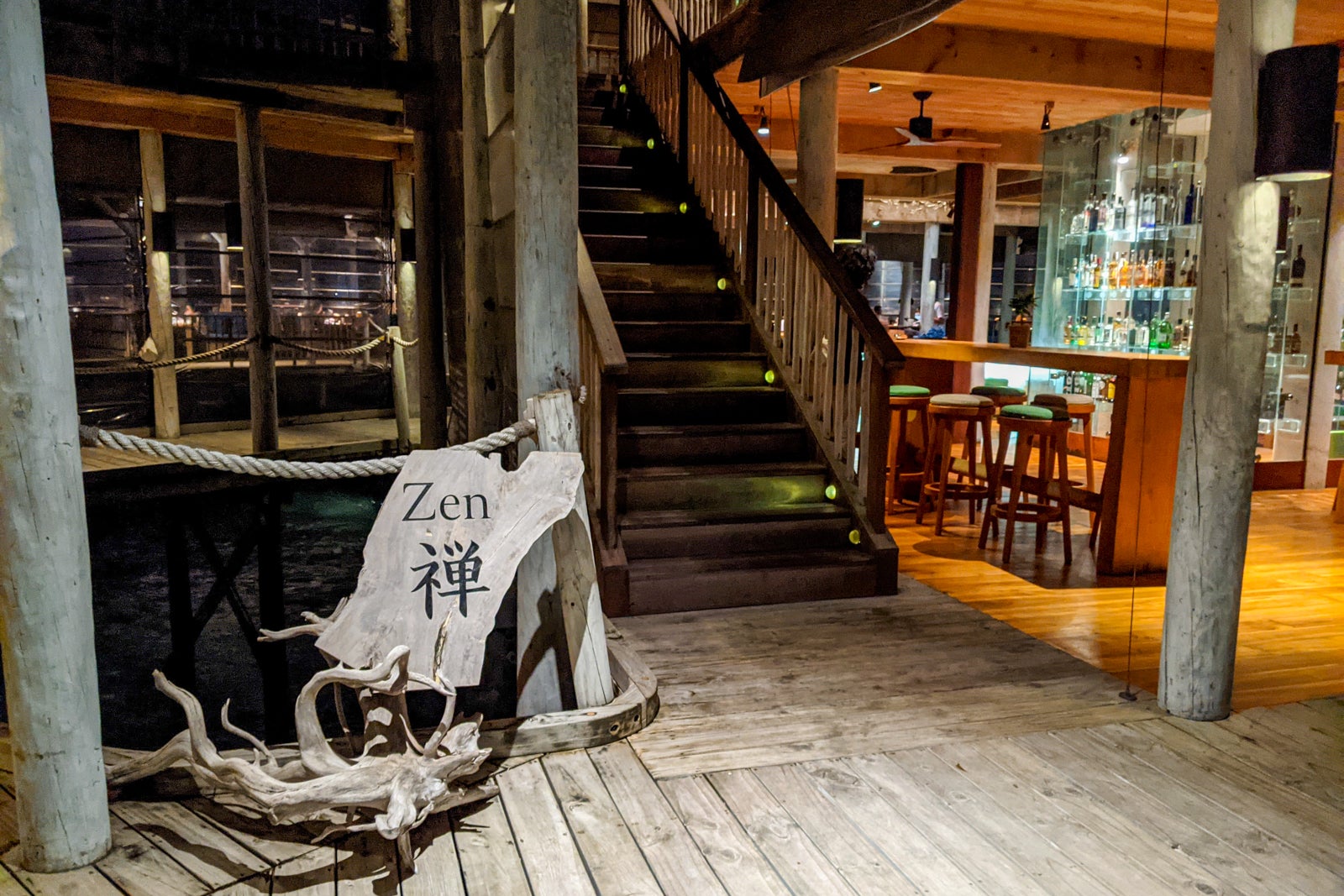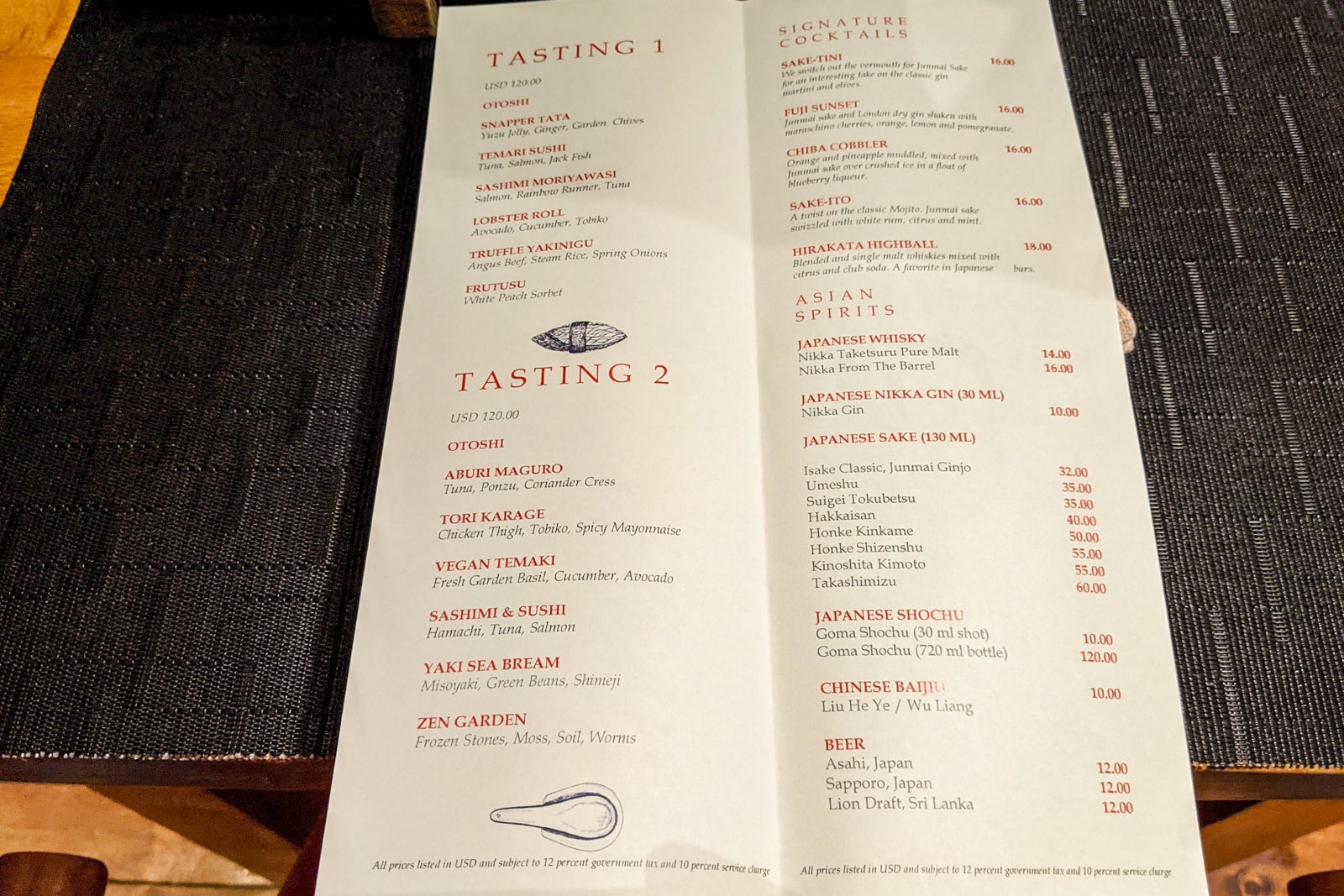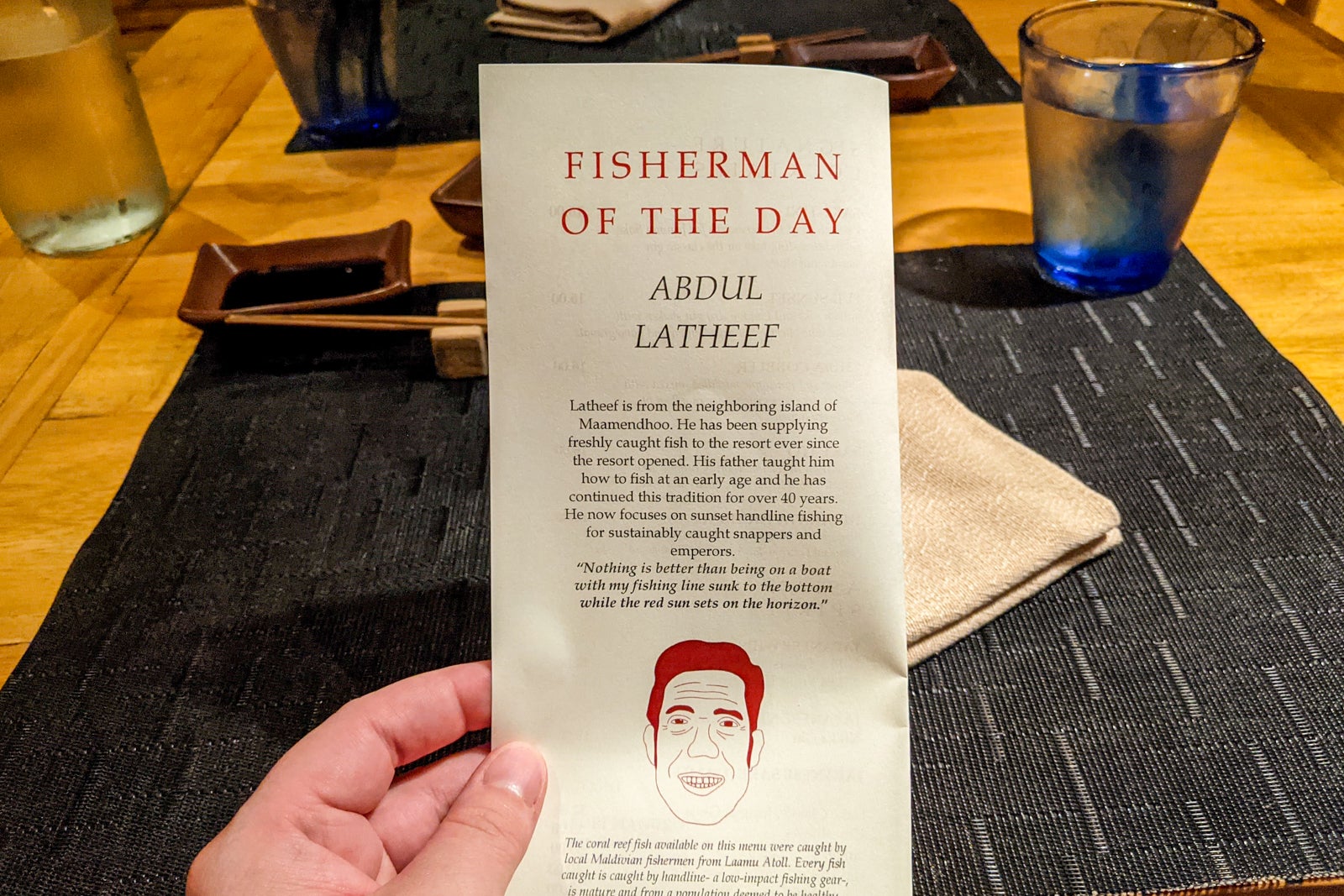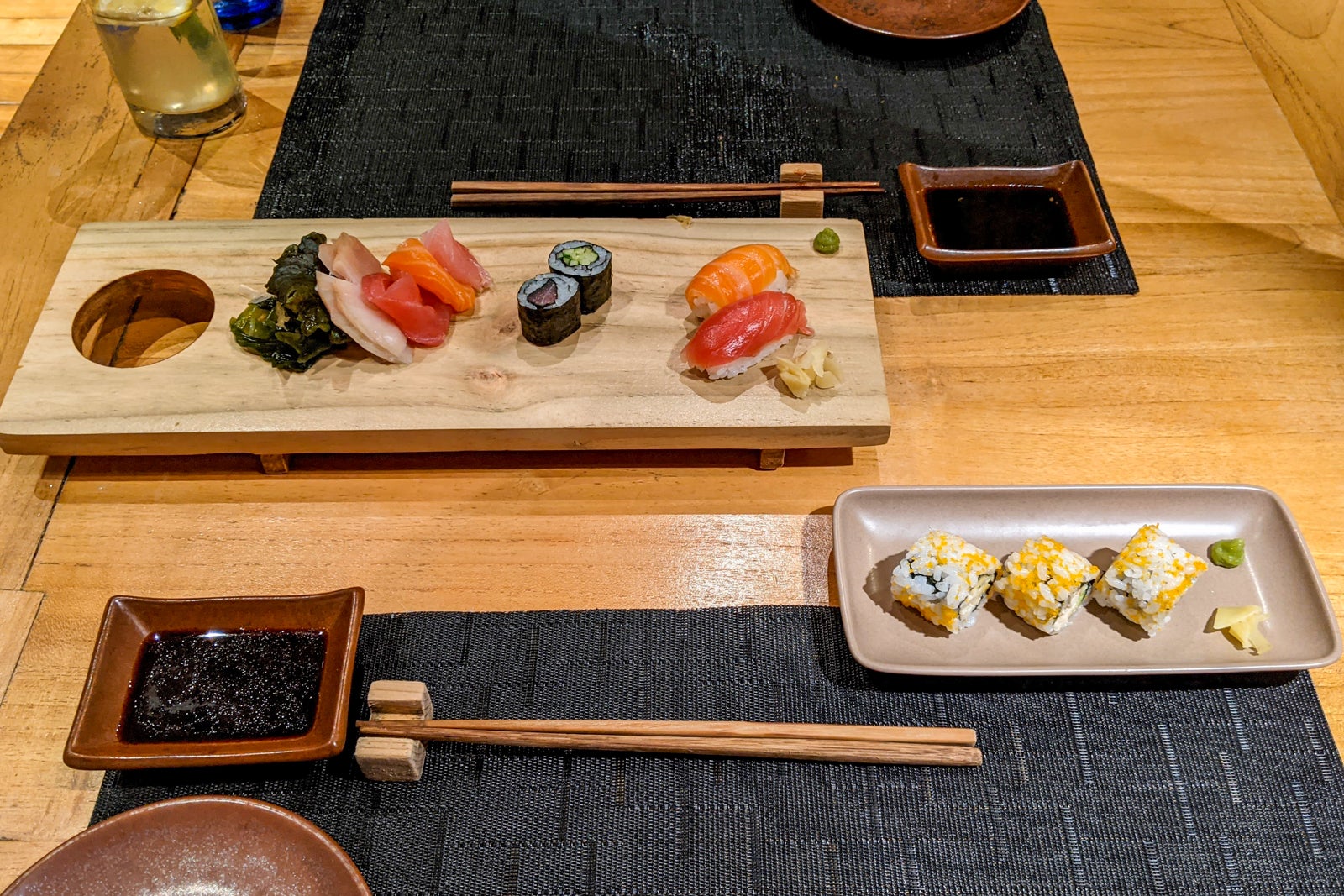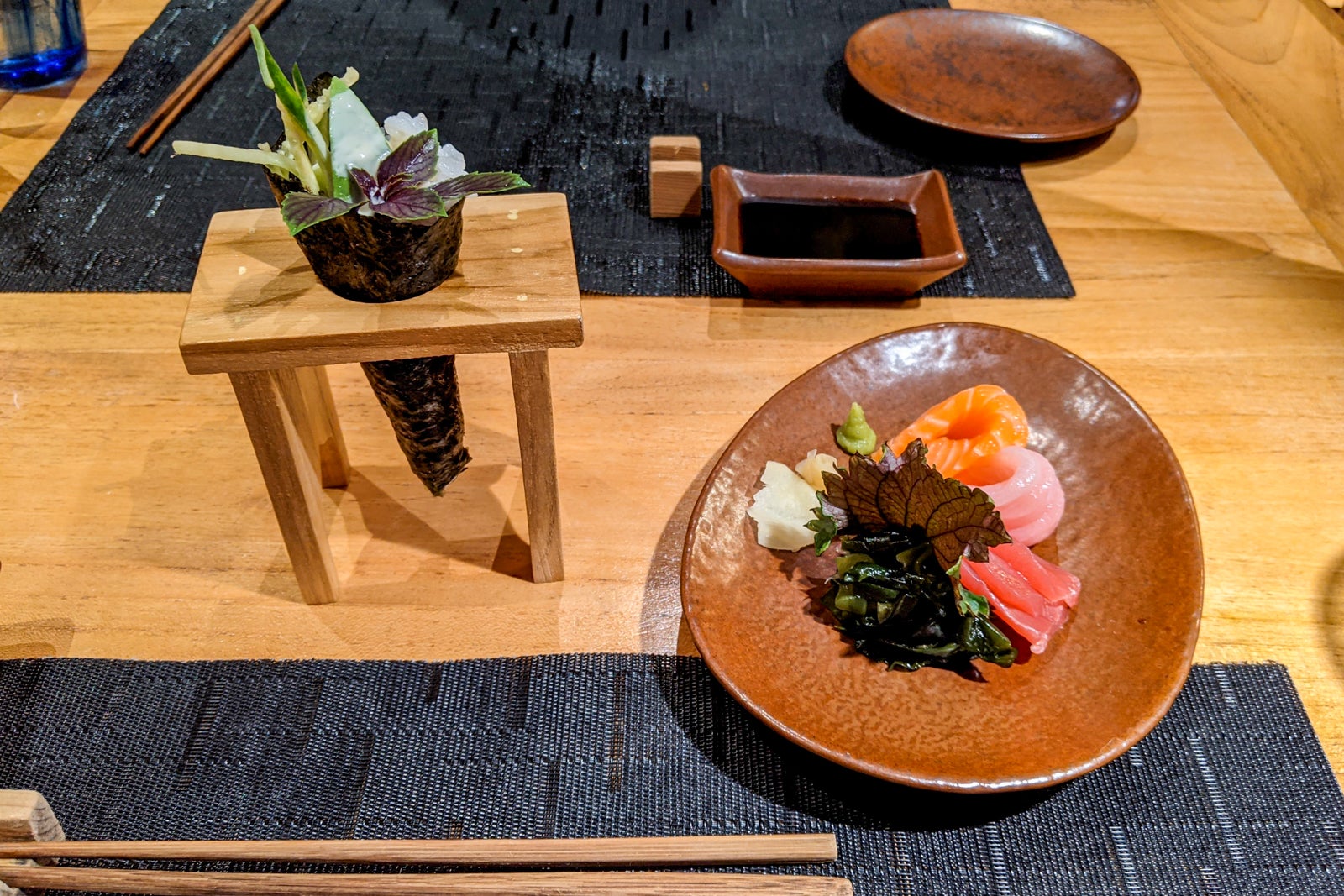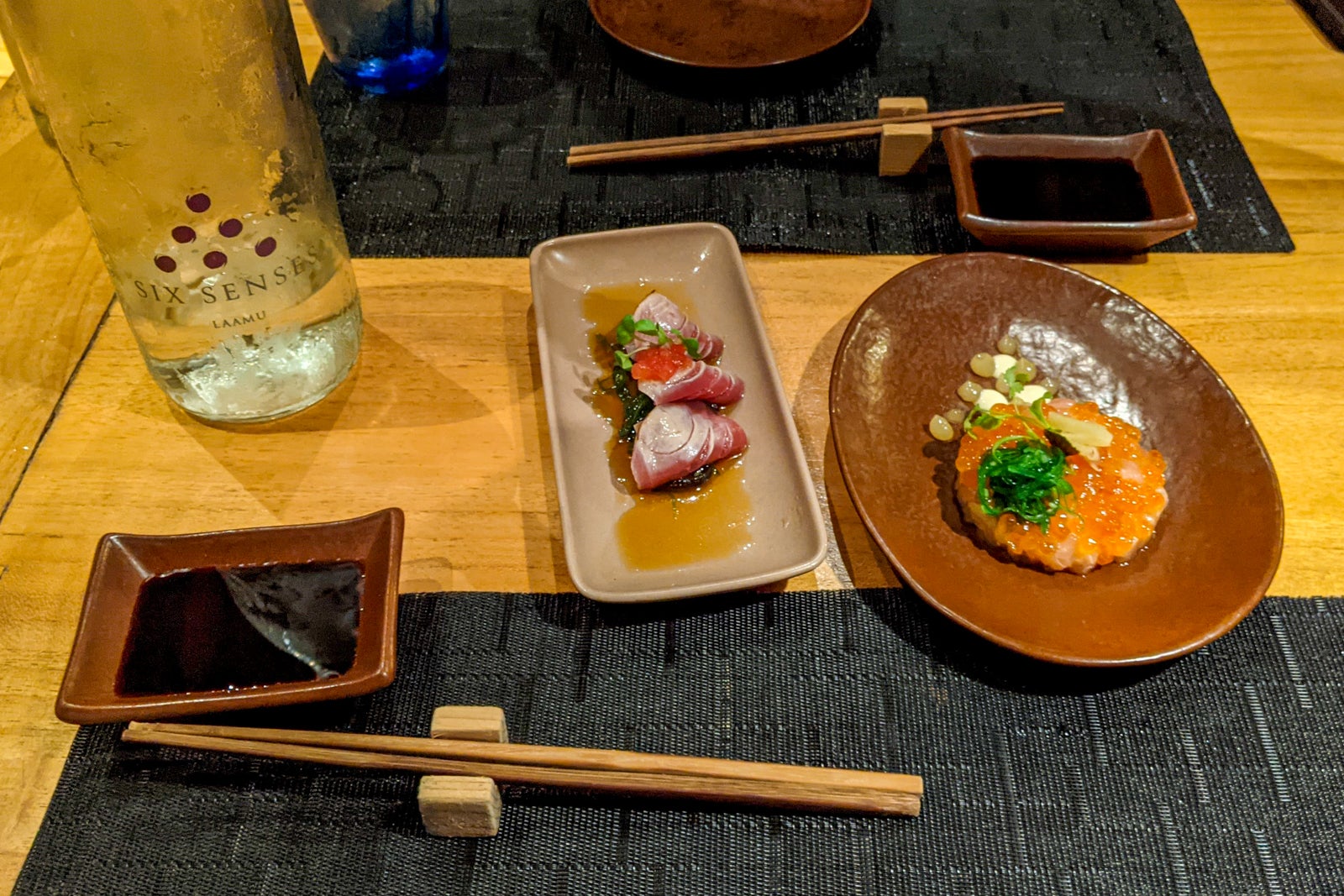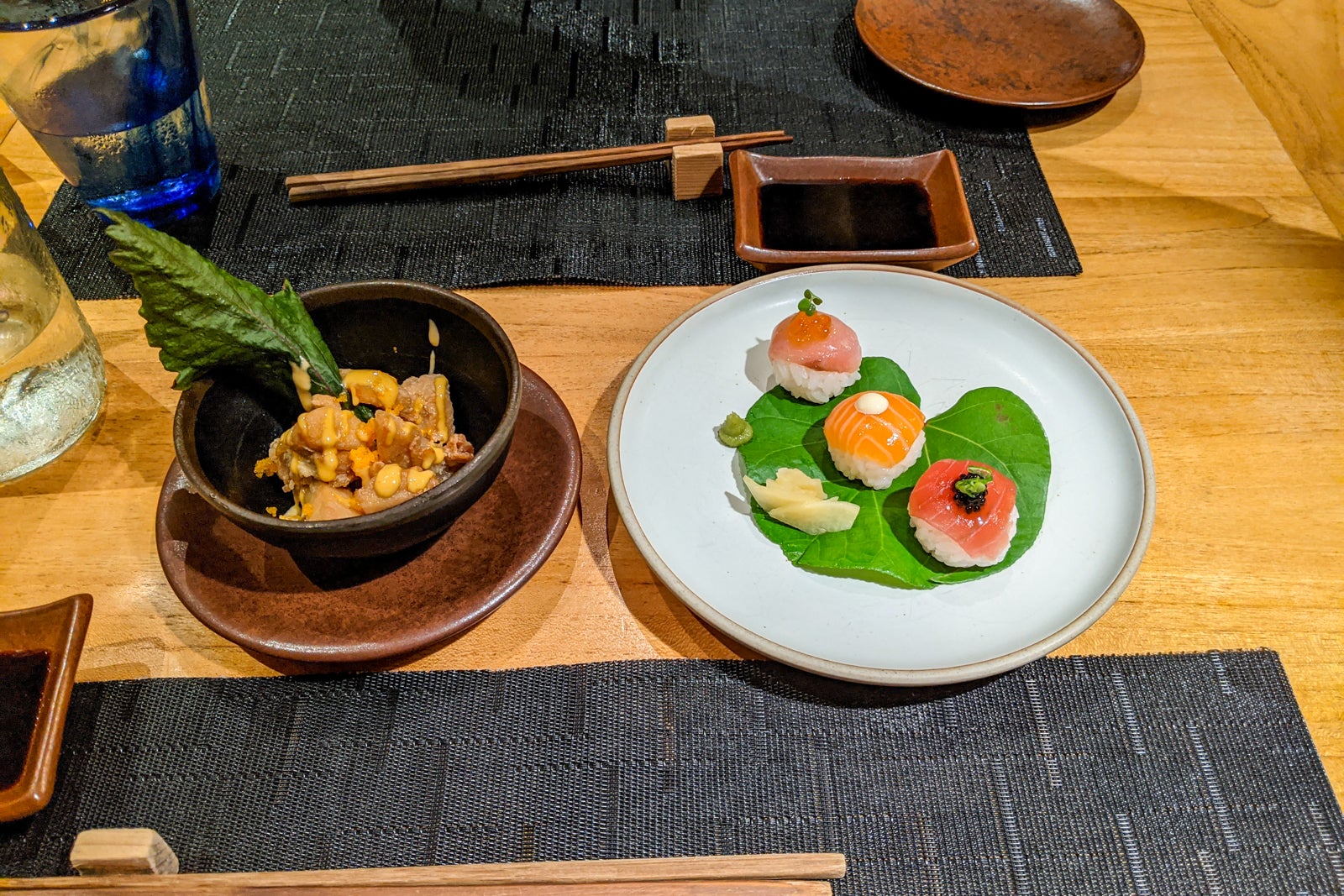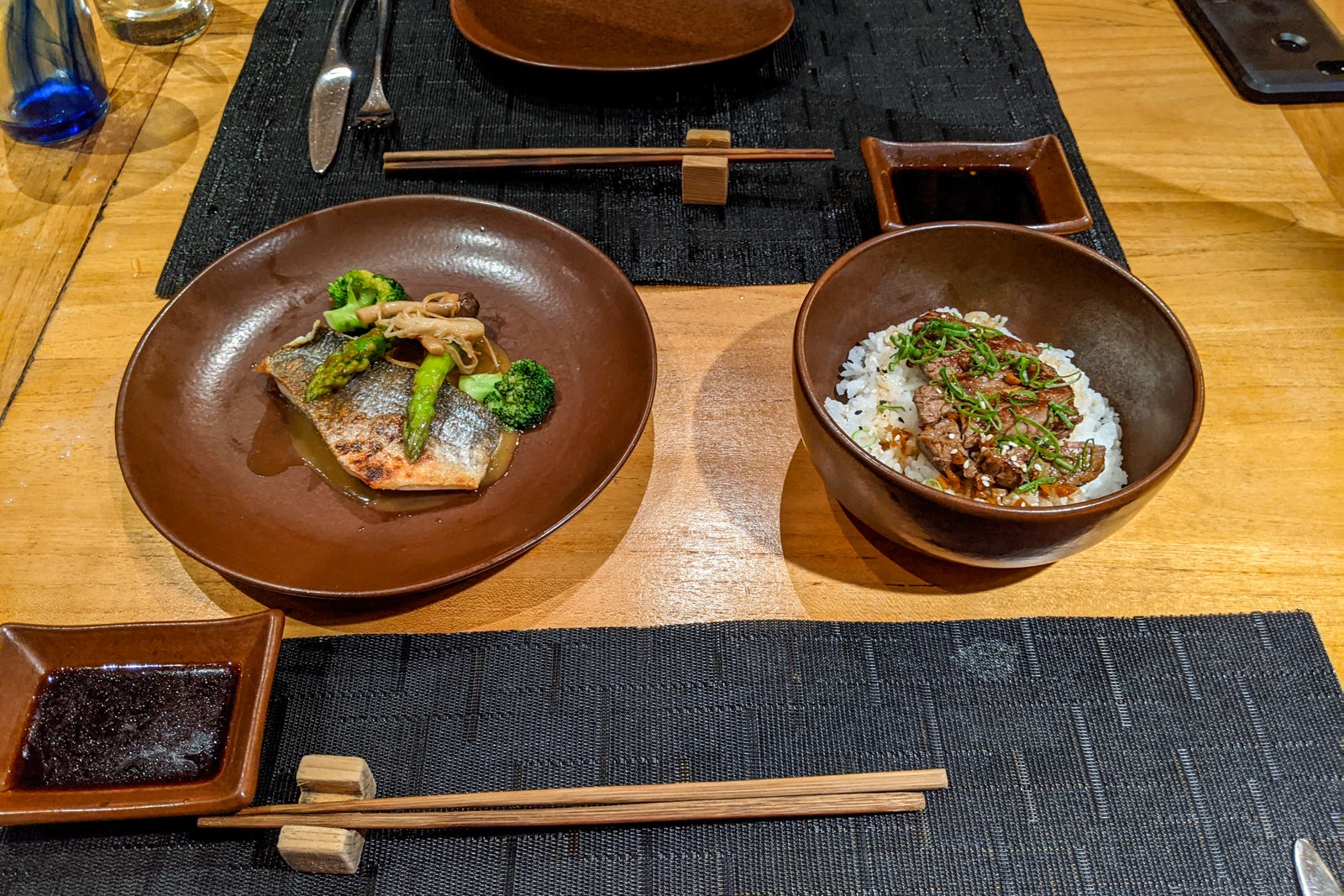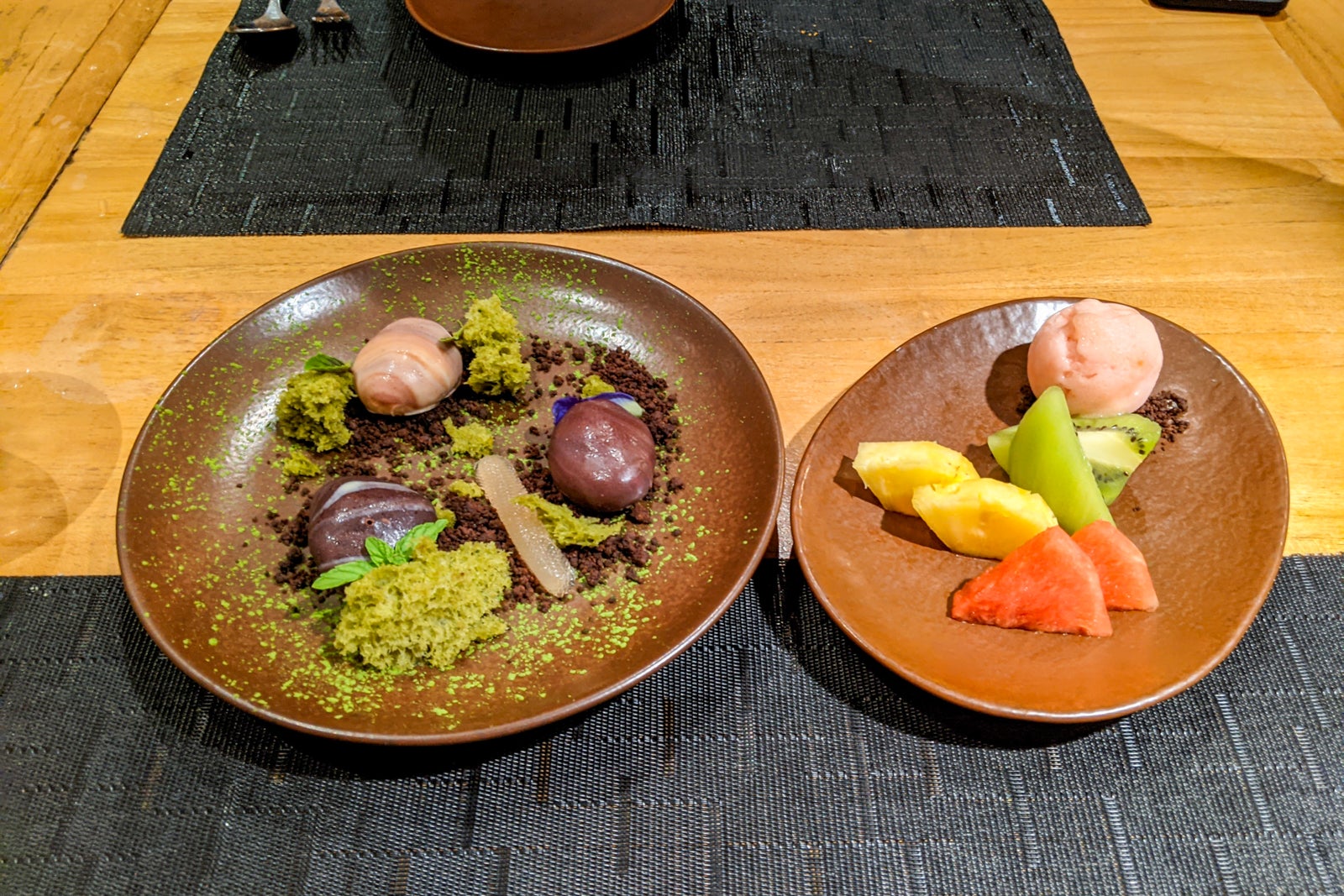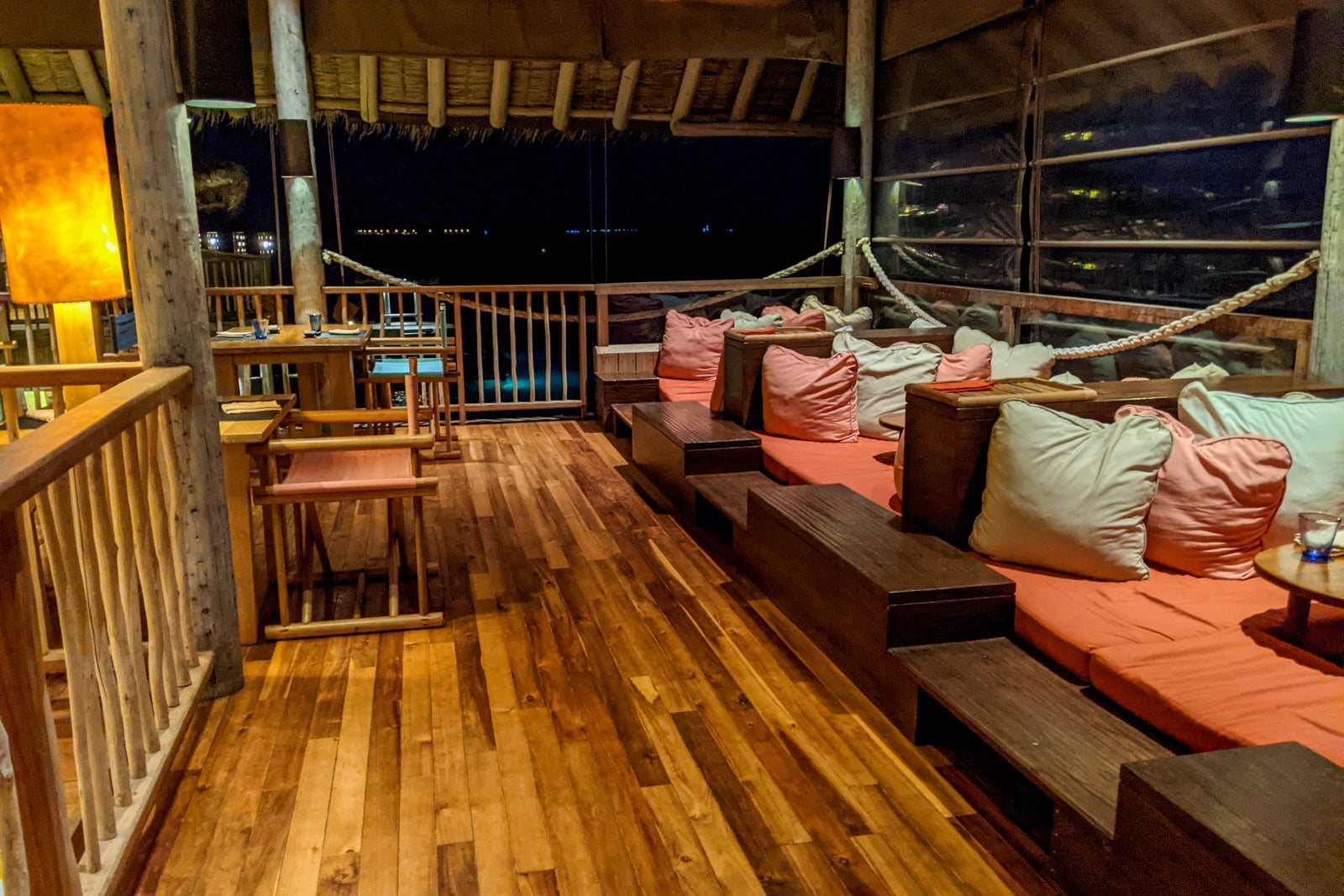 We also ate dinner at the Mediterranean restaurant Leaf one night. This restaurant is located in the property's organic garden and features an open kitchen in the middle of the restaurant. We opted for the four-course tasting menu, which allowed us to choose an option from each course. We were impressed by each dish at Leaf and left the restaurant surprisingly full.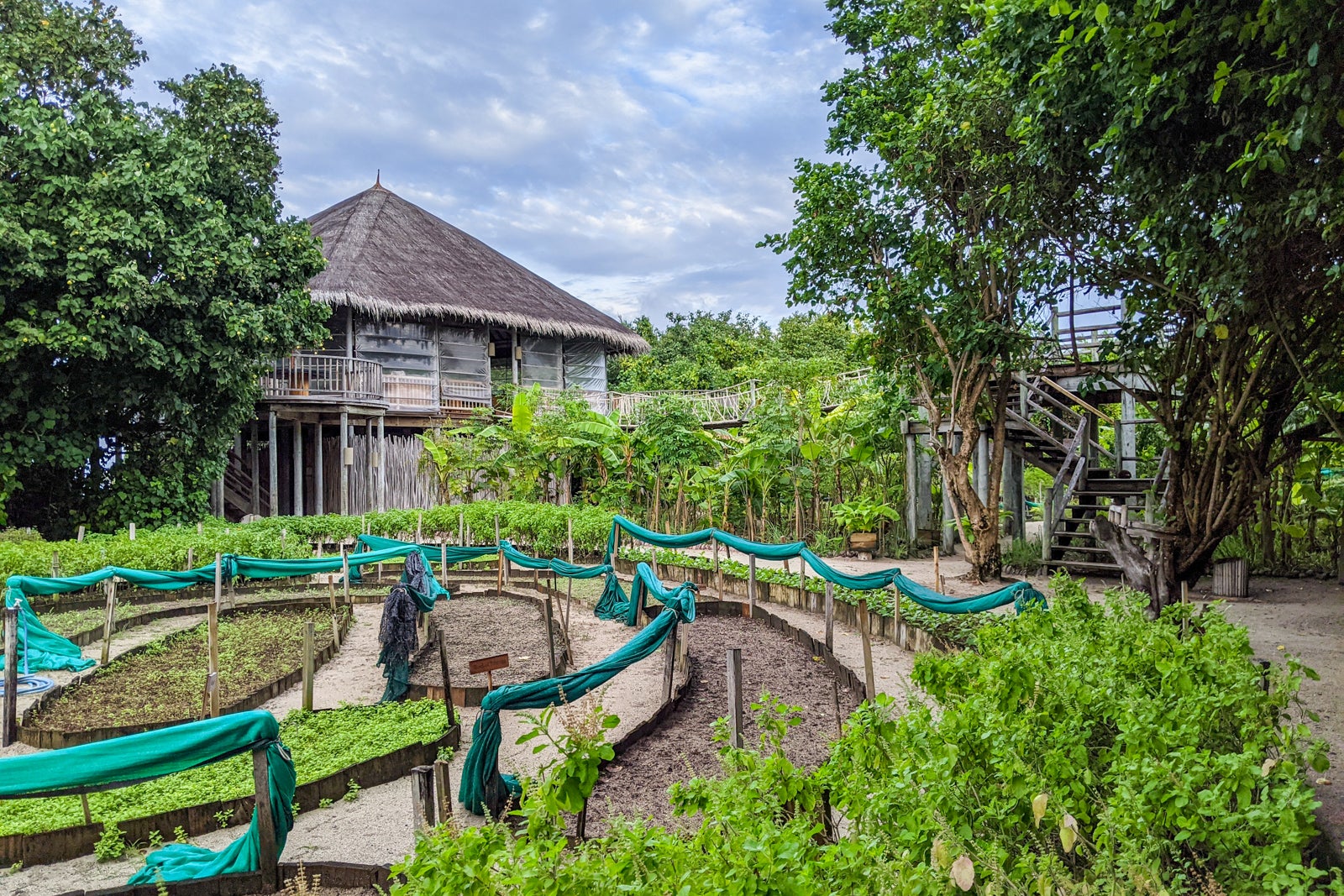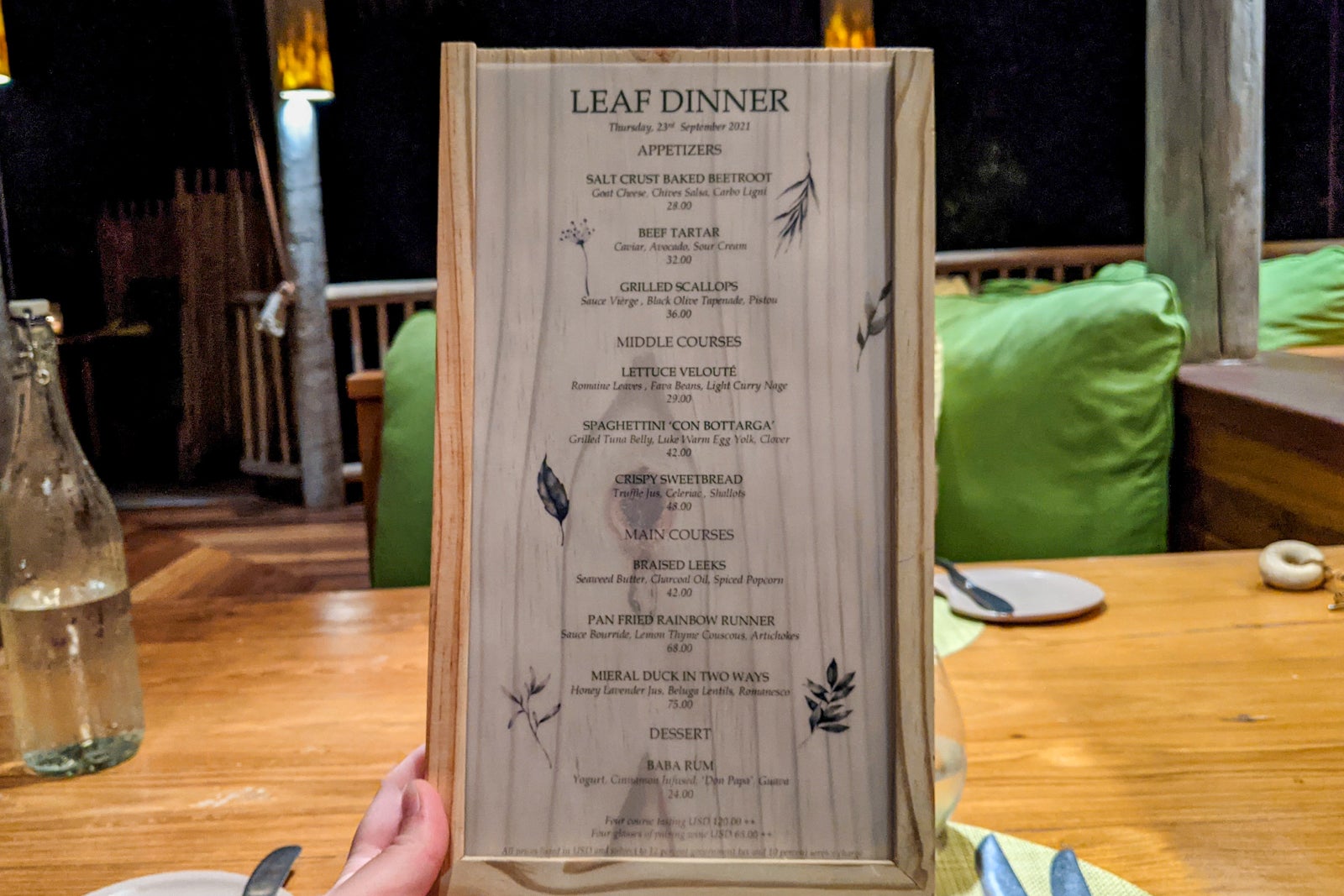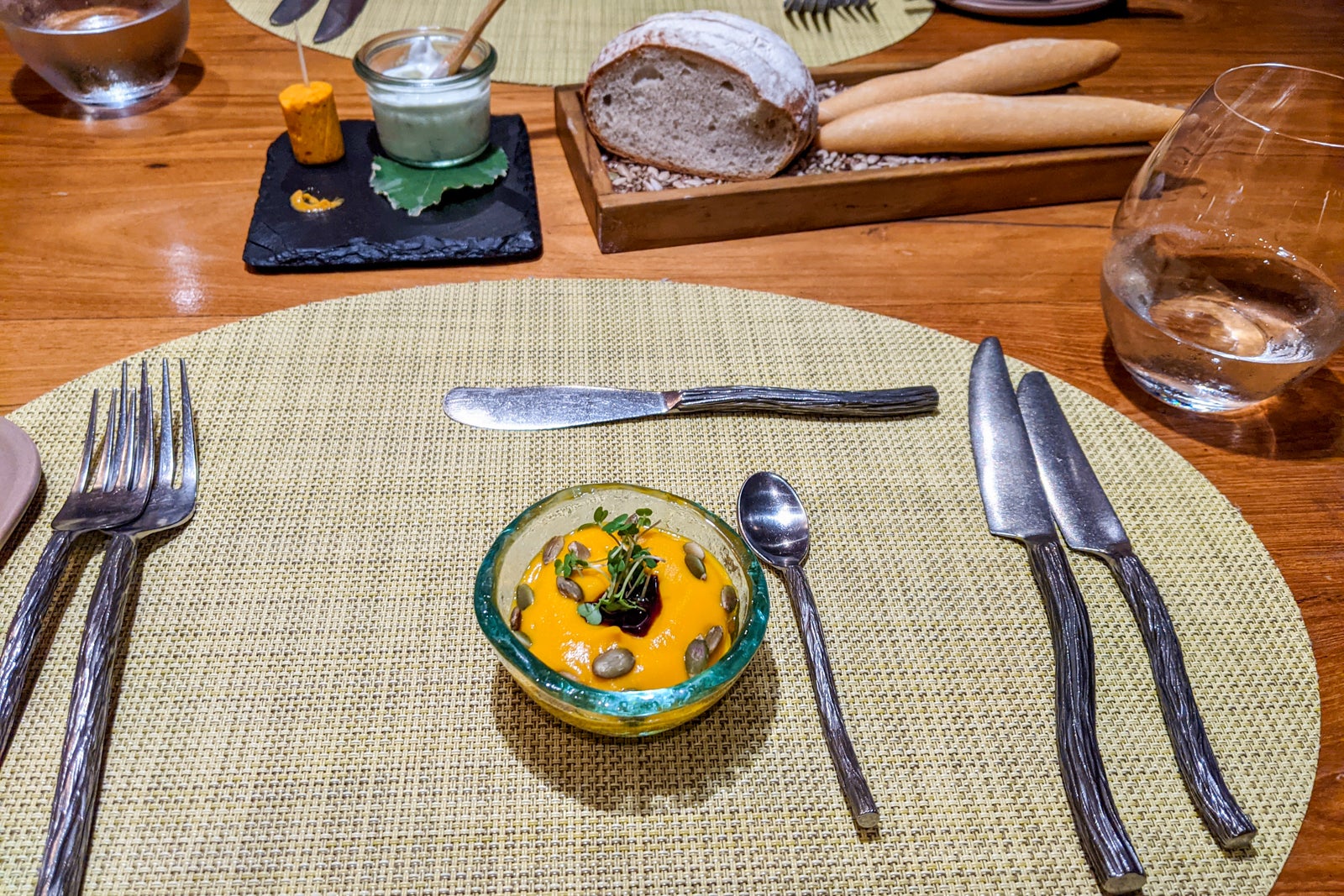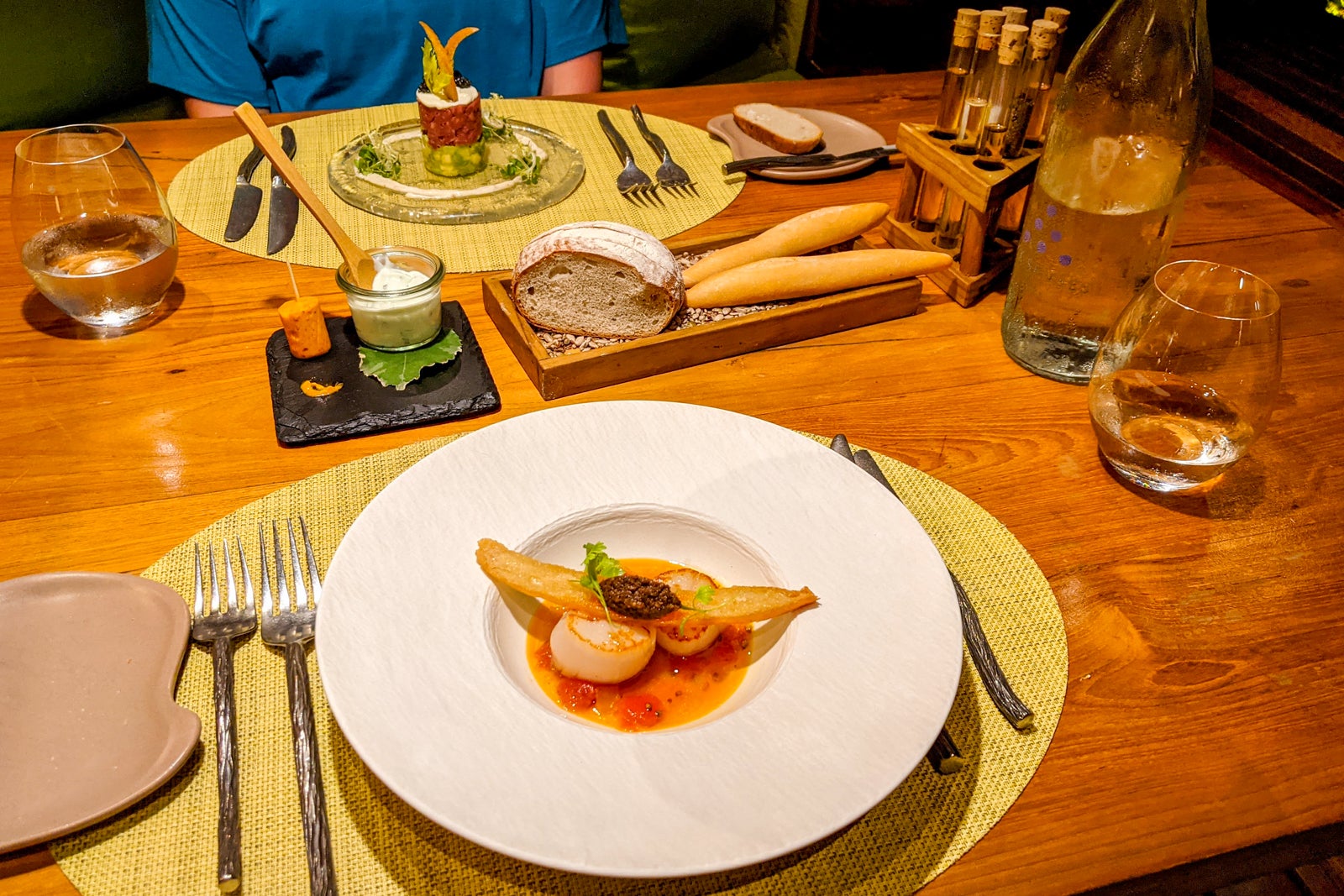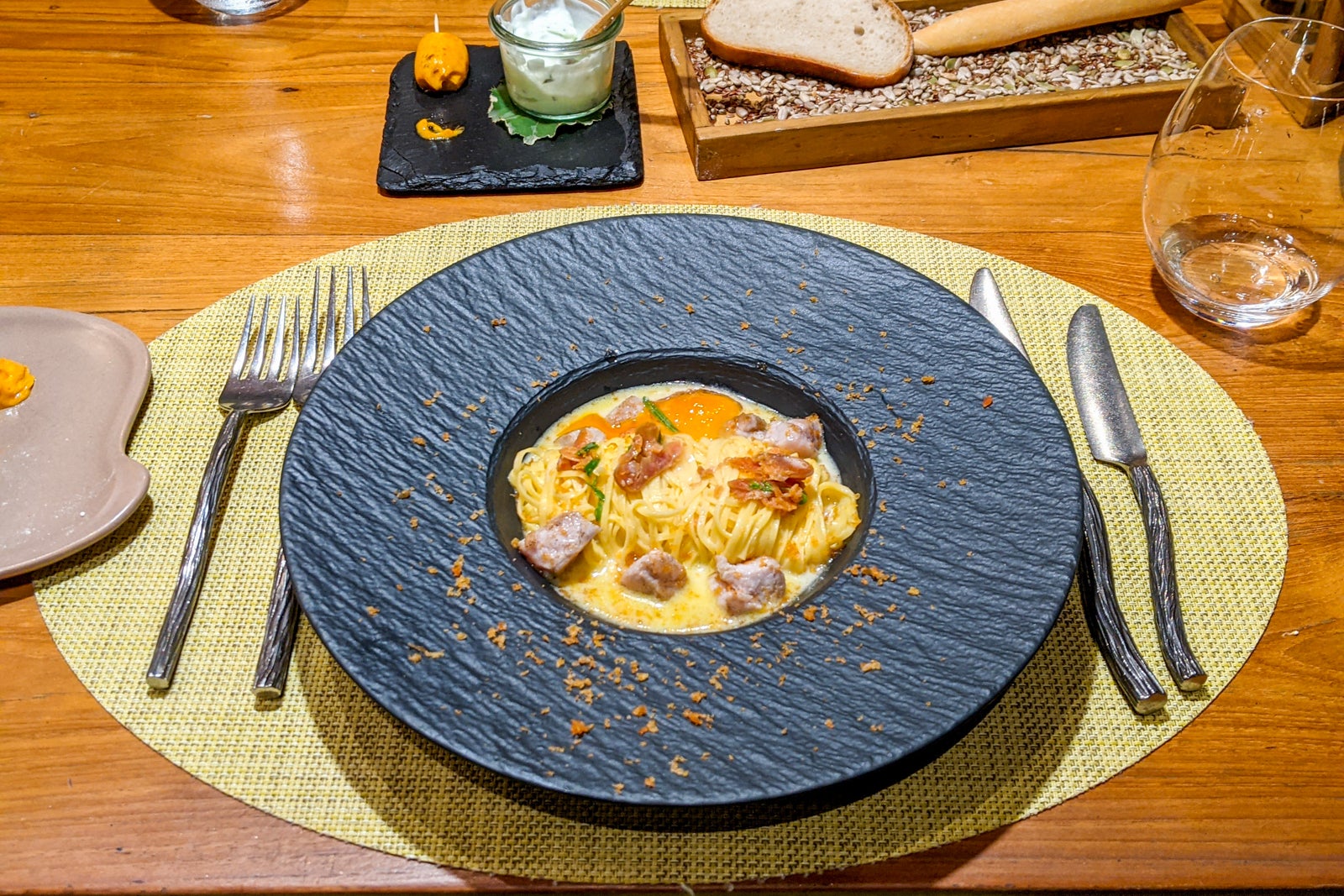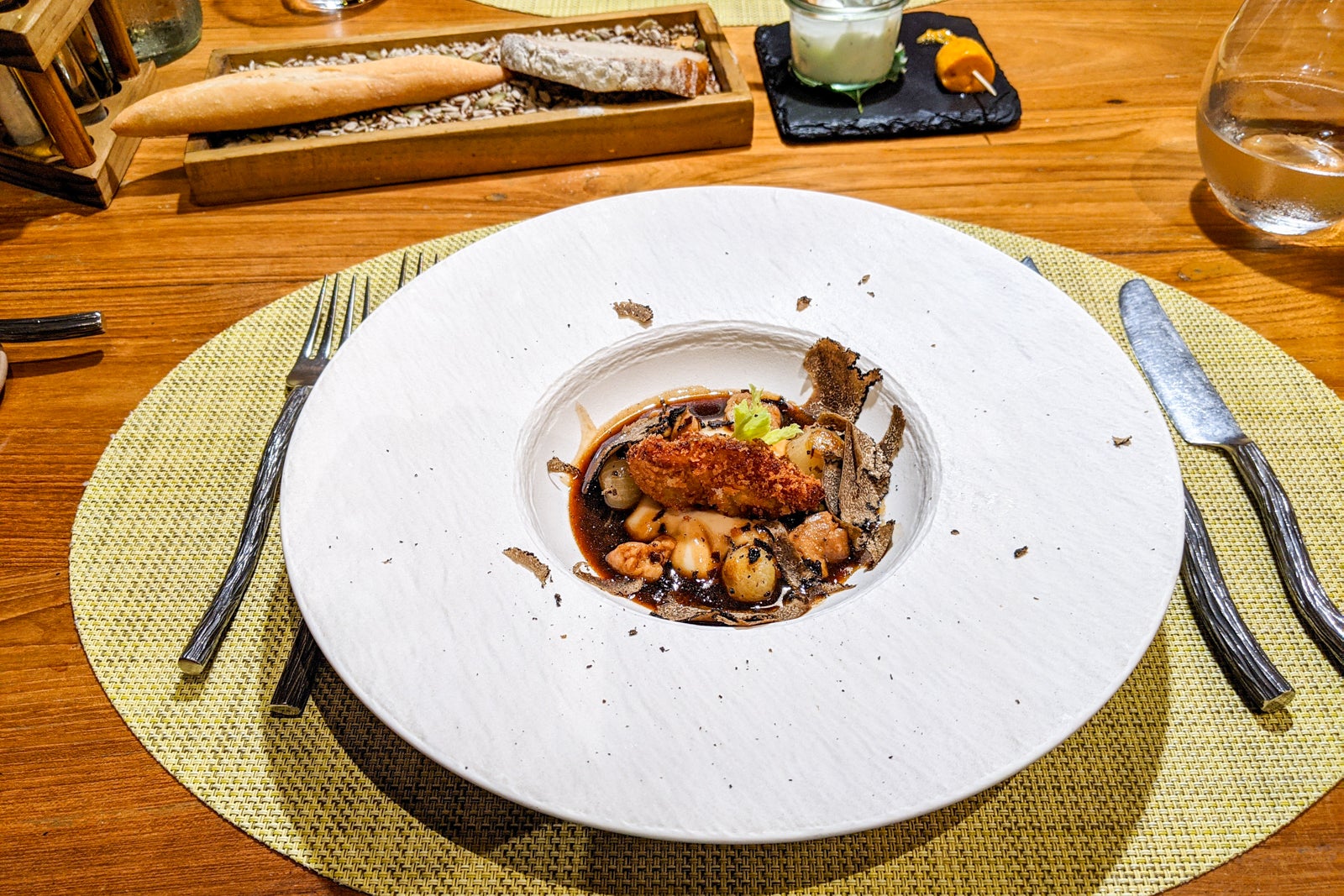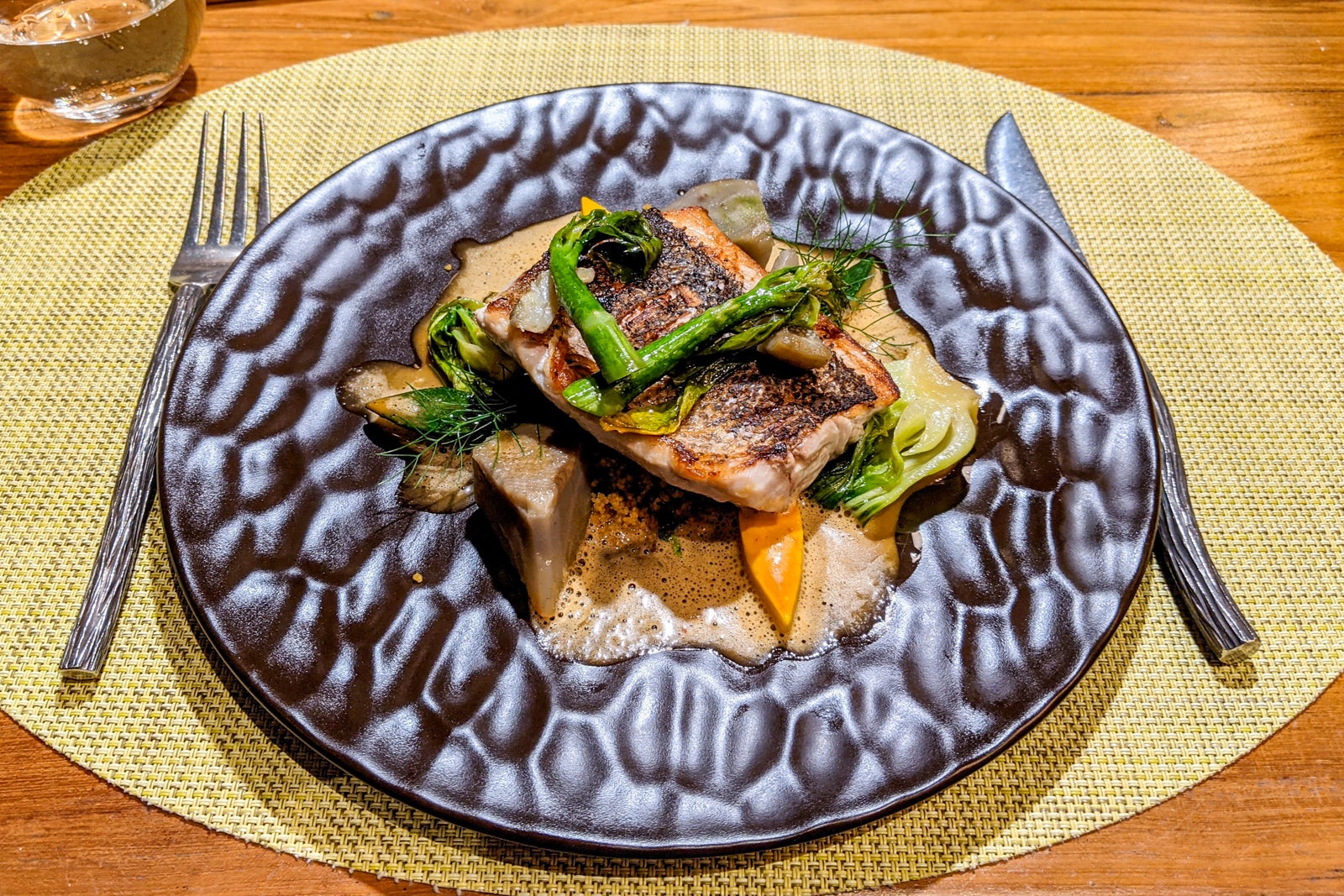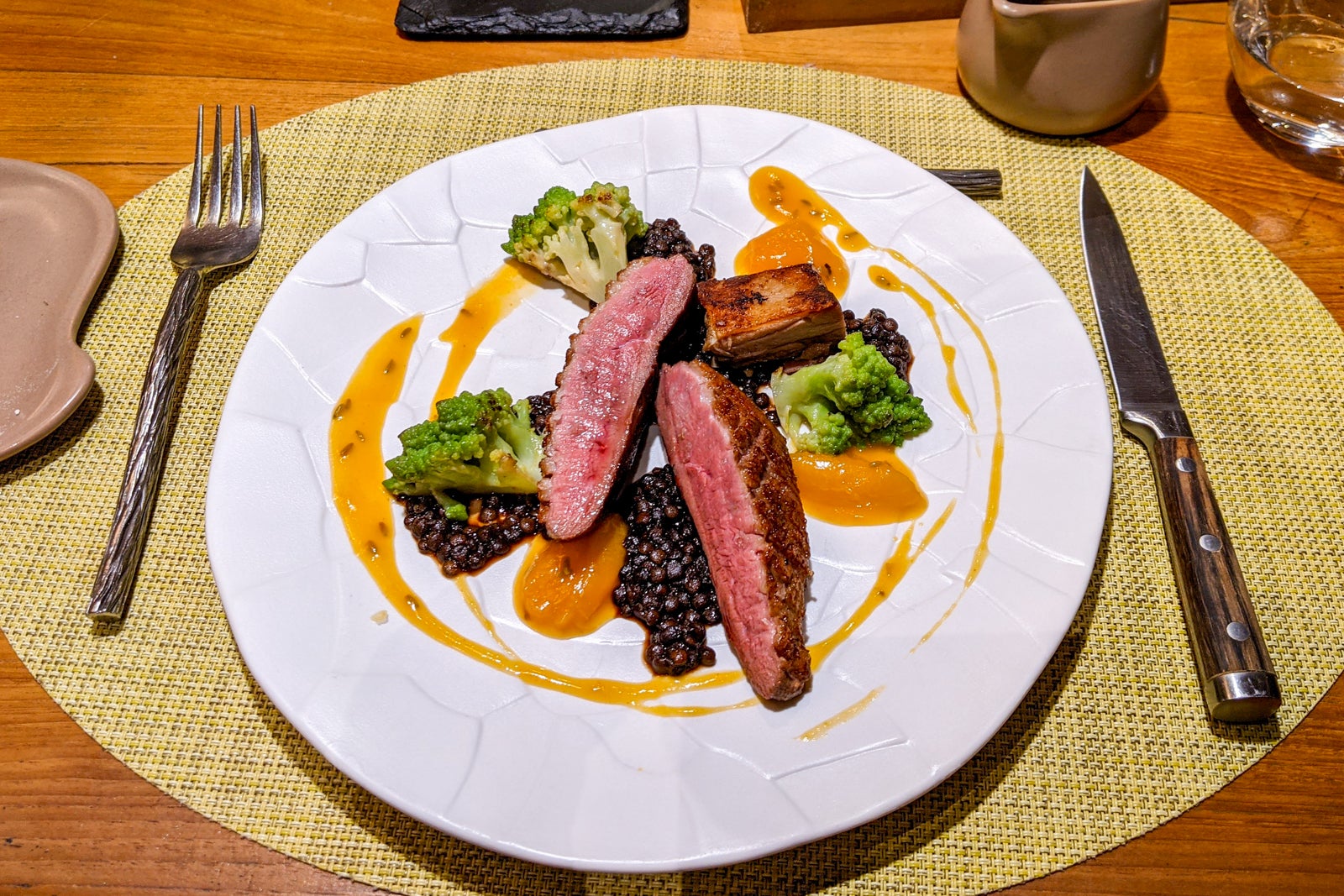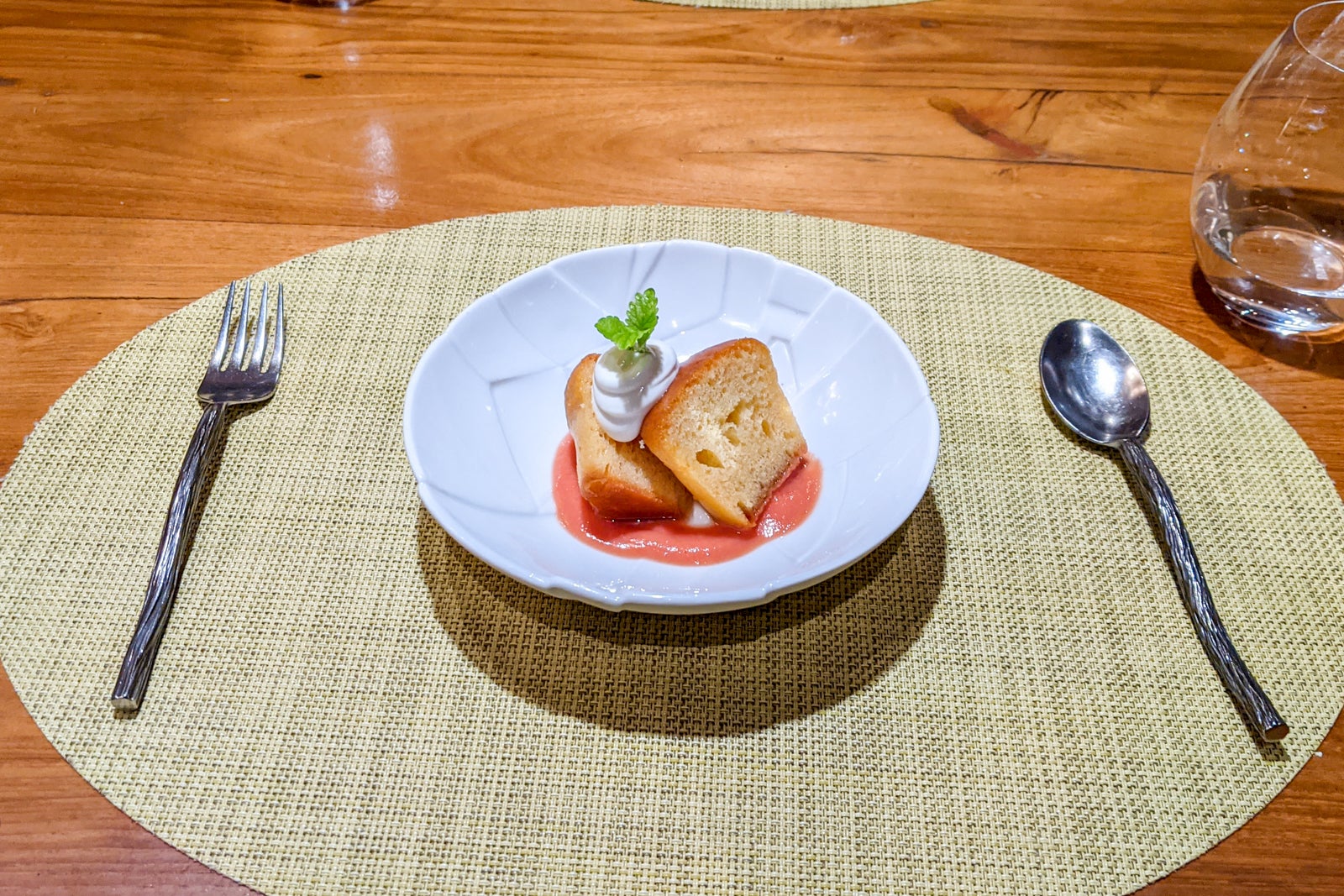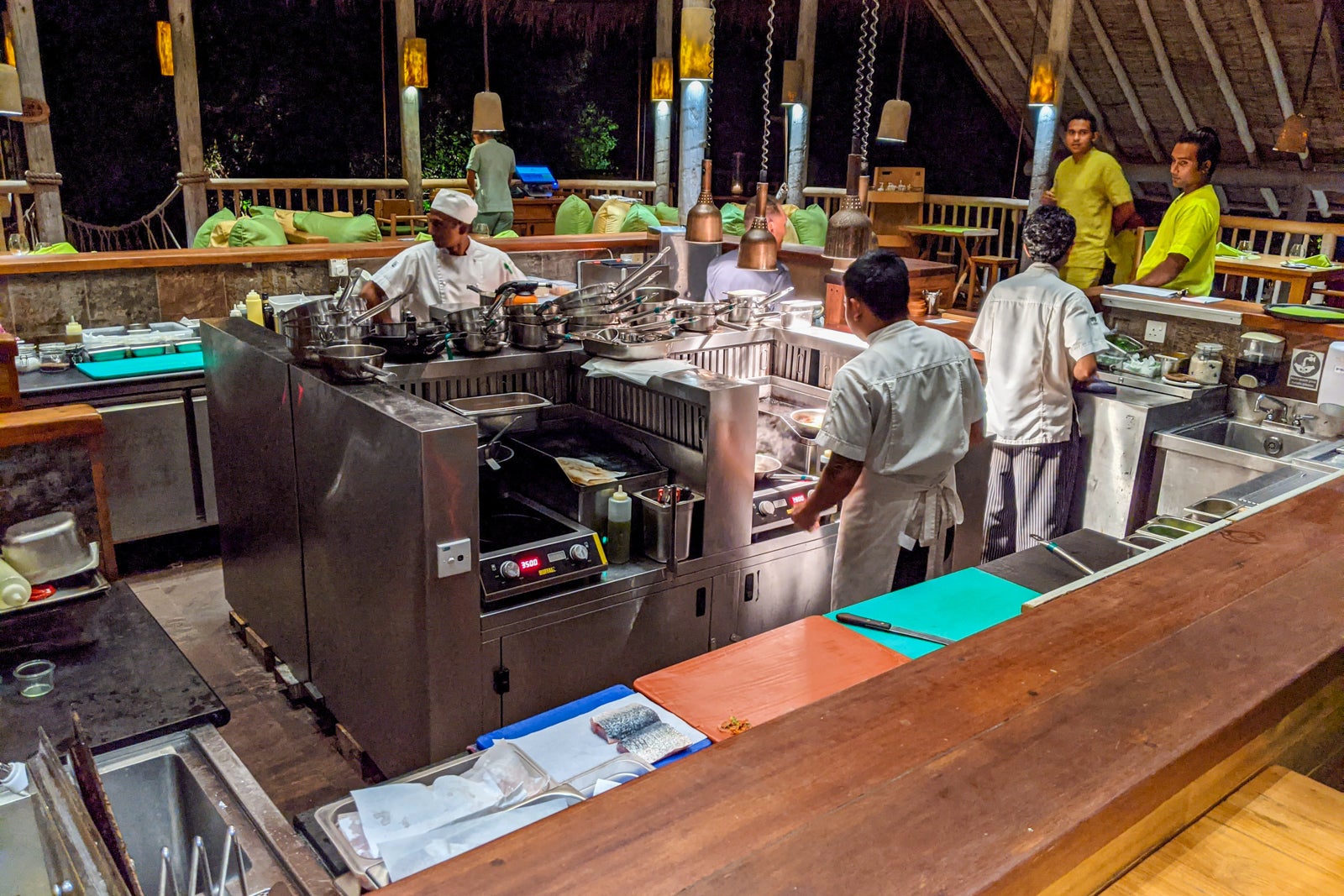 If you want a sweet snack mid-day or after dinner, you can visit Ice. This small cafe offers complimentary ice cream and sorbet in 42 flavors from 12:30 p.m. to 10:30 p.m. daily. My favorite was the matcha ice cream, which was surprisingly sweet despite being sugar-free.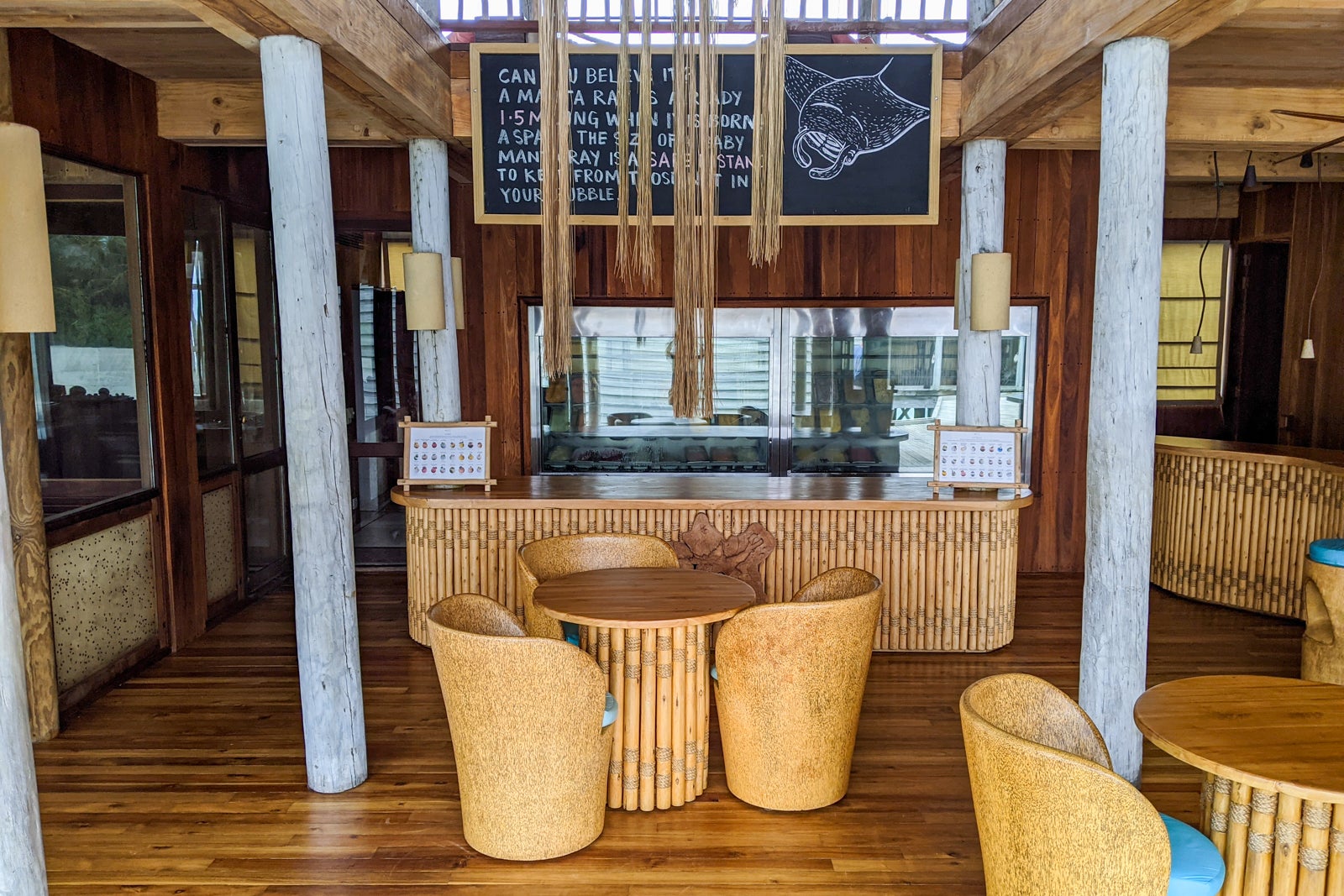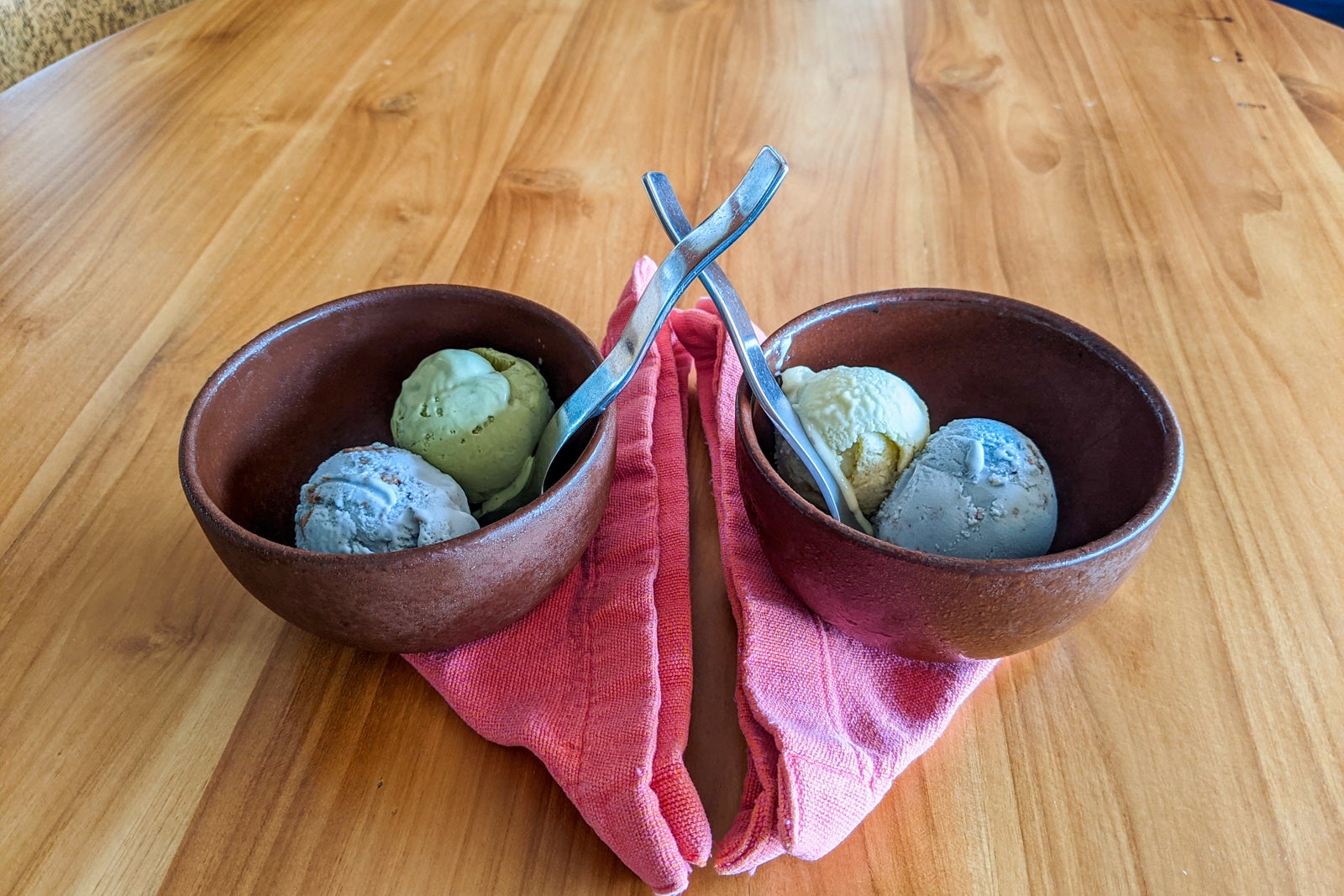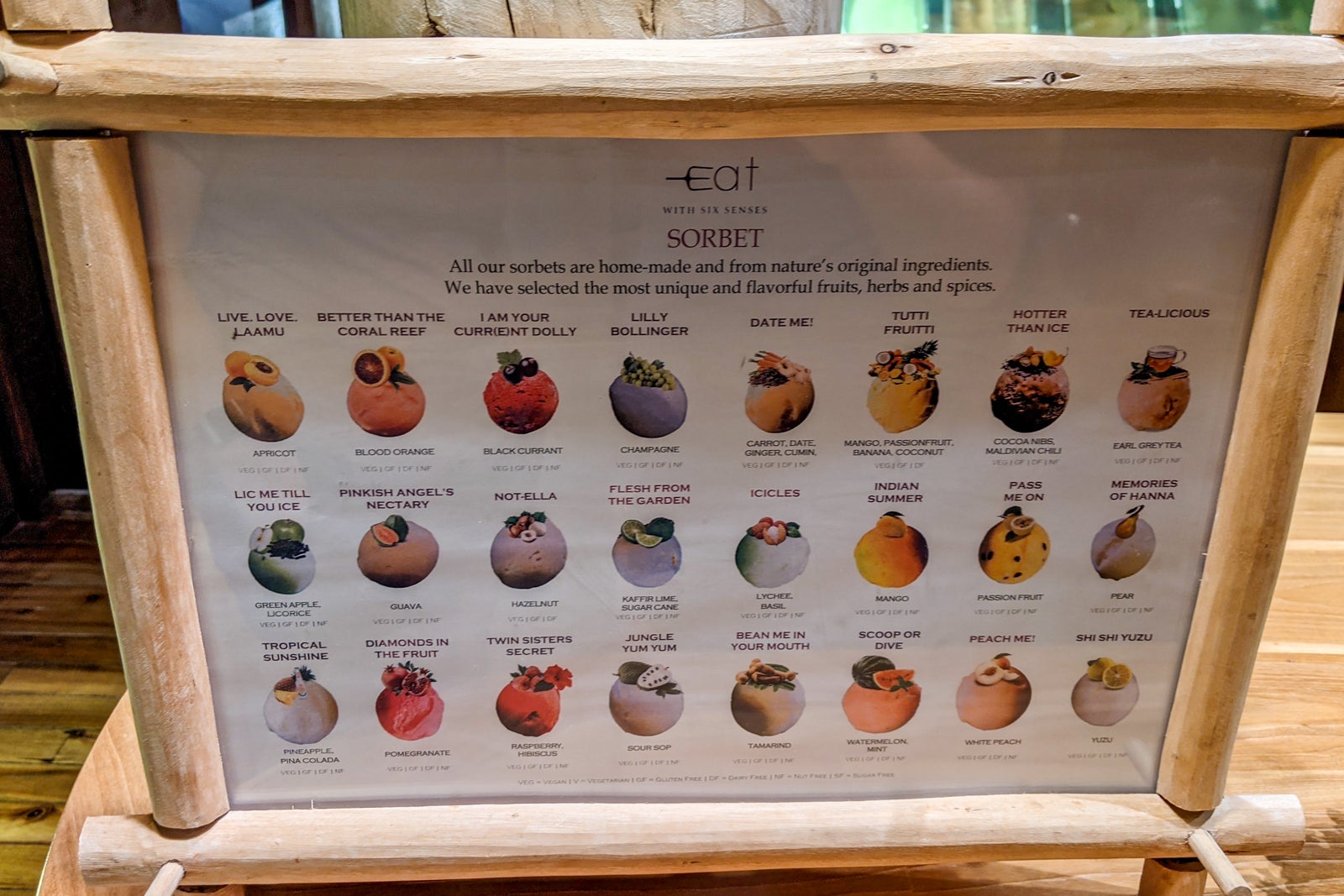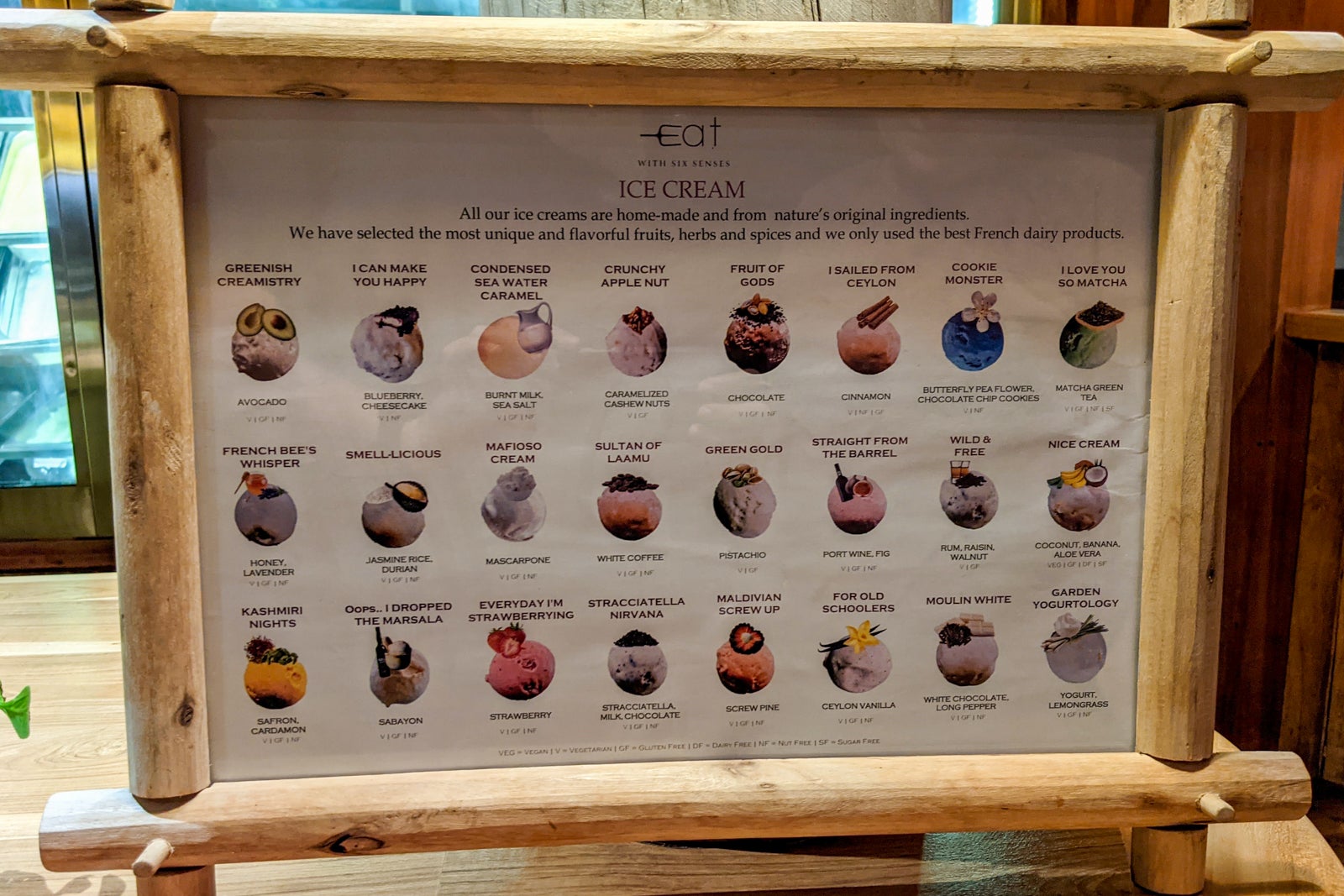 There are two bars on site, Sip Sip by the pool and Chill Bar by Ice. Each of these bars offers "no rush hours" on select days. During "no rush hour" you can order one drink and get a second drink for free. The same person doesn't have to drink both drinks, but we got conflicting reports on whether the two drinks must be exactly the same or just the same general drink type.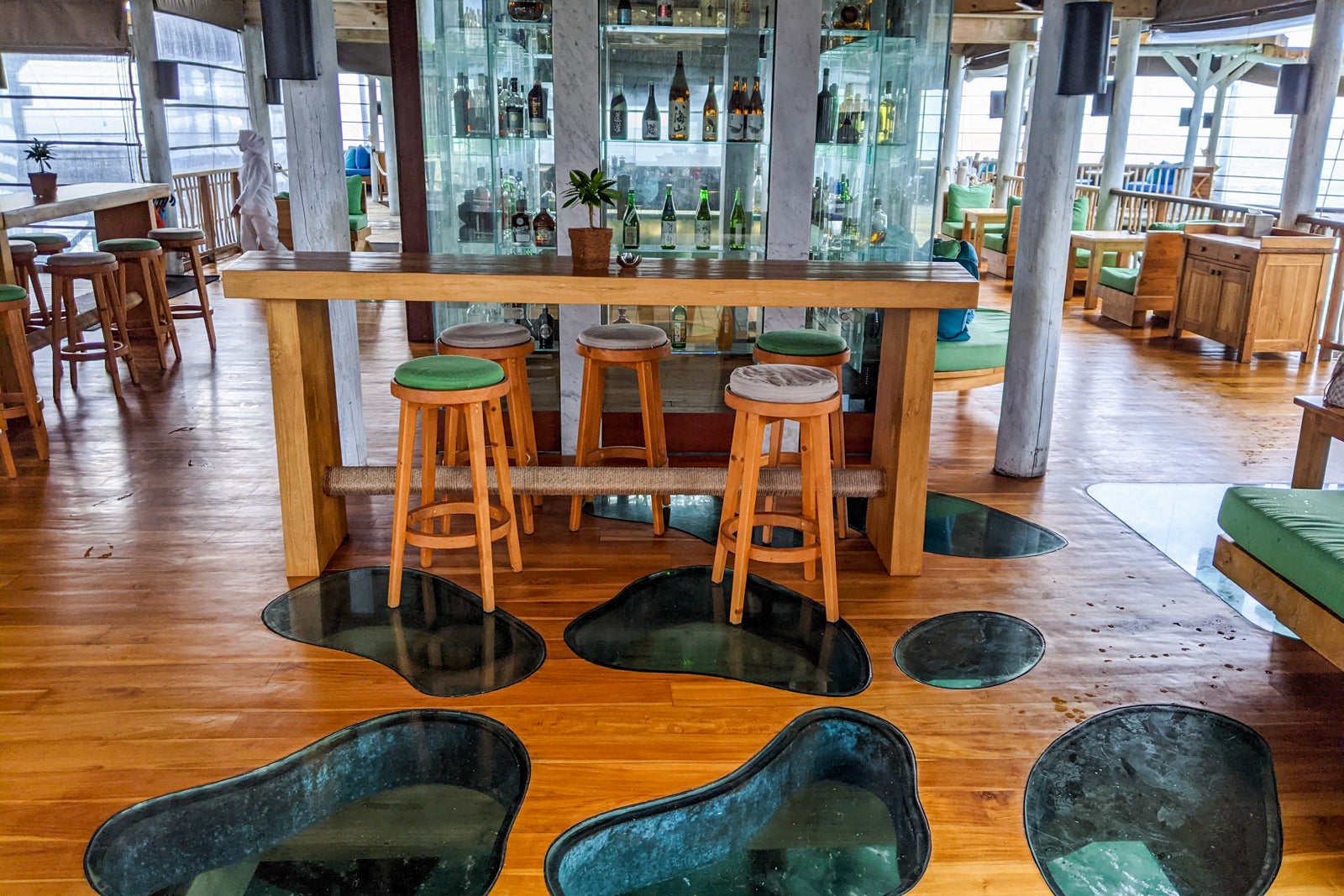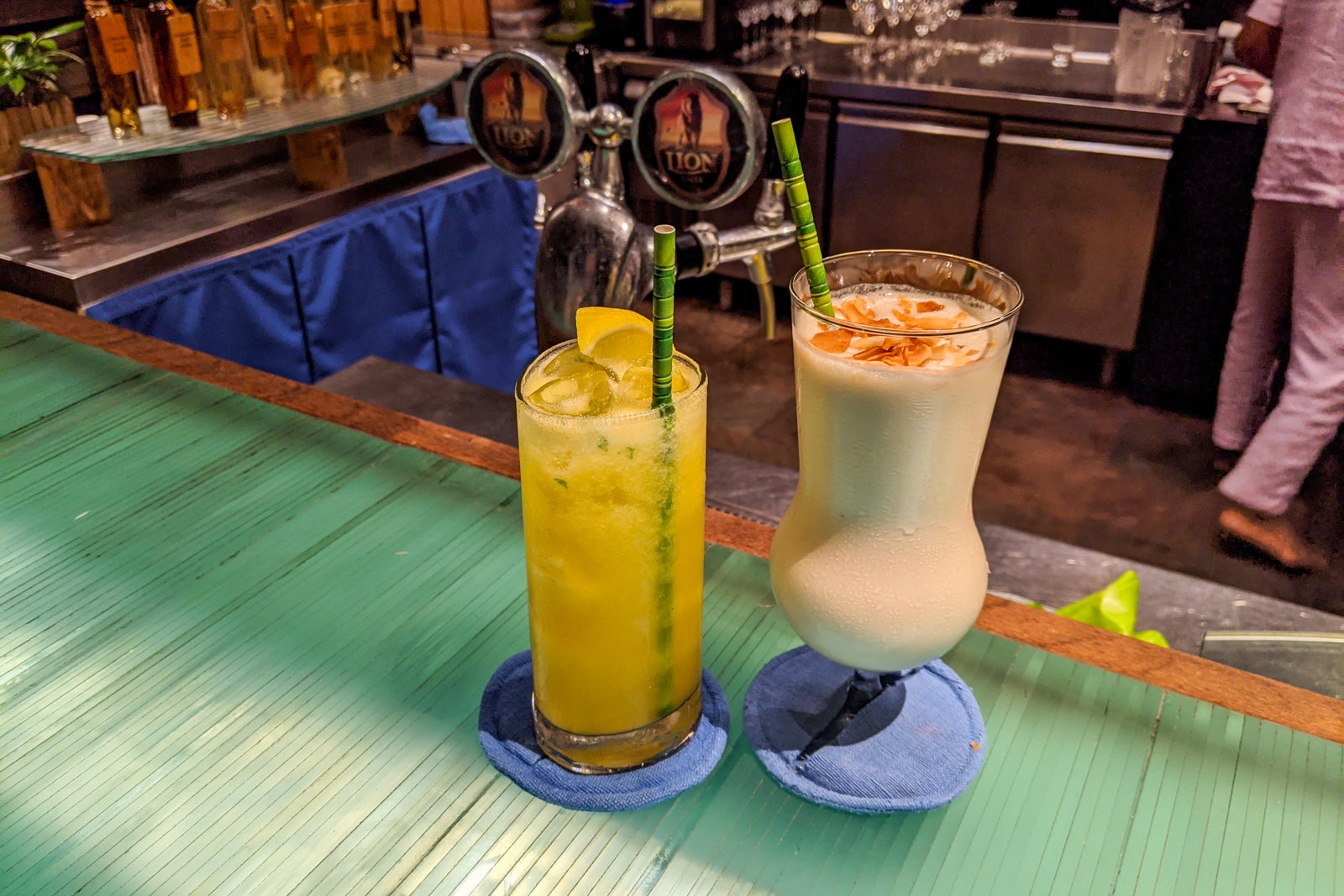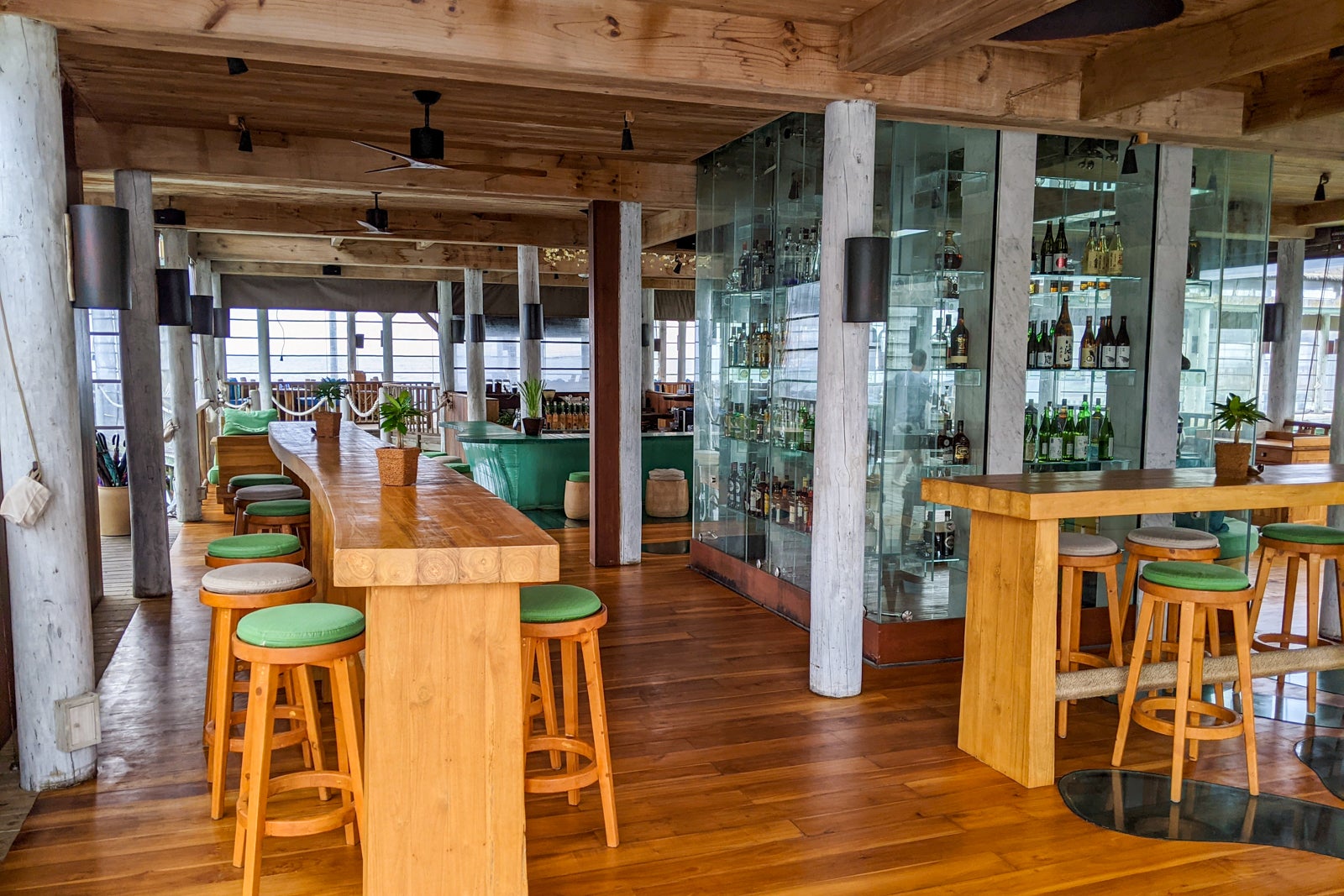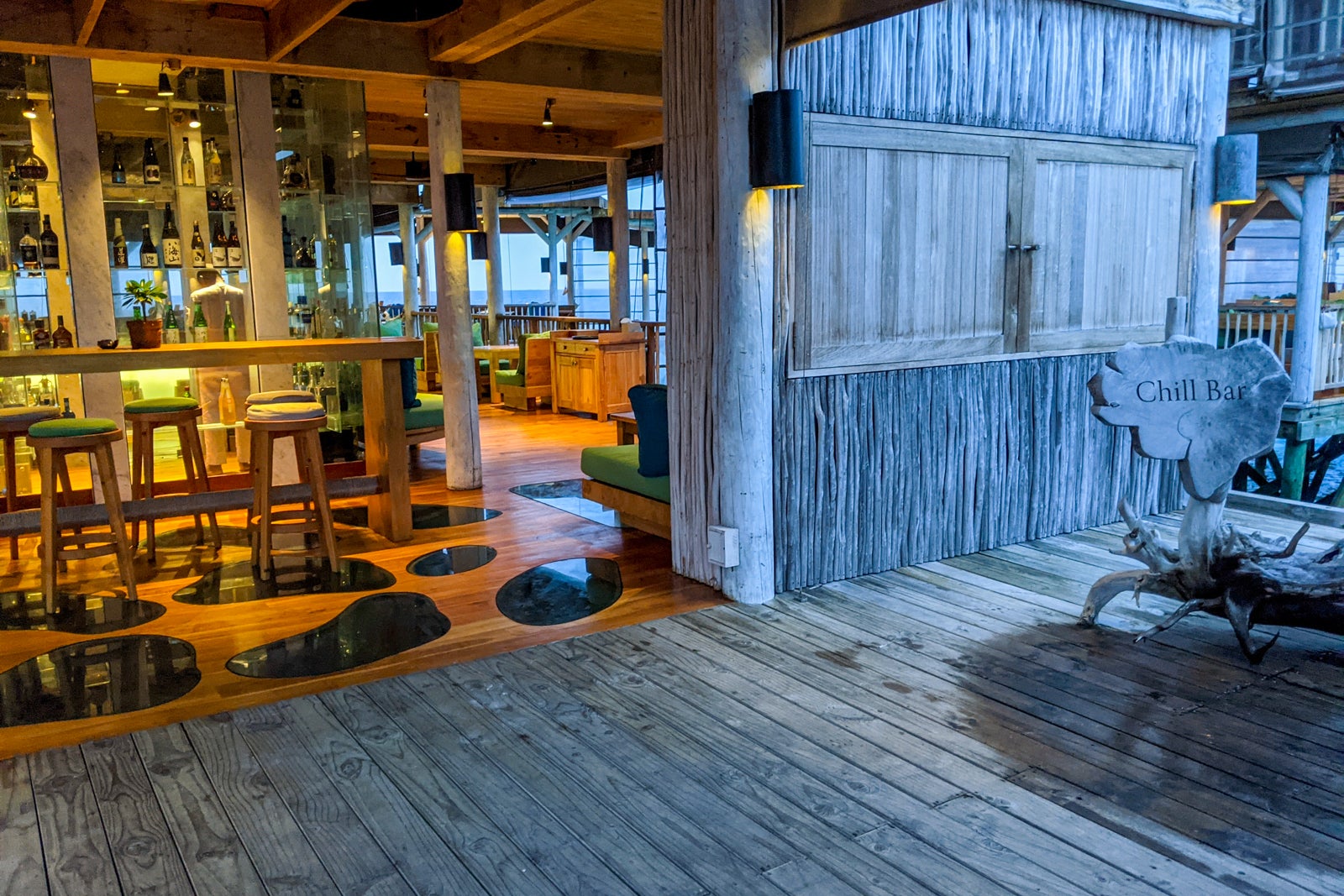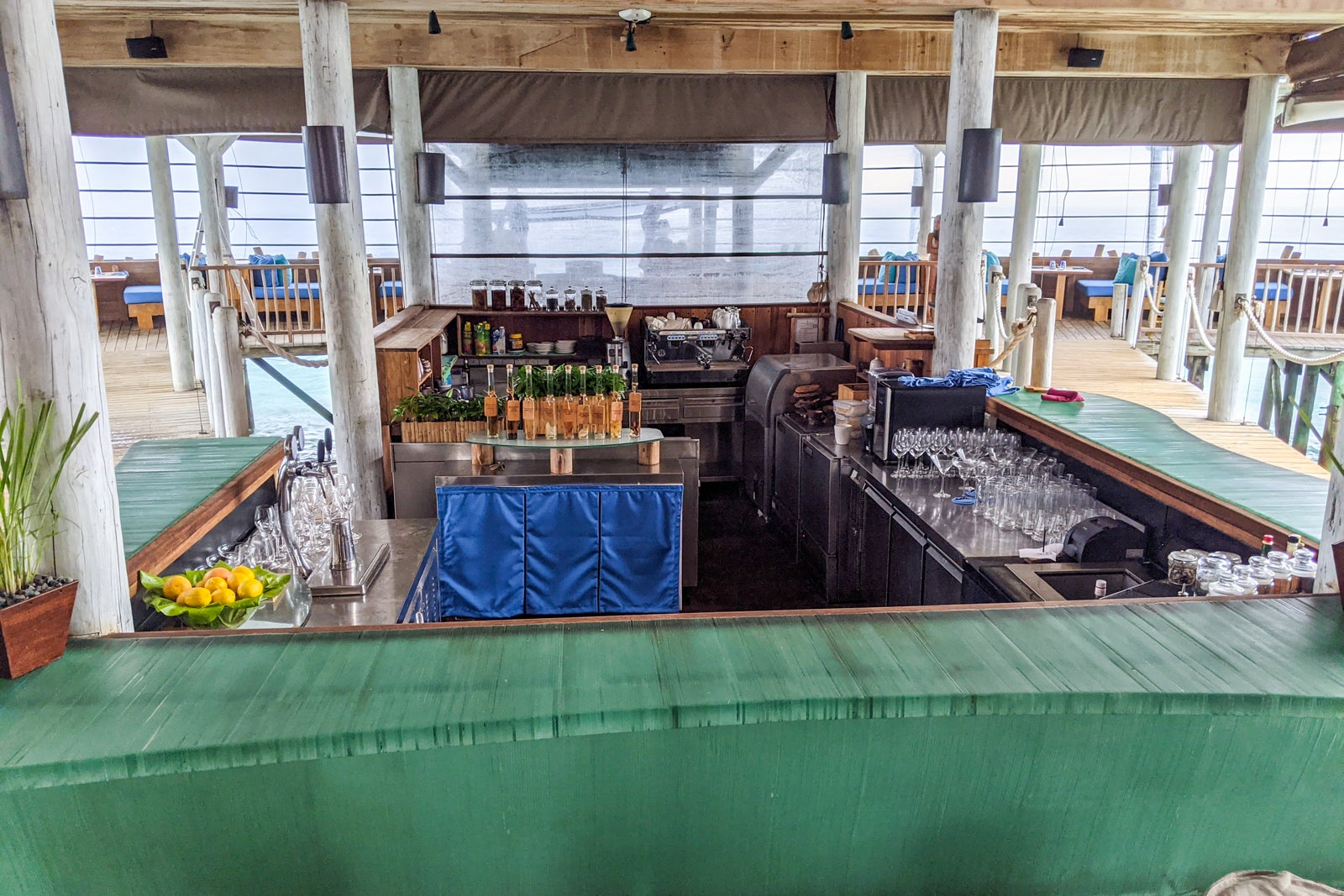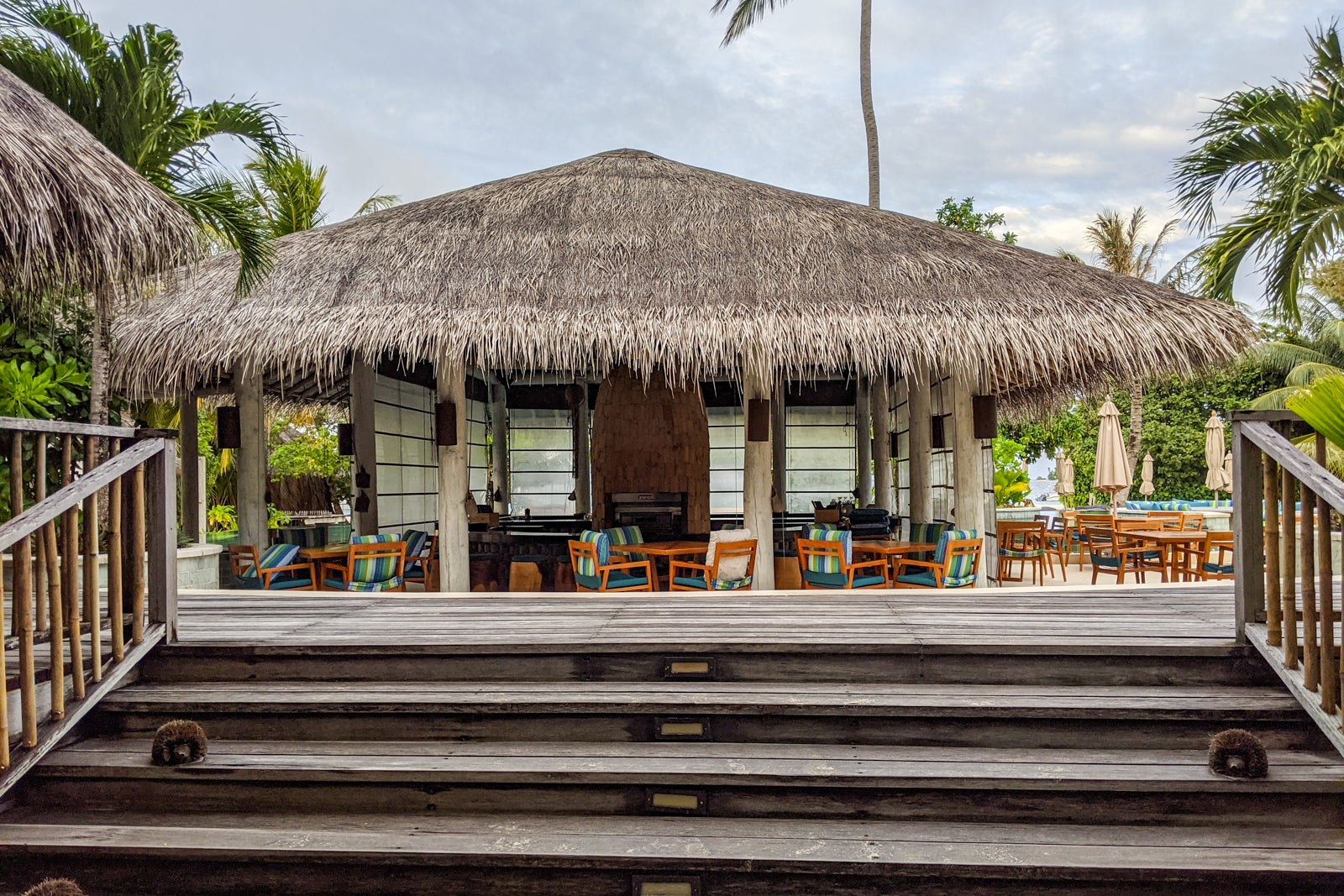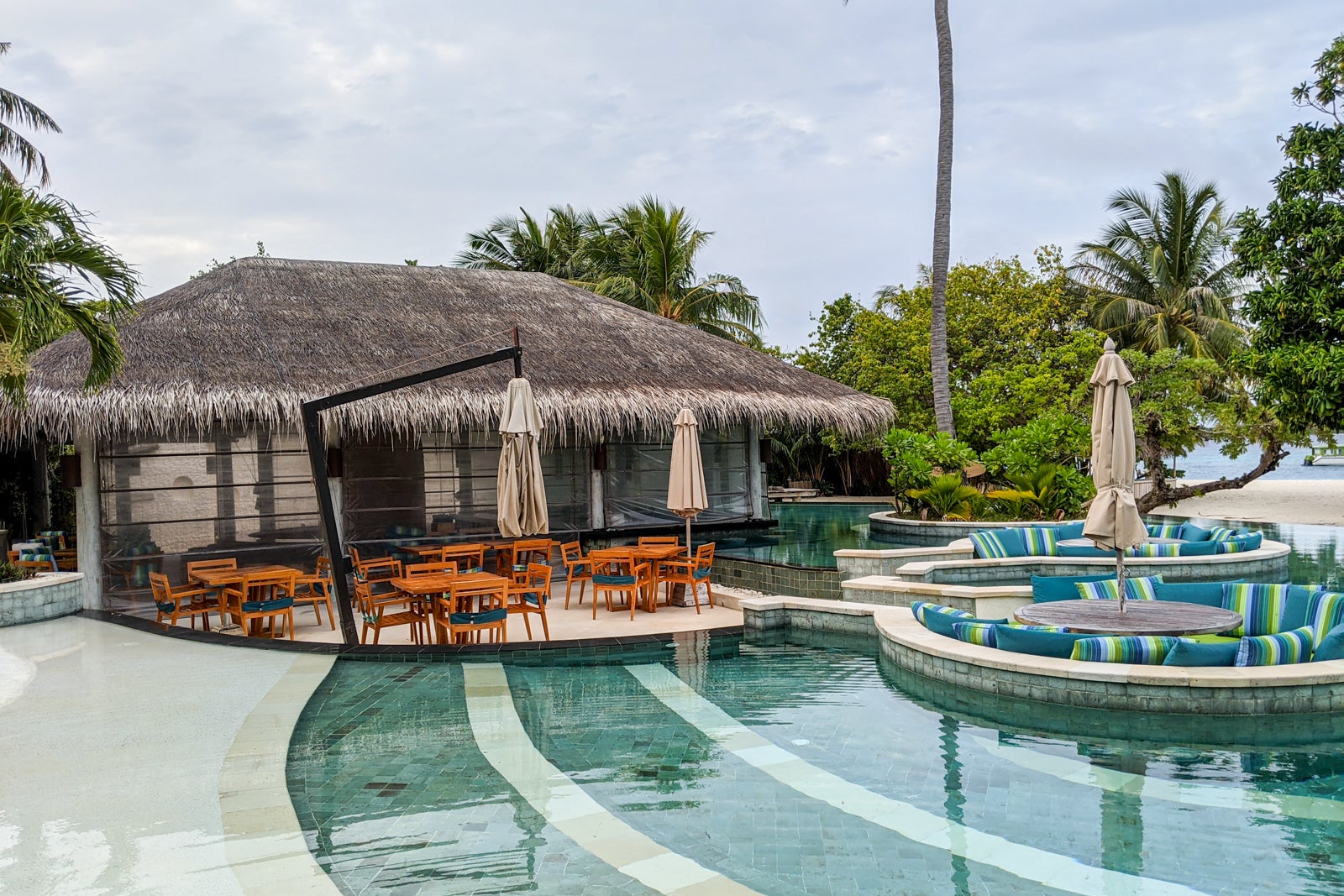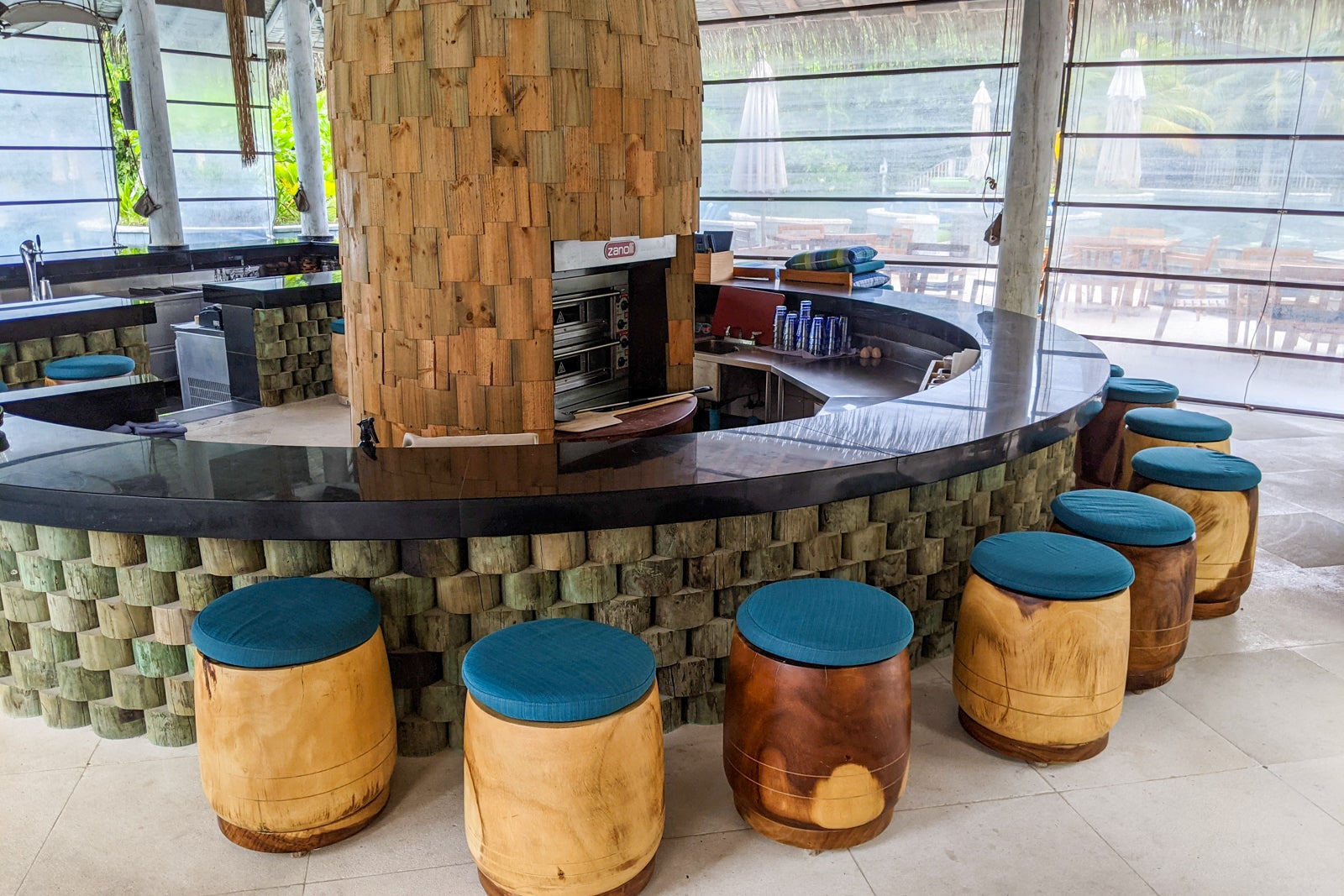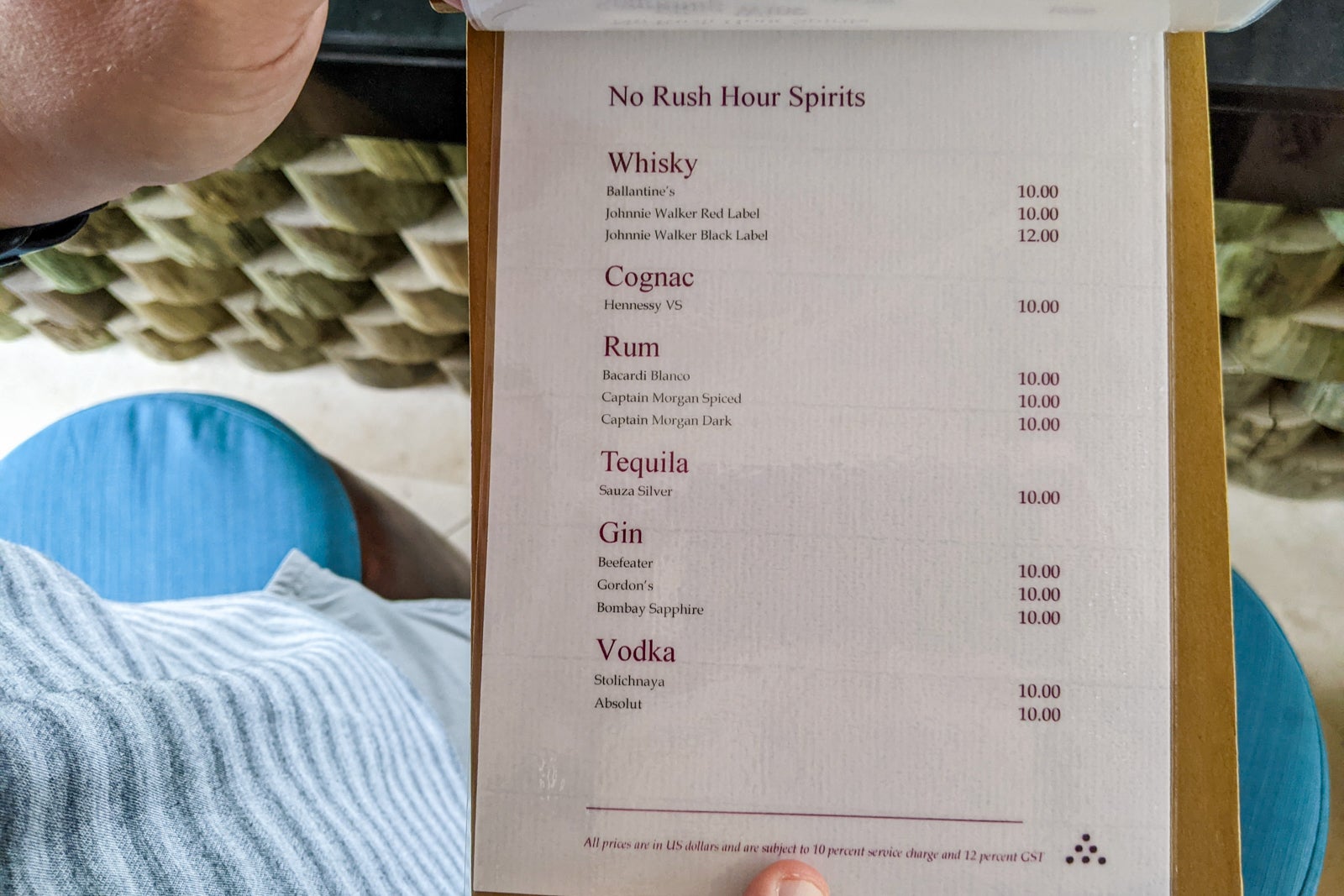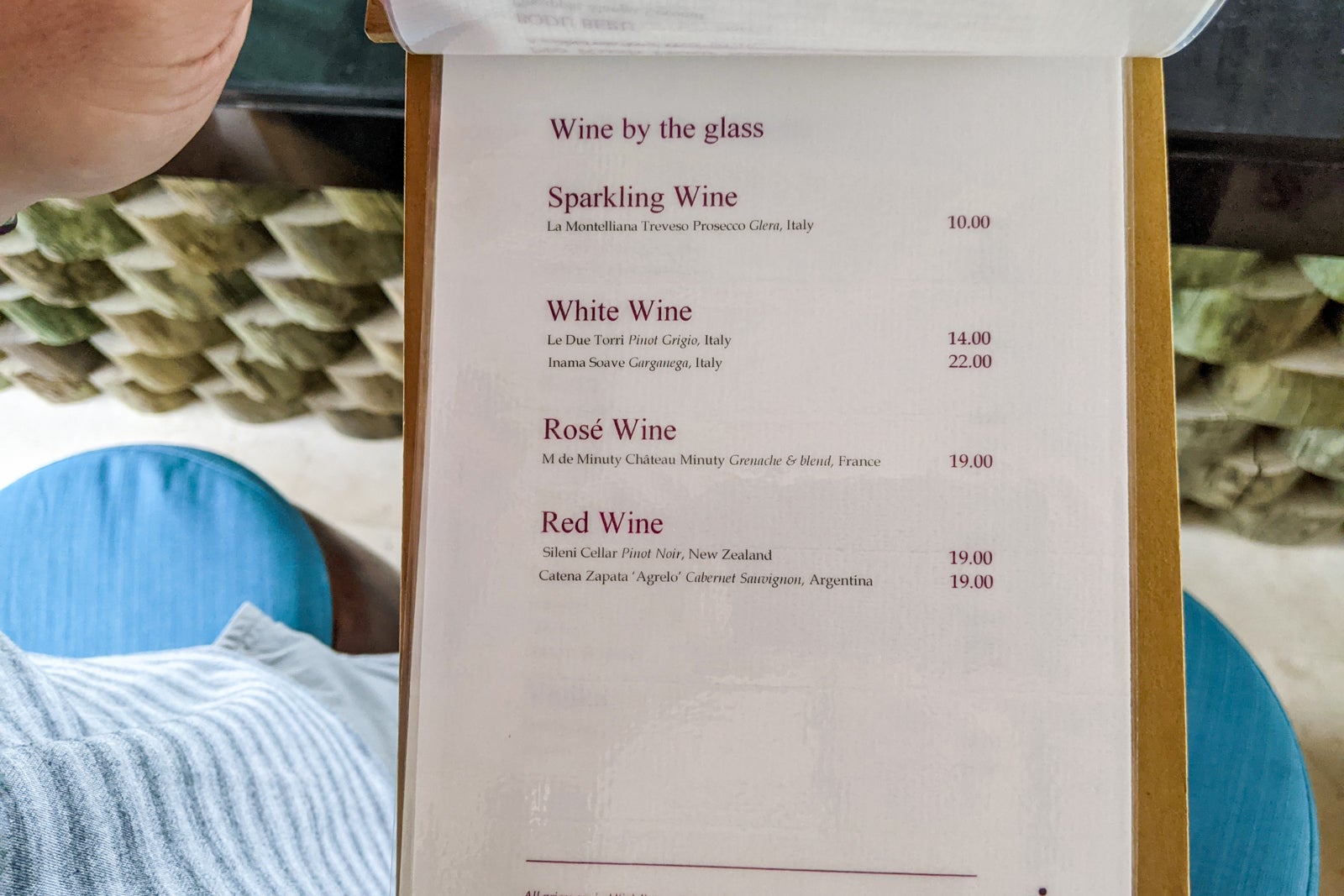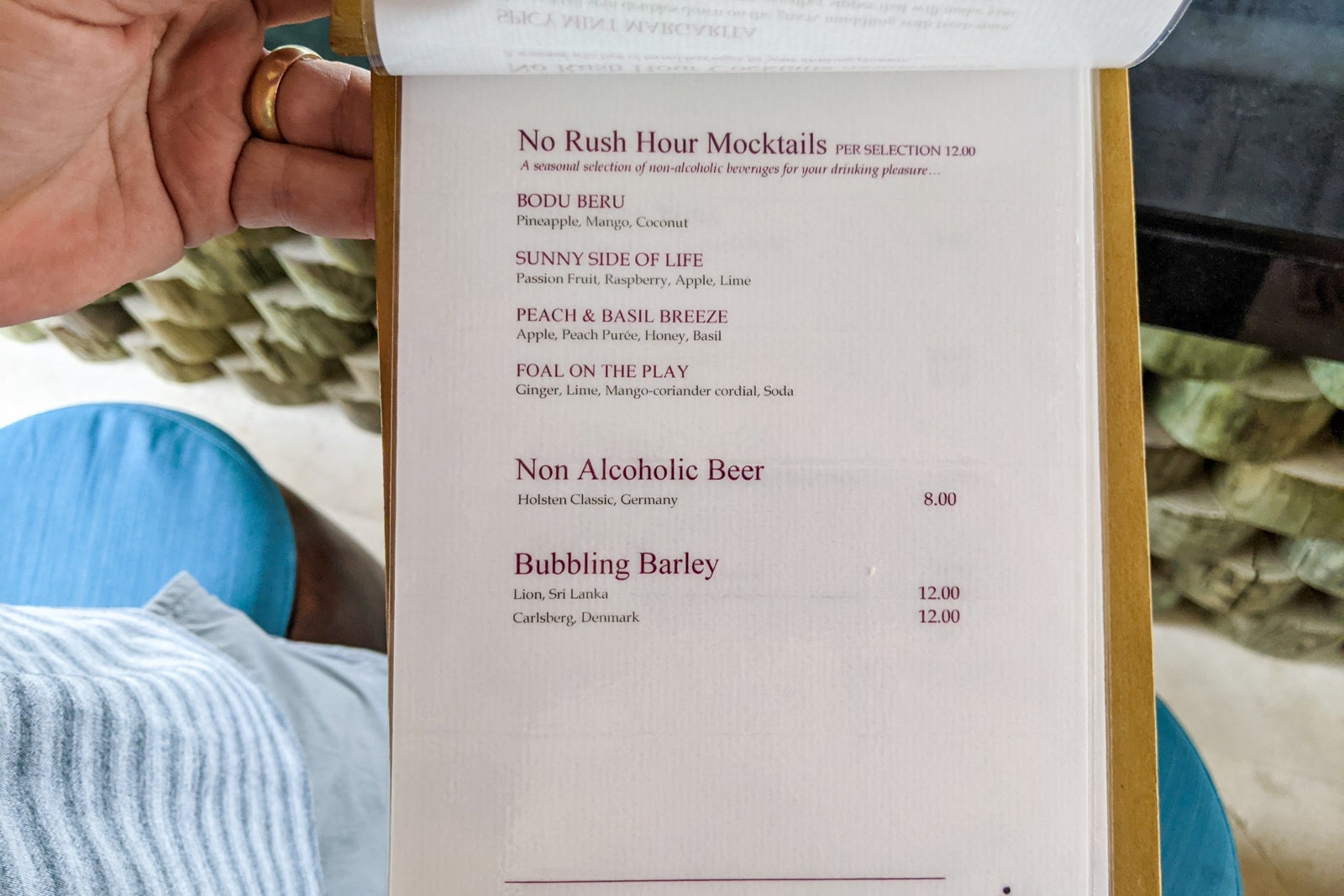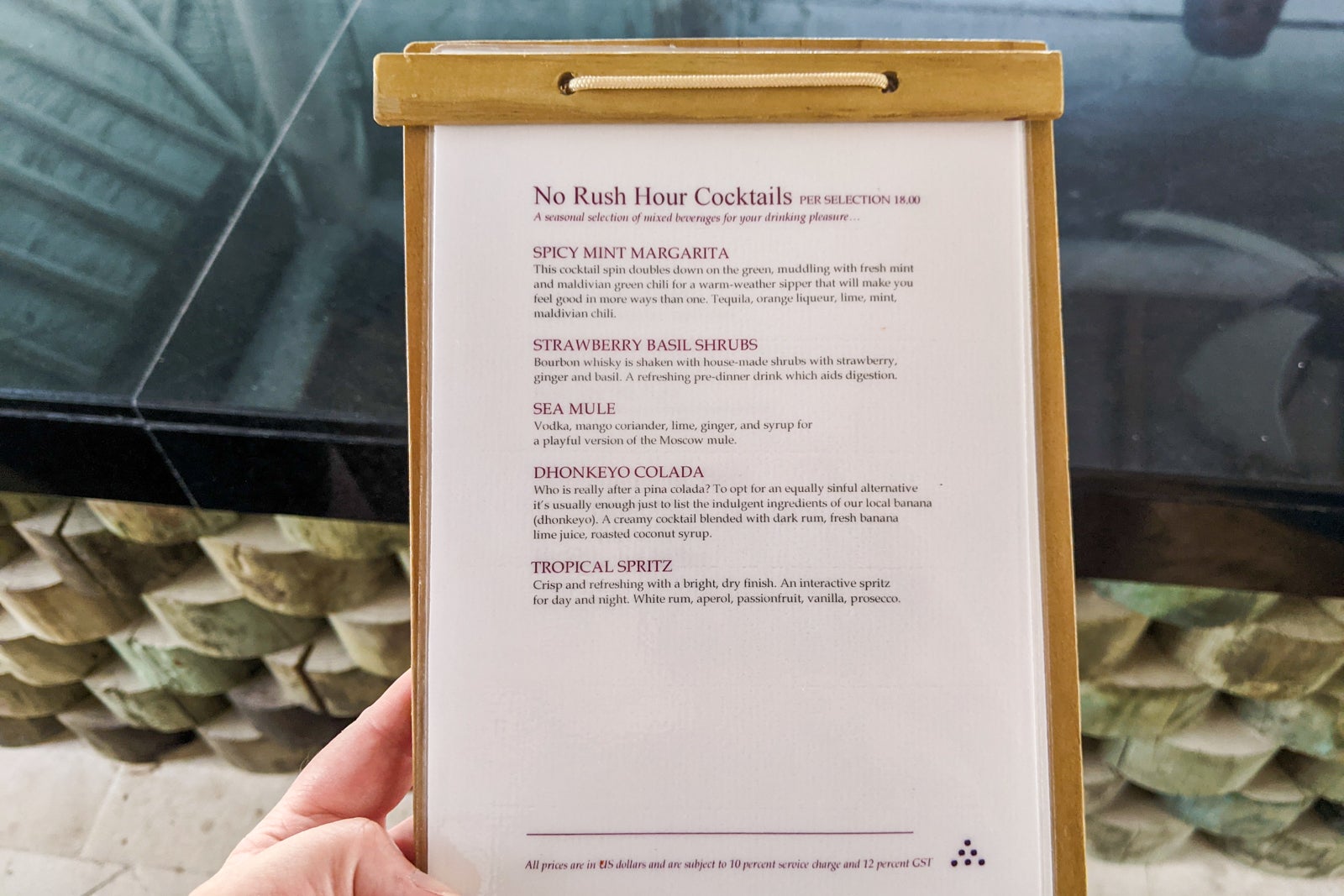 Six Senses desalinates and purifies drinking water on the island. You can drink as much water as you'd like free of charge in your room and at breakfast. However, you'll need to pay $5 plus taxes and fees per bottle of water that you order at other times.
Related: Cleared for Takeoff: A honeymoon trip to the Maldives on points and miles
Amenities
Six Senses Laamu offers a variety of activities each day. You'll see an activity schedule when you arrive in your villa, which lists the cost of each activity and whether you need to book the activity in advance.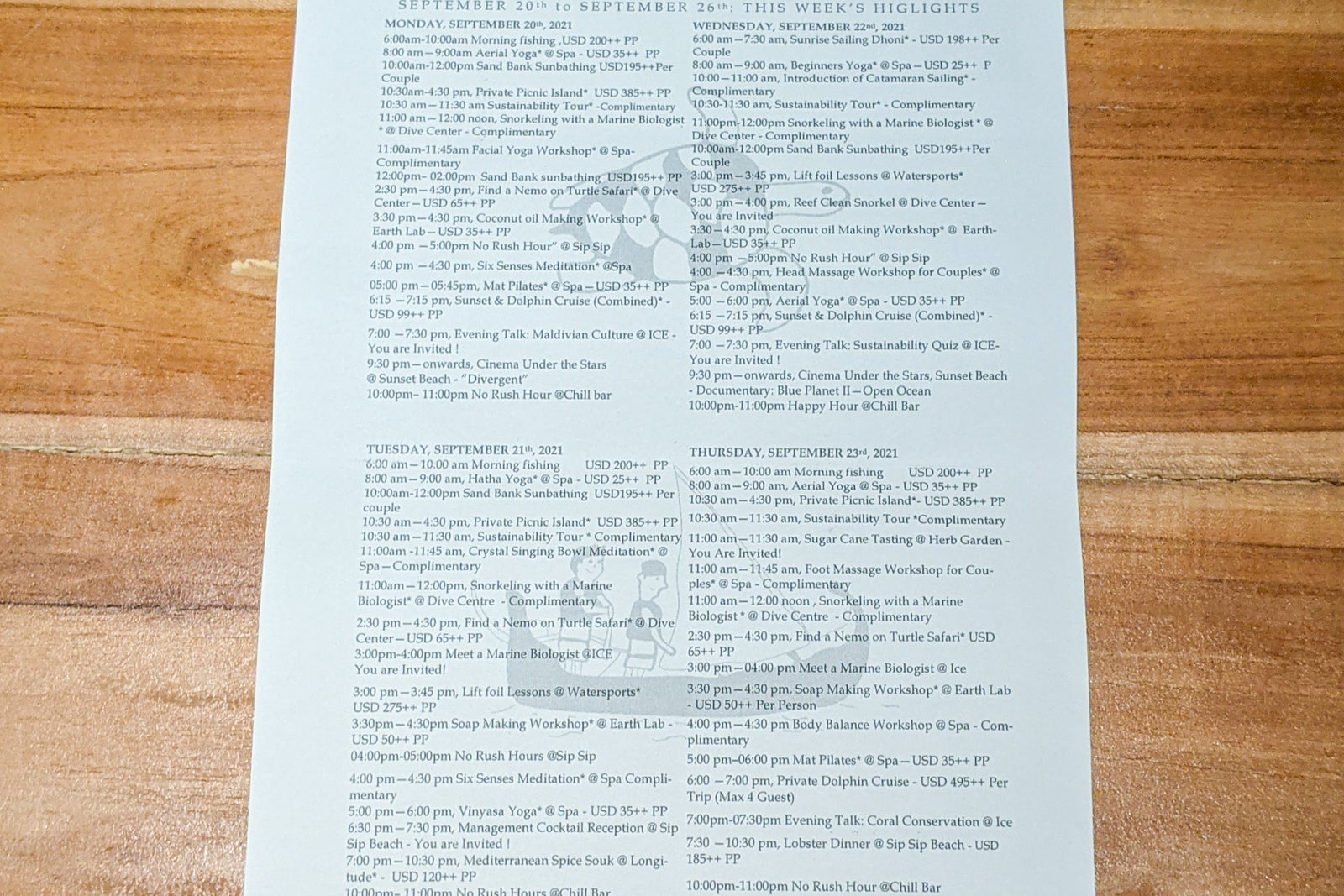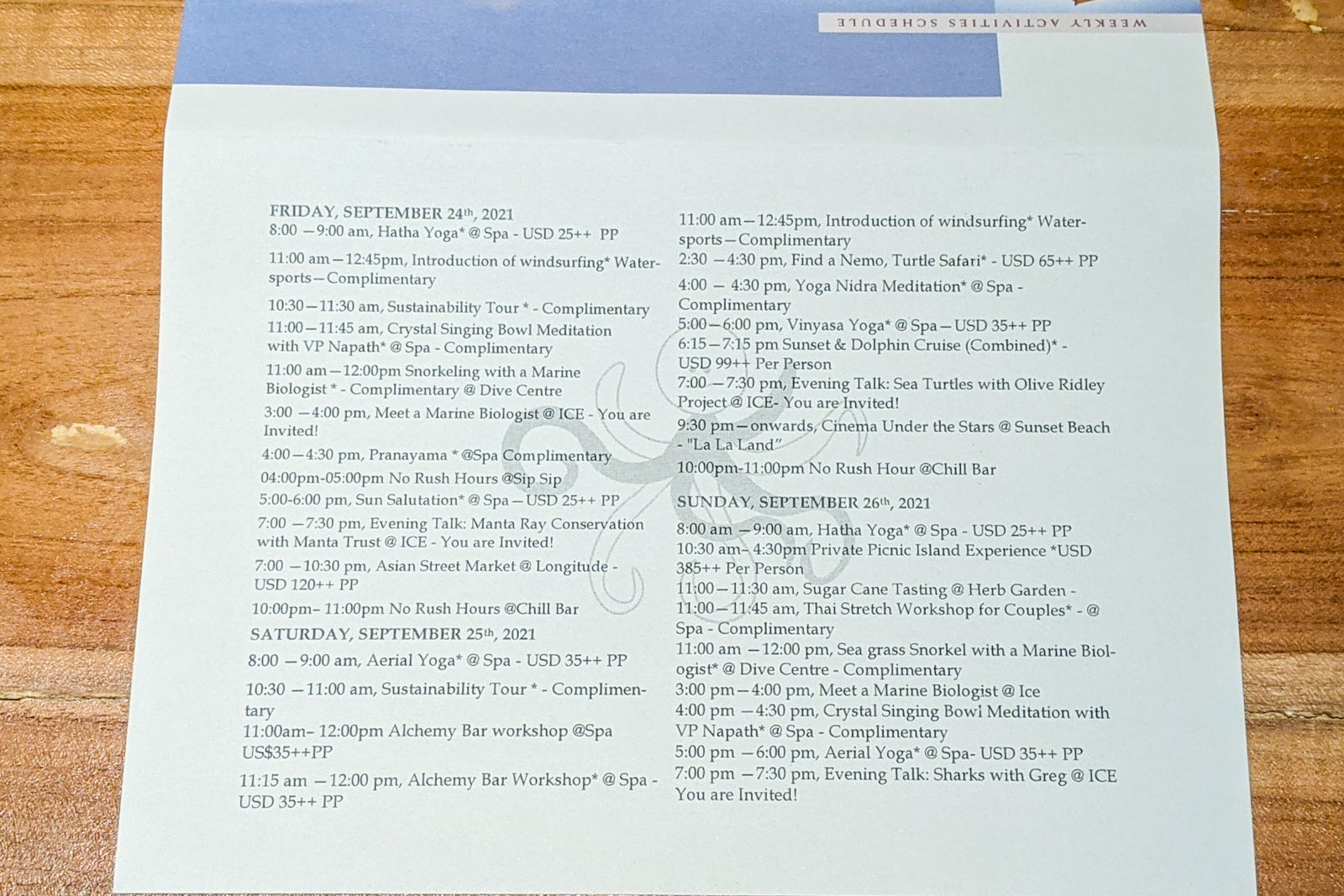 Many activities are complimentary, so we tried out a variety of options, including a relaxing 30-minute head massage workshop with a Six Senses Spa therapist.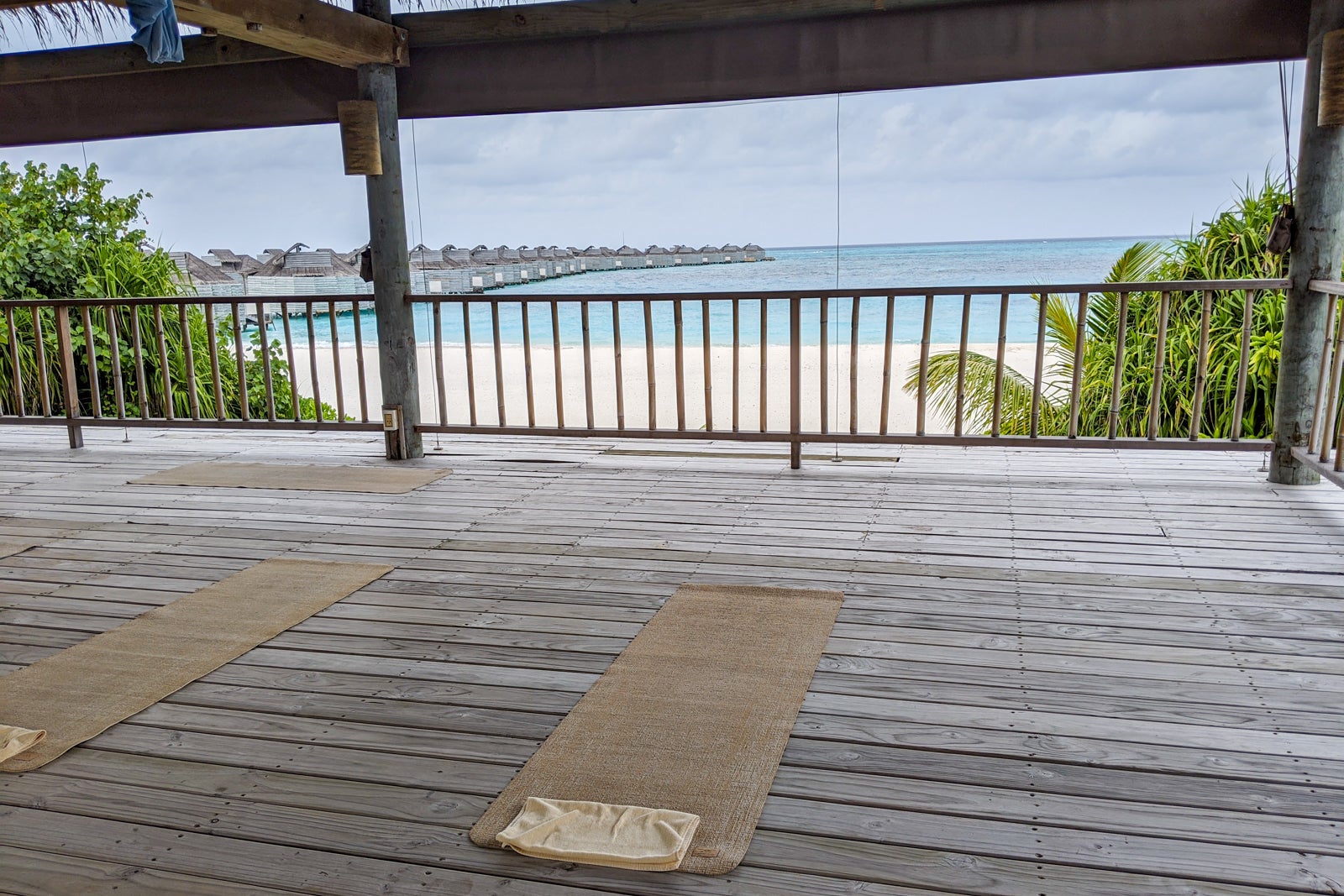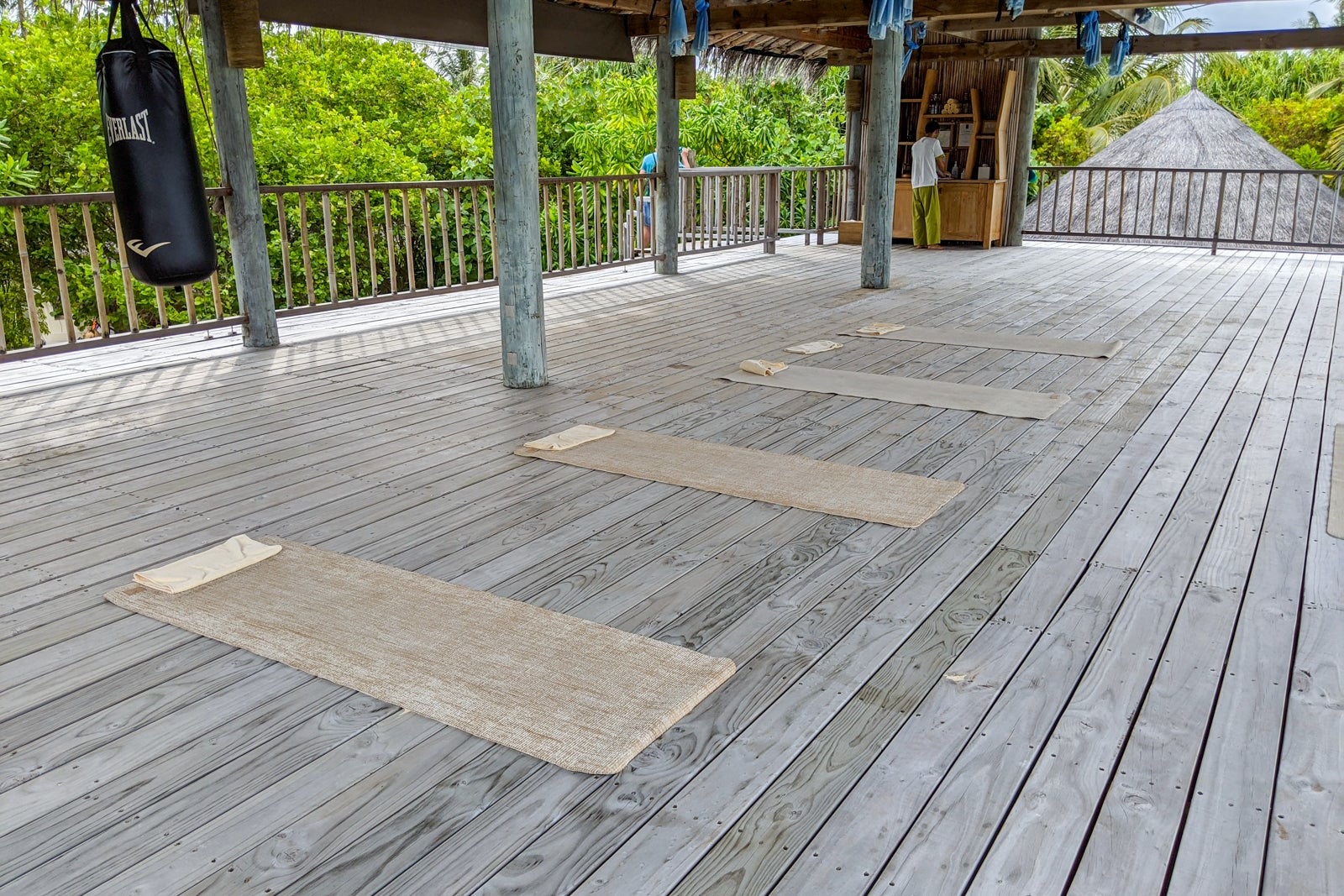 We especially enjoyed the one-hour sustainability tour. We saw the organic garden, mushroom hut, recycling area, composting area, water desalination machinery, on-site tailor, laundry area and more on this back-of-house tour. Only one other couple joined us, so it was an interesting, personalized look at how the island operates.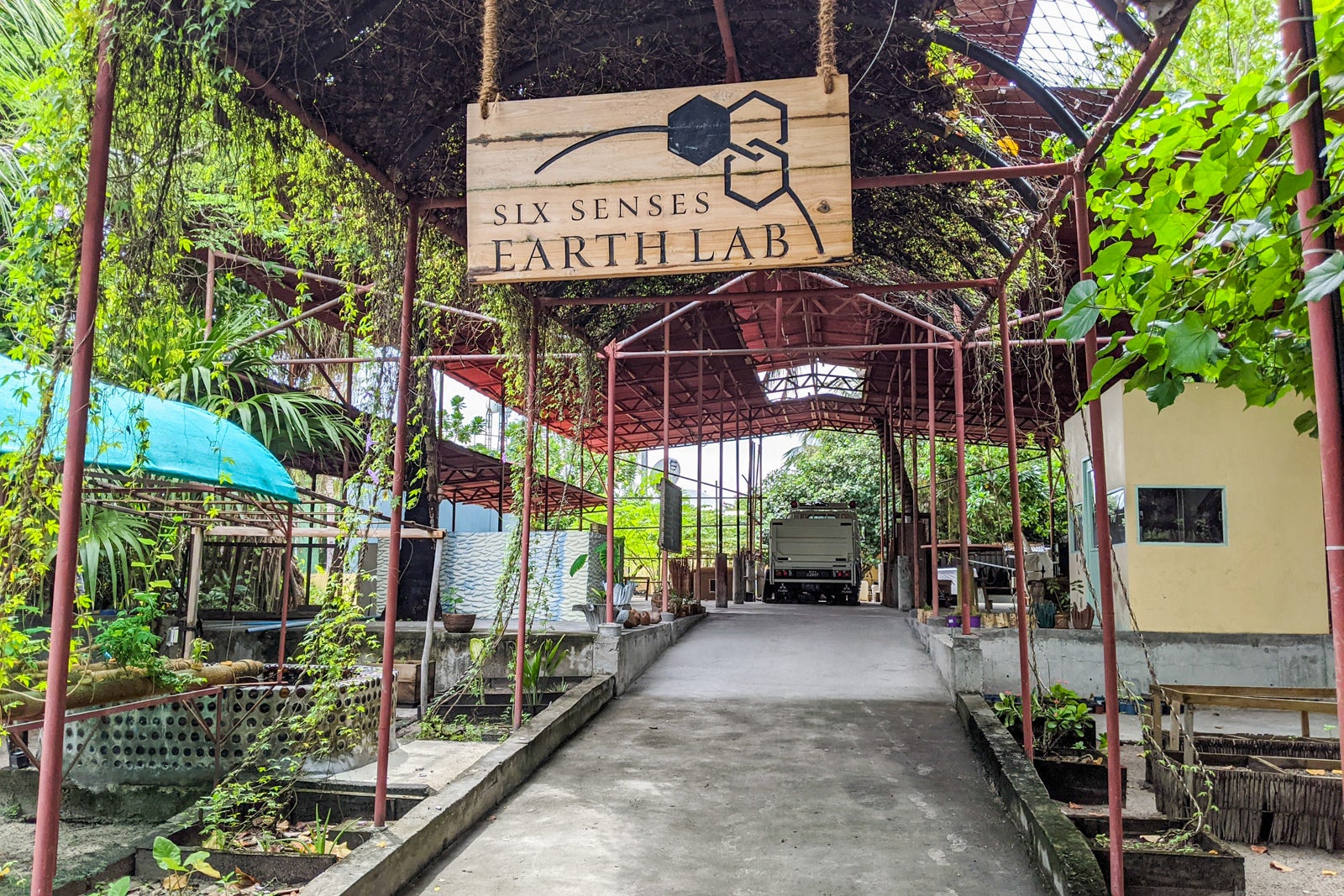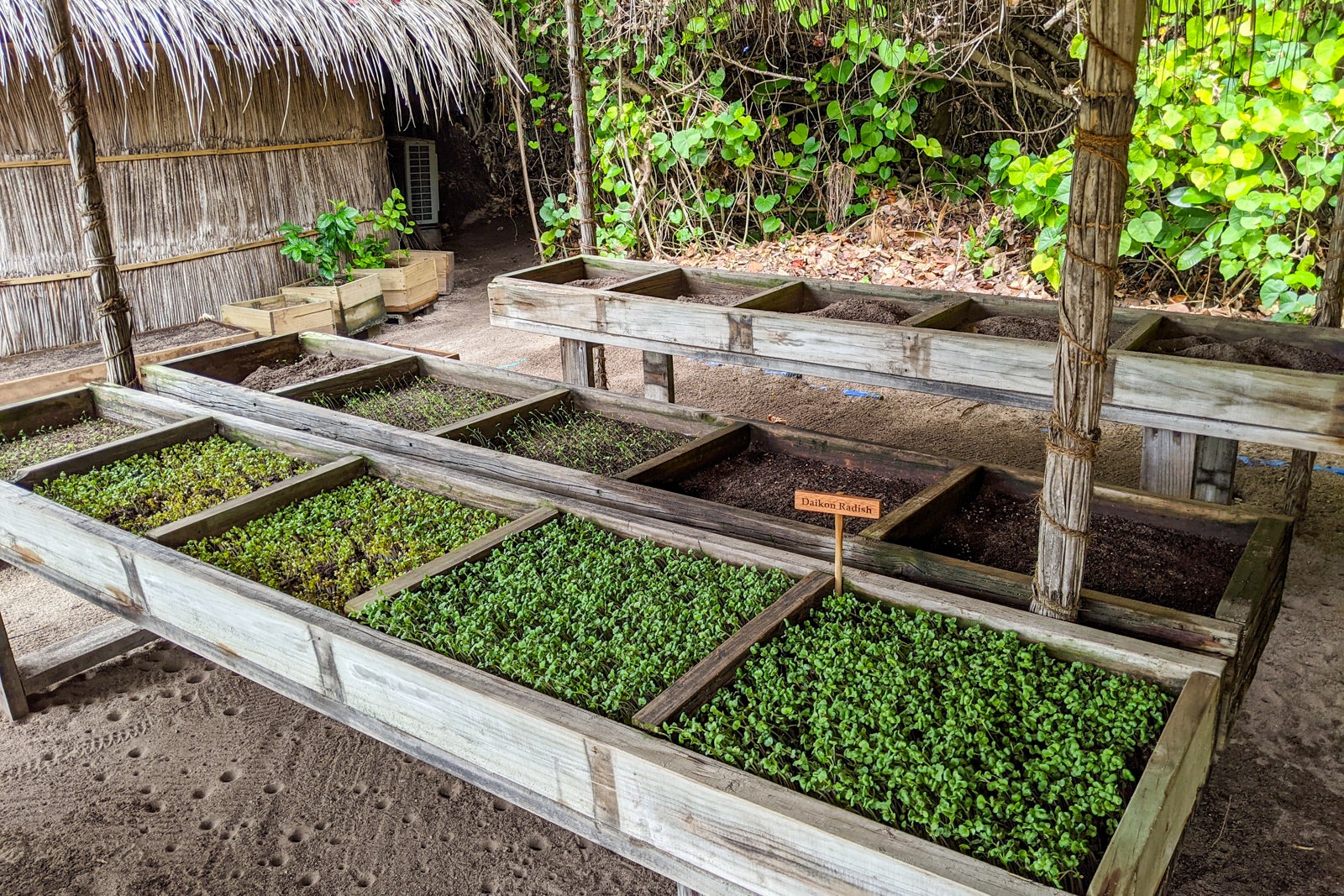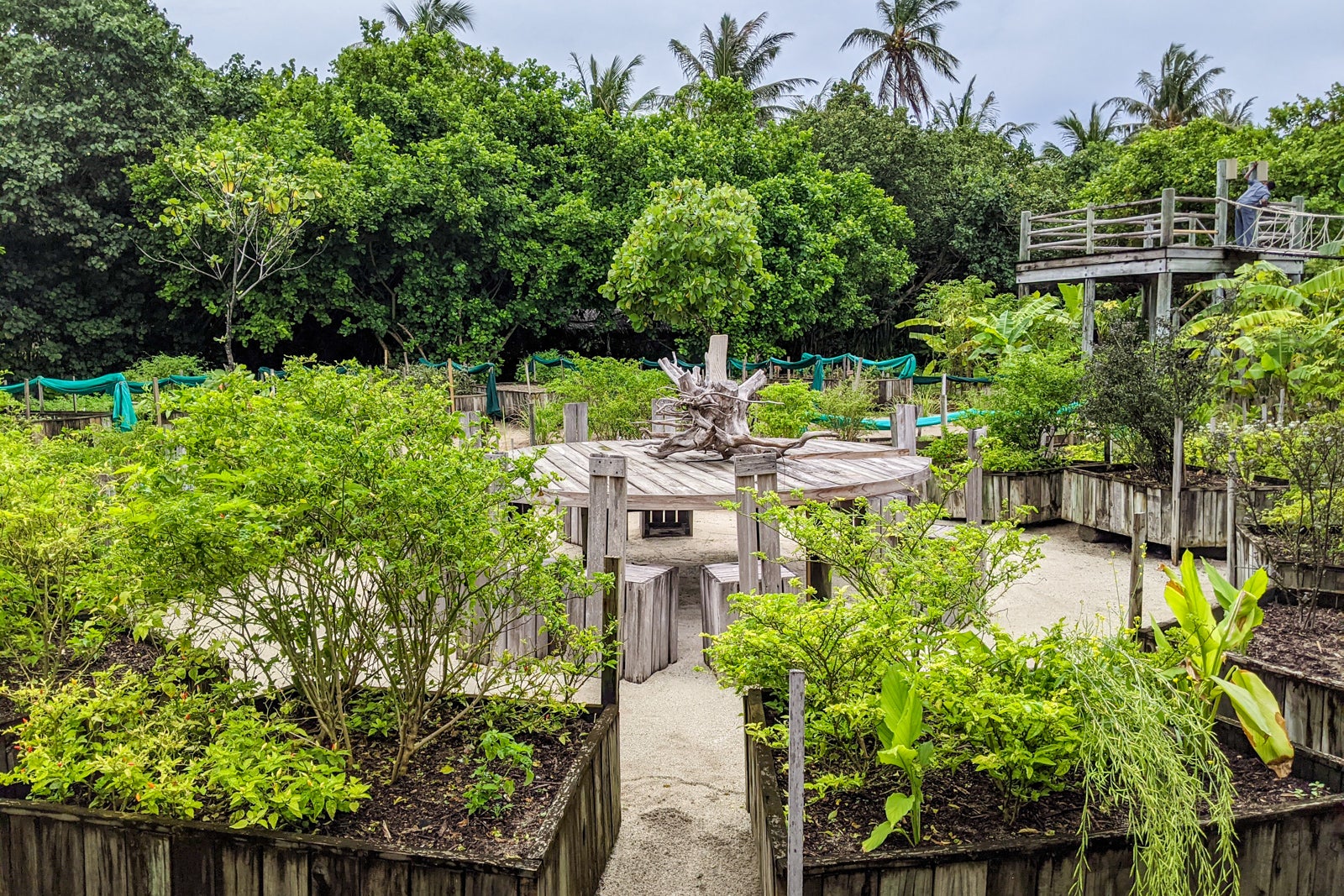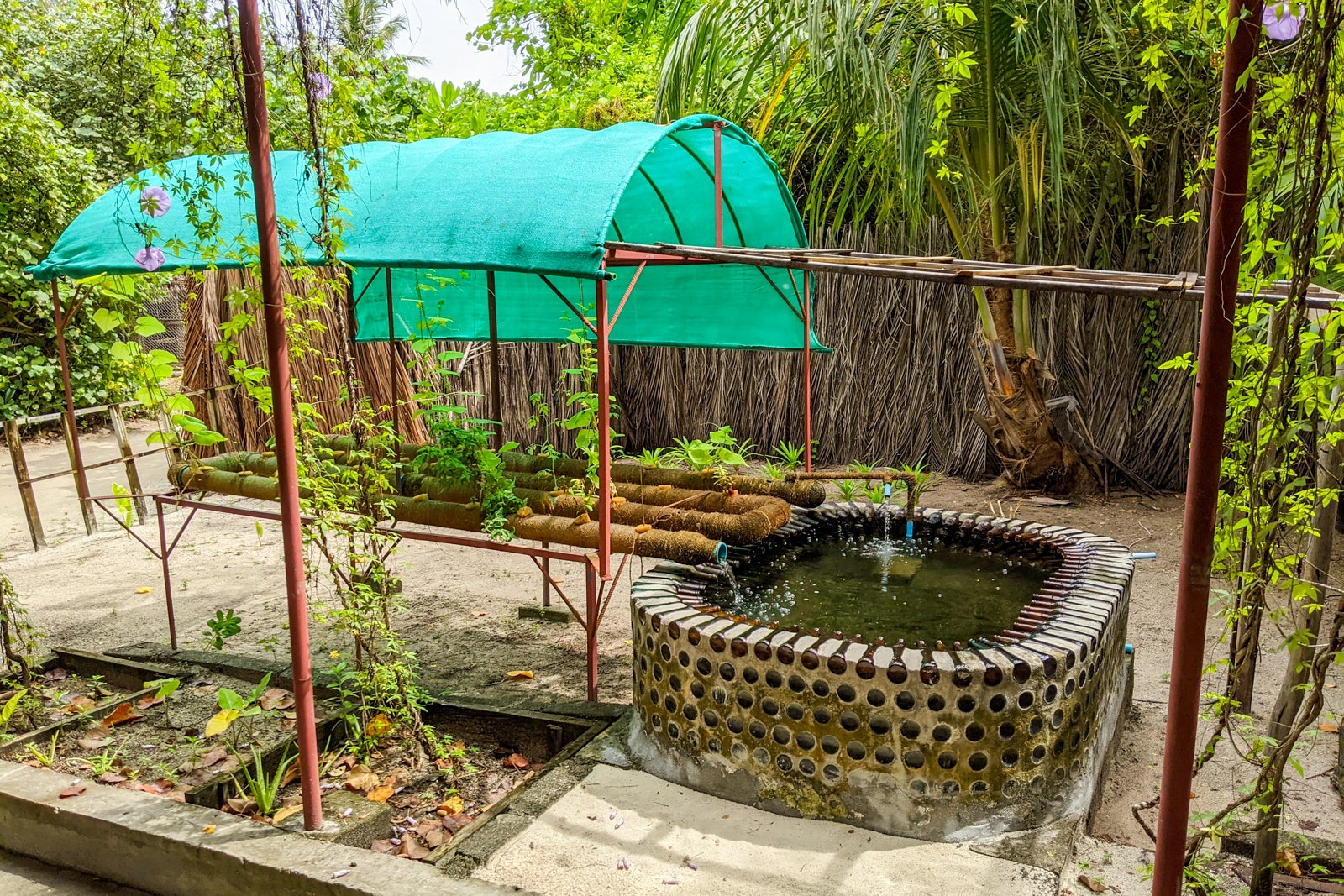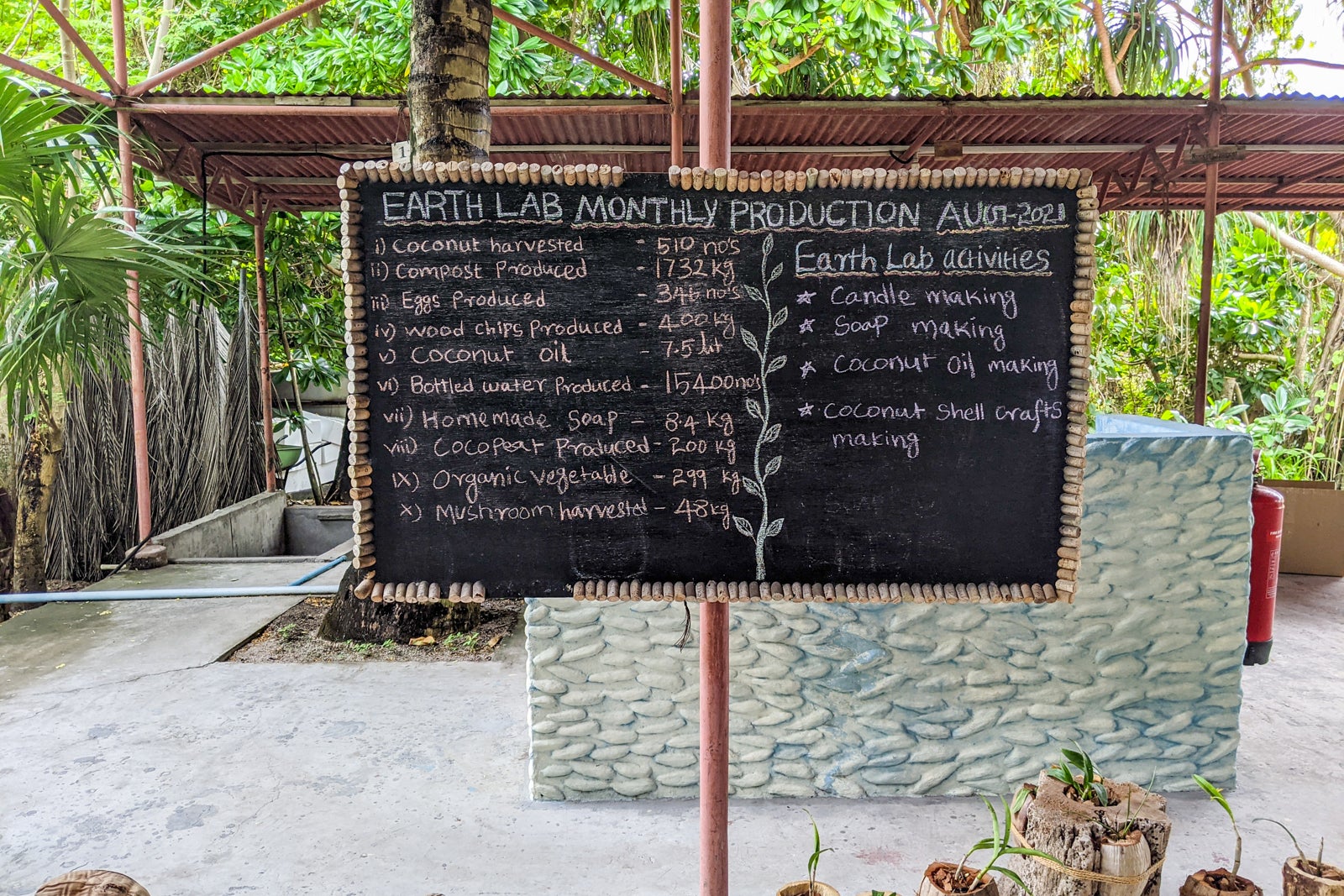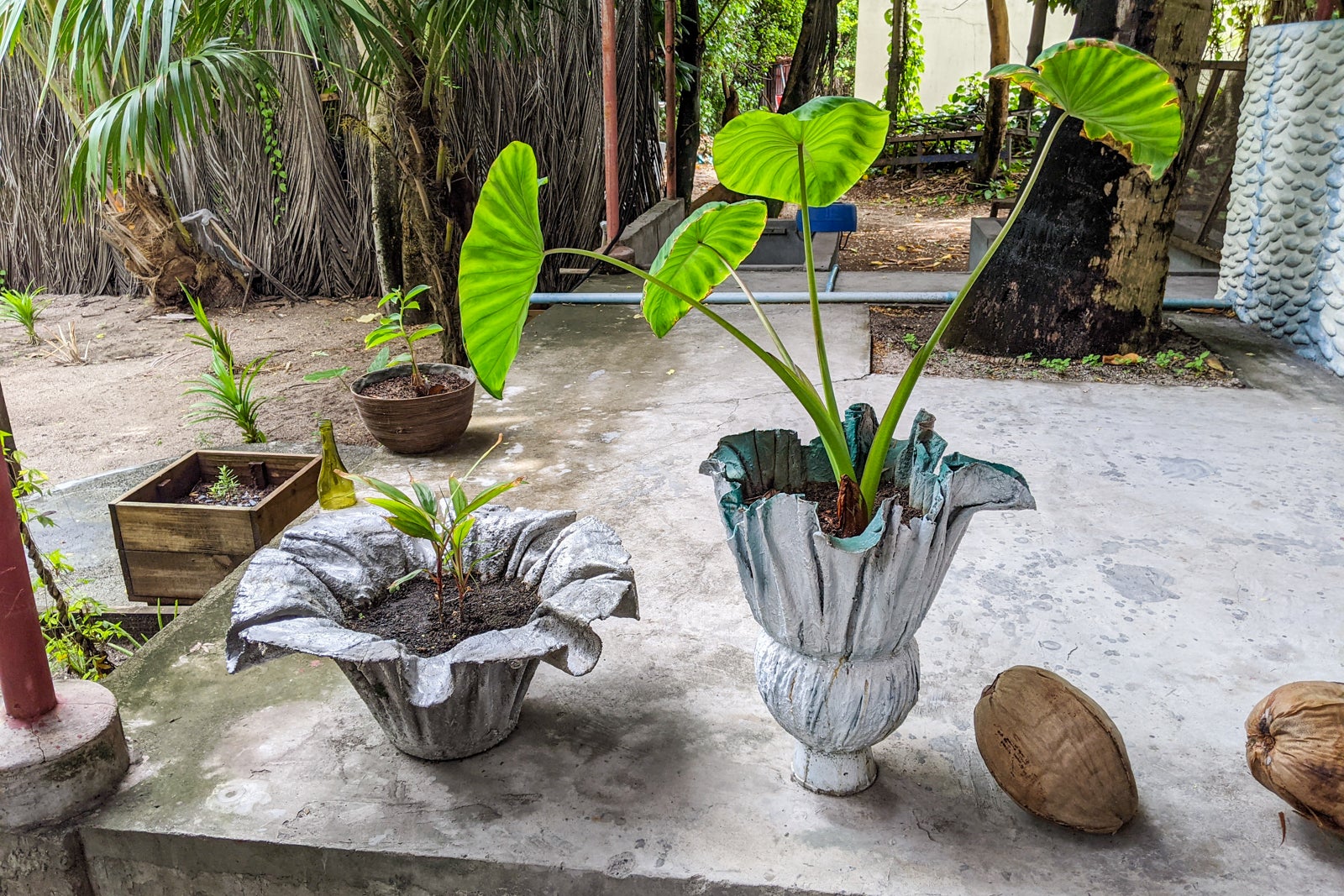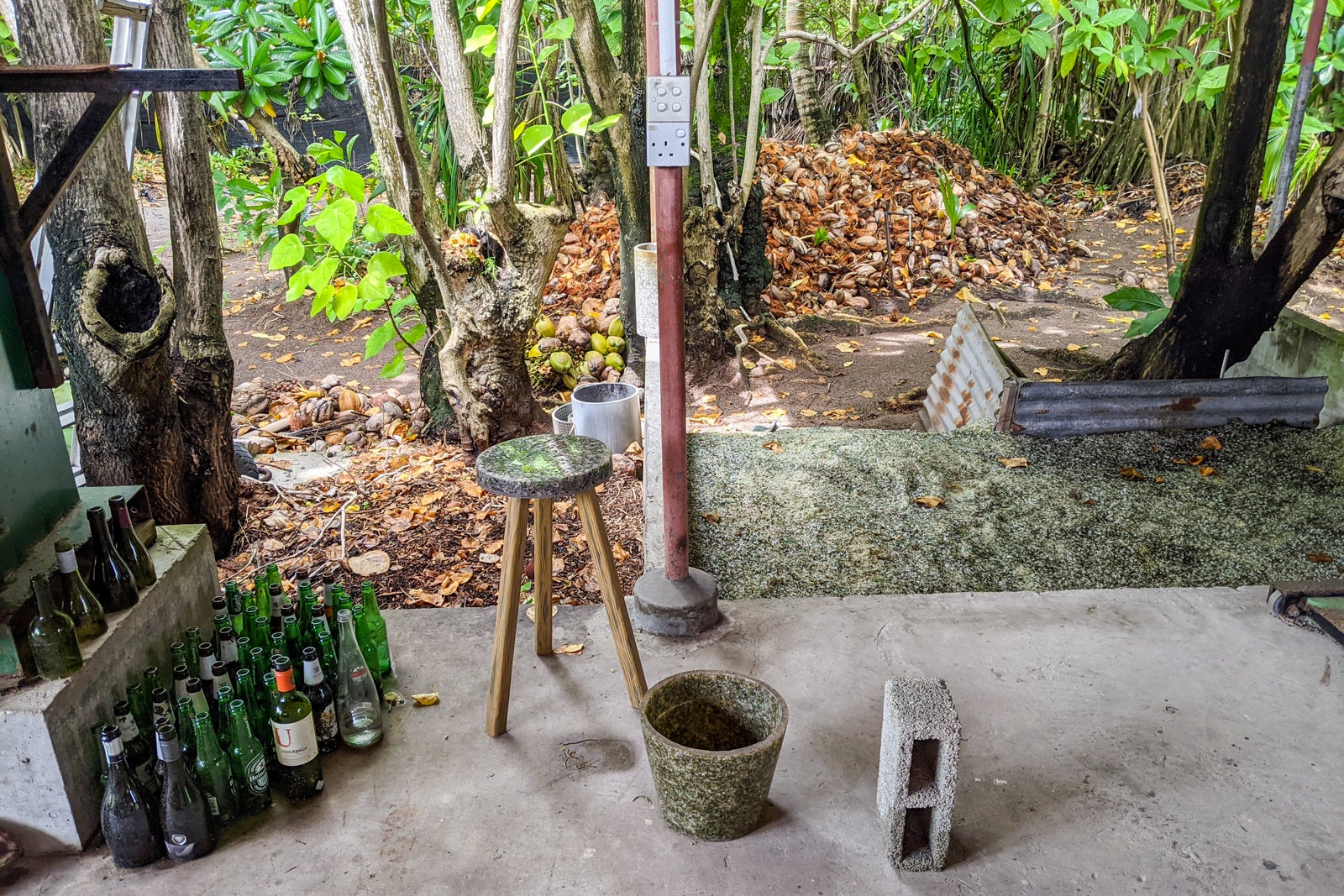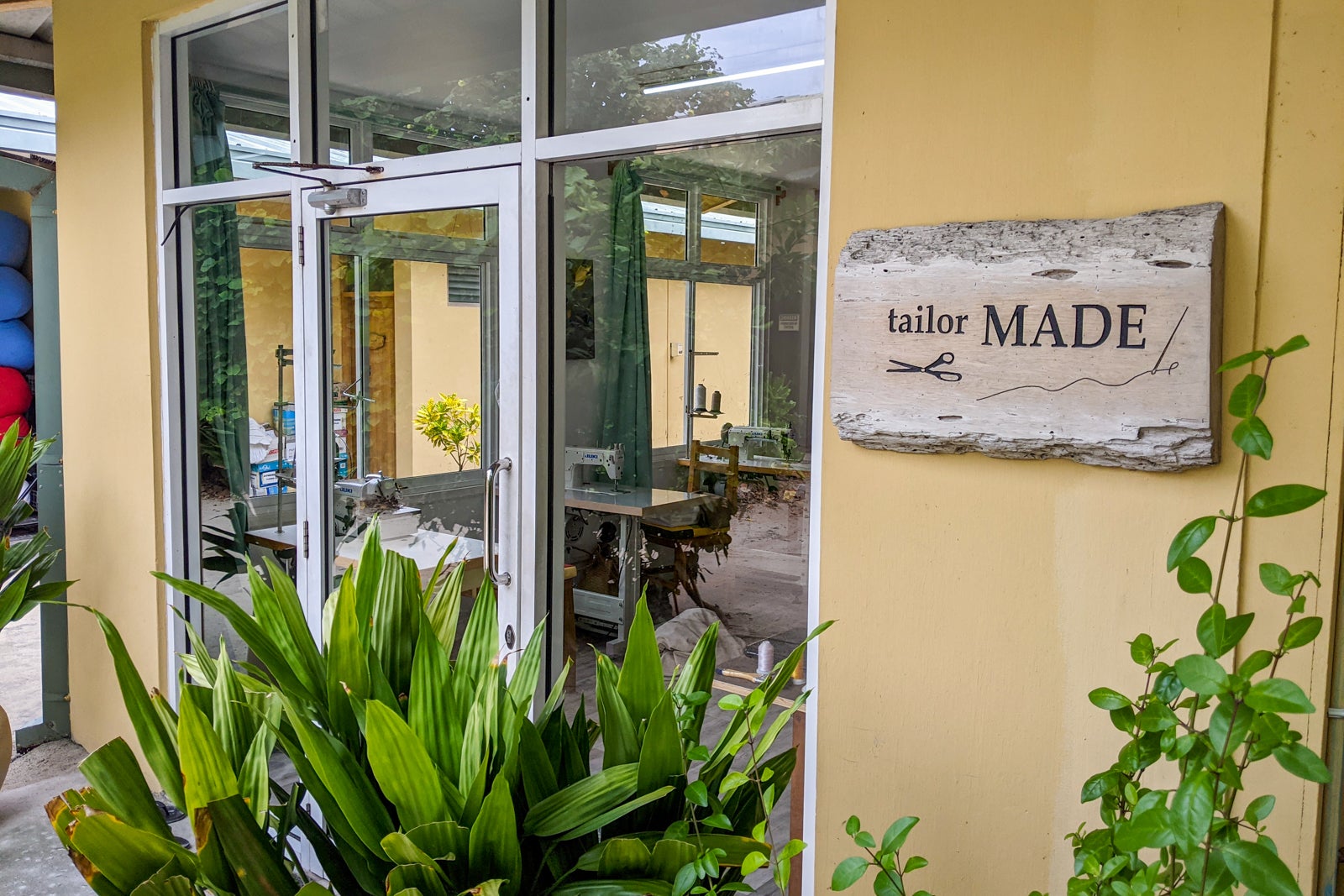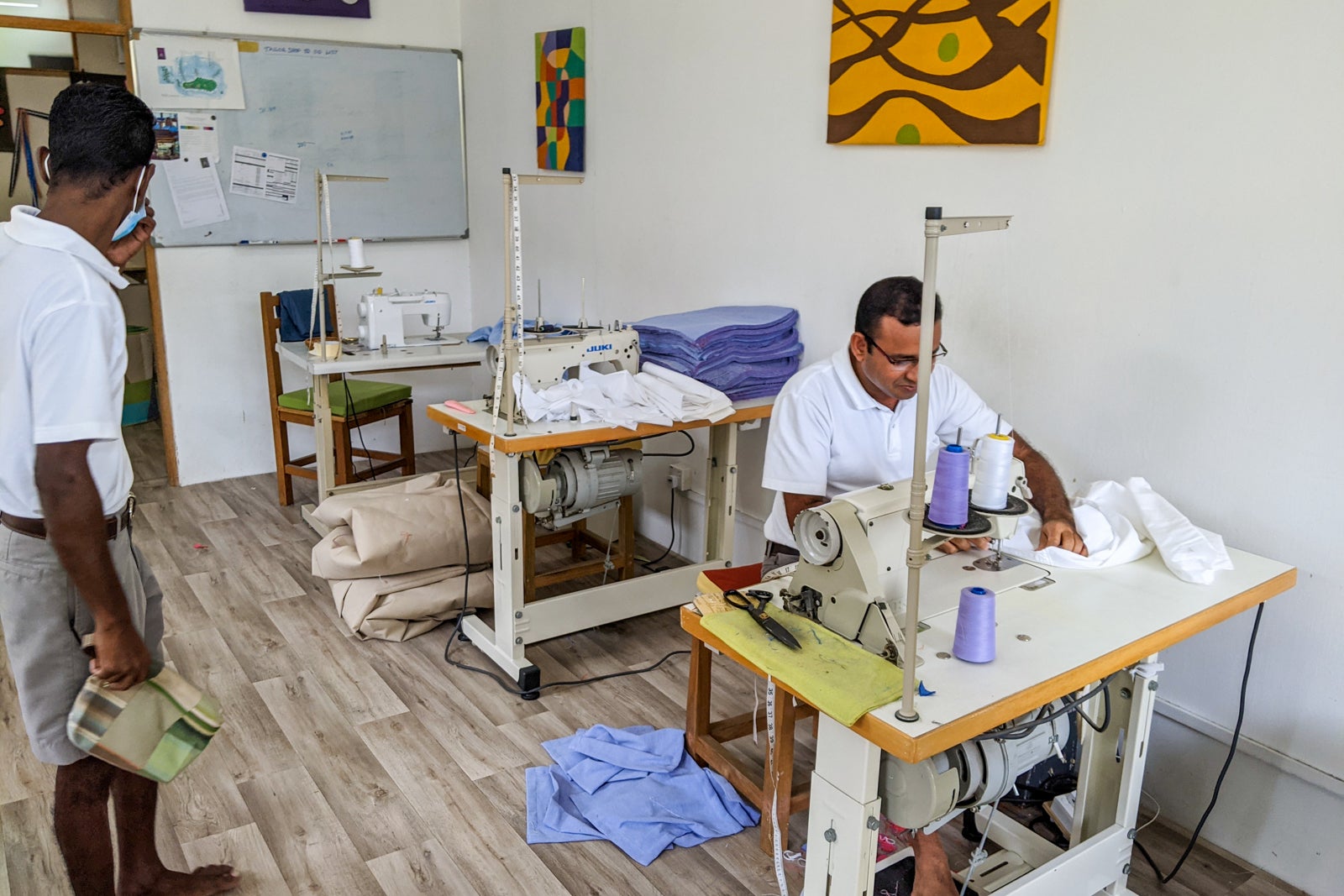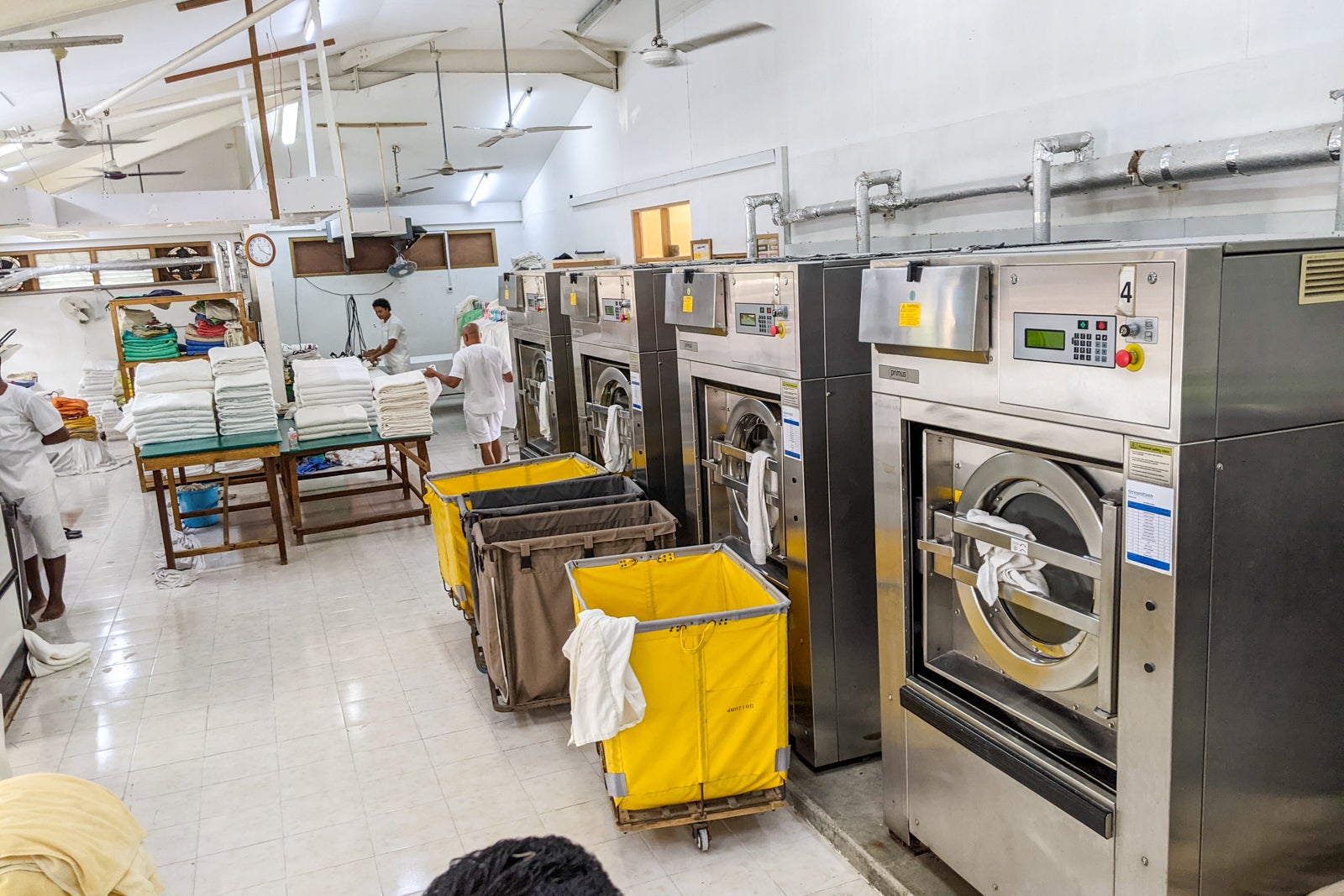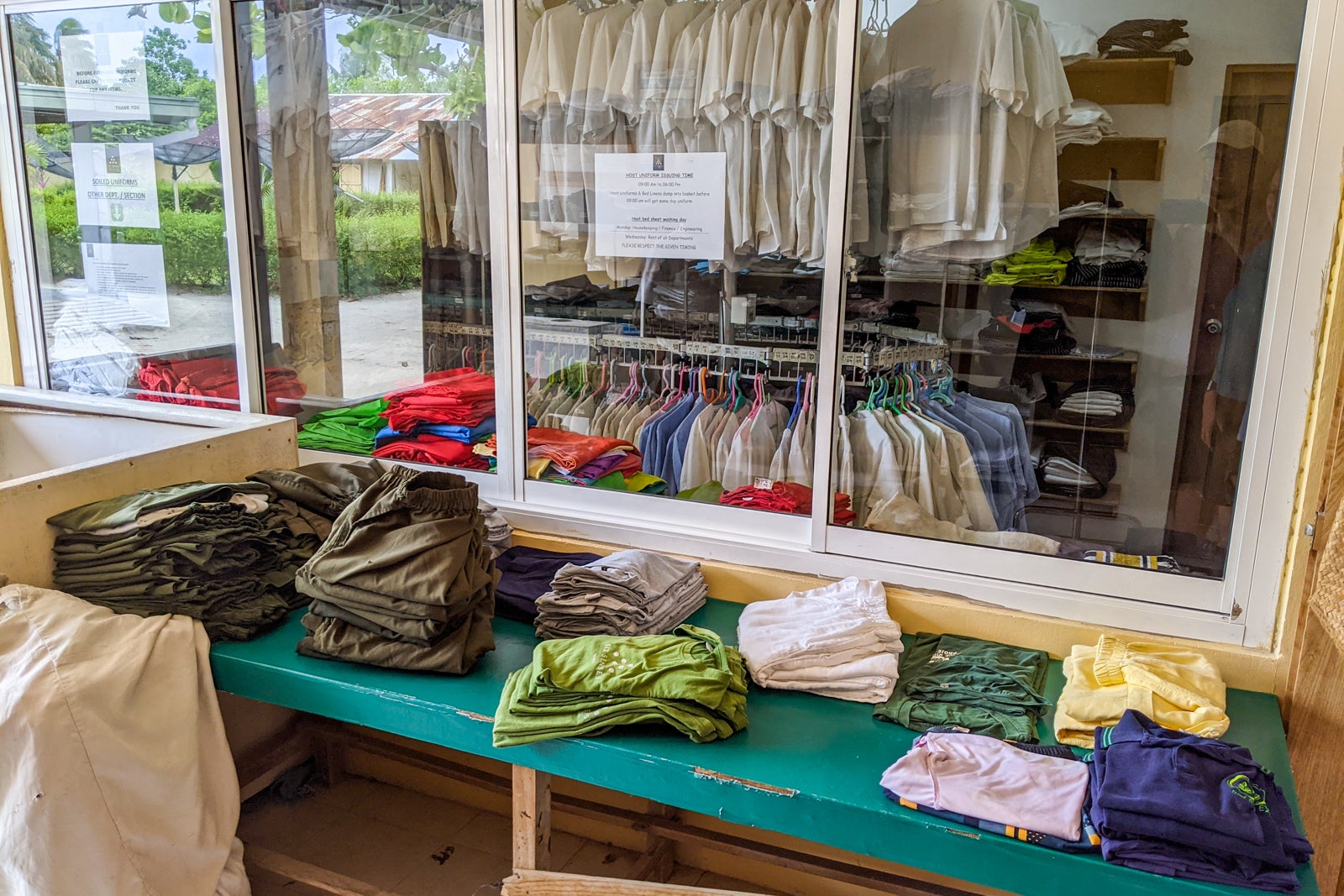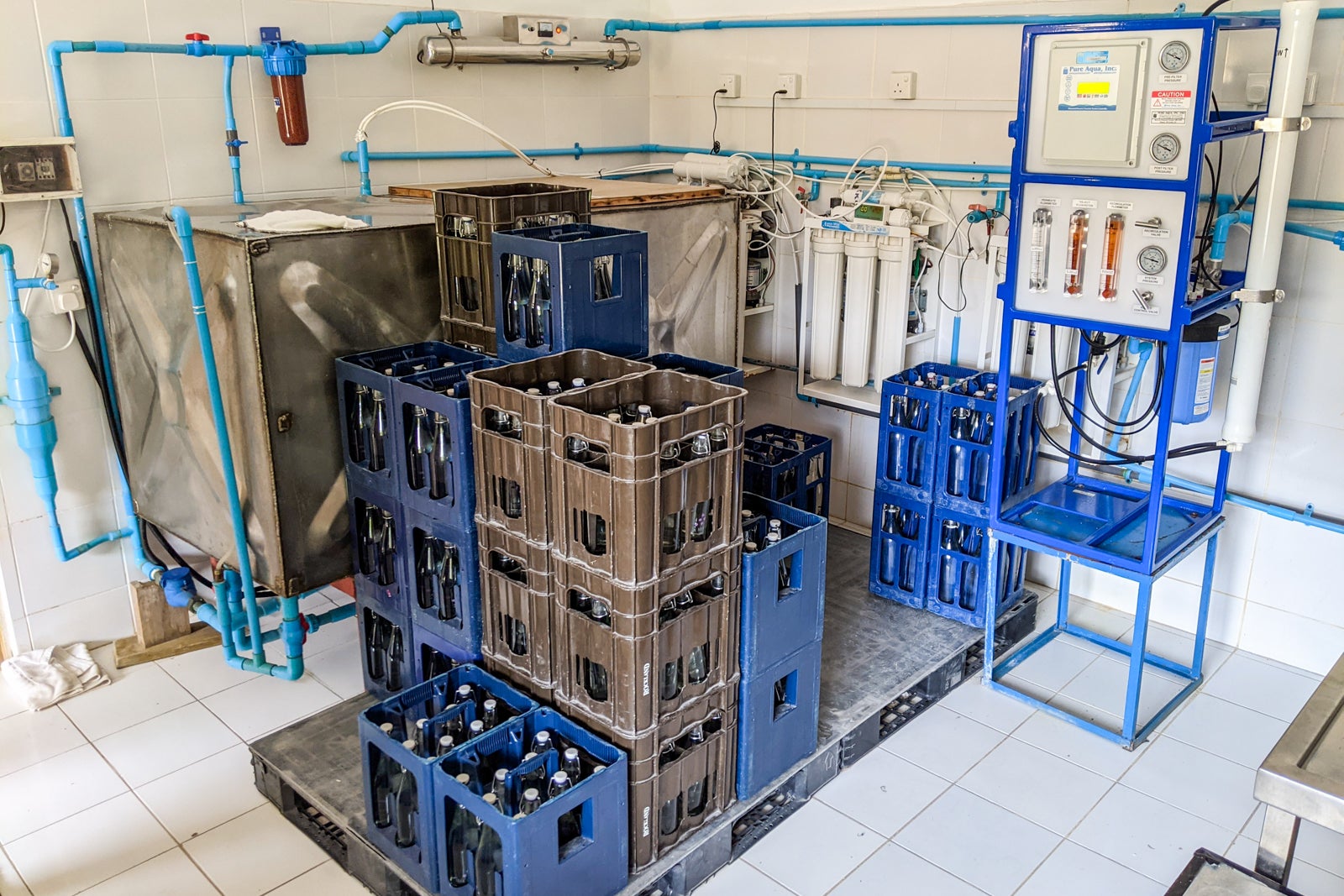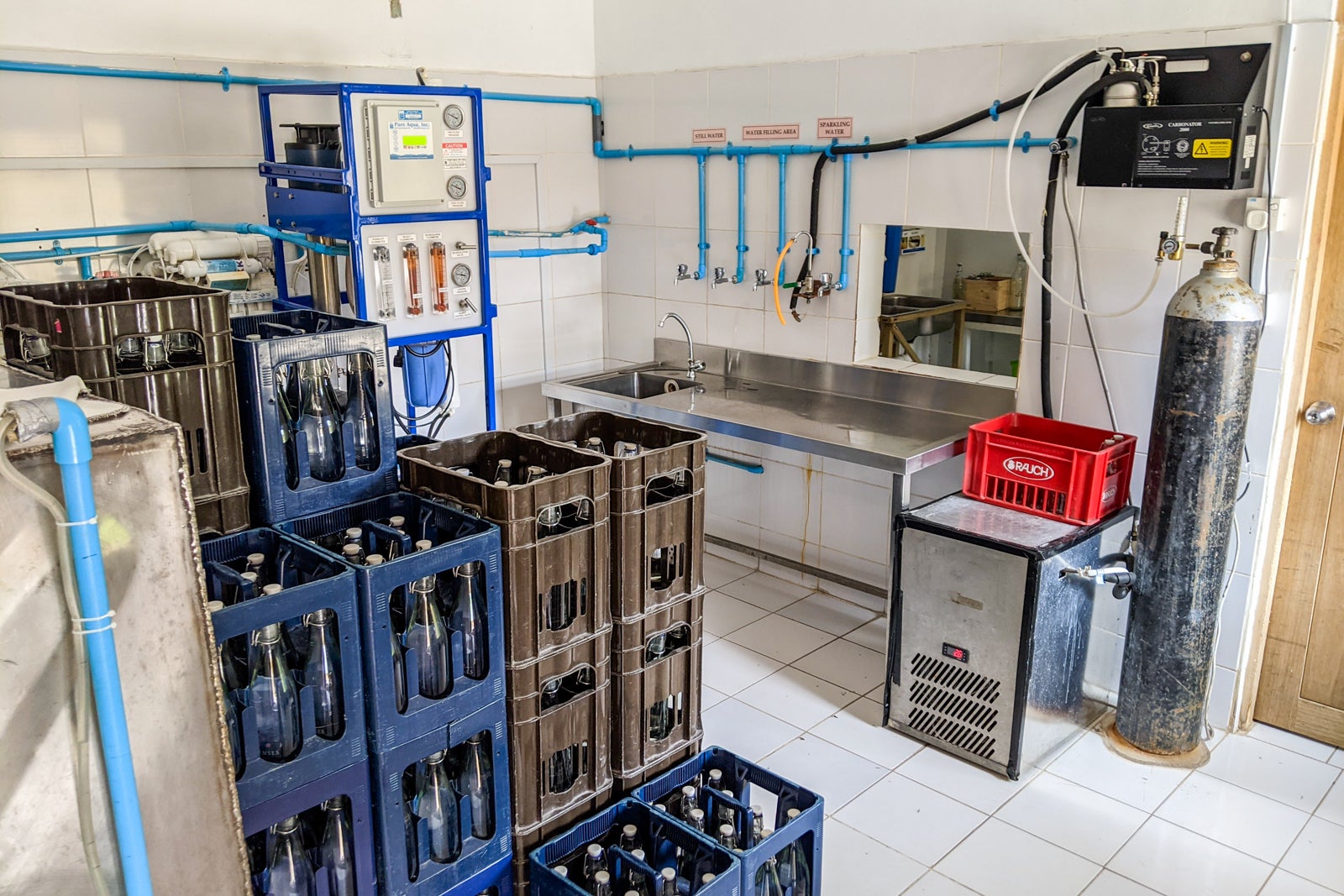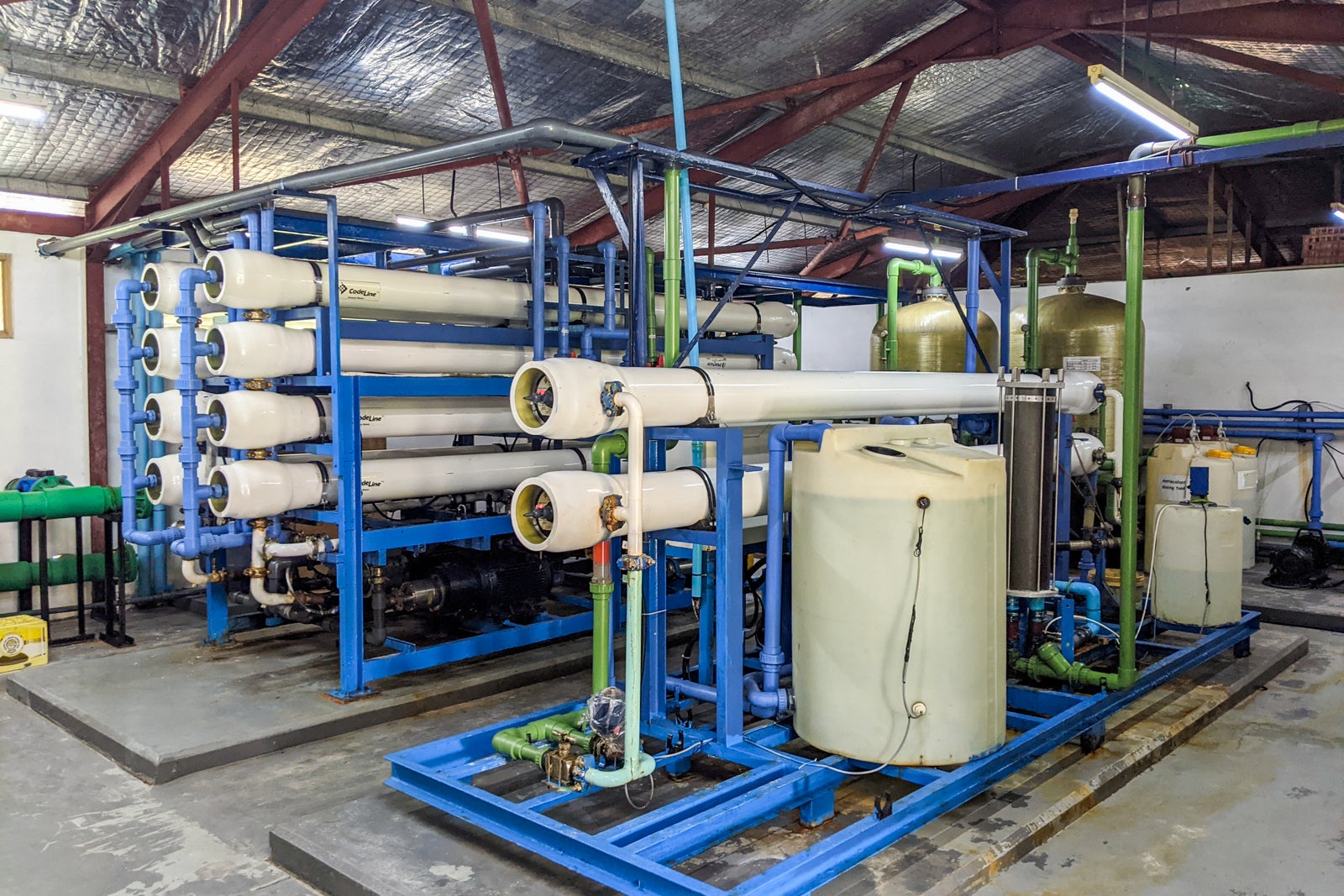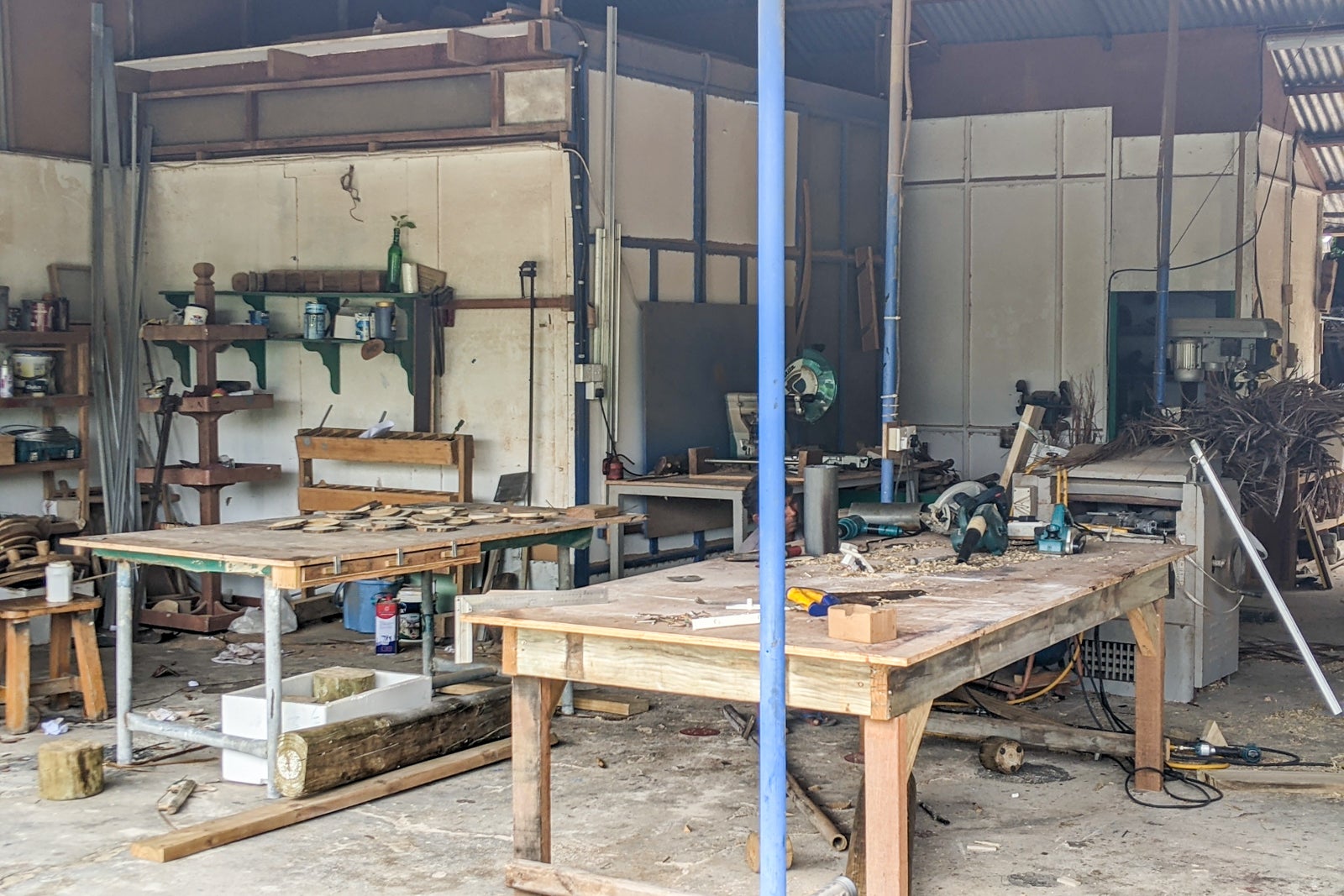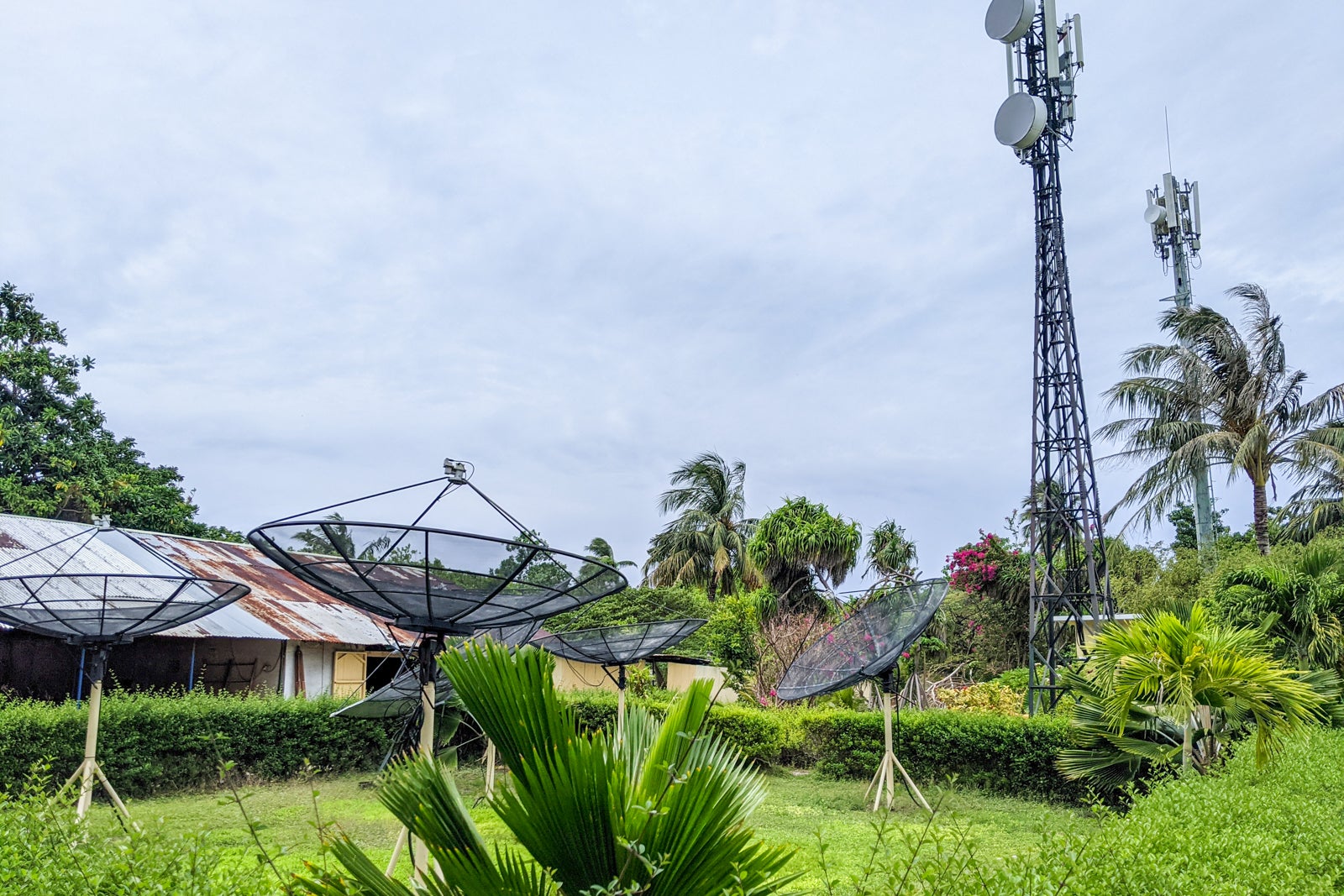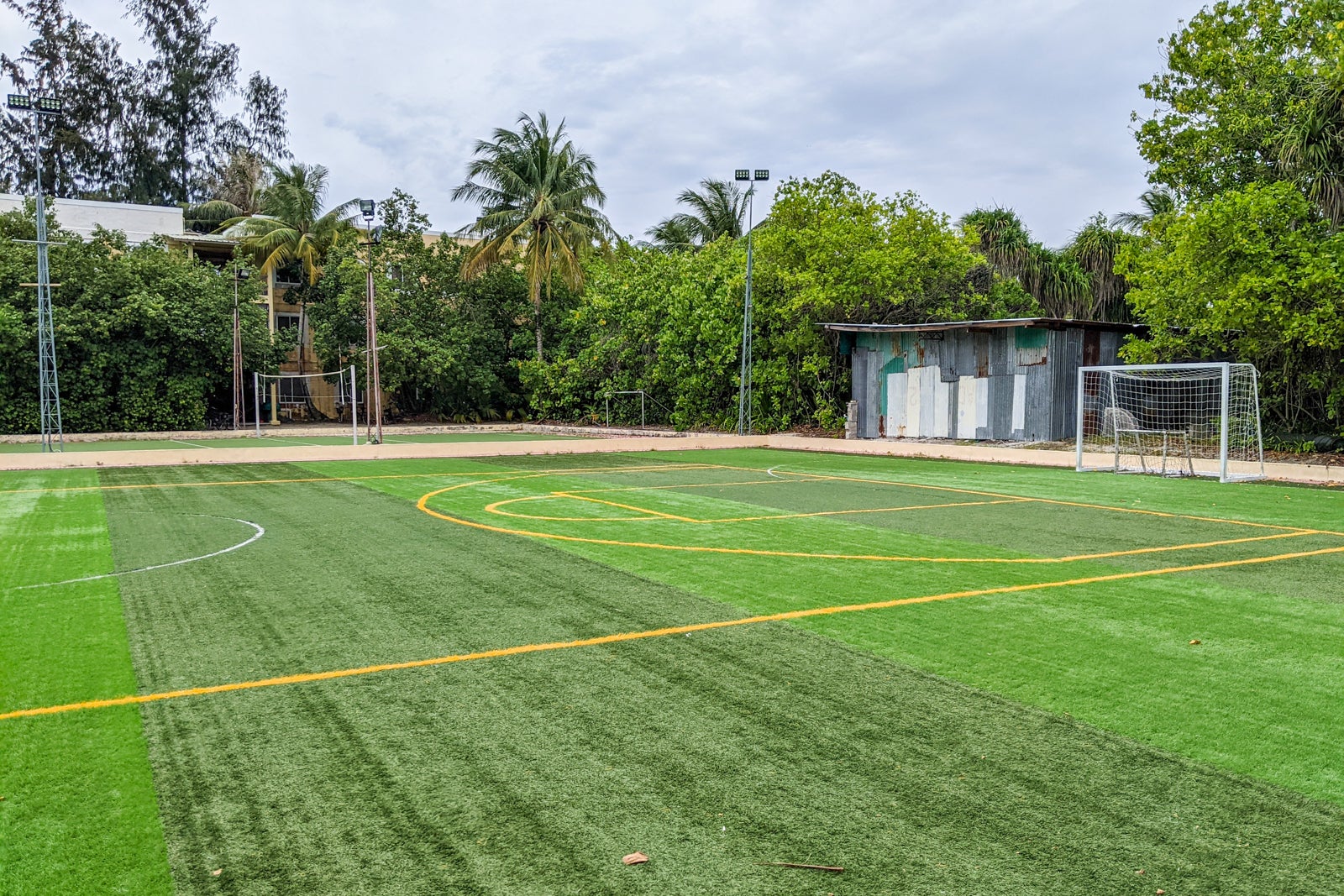 I also highly recommend doing the complimentary 11 a.m. house reef snorkel with a marine biologist early in your stay. By doing so, you'll learn about the house reef and also learn about other places at the resort where you may want to snorkel. The tides were high and the sea rough when we visited, but we saw turtles, reef sharks, clams, coral and plenty of fish when we went out for about an hour with the marine biologist.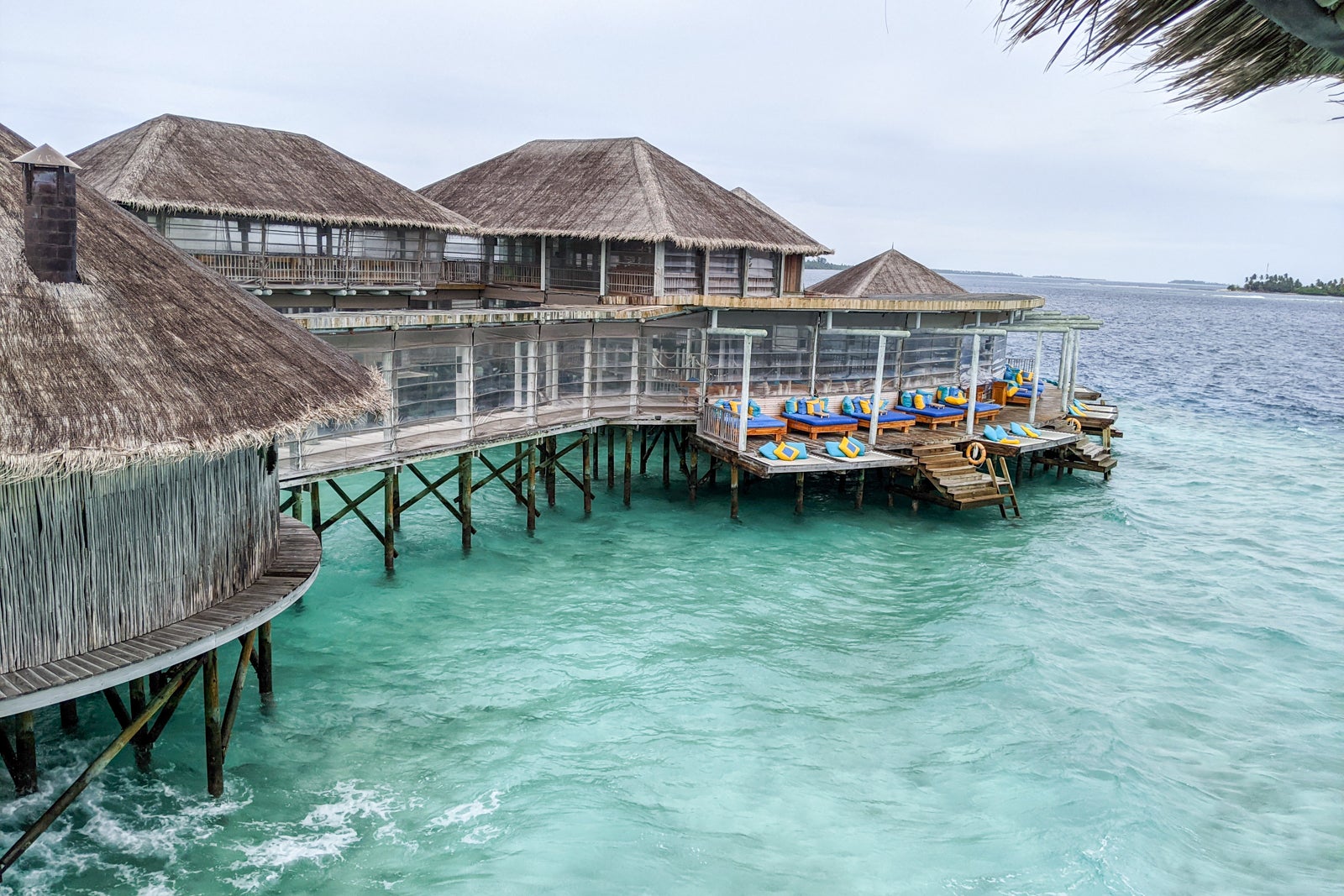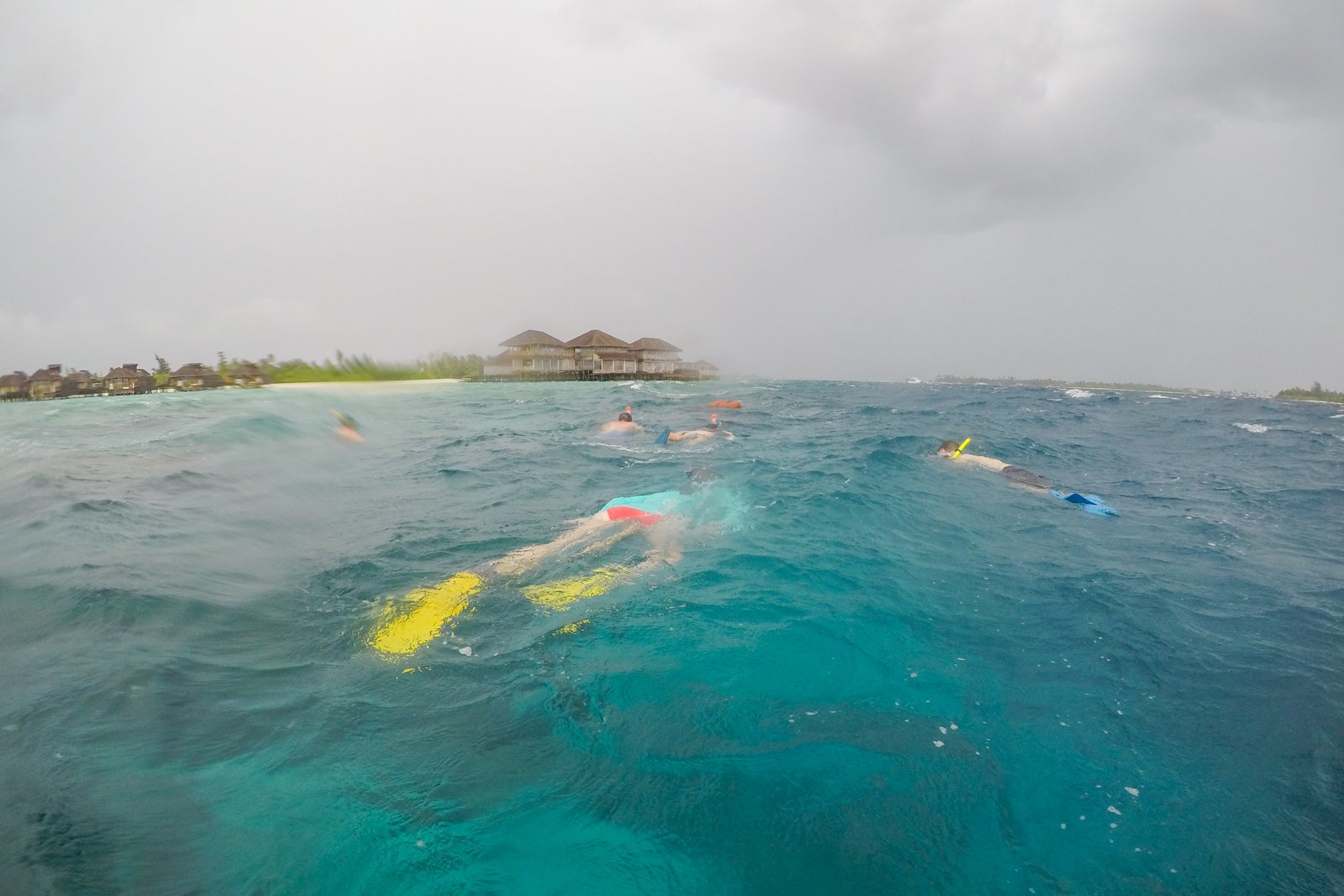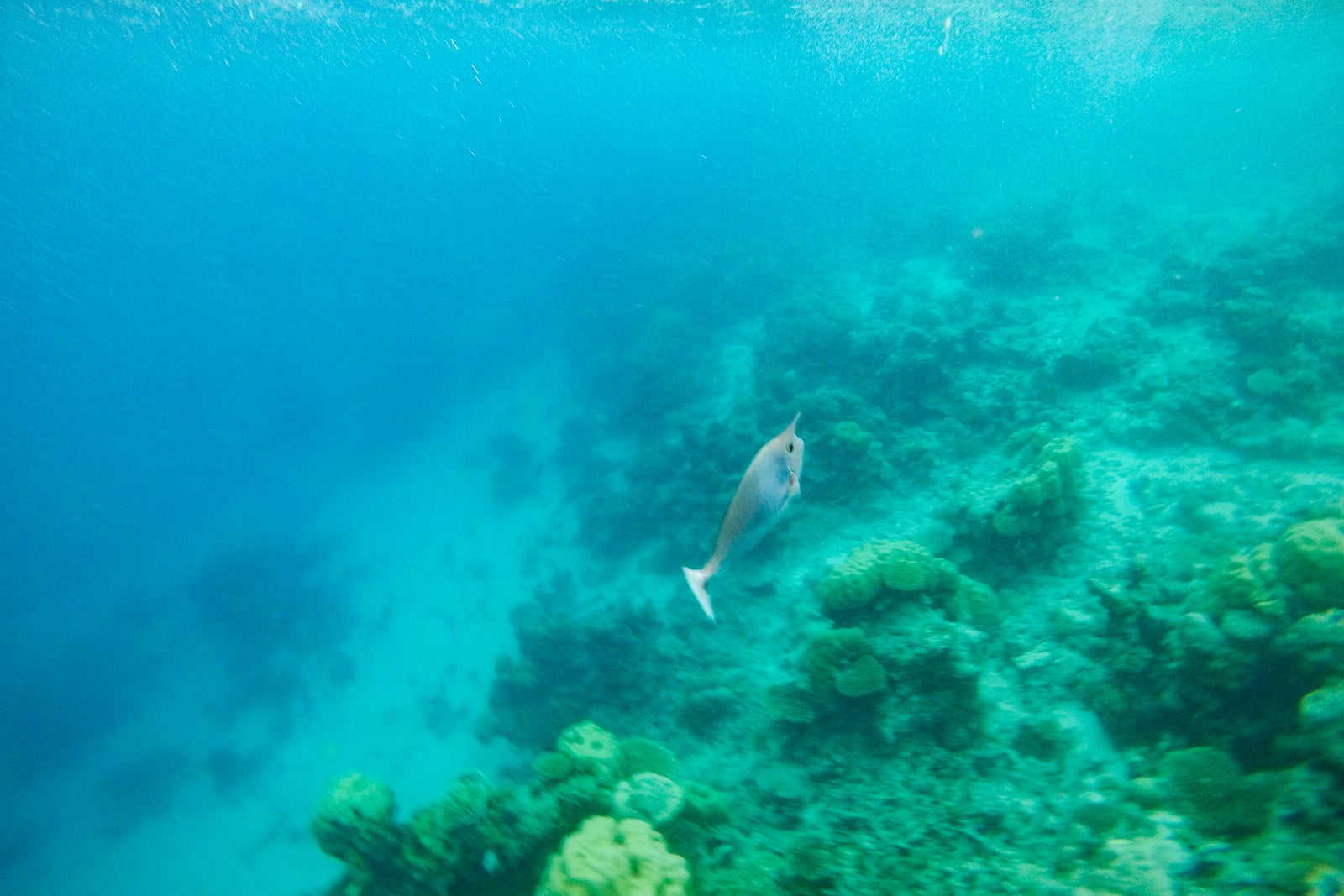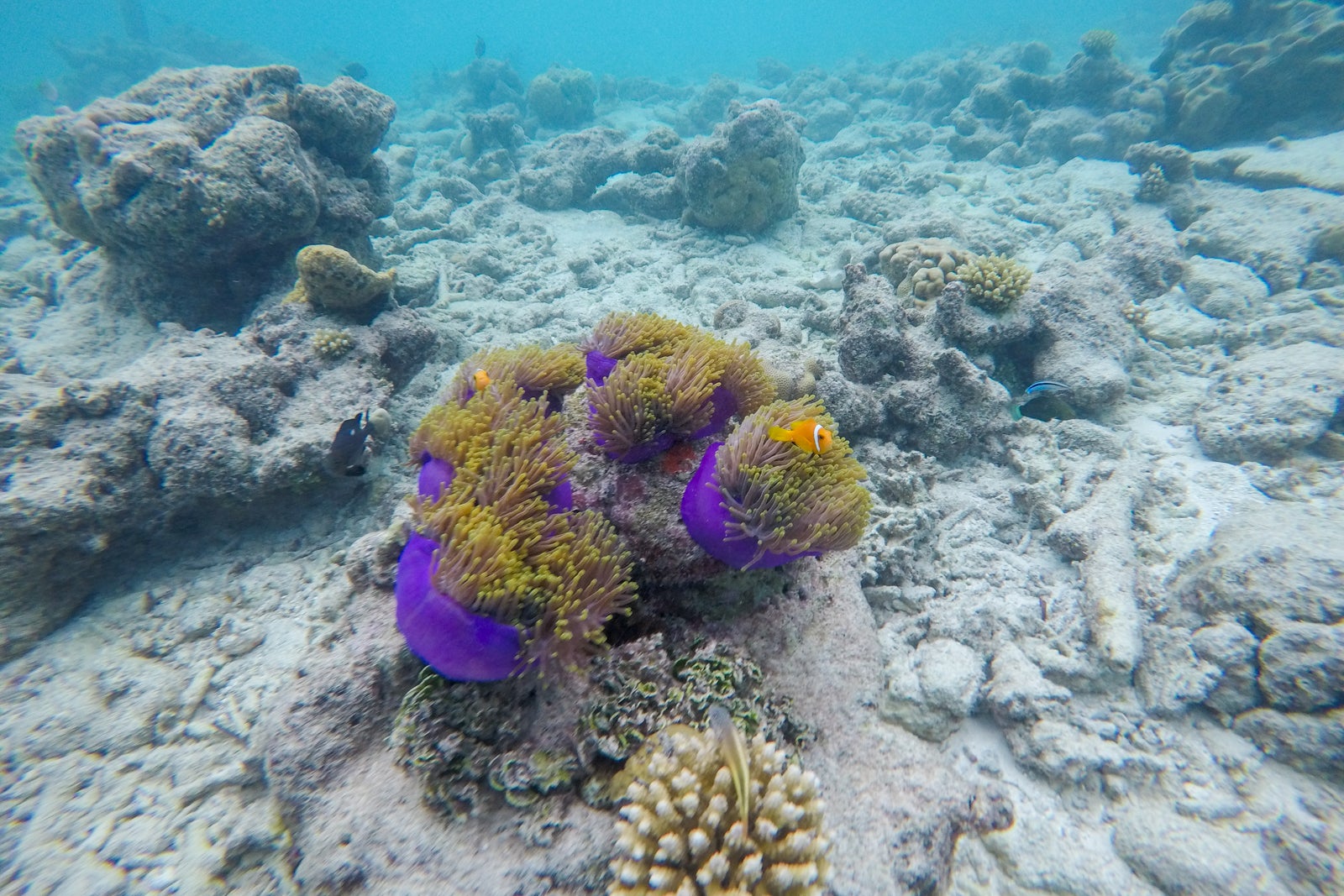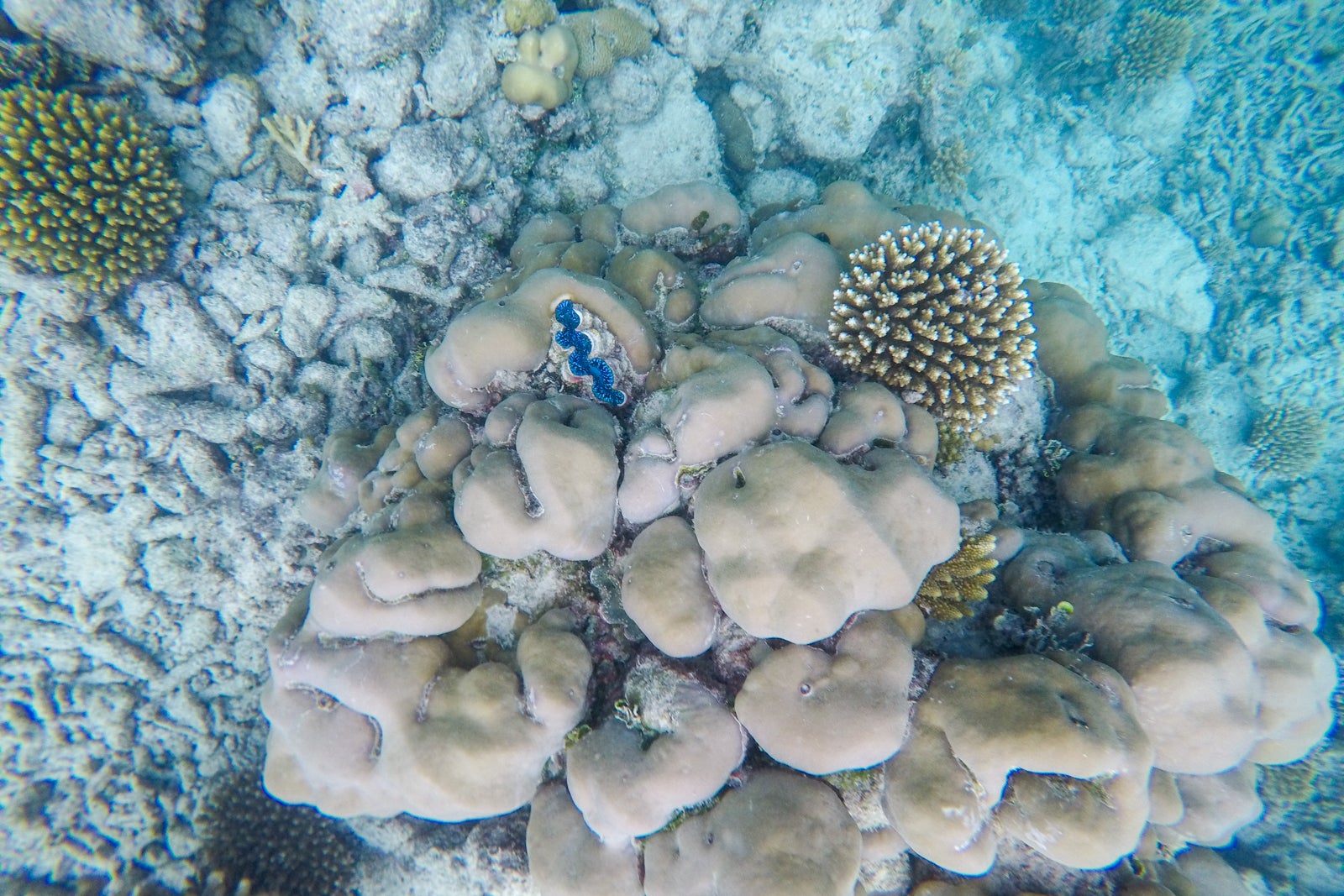 Near Sip Sip bar is a large freshwater pool. There are plenty of lounge chairs and cabanas around the pool, including some lounge chairs in the sand facing the ocean. There are also hammocks in the water near the surf shack (where you can organize surfing lessons).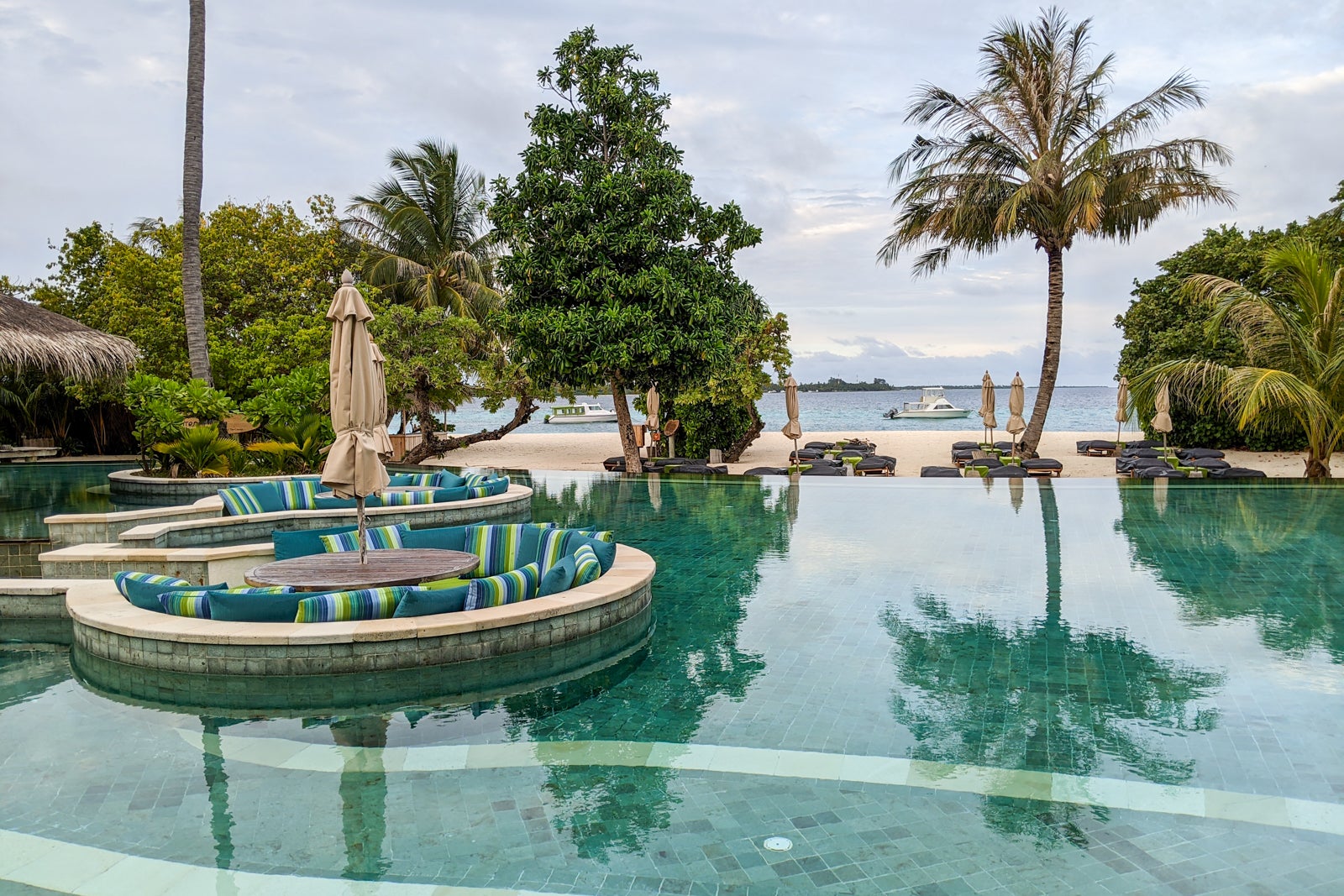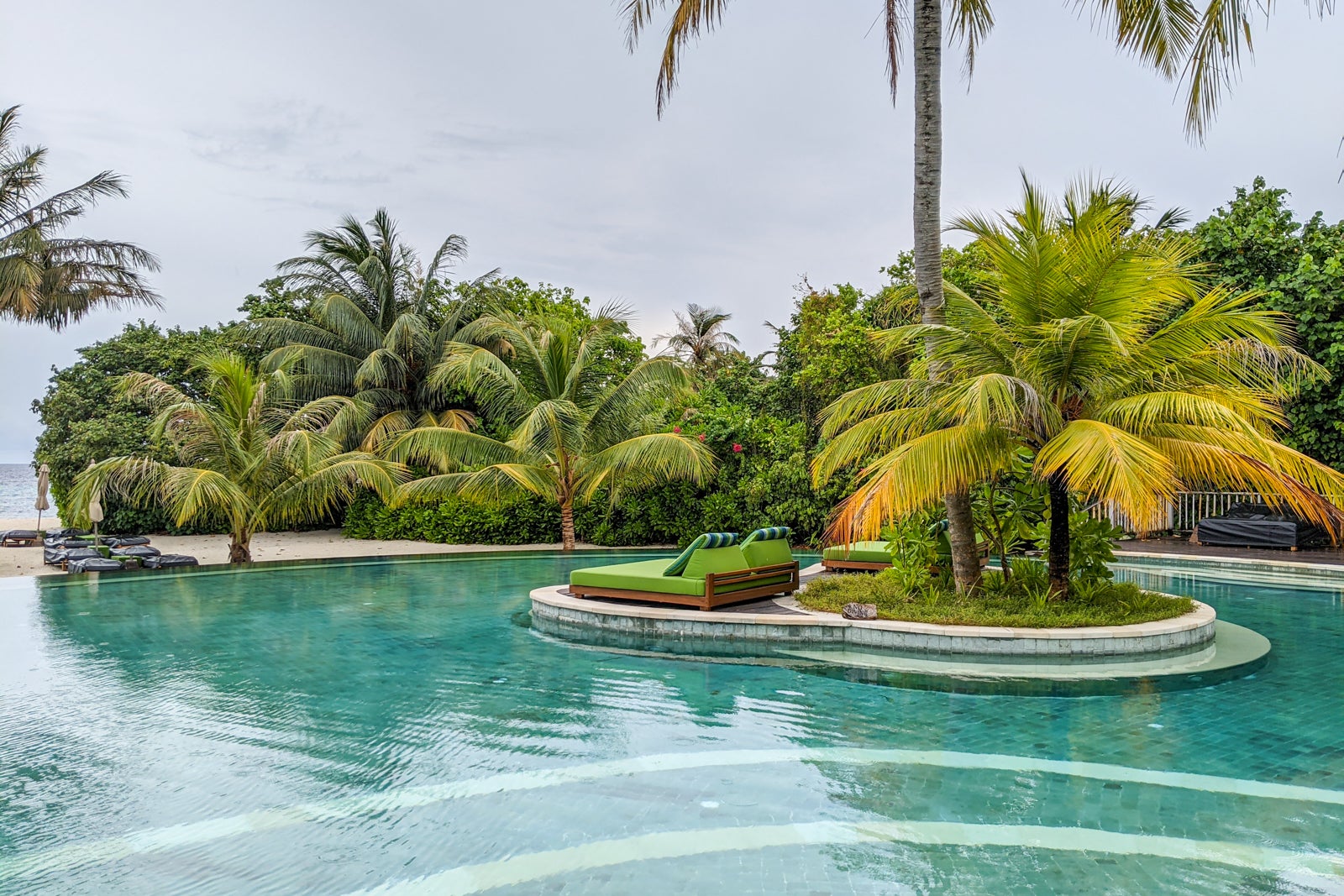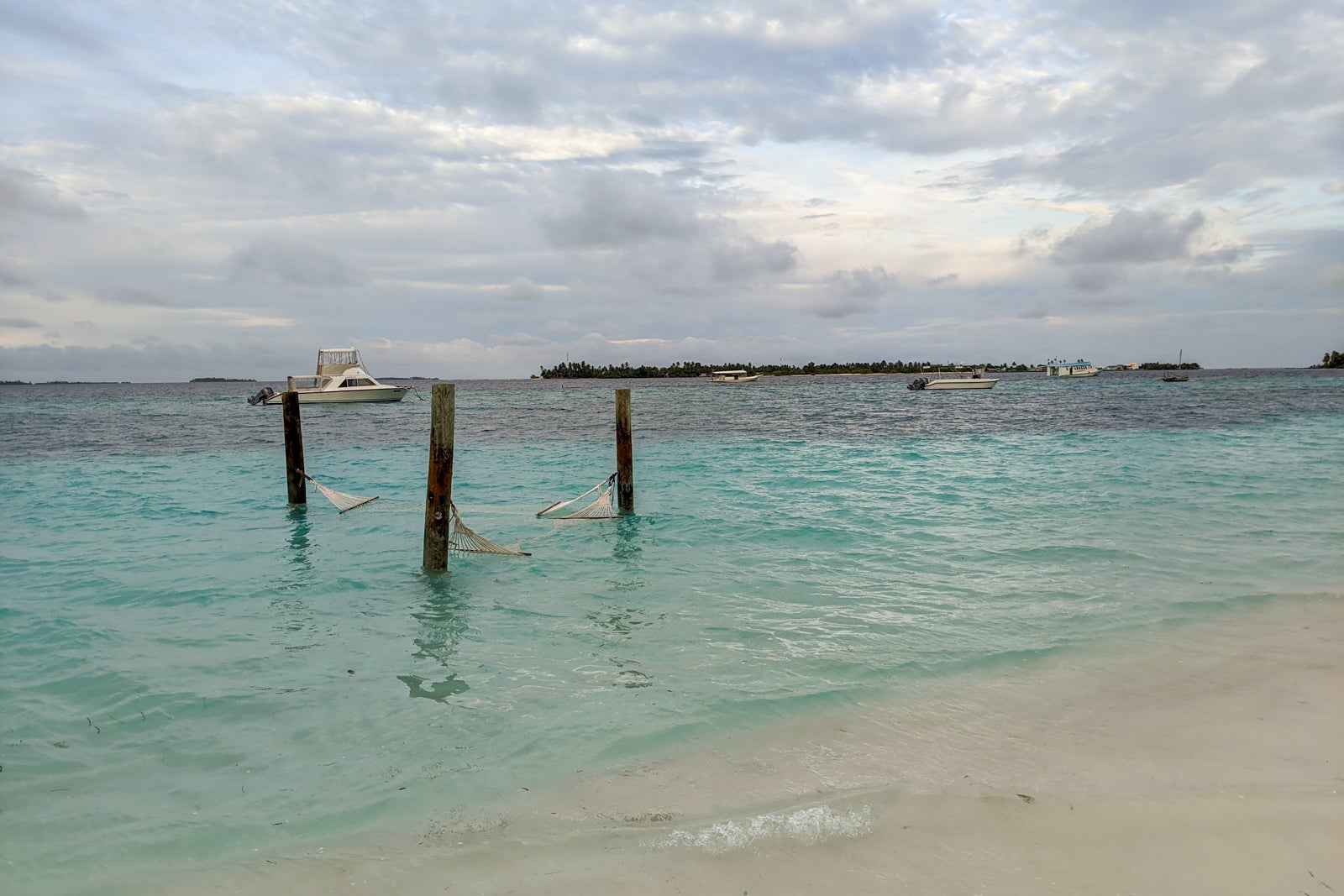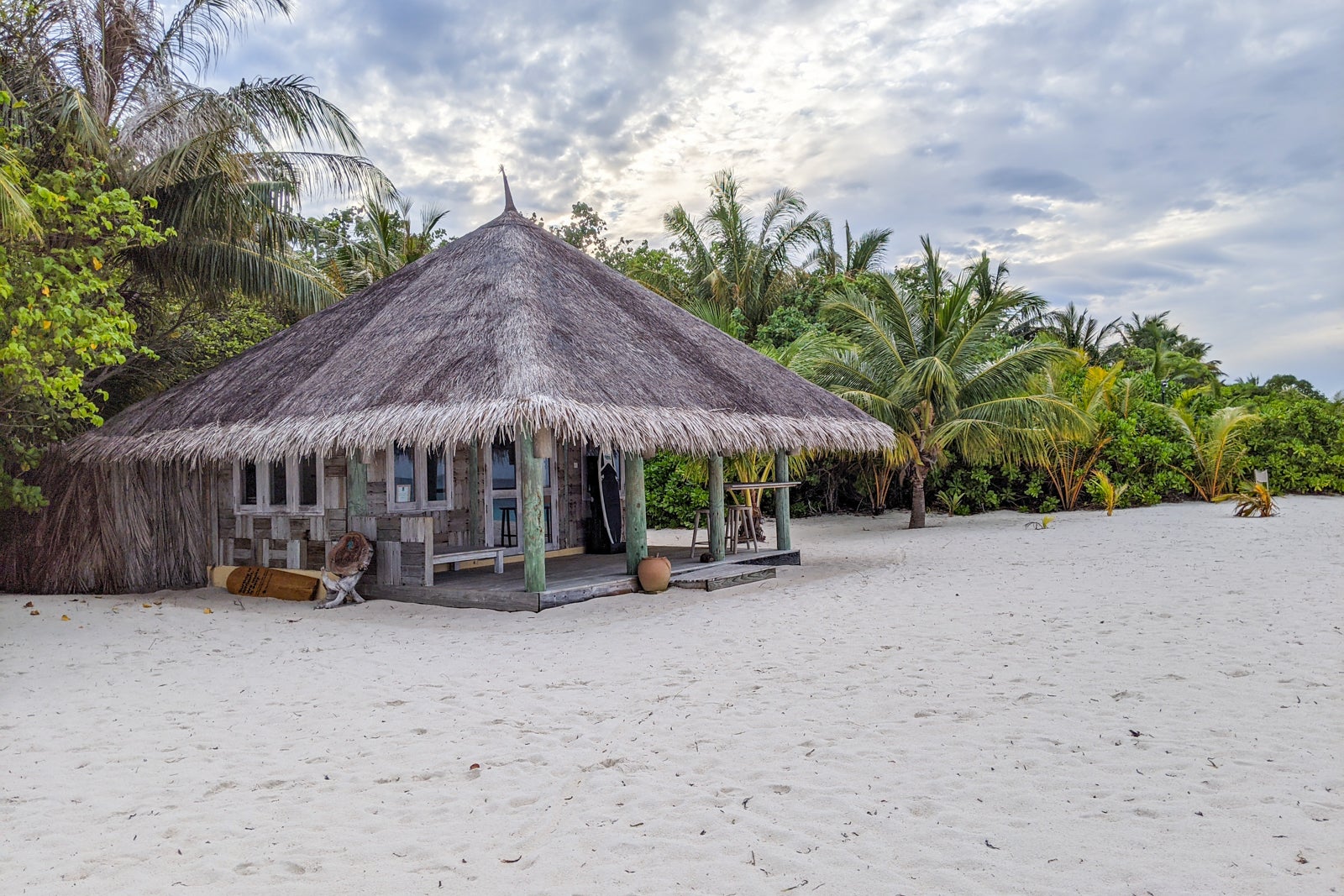 Next to the pool is the organic garden. You can wander through the garden and read the signs to see what the resort is growing. There's also a sugar cane hut where the resort occasionally holds sugar cane tastings.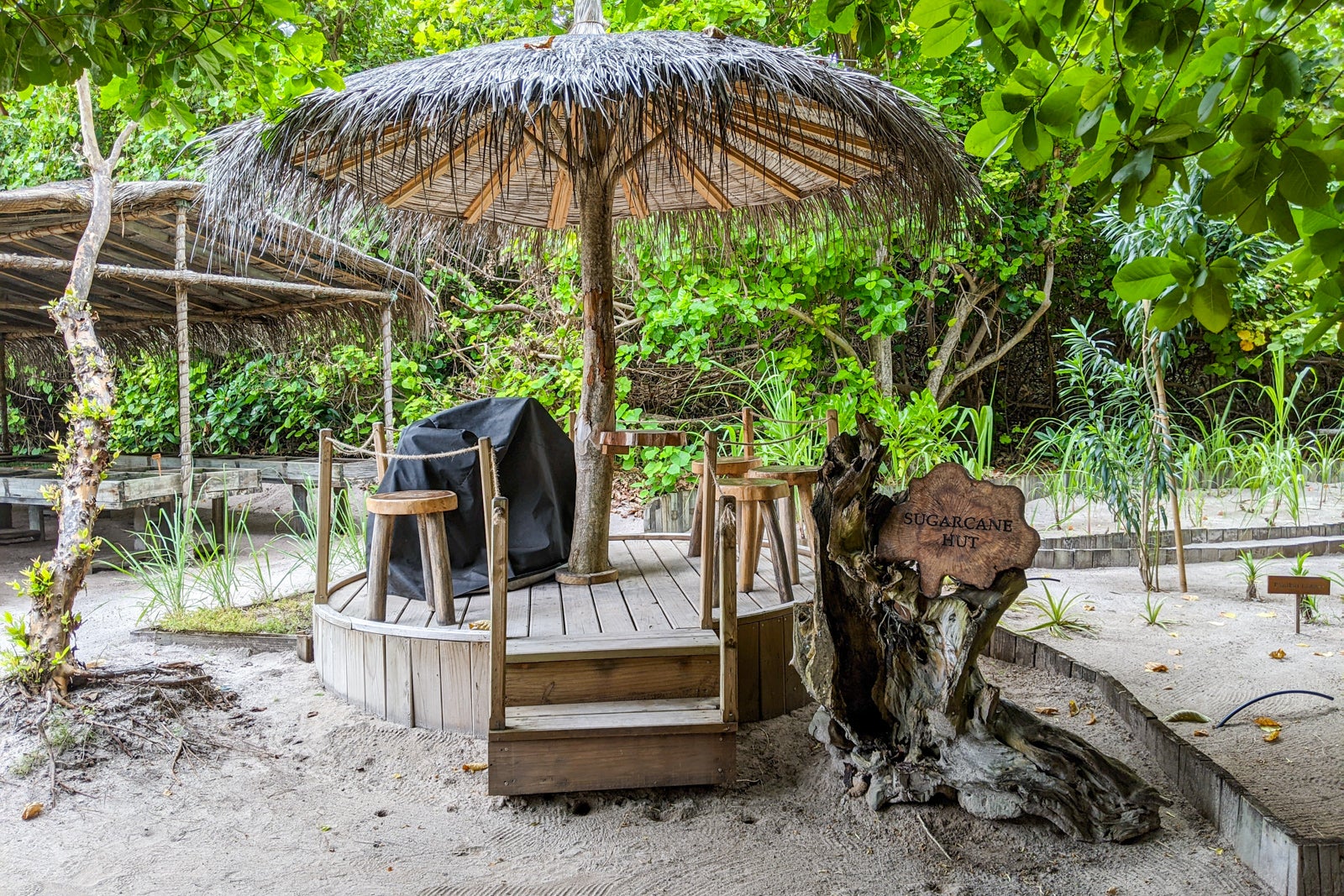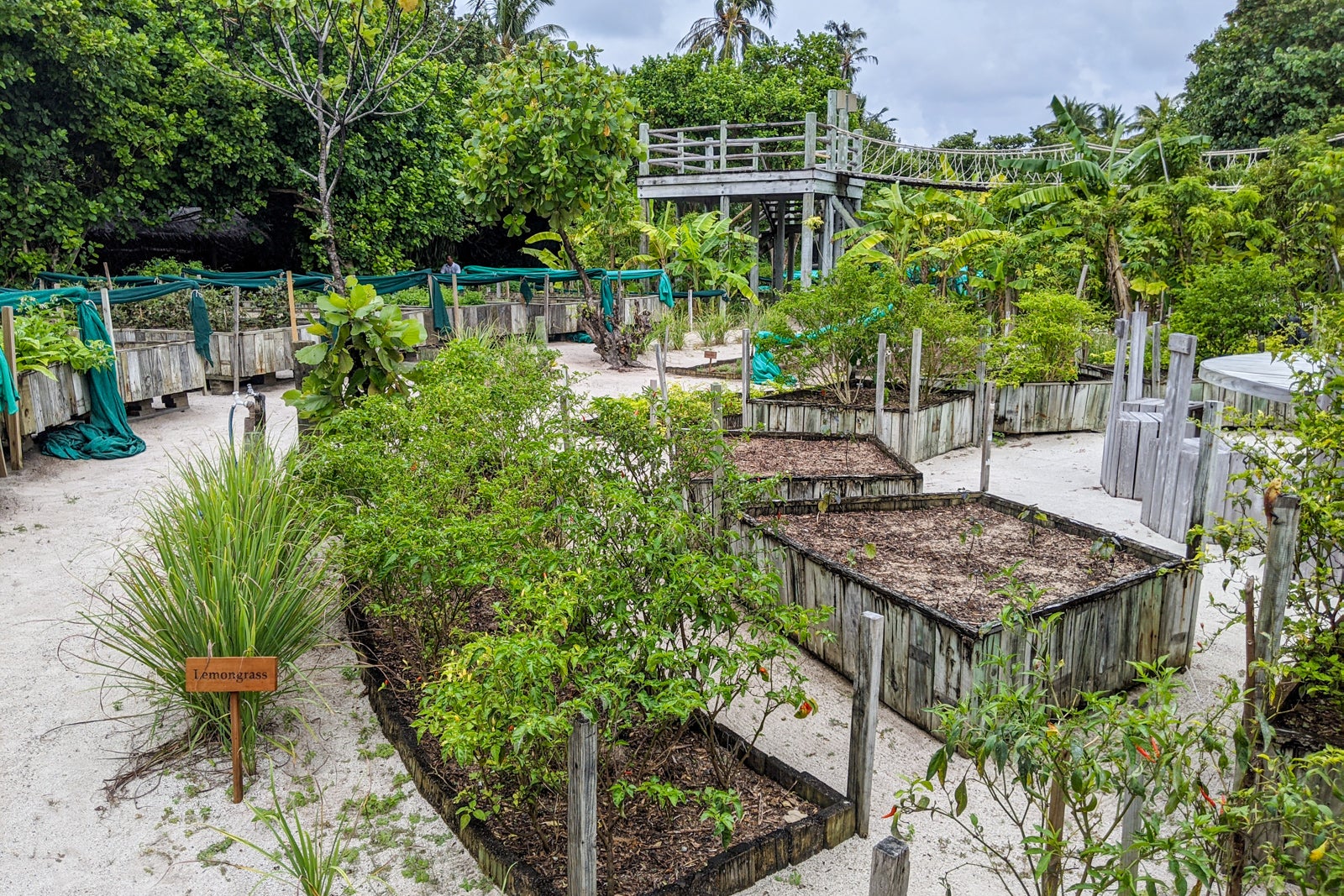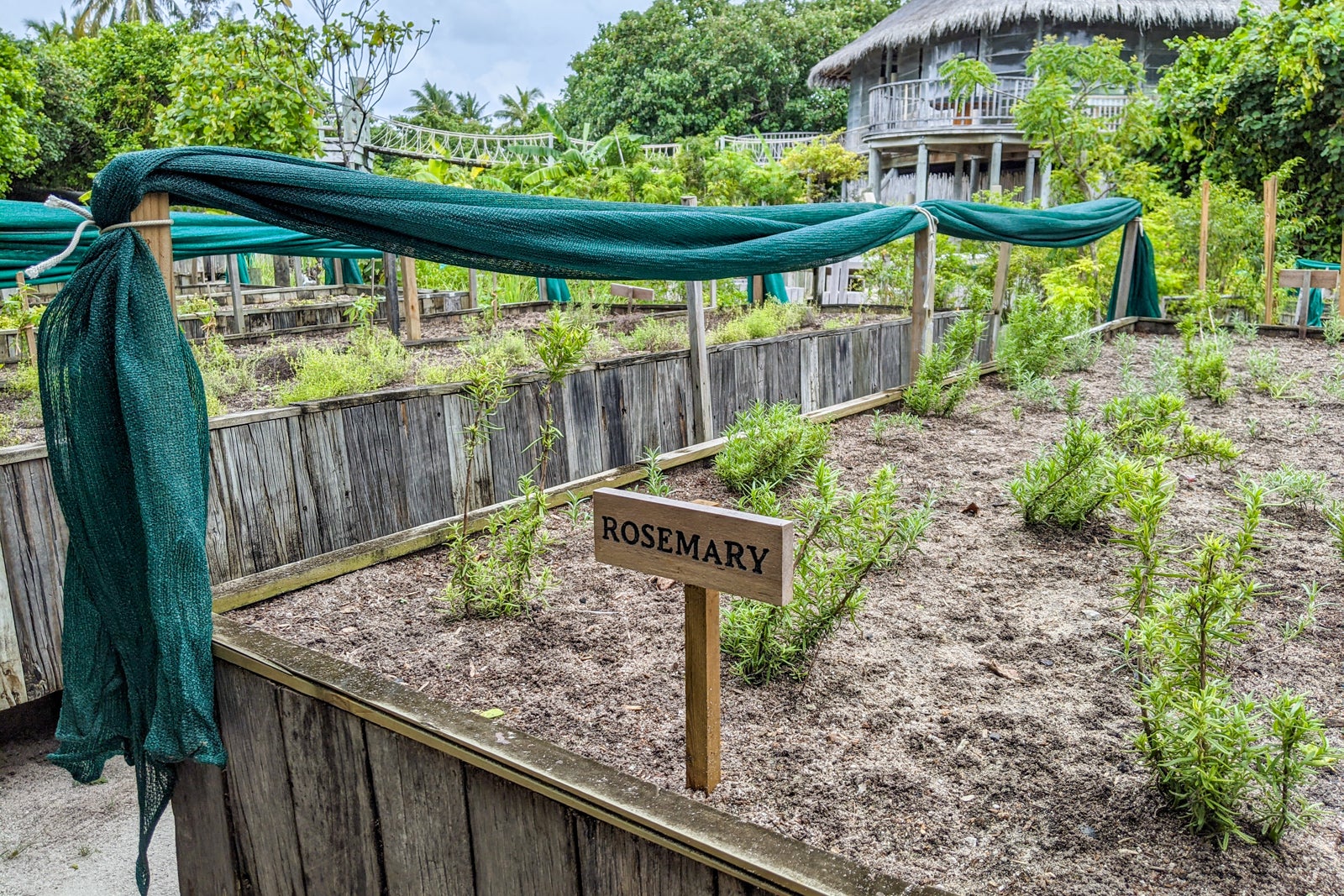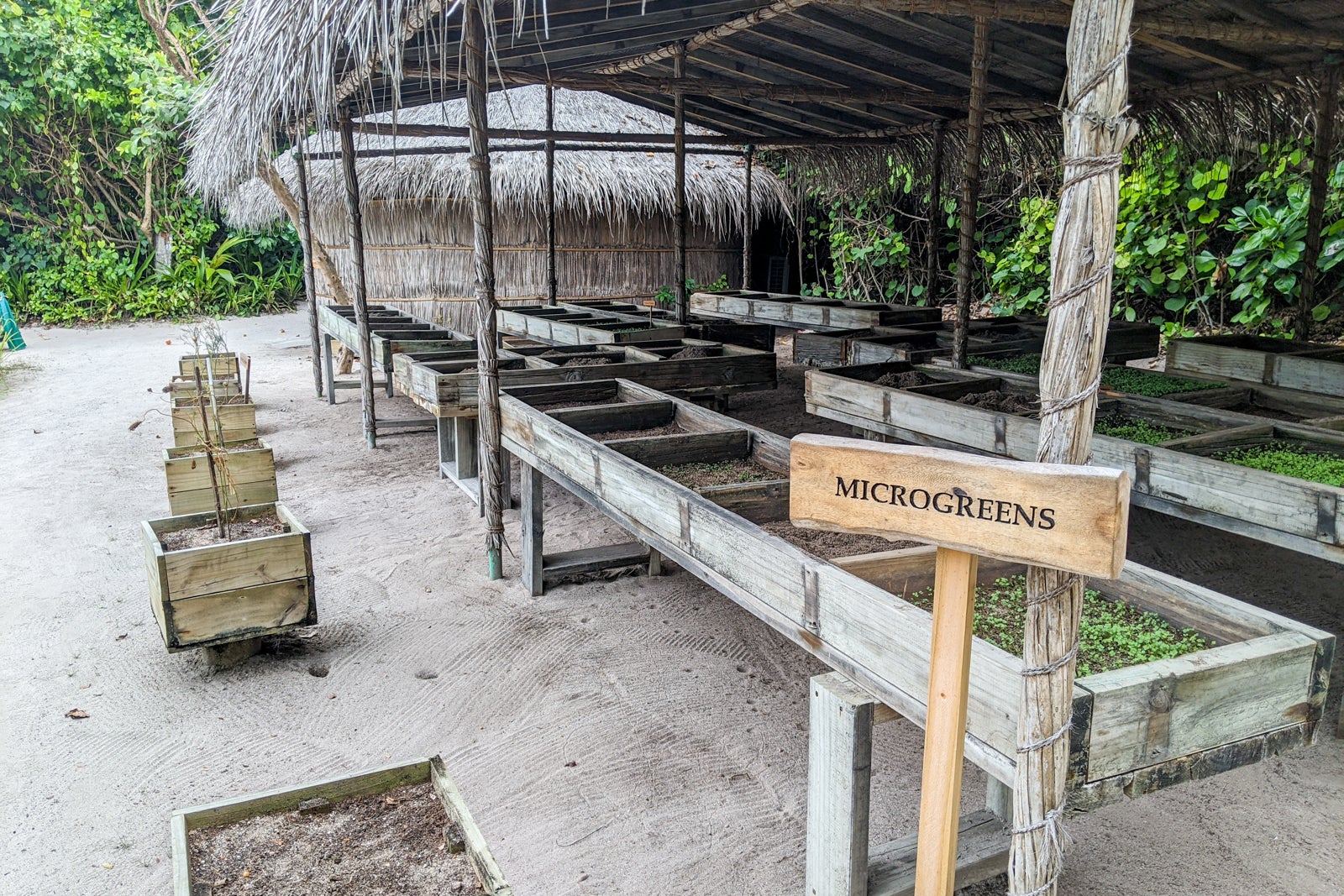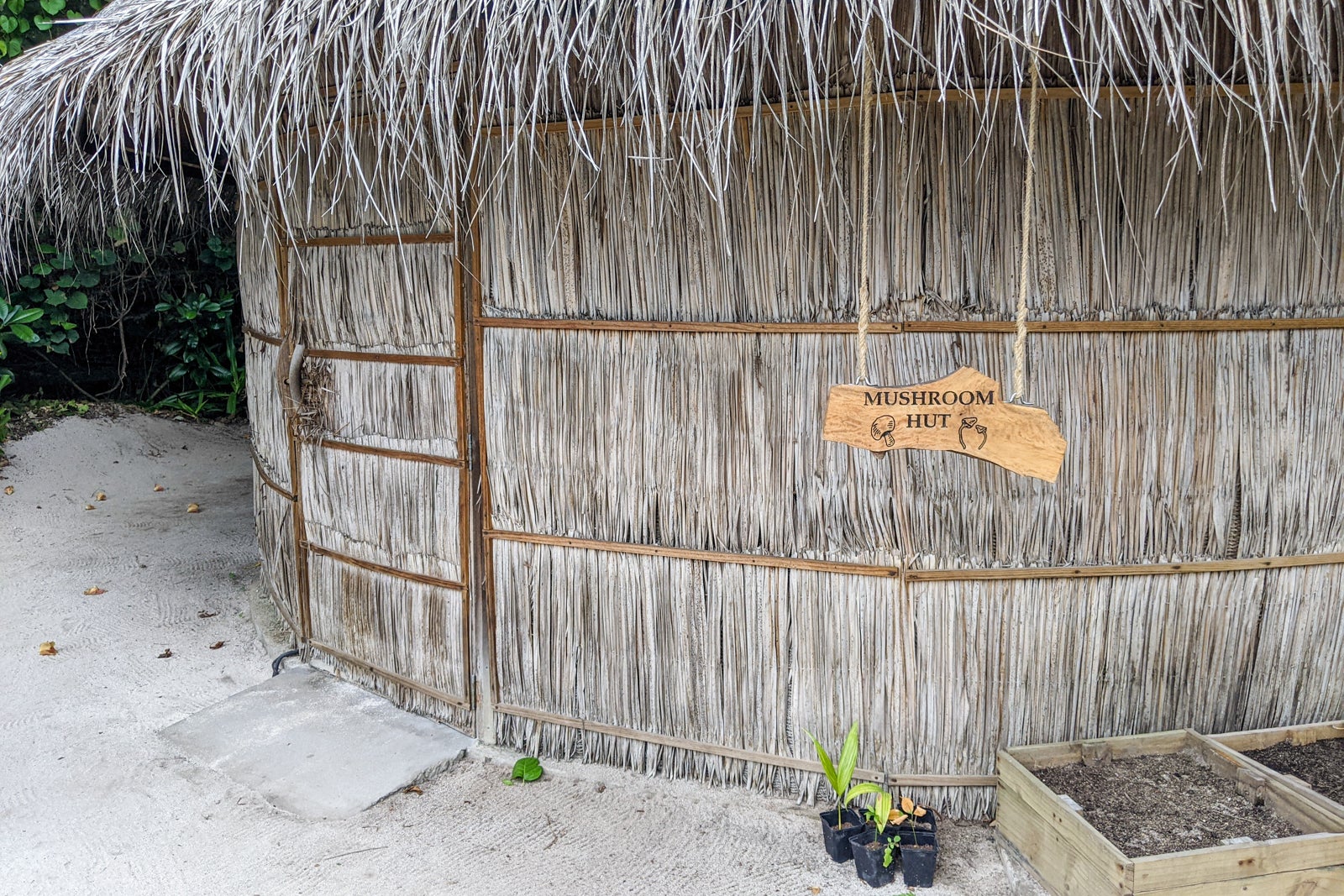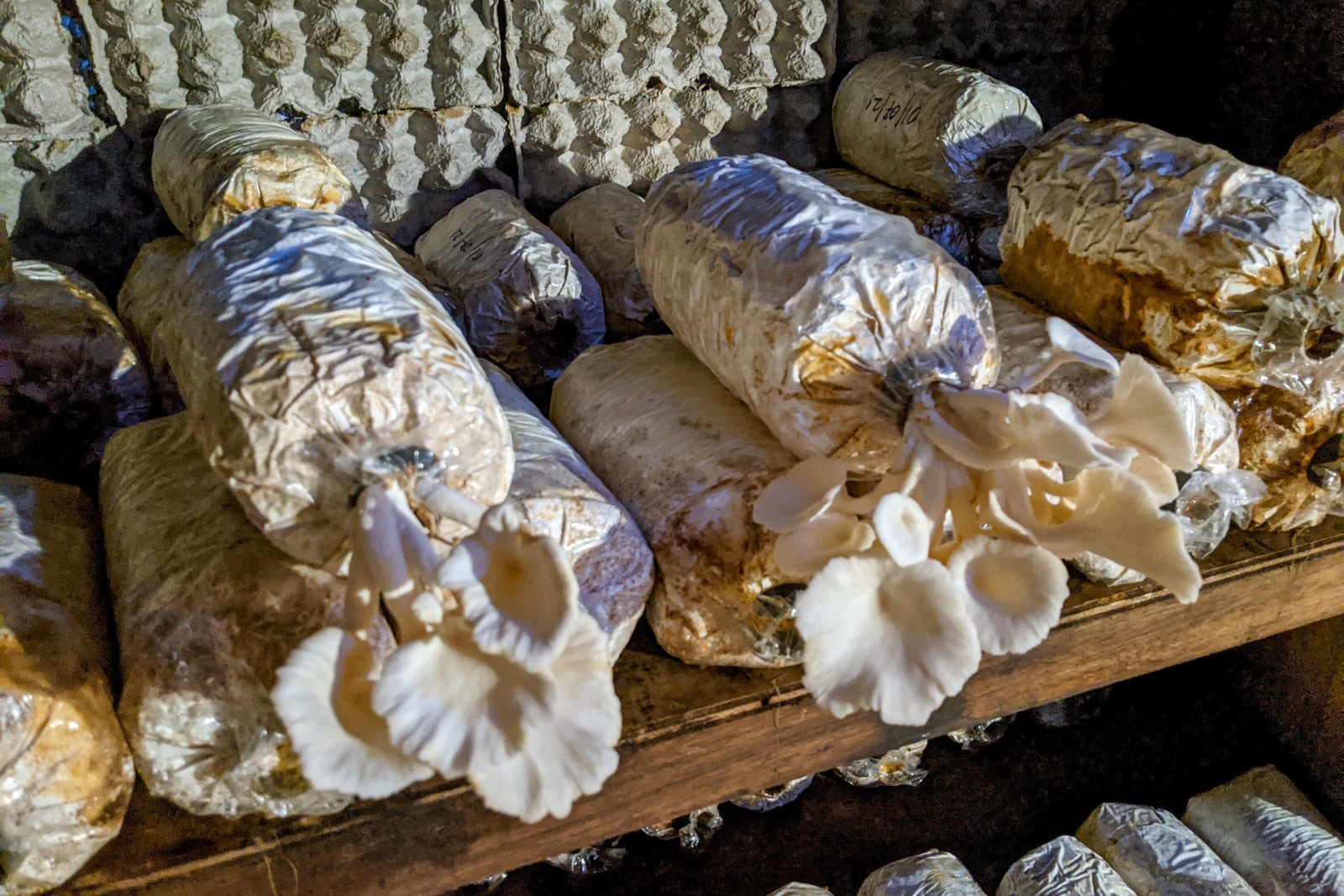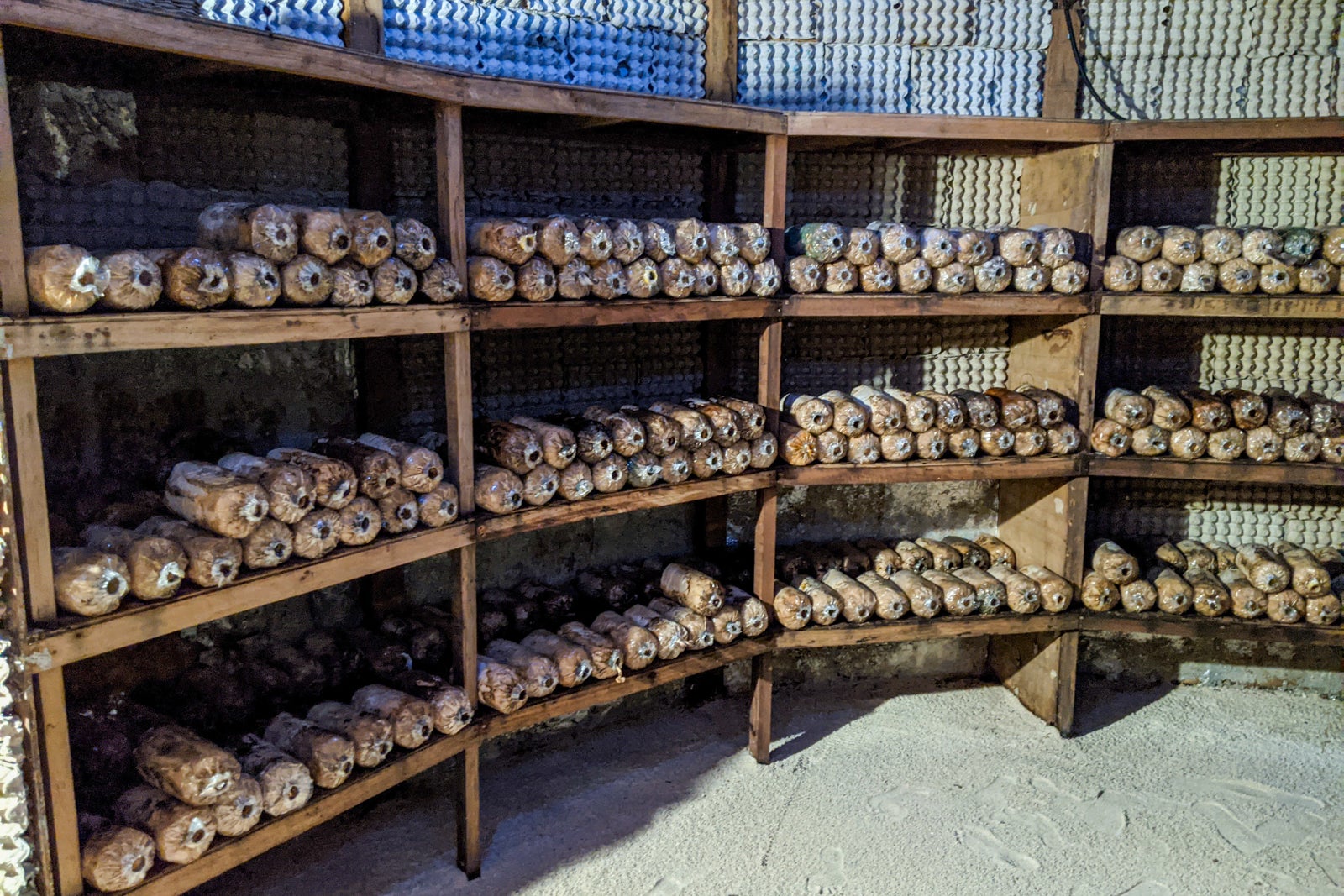 Through the garden is the water sports building. You can borrow non-motorized watercraft such as kayaks and stand-up paddleboards free of charge. Some classes, including a complimentary introduction to windsurfing course, are offered on select days.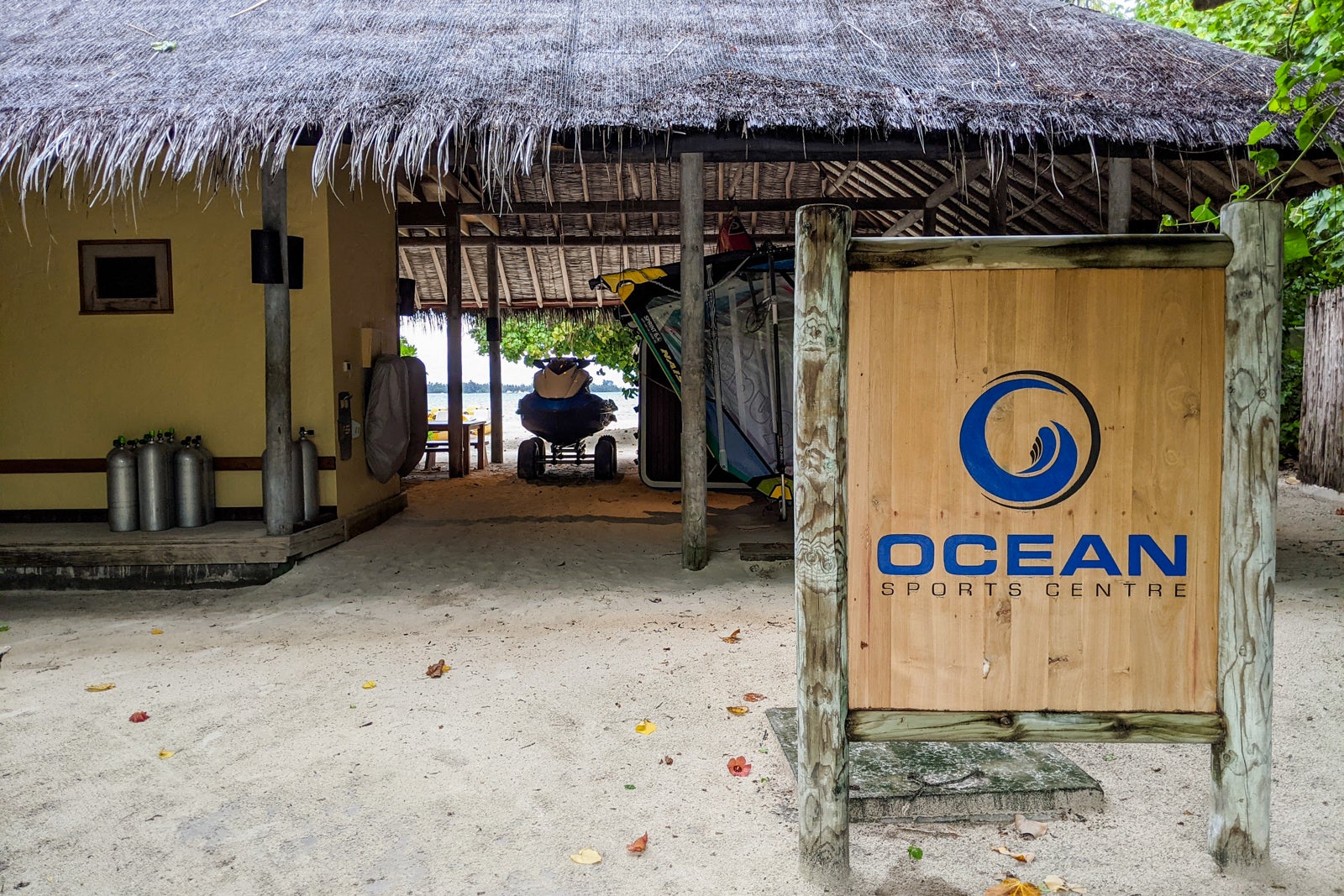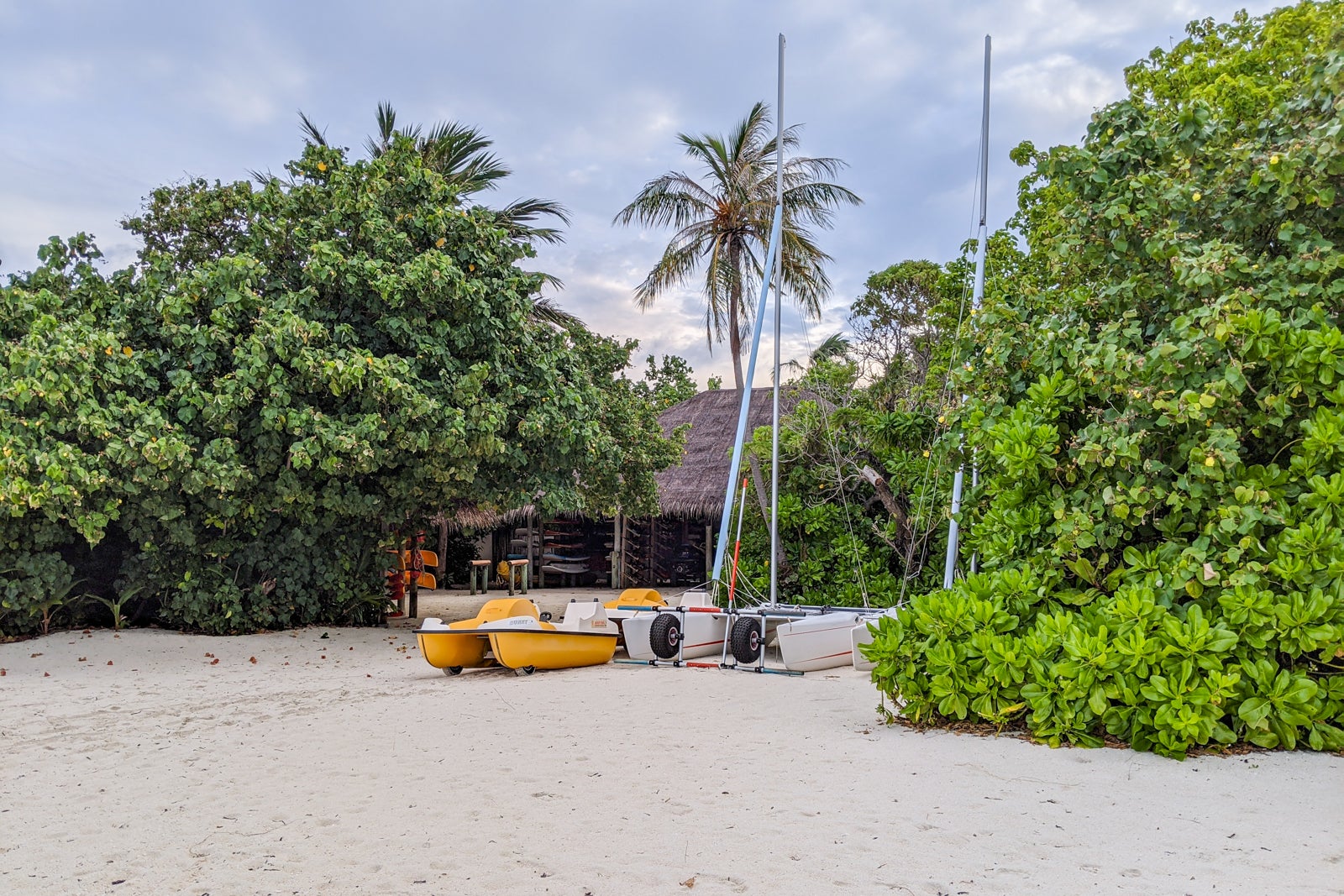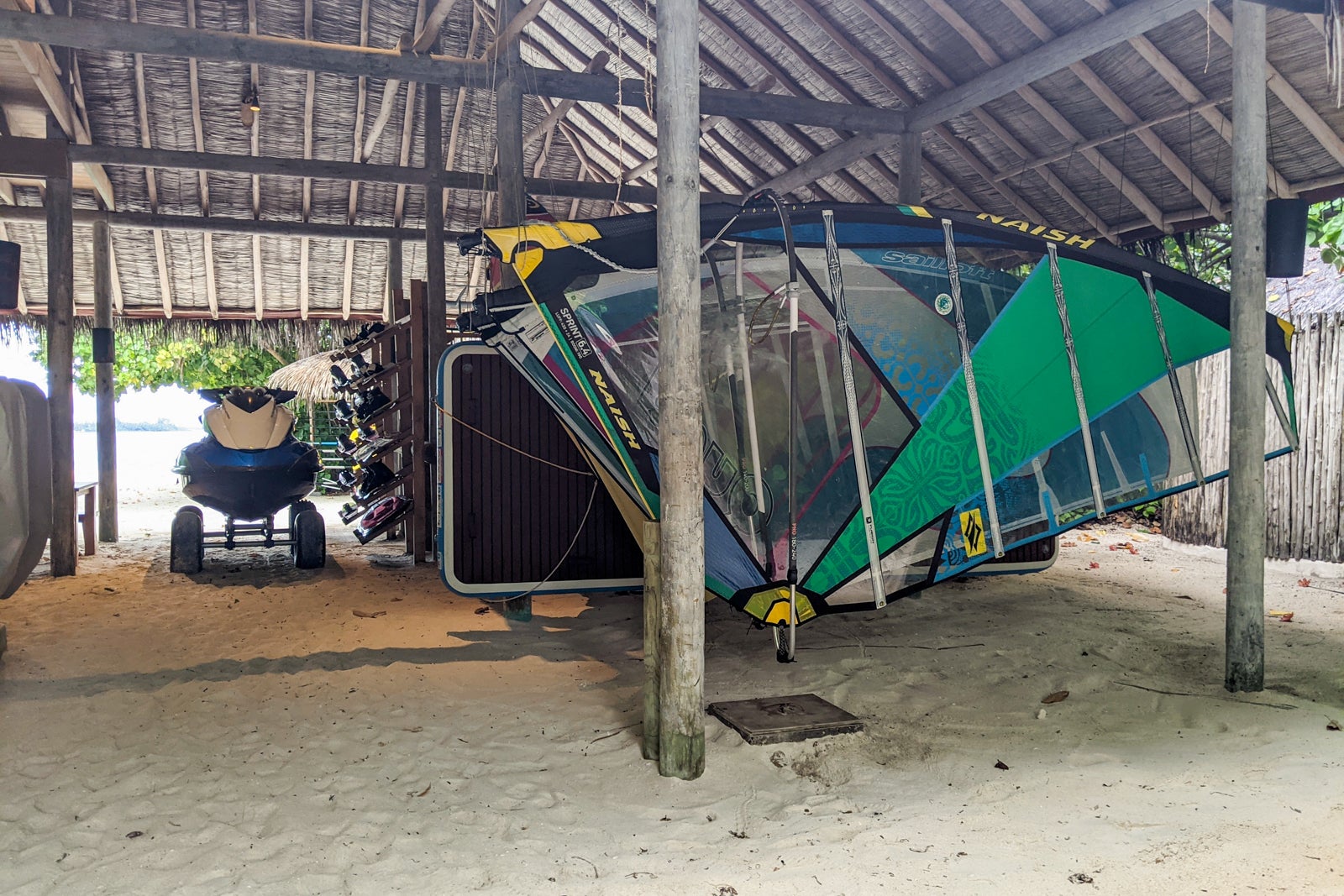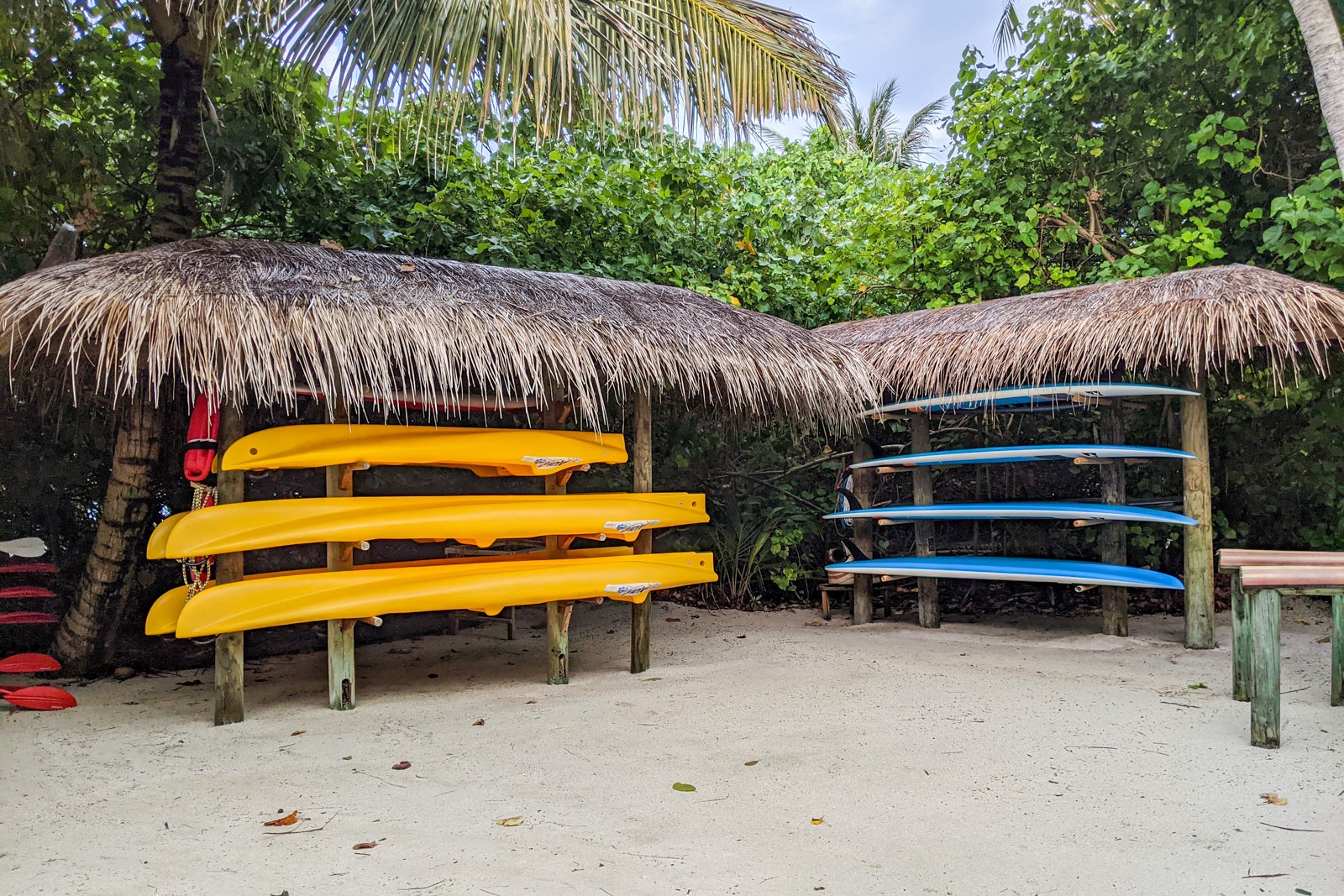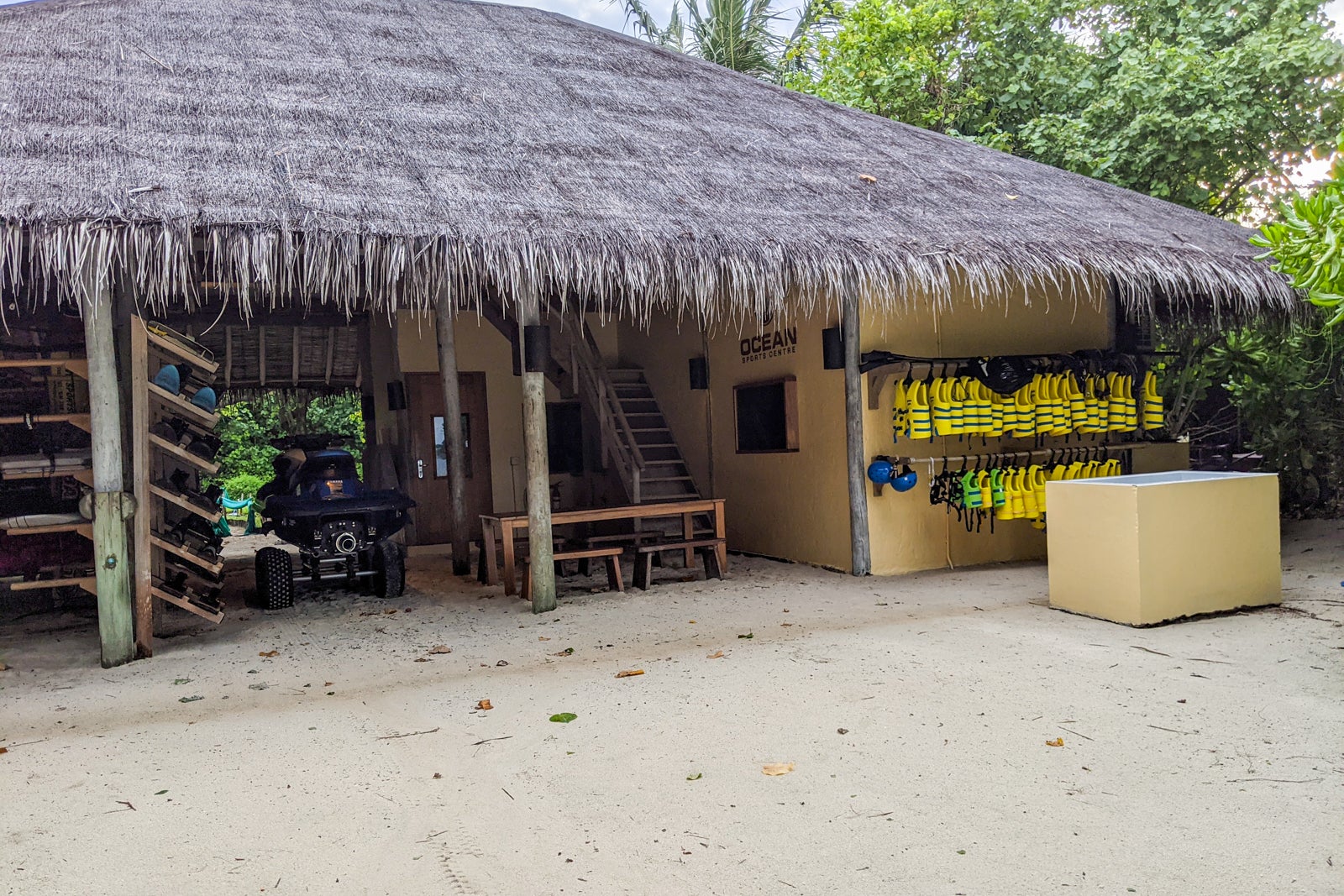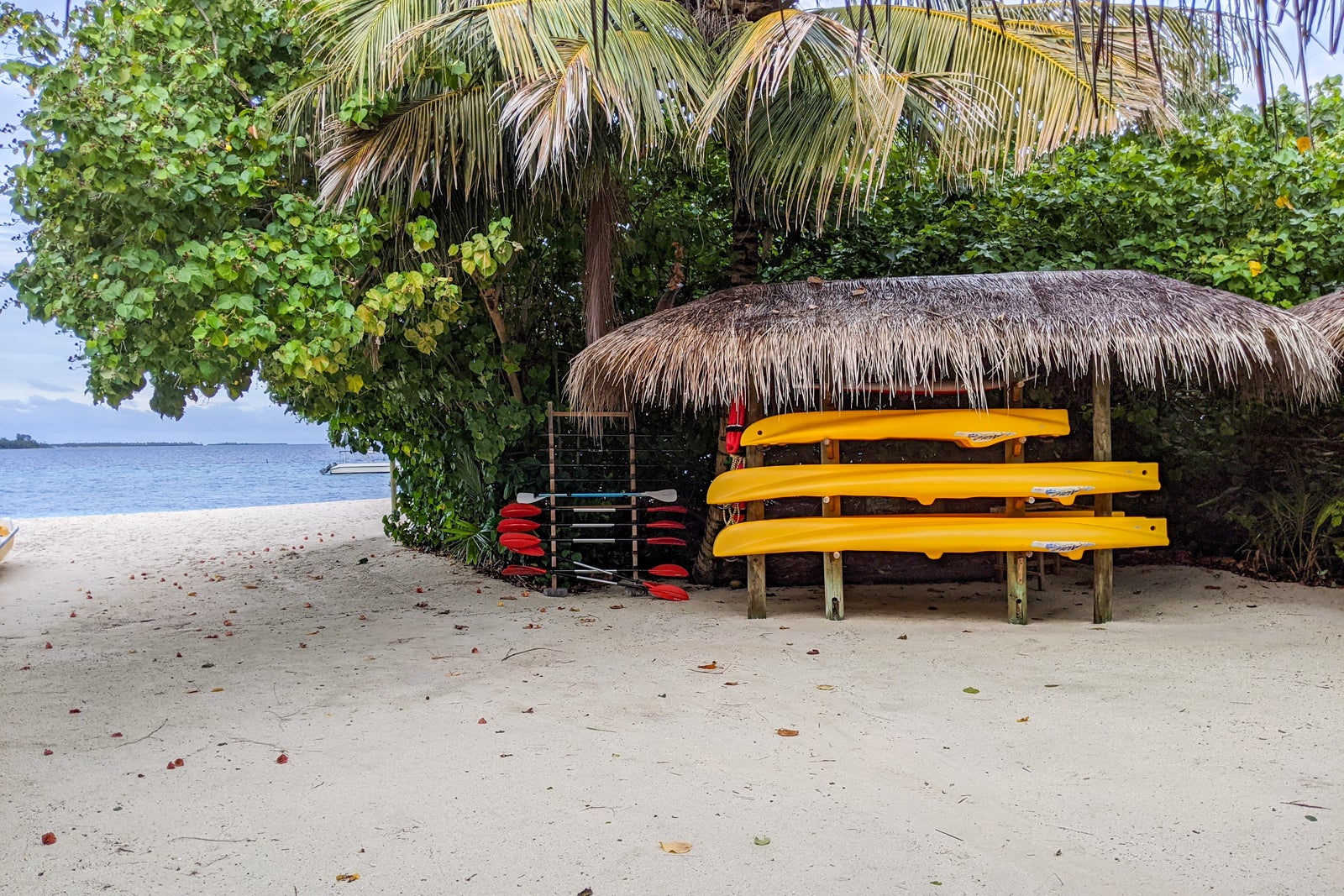 Across from the garden is the Six Senses Spa. Thanks to InterContinental Ambassador status, we got a complimentary 50-minute Six Senses Spa massage for two. While the spa treatment rooms are attractive nest structures with peaceful lagoon views, other guests talking in nearby treatment areas marred the peacefulness.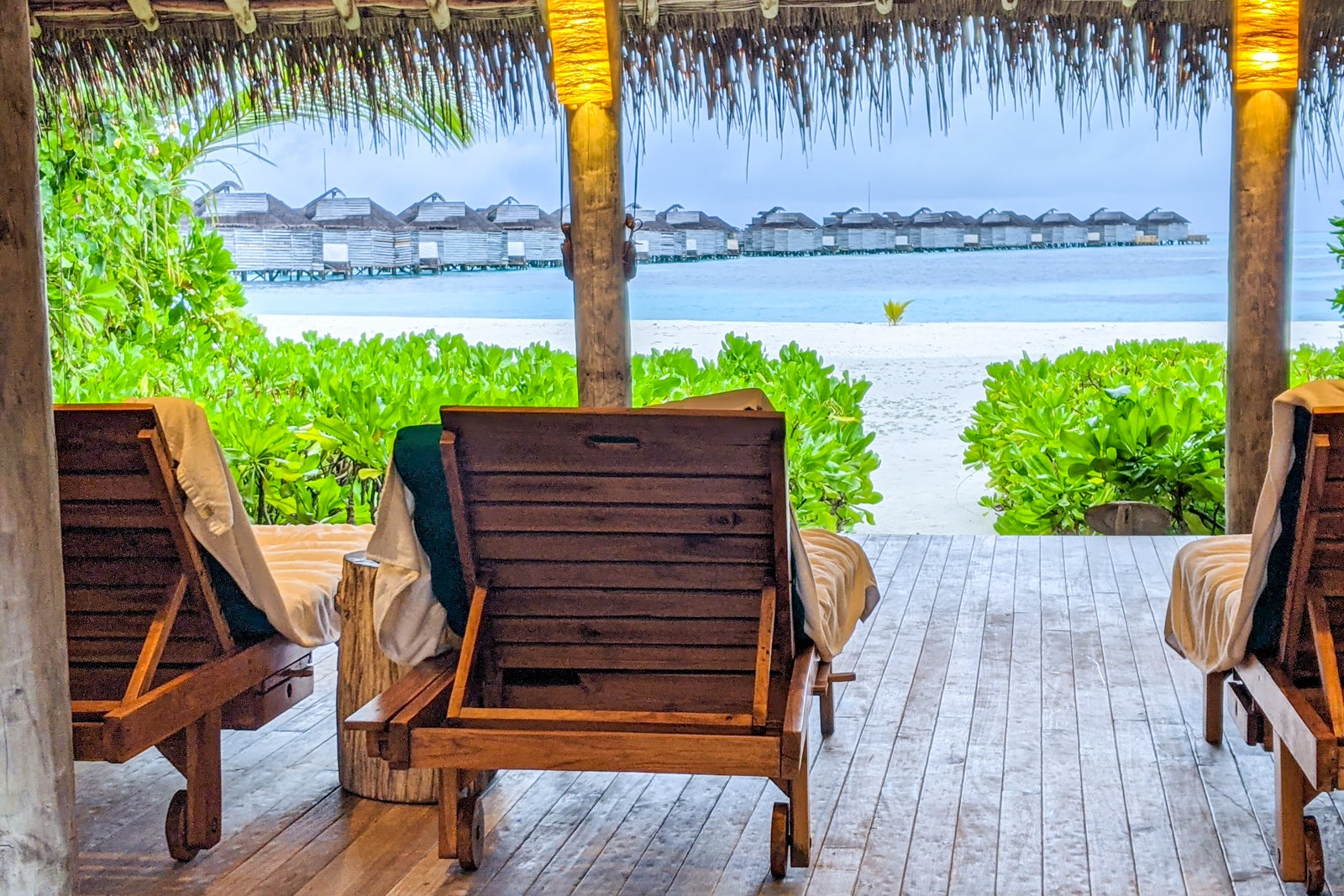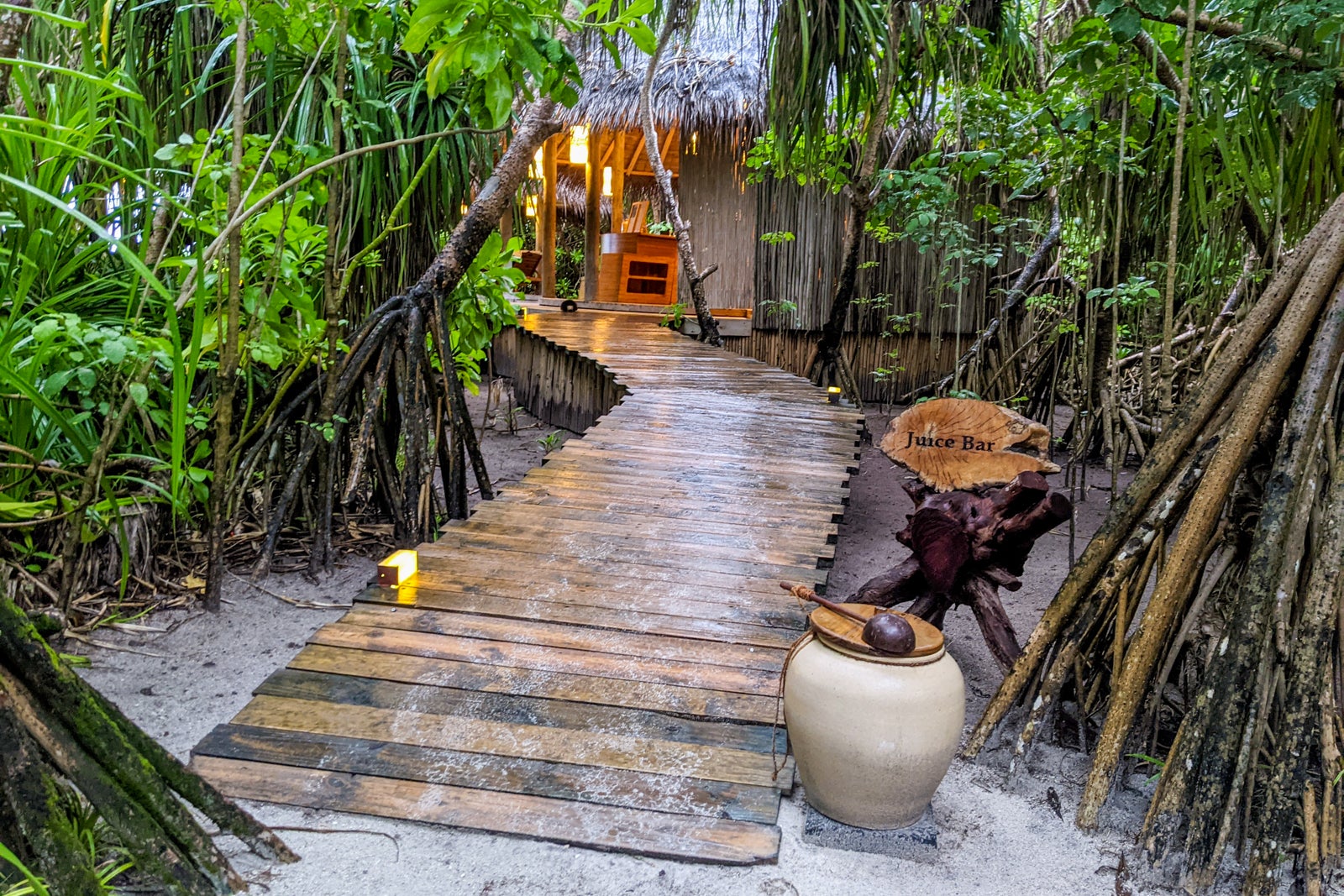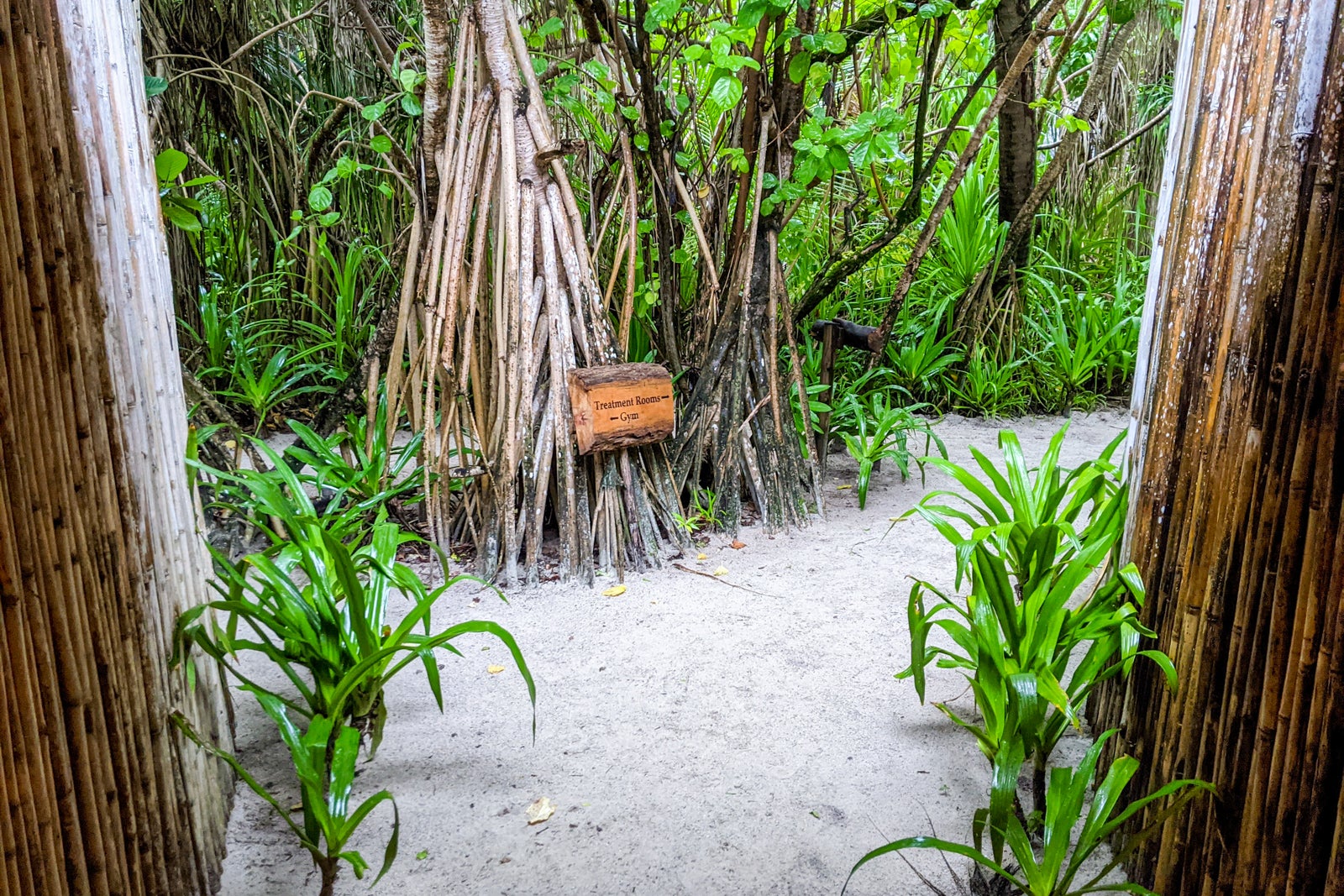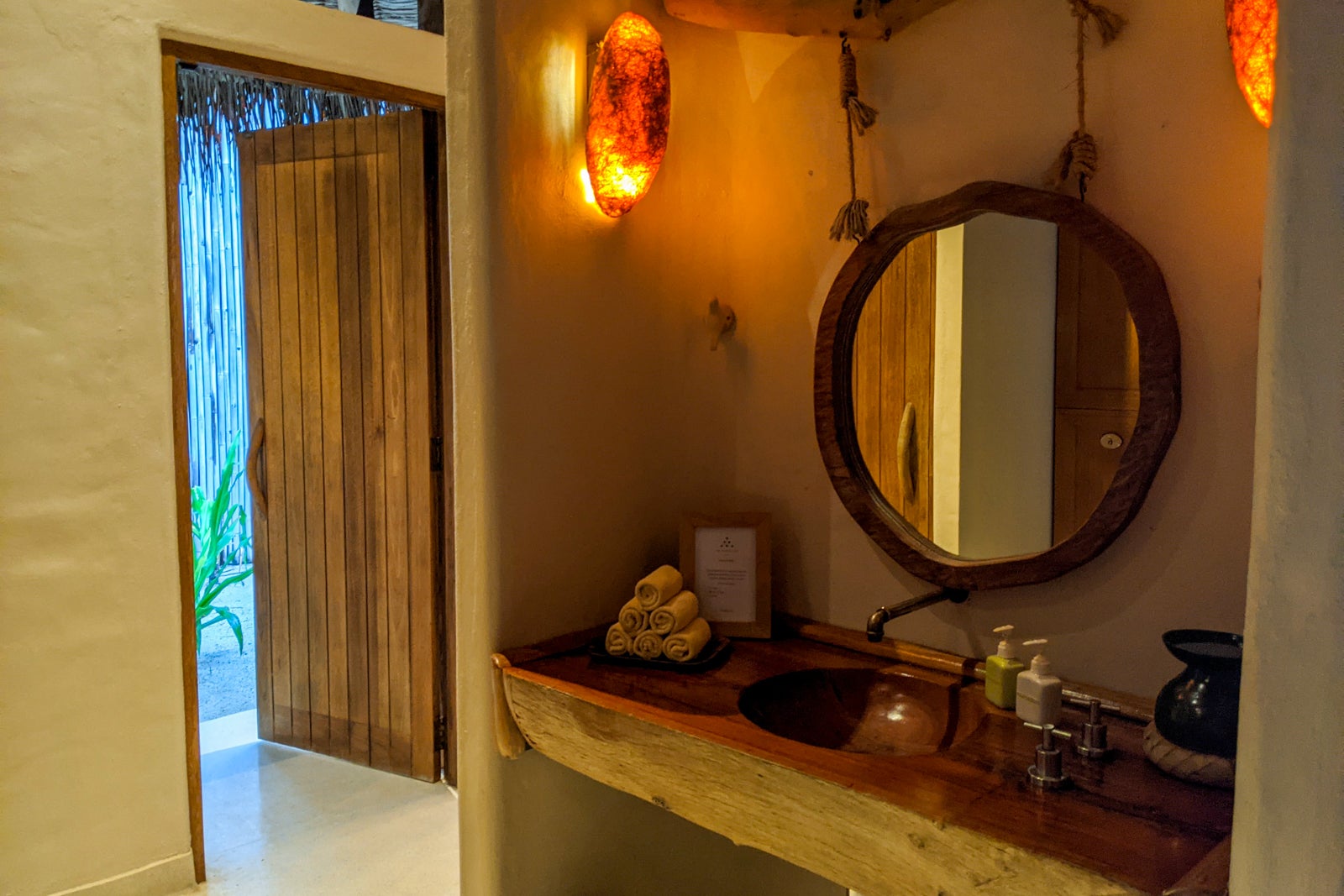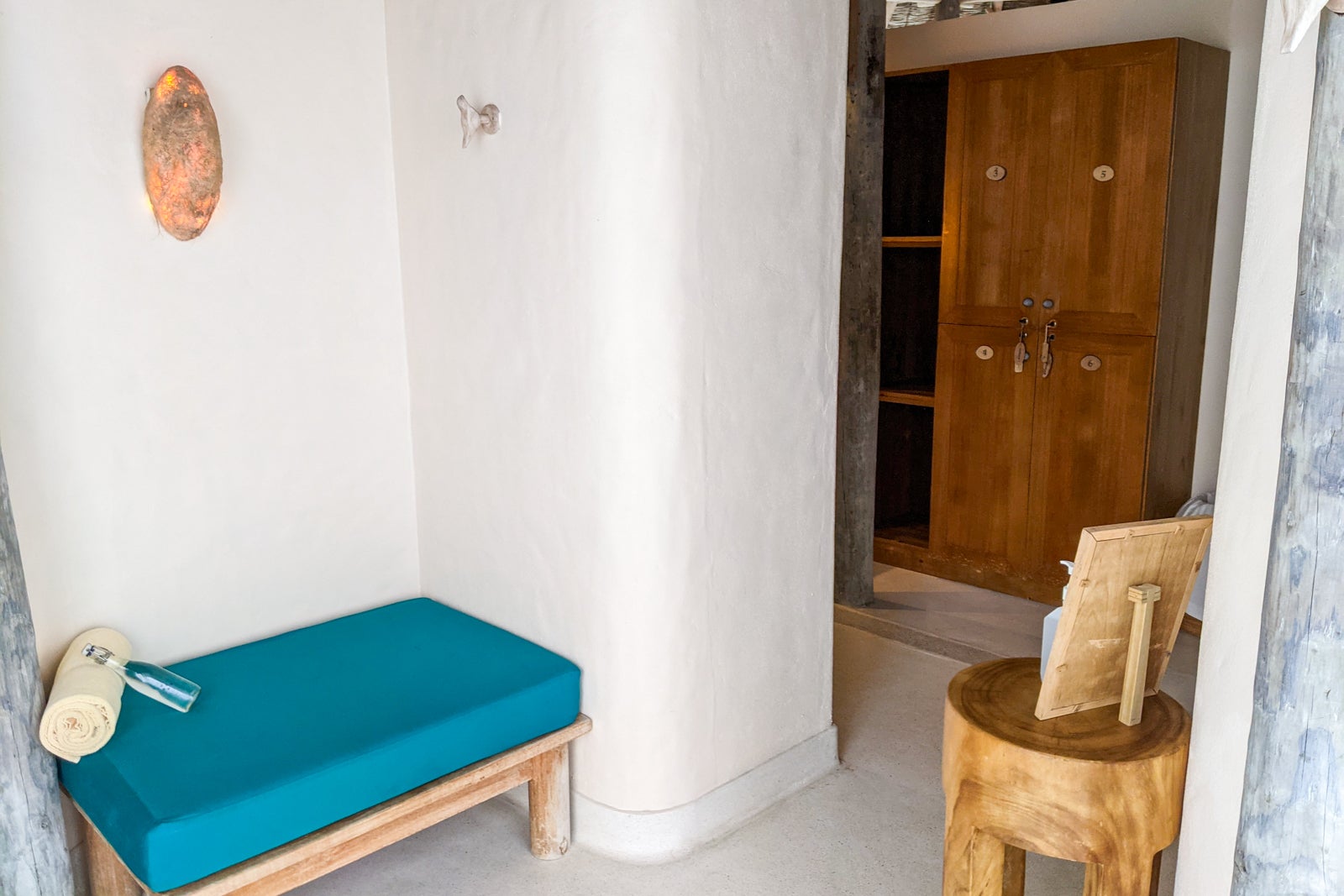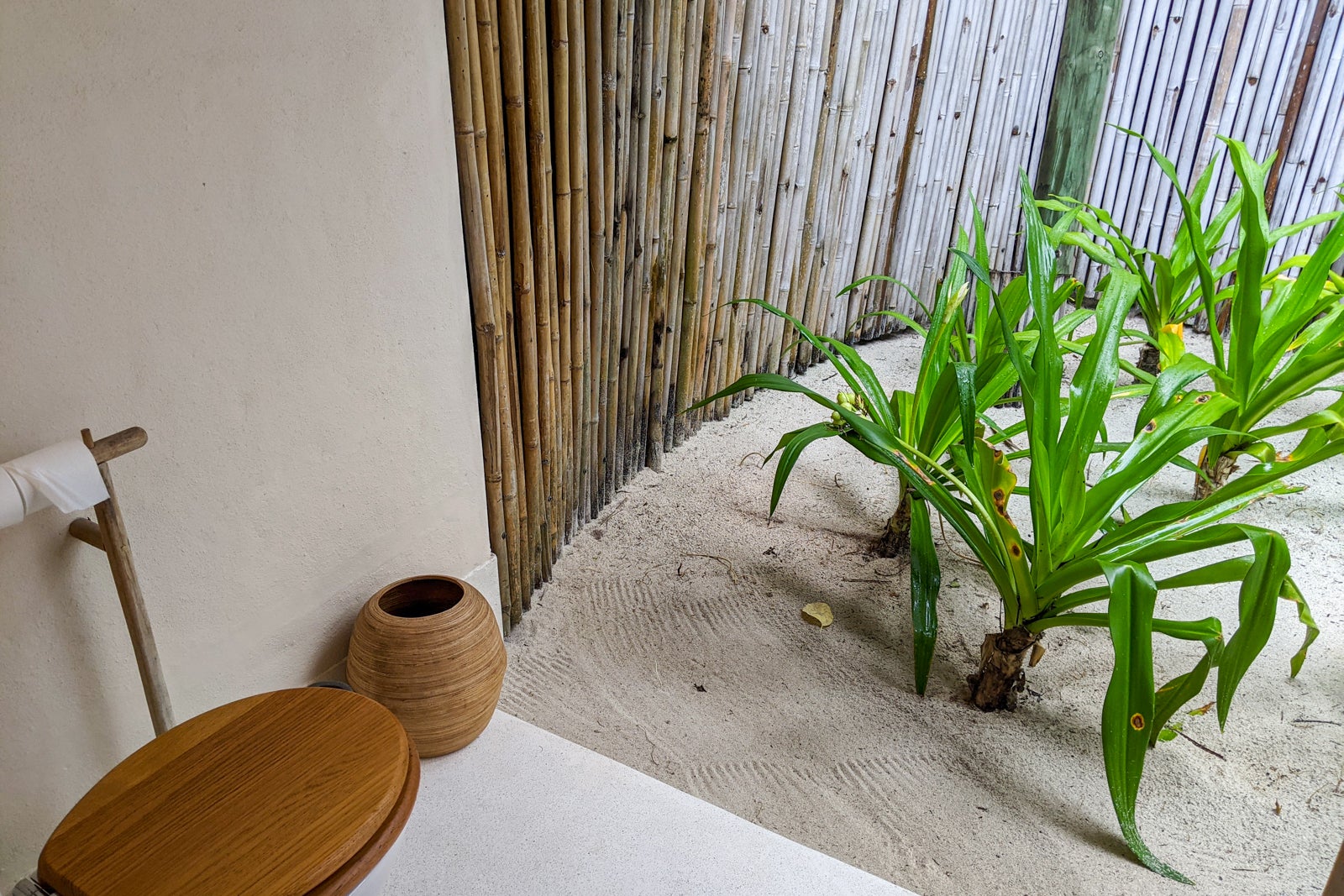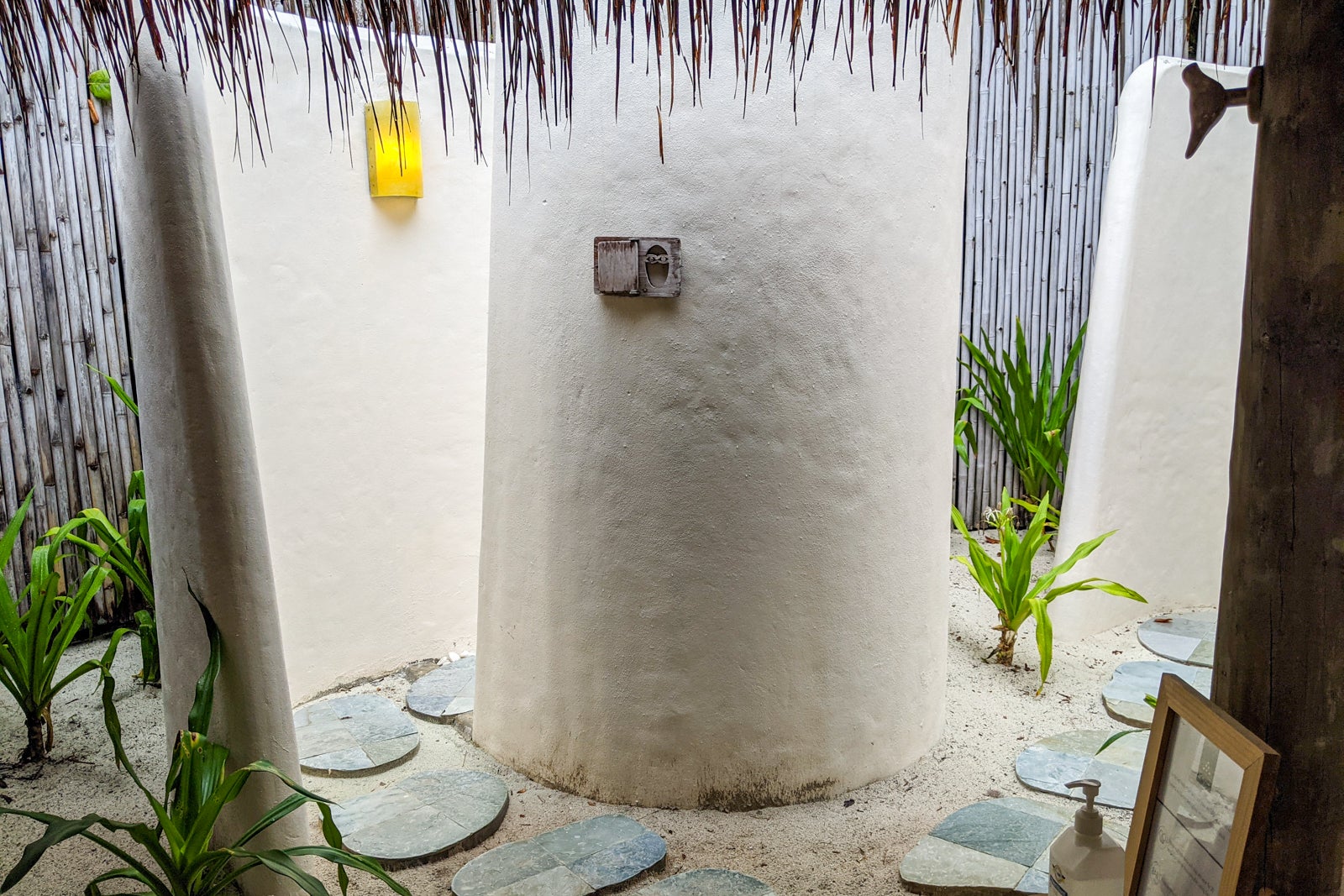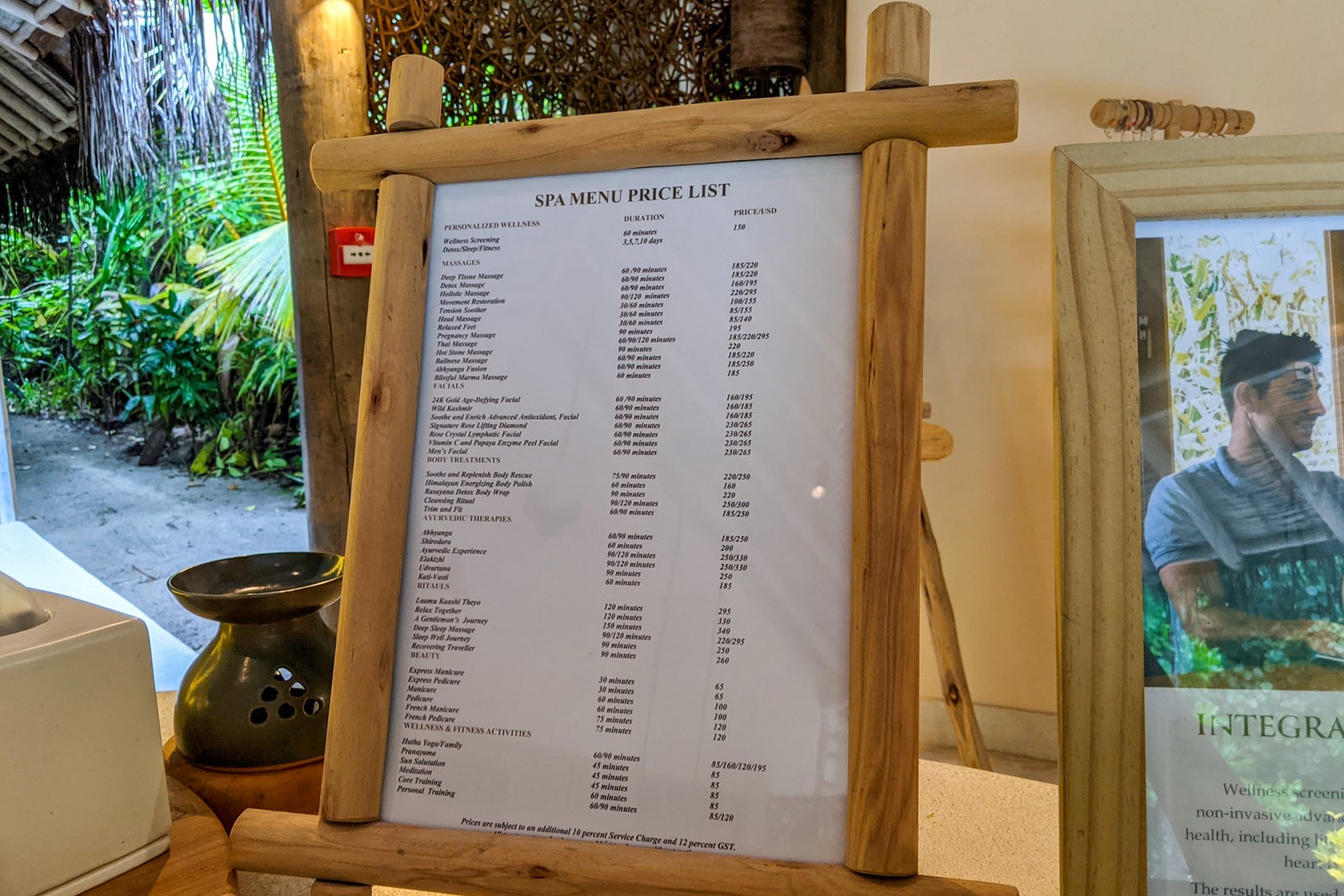 Related: These are the 7 best spas in the Maldives
Next to the spa is the gym. The lower level of the gym offers weights, exercise equipment and a small yoga studio. The upper level has an outdoor studio with lagoon views. Most classes, including aerial yoga, are held in this outdoor studio.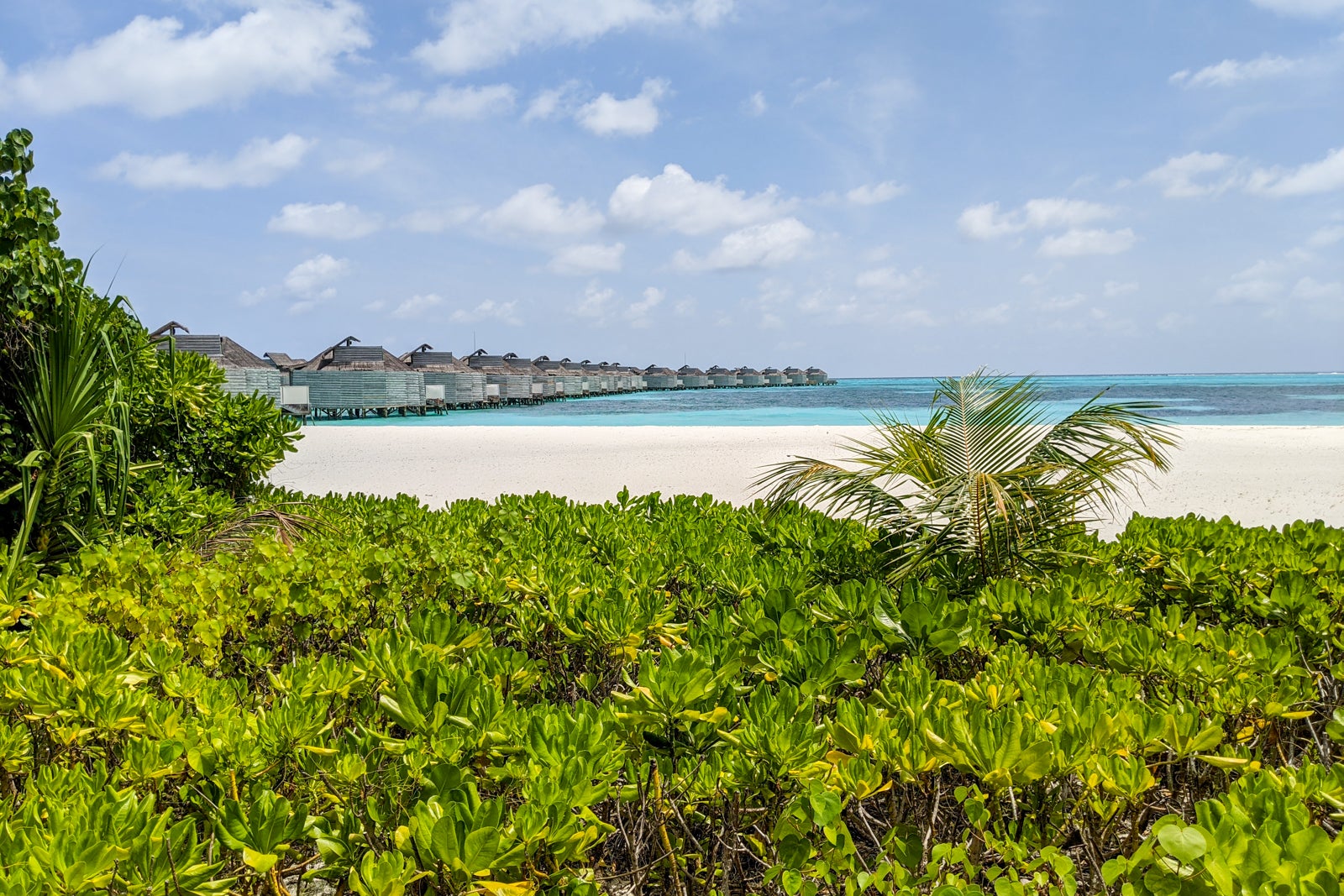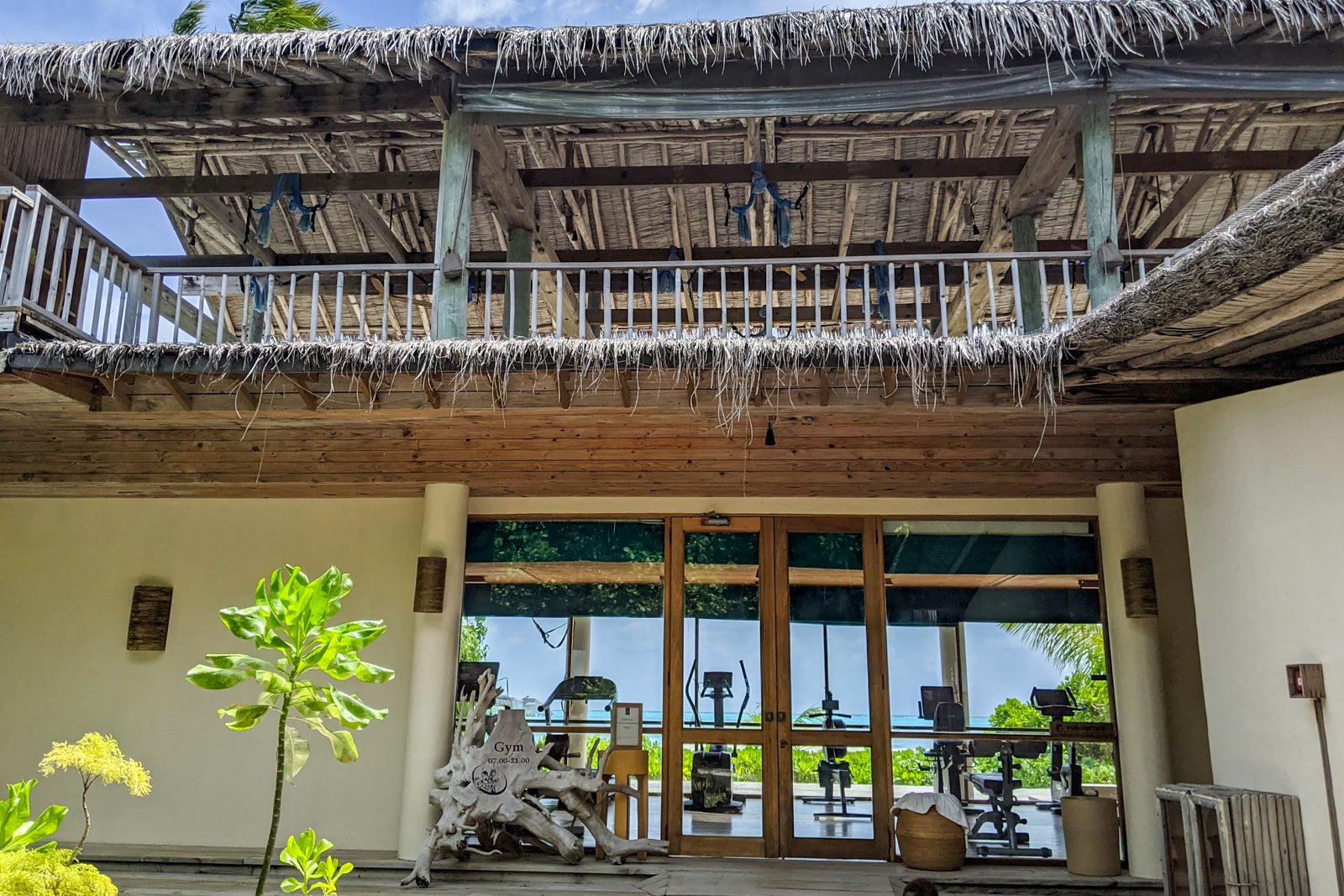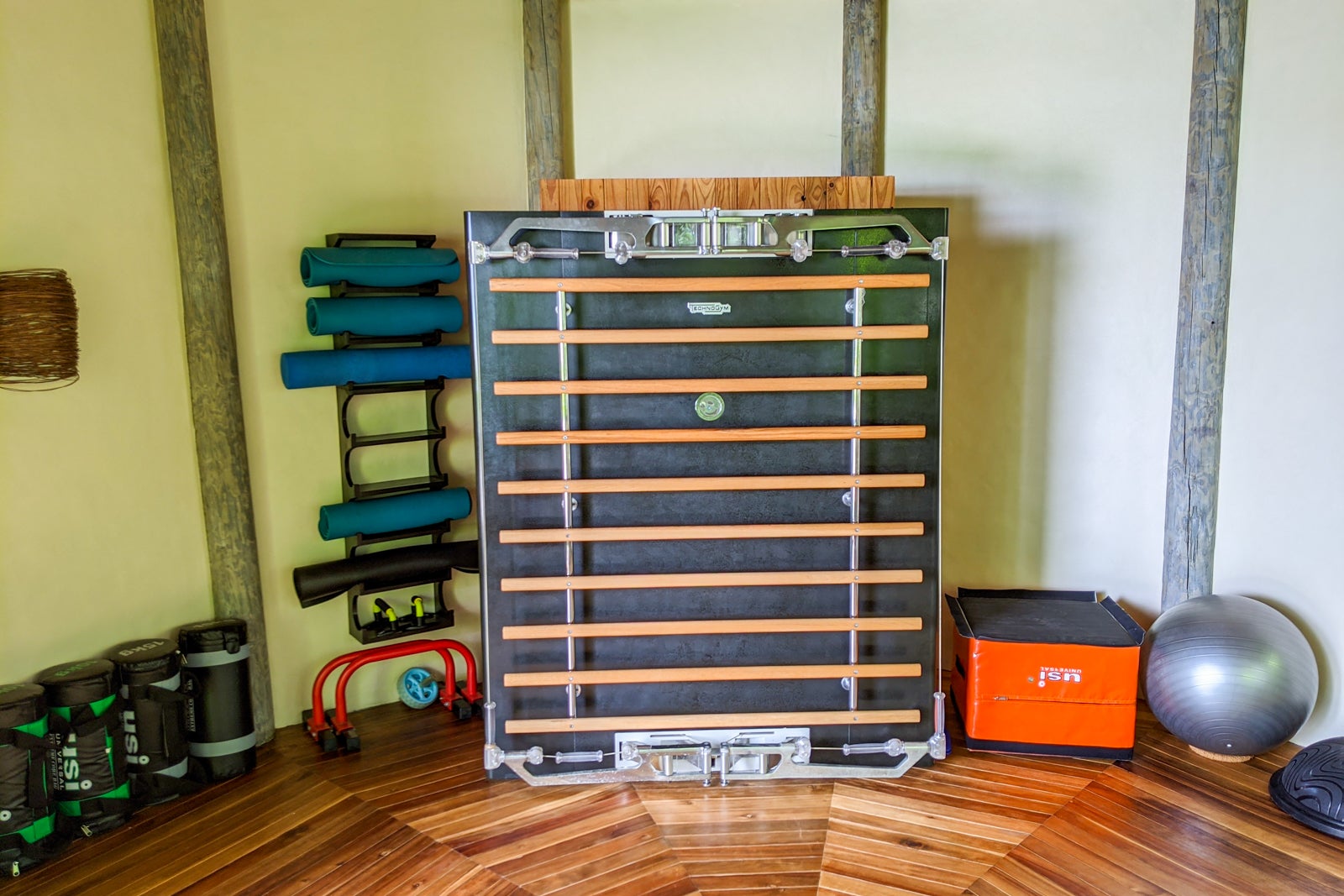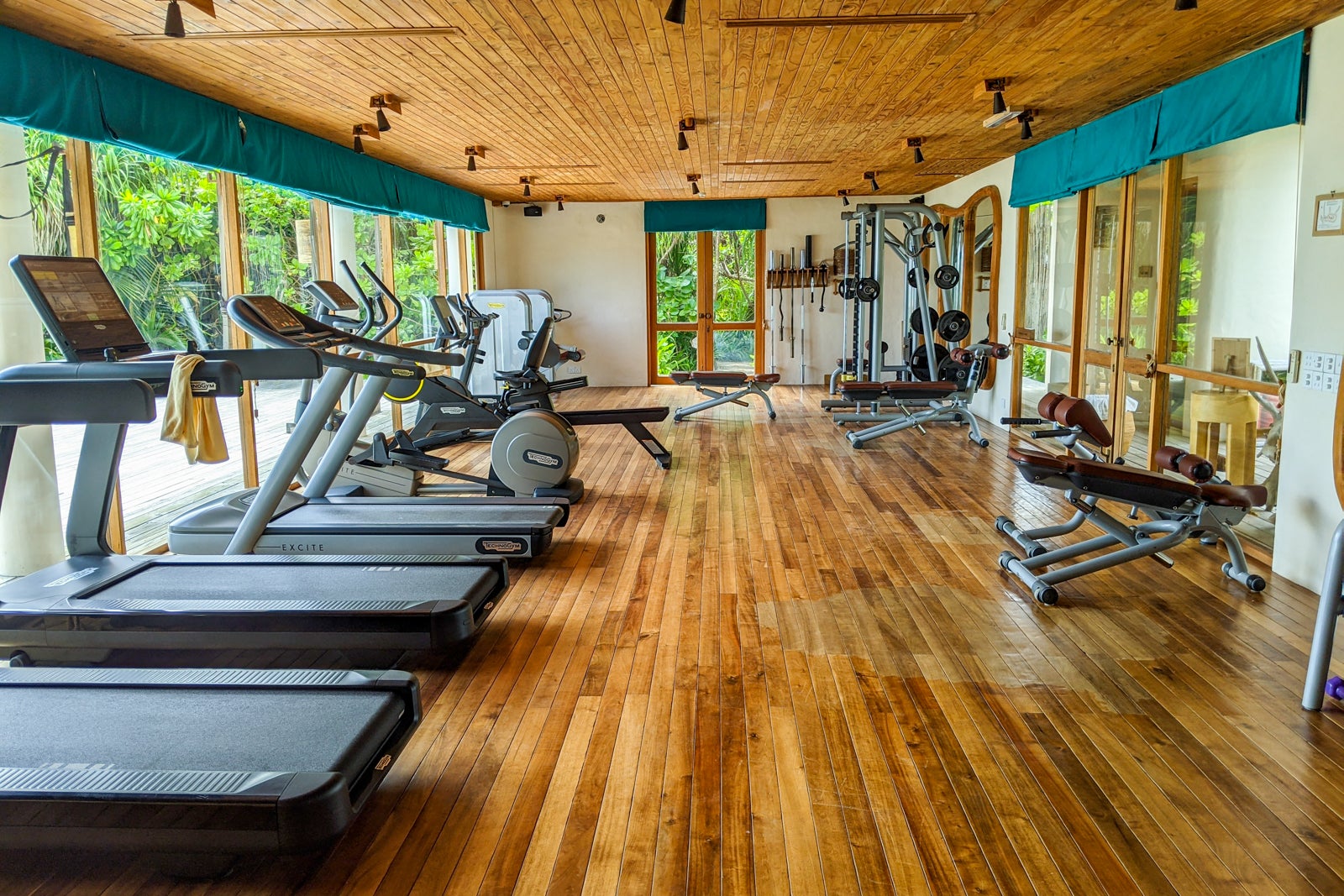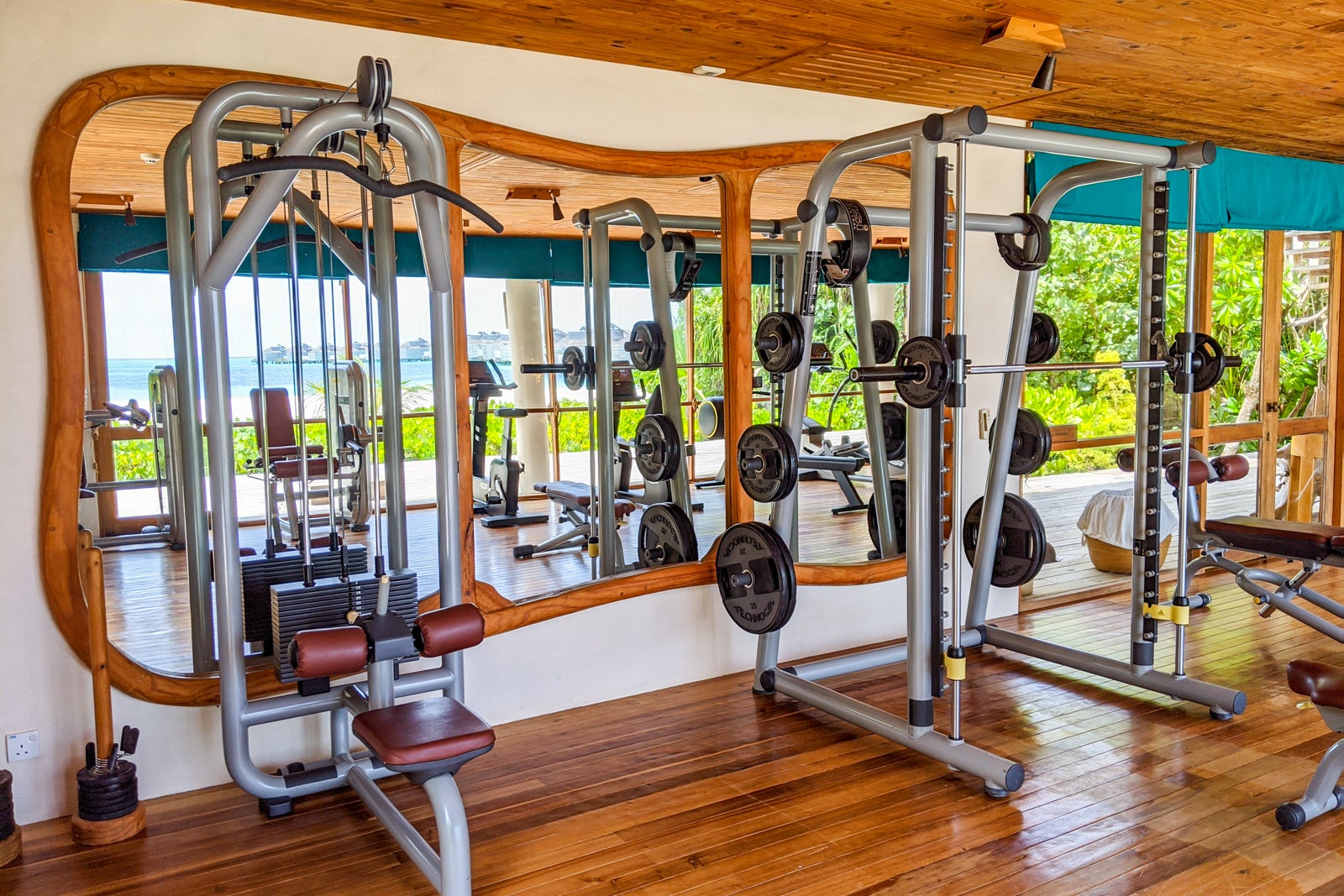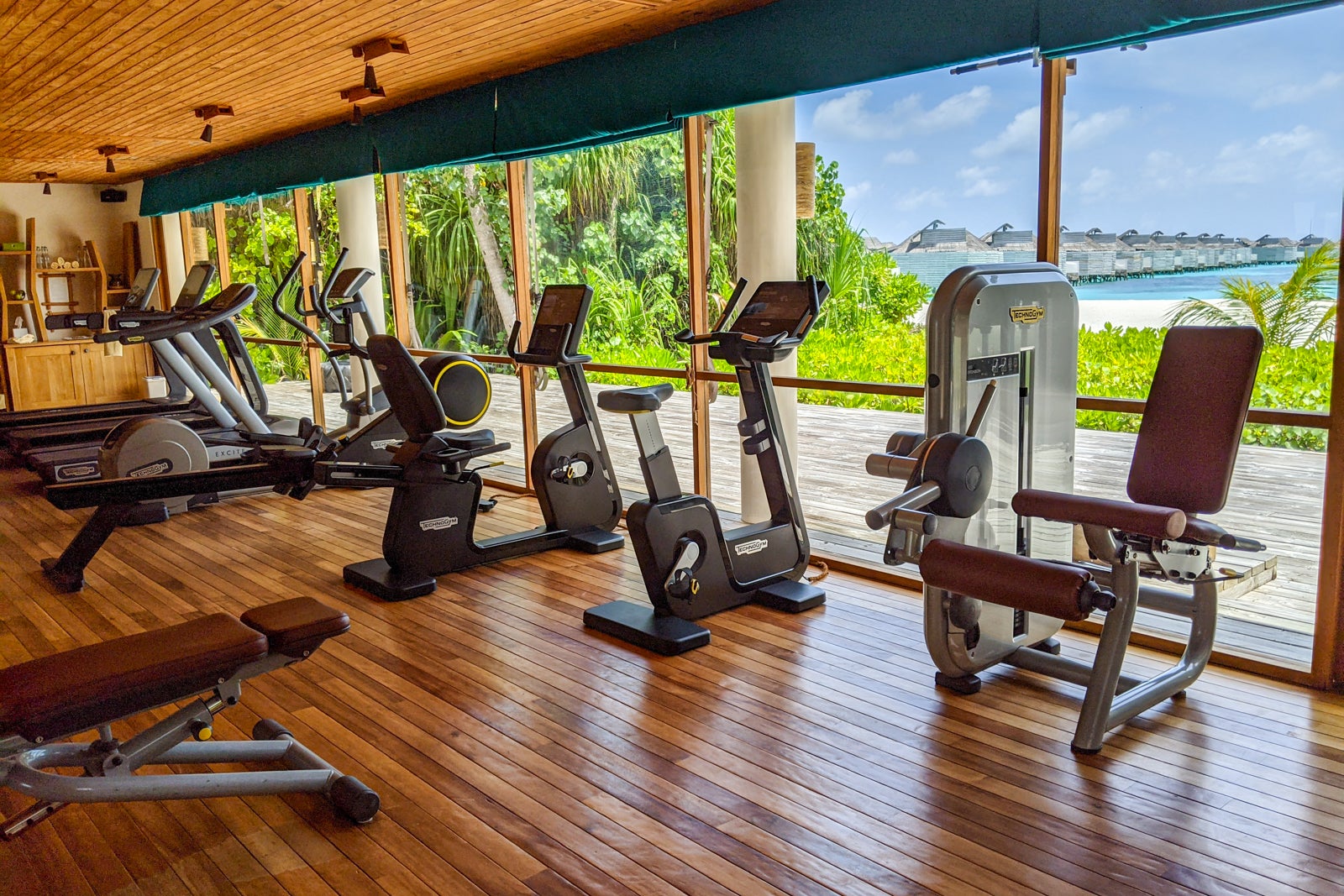 Within the central, overwater heart of the resort is a diving center. You can schedule dives here, and you can also borrow a complimentary mask, fins and snorkel for the length of your stay.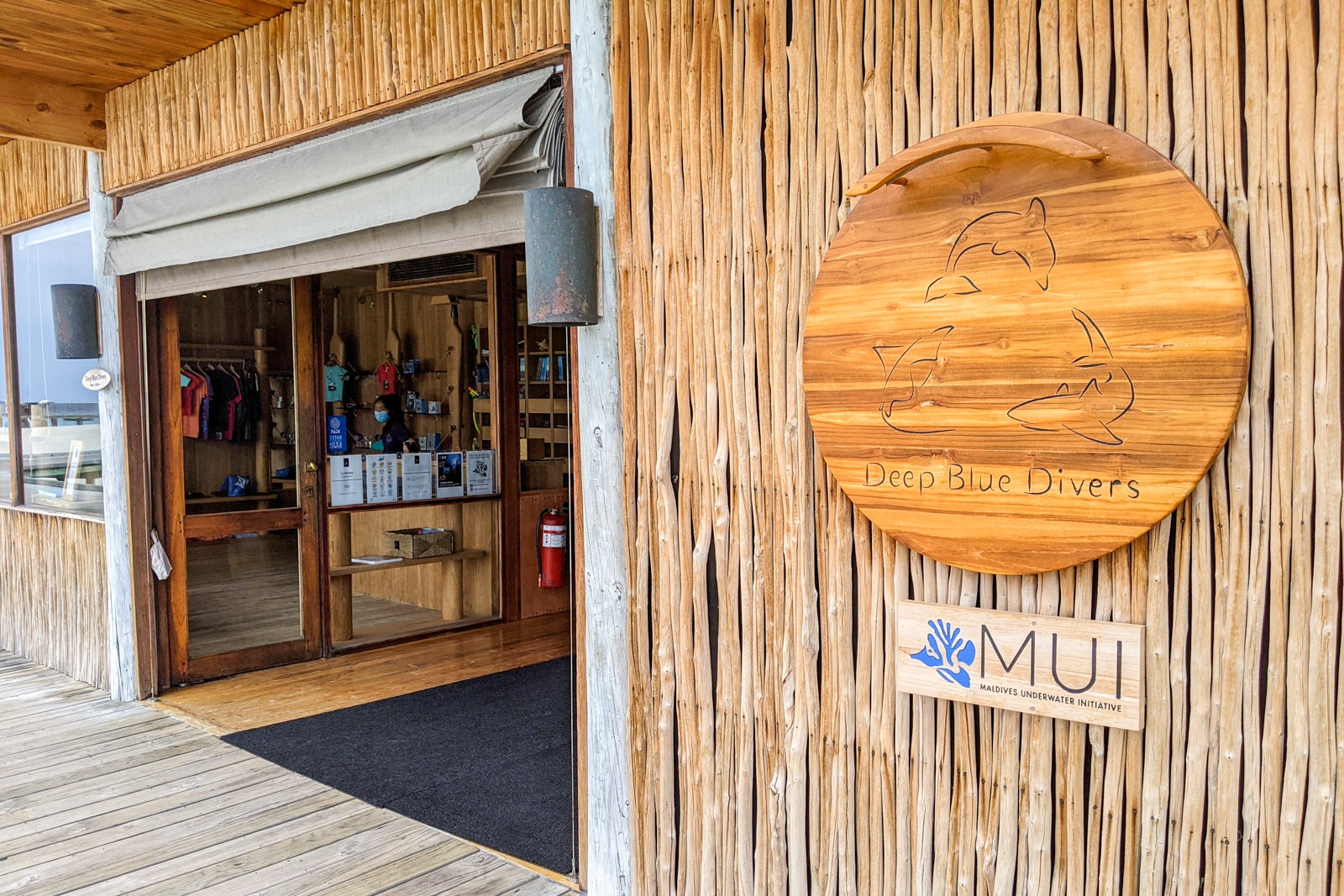 Next to the diving center is a surprisingly large gift shop. And next to the gift shop, above the reception area, is a library with books you can borrow or exchange.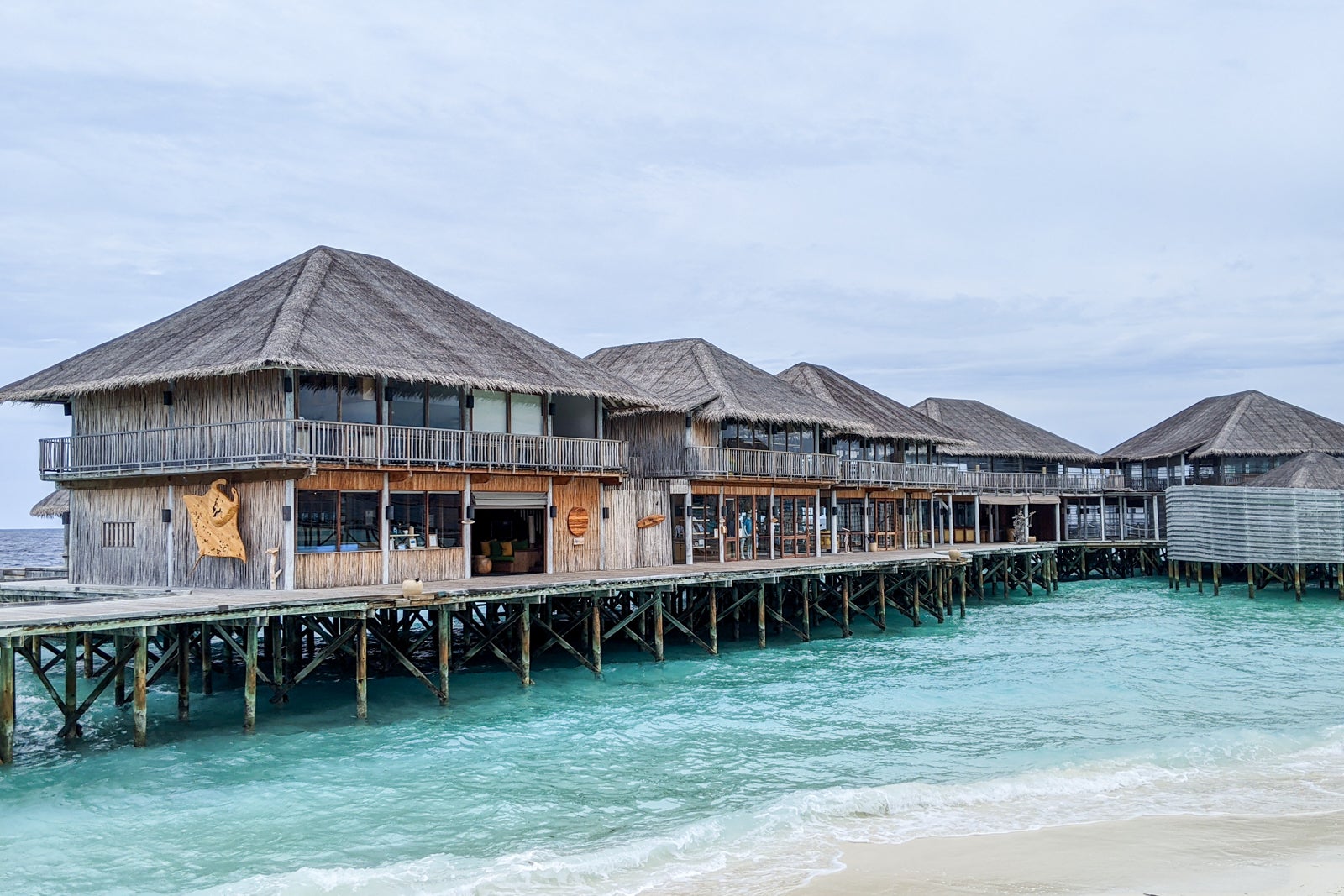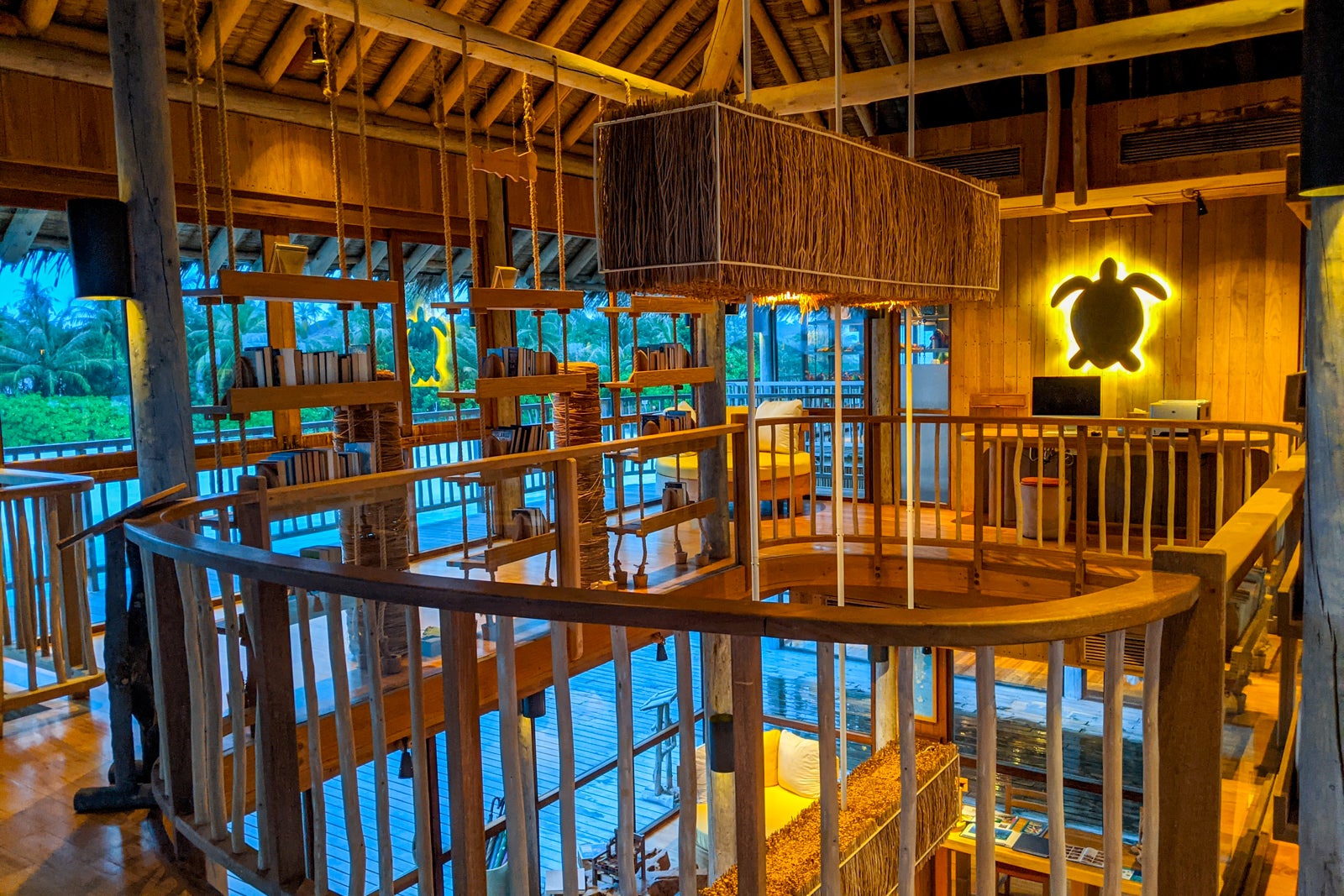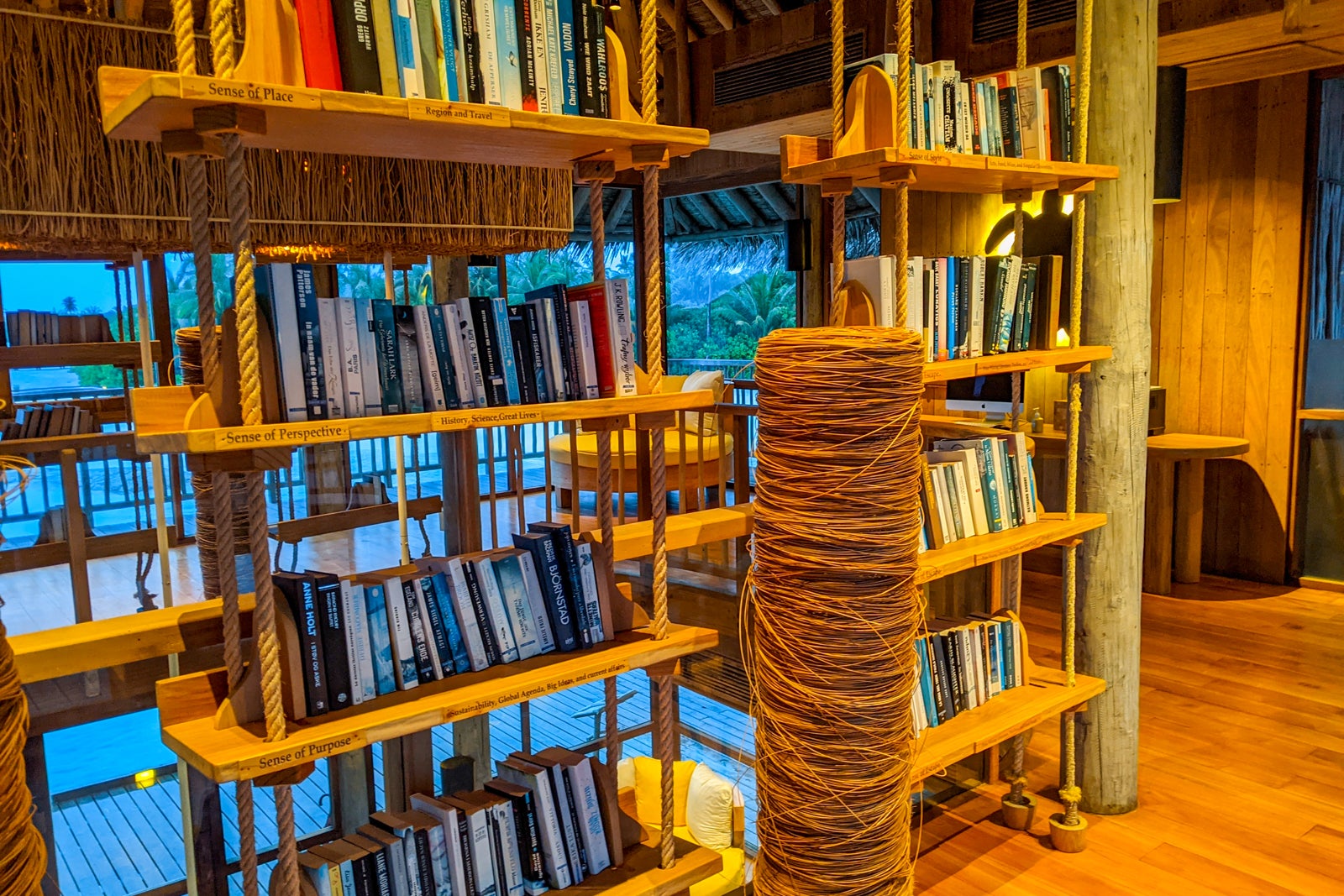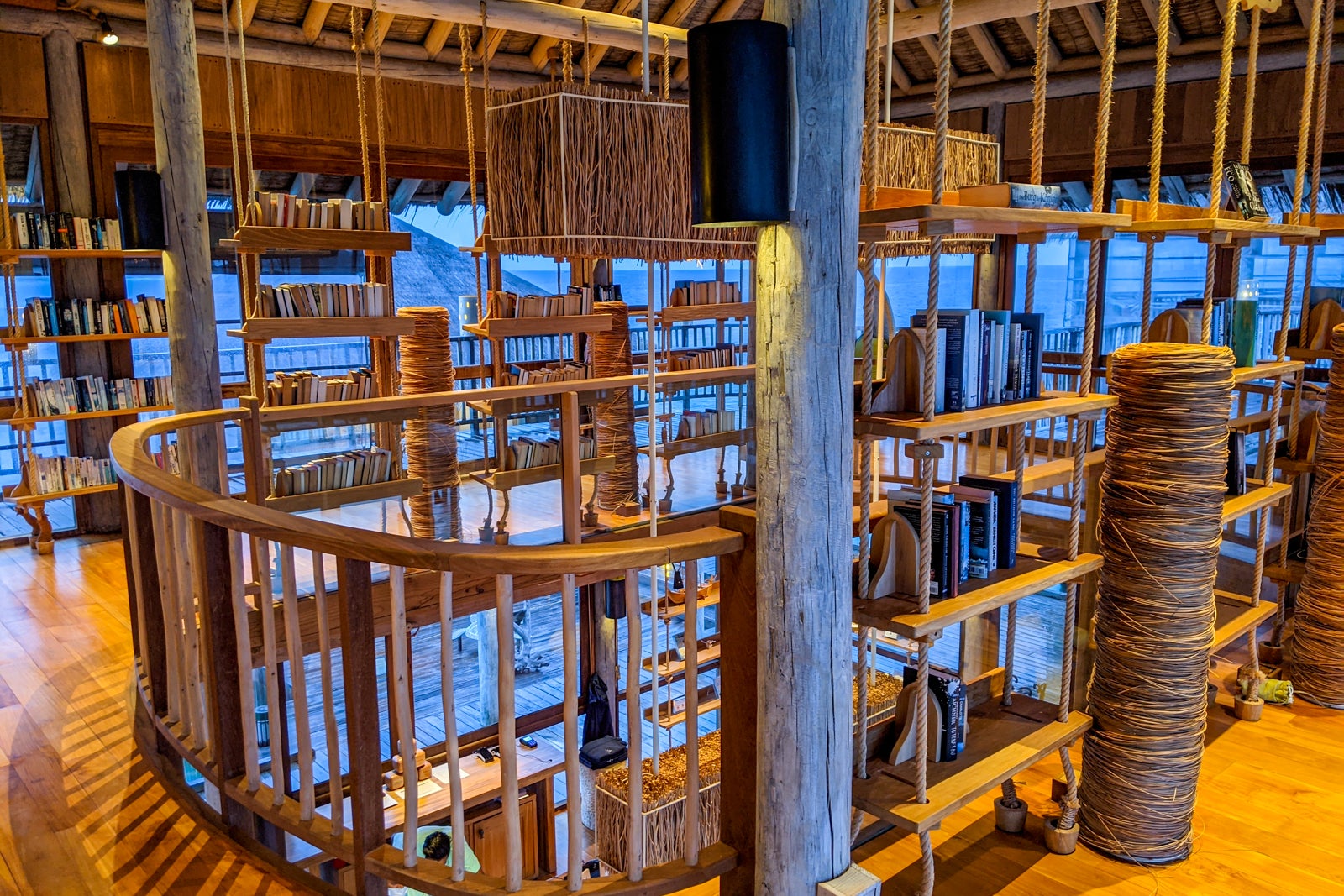 Between Jetty A and B, there's The Den for families with children. We didn't see many children during our stay, but activities at the Den and in-room babysitting are available for families that want those services.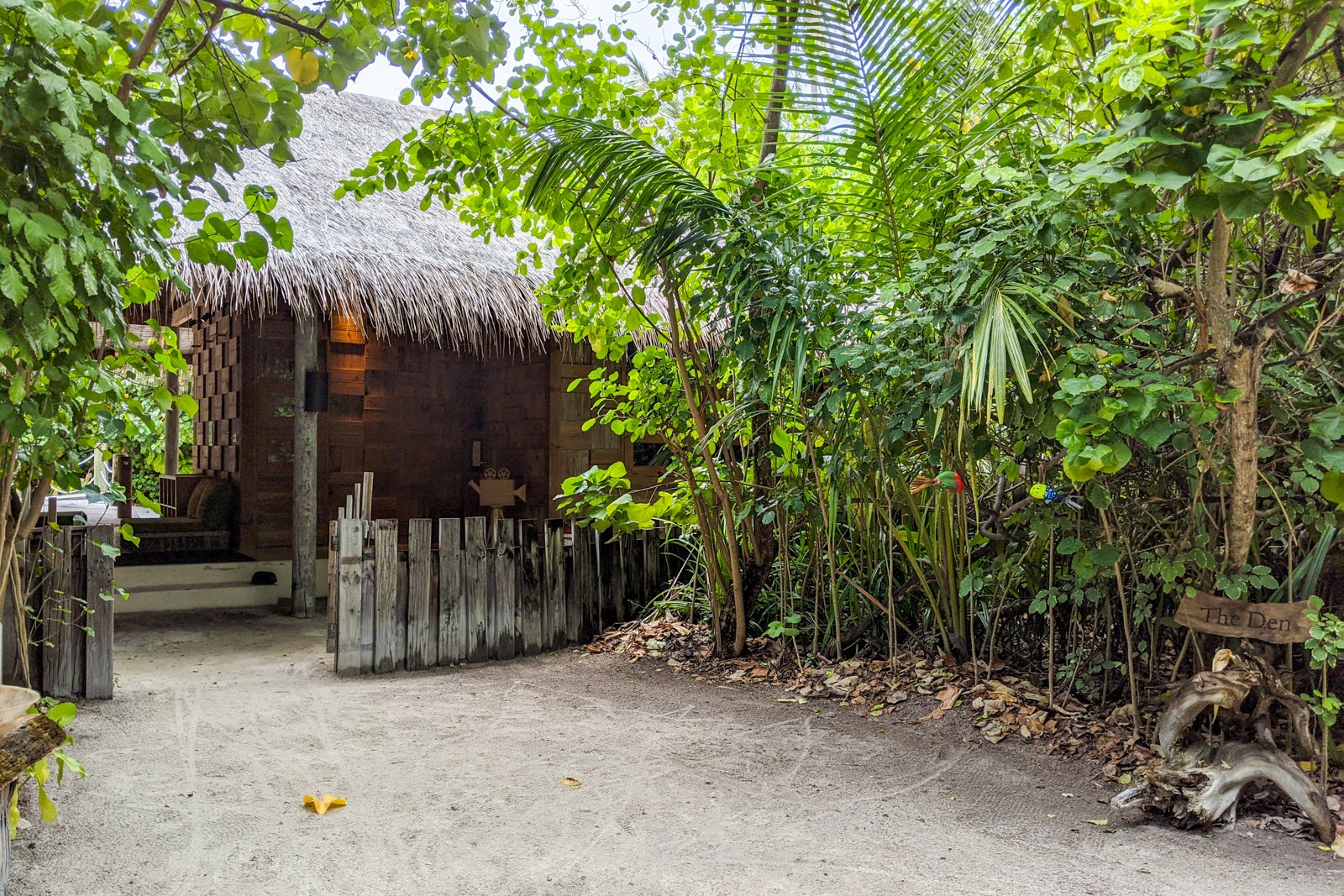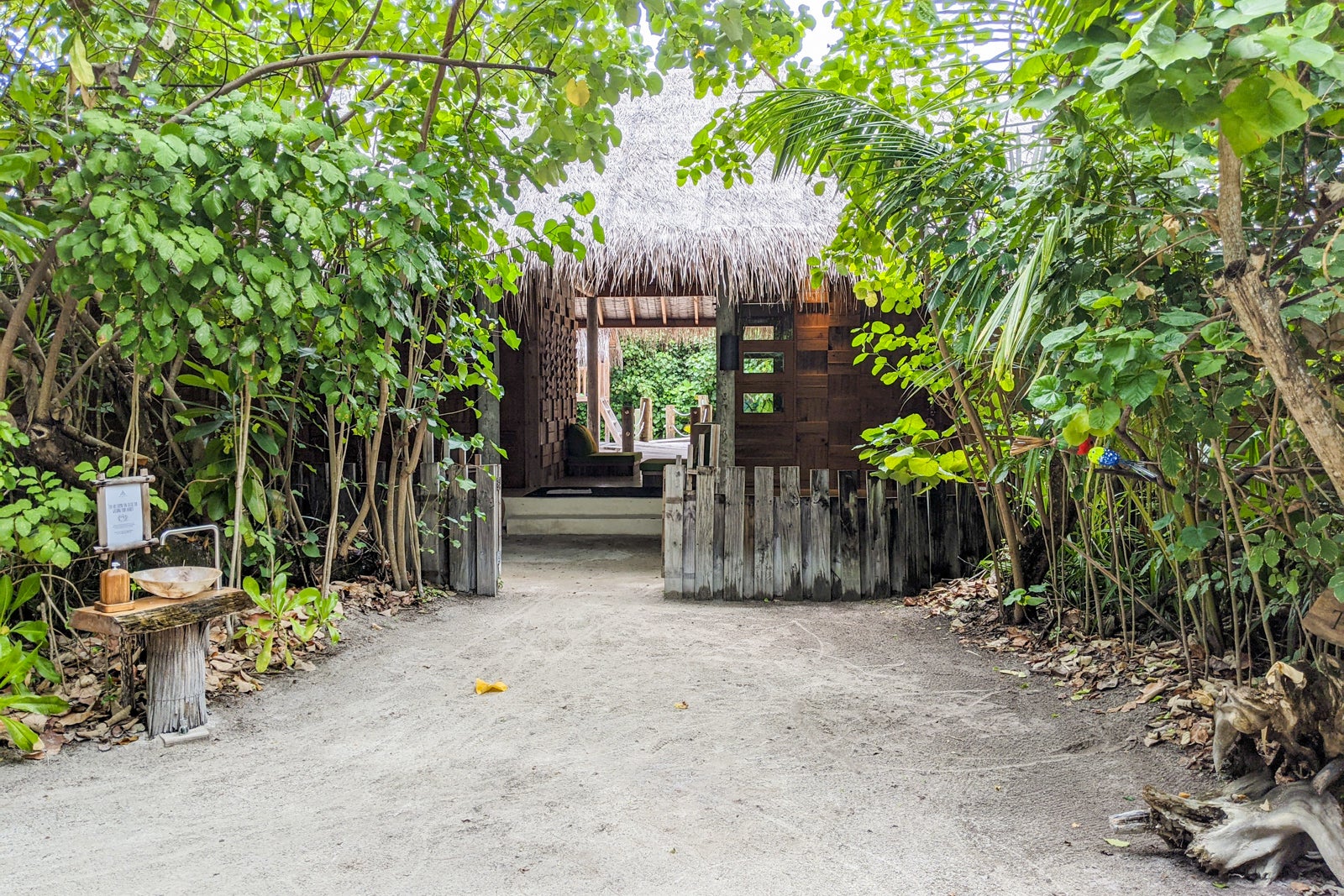 Each villa comes with bikes labeled with your initials. These bikes made getting around the island easy. However, my bike leaned significantly even when the kickstand was down, and the light on my husband's bike was broken. I'm sure our GEM would have gotten these fixed if we'd asked, but it's disappointing that our bikes had these issues when we arrived.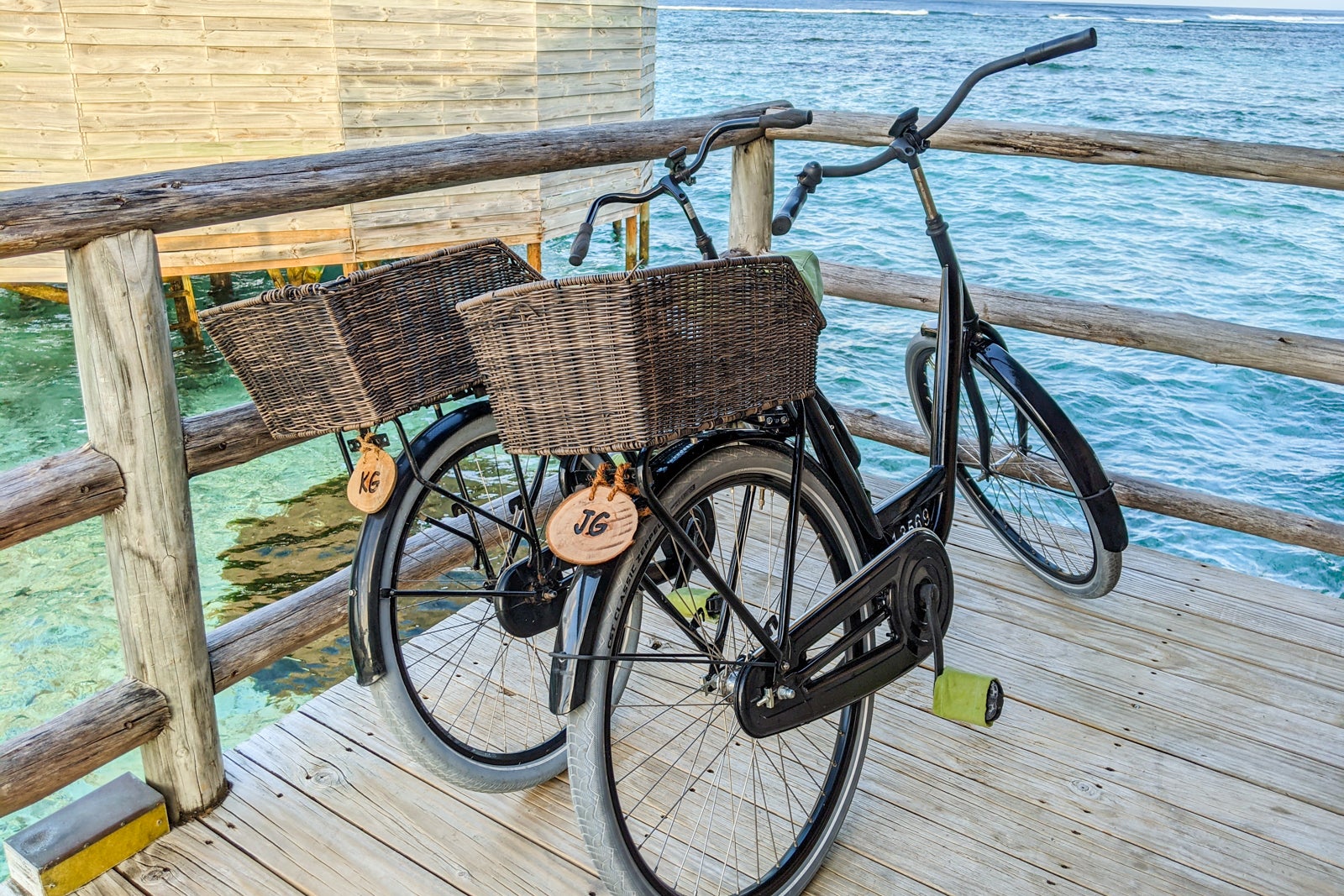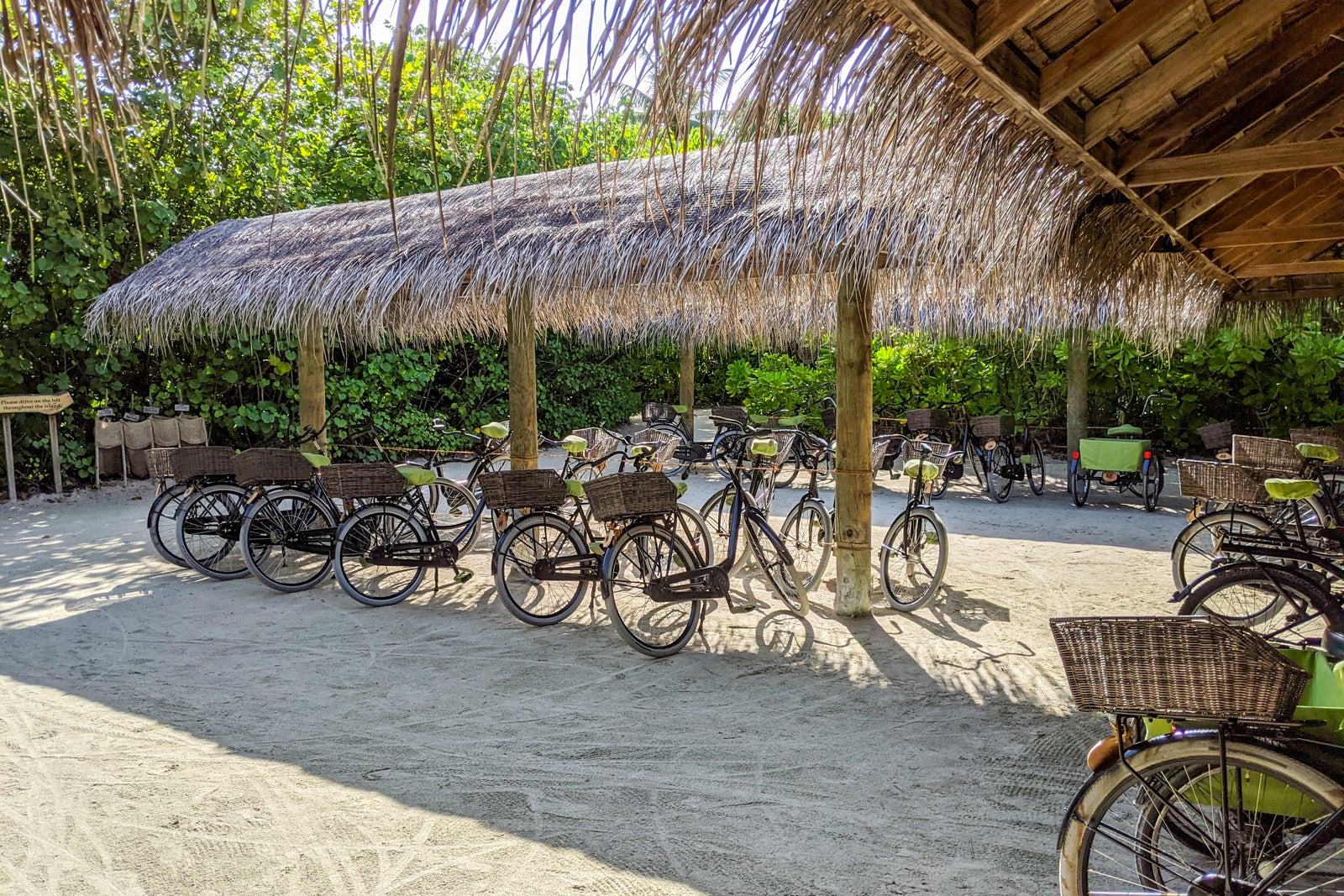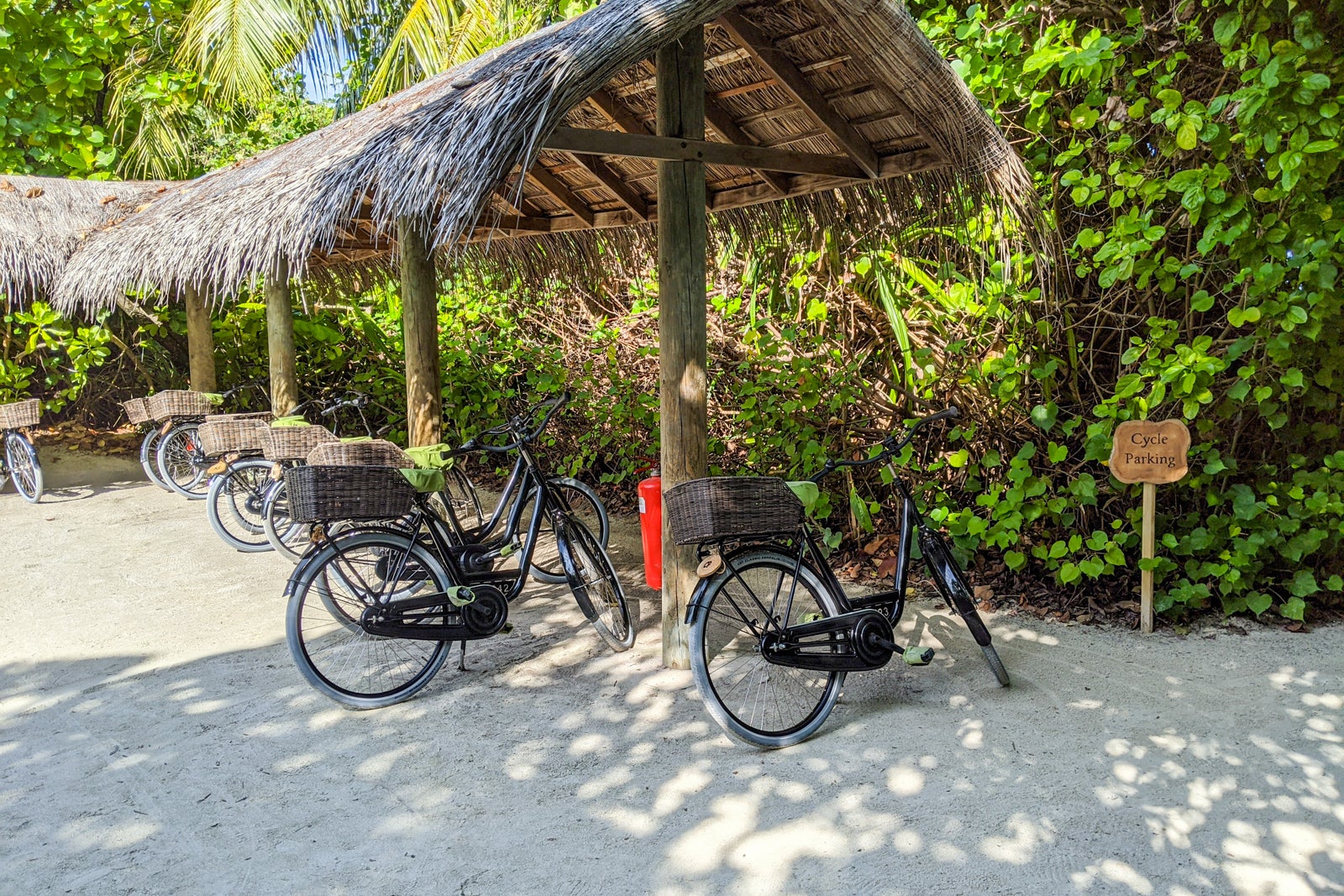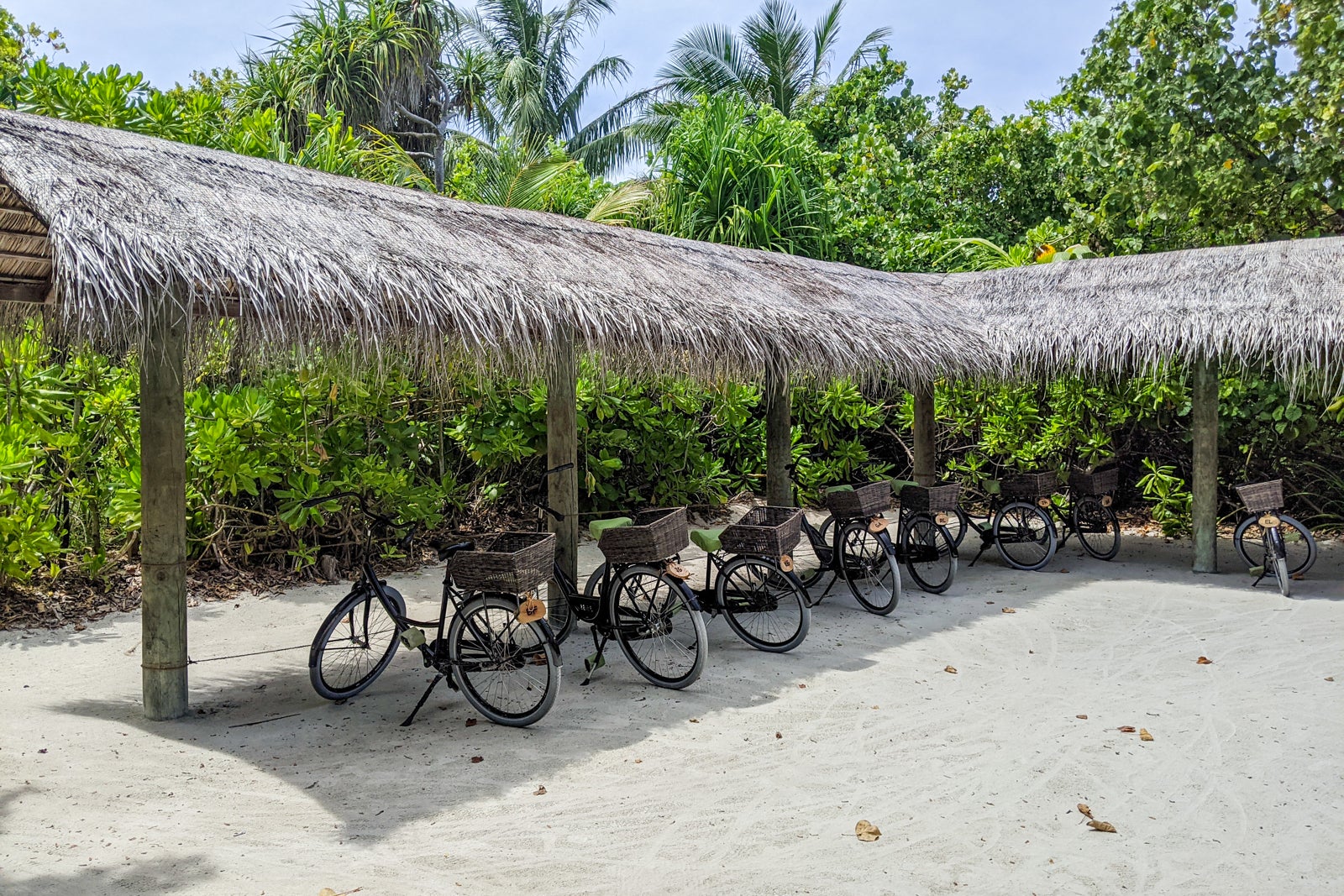 We typically avoid resort laundry due to its high cost. But when housekeeping dropped off an empty bag during turn-down service before our last full day at the resort, we decided to utilize the offer. We sent off a packed bag of dirty laundry at 9:45 a.m. the next morning and got back a clean basket of folded laundry that evening for $49. I loved that the laundry bag and return packaging was all reusable.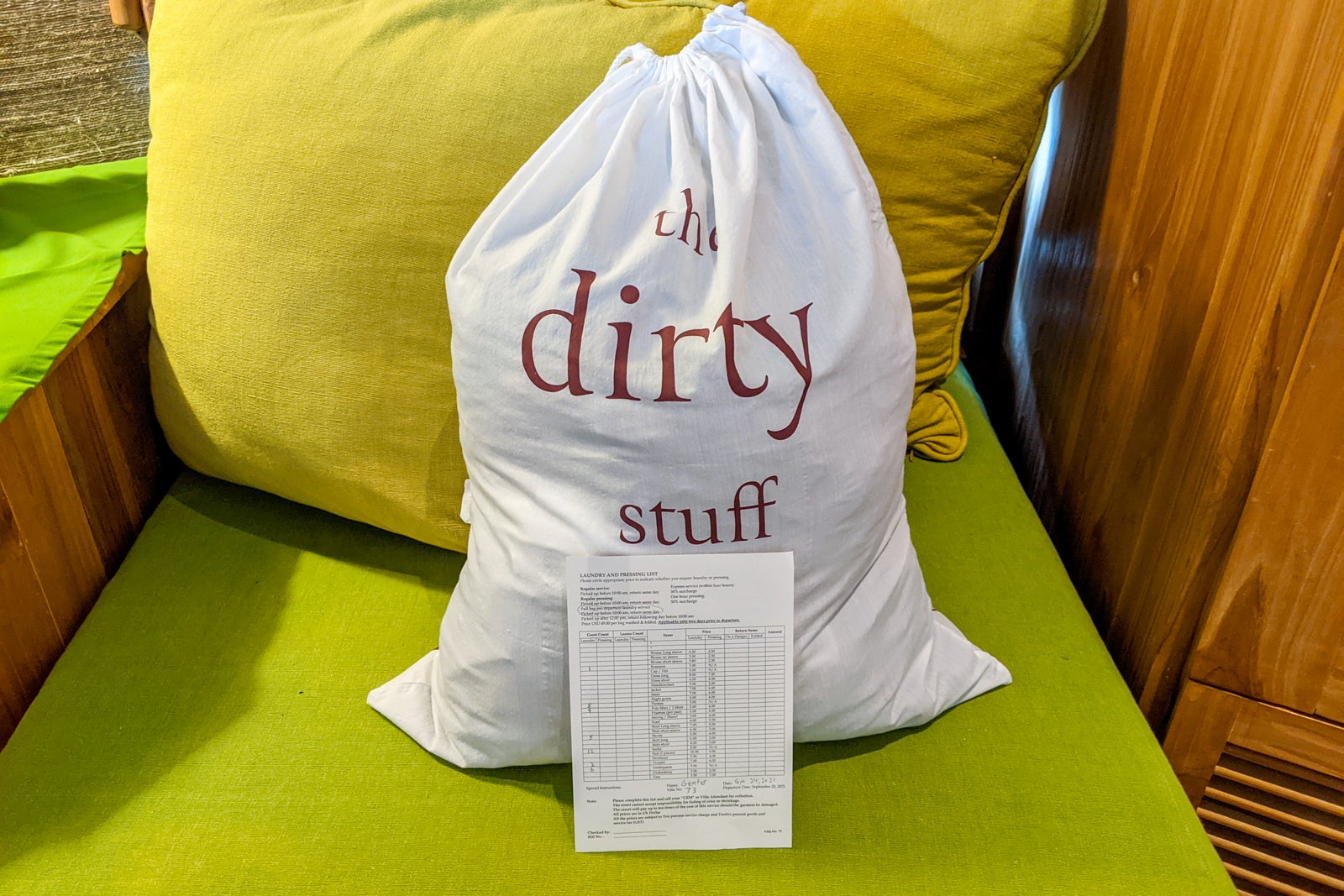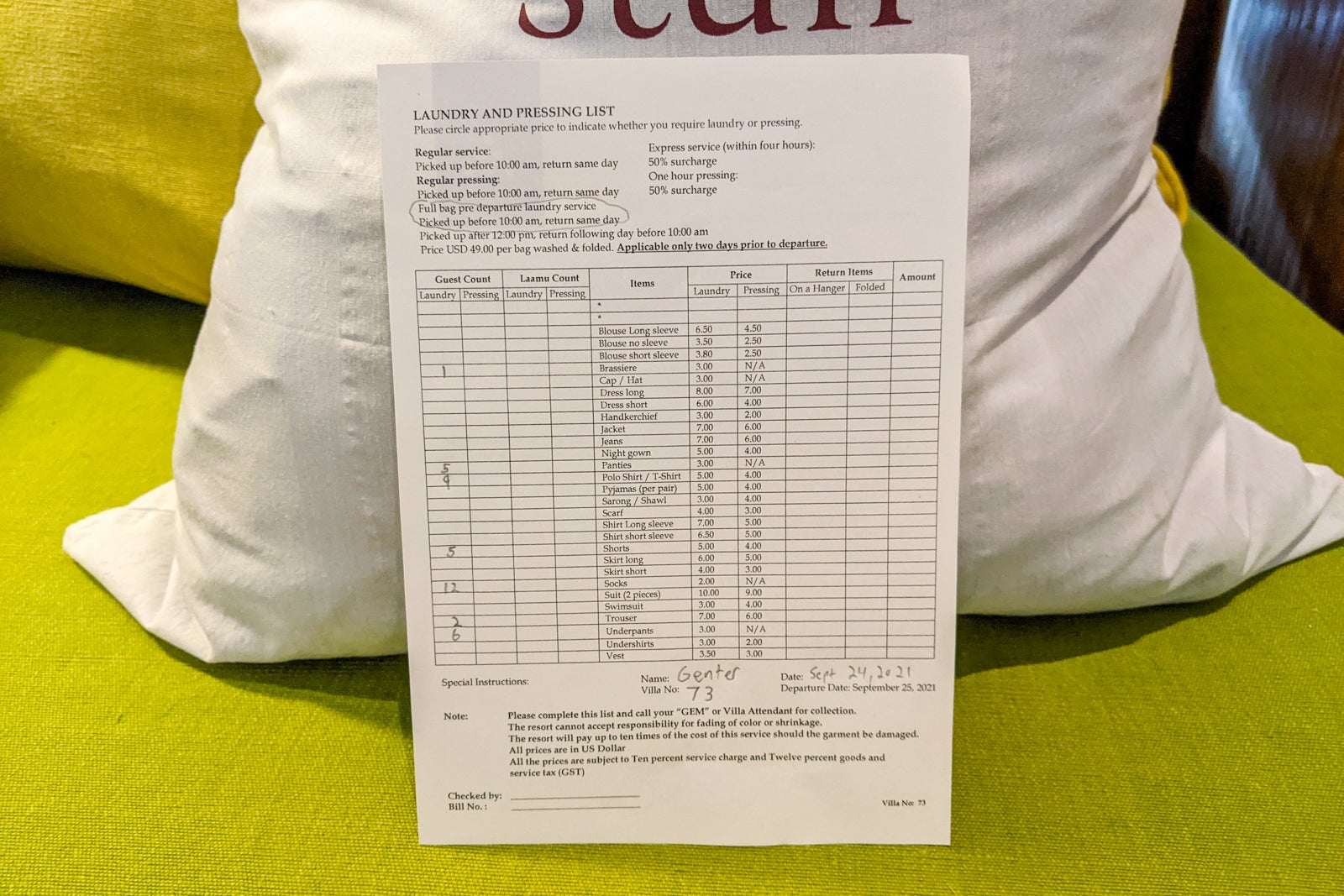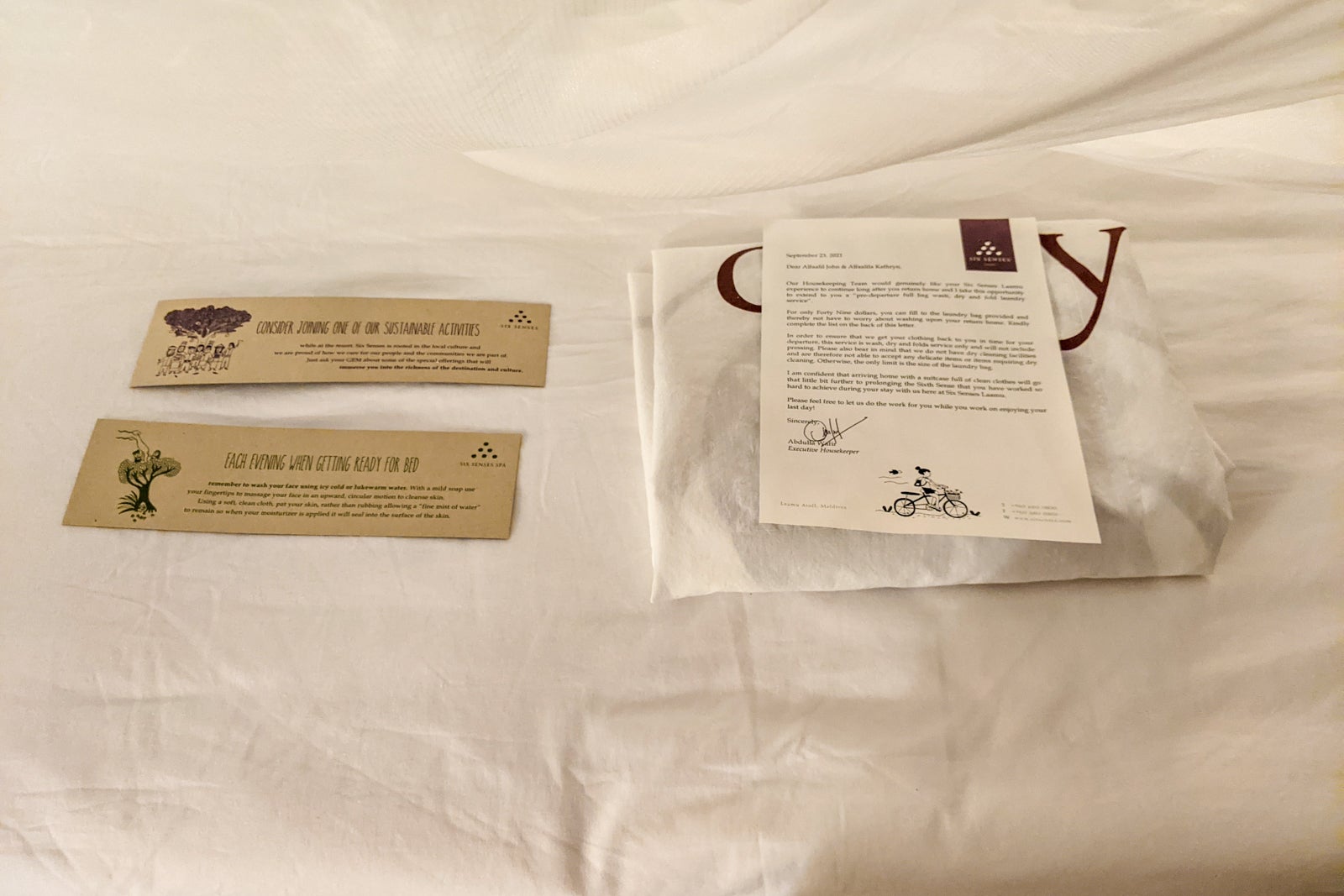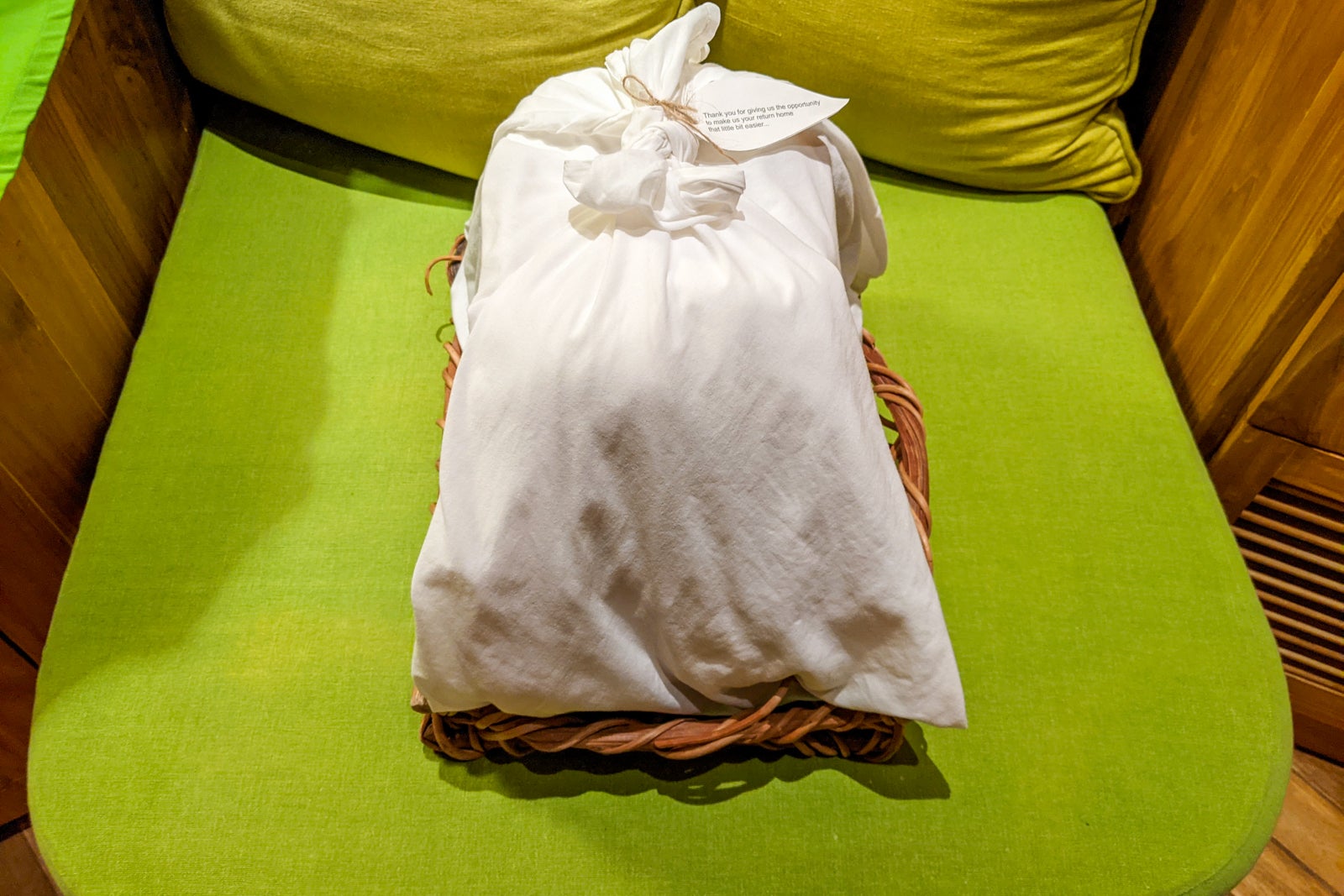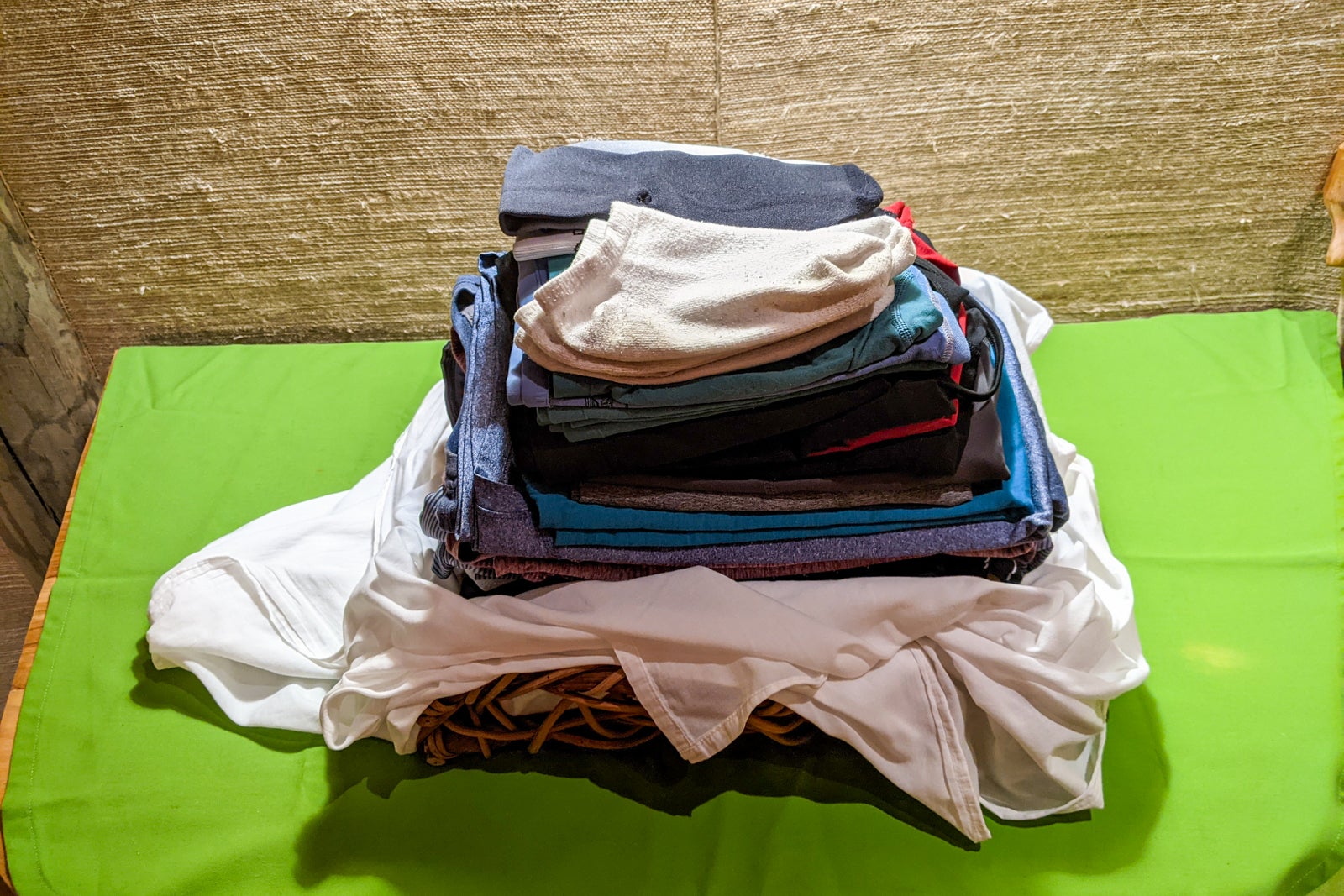 Internet is free and easy to connect to for all guests. However, we found it annoying that the Wi-Fi signal would drop as we walked around the resort. I ran a speed test from our villa and got 28.19 Mbps download and 37.36 Mbps upload with a 10 ms ping.
Finally, the resort offers COVID-19 testing for guests who need it to return home or travel onward. We tested at 9 a.m. on the day before our departure at a beach villa and the resort got our results back early the following day. Only PCR tests are available, and these tests cost $149 per person.
Related: Cleared for Takeoff: Using points and miles to book Emirates business class and an overwater villa in the Maldives
Service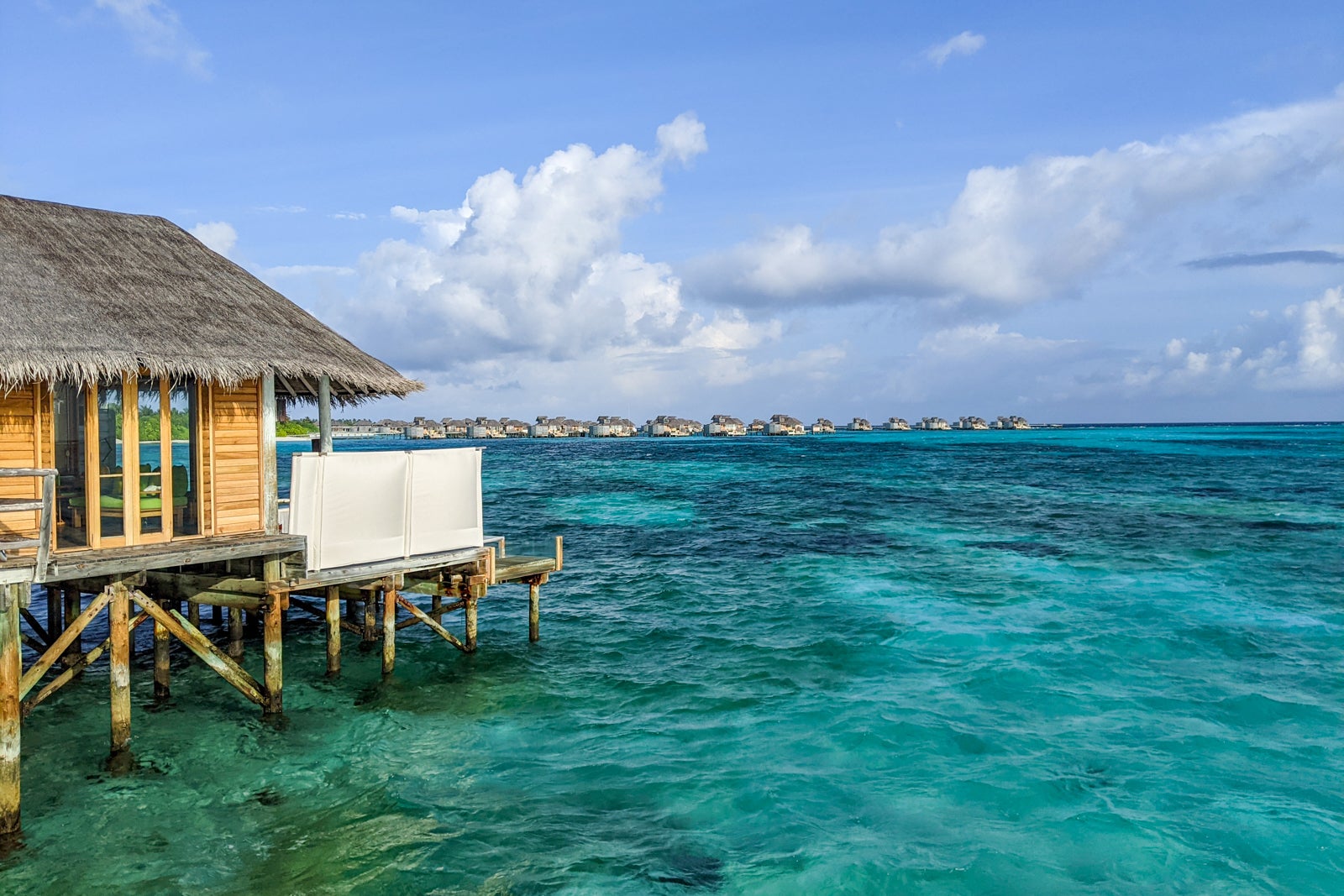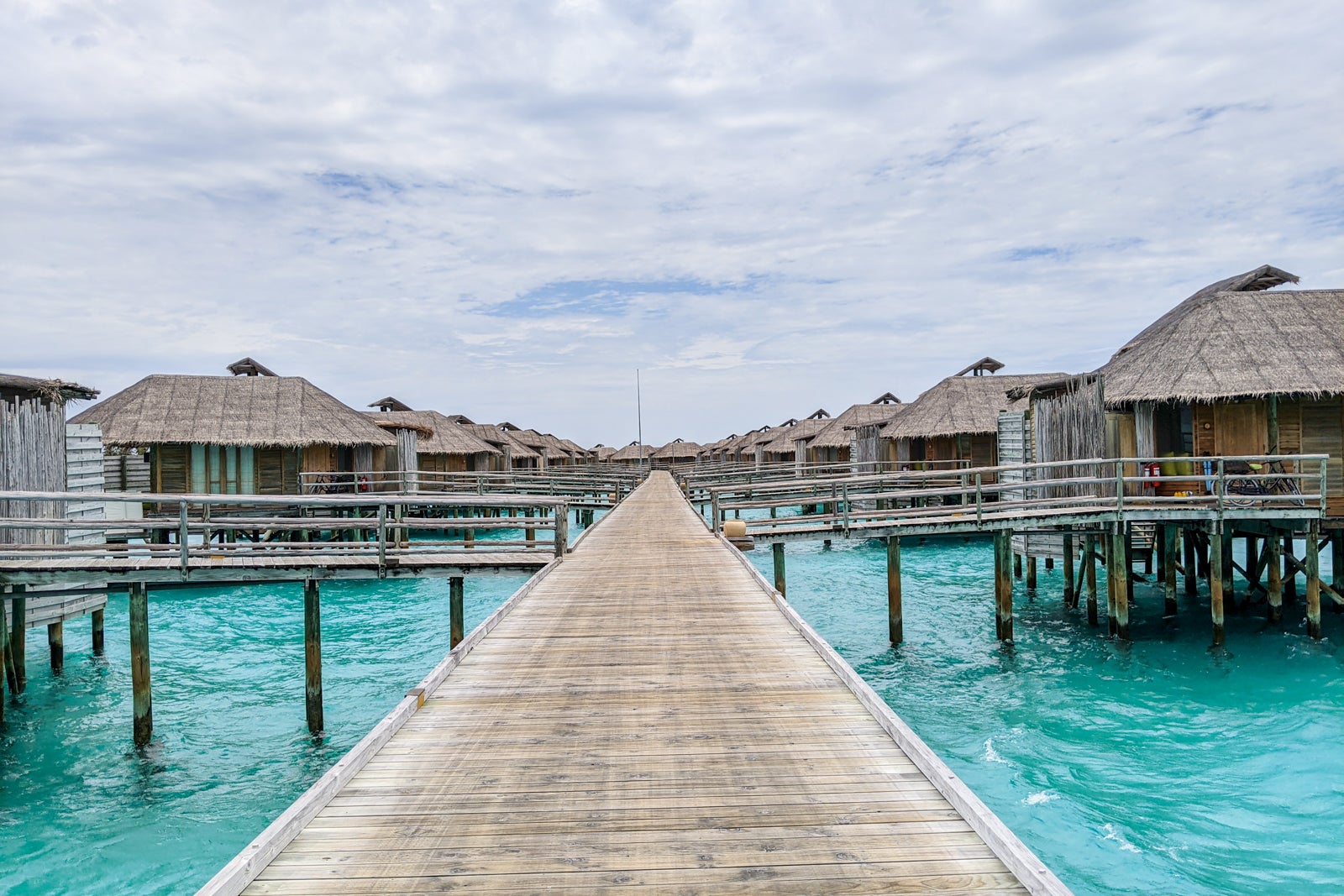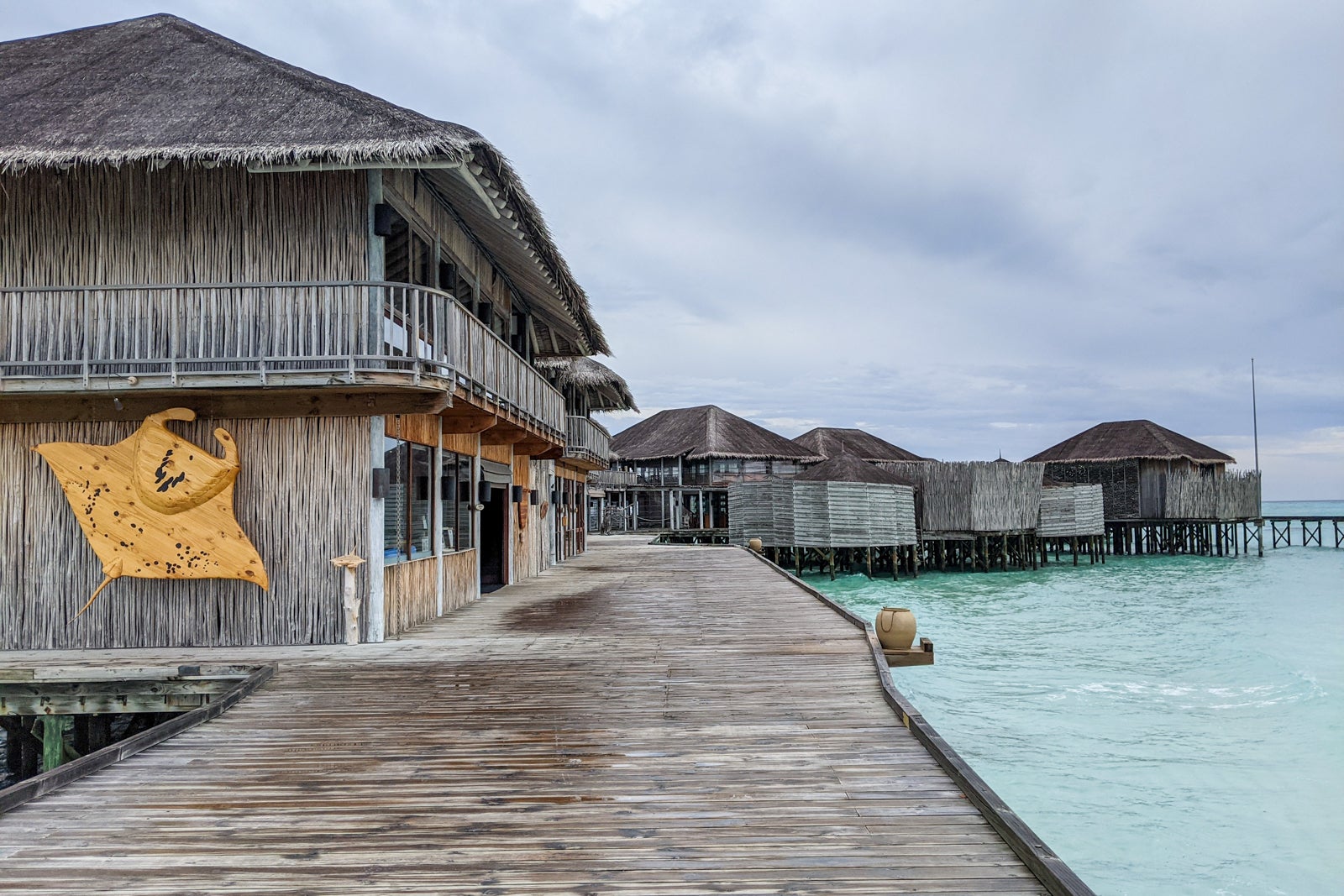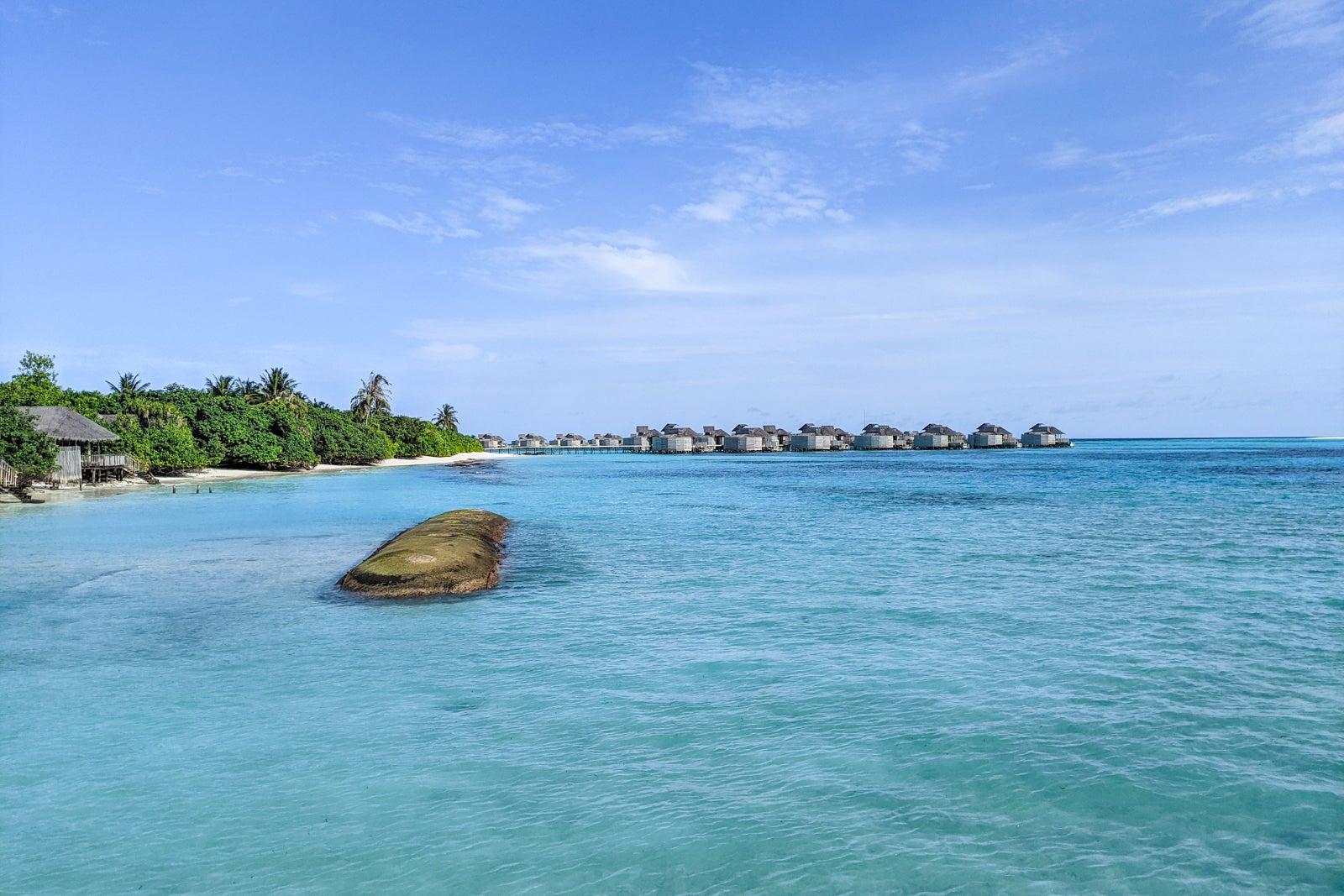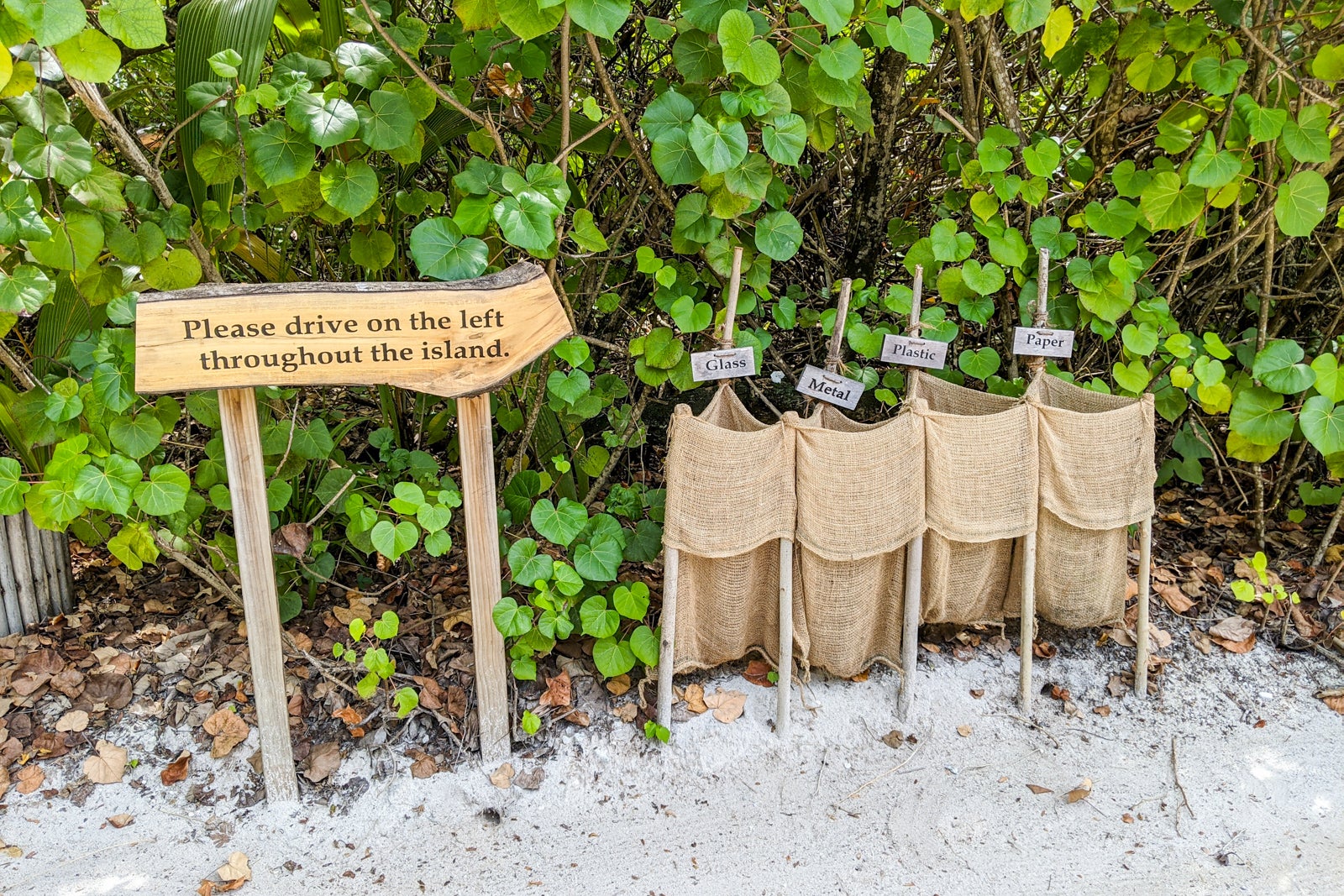 Six Senses Laamu could improve its service at the Male and Kadhdhoo airports, as resort representatives at these airports were frazzled and didn't provide much guidance or information.
However, upon reaching the Six Senses island, the general manager's greeting set a good tone for our time on the island. We saw the general manager around the resort several times throughout our stay. Plus, being allocated a GEM immediately made us feel welcome and gave us someone to turn to throughout our visit. A management cocktail party on our first night let us quickly meet many of the staff.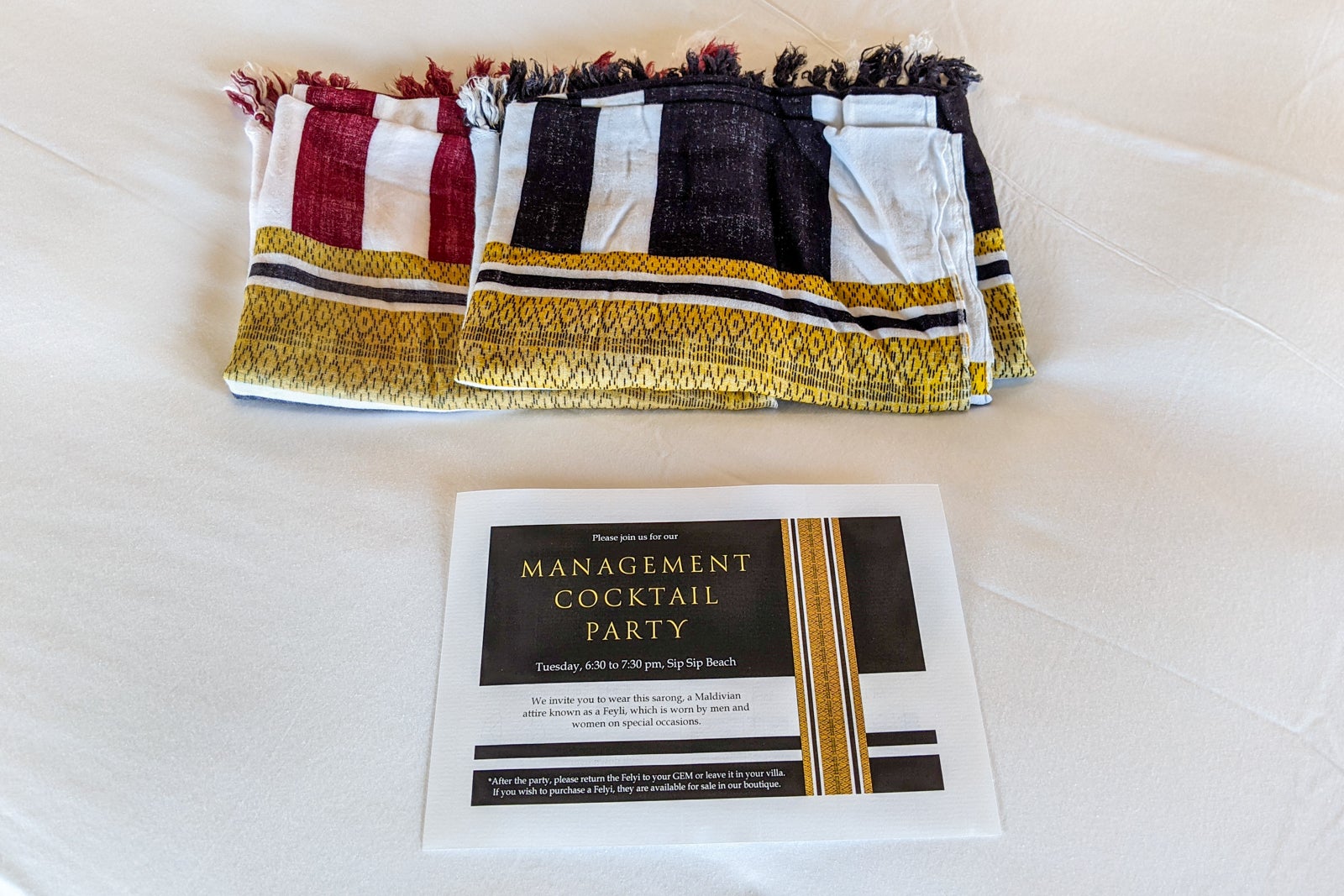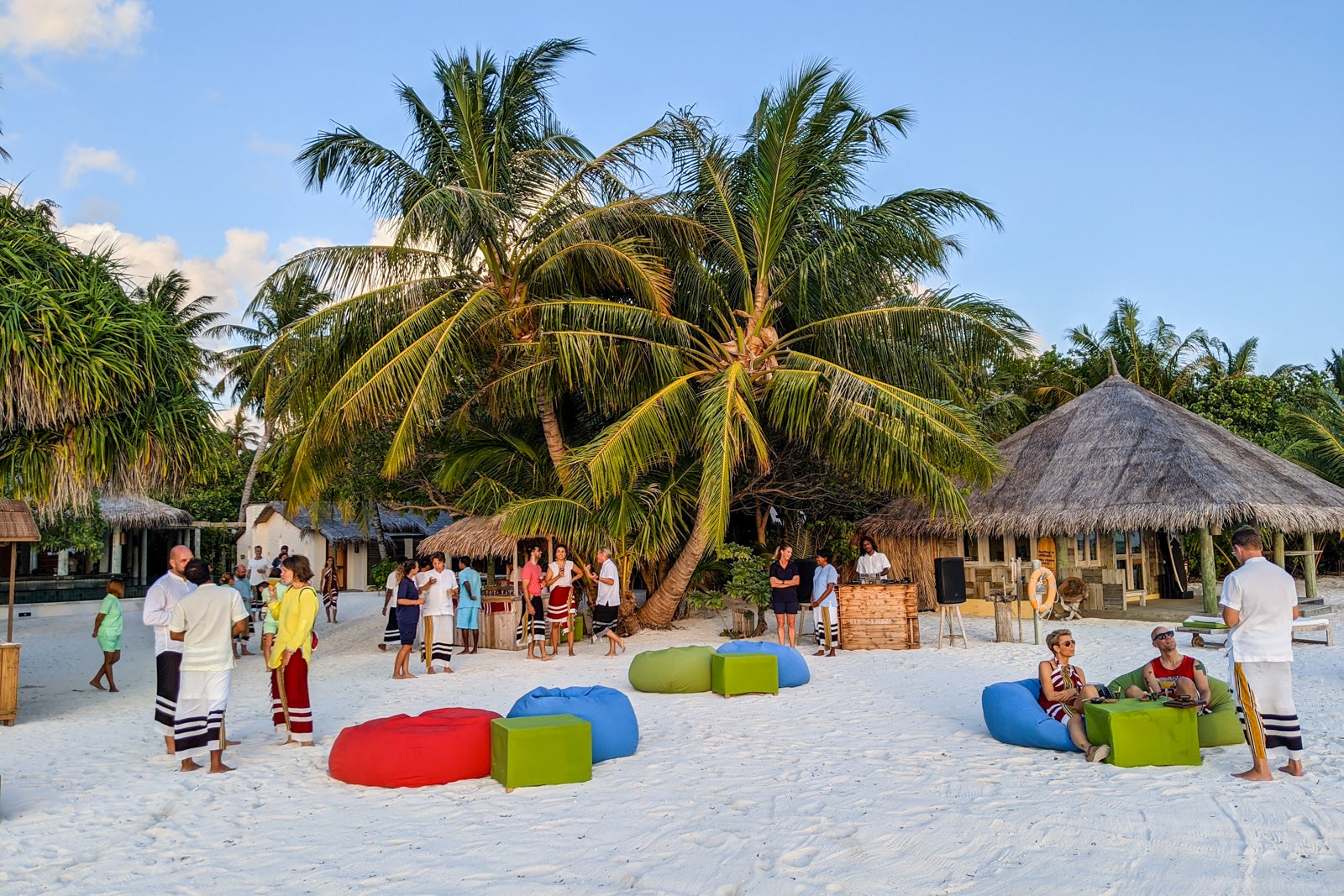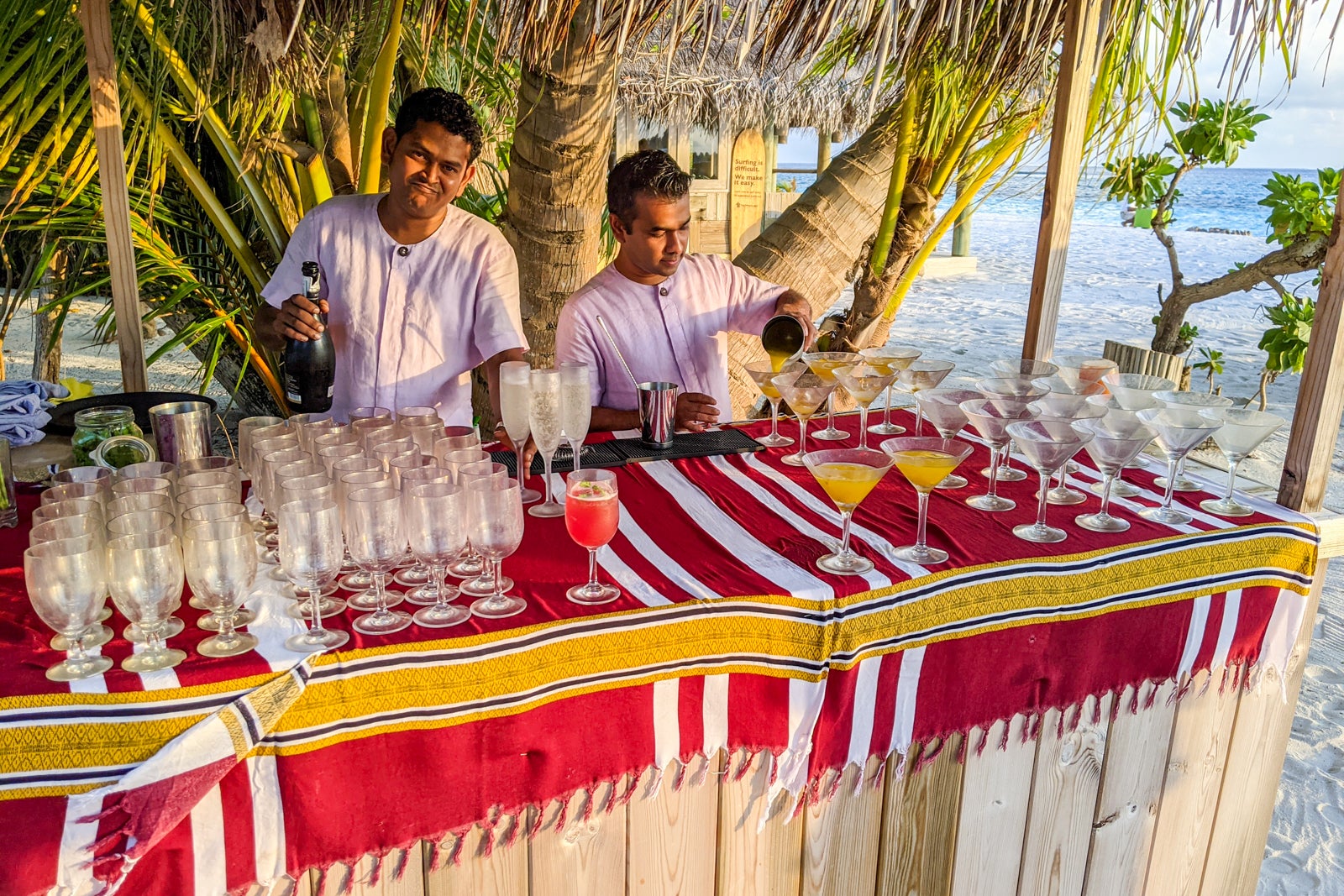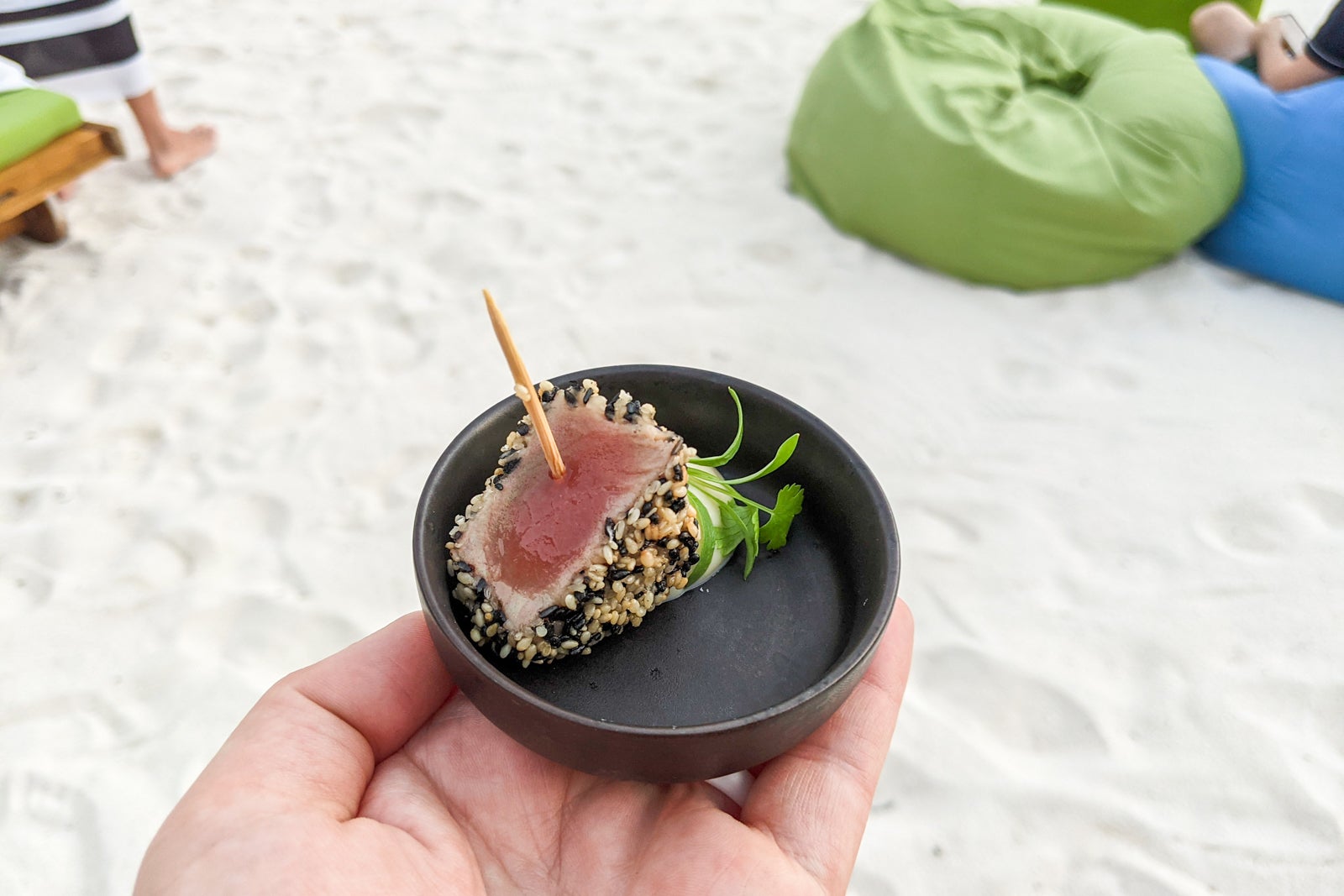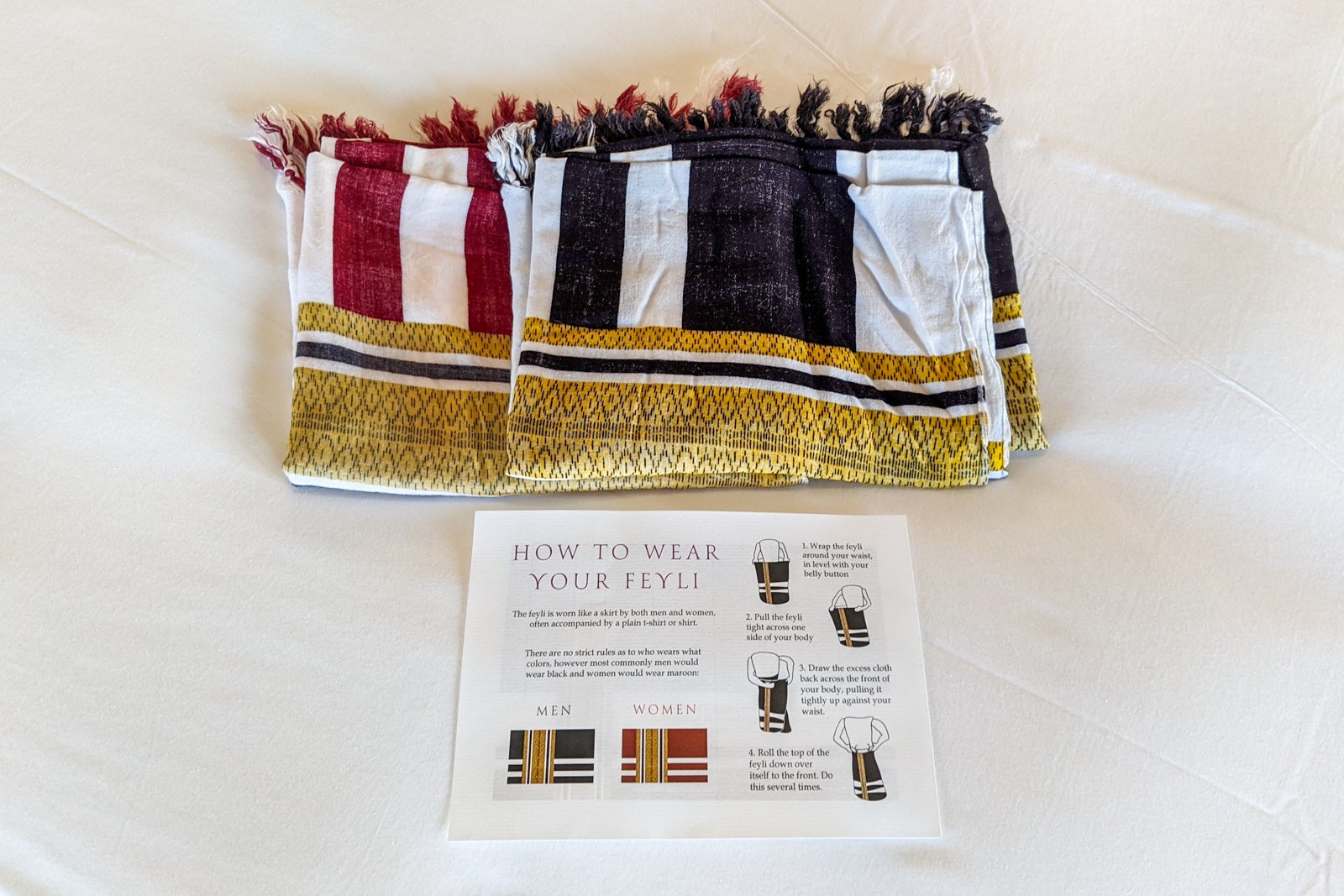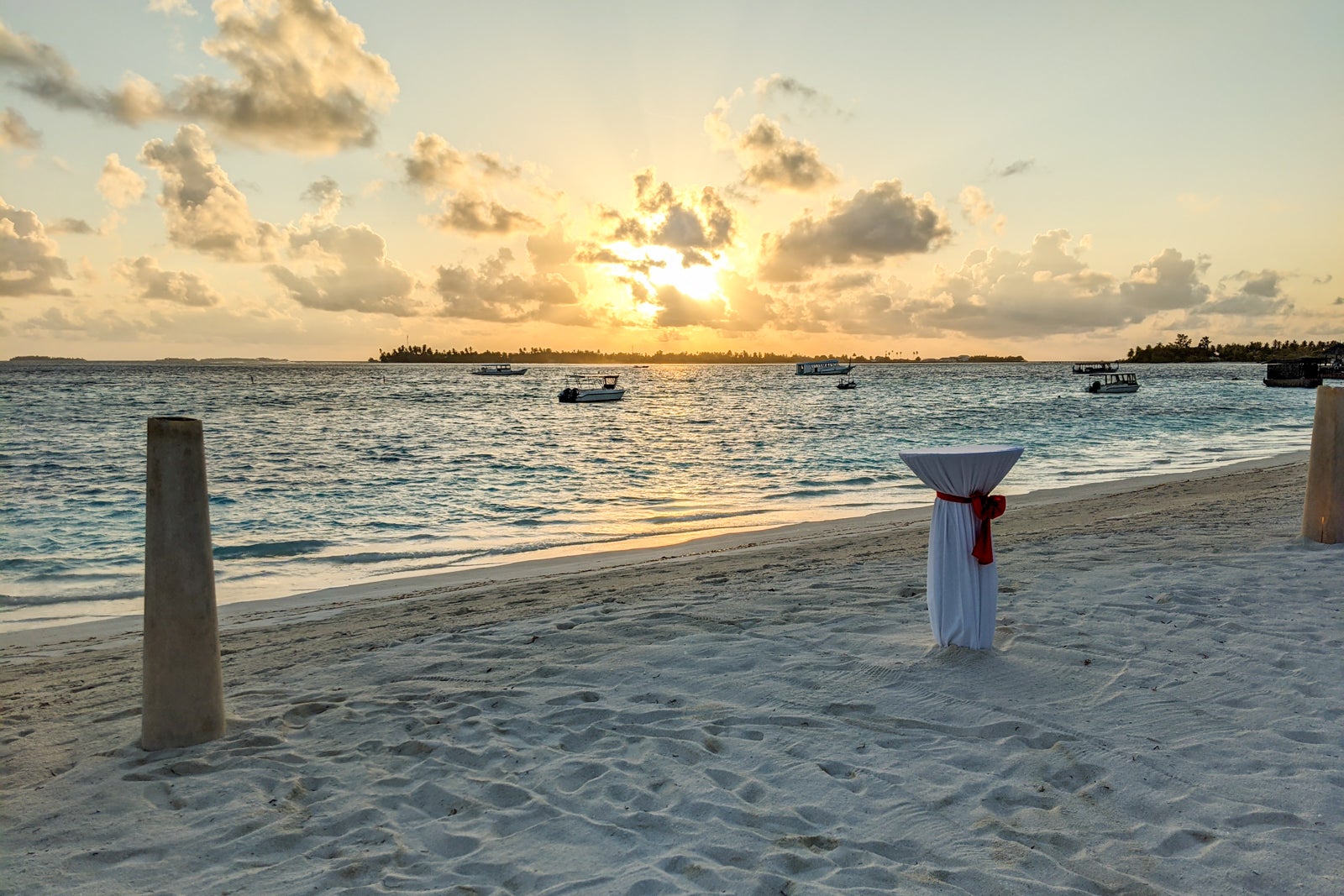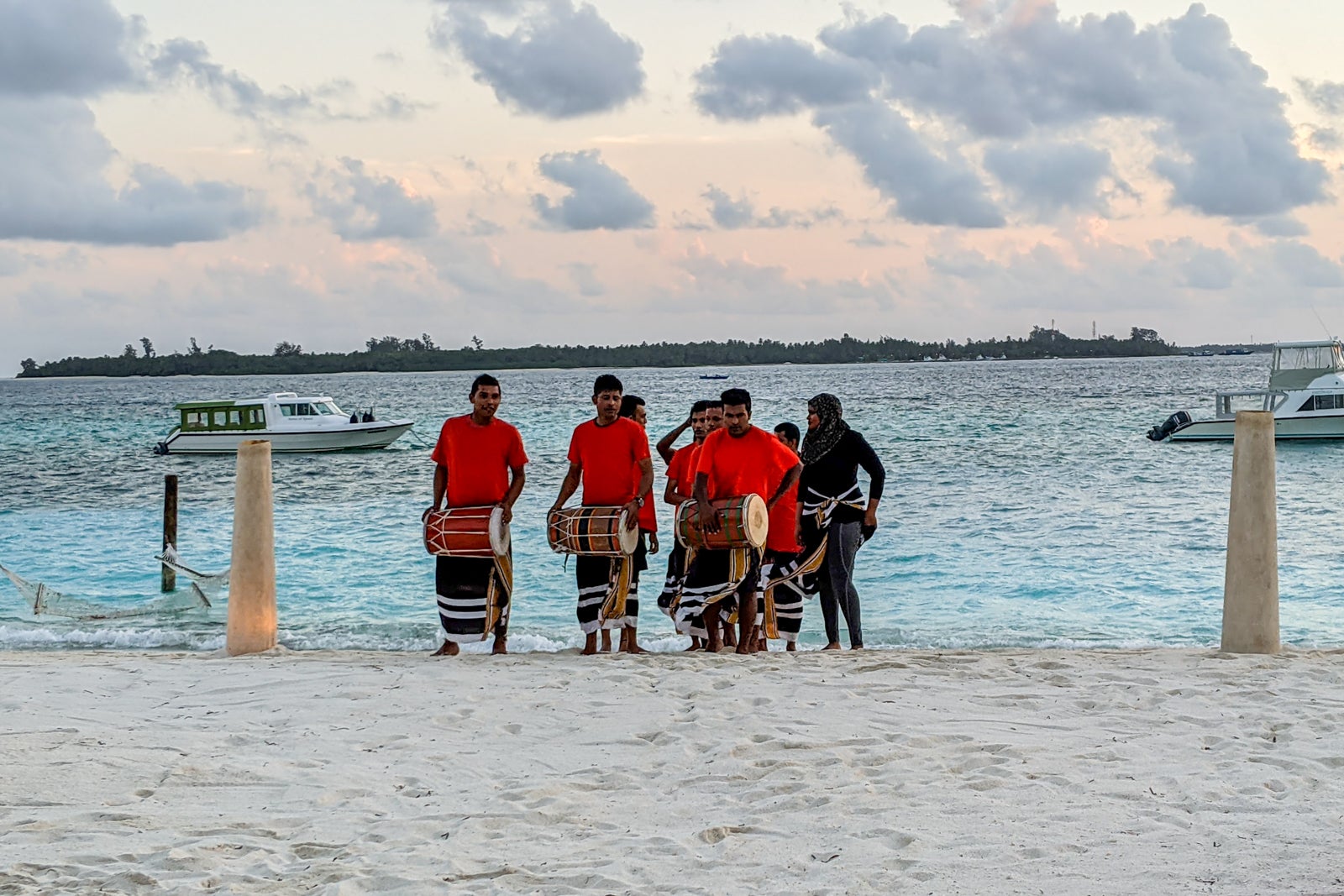 As our stay progressed we witnessed other guests interacting with their GEMs, noting that some GEMs seemed more involved with their guests than others. For example, some GEMs accompanied their guests during activities, including to a conservation event and to their pre-departure COVID testing. Given that, you may need to specify how involved you want your GEM to be with your stay.
We loved that Six Senses Laamu has eight marine biologists on-site. These marine biologists host educational activities for guests and local communities and also do research. We met two marine biologists at a weekly happy hour event for all the guests. As we chatted, one of them mentioned that she would be digging up a recently hatched sea turtle nest the next day for analysis. She said we could come watch, so we did. Watching this process was one of the most memorable and unique things we did in the Maldives.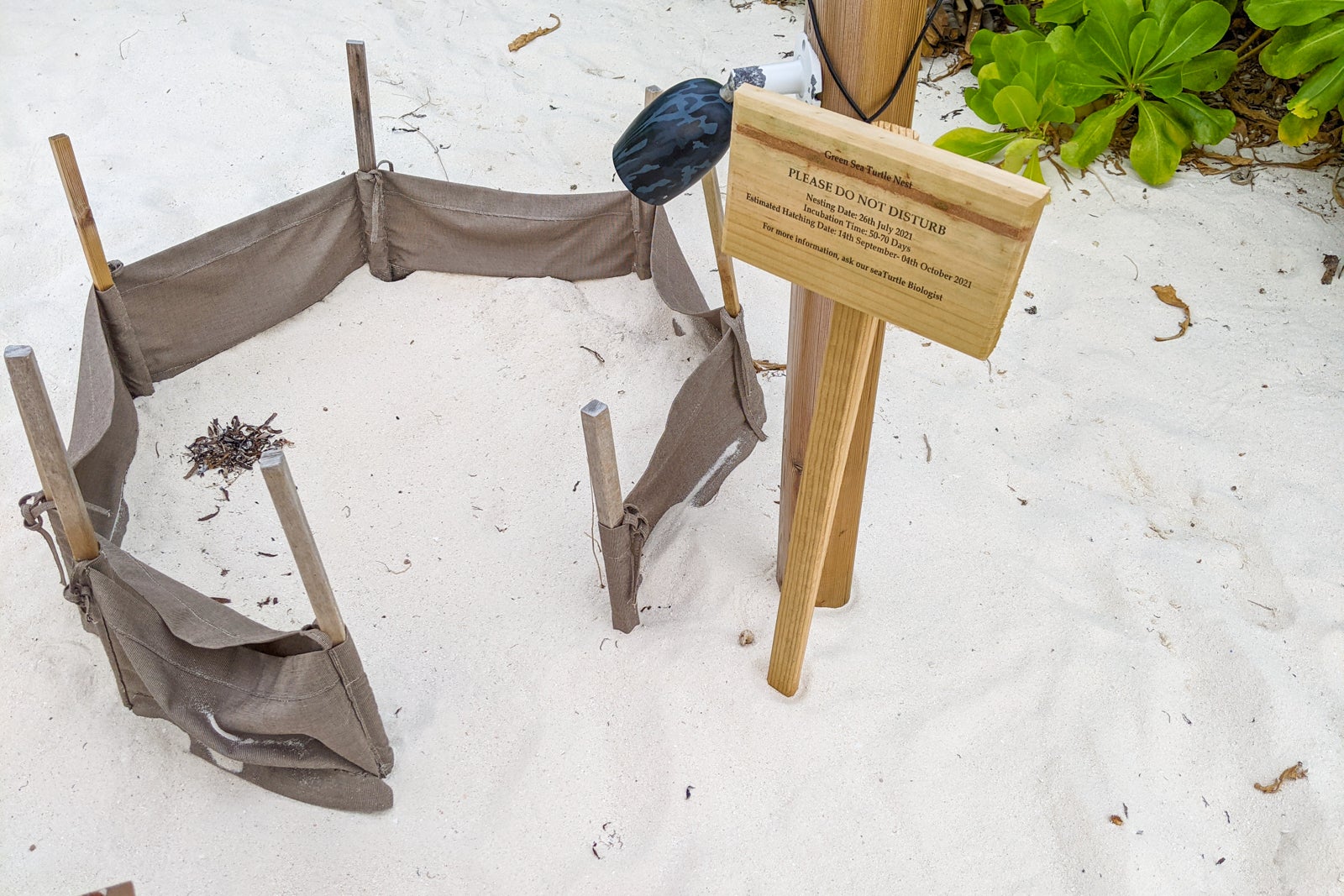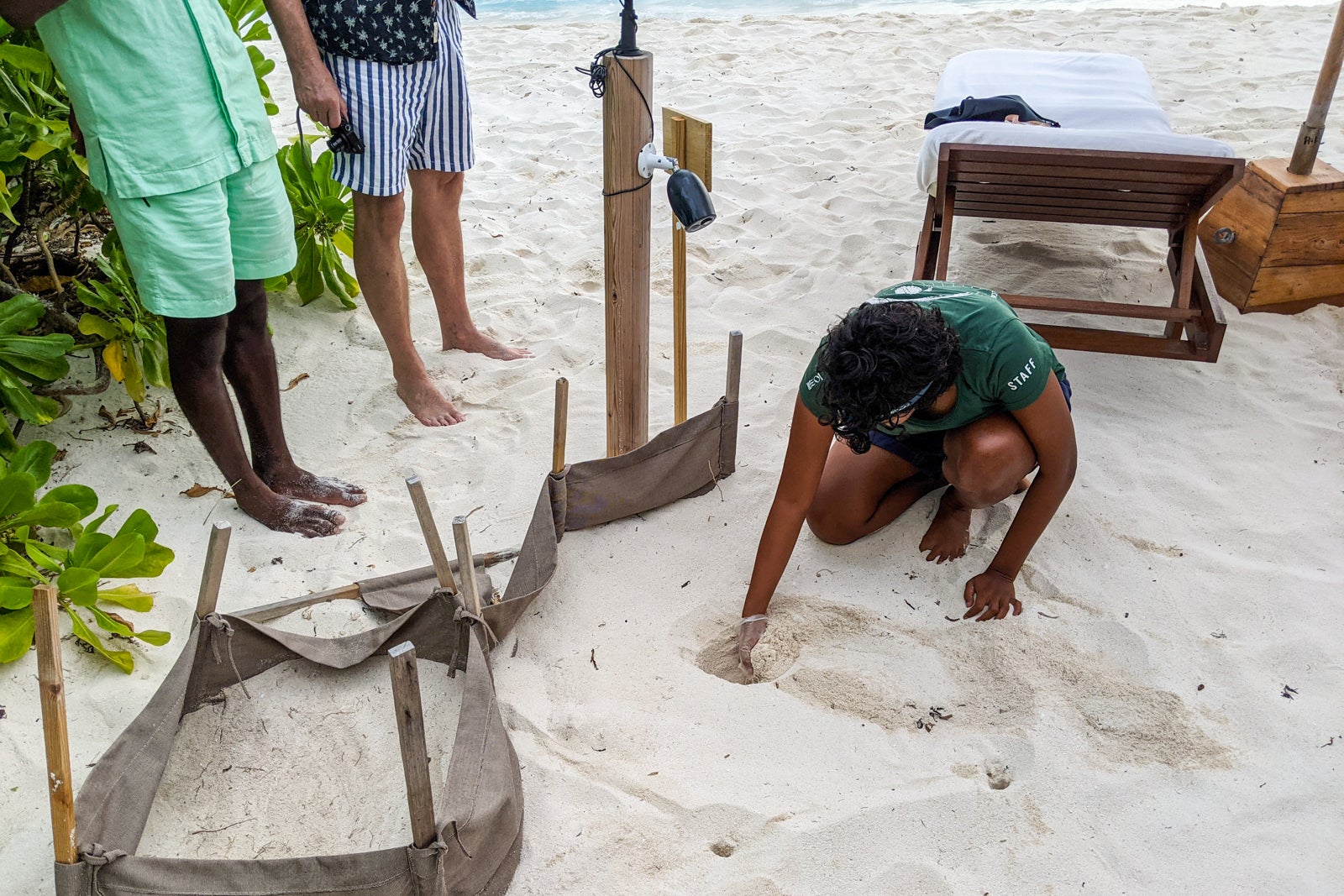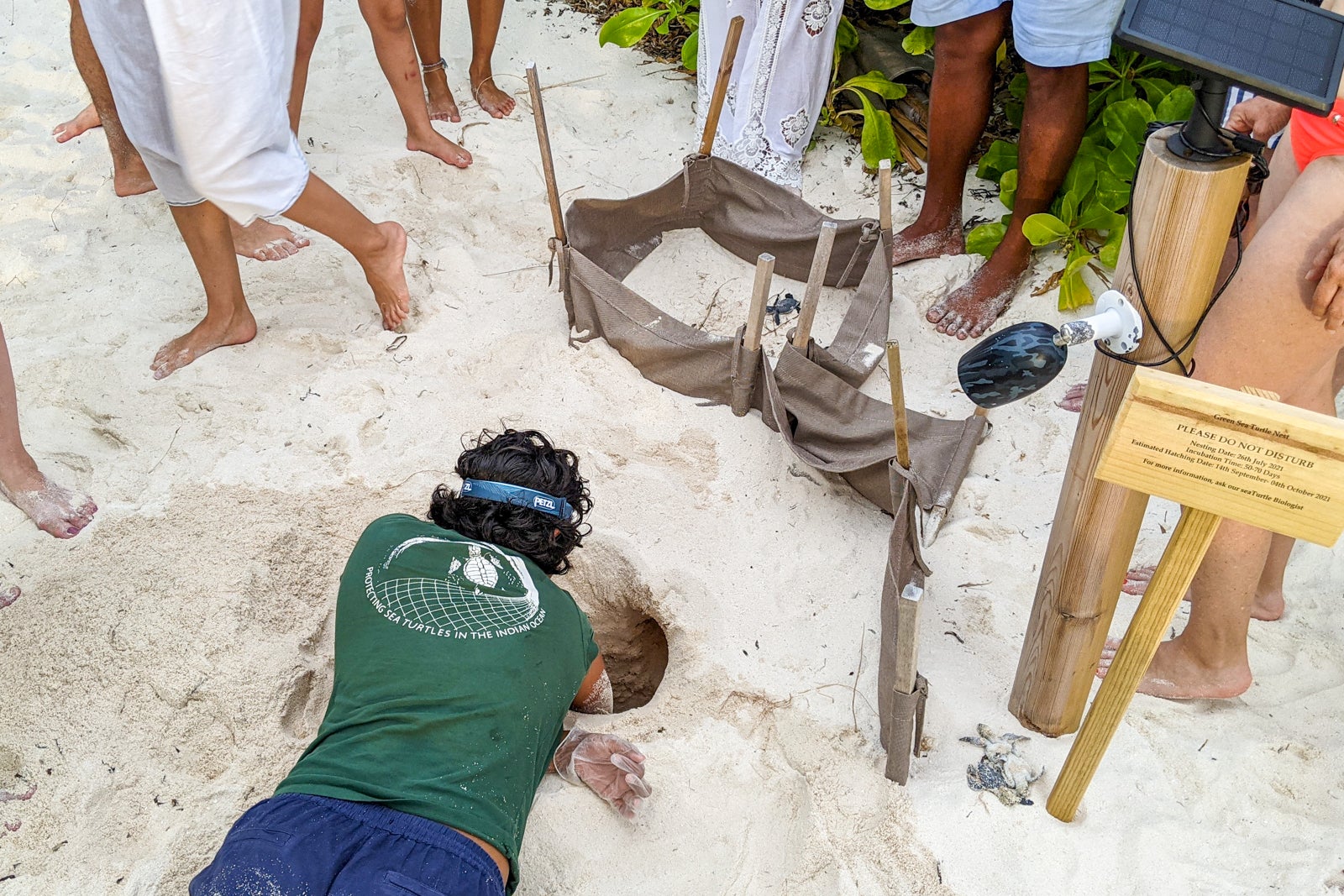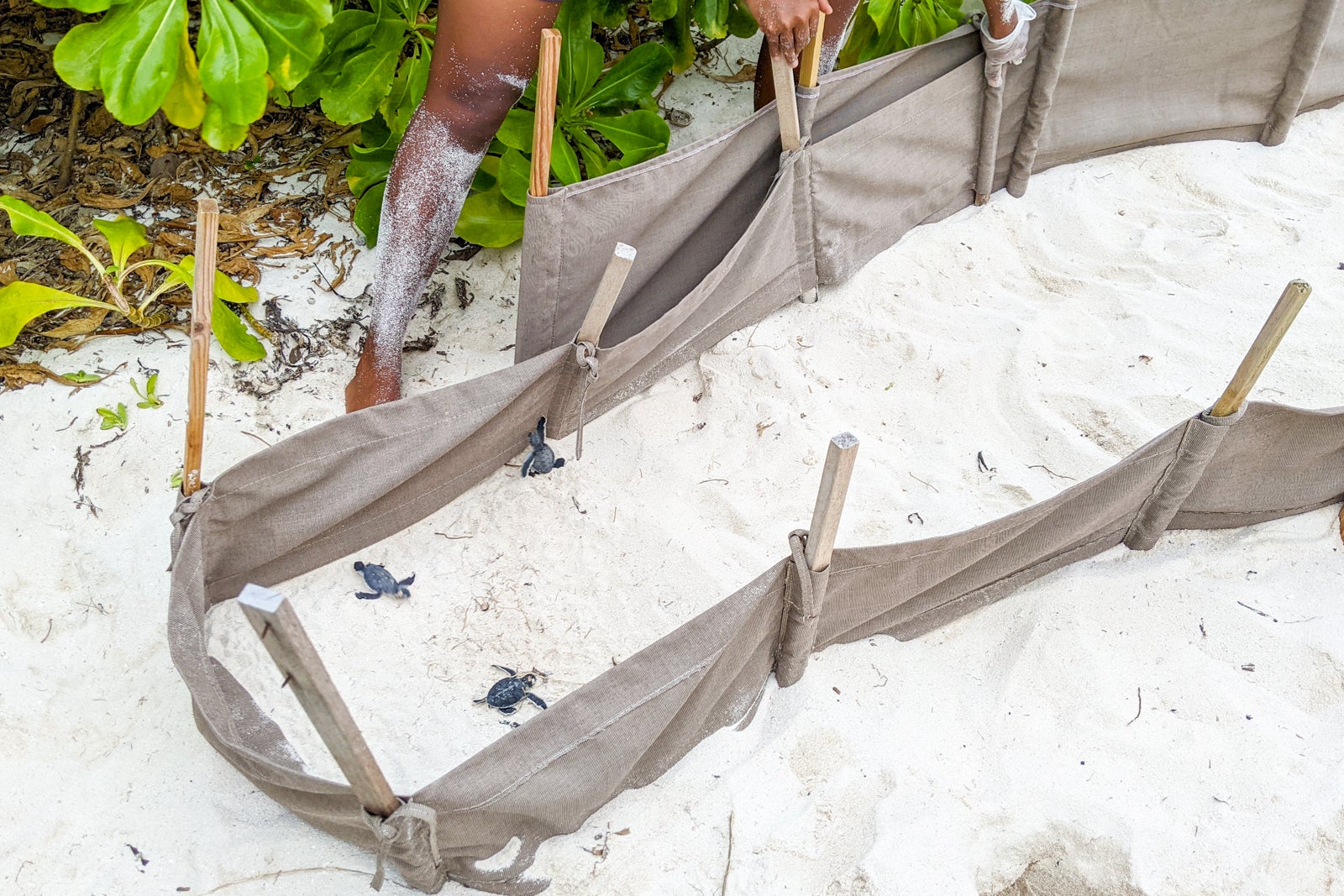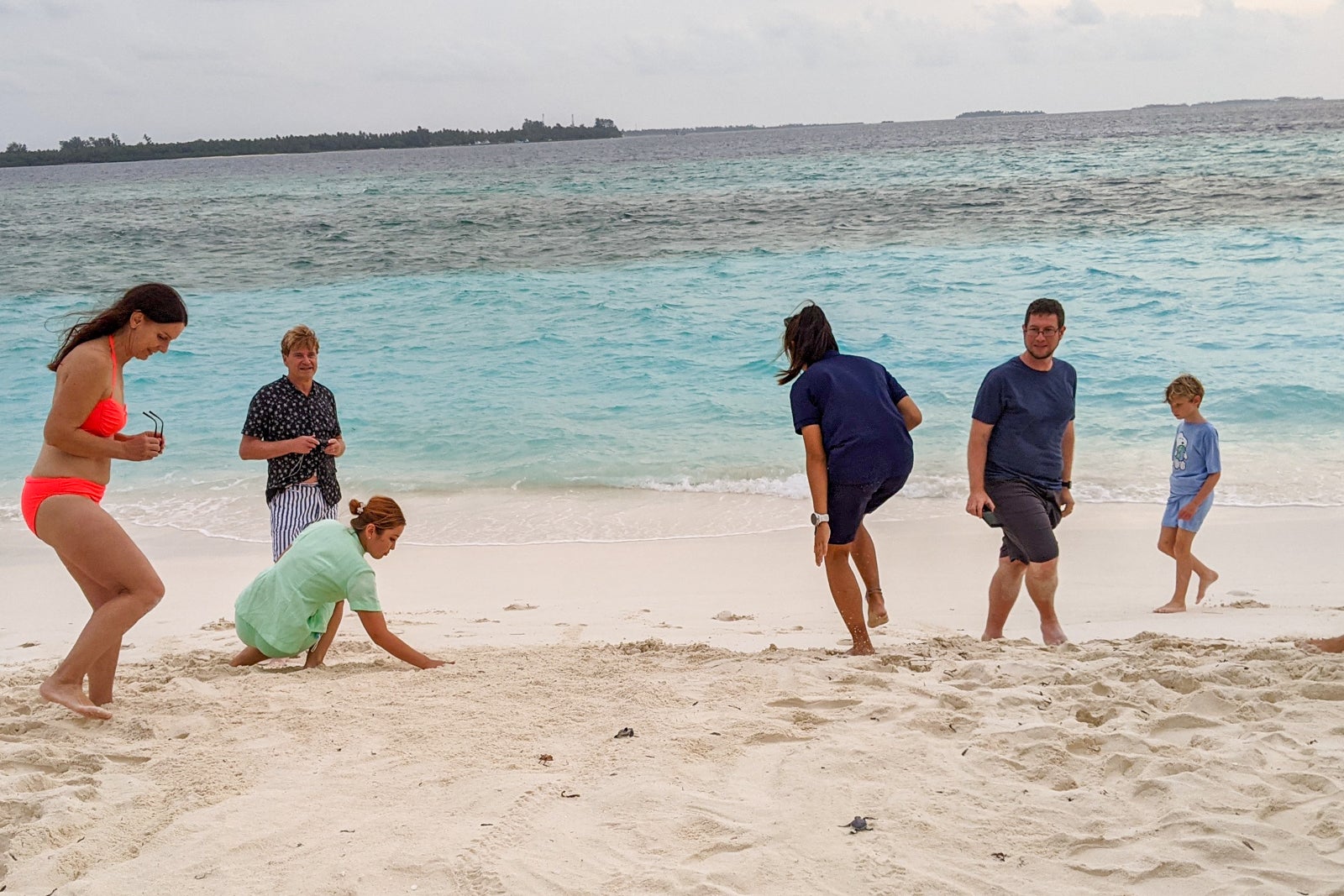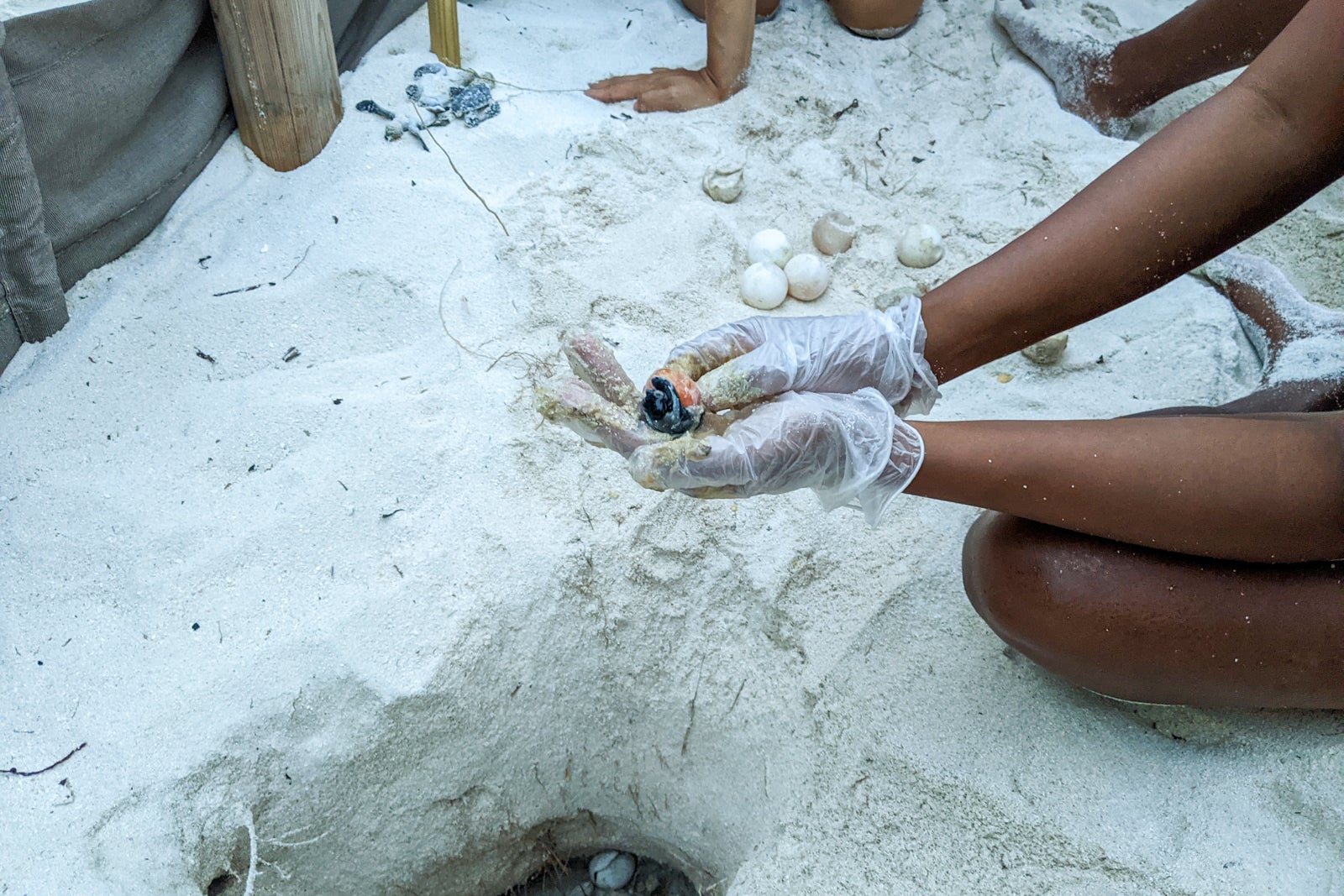 I also appreciated that most staff, from marine biologists to the sweet woman working in the ice cream cafe, made an effort to learn our names. It's a small touch, but I was pleasantly surprised to be addressed by name on just my second time speaking with some staff members.
There were some minor miscommunications, though. For example, Ambassador status didn't automatically show on our booking and the resort said they couldn't see the status in their system. And a belated birthday cake delivered to our villa misspelled my name as Katia.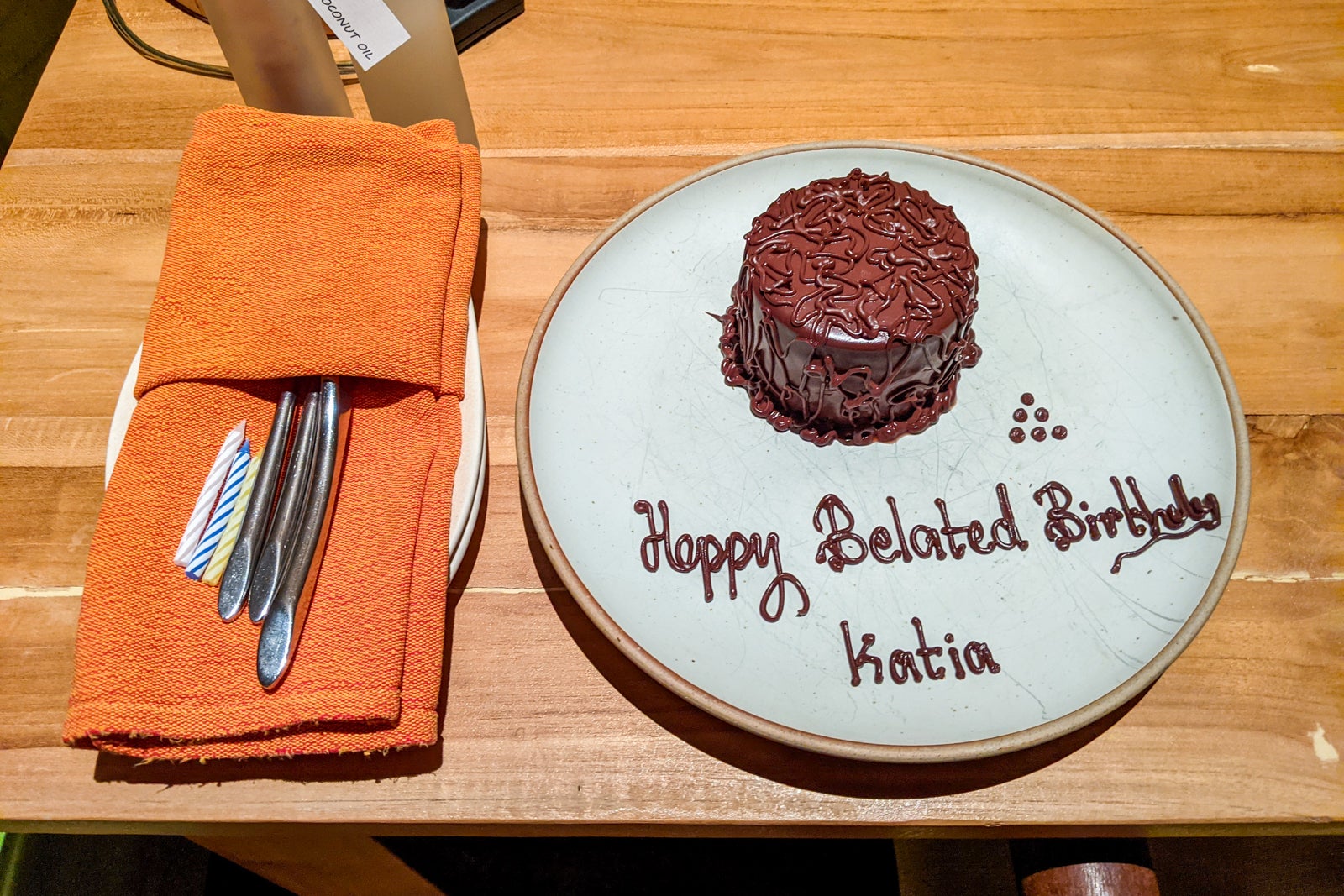 Finally, after multiple discussions with our GEM and spa reception, we never got an acceptable explanation of why the resort wouldn't honor the massage benefit from our summer flex package. All of these communication failings were small but distracted from our stay.
Related: Cleared for Takeoff: First class celebration in the Maldives and Singapore
Overall impression
Six Senses Laamu attracts a primarily European crowd that is active and appreciates sustainable practices. I enjoyed the resort's activities, including the talks, snorkeling and other conservation activities hosted by the eight on-site marine biologists. And I loved small design choices, including the upper viewing deck in our water villa and the open-air bathrooms throughout the resort.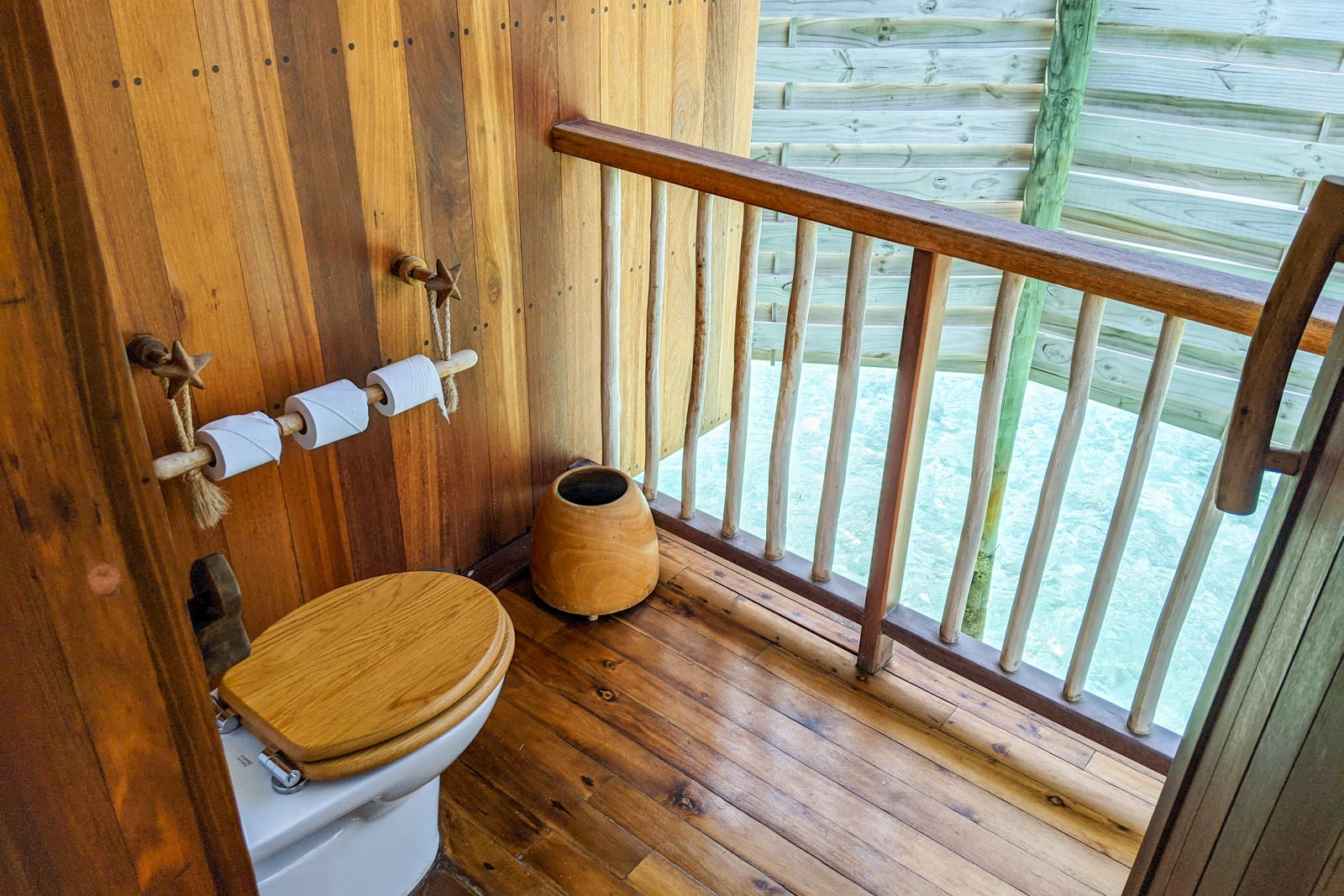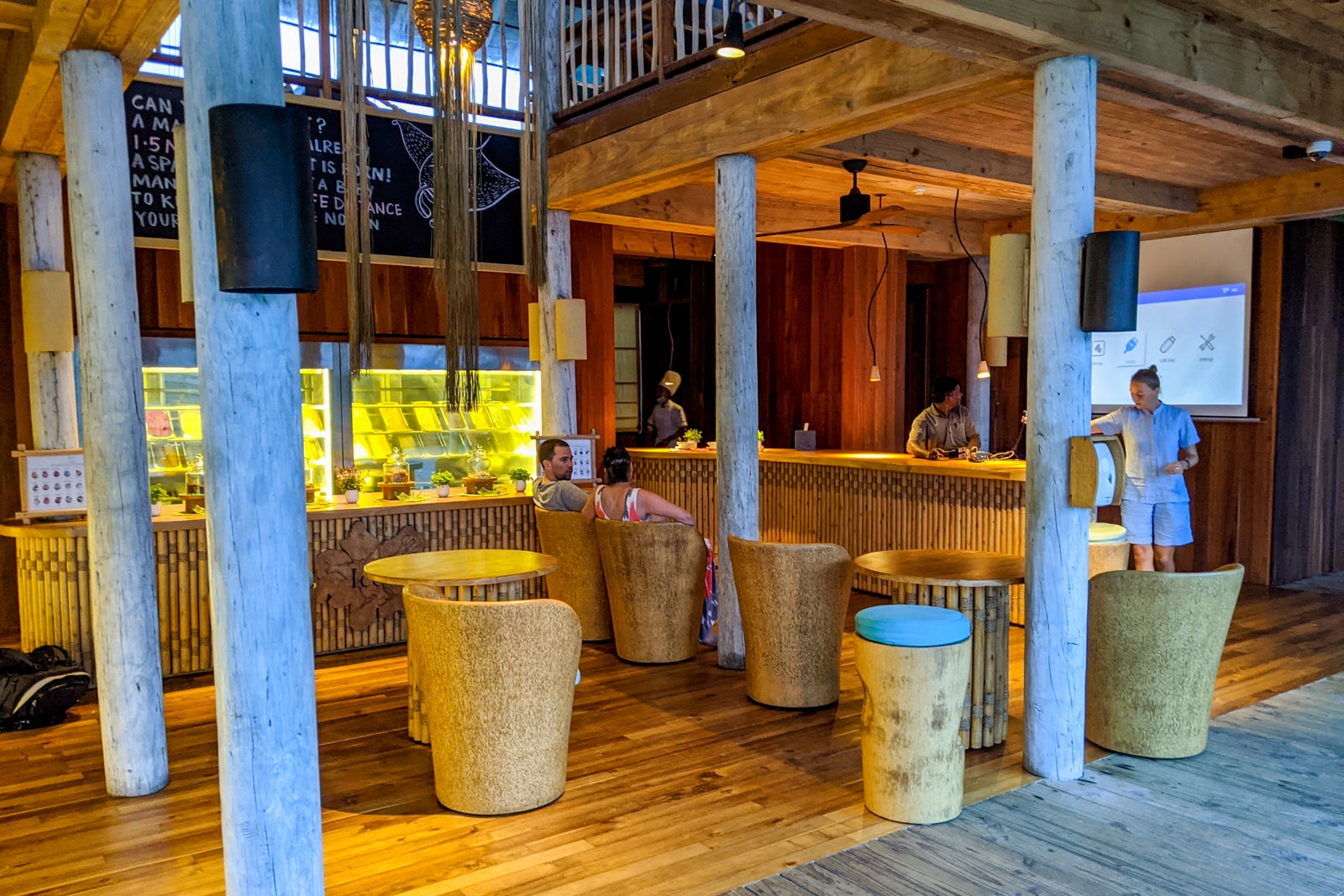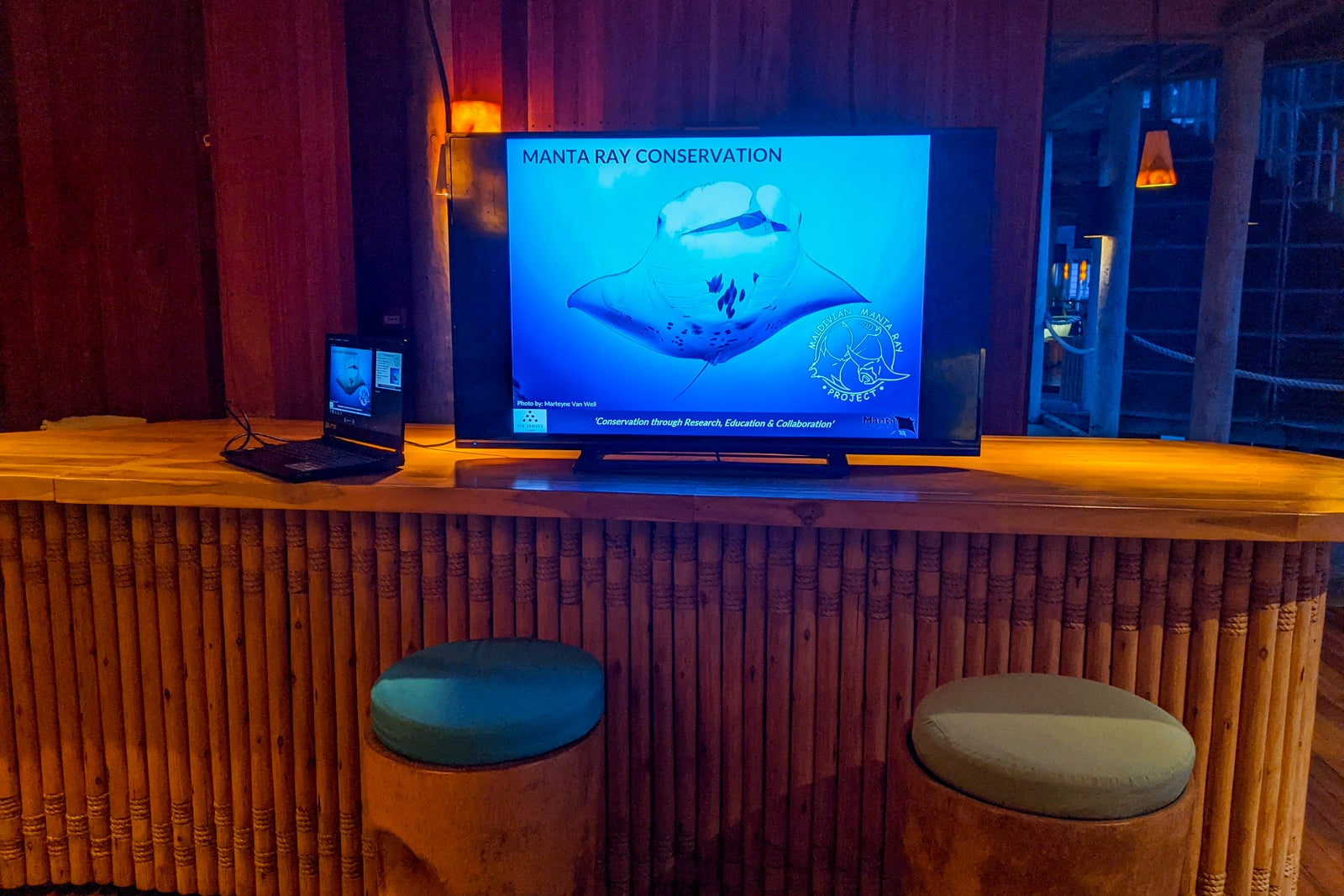 Many resorts say they are sustainable and give back to local communities, but I appreciated how Six Senses Laamu exhibited specific examples of its sustainable practices and outreach. For example, the resort buys fish from local vendors who use sustainable fishing practices and limits food waste by offering a limited buffet with made-to-order options. Plus, the resort employs marine biologists whose work extends beyond the resort.
This resort won't be the best fit if you expect a formal experience, and you are paying a high price point for a resort that feels a bit rustic at times. But you'll probably love Six Senses Laamu if you appreciate friendly staff, an easy-to-access reef for snorkeling, ample activities, delicious food, a laidback come-as-you-are vibe and sustainable practices.
Although you can find less expensive resorts in the Maldives, what you get at Six Senses Laamu is genuinely unique. I can confidently say that my first Six Senses stay won't be my last.
Featured photo by Katie Genter/The Points Guy.