Serve this shareable yummy skillet dish on your dinner table for a satisfying family meal! Just the sight of this dish is enough to make your mouth water, so learn how to make this tasty smothered chicken by Smokin' & Grillin' wit AB on YouTube now.
Ingredients:
6 to 8 pieces of bone-in chicken thighs
2 tsp of granulated onion
1 tsp of paprika
2 tsp of oregano
½ tsp of chili powder
1 cup of all-purpose flour
1 small piece of onion, roughly chopped
2 cloves of garlic, minced
½ cup of heavy cream
2 tbsp of butter
Salt, to taste
Pepper, to taste
A pinch of crushed red peppers
Cooking oil
4 cups of chicken stock
1½ cups of heavy whipping cream
Directions:
Step 1
Mix the chili powder, oregano, granulated onion, and paprika in a small mixing bowl. Then, place the chicken thighs in a large bowl, and then lightly season them with a few pinches of the blended seasoning, add some salt and pepper to taste as well. In a separate bowl, combine the flour with the remaining blended seasoning, salt, and pepper, whisk them together until uniform. Start dredging the chicken thighs, then lay them on a baking sheet with a steel rack, and set them aside. Place a skillet pan on a stove, and heat some oil over medium-high heat. Start browning the chicken with its skin side down, then cover it with a lid and let it cook for about 4 to 6 minutes.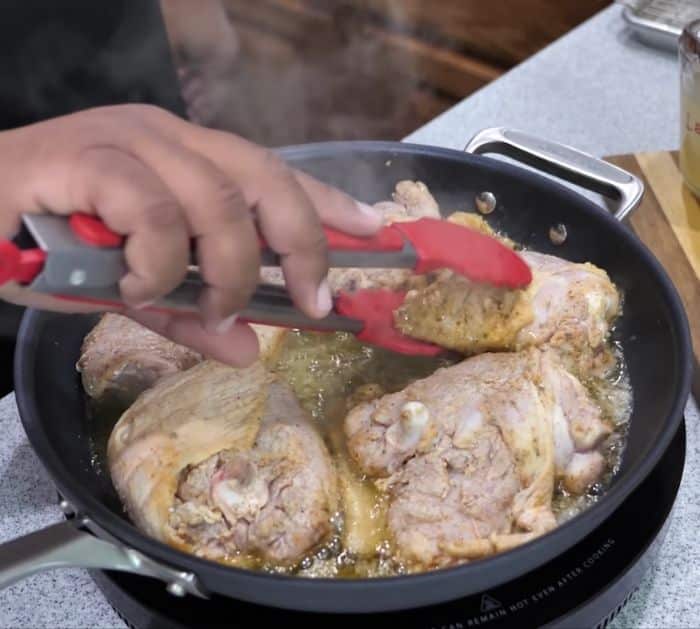 Step 2
Flip it over and cook the other side as well for another 4 to 6 minutes, then remove the chicken thighs, and set them aside. Using the same pan, saute the onions until brown and translucent. Then, add in the minced garlic, crushed red pepper, and butter, then give them a good stir using a whisk. Gradually add in the flour while whisking continuously, slowly pour in the chicken stock as well, then continue whisking until desired consistency. Add in the heavy whipping cream and whisk, then put back the chicken pieces into the pan, cover them, and let simmer for about 5 minutes. Then, bake it in a preheated oven at 425°F for about an hour. Best served while hot with rice or mashed potatoes on the side.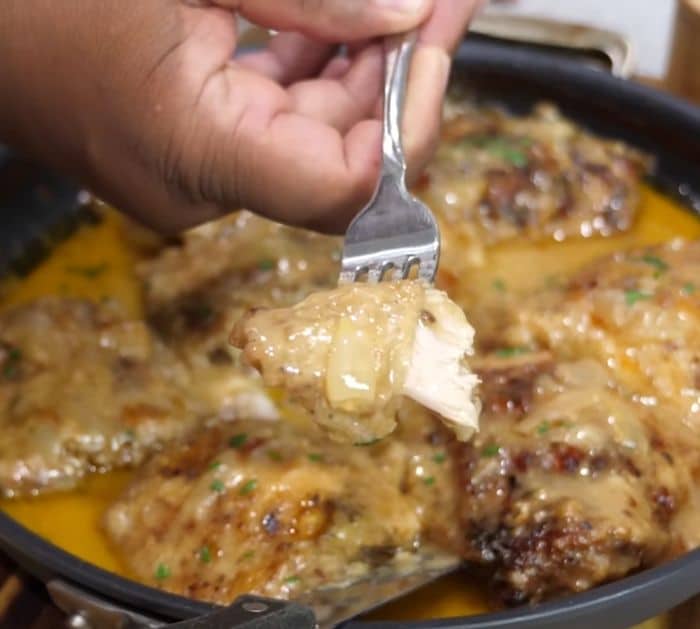 *All image credit belongs to Smokin' & Grillin' wit AB via YouTube. Follow and subscribe to his channel for more!
Skillet Smothered Chicken And Gravy Recipe
The post Skillet Smothered Chicken And Gravy Recipe appeared first on DIY Joy.