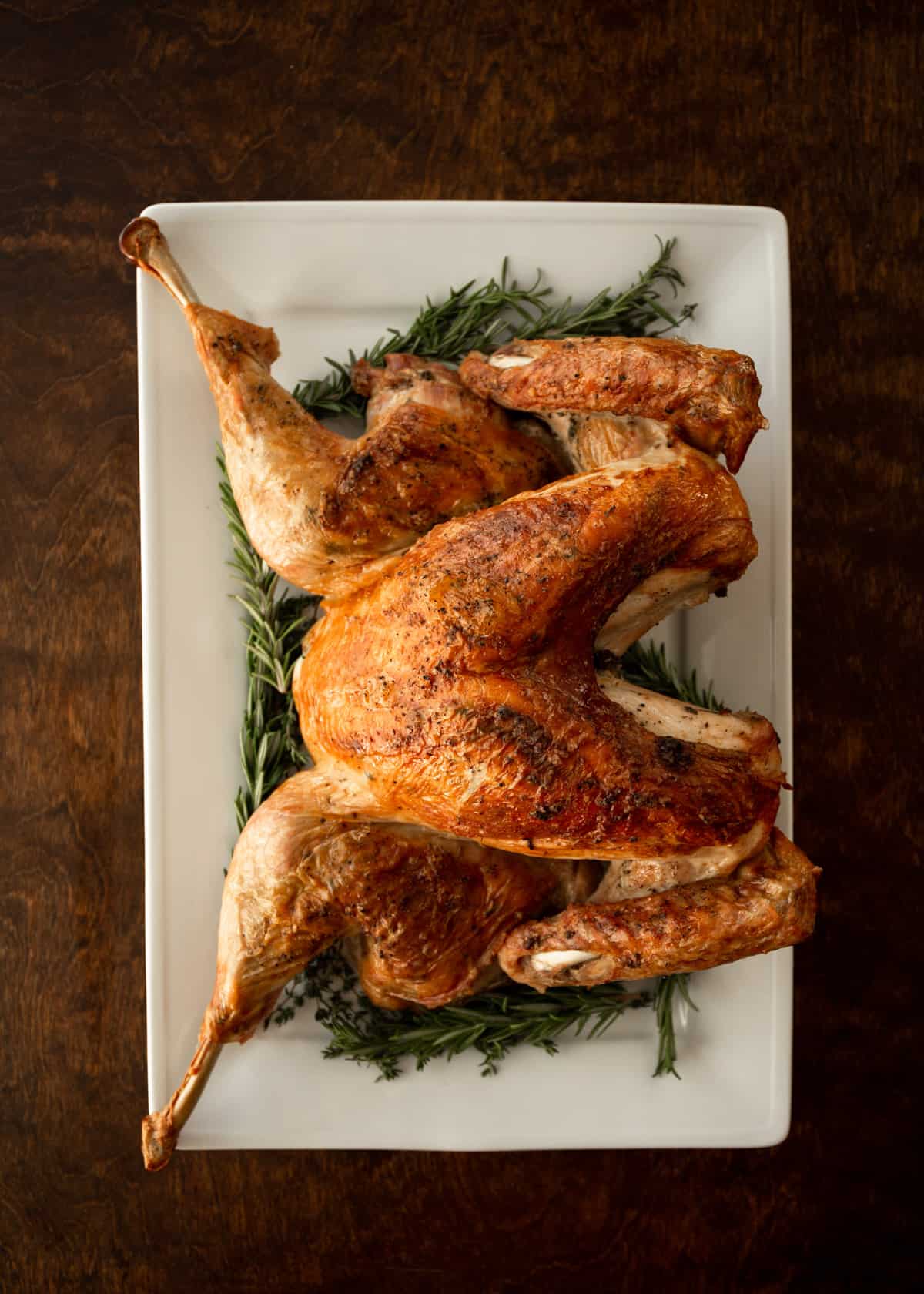 What better way to celebrate the holidays than with an herb seasoned turkey, complete with juicy meat, and perfectly crispy skin? This recipe for Spatchcock Roasted Turkey with Herbs has got you covered.
Spatchcocking your turkey this holiday season is a great way to quickly and evenly roast a whole turkey, while still getting the same crispy, golden skin that everyone loves. When you add fresh herbs, garlic, butter, and crunchy vegetables, you get a perfect roast turkey dinner, in less time than traditional cooking methods.
I started roasting my turkey using this method a few years ago, and have never looked back. It's a bit intimidating the first time you do it, but every year, right around the holidays, I rewatch this video by Serious Eats to refresh my memory. It's the most straightforward video of the process I've found.
Once you learn how to spatchcock a turkey, you'll want to use this method every time you prepare a holiday meal.
WHAT IS SPATCHCOCKING?
Spatchcocking is the process of removing the backbone of a turkey, chicken, or other poultry for roasting, and pressing the bird to lay flat in the pan. When it cooks flat, the meat is more evenly distributed across the cooking surface. This means the meat won't just cook more evenly, it will cook faster. This time-saving technique is a great way to ensure juicy turkey meat and crisp, golden, skin.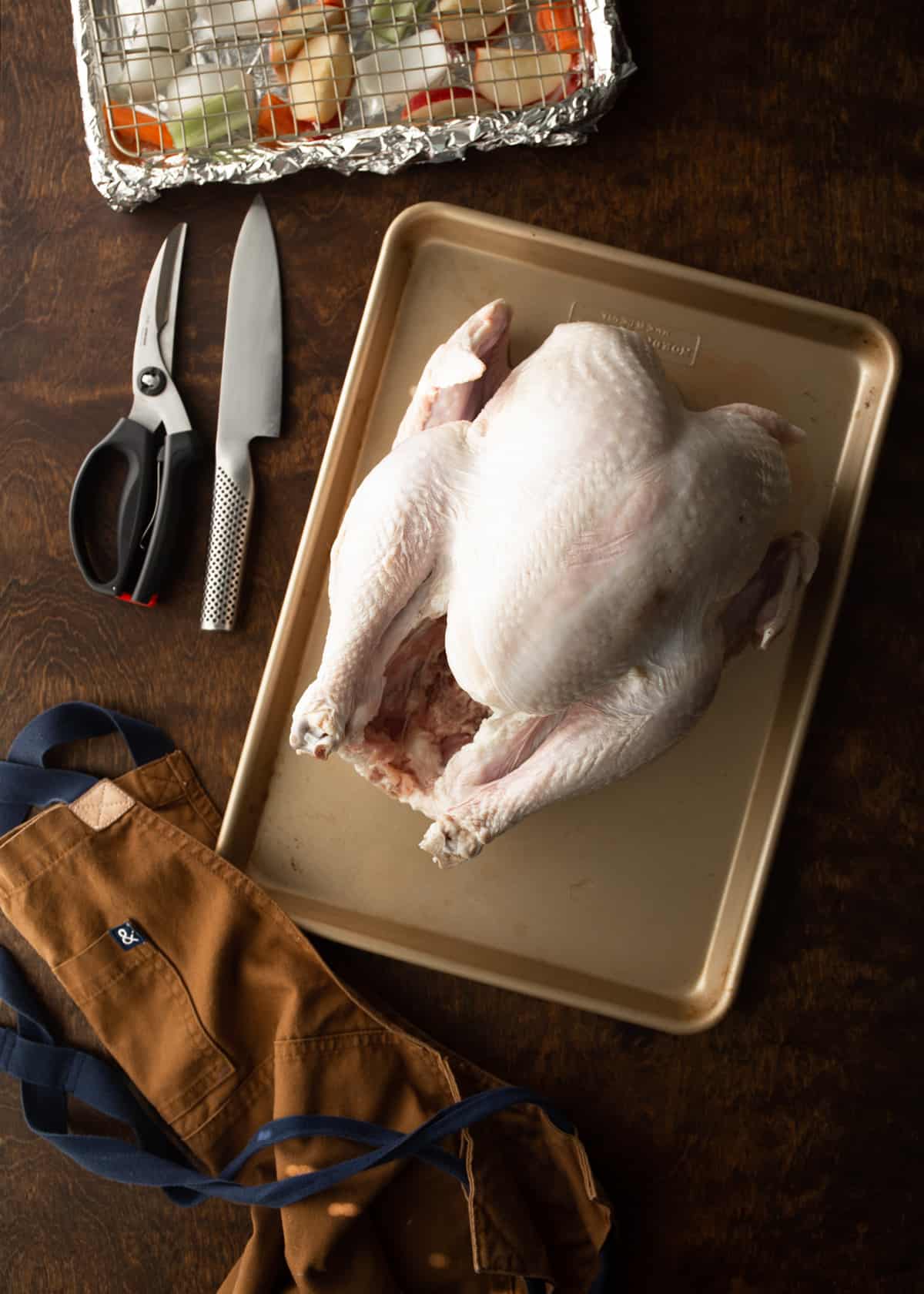 SHOULD YOU BRINE YOUR TURKEY? 
To brine or not to brine, that is the question. Turkey can be salt-water brined, dry-brined, or left unbrined. If you're wondering whether or not brining your turkey is right for you, or if you just want to know how to brine a turkey, we answered all your questions and did an unscientific side-by-side comparison of several turkeys last year. Take a look at the results here. 
WHAT TO SERVE WITH SPATCHCOCK ROASTED TURKEY
Nothing says 'turkey dinner' like traditional holiday side dishes. For the ultimate holiday meal, serve your Spatchcock Roast Turkey with:
HOW DO YOU KNOW WHEN TURKEY IS DONE?
To prevent overcooking, start checking the turkey at the lower end of the cook time. A meat thermometer is the best way to check for doneness. The turkey is ready to be pulled from the oven when the thickest part of the breast reaches 160°F / 71°C and the thickest part of the thigh registers 165°F / 73°C.
INGREDIENTS
Turkey

– A 12-18 pound whole turkey works best for this recipe. Figuring out the exact size turkey to get can be tricky, but a good rule of thumb is to calculate about a pound per person. If you're roasting the turkey for a holiday gathering with a lot of children, you could probably reduce this a bit, and purchase a bird on the smaller end of the scale. Although, you can never have too much leftover roast turkey (especially for making

Curried Leftover Turkey

 sandwiches)!

Herbs

– I like to roast my turkey with parsley, thyme, and rosemary. You could also add sage or oregano to your herb mix. 

Chicken Stock

– To prevent the turkey from becoming too salty, I recommend using low sodium chicken stock, or water with the recipe.
POSSIBLE VARIATIONS
Add Seasonal Veggies –

Root vegetables are at peak seasonality during the fall and winter months. Try your roasted spatchcocked turkey with parsnips, turnips, or rutabaga. 

Change your Butter –

Add an extra pop of flavor by substituting regular, unsalted butter for a savory butter like garlic, or herb-infused.

Add Citrus –

Poultry and citrus are a classic combination. Try placing oranges, lemon, or even grapefruit around your turkey for another layer of flavor.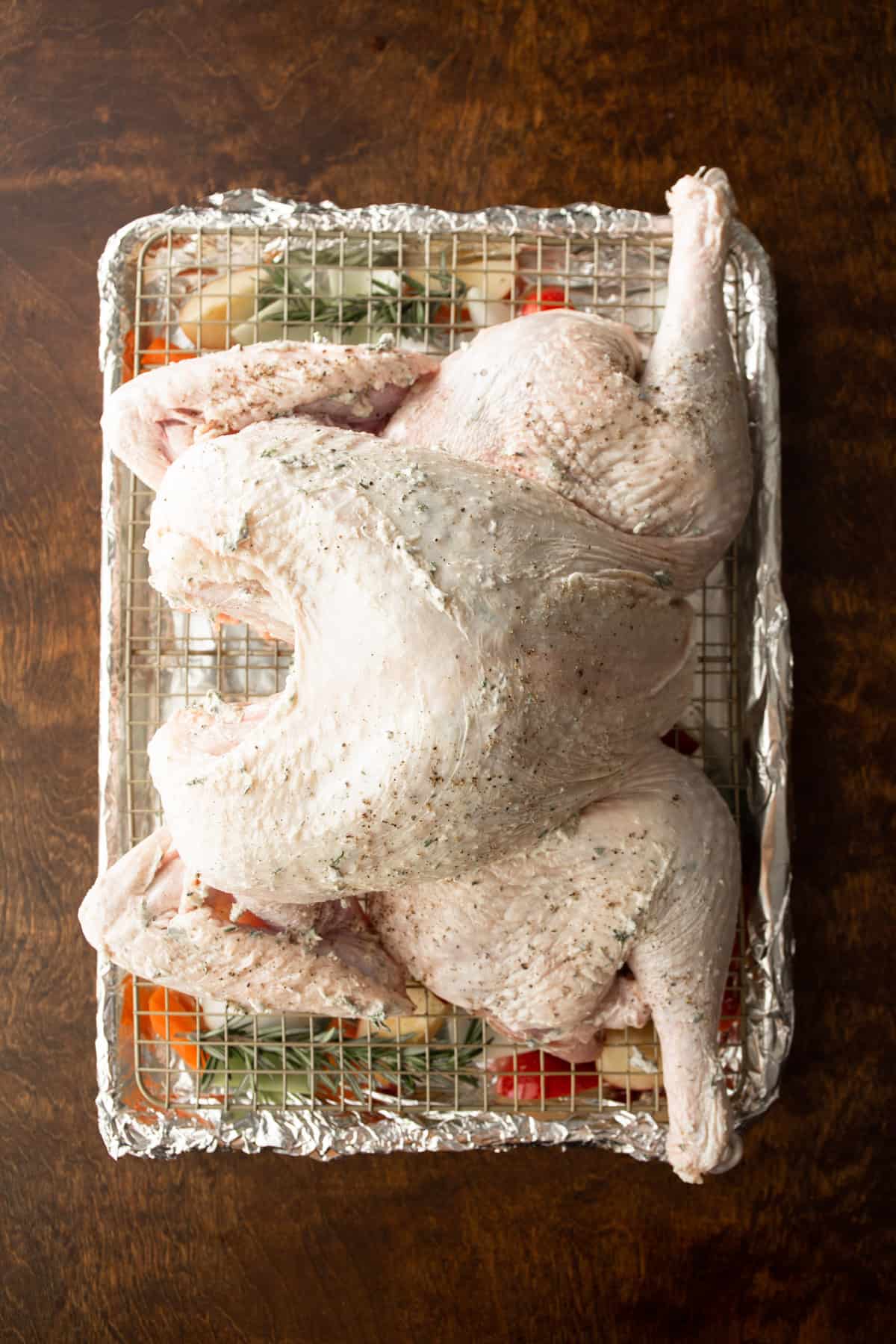 More Thanksgiving Recipes
FAVORITE TOOLS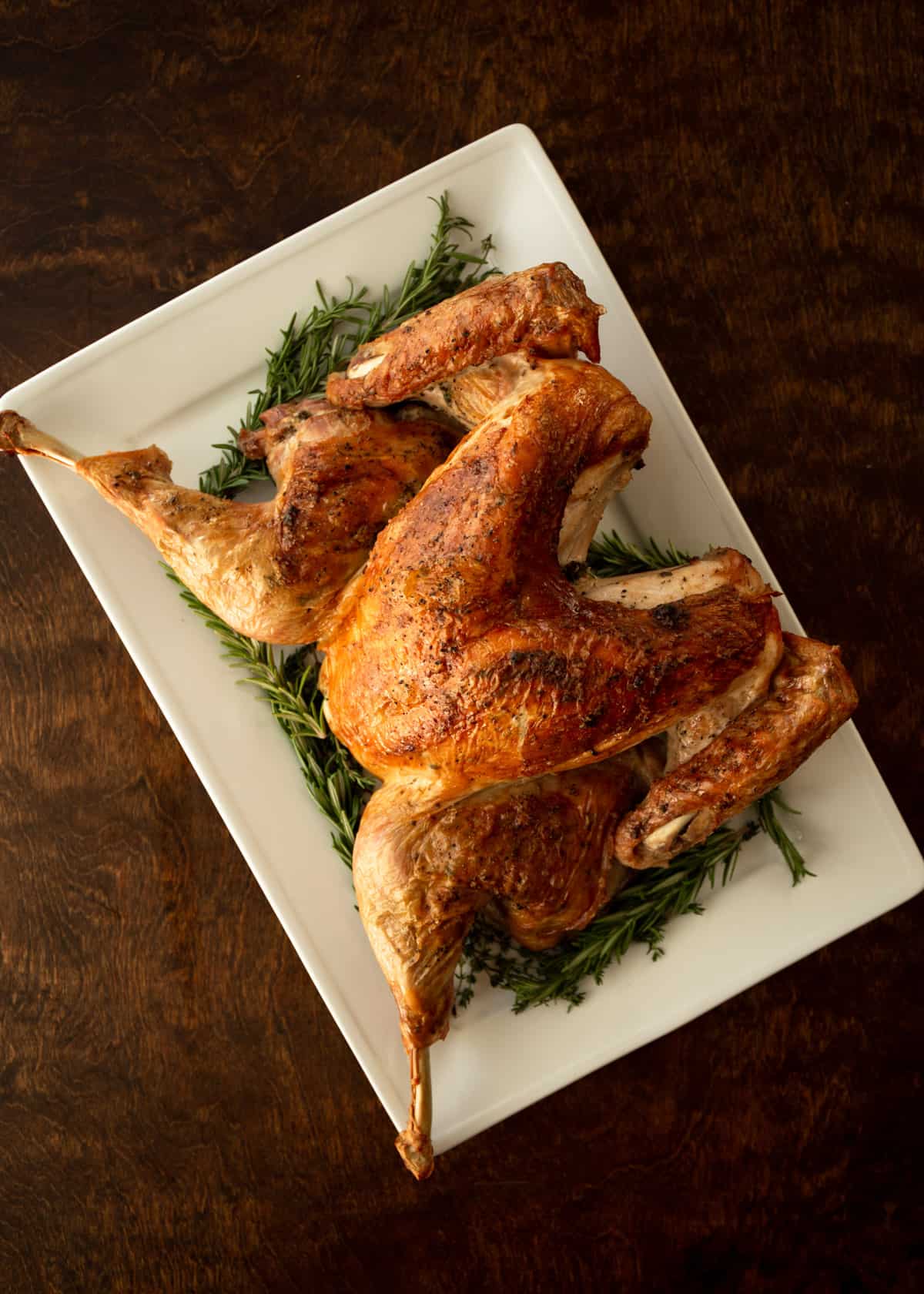 Print
Spatchcock Roasted Turkey with Herbs
Spatchcocking a turkey is the process of removing the backbone and pressing the turkey to lay flat. Roasting it flat means it cooks faster, more evenly, and produces the ultimate golden brown crispy skin.
Keyword
Holiday recipe, Thanksgiving, turkey
Cook Time
1
hour
30
minutes
Total Time
2
hours
30
minutes
Servings
10
depending on turkey size
Author
Jess Smith via Inquiring Chef
Equipment
Kitchen Shears

Cutting Board

Rimmed Sheet Pan

Oven-Safe Wire Rack

Meat Thermometer
Ingredients
1

12 - 18 pound

Whole Turkey, fresh (or thawed if frozen), neck and giblets removed

1

Tablespoon

Morton's Kosher Salt, plus more for finishing

4

Tablespoons

Unsalted Butter, softened to room temperature

2

Tablespoons

Finely Chopped Fresh Herbs

(I like parsley, thyme, and rosemary)

1

teaspoon

Black Pepper

2

cups

Water or Low-Sodium Chicken Stock

Chopped onions, celery, carrots, sliced garlic heads, apples, and / or sprigs of fresh herbs

(optional - to flavor the pan drippings)
Instructions
1 day to 1 hour before roasting: Line a large rimmed sheet pan or roasting dish (one that is large enough to hold the turkey) with foil. If using a sheet pan, place an oven-safe cooling rack on top.

Spatchcock turkey: Place turkey, breast side down on a large cutting board. Pat it dry with paper towels (this makes it easier to work with). Use sharp kitchen shears to cut along both sides of the backbone, completely removing it. (Save the backbone to use for making stock.) Open up the turkey and use the tip of a knife to make small slashes / score along one side of the breast bone (this makes it easier to flatten).

Turn turkey so the breast side is facing up. Using the palms of your hand, press firmly down on the turkey breast until the bones crack and the turkey rests flat. Transfer spatchcocked turkey to prepared sheet pan.

Pat turkey dry with paper towels. Tuck wing tips under the turkey (so they don't burn when roasting).

Season: Gently loosen the skin by running your fingers (or a small spoon) between the skin on the breast and legs. Rub salt under the skin and all over the turkey, concentrating it where the meat is thickest (like the breast). Let turkey come to room temperature (or return it to the refrigerator and let rest, covered with plastic wrap, for up to 24 hours).

Preheat oven to 425°F / 218°C.

Combine softened butter, herbs, and black pepper. Rub seasoned butter under and over the skin of the turkey. Season the surface of the turkey with some additional kosher salt.

Pour stock into pan under turkey. If using chopped onions, celery, carrots, sliced garlic heads, apples, and / or sprigs of fresh herbs to flavor the turkey, lift the wire rack with turkey up and add those to the bottom of the pan.

Carefully transfer turkey to the lower rack of the heated oven and roast for 70 minutes to 2 hours. Start checking turkey at the lower end of the cook time and continue checking until the thickest part of the breast registers 160°F / 71°C and the thickest part of the thigh registers 165°F / 73°C.)

Transfer turkey to a cutting board and let rest for 30 minutes (you can tent it with foil to keep it warm). While turkey rests, use pan drippings to make gravy.
Nutrition
Calories:
48
kcal
|
Carbohydrates:
1
g
|
Protein:
1
g
|
Fat:
5
g
|
Saturated Fat:
3
g
|
Polyunsaturated Fat:
1
g
|
Monounsaturated Fat:
1
g
|
Trans Fat:
1
g
|
Cholesterol:
12
mg
|
Sodium:
713
mg
|
Potassium:
46
mg
|
Fiber:
1
g
|
Sugar:
1
g
|
Vitamin A:
162
IU
|
Vitamin C:
1
mg
|
Calcium:
5
mg
|
Iron:
1
mg
*This post contains affiliate links*
The post Spatchcock Roasted Turkey with Herbs appeared first on Inquiring Chef.