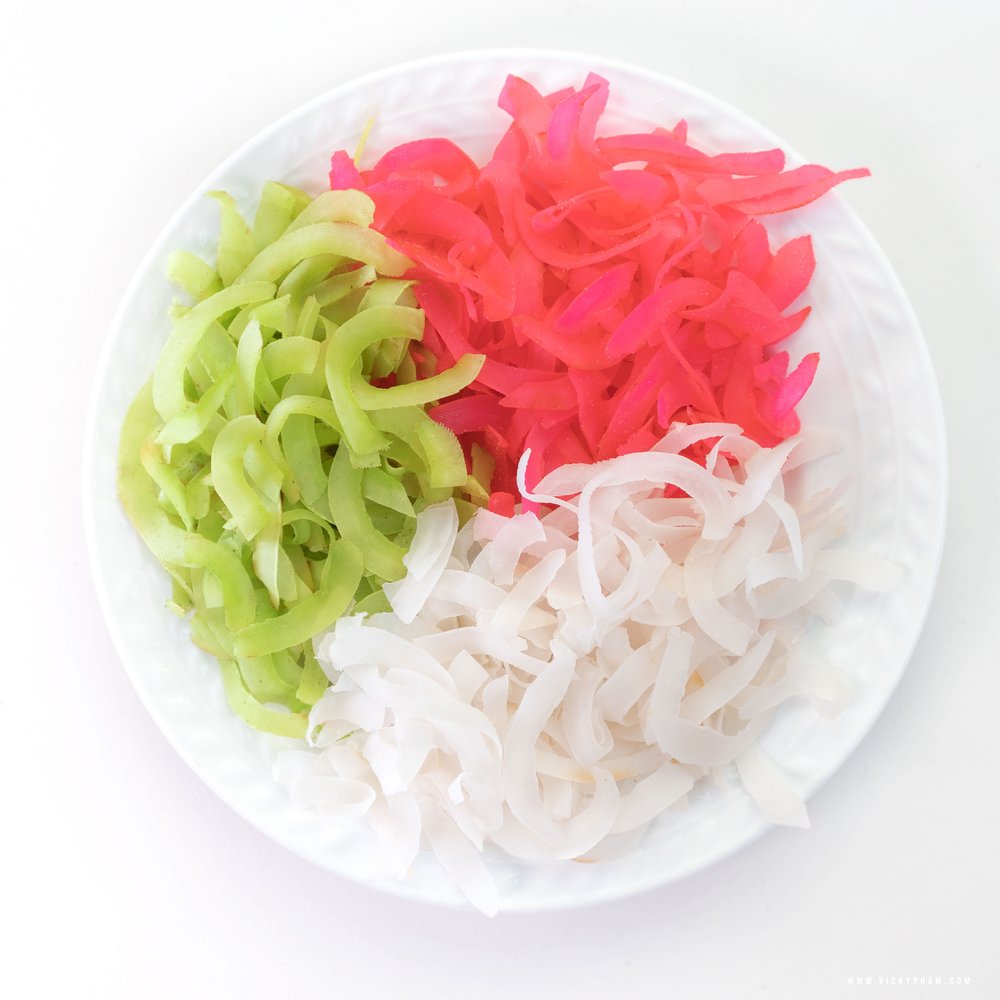 At this time of year, when Vietnamese Lunar New Year (Tết) is around the corner, my local Asian/Vietnamese stores are flooded with color sugary treats.
One of these treats is candied coconut, Mứt Dừa, a colorful collection of dried candied coconut ribbons. They are commonly sold in large trays that come with other traditional dried sugary treats, collectively known as Mứt Tết. These are used to offer to guests during the lunar new year celebration and an offering to the deceased on the family home altars.
These candied coconut ribbons are brightly colored and very beautiful. But no one really eats them. Why not? You can just see the diabetes on these candied coconut ribbons. They are visibly covered in a ton of sugar.
Most of my family just get them to display as decorations. A total waste of food so I set out on a mission to make my own candied coconut that is less sweet so that I can display them and eat them.
In this homemade version of Mứt Dừa, I'm using two whole mature brown or white coconuts (do not use young coconuts) and a lot less sugar.
Start by draining the coconut by puncturing 2 of the 3 holes located on the top of the coconut, which is not as hard as the rest of the shell. I simply use a chopstick that I pound gently with a mallet. Don't toss that coconut juice away! Save it for another traditional Vietnamese lunar new year dish, Vietnamese Caramelized and Braised Pork Belly with Eggs (Thit Kho Tau).
Once you pry the coconut meat away from the shell, use a vegetable peeler to shred it into ribbons. I also skip the traditional step of washing the coconut ribbons to get rid of the so-called "coconut oil." Why would you want to get rid of all that coconut flavor? Why?! Why?!
Toss the unwashed coconut ribbons with sugar. The low sugar content consequently doesn't result in that visible sugary powder that traditionally coats the coconut ribbons. You can dye the coconut ribbons as desired then finally toss in a pan with low heat to dry it out.
What you end up is an explosion of coconut flavor without all that sweetness.
If you too think that the traditional candied coconut ribbons are too sugary, check out my homemade Mứt Dừa recipe below.
Chúc mừng năm mới!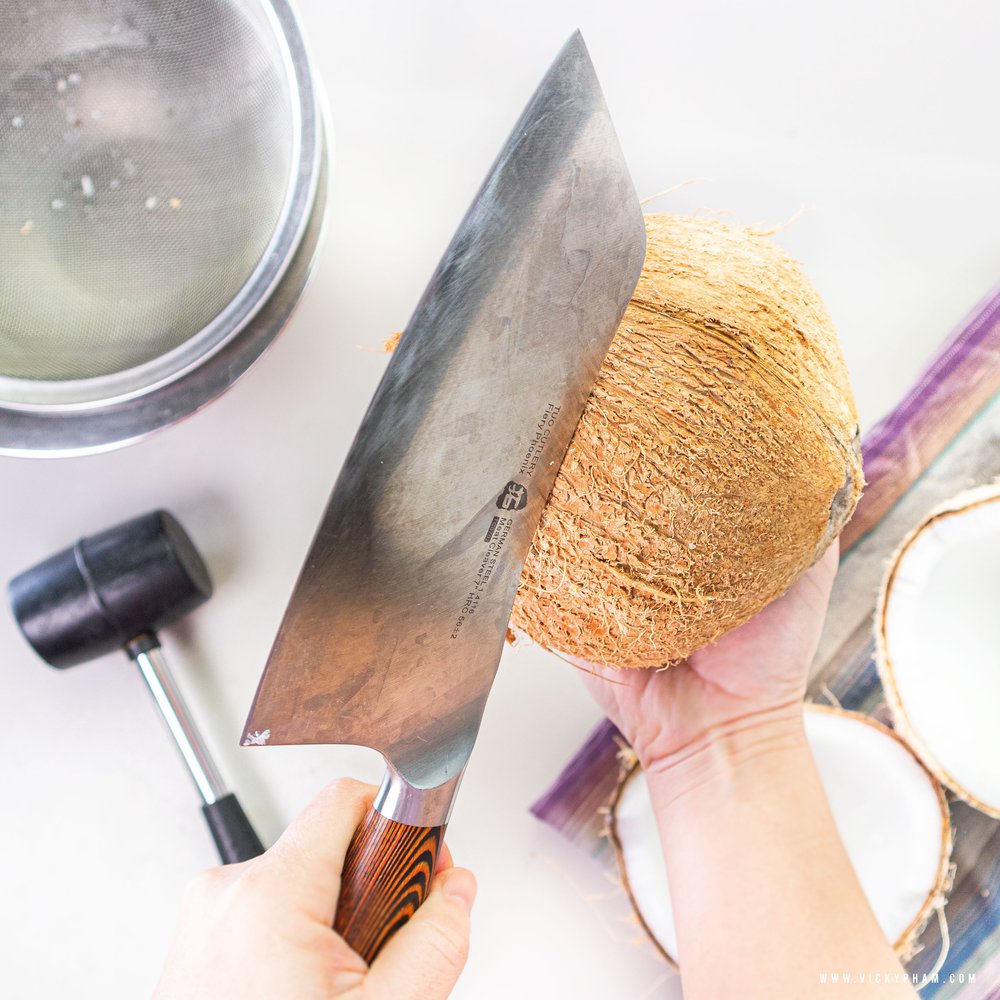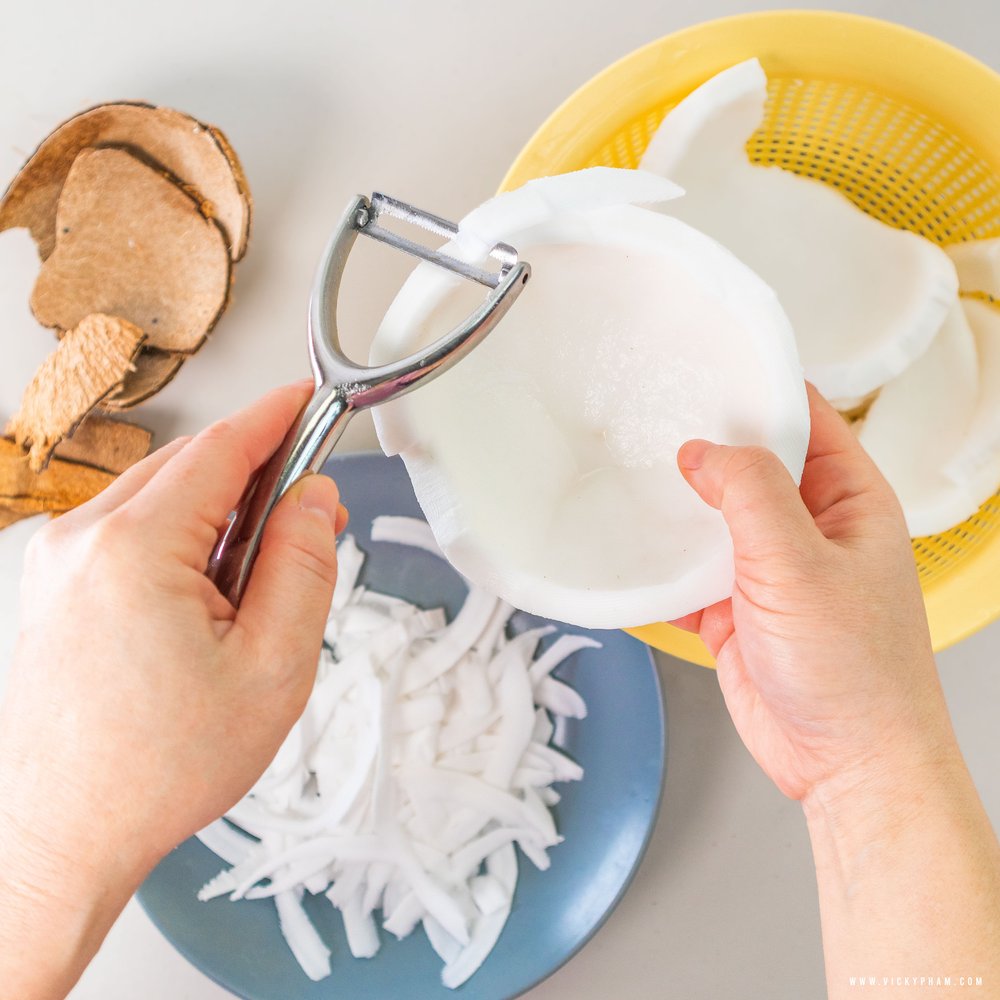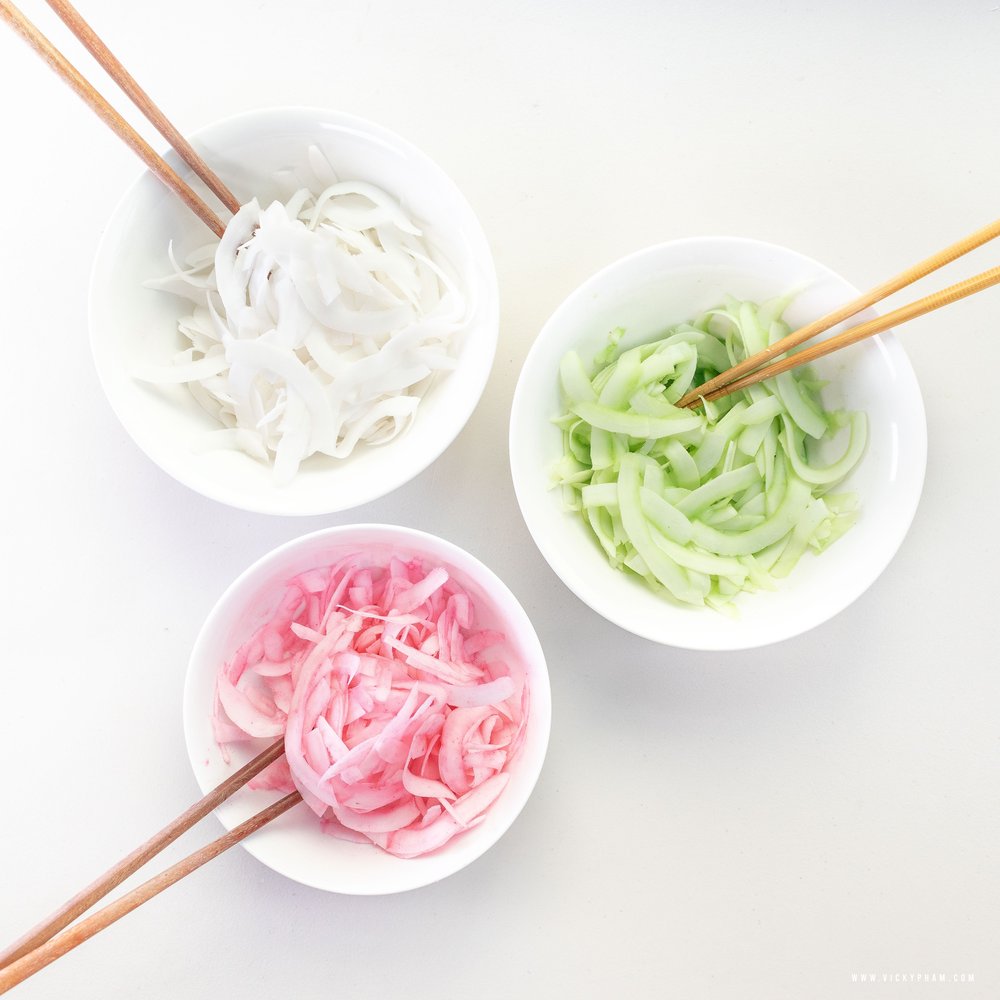 Vietnamese Candied Coconut Ribbons for Lunar New Year (Mut Dua)
Serves 3-4
Ingredients
1 lb freshly shredded coconut strips (from 2 coconuts)
⅓ cup granulated white sugar
⅛ teaspoon seas salt (a pinch)
1 packet 8 g vanilla sugar (optional)
Instructions
In a large mixing bowl, toss coconut strips with sugar, salt and content of vanilla packet. Let it sit for four hours. Water will accumulate at the bottom of the bowl.
Divide the coconut and accumulated water into separate bowls for different colors, if any. Lightly color each batch with food coloring. Keep in mind that color will darken once dried. You can also naturally color blending the following foods and straining the liquid: Pandan leaves for green, purple cabbage for purple, carrots for orange, and red dragon fruit/beets for pink/red, etc.
Add coconut and its liquid to a non-stick pan. Do not crowd pan. If you have multiple colors, do each color separately. Turn heat to a medium-low. The coconut strips will first turn transparent as the sugar melts. Then it will turn opaque as it dries.
Keep tossing coconut lightly with a pair of chopsticks until they are completely dry (about 10 minutes total). Transfer to a wire rack or large colander to cool to room temperature. Clean pan and repeat with other colors, if any.
CHECK OUT THESE OTHER TRADITIONAL RECIPES FOR TET!