Whole30 + Keto Creamy Chicken Cauliflower Rice Casserole Recipe cauliflower rice casserole with chicken, mushrooms + kale with a creamy dairy free sauce + crunchy low carb topping. Paleo, gluten free, grain free, sugar free, clean eating, real food.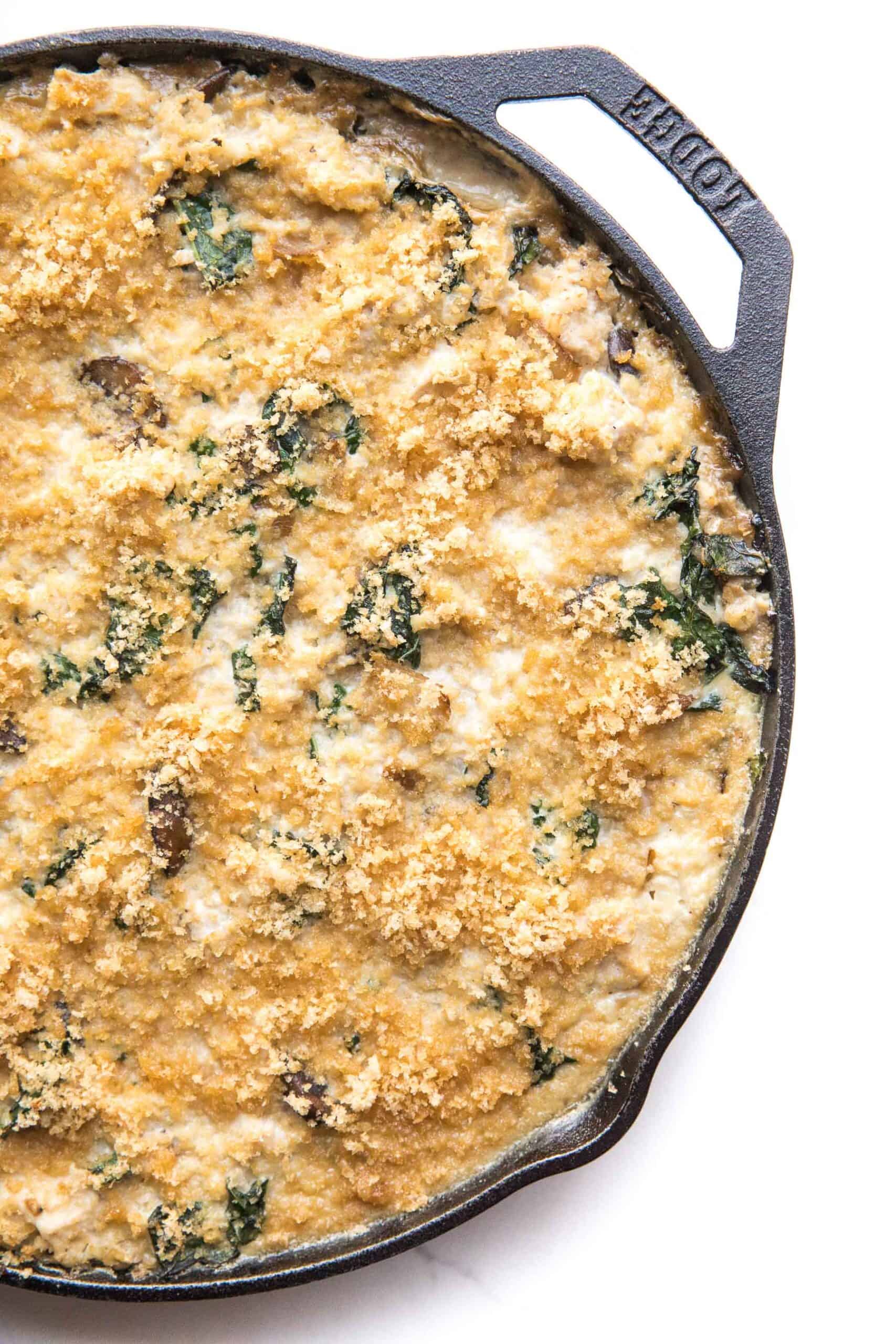 Whole30 + Keto Creamy Chicken Cauliflower Rice Casserole
This whole30 + keto creamy chicken cauliflower rice casserole is the ultimate in cozy, comforting meals. But couldnt be healthier!
Only 9 carbs per serving, and dairy free!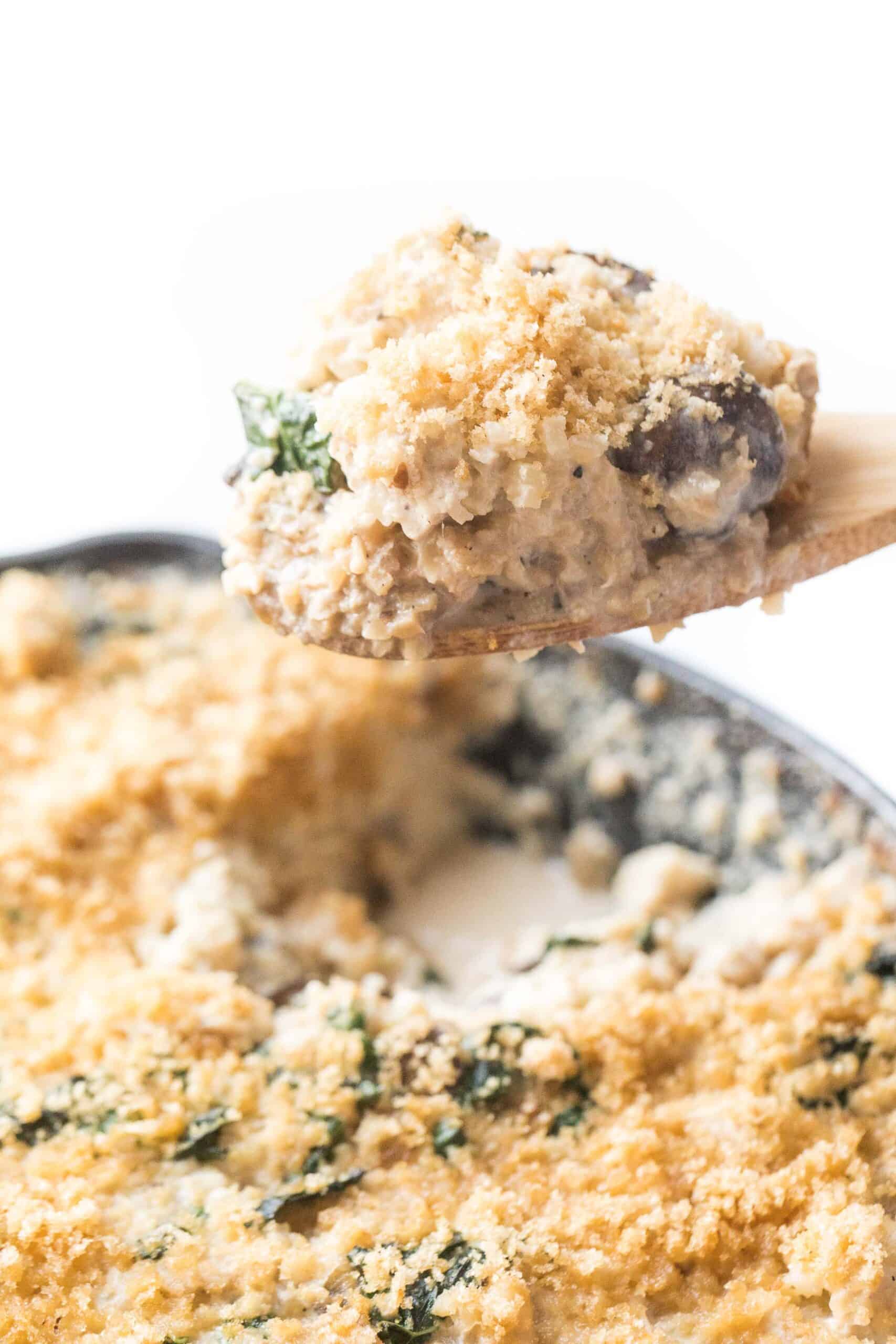 Keto Chicken Cauliflower Casserole
Rather than using grain rice for the casserole, I swapped in frozen cauliflower rice and it worked perfect!
You can use fresh cauliflower rice if thats what you have, but I honestly prefer frozen the most. I find that it has the least cauliflower flavor, and is much less farty smelling, if you know what I mean, ha!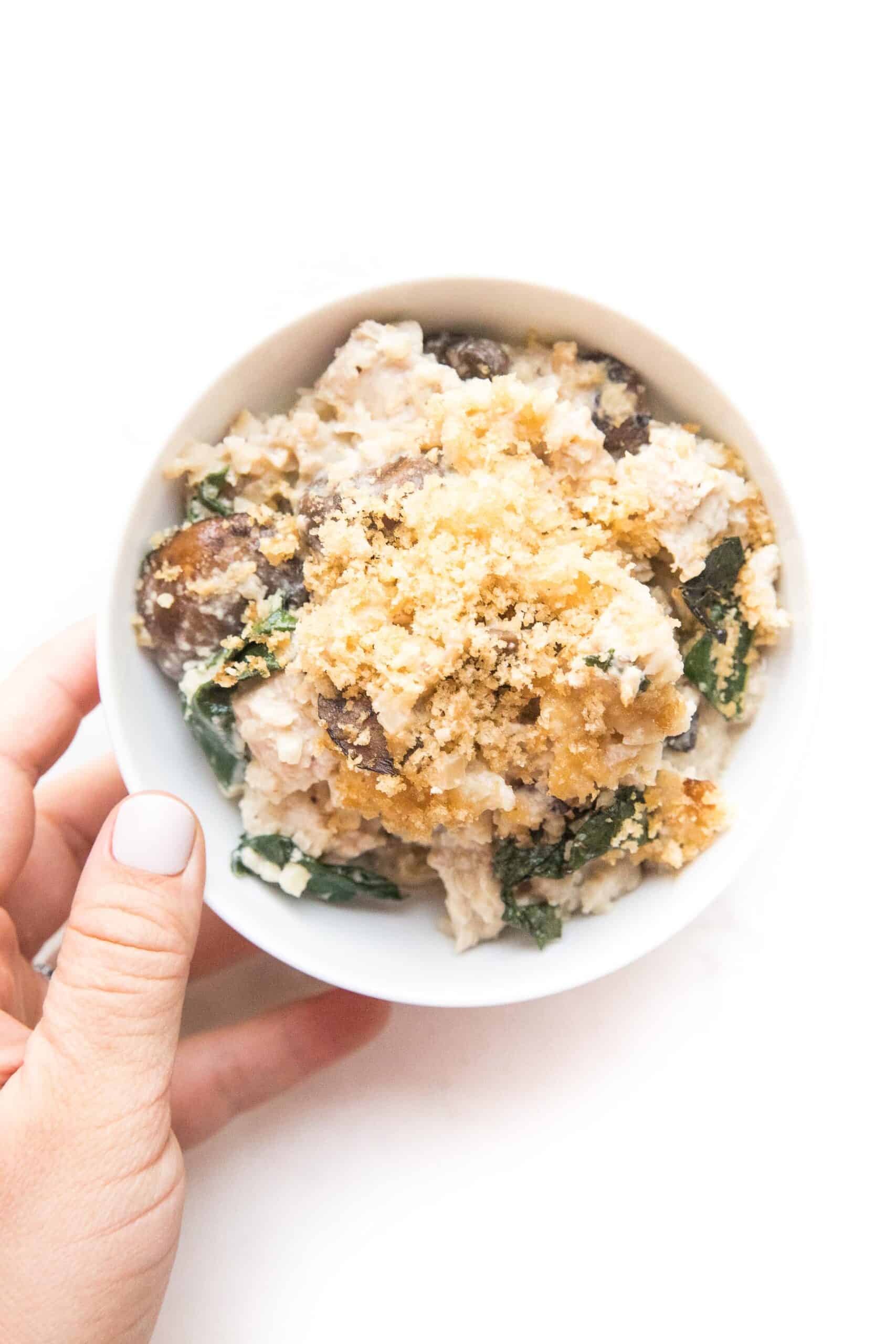 Creamy Sauce + Other Ingredients
The cream sauce is made from a combination of bone broth, soaked cashews + nutritional yeast. It makes a delicious, thick and creamy sauce that is completely dairy free! If youre ok with dairy, you can substitute heavy cream instead of cashews. See recipe notes for substitution recommendations.
The keto casserole also has chicken, onions, mushrooms, kale + garlic. Perfect for winter. It is topped with the most genius crunchy topping: pork rind panko! Just ground up pork rinds. It gives it a great crunch. Do no skip this.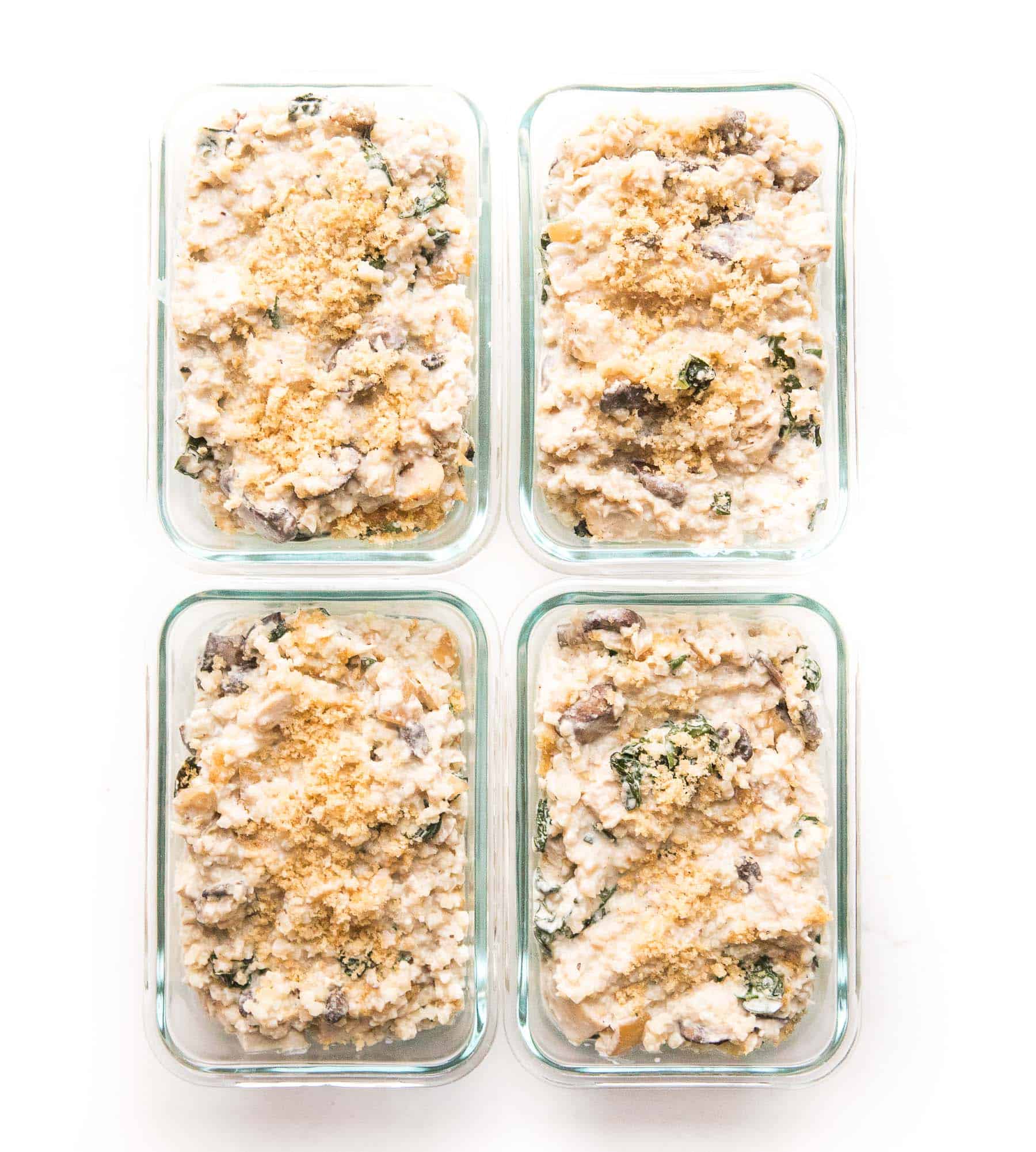 Make Ahead Keto Casserole
You can fully assemble this casserole earlier in the week, and then cook it the day youre going to have it for dinner. You can even freeze it! I would just wait to add the pork rind panko until youre going to put it in the oven. This way the pork rind panko will stay crispy!
This recipe makes a ton! Enough for 8 servings. Perfect for meal prep and to have leftovers for lunches and dinners!
Print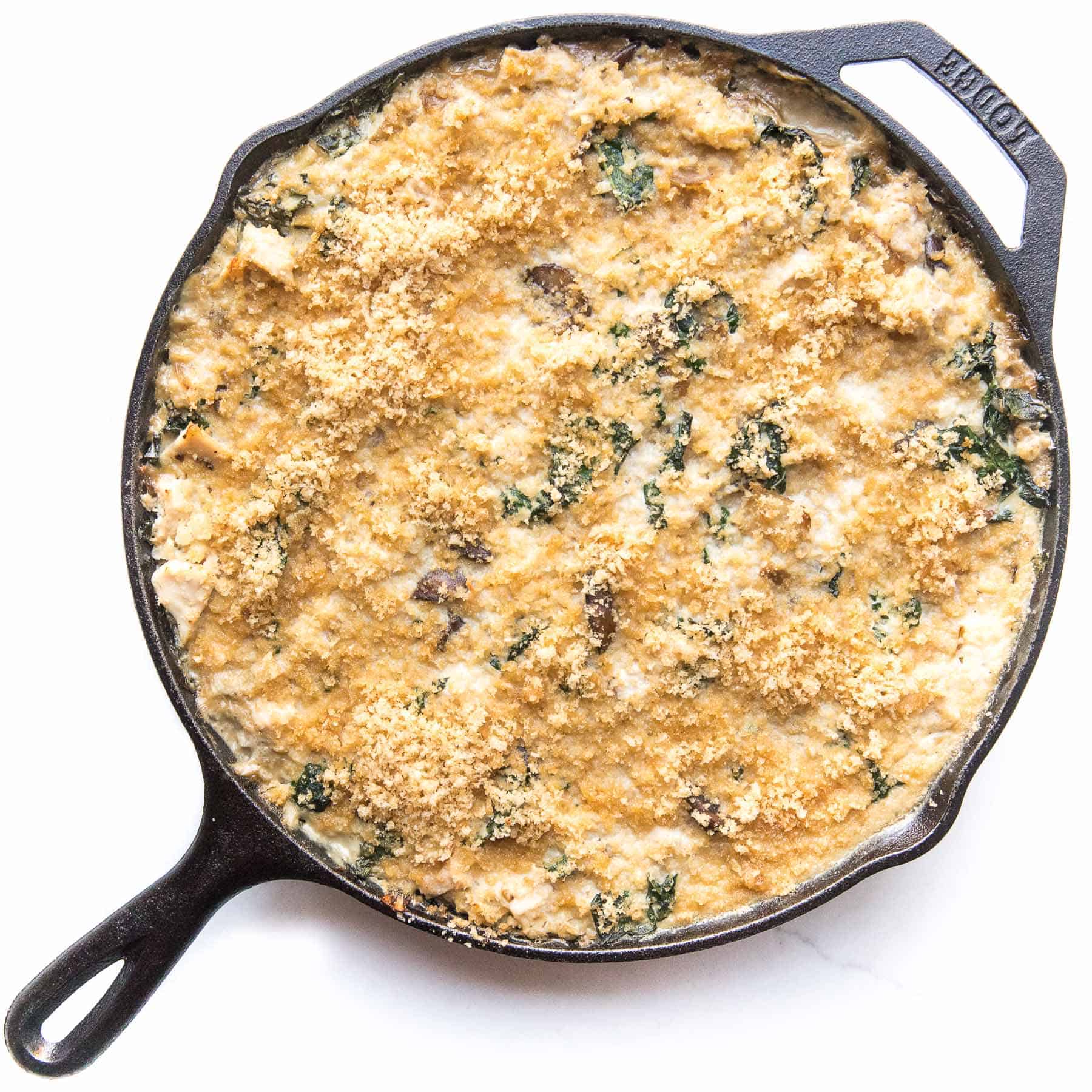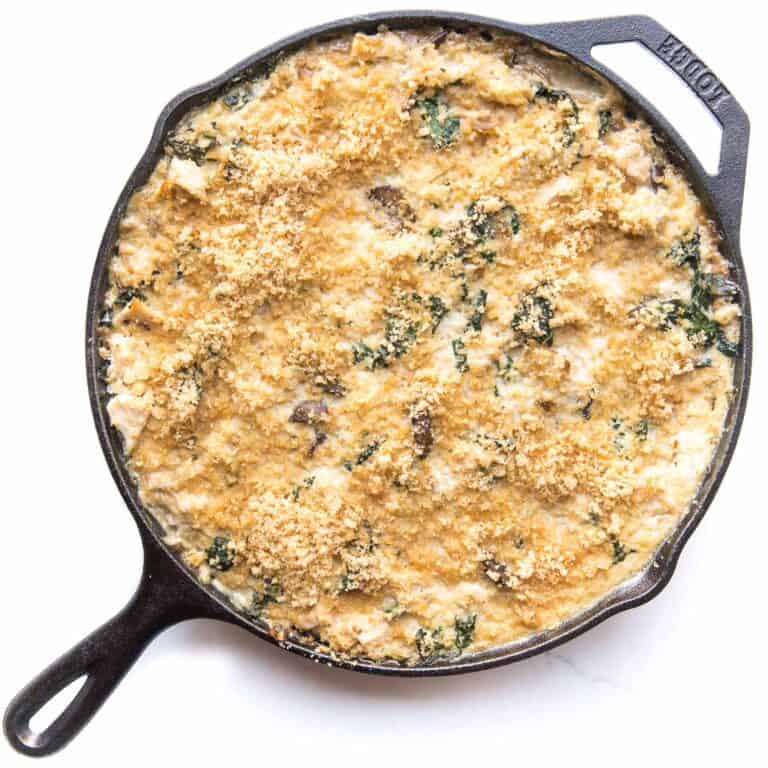 Whole30 + Keto Creamy Chicken Cauliflower Rice Casserole
---
Author:

Natalie

Prep Time:

25 mins

Cook Time:

25 mins

Total Time:

50 minutes

Yield:

8
Ingredients
(3) 6-ounce chicken breasts

1 tablespoon

olive oil

1

onion, chopped

8 ounce

s mushrooms, sliced

1 teaspoon

salt

1 teaspoon

pepper

3

cloves of garlic, grated or finely minced

1

bunch of kale, stems removed, chopped (about

3 cup

s)

3 cup

s chicken stock

1 cup

raw cashews, soaked overnight

2 tablespoon

s nutritional yeast

3 teaspoon

s salt
(3) 12-ounce bags frozen cauliflower rice

1/3 cup

pork rind panko (optional)
---
Instructions
Preheat your oven to 425F. Line a rimmed baking sheet with parchment paper for easy cleanup. Set in the wire baking rack. Place the chicken breasts on the wire rack, season with salt and pepper. Roast for 25 minutes. Remove from the oven, and chop into bite size pieces.
Reduce your oven temperature to 350F.
While the chicken is roasting, heat your cast iron skillet over medium heat. Add the olive oil, onion and mushrooms. Season with 1 teaspoon salt + pepper. Sautee, stirring occasionally, until caramelized and golden brown. About 10 minutes.
Add in the garlic, and cook for 30 seconds until fragrant. Then add in the kale, and sautee until soft, about 5 minutes.
To make the sauce, in your high speed blender combine the chicken stock, soaked cashews, nutritional yeast and salt. Blend on high for 60 seconds until completely smooth.
When the kale is soft, stir in the frozen cauliflower rice and chopped chicken. Stir until completely combined. The cauliflower rice will still be frozen. The oven will do all the cooking of it!
Pour the sauce all over the top of the casserole. Use a spatula to gently nudge it to be completely absorbed.
Top the casserole with crushed pork rind panko.
Bake in the 350F oven for 20-25 minutes, until bubbling and golden brown.
Remove from the oven and let rest for 5-10 minutes. Serve warm.
Leftovers will keep in an airtight container refrigerated for 5 days.
---
Notes
If you dont have a cast iron skillet, you can pour it all into a 913 or 6 quart baking dish.
You can pour the cauliflower rice in straight from frozen! No need to thaw.
If youre ok with dairy, you can skip the cashews and instead use 2 cups bone broth and 1 cup heavy cream. This would make it even lower in carbs! You can also add in some grated parmesan. Yum!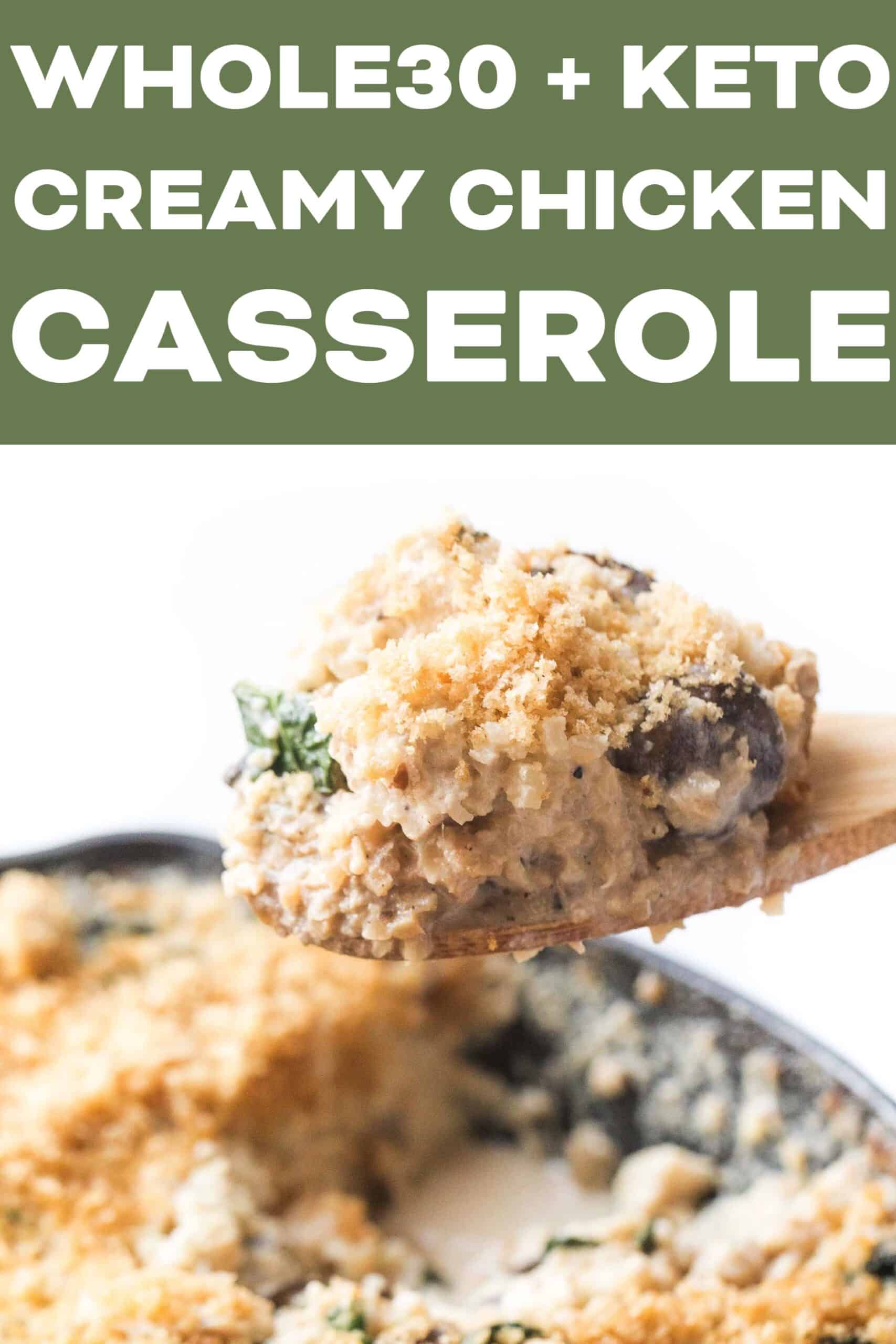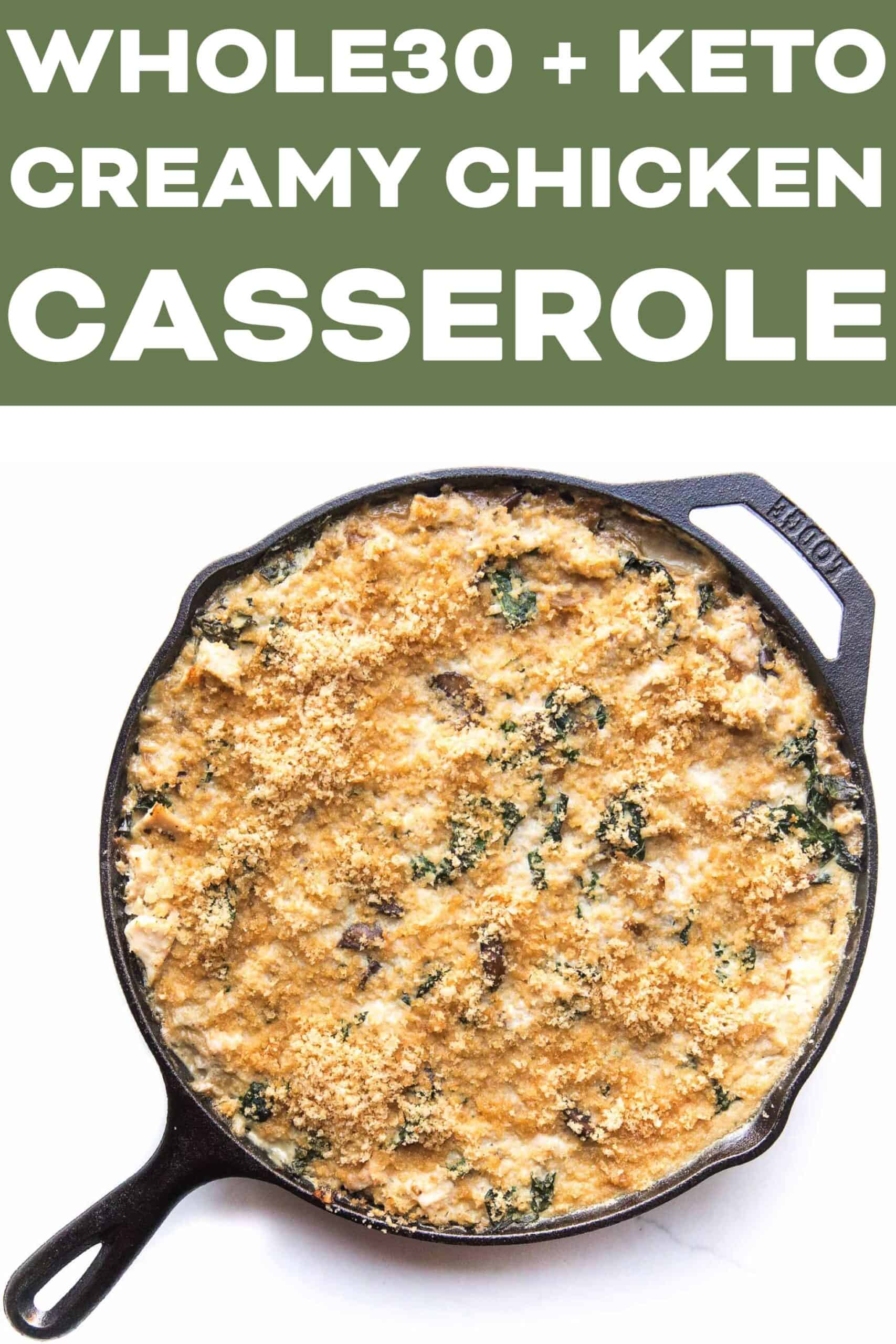 This post contains affiliate links, thanks for the love!
The post Whole30 + Keto Creamy Chicken Cauliflower Rice Casserole appeared first on Tastes Lovely.